Working on your USA bucket list? Well, then you'll love this list with the most mind-blowing places to visit in the United States!
Bustling cities, quaint towns, spectacular national parks, lively beaches, and out-of-this-world islands. America is a great country with incredible people and sights–that's a fact.
While there are many popular places to travel in the US, there are a bunch of beautiful places equally impressive, but that doesn't get as much of the bulk of the attention.
Well, that's about to change. We've put together a list of the best places to visit in the USA in most states. How does that sound?
It was pretty challenging to keep a list of 68 places because the country is dotted with must-visit spots.
Still, these are (some) of the best places to travel in the US, and we genuinely hope you enjoy reading it as much as we enjoyed writing it.
Also, we hope this article will sparkle your wanderlust and that you'll add many of these places to your USA bucket list.
How We Structured This USA Bucket List
To make it more organized, we divided this article into the best places to travel to in the US by category, so cities, towns, national parks, beaches, islands, and some other places and experiences. We hope you enjoy it!
Best Cities to Visit in the USA
Here are the best cities to travel to in the US in no particular order.
1. Austin, Texas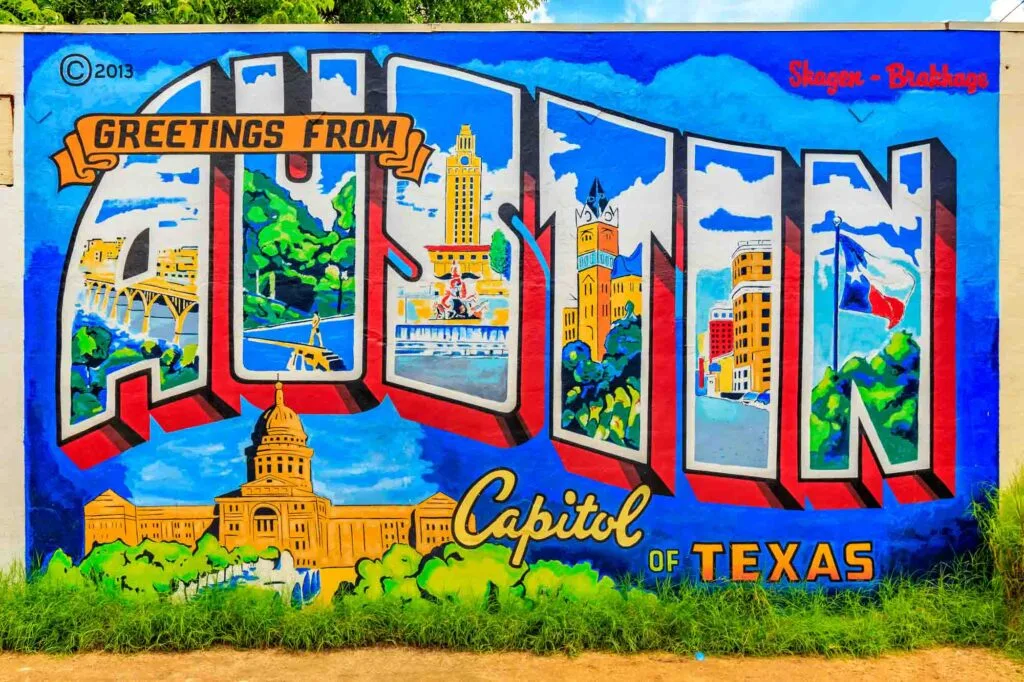 Austin, Texas, may not have any professional sports teams, but it's one of the country's sunniest cities, and residents make a massive deal out of Eeyore's birthday every year — so what's not to love!?
Located in Texas, Austin is the Lone Star State's capital and fourth-most populous city.
Austin is the most progressive city in Texas and was long ago nicknamed "Hippie Haven."
To prove its credentials, Austin has the only nude beach in Texas, which is a quick day trip from Downtown, and it's the only city in the United States that still operates old-fashioned moonlight towers.
During the spring and summer, fans of flying mammals should put aside an evening to stand atop the Congress Avenue Bridge and watch the Mexican free-tailed bats congregate.
A swarming site to see, it's the most significant urban bat colony in North America.
While staying in Austin, be sure to hit up the Cathedral of Junk, grab a tour of all the highlights, and don't pass up an opportunity to indulge in a local culinary favorite: breakfast tacos–a must in any Austin itinerary!
Beyond that, Austin is a truly unique city that should make every USA bucket list, and when there, be sure to check out the Museum of the Weird.
Read next: Best State Parks Near Austin
2. Boston, Massachusetts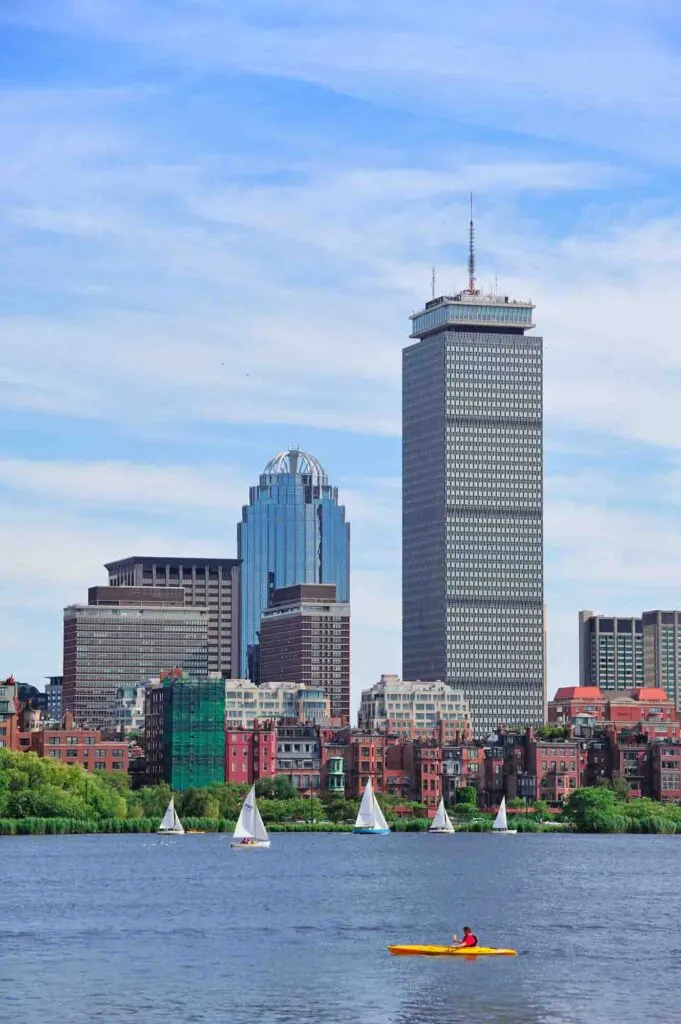 Capital of the Commonwealth of Massachusetts, Boston is one of the oldest cities in the United States, with a charter that dates back to 1630.
Steeped in history, the city served as the backdrop for the earliest Puritan settlers and significant Revolutionary War events.
Today, Boston is one of the top urban vacation destinations in the nation and welcomes about 19 million domestic tourists a year, in addition to nearly three million international ones.
When in town, history buffs should carve out time for Faneuil Hall, the building in front of which notable revolutionaries, like Samuel Adams, delivered famous speeches that ultimately sparked the War for Independence.
Other notable historical Boston landmarks include The Paul Revere House, Boston Tea Party Ships and Museum, Old South Meeting House, and Freedom Trail.
Furthermore, Boston is also known for its New England seafood cuisine and craft beers — so you'll never go hungry or thirsty when checking out Beantown.
3. Seattle, Washington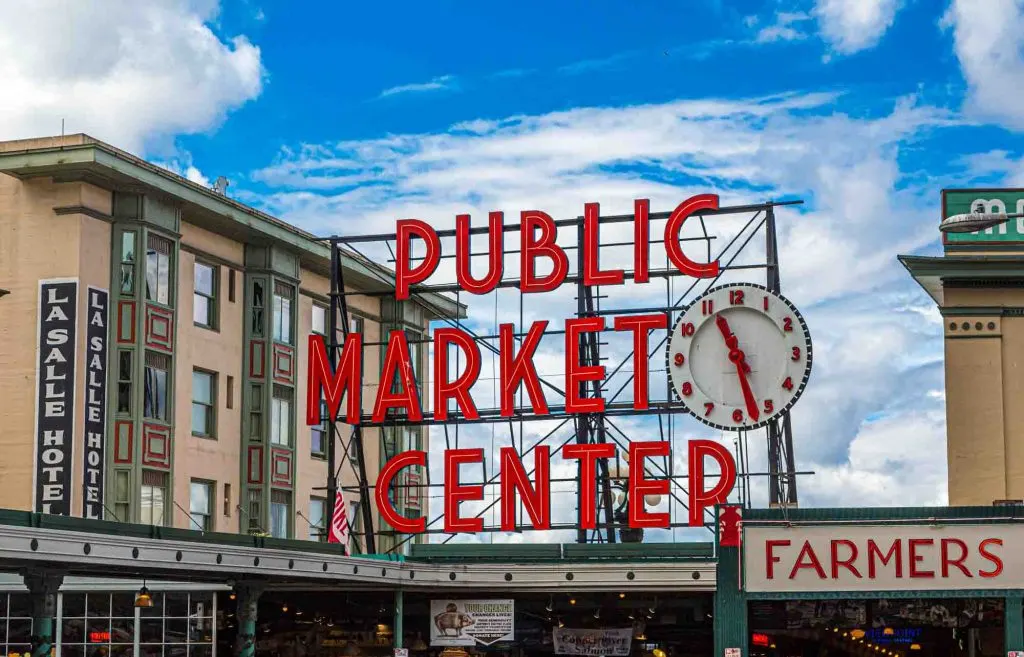 The Pacific Northwest's urban heart, Seattle, Washington, should land on the USA bucket list of any person who appreciates coffee, chill vibes, oysters, and outdoor activities.
Seattle sits in an ecologically diverse zone that's wreathed by beautiful beaches and glorious mountains.
You can sunbathe in the morning and go skiing or mountain biking in the afternoon on the best days. If you prefer watching nature instead of sporting through it, join a harbor cruise tour!
Other star attractions include the Seattle Space Needle, Fremont Troll, Gum Wall, and the Museum of Flight. Head up to Kerry Park for a gorgeous and unobstructed view of the Seattle skyline for the best pictures.
Like its culinary cousin on the other coast — Boston, Massachusetts — Seattle is stuffed with superb seafood restaurants. The oysters around these parts are incredibly yummy.
Oh, and whether you have one day or 3 days in Seattle, coffee enthusiasts should make time for a cuppa at Starbucks mothership, the original shop in the famous Pike Place Market.
4. Houston, Texas
Houston, Texas, is the most populous city in the Southern United States and the largest city in the country by area.
Located in the southeast part of Texas, Houston is only second to New York in the number of Fortune 500 companies headquartered within its borders.
But it's more than just a financial hub. A weekend in Houston is highly recommended because of its vibrant vibe and diverse atmosphere.
Shopaholics should set aside a whole day for the Houston Galleria — or The Galleria in local parlance. It's a four-story retail bonanza that houses 375 stores and tops the list of largest malls in Texas.
Conversely, civic engineering enthusiasts should wend their way to Houston's underground pedestrian tunnel. It runs for seven miles and links 95 blocks, 20 feet under.
Nature enthusiasts are usually fond of the city's 337 parks, the Houston Arboretum, and the city's Museum of Natural Science. There are also a bunch of pleasant state parks and beaches near Houston.
Other popular tourist attractions include the Space Center, Old Market Square, and the Lee and Joe Jamail Skatepark.
People in Houston eat out more than people in any other American city, so the city's foodie scene is thriving. It's been described as "the best culinary hub in the country."
There are options for every palate, from vegan gourmet to down-home BBQ. If you have a taste for Asian flavors, head to Chinatown and the Mahatma Gandhi District.
Good to know: the best times to visit Houston are between February through April and September through November, when the weather is best.
5. New Orleans, Louisiana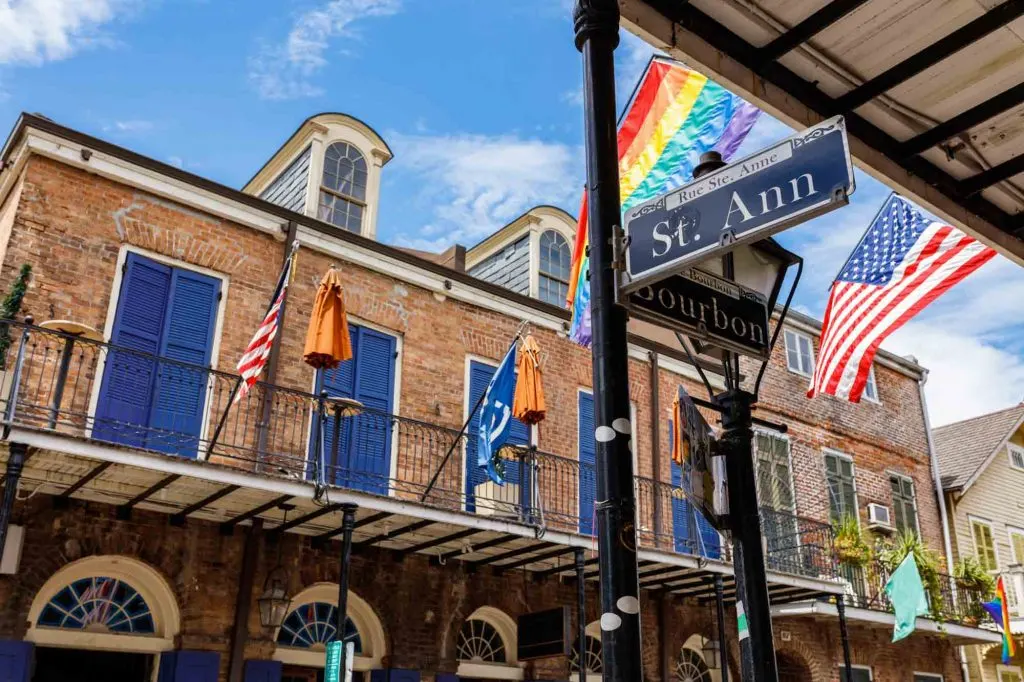 New Orleans is famous for its flamboyant Mardi Gras celebrations, but The Big Easy is a blast year-round.
One of the country's most unique cultural hubs, New Orleans' French and Spanish roots are still evident today, and the city enjoys signature culinary, cultural, and musical traditions.
"Laissez les bon temps rouler" — patois for "let the good times roll" — is the city's fitting motto, and after a few days in town, you'll appreciate why.
Eating, drinking, and whooping it up in the French Quarter, with its built-in soundtrack of buskers and live jazz, is a New Orleans tradition.
Visitors also looking to soak in some artistic and educational offerings should make time for the National World War II Museum, the New Orleans Museum of Art, and the Besthoff Sculpture Garden.
Time permitting, also carve out a few hours to tour St. Louis Cathedral. Built in 1718, it is the oldest cathedral in the United States.
Still, you'll want to plan your trip between December and May since June through November is the sweltering hurricane season.
Read next: Most Romantic Getaways in the United States
6. Atlanta, Georgia
At the foothills of the Appalachian Mountains sits a thoroughly modern city with southern roots: Atlanta, the seventh-most visited metropolis in the United States.
It's Georgia's most populated region and boasts three distinct skylines: downtown, midtown, and Buckhead.
Downtown is the bustling commercial and retail hub, with hotels and restaurants every few feet.
Midtown is more residential but also bursts with clubs and more restaurants. Buckhead is the city's upscale district — the Beverly Hills of the ATL.
Why is Atlanta one of the top places to visit in the United States? Many folks make their way to "The Big Peach" to check out the largest aquarium in the world, Georgia Aquarium.
Legoland, Six Flags Over Georgia, in addition to the dozens of museums and parks in and around town, are also big draws. Atlanta also has a thriving lounge and club scene; options abound for all tastes, from honky-tonk to hip-hop and everything in between.
Not only that, but Atlanta loves its festivals. Coordinate your trip with one that suits you.
7. Orlando, Florida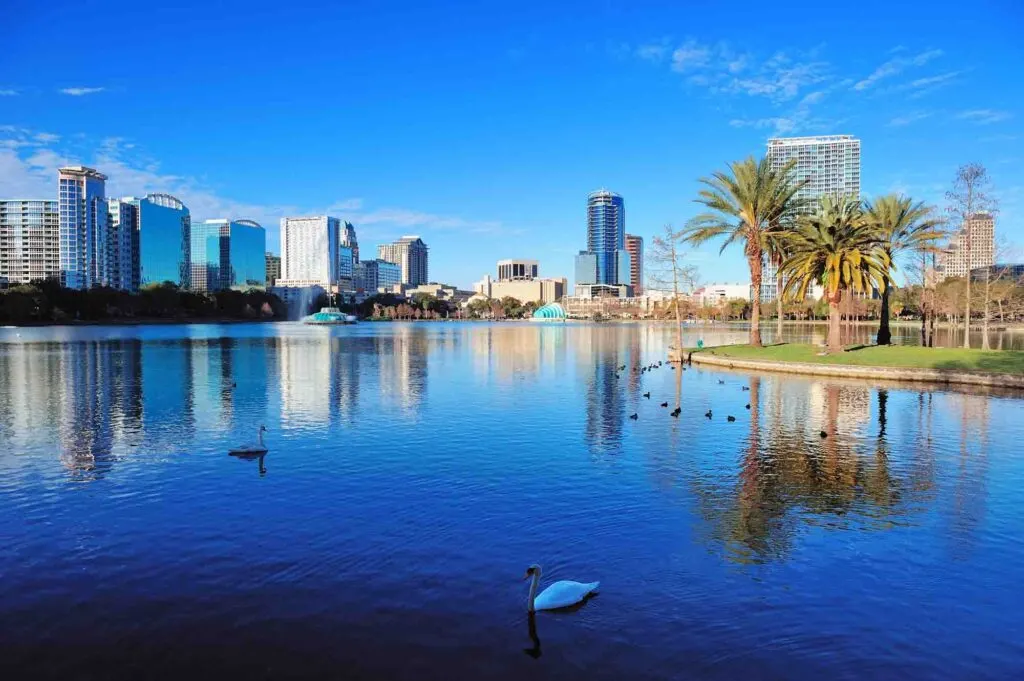 Orlando is one of the leading tourism destinations in the world, and for a good reason!
The Greater Orlando area is home to Walt Disney World, SeaWorld, Legoland, Madame Tussauds, Universal Orlando, Fun Spot America, the Kennedy Space Center, and many water parks.
The region also sports over 100 lakes, many of which rent out boats and other recreational vehicles.
In addition to the theme and activity parks, Orlando is overflowing with family-friendly restaurants, golf courses, and outlet shopping malls, making it a must-add for every USA bucket list.
Since Orlando is a cornucopia of theme parks, the region attracts many actors and musicians. Subsequently, the area boasts a thriving theatre and live music scene. Plus, the nightlife is very tourist-friendly.
Want a valuable tip? Finding a deal in Orlando is easy. Never pay full price. Find a discount. They're out there.
8. San Francisco, California
San Francisco is one of the most expensive cities in the country — and one of the most charming.
Home to several famous landmarks, San Francisco, is known for the Golden Gate Bridge, the Painted Ladies, Pier 39, and twisty Lombard Street.
Not only that, but San Francisco should also make the USA bucket list of anybody who appreciates architecture and old-timey throwbacks, like the city's trolley system.
Museums catering to various interests — from modern art to science to selfies — also dot the city.
Families traveling with children should check out the Walt Disney Family Museum and the Exploratorium. Additionally, fans of true crime won't want to miss the Alcatraz tour!
However, when people pack for California, they think sun and heat. But San Francisco is cooler, and nighttime temperatures in June and July bounce between the mid-50s and mid-60s. So don't forget to bring light sweaters!
9. San Diego, California
Los Angeles may get a bulk of the attention in Southern California. Still, San Diego — aka America's Finest City — is more beautiful, and it should land on every USA bucket list.
Besides, San Diego is one of those lucky places with great weather year-round, so don't worry about booking tickets in the high season.
Even if you only have one day in San Diego, this city is an ideal vacation destination known for its incredible beaches, highly surfable waves, and glorious sunsets.
For museums and galleries, head to Balboa Park. Additionally, the historic district boasts buildings dating back to the 1700s when San Diego was a Spanish mission.
Seagoing enthusiasts should find their way to the San Diego Maritime Museum, which has many notable vessels, including the Star of India.
But perhaps the city's biggest tourist attraction is the San Diego Zoo, one of the first zoos in the world to create open-air, cageless exhibits that mimic animals' natural habitats.
The Gaslamp Quarter is where the foodies are, and in San Diego, Mexican cuisine and seafood are your best bets. Italian fare in Little Italy is also sure to delight.
After dining, walk off meals with a stroll through the Midway Museum or Seaport Village.
10. Chicago, Illinois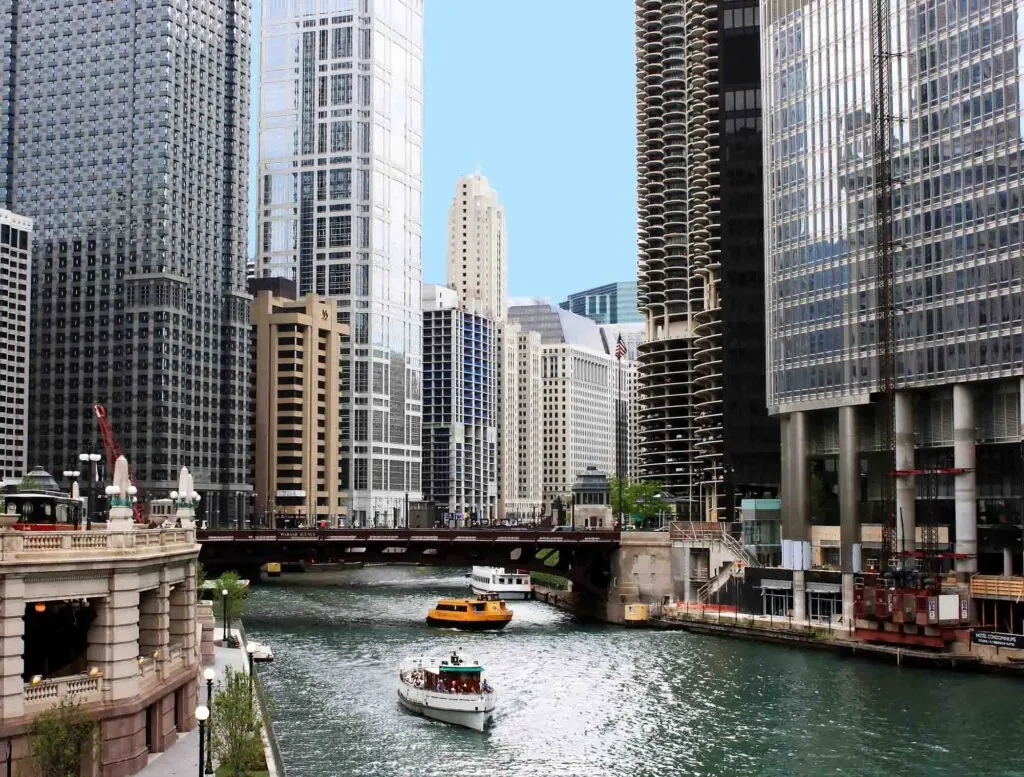 Often referred to as the Windy City, Chicago is located along Lake Michigan's shores.
It attracts visitors from across the globe due to its vibrant art scenes, interesting architecture, a myriad of cultural attractions, and great shopping.
The city boasts a global reputation as a central focus of 20th-century art and architecture, with famous artists like Picasso and Chagall and architects like Frank Lloyd Wright making a mark.
Beyond that, Chicago has world-class museums such as the Art Institute of Chicago, with plenty of artwork spanning thousands of years.
It also has pieces from different media like sculpture, painting, decorative arts, architectural drawings, and impressionist and post-impressionist paintings.
If you're looking for some fantastic views, head over to Millennium Park, located in downtown Chicago.
The park has the Cloud Gate sculpture, reflecting its surroundings, the sky, and visitors walking through its arch.
Further out, the nearby Crown Fountain gives the appearance of water flowing into projected images of Chicago citizens' mouths—definitely something not to miss.
11. Las Vegas, Nevada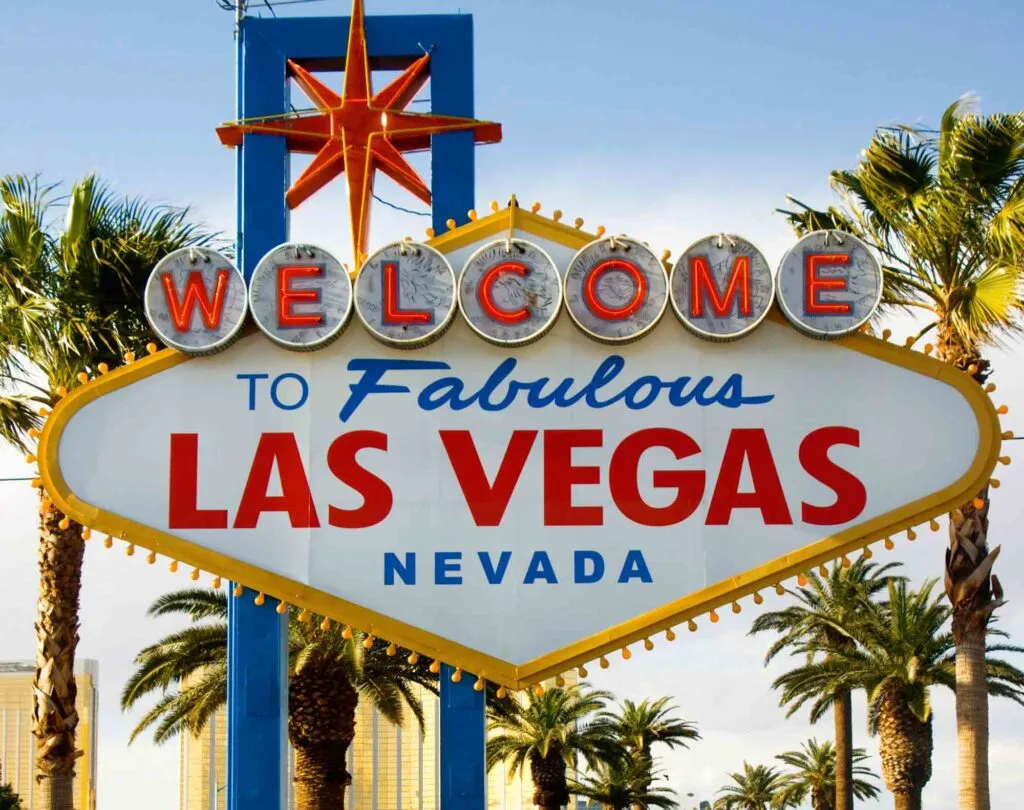 If you like to gamble, there's no better place to visit in the United States than Las Vegas, Nevada.
The main strip boasts 30 flashy casinos — and another two dozen are scattered throughout side streets. But if you don't like to part with money for sport, there's still plenty to do in the original "Sin City."
For starters, everything in town is over-the-top. Las Vegas is not about subtlety. It's a glittering theme park for adults!
Want a Venice experience? Head to the Venetian! In the mood for a little French je ne sais quoi? Spend a few nights in Paris Las Vegas!
Although some of the world's best chefs maintain restaurants in Las Vegas, free food can easily be found in Las Vegas. When in town, keep an eye out for deals and complimentary buffets.
Still, the cherries on top are the never-ending entertainment options and daytime pool parties.
If you're ready to let loose and have fun, Las Vegas is waiting to help you out!
12. Charlotte, North Carolina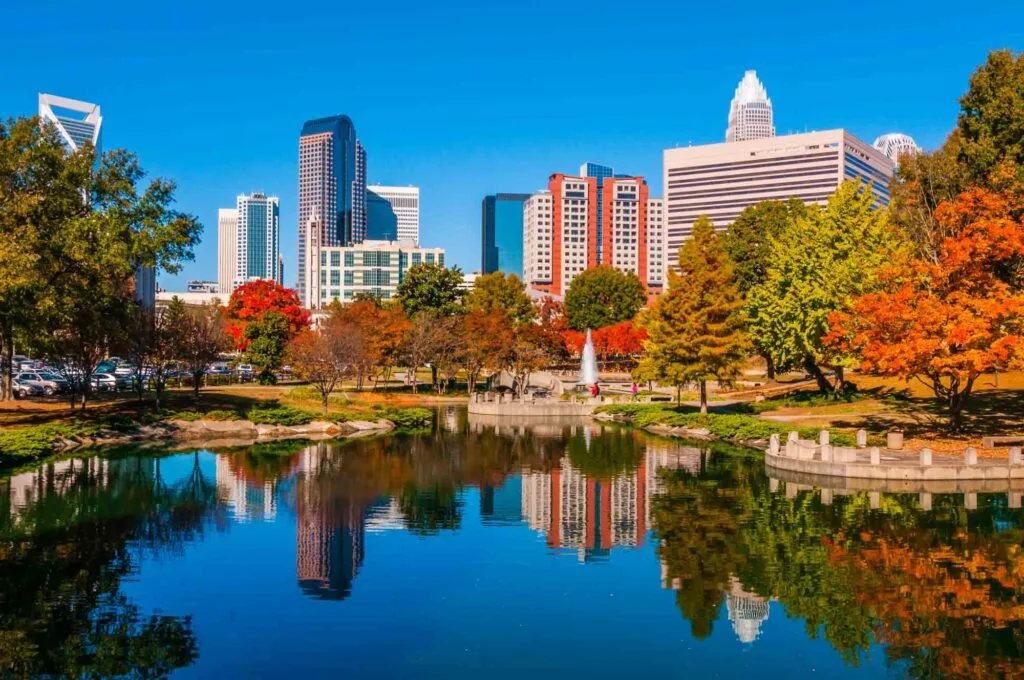 In the aughts, Charlotte, North Carolina, was best known for being the fastest growing city in the country.
Residential migration has since slowed, but tourism is up — because Charlotte has transformed itself into a world-class city that should land on any USA bucket list.
Home to the NFL's Carolina Panthers and the NBA's Charlotte Hornets, Charlotte hosts the NASCAR Coca-Cola 600 and the Wells Fargo Golf Championship.
Driving enthusiasts also love the city's NASCAR Hall of Fame.
For more culturally minded folks, the Charlotte Ballet is one of the more renowned companies in the United States.
In October and November, fans of Renaissance festivals should find their way to Charlotte when the Carolina Renaissance Festival operates every Saturday and Sunday.
Taste of Charlotte, Moo and Brew Fest, and the Yiasou Greek Festival are also popular annual events.
As the locals call it, Queen City is also awash in steller restaurants, making it an excellent choice for foodies in search of a weekend vacation somewhere different.
When planning your trip, know that summer is the most crowded travel season in Charlotte. So if you're deal hunting, look between March and May or September and November.
13. Washington, DC
Washington, DC, is home to many of our country's most important buildings and institutions, including the White House, Capitol, and Smithsonian museums.
A trip to DC is a right of passage for nearly every American, and almost 25 million tourists descend upon the city every year.
When in town, leave the better part of a day aside for the monuments. The double-decker city tours are also a good and educational time.
History buffs who want to clap their eyes on the nation's founding documents must head to the National Archives Museum.
As for the festivals, the two significant annual events in DC are the Cherry Blossom Festival in the spring and July 4th celebrations in the summer.
Although Washington, DC, is a beautiful city any time of year, it's one of the best winter and fall vacations in the US if you want to skip the crowds.
14. New York, New York
Arguably the most famous city in the world, New York City is a shoo-in on our USA bucket list. Affectionately known as "The Big Apple," New York is the city that doesn't sleep.
When in town, going to a Broadway musical or play is a must. If you're a fan of museums, New York is home to many of the best, including the Metropolitan Museum of Art, the American Museum of Natural History, the Guggenheim, MOMA, the Whitney, and the Cloisters.
New York is also awash in parks. The most famous being Central Park, Prospect Park, and the Brooklyn Botanic Garden. Book a spot on one of the many boat cruises that circle the island for pictures of the skyline.
The Big Apple is a city of neighborhoods, each with its own personality and vibe.
Harlem has strong roots in the African American and Latinx communities; SoHo is a famous art enclave; the Upper West Side is the old-money stronghold.
The best New York trips are ones that cover the gamut. Get out and experience the entire city! It can be life-changing.
As you might expect, New York has incredible restaurants. For the best pizza you will ever eat, head to Lombardi's in Little Italy. It's one of the oldest pizzerias in the United States and by far the most delicious.
At last count, a whopping 38 eateries boasted coveted Michelin stars. Bon appetit!
15. Miami, Florida
Its waters are aqua, its architecture eclectic, and its vibe is set to party. It's Miami, and it's one of the best vacation cities in the United States.
Miami's golden-sand beaches are gorgeous, and so are the people on them! But the modest among us should beware — because in Miami, the more skin, the better!
The south Florida metropolis is big into art. Galleries dot the palm-lined streets, and the biggest international exhibits and festivals, like Biennale, always come through Miami.
Two of the area's more notable museums are the Pérez Art Museum Miami and The Bass. Proud nerds should make time for The Philip at Patricia Frost Museum of Science, too.
Beyond that, Miami's nightlife is legendary, so wear comfortable dancing shoes. And before you head out for a night of revelry, fuel up at one of the many incredible restaurants in Little Havana.
16. Savannah, Georgia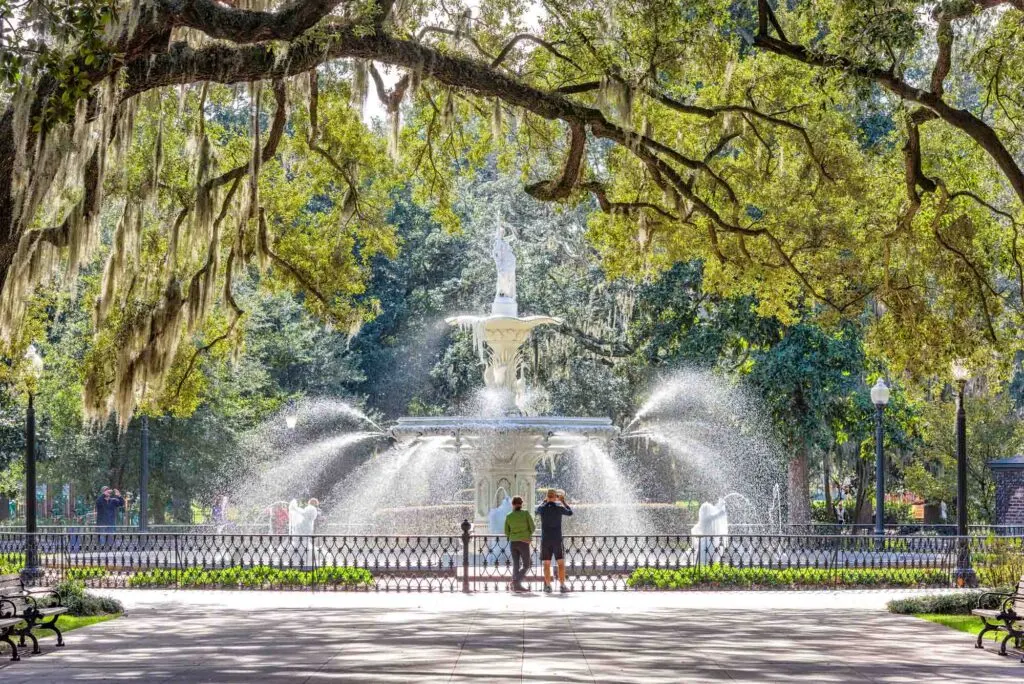 With its cobblestone streets, manicured parks, weeping willows, and Victorian mansions, Savannah, Georgia, is one of the most beautiful places in the USA.
Vibe-wise, Savannah is New Orleans' slightly more conservative cousin. Both cities appreciate good jazz, great food, and throwback architecture — but Savannah is a bit more buttoned-up, and the pace is decidedly slower.
Its location on the Savannah River made the city one of early America's most important ports, and reminders of its prominence remain today.
Savannah is home to the oldest black church in North America, First African Baptist, which dates to 1777, and the third oldest synagogue, Mickve Israel, which welcomed its first congregation in 1735.
In the market for incredible photos? When in Savannah, head to the legendary tree-lined driveway of the Wormsloe Historic Site, the Olde Pink House, Cathedral of Saint John the Baptist, Owens-Thomas House, E Bryant Street, aka Rainbow Row, the Forsyth Park, and the Historic District.
Other standout features of the "Hostess City of the South" include its 22 squares, famous cemeteries, and historic forts.
For shopping, head to Broughton and Bull Streets, and to explore the spookier side of the city, book tickets for the Savannah Ghost Tour.
Whatever you decide to do, make sure you bring comfortable walking shoes. Savannah is gorgeous, and you'll want to spend hours walking through its pulchritudinous streets.
17. Portland, Oregon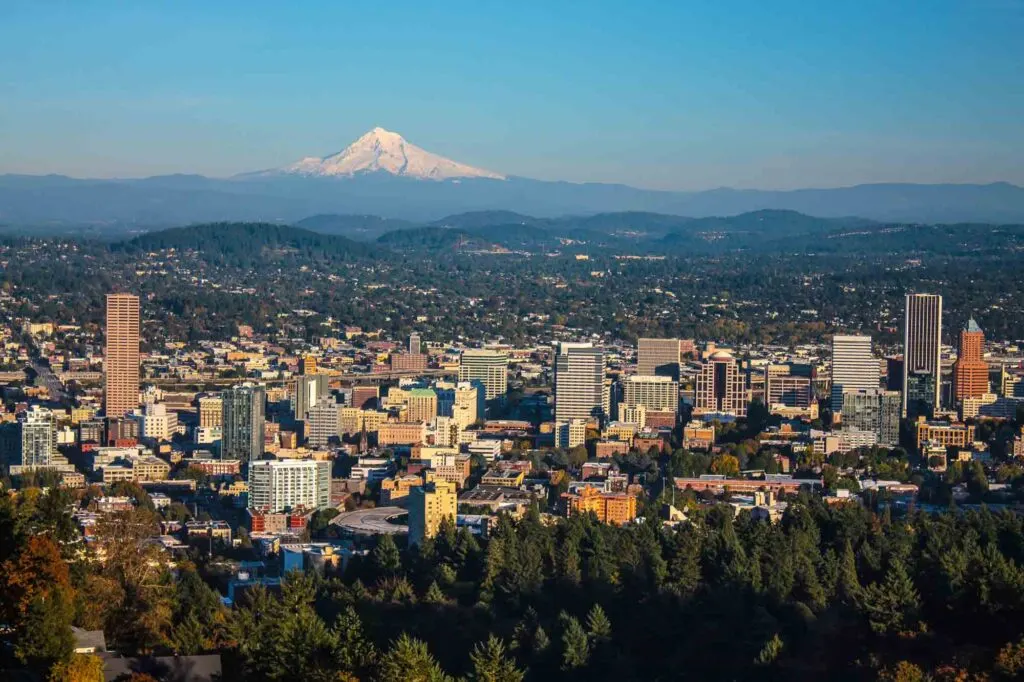 "Keep Portland Weird" is the oft-cited motto of Oregon's biggest city — and the Pacific Northwest enclave lives up to the promise. After all, in what other city do residents knit sweaters and scarves for trees and lamp posts?
On the banks of the Willamette River, in the foothills of Mount Hood, Portland is an emerald city boasting 10,000 acres of public parks.
For a serene experience, check out the Japanese Garden and the International Rose Garden.
Forest Park, one of the most extensive urban forests in the country, is another excellent Portland space to get lost for a couple of hours.
Besides, Portland is known as the City of Roses, and there are few things more stunning than the May through September bloom.
Other famous landmarks include Old Town, Pioneer Square, and the Portland Stag sign.
If you're the outdoorsy type, Portland's surrounding area is filled with miles of hiking trails and camping grounds. About 40 minutes outside of the metro area is Multnomah Falls, Portland's money shot.
If you're more of an urban dweller, make your way to the Pearl District, it's abuzz with restaurants, cafes, shops, galleries, and theaters.
Whatever you choose to do, don't leave the city before trying both of Portland's culinary stars: ice cream at Salt & Straw and a doughnut from Voodoos!
18. San Antonio, Texas
The Lone Star State is home to a large number of cities worth a visit, but our absolute favorite is San Antonio, which is a great place to visit in November.
Spending a weekend in San Antonio with its romantic River Walk and historical missions has always been one of our favorite things to do in the Texas Hill Country.
While the city is most famous for its infamous Alamo, six historic missions in San Antonio together make up a National Historical Park, appropriately called San Antonio Missions – definitely must-visit places in the USA.
Mission San Jose is the most crucial mission in San Antonio. Inside its exterior walls, you can feel what it must have been like to live during the time because so much of San Jose is still intact.
You can see local Native American living quarters, the church, workshops, and more.
However, Mission Concepcion is our favorite mission, and we're not alone because it's been declared a UNESCO World Heritage Site.
It's the oldest unrestored mission in the country, and the small chapel is frozen in time.
Of course, a visit to the missions wouldn't be complete without the iconic Alamo. The Alamo played a critical part in Texas history, with nationally known figures like James Bowie, Davy Crocket, and William Travis.
The Alamo's is located right downtown next to historic hotels like The Menger and Crockett Hotel, or choose any of the many hotels on the River Walk. Like everywhere in Texas, you'll need a car to get around because the missions are spread out across San Antonio.
Erin from Sol Salute
Read next: 16 Best National Park in Texas
19. Los Angeles, California
Los Angeles is the nucleus of the American motion picture industry and has long been associated with wealth and glamour. But the city has so much more to offer.
Science fans should block off a morning for the La Brea Tar Pits, where guests gaze on prehistoric fossil remains dating back 40,000 years.
People chasing a tan should make their way to one of Los Angeles' many beaches. Santa Monica, Malibu, Venice, Manhattan, and Hermosa are the best ones for people-watching.
Also, Los Angeles is awash in museums. Check out the Grammy Museum, Natural History Museum, and the Museum of Broken Relationships if you have the time.
If the kids are tagging along, make sure to put aside a day for Disneyland, the Mouse's west coast stronghold, and the Universal Studios Hollywood theme park.
If you want to see how the other half lives, head to Beverly Hills and stroll Rodeo Drive.
Don't forget to keep an eye out for celebrities! But remember, they're usually not fond of strangers approaching them for selfies.
20. Nashville, Tennessee
Known as "Music City," Nashville, Tennessee, is to country music as Los Angeles is to motion pictures.
It's home to the Country Music Hall of Fame, Johnny Cash Museum, Glen Campbell Museum, and the legendary Ryman Auditorium.
The Grand Ole Opry — America's cathedral to gospel, country, and bluegrass — is also a Nashville staple.
In the mood for a gorgeous stroll? Head to the city's 55-acre botanical garden.
If you'd rather walk and shop, make a beeline for the Gulch and 12th South, both neighborhoods are filled with locally owned boutiques and restaurants.
Good to know: Understand that you cannot buy liquor on Sundays in Nashville — and ice tea is called sweet tea.
Best Small Towns to Visit in the USA
Here are the best small towns to travel to in the US in no particular order.
21. Fredericksburg, Texas
Fredericksburg, Texas, doesn't usually make the average USA bucket list — but we added it to ours because it's a charming German town with a unique history.
Smack in the middle of the Lone Star State, Fredericksburg has deep German roots. (And incredible German restaurants, too!)
Named after Prince Frederick of Prussia, the city was founded in 1846 and was one of the few places where people once spoke Texas German, a dialect favored by Bavarian immigrants in the region.
Fredericksburg is a geographical marvel and home to three notable rock formations: Enchanted Rock, Balanced Rock, and Cross Mountain.
It's also the Peach Capital of Texas, so if you're a fan of the furry fruit, be sure to stock up while in town.
Still, the cherries on top are the world-class wineries spread around town.
You can visit one of them or venture on a wine tour while staying in Fredericksburg, but whatever you do, be sure to avoid traveling between June and August to avoid the oppressive heat in town.
Good to know: while there are a bunch of incredible Airbnbs in Fredericksburg to enjoy a laid-back getaway, you'll want to stay in one of these romantic cabins if you're traveling with your significant other.
22. Stanley, Idaho
Most people associate Idaho with potatoes, but Stanley ranks as one of the best USA travel destinations for people who enjoy the outdoors.
Gateway to the Sawtooth Mountain range and Salmon River, Stanley is where you go to enjoy the fresh air and incredible mountain views.
The hike to Alice Lake is the area's most popular. Don't forget to make sure your phone is charged before leaving because you'll want snapshots.
Oh, and only 63 people live in Stanley. So go for the nature — not the nightlife.
23. Breckenridge, Colorado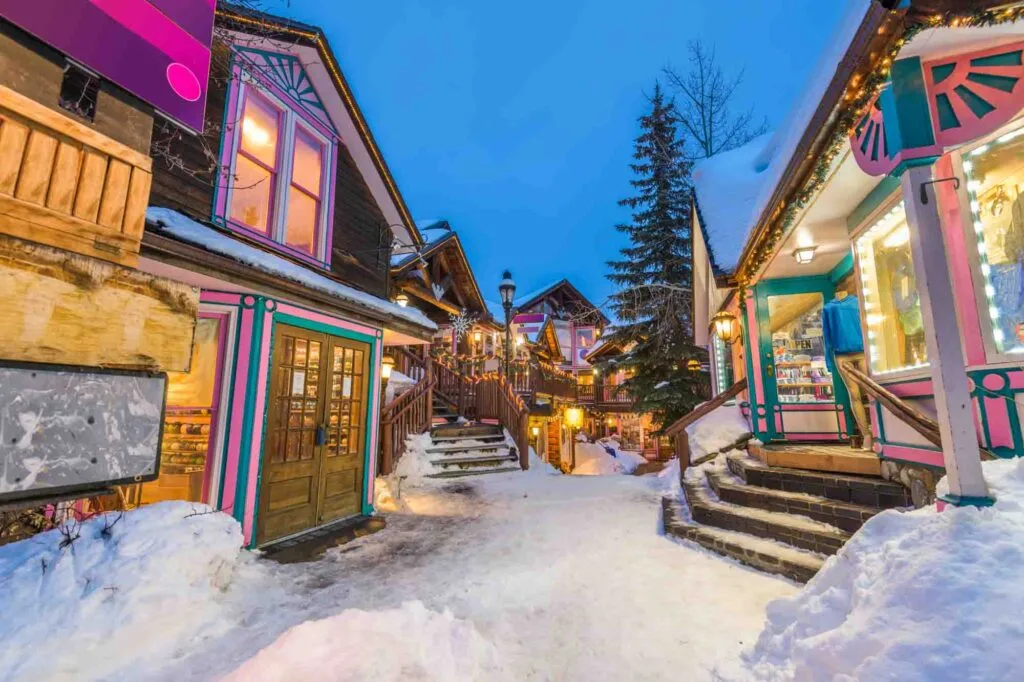 If you like to ski, add Breckenridge, Colorado, to your USA bucket list. The world-class resort and slopes attract visitors from around the world between November and April. So yeah, it's a fantastic winter vacation in the US.
Summer in the region is also a good time, with hiking, fly-fishing, white-water rafting, and Lake Dillon boating on tap.
Fans of extreme sports should visit during the annual Winter Dew Tour, which draws a large crowd of XGame enthusiasts.
Also, remember that Colorado is a high-altitude region. If you have health conditions, consult with a doctor before booking a trip.
24. Whitefish, Montana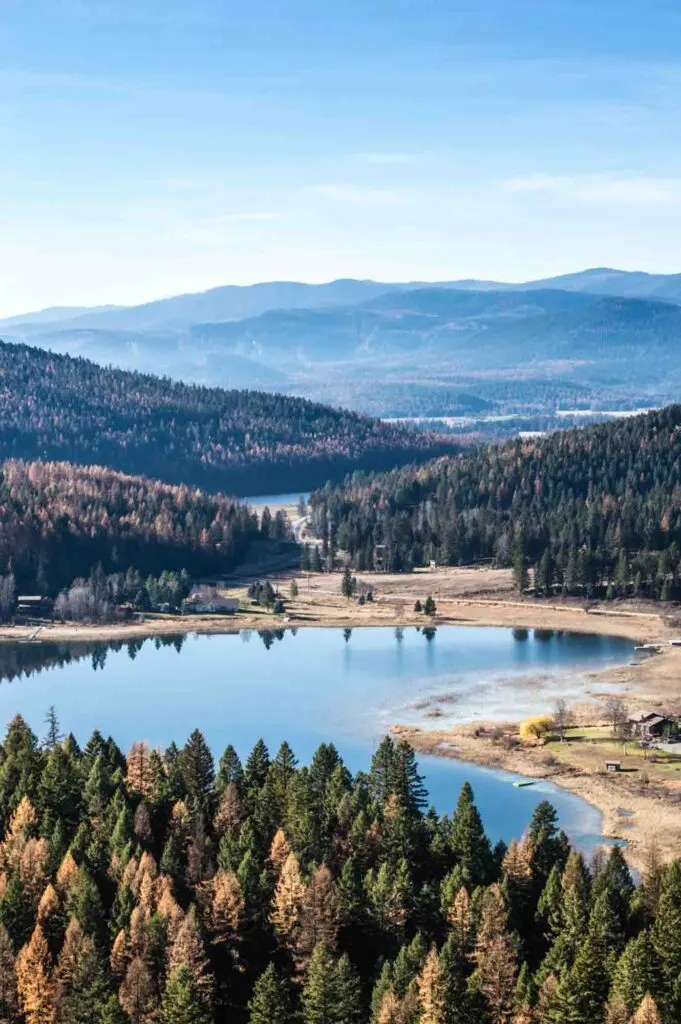 Dubbed "Montana's Outdoor Recreation Playground," Whitefish, Montana, is the ideal vacation spot for people with love for the great outdoors.
Fishing, boating, cycling, paddling, snowshoeing, skiing, and hiking are the area's big draws.
Other popular activities include llama trekking and art classes, where students learn how to paint the state's famous "big sky."
Additionally, downtown Whitefish is a quaint shopping area teeming with cute boutiques, and Glacier National Park is where to go for incredible photos.
Golfing and horseback riding are also popular area pastimes, weather permitting.
Oh, and fall and winter weather can get fierce in Whitefish. The best time to visit is between June and August for sightseeing.
25. Fairbanks, Alaska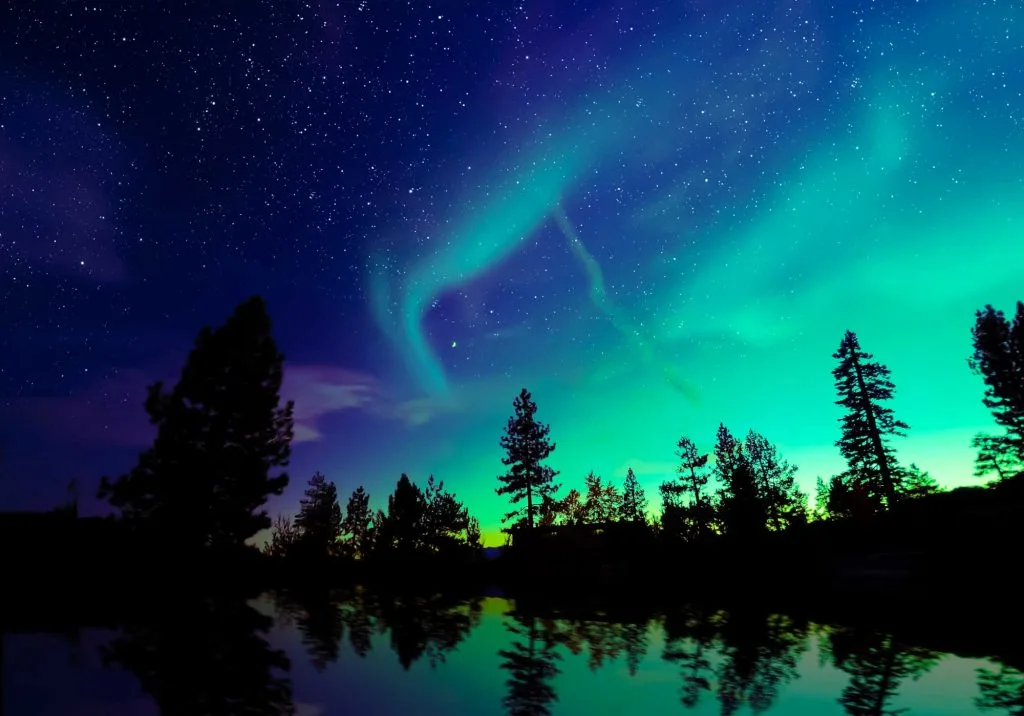 Seeing the Northern Lights in Alaska is the ultimate USA bucket list item for any traveler.
Although there are some places you might get lucky enough to catch these amazing light shows in the lower 48, the Northern Lights are the most brilliant and vibrant in Alaska.
If you're planning to take that bucket list trip to Alaska to see them in person, you might want to consider stopping in Fairbanks.
This inner-city tends to get left out of visitors' itineraries, but this area is home to stunning views of the Northern Lights in the entire state.
Keep in mind that the Aurora Borealis is only visible from late August until mid-April. During the summer months, Alaska is home to almost 24 hours of daylight, during which time any activity is not visible.
While there is no guarantee you will catch a show any given day, they tend to come out later at night and in the early morning hours.
If you're checking off this bucket list item from Fairbanks, check out Murphy Dome.
This locals' favorite is about 20 miles outside the city and offers the perfect place to see the Northern Lights.
Outside of this natural wonder, there is still plenty of fun and unique things to do in Fairbanks, Alaska.
Check out local history and culture at Pioneer Park, hike up to the top of Angel Rocks, or relax in the natural hot springs surrounded by nature at Chena Hot Springs.
Fairbanks is also just three hours from Denali National Park, home to over six million acres of untamed Alaskan nature and wildlife.
Christina Ropp from Littles, Life, & Laughter
26. Leavenworth, Washington
Have you always wanted to visit a traditional Bavarian village? If so, vacation in Leavenworth, a quaint town in the shadow of the Cascade Mountains in west-central Washington State.
Leavenworth was modeled to resemble a German town. The structures are built in the old-fashioned Bavarian style, complete with wood balconies outside every window and towers galore.
Like many places in the Pacific Northwest, Leavenworth is known for its wealth of outdoor activities.
Horseback riding is big, as is hiking in the surrounding wild. There's also a ski slope and cross-country trails for winter recreation.
Still, set aside an hour for the Leavenworth Nutcracker Museum.
27. Annapolis, Maryland
Annapolis is Maryland's capital on the banks of the Chesapeake Bay, and it typically doesn't make many must-see lists.
But in our opinion, that's a mistake. In fact, we rank Annapolis as one of the top places to visit in the United States.
For starters, it's a huge sailing town — and it's also one of the most pristine.
With its red cobblestone streets, brick buildings, and gaslamp street lights, the downtown corridor looks like something out of a movie set!
Moreover, Annapolis is teeming with history. Landmarks and attractions include the Banneker-Douglass Museum, Kunta Kinte-Alex Haley Memorial, United States Naval Academy Museum, Hammond–Harwood House, St. Anne's Episcopal Church, and Thurgood Marshall Monument.
Beyond that, the seafood in this town is incredible, especially the crab! When in town, eat well and often.
28. Chincoteague, Virginia
Home of the Assateague horses, one of the few wild horse populations in the United States, Chincoteague offers a classic summer vacation vibe without the crushing crowds. In a word, Chincoteague is all about serenity.
During the summer, Chincoteague's population swells somewhat as visitors flock in from across the country. But it's never a massive crowd.
People come for the beaches, ice cream parlors, miniature golf, cute restaurants, and a glimpse of the wild horses.
Beebe Ranch and the Museum of Chincoteague Island are also popular with tourists.
29. Stowe, Vermont
If you appreciate the pastoral nature of New England, then Stowe, Vermont, may land on your list of best places to visit in the USA.
Nicknamed the "Ski Capital of the East," Stowe is a classic alpine town, complete with a village, and it ranks among the most idyllic places in the country.
Even if you don't ski, Stowe is incredibly gorgeous during the fall and spring, and the rates are much more affordable.
The area's two main attractions are Stoweflake Mountain Resort and Spa and the Stowe Mountain Resort.
Other notable landmarks, sites, and attractions include the Trapp Family Lodge, the award-winning Stowe Recreation Path, and the Vermont Ski and Snowboard Museum.
Since people come from all over to hit the slopes in Stowe, the area has excellent restaurants. Spring for the oysters when dining. Chincoteague's waters produce the freshest on the East Coast!
30. Broken Bow, Oklahoma
Broken Bow, Oklahoma, is the gateway to Hochatown State Park, Beavers Bend Resort Park, and Cedar Creek Golf Course. It's also home to Broken Bow Lake.
Fly fishing is plentiful in the Broken Bow — as are canoeing, paddle boarding, horseback riding, and kayaking.
If you're looking to entertain the kids, hit up one of the town's mini-golf courses or go-karting tracks.
And if you enjoy gambling, saddle up! Gaming is legal in Broken Bow.
Would-be rangers should wend their way to the Forest Heritage Center Museum.
Last but not least, if you enjoy escape rooms, go to nearby Hochatown, which has a 29,000-square-foot wooden maze, in addition, to puzzle and escape rooms.
31. Hatteras, North Carolina
One of the most beautiful places to visit in the USA is Hatteras, North Carolina.
Hatteras is part of the famed Outer Banks — the region where Orville and Wilbur Wright first took flight and Blackbeard, the pirate, fought his last battle.
Wildlife watching, windsurfing, and fishing in Pamlico Sound are popular area pastimes, as are snorkeling and scuba diving around the area's shipwrecks.
But on most days, during the season, you'll find people lounging on the beach or playing mini-golf.
Good to know: Hurricane season in the Outer Banks runs between June and November. So make sure to get travel insurance if you plan on visiting during that period.
32. Bethlehem, Pennsylvania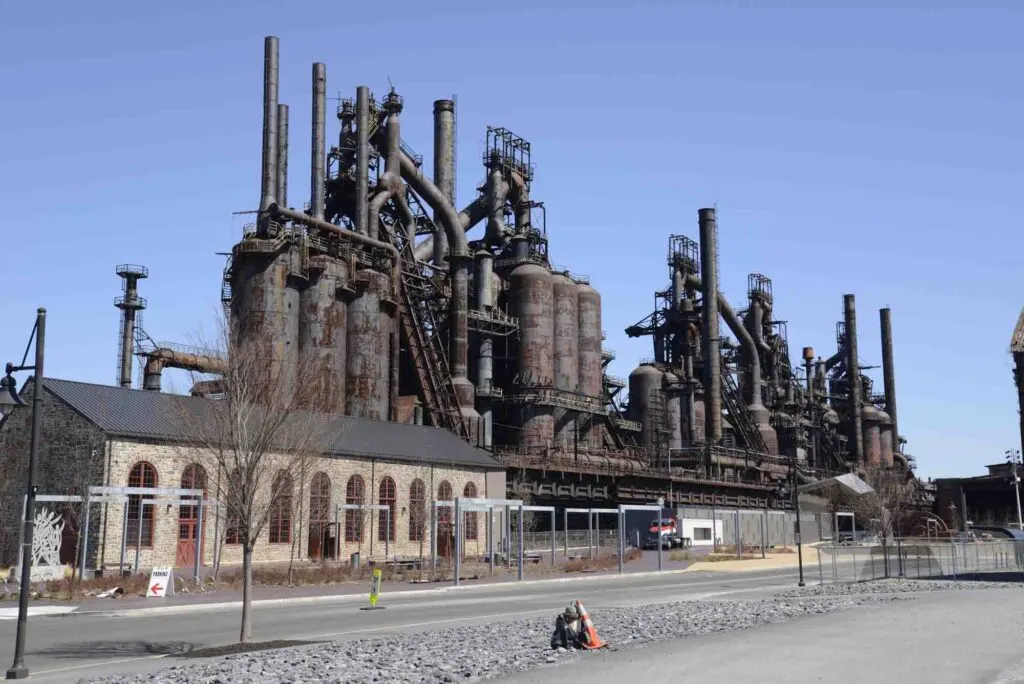 Although Bethlehem is a small town, it has its charm and should be on your USA bucket list. There are plenty of exciting things to do and sites to see in Bethlehem, Pennsylvania.
Often, Bethlehem gets eclipsed by Philadelphia, but this small town has plenty to offer, and if you can, visit during Christmas.
There is a reason why it is known as the Christmas city, so if the festive season is one of your favorite holidays, this would be the perfect spot for you.
The Christmas markets are one of its highlights. It also has several attractions worth seeing like the Hoover Mason Trestle, the National Museum of Industrial History, Musikfest, the Apollo Grill, Fegley's Brew Works, and 1741 on the Terrace.
Also, Bethlehem has a fascinating history, and although it lost its primary industry, it has become a vibrant and charming city.
Whether you are looking to relax, enjoy outdoor fun, or love history, there are many things to love about Bethlehem.
33. Newport, Rhode Island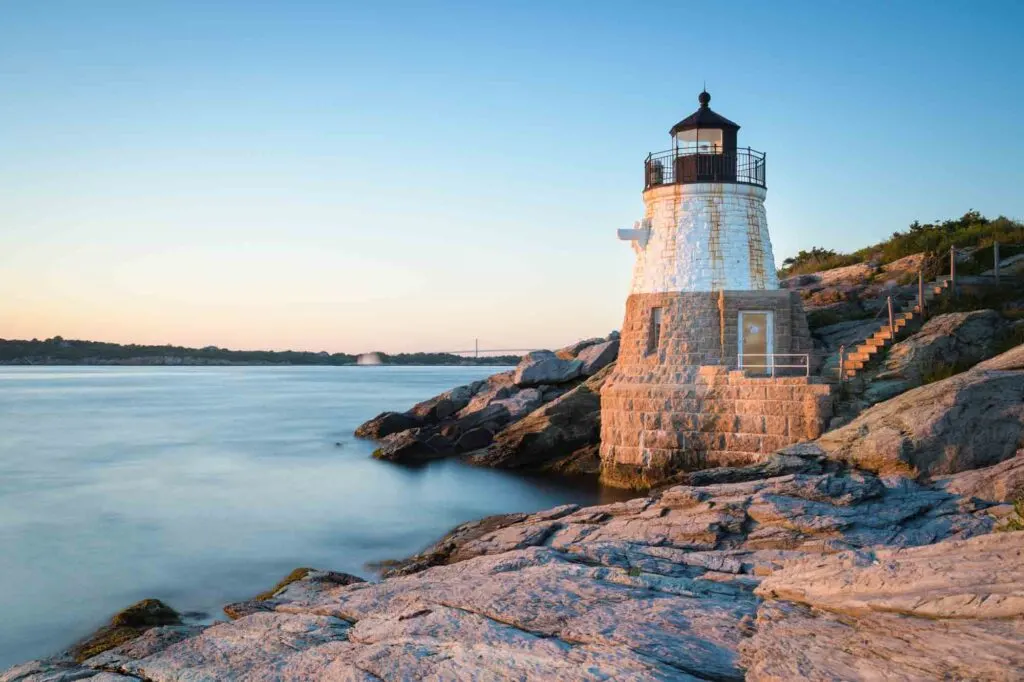 Newport in Rhode Island is among the best places to travel to in the USA. There are so many things to do you may not even know where to start from.
Besides, there is a range of options to choose from if you enjoy tours, such as historical and food tours, sailing tours, and mansion tours.
Located by the sea, this city has a pretty rich history, meaning this would be an excellent travel destination for history buffs.
If you're planning your visit, ensure you go on at least one mansion tour, not forgetting sailing tours where you can charter your private yacht, take a romantic cruise, or tour the harbor on the Amazing Grace with your friends or loved ones.
There is so much history to consume, and you may not be able to take it all in a single visit. No matter how many times you visit Newport, there will always be something new to see or do.
34. Page, Arizona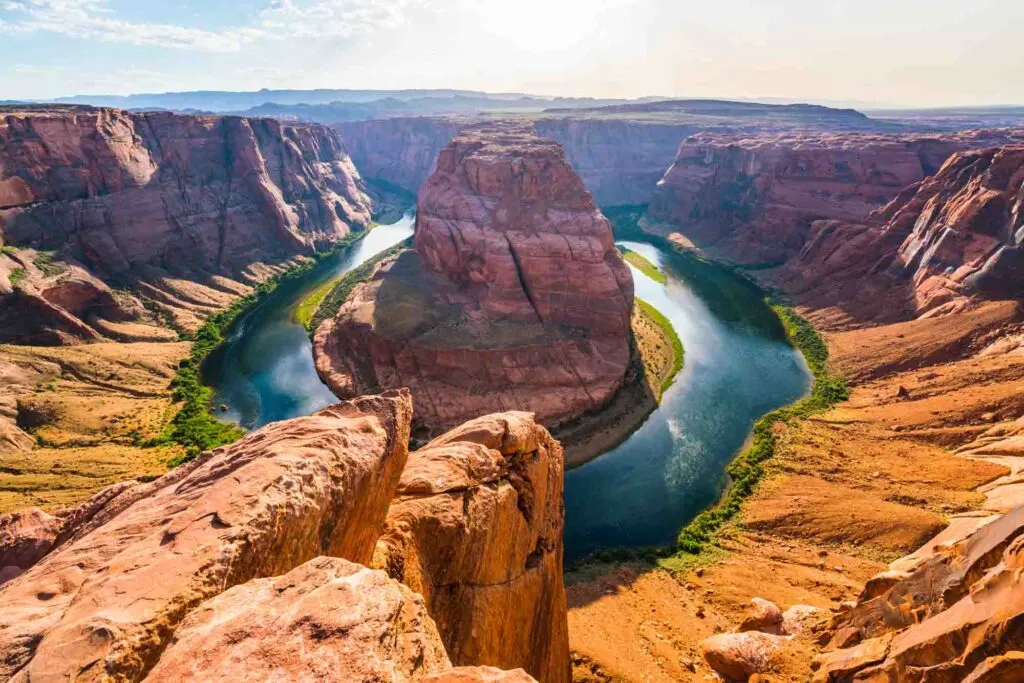 Page, Arizona, is a pretty small town, and while it may not seem to be an ideal travel destination, this place has so much to offer.
Besides, you should add this small town to your USA bucket list since it has some of the most beautiful sights in the southwest.
Some of the places found in Page, Arizona, are Horseshoe Bend and Antelope Canyon, which are must-sees in the US.
From the outside of Page, you can see Lake Powell and the Glen Canyon Dam, among the largest dams in the US.
There are so many adventures to go on, restaurants to try, and stunning dramatic landscapes to see. Although Page is a small town, it has beautiful landscapes and should be included on your travel list.
While there are several other activities you can do in Page, we highly recommend visiting Page if you are an outdoor person.
Best National Parks to Visit in the USA
Here are the best national parks to travel to in the US in no particular order.
35. Yellowstone National Park, Wyoming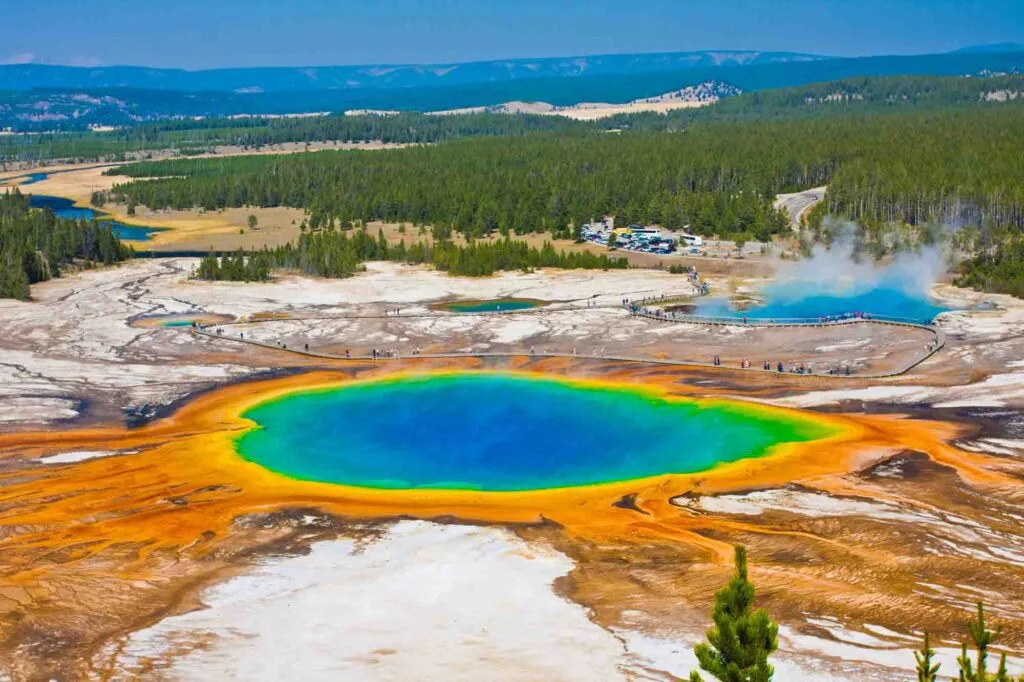 If there is one place that has to be on your USA bucket list, it is the beautiful and vast Yellowstone National Park!
Yellowstone is the oldest national park in the USA, being established in 1872, and is believed to be the best of all the national parks!
Yellowstone really has something for everyone! For wildlife lovers, you can head to the Lamar Valley and see bison, grizzly bears, wolves, deers, and more!
If you like geology, then head to see some fantastic formations and hot springs. And, of course, no visit is complete without seeing the old faithful and the Grand Canyon of Yellowstone!
And for the photographers among you, the grand prismatic lake is just breathtaking!
When you get around going, be sure to book well in advance as accommodation books up quickly.
Park lodges are best as the park is vast, so it's a huge benefit to be in the park, to begin with!
And if you can try and avoid traveling during the summer holidays as traffic jams in the park are legendary – avoiding peak time is definitely an advantage, especially if you want to see wildlife!
Leona from Wandermust Family
36. Grand Canyon National Park, Arizona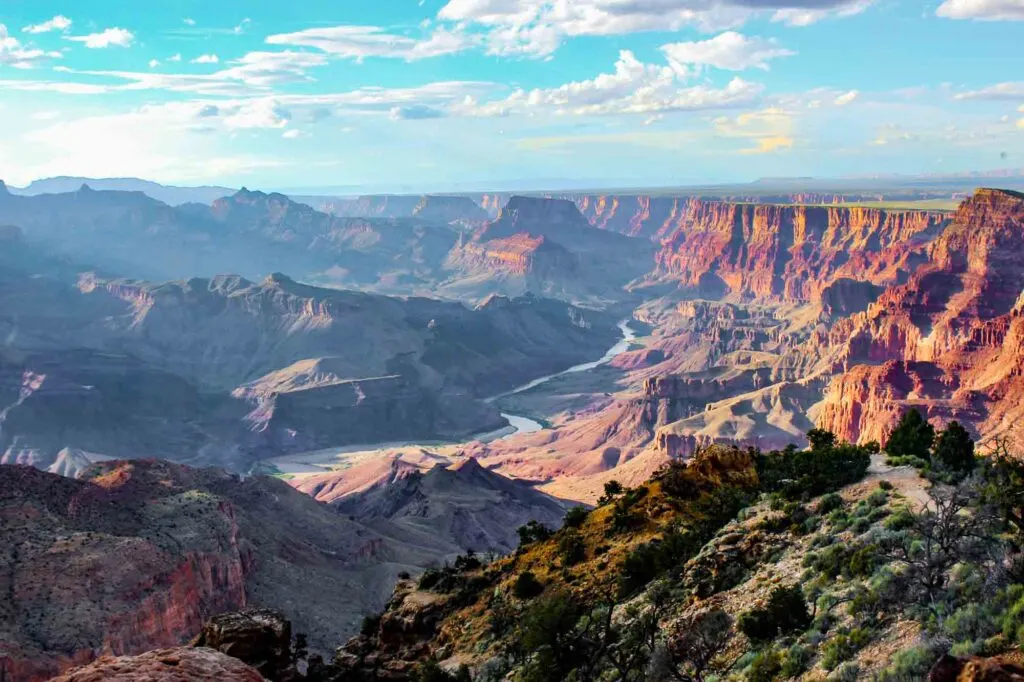 Many Americans have the Grand Canyon on the top of their USA bucket list, and the Grand Canyon does indeed deserve to be high on anyone's bucket list.
However, many visitors don't realize that hiking at the Grand Canyon is even better than just seeing it from observation decks.
There are many trails at the Grand Canyon that allow hikers to either hike around the Grand Canyon or hike deeper down into the canyon with the option to walk from "rim to rim."
These Grand Canyon trails provide an alternative view of the Grand Canyon that most other visitors simply will never be able to see.
As hikers go deeper down into the Grand Canyon, they are greeted by panoramic views all the way down to the Canyon floor.
Even if someone only hikes a few hours down, the landscape changes dramatically, and there are many fantastic photo spots along the hike.
Before hiking at the Grand Canyon, research which hikes you want to do, multiple walks have different views and difficulty levels.
Besides, the best time to hike the Grand Canyon is in the spring or fall when the weather is not too hot or cold and there is no ice on the ground.
Also, bring adequate water and sun protection when hiking at the Grand Canyon.
Many hiking-related deaths are due to dehydration and overheating. The temperature at the bottom of the canyon is much higher than at the top.
Oh, and assess your own fitness level. Since all the hikes at the Grand Canyon start from the top, it's easy to go down but hard to come back up.
As long as you exercise caution and be adequately prepared, you will be amazed at your hiking experience in the Grand Canyon.
Serena from Serenas' Lenses
37. Death Valley National Park, California
If you're taking a South West road trip, a drive across the lowest point below sea level in North America has to make the cut.
A ride through Death Valley National Park will definitely add some edge to your journey.
Not only is it one of the hottest places on earth, but you'll find a variety of breathtaking landscapes, historical highlights, and natural phenomena along the way.
There may also be times when you wonder if you'll make it out alive.
Here, road trippers pass mirrors of bright white salt deposits, multi-colored lava formations, and colored striations in the rock face.
Small shrubs and plants prove that there's moisture found in the valley. There's history, too; traces of the life led by early pioneers, prospectors, and borax miners.
Zabriskie Point is one of the most spectacular landscapes in Death Valley. The view of The Badlands with its pastel pink and yellow-tinted rock formations is jaw-dropping.
The rock is formed from sediment from Furnace Creek Lake, which dried up millions of years before Death Valley.
Before you start your road trip, make sure you've got plenty of water, a paper map (GPS signal for Sat Nav isn't reliable), and a tank full of fuel.
Also, keep the air-con turned off to help stop the engine from overheating.
Suzanne Jones at The Travelbunny
38. Acadia National Park, Maine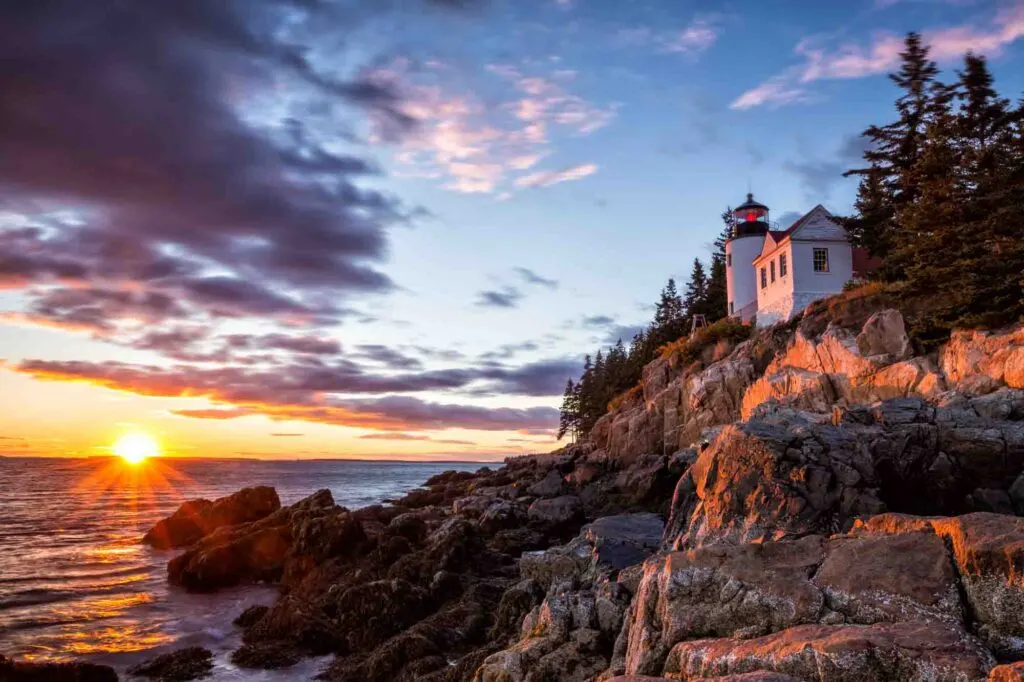 It would be best if you considered visiting Acadia National Park, located in Maine. It is among the most beautiful national parks in the eastern US, and it showcases the Maine Coast's beauty perfectly.
There are several miles of biking and hiking trails on Acadia, and if you prefer sailing and kayaking, there is easy coastal access.
There are many different ways to spend your time at the national park, but ensure you spend at least two days. This way, you get to fully enjoy everything that the park has to offer and take in its beauty.
If you wanna catch a sunrise, you will enjoy watching the most breathtaking sunrise at Cadillac Mountain.
The view combined with the sunset is pretty stunning since you will see all the islands dotting the coast.
If you would like to visit some of the most famous attractions in the park, such as Jordan Pond, Thunder Hole, and Sandy Beach, drive through the park loop road. This place is worth adding to your USA bucket list.
39. Arches National Park, Utah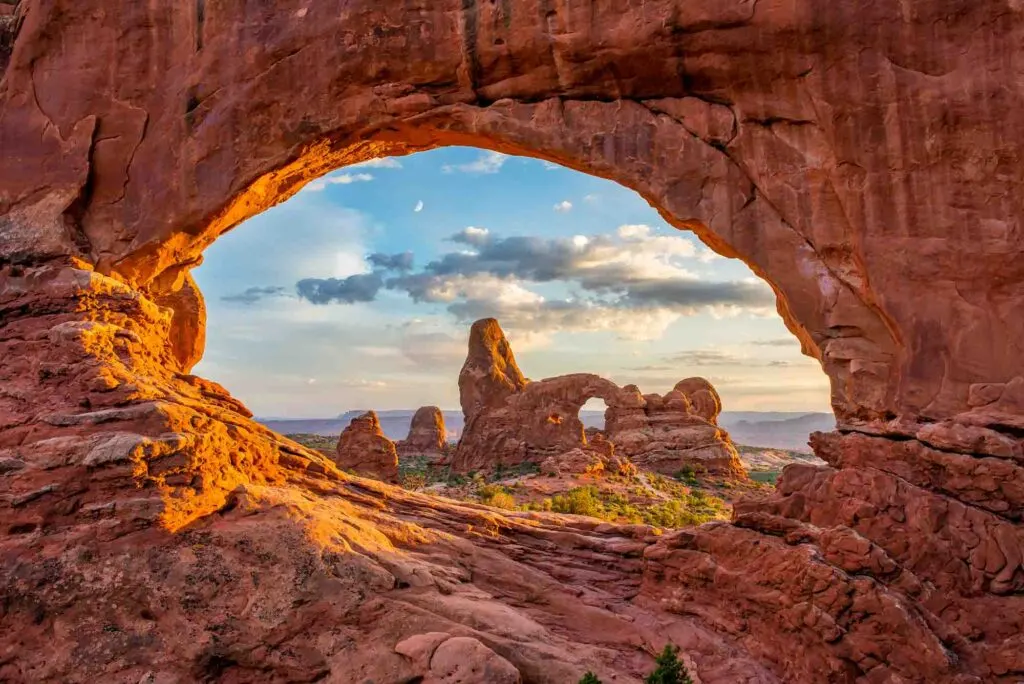 Arches National Park in Utah is hands down one of the best places to visit in the US.
If you enjoy hiking, you will enjoy hikes to see the impressive arches found in the national park, wander in the Devil's Garden, and hike the incredible delicate arch.
It would be best to visit the park after dark to enjoy stargazing and the dark skies.
Arches is located near Moab town and has over 2,000 sandstone arches, but there is a lot more to see other than arches.
There are multiple adventure opportunities, views of mountain peaks at a distance, petrified dunes, and rock spires. It is worth noting that it is also a top destination for mountain biking.
If you greatly enjoy the outdoors and hiking, then you should ensure that you visit Arches National Park at least once.
The best part is that there are several scenic places to see in Utah once you are done exploring Arches National Park.
Read next: Utah National Parks Road Trip
40. Glacier National Park, Montana
Among the best places to visit in the United States, you should add Glacier National Park to your travel plans.
While the glaciers are the main attraction here, there are also multiple waterfalls, two mountain ranges, and over 700 lakes, equally as impressive.
If you enjoy hiking, there are numerous hiking trails in Glacier National Park.
For instance, you could choose challenging routes like Highline Trail and Grinnell Glacier, or you could select an easy trail like Rocky Point.
Also, the park is an excellent spot for individuals who enjoy fishing and canoeing in the summer and the winter, snowshoeing, and cross-country skiing.
You can also spot wild animals such as elk, bears, and moose on your visit to the Glacier national park.
Perhaps the most fantastic thing about this park is that you can enjoy the picturesque landscape throughout the park.
There are many other activities you can do in Glacier park other than hiking. This includes driving through and spending your time at the beach on Lake McDonald.
41. Mount Rainier National Park, Washington
Mount Rainier is a two-hour drive from both Seattle and Portland. You can enjoy this mountain all year long since it is covered in beauty.
Also, you can hike through the mountain in the summer months and go through the meadows that have wildflowers in all colors strewn all over.
Fall is also a great time to visit since the lakes are free of snowmelt and ice. There is a better chance of you catching the trails and plenty of ripening berries.
Besides, there are various options to choose from if you would like to spend the night at the mountain.
For instance, you can backpack around the wonderland trail, and there is a lodge in the park where you can sleep or set up a tent on the established campgrounds.
If you do not enjoy lengthy hikes, you can always drive through the park to enjoy the endless views of lakes, glaciers, waterfalls, and you could also spot a wild animal.
42. Rocky Mountain National Park, Colorado
Rocky Mountains is a top place to visit in Colorado as it is among the most breathtaking parks in the United States, and you should add it to your USA bucket list.
You can easily access the Mountain on a day trip from Denver, Colorado. Several small towns can be spotted around the park, and you can stay in any, depending on your budget.
It would be best to have a car if you intend to visit and easily access Rocky Mountain National Park.
There are several vista points where you can stop and take a hike if you genuinely want to enjoy the park's beauty. There is no need to worry because a lot of stops have a hiking trail for everyone.
Beyond that, there are challenging and easy hikes and long and short hikes that you can enjoy.
However, you do not have to hike if you do not want to because the scenery at the vista points is pretty spectacular. Bear Lake, Sprague Lake, and Grand Lake are also other significant attractions in the area.
43. Sequoia National Park, California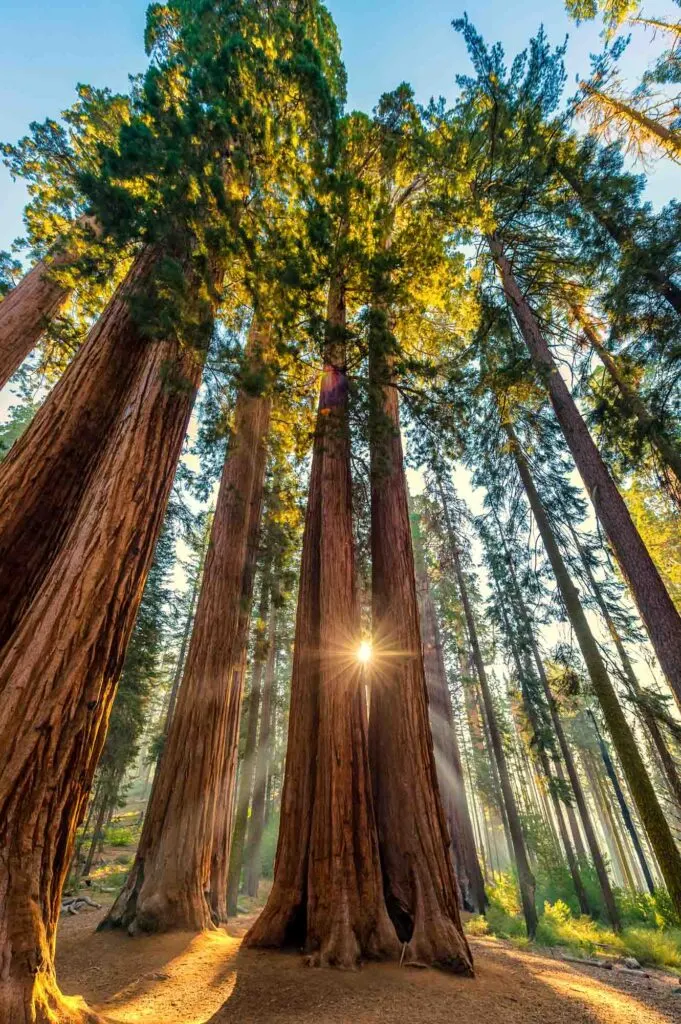 Sequoia National Park is an essential addition to every US bucket list. The park is in California and is adjacent to Kings Canyon National Park. Together, they are home to the biggest trees on the planet.
Redwoods are famous for being the tallest trees, but sequoias are the biggest. Many of the most massive trees have been named and are found in the Giant Forest area of the park.
One of the highlights of a visit is the easy Congress Trail hike, which visits the world's most massive tree, the General Sherman Tree, before meandering past several other giants, such as the President Tree and Chief Sequoyah Tree.
There are also a couple of clusters of trees, called the Senate and the Congress. Another easy hike is Round Meadow, a scenic grassy meadow surrounded by trees, including several notable sequoias.
At dusk, this is a great place to spot black bears foraging on fallen logs.
Other places in the park to visit include tunnel log, where you can walk through a tunnel cut through a fallen Sequoia, and the Giant Forest Museum, which has interesting displays about these incredible trees.
The Lodgepole area of the park is near the main Giant Forest area. There are campsites, a lodge, and a store here and nearby areas.
The park is popular in summer, especially Thursday—Saturday nights, so book as far in advance as possible for campsites of the lodge during this time.
There are several parking areas in the park, but there are also free shuttle buses in summer, making getting around the main areas easier and hassle-free.
James Ian from Parks Collecting
44. Joshua Tree National Park, California
There's something so striking about the Joshua Tree. It's not just its unique shape – it's also the way it has such vitality in the middle of the desert.
And so, spending some time hiking in Joshua Tree National Park is an exceptional experience, making it a top place to visit in the US. Be sure to add it to your USA bucket list travel ideas list!
One of the advantages of the park is that it's easily accessible from Los Angeles, and there are great glamping options to stay near the park. Yes, you can quickly go glamping in Joshua Tree!
If you're coming from LA, we would recommend a two-day trip, including travel time.
The best way to experience the landscape is by doing some hiking in Joshua Tree National Park.
You may be a bit limited in the peak of summer because of the heat, but the rest of the year, you can check out a few different parts without too much hassle.
Our favorite hike is the Lost Horse Mine because you'll see some of the best Joshua trees – plus some of the old gold mining heritage.
Another walk we would recommend is the Lost Palms Oasis, where you'll see some unique fan palm trees.
Even if you are not too keen on hiking, there are some areas where you can do a gentle walk to see some great views. Check out the Cholla Cactus Garden, Jumbo Rocks, the Hall of Horrors, and the Hidden Valley.
On a practical note, keep in mind that there are no shops or restaurants in the park, so you'll need to take in enough water and food for the whole day, plus any other things you may need in an emergency.
Michael from Michael Turtle
45. Zion National Park, Utah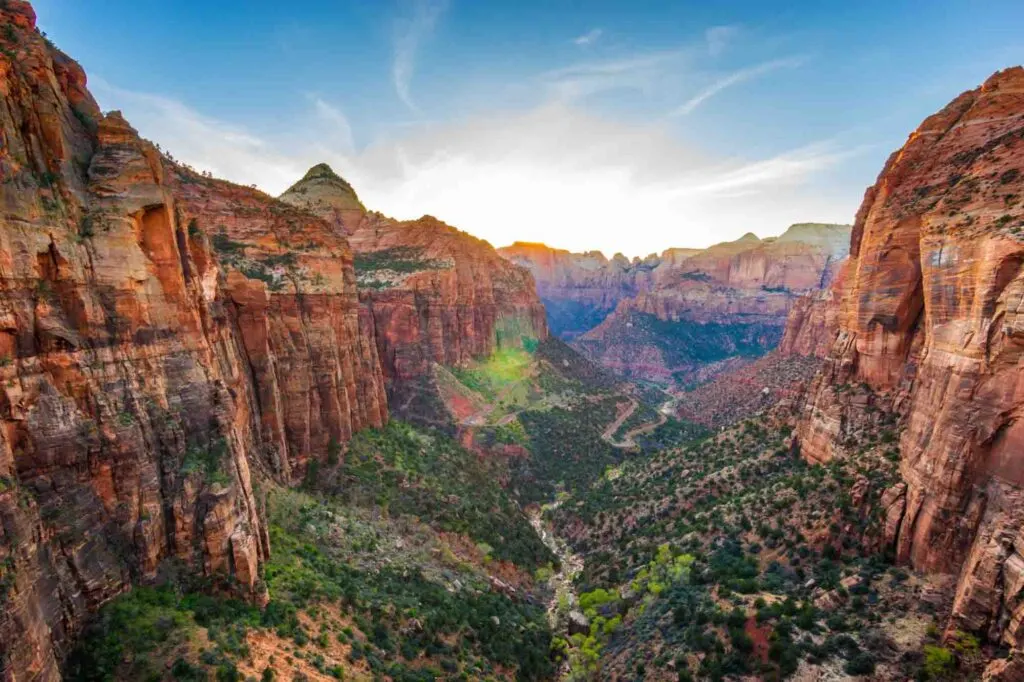 If you ever find yourself in the state of Utah, you should make time for exploring Zion National Park.
More specifically, hiking one of the prettiest and challenging routes in the park called Angels Landing is a fantastic USA travel bucket list item. However, not for those who have a fear of heights!
Before starting the hike, please make sure you have plenty of water and snacks with you in a backpack.
Officially, the route is only 5 miles round; however, the elevation is 1,488 feet, so good conditions are recommended.
Summer and fall are the best months as it can get extremely dangerous and icy in the winter months. But spring is by far the best season to visit, making it a great spring break destination.
The free shuttle bus will take you straight from the visitor center to the start of the hike. It is possible for many who are scared of heights to hike to the Scout Lookout point for some fantastic views.
However, reaching the top is only for those who genuinely have no fears, as there are sheer drops and the smallest single pathway up to the top. Make sure to use the chains along the way to help.
Reaching the top shows the most breathtaking views of Zion National Park.
Find a spot to sit down and give yourself some time to truly take in all that you can see, as well as being proud that you just climbed up the challenging, mentally and physically, route to the top.
But to make your trip complete, you will want to stay in a unique place. Read TripAdvisor reviews.
Out of our 2-week road trip through the US, hiking Angels Landing was the best thing we did! Zion NP is one of the best places to visit in the USA for sure!
Zoe from Together in Transit
Best Beaches to Visit in the USA
Here are the best beaches to travel to in the US in no particular order.
46. Key West, Florida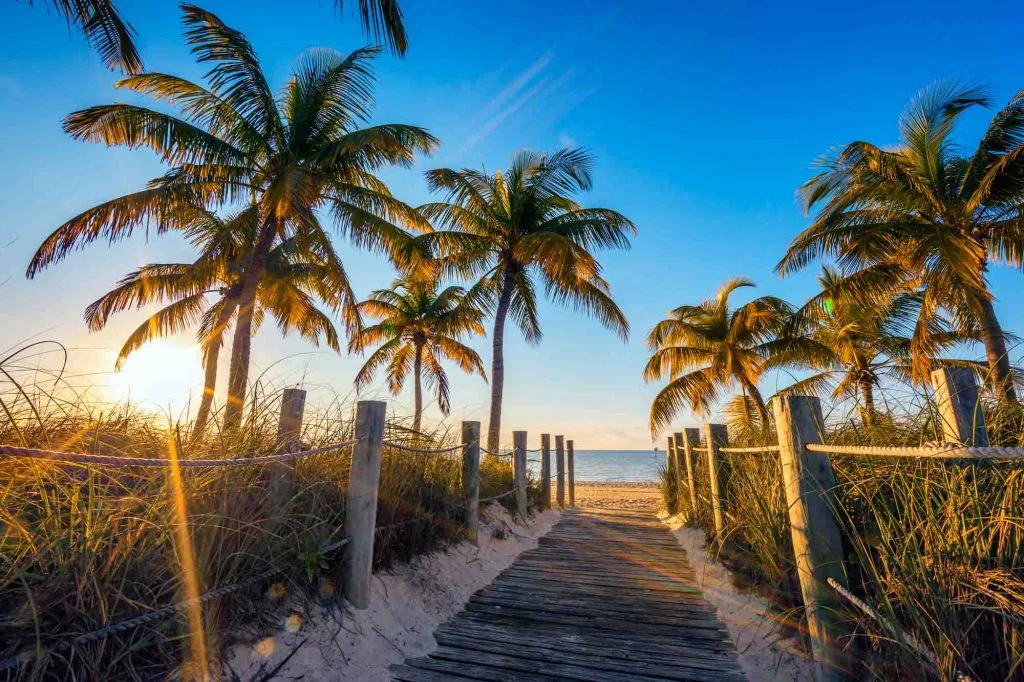 One of the best places to visit in the US is Key West, a free-spirited Island.
You can do different things in Key West, such as exploring and enjoying their unique culinary scene, deep-sea fishing, and lounging on the local beaches.
If you are looking for a fantastic beach vacation, Key West is among the favorite spring break destinations in the US.
If you enjoy history, there are several memorable locations and traditional homes on the Island that you can visit.
Since a road trip in the USA can be pretty fun, you can stop at Bahia Honda State Park on your drive to Key West and enjoy one of the most incredible beaches in the world.
There are various activities to do and places to see in Key West, and you can expect to have an amazing stay.
47. Kailua Beach, Hawaii
Out of all the beaches found in Oahu, Kailua ranks as the second most beautiful beach.
If you are looking for incredible places to visit in the US and enjoy beach vacations, visiting Kailua should be on top of your list. This place has white and soft powder sand, and the water is turquoise blue.
Enjoying yourself at the beach does not get any better than being at Kailua, and other than the beautiful white sand and turquoise water, its stretch is two and a half miles long.
The beach has three separate parking lots, the first one being for windsurfing sports and a launching spot for kites. The second connects to the main beach spot, and the third has a boat ramp.
You can take your family out on the beach since the park grounds have picnic tables, beach showers, and bathroom facilities.
This is pretty convenient, and it is also worth mentioning that they have a few lifeguards who ensure ocean safety and may answer any questions you have.
Read next: Best Beaches in Hawaii
48. Folly Beach, South Carolina
Beaches are some of the most pleasant and relaxing places to visit in the USA, especially if you want to take a break from your everyday life.
Folly Beach in South Carolina is a laid-back attitude and family-friendly beach that is close to downtown Charleston. You can have fun and enjoy the beach all year long.
This is the right travel destination if you enjoy a relaxed beach lifestyle, enjoy fishing or love surfing.
Some other activities you can enjoy at Folly Beach include paddleboarding, photography, sailing, and kayaking.
You can also enjoy live music, the excellent pier, and various bars and restaurant options that you can choose to try.
Besides, you can also plan to stay and enjoy the breeze and waves for a couple of days.
For instance, you can choose a Folly Beach house rental or stay in an oceanfront hotel. Either way, you get to enjoy the breathtaking view.
49. Sand Beach, Maine
Your USA bucket list should include Sand Beach, Maine, as one of your travel destinations.
Shell fragments and unique sand are what the beach mainly comprises. The beach has a restroom and changing rooms near the parking area, which is wheelchair accessible.
The view here is pretty commanding, and there is a popular hiking trail next to the beach.
Hiking this trail is worthwhile for individuals who enjoy hiking since you will find several spots that provide you with a spectacular and unique view of the beach.
You can also enjoy a leisure stroll on the beautiful coast of Maine.
It is worth mentioning that Sand Beach is in Acadia National Park, sitting in a small inlet between Mount Desert Island's rocky shores and the granite mountains.
Further out, the beach is a popular point of interest on the Island. You can access Sand beach through Park Loop Road.
50. El Matador Beach, California
Among the best places to visit in the US is El Matador Beach in California, which is pretty popular and is close to Malibu.
Picnic tables on El Matador Beach overlook the Pacific Ocean, meaning it is an excellent spot to bring your family (or go alone) and enjoy the views. The picnic tables are closer to the parking lot, which is on the bluff.
El Matador Beach is an excellent and popular spot for photographers who want to capture amazing sunsets. There are also beautiful sea stacks in the surf and on the beach.
You can explore the north side of the beach, where there are arches on the rocks and caves but ensure that you avoid visiting these natural features when the tide is high.
If you choose to explore the south side of the beach, you will come across some of the most stunning homes. Wanna get away from the noise? This is an excellent spot to enjoy your time and take pictures.
51. Shi Shi Beach, Washington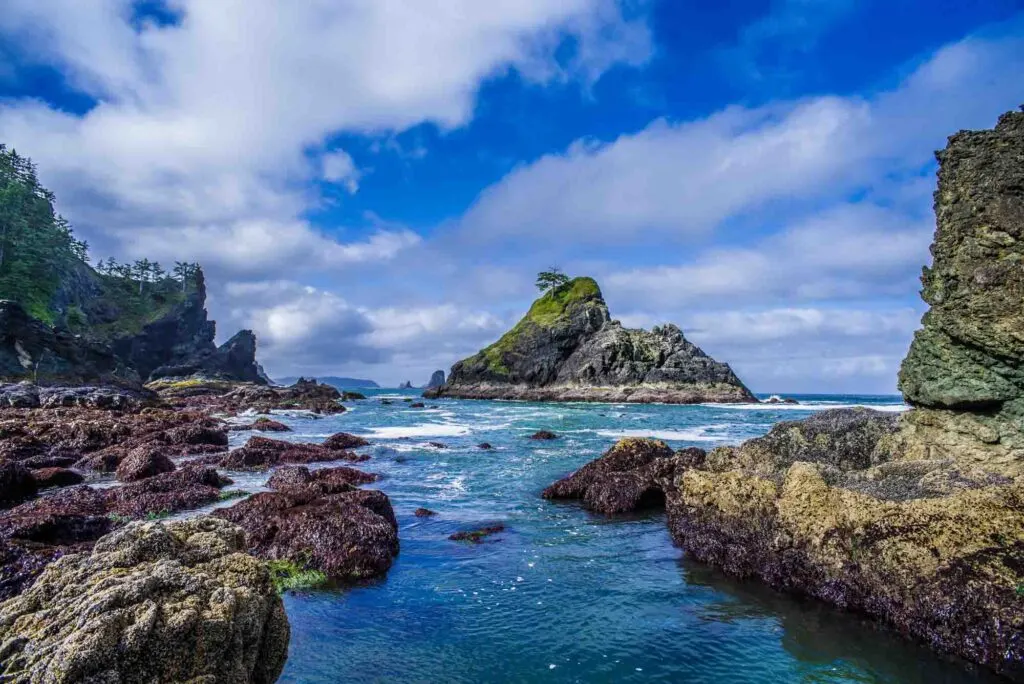 There are various sets of adventures that you can enjoy on Shi Shi Beach in Washington.
The beach has an excellent mix of trails, such as beach walking and rainforest hiking. If you enjoy both, this is one of the best places to visit in the US for you.
You can either make it a backpacking trip so you can enjoy a night at the beach or do a simple one-day hike.
Besides, you can extend your hike and hike to the Hole in the wall or the Ozette Loop Hike if you like hiking.
There are several hiking options you can select from, but it would be best to ensure that you have carried the tide chart.
This is essential, especially if you plan to head south past the arches because the tides can get pretty high.
Beyond that, the beach has several amenities like restrooms and parking but note that night parking and day parking have different lots. It is also worth noting that there is no available parking space for an RV.
52. Cannon Beach, Oregon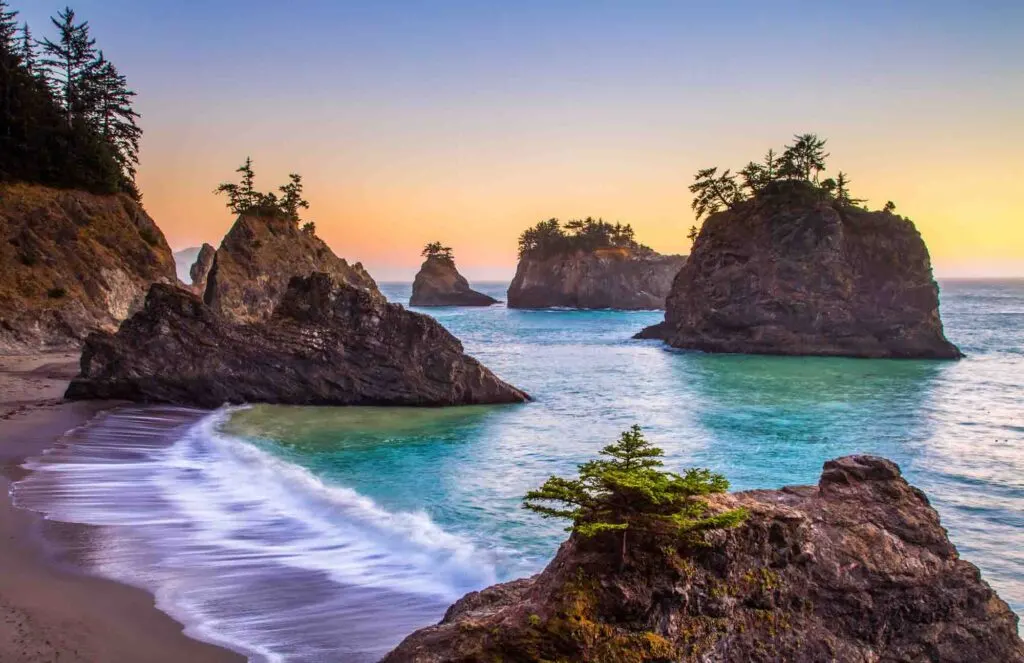 If you ever visit Oregon, ensure you go to Cannon Beach to experience its beauty. It is among the best travel destinations in the USA and a great art town that will offer you a spectacular escape.
You will get to take in the beautiful views of the coastline and dramatic rock formations that grace the beautiful beach.
Several luxurious lodgings by the beach will allow you to take in the scenic views, should you decide to spend the night.
You will also be able to see puffins nesting on Haystack Rock, in the coastal meadows, you will see herds of elk grazing, and on the shoreline, you will find sea stars that are colorfully decorating the rocks.
You can take in this beauty by heading out on a hike or sitting in the sand, breathing, and taking in the scenic view.
National Geographic once listed this beach among the most beautiful places in the world, and we could not agree more.
During low tides, marine life peeks out and on the shoreline Haystack rock towers. Once you are done enjoying your time at the beach, you can visit the several art galleries in the city and try out local restaurants.
53. Waikiki Beach, Oahu
Your USA bucket list cannot be complete without Waikiki Beach making it on the list, and while it is mainly considered a major tourist destination in the US, it is 100% worth visiting.
It is among the top beaches in the US and is Honolulu's suburb, famous for the long stretch on the oceanfront with golden sand and backed by retail establishments and hotels. Waikiki is located on Oahu island.
There are multiple activities you can enjoy in Waikiki other than taking in the beautiful view of the beach.
If you enjoy surfing, you can rent a surfboard, and there are different dining options you can try once you are done with the beach, or you could also visit the shops and shop around.
Whether you are single, have a partner, friends, or family, you will enjoy visiting Waikiki.
The beach has all the comforts you are used to and ones that will likely surpass your expectations, except you will be in the Pacific Ocean on a tropical Island.
Best Islands to Visit in the USA
Here are the best islands to travel to in the US in no particular order.
54. Kauai, Hawaii
Hand down Kauai in Hawaii is among the best places to visit in the United States.
It is sometimes called the Garden Island, and it relies on its tremendous beauty to stand out from the rest of the famous Hawaiian Islands.
For instance, one of the standard rules to ensure it maintains its natural beauty is that no building can be taller than the palm of a coconut.
This ensures that both visitors and locals alike can take in and enjoy the beautiful views from Kauai's pristine beaches.
When you venture into inland Kauai, you will discover Wailua River State Park and Koke'e State Park.
It is worth mentioning that traveling to Kauai may be pretty pricey, so it helps to book well in advance and visit during the low season.
This is because it has several high-end hotels, and there is also a significant distance between it and the mainland.
Nevertheless, Garden Island is among the most beautiful travel destinations in the United States.
55. South Padre Island, Texas
South Padre Island, Texas, is an excellent travel destination choice with plenty of activities to do and places to see.
Whether you choose to plan your travel itinerary or show up and start exploring, the list of things you can do is endless.
There are also varieties of lodging options you can choose from, depending on what you prefer.
For instance, you could choose a vacation rental or a luxury hotel, either way, you will be spoilt for choice.
There are several live music venues you can go to and enjoy music, multiple restaurants to try out, fishing, bird watching, and water sports.
South Padre Island is an excellent travel destination for everyone, including individuals with families.
Besides, South Padre Island is also popularly known for its white sandy beaches, clear gulf water, and calm weather, making it an excellent travel destination in the US for people who enjoy tropical vacations.
The beaches are also pretty clean, and the weather is excellent, so you can visit any time in the year.
It is one of the few tropical paradises in Texas, and you can choose to have a laid-back or exciting vacation, but either way, you will love your time here.
56. Cape Cod, Massachusetts
Another great place to visit in the US for people who enjoy tropical vacations is Cape Cod in Massachusetts.
So if you would like to have the best seafood you will ever eat, want to enjoy sandy beaches, or explore beautiful beach towns, you should add Cape Cod to your travel list.
Also, there are different things you can do and places to see when you visit.
For instance, there is a wide range of food to select from and savor. You can sit on the sandy beach and enjoy the view and the sun, visit the lighthouse, or take one of their beautiful trails.
What you choose to do is dependent on how you want to spend your vacation time.
It is worth noting that their swimming season is pretty short, so it will help plan your vacation to avoid missing it.
57. Florida Keys, Florida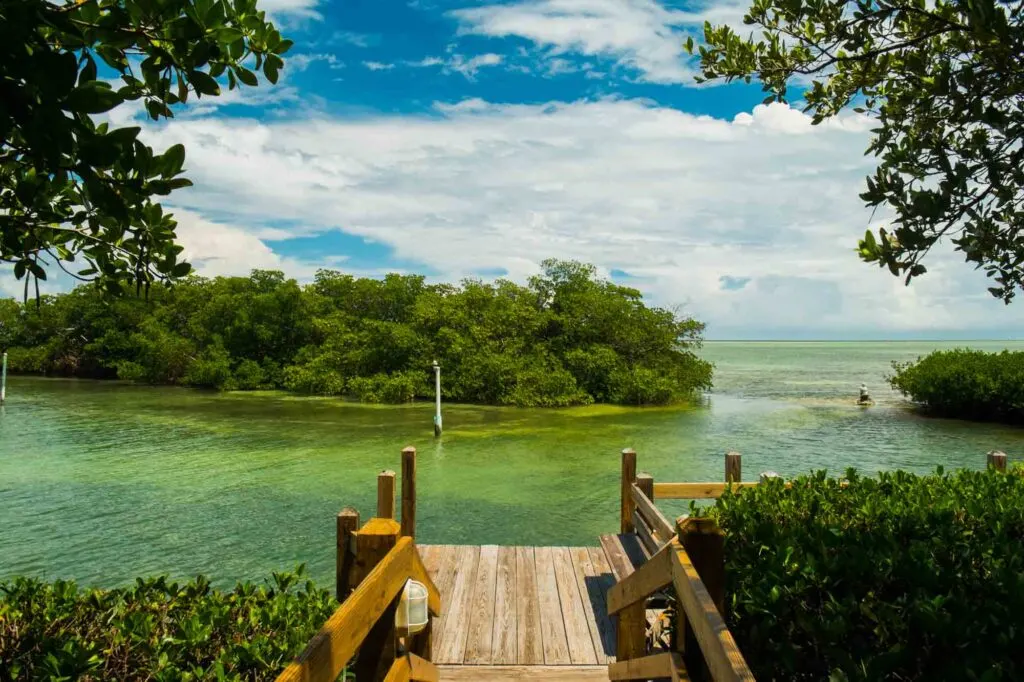 The Florida Keys is a great place to visit if you want a Caribbean experience without leaving the United States.
Besides, Florida Keys is a drive away from Key West and Miami, so you can always drive to these two destinations after or split your vacation time between them.
If you enjoy road trips, this will by far be the most scenic one you have been on.
There are so many things to do in the Florida Keys–great food, colorful architecture, and beautiful beaches.
When you visit the Florida Keys, ensure you try the famous Key lime pie, visit the Ernest Hemingway House, take in the famous Duval Street, go for a swim, and enjoy scuba diving or snorkeling.
You can also order a drink, enjoy the Florida Keys' beautiful views, and take beautiful pictures to document the memory.
58. Big Island, Hawaii
Thinking about your dream USA trip? Have you thought about including a helicopter tour around Hawaii on your bucket list? Here's why you should!
Hawaii is a dream destination for many people, so why not make the trip extra special with a birds-eye view of Hawaii's stunning Big Island.
Enjoying those breathtaking views from high in the sky is an experience you won't want to miss out on.
Why chose the Big Island for a helicopter tour? Not only does the island offer beautiful, lush green scenery and valleys of cascading waterfalls, but a helicopter tour of Hawaii's Big Island also includes flying around a volcano.
And when the volcano is active, you'll be flying close enough to see the lava flowing beneath you.
It's honestly an incredible experience you'll remember for the rest of your life. Tours are available for 2 hours.
Pro Tip: Wear dark-colored clothing to minimize window reflections.
Claire from Curious Claire
59. Mount Desert Island, Maine
One of the notable features of Mount Desert Island in Maine is that the water surrounding it is a feeding ground for whales during summer. Besides, this island is arguably the most beautiful spot in New England.
You can either fly to the island or drive there. However, driving is not an easy feat.
Further out, the best part about visiting Mount Desert Island is that there will be plenty of other places you can see after, such as Acadia National Park.
Also, there are plenty of places you can stay in when you visit Mount Desert Island, like historic waterfront hotels, inns, and B&Bs.
Not only that but you can also partake in activities such as hiking and many watersports.
All in all, there are so many outdoor activities you can enjoy that you won't want to get back to real life.
60. Oahu, Hawaii
One of the beautiful places to visit in the US is Oahu, Hawaii. Most people often stop here before visiting the other Hawaiian Islands, not knowing that there is so much Oahu has to offer other than its tourist attractions and beaches.
Simply put, Oahu also offers captivating history, beautiful scenery, and delicious food.
Say you spend 3 days in Oahu. You can try some of the most wonderful dishes in Honolulu, Hawaii's capital, and learn the rich local culture.
From the best Asian meals to traditional Hawaiian food, you can find and try several delicious meals from here.
Besides eating the delicious foods in Honolulu, it would be best to explore Honolulu: visit Pearl Harbor, go on a hike, or go to Waikiki Beach.
Beyond that, you could also explore the north shore, the Polynesian Cultural Center, Dole Plantation, and the Kualoa Ranch.
However, if you enjoy tropical vacations, simply head out to the beach, dip your feet in the sand, and enjoy the beautiful view.
Other Incredible Places to Visit in the USA
Here are the best places to travel to in the US in no particular order.
61. Havasu Falls, Arizona
Havasu Falls is so breathtaking it's hard to believe such a place actually exists. It's located at the end of a 10-mile hike through a dusty, desolate desert canyon in Northern Arizona.
It's certainly not an easy place to get to, but when you arrive, you'll find the perfect paradise.
The 80-foot tall, turquoise-blue Havasu Falls flows through the canyon and cascades down the towering walls of red sandstone.
At the base of the waterfall, the campground is spread under shady trees near the flowing river.
A nearby freshwater spring provides drinking water, and there are endless pools and swimming holes along the river. It's honestly an oasis in the middle of the desert.
Though Havasu Falls is the most famous waterfall in the canyon, there are actually five waterfalls to explore.
To reach the base of the next waterfall, Mooney Falls, you'll descend through a steep cave and down a series of chains and ladders.
Further downstream, you'll find the tiered, multi-level waterfall known as Beaver Falls.
And if you were to continue to follow Havasu Canyon even farther, you would come to the confluence with the Colorado River deep in the Grand Canyon.
Havasu Canyon is owned and managed by the Havasupai Tribe, and camping reservations are limited to 300 people per day. You'll need to plan well in advance if you want to visit this surreal location.
Camping permits for the entire year go on sale February 1st and sell out within a few hours. Lodge reservations go on sale in June of each year and similarly sell out almost immediately.
Of all the stunning locations we have visited in the USA, Havasu Falls is by far our favorite! If it's not already on your bucket list, it most certainly should be.
Nick from Wandering Wheatleys
62. Disney World, Florida
Disney World, Florida, is a no-brainer–it definitely should be on your USA bucket list.
While Disney World is not exactly a city, it is still a must-see and experience place in the USA. Therefore, the next time you are in Orlando, Florida, ensure you visit Disney World.
Besides, Disney World is a world-famous theme park and among the most favorite vacation destinations for many families.
You will meet all your favorite Disney characters, ride roller coasters, have the characters sign an autograph, and they will even reenact a couple of scenes from the Disney movies.
Needless to say, this is an excellent vacation destination for anyone who grew up watching Disney movies or anyone with small children—the little ones are crazy about it.
There are so many activities at Disney World and several other things to see. You are guaranteed to have an excellent time.
63. Antelope Canyon, Arizona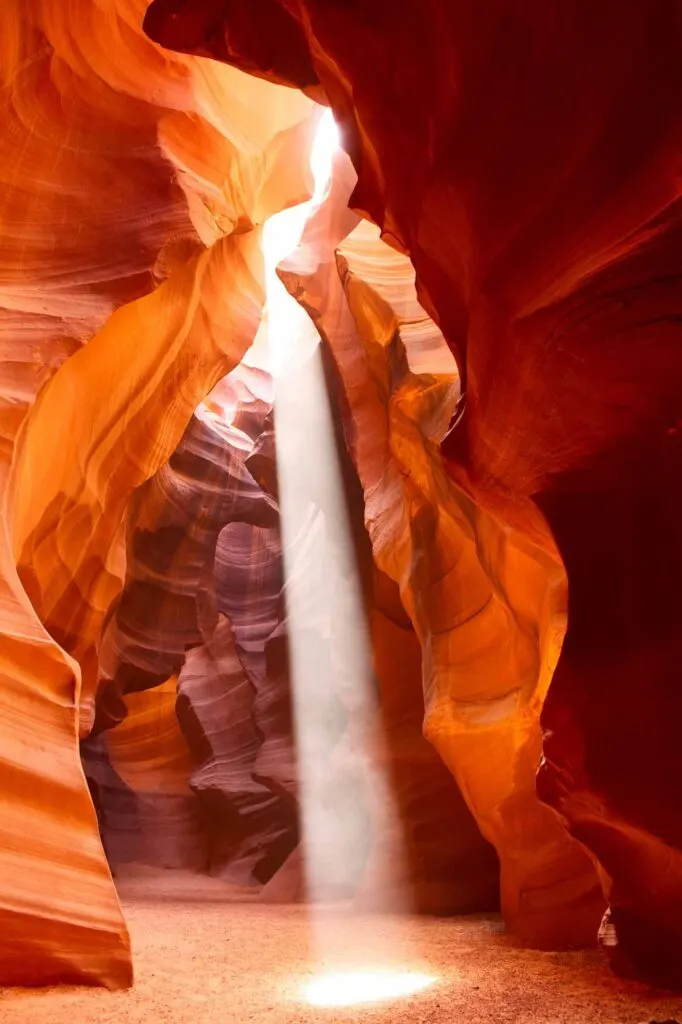 Unique and ridiculously beautiful, Antelope Canyon, Arizona, is by far one of the best places to visit in the USA.
Antelope Canyon is a famous slot canyon that cuts through the red and orange rock you often find in the Southwest.
Because the canyon makes a "V" shape, the sun creates light beams that shine down and reflect off the rocks in the canyon, forming gorgeous light beams.
Besides, Antelope Canyon is located just 15 minutes from Page, Arizona, on Navajo land.
To see Antelope Canyon, you must sign up for a tour and pay a fee towards the Navajo people. Tours last anywhere from 1-1 1/2 hours and take you through the entirety of the canyon.
Because of the beauty of this slot canyon, there are always many people on the tours, and it is not a secluded experience at all.
Even though there are a lot of people, seeing the canyon is totally worth fighting the crowds.
If you are looking for a less crowded experience, many people opt to visit Lower Antelope Canyon, just 10 minutes away from the more famous Upper Canyon.
There are many reasons you would want to visit Upper vs. Lower Antelope Canyon, but the main reason is that you won't see any great light beams on the Lower Antelope Canyon tour.
If you don't care so much about the light beams, Lower Antelope Canyon is pretty, adventurous, and often less crowded, so that you might enjoy it more!
Either way, Antelope Canyon is a natural wonder and a must-see when visiting the Southwest of the USA.
Jessica from Unearth the Voyage
64. Big Sur, California
Driving the Big Sur Coast should definitely be on your itinerary if you plan to visit Northern California.
This beautiful stretch of the Pacific Coast Highway between Carmel and Ragged Point encompasses some of the most scenic coastlines you will see anywhere.
Just 60+ miles: you could finish this scenic drive in less than a couple of hours, but we would allocate several hours to fully enjoy all the scenic highlights and photo ops along the way.
Start by exploring the quaint village of Carmel-by-the-Sea, with its many boutiques, wine tasting rooms, and gourmet restaurants.
Then head south just a few miles to Point Lobos State Reserve, one of California's most stunning state parks. (And a must in any California road trip.)
Here you can hike a short trail to view the ancient Monterey cypress trees and take lots of photos of the stunning ocean views.
Your next must-stop spot is Garrapata State Park, where you can walk wilderness trails or a sandy beach.
You will be stopping at every pullout to take photos of the spectacular coastline and stunning ocean, but the Bixby Creek Bridge is an iconic marvel you must set out to see.
The scenic location of the bridge is an excellent place for selfies! Finally, you have to stop at McWay Falls, a beautiful waterfall that empties onto the beach.
Pro tip: Drive north to south, so you are driving along the water. A little scary at times, but the views are so worth it!
Dhara from It's Not About the Miles
65. Lake Tahoe, California and Nevada
Among the most breathtaking places to visit in the United States is Lake Tahoe, located along the border of Nevada and California, not far from Yosemite National Park.
There are different activities you can indulge in Lake Tahoe, both outside water and inside water.
Beyond that, the water in Lake Tahoe is crystal clear and excellent to take a swim in.
Some of the outdoor activities you can take part in range from SUP to hiking, and you can also simply sit and take in the surrounding beauty.
The perfect period to visit and enjoy this beautiful lake would be during summer.
However, you can also visit the lake during winter, enjoy the beautiful view of Lake Tahoe framed by the snow, and enjoy skiing.
If you are looking for a place to get away and enjoy the peace, Lake Tahoe is an excellent choice.
66. Route 66
While Route 66 isn't a place, driving it is one of the top experiences in any USA bucket list, and it shouldn't be left out of this article.
And if you like road trips, then it's likely that Route 66 is near the top of your bucket list, and for a good reason.
It's one of the oldest and most iconic routes in the US, and if you drive all 2,448 miles, you'll pass through 9 very different states and get a look at some of America that is bypassed if all you do is visit the typical tourist cities.
As well as the different landscapes, there's a wide variety of experiences that you can have when driving the road.
You can go back to the quirky neon-filled towns, discover the historical cities, find abandoned ghost towns or explore the nearby national parks.
Route 66 passes right through the Petrified Forest National Park, and the Grand Canyon is nearby too when passing through Arizona.
One thing that we recommend is staying at the smaller motels along the road. It can help you meet the people who keep the route going and spend dollars where it counts.
To get the most out of your road trip, try not to rush it. Three weeks is a reasonable amount of time for the whole journey, but choose a small part of the road if you have a little less time.
Also, get some good guidebooks to know what you're looking for and to help you stay off the Interstates, too – it can get complicated if following a Sat Nav.
Kirsty from Lost in Landmarks
67. Napa Valley, California
If it is not already, Napa Valley in California should be included on your USA bucket list, especially if you love wine.
This region is among the most beautiful places to visit in the United States and is considered a wine lover's paradise—Northern California's wine country.
Napa Valley is an excellent choice if you are looking for a relaxing getaway filled with delicious sips, and you want to explore vineyards serving rolling hills, fabulous boutiques, and small beautiful towns.
There are different places you can choose to stay in Napa Valley, and since it is a wine country, most people visit to go wine tasting and take vineyard tours.
Besides, you can do a range of activities in Napa Valley, but enjoying sipping and relaxing should be the primary activity.
68. Bluebonnet Trail, Texas
The Bluebonnet Trail is one of the places that everyone should visit at least once to experience its beauty.
The perfect period to see the Bluebonnet Trail in Texas is during spring when Indian paintbrushes and bluebonnets would have spread and decorated the Hill Country.
Over 40 miles of mapped driving bluebonnet trails sprinkle the landscapes near Ennis and present you with a beautiful and fantastic view.
The weather significantly influences the blooming time, and while it may vary, the perfect time to experience Texas bluebonnets is often during early April.
Therefore, if you would like to drive and be mesmerized by the Bluebonnet Trail in Texas, it would help you plan ahead so that you do not miss it.
If you enjoy spending time outdoors, then this experience should be added to your USA bucket list.
Wrapping Up on Your USA Bucket List
Creating a USA bucket list with less than 1,000 places and experiences was a rather challenging task. After all, America is filled with some of the most incredible cities, towns, and outdoor areas on the planet!
Still, we did a pretty good job of showing what each state has to offer. But don't limit yourself—there's much more to be seen and epic best places to visit in the USA.
What places would you add to this list? Did we miss anything? Let us know in the comments! We'd love to hear from you!
Did you enjoy this article about the most beautiful places in the USA? Then share it with a friend who might enjoy it too!