One day in Seattle is far from enough to experience this destination full of personality. But we'll help you make the most out of your trip.
"Seattle is a rainy city," people say. Turns out this metropole in the pacific northwest is much more than dull days.
It's difficult to narrow it down because Seattle has a rich industrial history, a large foodie culture, and a buzzing urban city, which is surrounded by stunning natural sights.
But all of those aspects are nothing without mentioning the exponential growth that Seattle has seen in the last 130 years, which only leaves us with the following advice:
Let this itinerary inspire your plans so that your one day in Seattle can be amazing, but be sure to stop by anything that piques your interest.
Seattle is an ever-growing city, and excellent venues are popping up here and there all the time. That's why we often say that this is one of the best places to visit in the US.
One Day in Seattle Itinerary
Therefore, we decided to share our best tips on where to stay, where to eat, and what to see in Seattle for a day. (But we do have a 3-day Seattle itinerary too.)
Further out, Seattle tourist attractions aren't necessarily close to each other, but you can solve that by using Uber and the map below for your self-guided tour of Seattle in one day.
Wondering what to do in Seattle in one day? Read on!
The Structure of this Seattle Itinerary
This guide is designed to work for a one day Seattle itinerary. We cover Seattle's most popular attractions and interesting things to do.
Obviously, you can't see everything in a day, but if you happen to have a full day in Seattle, you'll definitely find plenty of fun things to do!
Seattle in One Day: Where to Stay in Seattle
Book a hotel somewhere around Downtown Seattle, Belltown, and Lower Queen Anne, especially if you're staying only one day in Seattle, so that you're closer to most attractions and can easily reach many places on foot.
Still, if you want to experience other areas of the city, check out our guide on where to stay in Seattle.
Again, Seattle is a massive, ever-growing city, and each of its neighborhoods is unique from each other.
With this in mind, it would be easier if you could stay in the city, for example, in the Belltown Inn.
Besides, having magic views from its rooftop terrace, this affordable hotel is a 10-minute walk from the Pike Market and Space Needle as well as from lots of excellent restaurants.
Know that, if you're not really keen on traveling to Seattle with an umbrella, the hotel staff can borrow you one.
Click here to book your hotel in Seattle.
One Day in Seattle Itinerary
Have Breakfast at Pike Place Market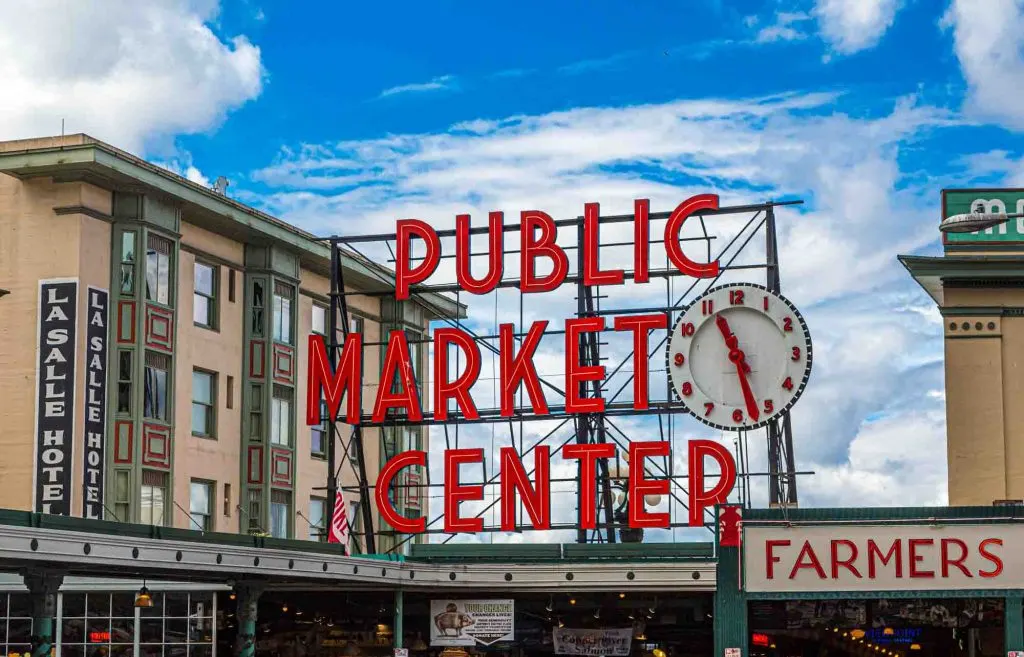 Kick off your one day in Seattle itinerary at Pike Place Market. This farmer's market takes up a whopping 9-acres made up of about 85 local farmers, 225 artists, and 240 small businesses.
Give yourself some time to discover the stalls and have a delicious breakfast here. As you stroll the Market, follow your nose to freshly made coffee and bread.
Seattle's legendary coffee scene took root early at Pike Place Market and then blossomed from the original Starbucks store, which you can also visit.
Opening hours: Every day from 9 am-6 pm. It closes on Thanksgiving and Christmas Day.
Read next: 25 Incredible Spring Break Vacation Spots in the US
Visit Seattle Art Museum – SAM
After exploring the Market grounds, stop at the Seattle Art Museum to learn about the local American and international history.
Right in the heart of downtown Seattle, the Seattle Art Museum has excellent temporary exhibitions featuring national and international artists.
If you're planning to spend a day in Seattle on a first Thursday, know that the museum is free then. Take a look at their website for more information.
Opening hours: Wed-Mon 10 am-5 pm, except on Thursday when it closes at 9 pm.
Admission: $19.99. Free on the first Thursday of the month.
Stroll Around the Pier
After discovering all excellent artworks the SAM has, head over to the Pier, a unique Seattle area. You can find many excellent shops in this area, including heaps of shops selling trinkets and Seattle memorabilia.
Oh, if it isn't cold, grab some ice cream or some bite to go.
Further out, provided that you only have a day in Seattle, be sure to go up the Great Wheel. You can have a magical view over the Pier and Seattle from there.
If you know where to look for, you might even spot the Space Needle.
Expect a light show on the wheel, if you decide to take a ride in the evening on a Friday, Saturday or Sunday.
In case you don't, know that the wheel is always lit up, which adds to some of the most beautiful views of the city at night.
Lines happen often here, but they never take too long.
Opening hours: It varies depending on the day and season. Click here to see the opening hours at the Seattle Great Wheel website.
Admission: $14 for adults, $9 for children.
Explore Pioneer Square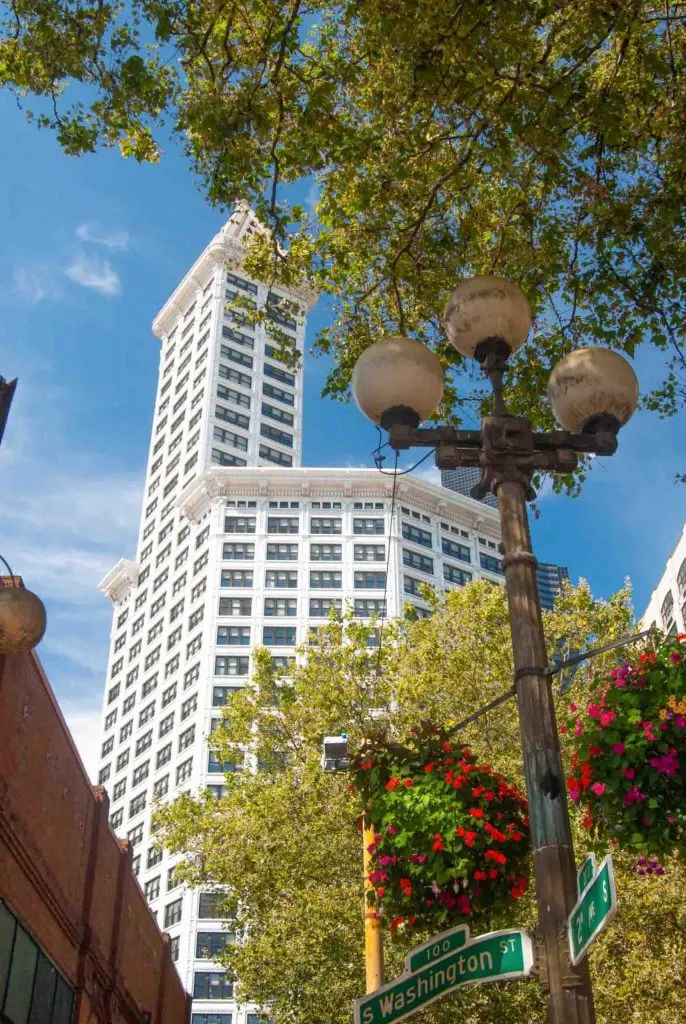 Pioneer Square is jam-packed with excellent and unique local businesses in Pioneer Square. Here you can experience history, art, music, cuisines, and even hidden waterfalls.
Here you can learn a lot about Seattle's history as this is one of the oldest neighborhoods in the city. Equally important, and what many people don't know, is that Pioneer Square is built on top of the former one.
Discover why they needed to build a new square and see Seattle's underground in this 1-hour tour. On a side note, be sure to book your tickets in advance as they sell out quickly.
Take your time to exploration it and visiting some of these shops/eateries, such as Intrigue Chocolate, Fora, and MadeHere.
For those looking for that special souvenir, this is the best spot in the city to find it.
Read next: 27 Summer Vacations in the USA
Brunch at Oddfellows Café
Grab an Uber to Oddfellows in Capitol Hill. This cafe is ridiculously adorable, and on the inside, 90% of the fixtures and furnishings are salvaged, recycled, or repurposed and all paper and coffee supplies they use are 100% compostable. Love that!
Further out, they have an excellent brunch. Yay! Weather permitting, sit outside in their back patio area. It's definitely the best spot in the restaurant.
Moving forward, the Oddfellows is attached to one of the local's favorite bookstore, the Elliott Bay Bookstore. Take your take to browse all the staff picks, cookbooks, and art books. But that's not all you can find inside.
A cute little coffee shop, the Little Oddfellows is right there to make an unparalleled combination – books and coffee.
As for Capitol Hill, explore the area a bit. There are lots of shops, such as a record store across the street and more.
The crowd is different around here; everyone is very expressive of their uniqueness in their choice of apparel, hairstyles, and an all-around personality.
Opening hours: Every day 8 am-10 pm
Take an Uber to the Space Needle
For obvious reasons, you wouldn't see Seattle in a day for real, if you hadn't seen the Space Needle.
This iconic tower is the symbol of Seattle and arguably one of the most recognizable landmarks. Grab an Uber from Capitol Hill and you'll be there in 10 minutes.
Full disclosure, the Space Needle ticket is completely over-priced, but you don't go to Seattle every day; therefore, it's up to you if you go up in the tower or not. If it's within your budget and you're gung-ho about taking the ride up, by all means, go for it!
Further out, the cafe in the tower offers a snack with a ridiculously pretty view, but again, it's over-priced. Naturally, the food is good, but still.
Read next: Best Fall Vacations in the US
Visit the Chihuly Garden and Museum
The Chihuly Garden is where colors intertwine with nature. Dale, Chihuly, the artist, created large-scale glass blown sculptures and the results are incredible.
Sometimes, you get a demonstration of glass blowing, and only then you realize how patiently and quickly the artist has to work at the same time.
In the garden, you see the perfect blend of glasswork and nature. Be sure to look closely at the statues as they're highly detailed.
Have you ever seen a picture of this place? Then, it was probably taken at the Glasshouse pointing at the Space Needle. The ceiling here has a pretty installment, which makes it a perfect photo-op.
On a side note: The Glasshouse is occasionally closed for events while the rest of the exhibition and garden remain open.
Check their website to know the specific event dates.
Opening hours: Mon-Thu: 8.30 am-8.30 pm. Fri-Sun: 8.30 am-9.30 pm.
Admission: $32
Photograph the Fremont Troll
Take an Uber and head to the Fremont Troll, a unique and quirky sculpture that lives under the Fremont Bridge.
The Troll, which has the same name as the neighborhood where it lives in, was sculpted by four local artists in 1990: Donna Walter, Ross Whitehead, Steve Badanes, and Will Martin.
Derived from Scandinavian folklore, the massive statue (18-ft tall) is clutching a car from the street. What many people don't know is that the troll is really clutching a Volkswagen Beetle from California.
People enjoy coming here to take pictures of this quirky symbol of Seattle.
Chill at Gasworks Park
Gasworks Park is arguably one of the local's favorite places to chill in Seattle.
This site used to be a gasification plant of the city, but it's now considered historic preservation.
If you have children or are an adventurous adult, explore the area and see the massive machinery.
Prefer something more relaxed? No problem, Gasworks Park is an ideal place to chill out, get some sun, have a picnic, and do some people watching.
You even have a privileged view of Seattle and the Lake Union from here.
For dinner, you have two excellent options: Crab Pot or The Pink Door.
Dinner at the Crab Pot…
Finish your one day in Seattle at the famous Crab Pot in the pier, but we must warn you: Get ready to eat A LOT of seafood.
They pile a massive bucket of Alaskan Seafeast on your table, hand you a hammer and napkins and tell you to dig in: crabmeat, shrimp, clams, mussels, Andouille sausage, and vegetables.
It's a messy and yet delicious meal to share!
…or at The Pink Door
If you aren't into seafood, head to The Pink Door for some delish Italian-American dishes. This restaurant is seriously one of Seattle's most beloved ones, for this reason, be sure to make a reservation.
The simple name came from its iconic pink door, but this restaurant offers a full experience, far from plain.
At The Pink Door, they'll entertain you with all sorts of performances – from tarot reading to burlesque and cabaret. It's a full experience: food + entertainment.
Be sure to check the Pink Door website for their agenda and special events. In case you want to watch a show, be sure to make a reservation in advance.
They do accept drop-ins, but it can get very busy on the weekends.
One Day in Seattle Summary
We made a handy summary of this Seattle itinerary to make your life easier. Still, you will want to bookmark this page to check all the details later on.
Explore Seattle in a Day – Map
You can access the interactive map below by clicking here.
Wrapping up your 1 day in Seattle itinerary
There are lots of things to do in Seattle in one day, and although it might look like a difficult job to choose which attractions to visit, see this is as an opportunity to come back another time.
Do you have any questions or tips about Seattle? Drop your comments below. We'd love to hear from you!
Did you like this article about one day in Seattle? Then pin it to your Pinterest travel board.