If you are still not eagerly looking for the perfect Airbnb in Fredericksburg, where you can spend your next vacation, what are you doing with your life?
You know what?
Don't worry because we are here to help you choose from 13 of what we believe are some of the most unique and special places to stay when in Texas.
These are getaway spots that we would recommend to our best and closest friends.
So, you know they must be worth it!
Without further ado, grab a nice cup of warm coffee, and let us take you to the land of many boutiques, fine eateries, German biergartens, Live-Music Venues, Art Galleries, Museums, and Tasting Rooms.
Editors' Picks: The Best Airbnb in Fredericksburg
When you first arrive in this quaint place, you will immediately start soaking up its undeniable charm and traditions.
Located in the Texas Hill Country, the town has more options than you have time to entertain or explore. For reference, check this guide for the best things to do in Fredericksburg.
No matter if you want to visit this town for its beautiful scenery, live music, German beer, fruit picking, or shopping possibilities–you will need an equally exciting place to stay, right?
This is where our list of unique rentals comes in handy. Just continue reading and see these places for yourself.
The last retreat for you on our list is located on a beautiful ranch 5 miles north of Fredericksburg.
The Double Deer Ranch is the best kept (not-so-secret) secret in Fredericksburg. On the outside, the cabins look cute, but on the inside, they are truly luxurious.
(In fact, they are almost among the prettiest luxury cabins in Texas!)
Some unique pieces that will leave a lasting impression are the vintage Italian sheets, the electric guitars, graphic art, and the double-sided fireplace. Oh, and the stylish interior is also quite unique.
The bathroom, however, is definitely what stands out the most. The whirlpool tub for two overlooks the creek cliff providing you with a gorgeous view, and the large shower has a massaging river stone floor.
There is a modern kitchenette that offers a coffeemaker, microwave, and fridge. The cabin has no Wi-Fi. This means more quality time spend with your loved one away from the distractions of modern technology.
Like all good things, our list has come to an end. It most likely left you absolutely mesmerized by the beauty and versatility of the small town of Fredericksburg.
This magical place and its beautiful nature and wildlife will make all your worries go away. You will be surprised how at home you will feel thanks to the Texas hospitality.
This cabin in Fredericksburg has so many unique and beautiful touches; we don't know where to start.
It is the perfect place for a honeymoon or a romantic retreat as it offers a fantastic nature experience.
Situated in the Texas Wine Country, this cabin is just a stone's throw away from incredible wineries.
The rental is clean, beautifully decorated, full of Texas charm, and surrounded by nature—there are lots of deer in this secluded area.
Perhaps best of all, you have an incredible hot tub right outside your bedroom on the back deck!
Longing for some time away with your special someone? Then this romantic cabin is everything you needed to spend some quality time together!
If you are a fan of rustic atmosphere, rocking chairs, cozy indoor fireplaces, and you have a dog, this is the place for you.
This Fredericksburg cabin is just a short three-mile drive from town.
You will feel secluded while still being able to enjoy everything this town has to offer, have an excellent location to discover the Texas Hill Country, and go on a wine tour or two.
The cabin is meant for 2 people. However, there is a possibility to rent out the place with which the cabin shares a covered breezeway.
The interior of the cabin is very rustic and homey. Don't worry, you are also provided with modern touches to help you relax—air conditioning, cable TV, an indoor fireplace, and a jetted bathtub.
Don't even think about taking your work life with you at this getaway because there is no WiFi!
The light breakfast that will be waiting for you will make your lazy late mornings even better.
Located outside of Fredericksburg, this rental will make you feel like you are in your grandma's house, but in an extremely good way!
The interior is exceptionally homey and rustic. There is a king-sized bed, an indoor fireplace, a spacious porch with two rocking chairs, and a lack of Wi-Fi.
What makes this cabin a romantic treat for you and your significant other?
There is not one but two hot tubs for both of you to enjoy! One of them is a whirlpool tub for two in the bathroom, and the other is outside on the porch.
What's better than enjoying a warm bath with your loved one under the starry night sky? Nothing, right?
Besides, you can go wine tasting in one of the great wineries in town. Further out, we have a complete guide on the most romantic cabins in Texas to expand your options.
If there is a place where you will feel like an actual queen or king, it has to be this beautiful cabin!
It is located right in the heart of Fredericksburg, Texas Hill Country, allowing you to explore this quaint town with ease. You are within walking distance of popular eateries, local attractions, and wine tasting rooms.
You first see the light-colored stone exterior of the cabin with a cute covered porch. There you can enjoy the light breakfast that is provided before heading out into the heart of Texas wine country.
The inside of the cottage rental will probably take your breath away—golden, warm tones, high ceilings, stone walls, polished floors, and abundant light pouring in from the garden-facing windows.
Sounds magical, doesn't it!
Well, there is also a custom stone gas fireplace, large walk-in shower, double vanity, private outdoor hot tub, firepit, and a king-sized bed.
The result is a perfect wine country basecamp for you and your special someone to enjoy a secluded getaway.
This Fredericksburg Airbnb is a classic 1930's cottage located just a couple of blocks from Marktplatz and Main Street's plentiful shopping and dining locales.
Perfect for romantic weekends, for families or friends traveling together, girls' weekends, or men's golf getaways—this place does it all.
The interior of the house is gracious, full of details and light, and warm tones, which will make you feel at home.
A big plus is a fully functioning kitchen, stocked with coffee and tea. Heavenly, right?
Do you need another plus? There is lots of outdoor space that includes a front deck, a covered back porch, and a fire pit in the backyard.
A safe space for quiet reflection, unwinding, reconnecting, and laughing.
Contemporary style meets rustic elegance in this Fredericksburg getaway, perfect for a couple. Just a quick drive will put you right in the heart of the Texas wine country.
This cottage is spacious and light with a luxurious wood-beamed ceiling, a beautiful chandelier, a giant rug, paintings, and soothing pale tones.
The bathroom offers a jetted tub to melt all your worries away. There is no shower, which can be unfortunate if you are a strict shower person.
There is no need to hurry in the mornings since you will have an excellent breakfast waiting!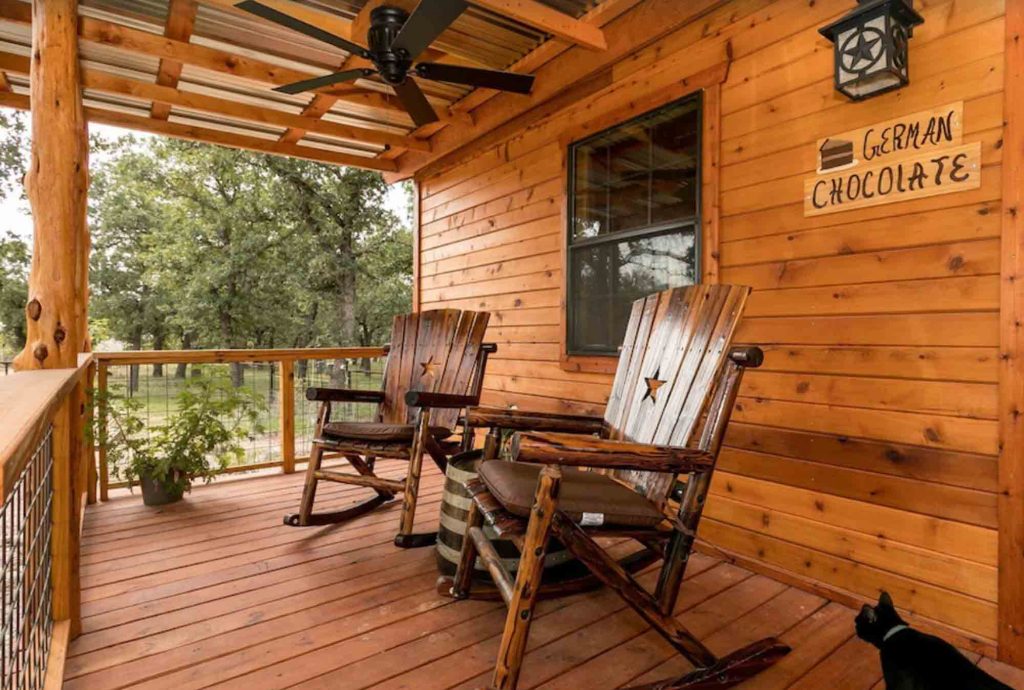 These quaint cabins are just seven minutes away from Historic Downtown Fredericksburg.
You can book one of them if you are a couple, a solo traveler, or on business, and you can book them both if you are visiting Fredericksburg with friends.
The cabins are adorned with unique antique accents that will make your stay in the Hill Country a rustic experience.
The walls, floors, and doors are all wooden, and so is the outside of the cabins. The place is warm and inviting. You are gifted with complete privacy and homemade treats!
The big porch is where you can enjoy the surroundings, the sounds of nature, and of course, the two friendly cats that live on the property.
This quaint little house rental in Fredericksburg is located just two blocks away from Main Street. The surrounding area is tranquil, so it is perfect if you are a light sleeper.
The house is the perfect place to spend a romantic getaway or a relaxing trip with your partner. Besides, it is decorated in a way that will make you feel as if you are home.
The stars of the show? The jacuzzi and outdoor fireplace—perfect to sip a glass of wine under the starry Texan night.
This house rental, located 1.5 blocks from Main Street, is beautifully decorated with rustic details and a welcoming atmosphere.
That's because the fireplace in the living room makes it a perfect setting to, you know, sip some wine, chat, and laugh.
It has most amenities you would need for a delightful getaway, such as front porch seating, Barons Creek view, nice TV, WiFi, and a nicely-equipped kitchenette with a smaller refrigerator, microwave, coffeemaker, and toaster.
To top it off, this property is within walking distance to Main Street shops, restaurants, museums, and tasting rooms!
Just a couple of blocks from Main Street, this little Sunday Haus is a comfy property in town that is packed with history. Sunday Haus was built by the farmers in the late 1800s as a place for them to stay when they came in to shop on Saturday and go to church on Sunday.
After fulfilling its purpose as a Sunday Haus it was next used as a Blacksmith Shop for many years. Now the current owners are excited to share it with you as an overnight rental.
Located just two blocks north of Main Street this wonderful little house is on a quiet street and surrounded by other lovely homes. The front porch is the perfect place to enjoy crisp Hill Country mornings while sitting in rocking chairs.
Once inside notice the high beamed ceilings with the natural wood creating a spacious feel in this one-room Sunday Haus. Enjoy the king iron bed with a tufted cream-colored comforter and accented with fluffy pillows. The coffee bar kitchen has a small refrigerator, microwave, and coffeemaker.
Outside is a wonderful private patio with comfortable seating and a chiminea. The owners won't provide wood, though.
Either way, it is a cozy, comfortable, and well-located house rental in Fredericksburg!
Calling all wine lovers! This lovely suite along the Highway 290 Wine Trail is the perfect place to stay if you want a relaxed, wine-focused getaway!
Just 6 miles from Downtown, the Tempranillo Suite has everything you would wish for a wonderful girls', friends', or romantic getaway. It has a high tin ceiling, rockers, walk-in shower, coffee maker, and two queen-size beds, which is ideal for up to four people. For a small nightly fee, you can bring a dog.
One important thing to mention is this suite is located in the same stone building as the Cabernet Sauvignon Suite and Malbec Suite.
Across the parking lot, you'll find a winery and plenty on the road into town. Convenient, isn't it?
The place is perfect for those who want to enjoy their vacation to the fullest and not cook as there isn't a kitchen. Still, you'd be just a few miles away from Downtown where you can find a plethora of great venues, from typical Texan to German restaurants.
Located 7 miles from Downtown Fredericksburg, Wine Cup Cabin is perfect for both couples and solo adventurers.
What makes this cabin unique is its story—the logs in the cabin date back to the late 1800s, the barn wood is over 100 years old, and the pie safe is a former Texas piece bought in Fredericksburg.
Every time you enter this cabin, you will discover another new and exciting piece of history.
The place also has a king-sized bed, fireplace, coffee bar, and a whirlpool tub.
Also, you can bring your dog for a small fee. There is no Wi-Fi and kitchen available.
Best VRBOs and Airbnbs in Fredericksburg Texas
See? We told you these places are one of a kind. Our list of fantastic Fredericksburg Airbnb has come to an end.
Still, you are left with some tasks— decide which rental was your favorite, check its availability, start packing and give yourself the vacation we all know you deserve!
Fredericksburg Travel Resources
These Airbnbs in Fredericksburg are lovely, we know that.
Yet, if you're traveling with your significant other and want to experience something more intimate and different, you might want to stay in a romantic cabin in Fredericksburg!
In this comparison post above, we talk about lovely and ultra-romantic cabins for you and your partner to have a unique stay in the Lone Star State.
Here are some other lovely options for where to stay in Fredericksburg!
Looking for a perfect wine tour in town? Then you might want to read this comparison of the best wine tours in Fredericksburg TX!
We hope you like it! Enjoy!
Did you like this post about the best Fredericksburg Airbnb? Then share it with a friend who might like it too!