Is there anyone who wouldn't enjoy staying in a romantic cabin in Fredericksburg, TX?
Exactly.
You are brimming with excitement over your long-awaited time off but have no idea where (exactly) to go/spend it? We are here to help you.
We've crafted a list of the most romantic rentals in Fredericksburg, where you can snuggle up with your loved one before exploring the local scene.
Sit back, let us guide you through this charming town, and help you choose from the coziest and most peaceful places to stay at.
Editors' Picks: The Most Romantic Cabins in Fredericksburg
Why Fredericksburg, you might wonder? Despite its modest size, this quaint place, located in the Texas Hill Country, is full of so many traditions, places to explore, and things to do.
Founded by German settlers in the mid-1800s, Fredericksburg maintains a perfect mix of German-Texan heritage.
This town has it all—from beautiful scenery, sprawling vineyards, and peach orchards to a wide variety of cuisines, historical buildings, and shopping.
The best part? Our list of charming Fredericksburg Texas cabins that are the perfect place to spend a memorable and stress-free romantic escape.
Victorian-Style Fredericksburg Cabin
Located within walking distance from Main Street, this Victorian-style cabin offers the best of both worlds.
It is surrounded by museums, galleries, restaurants, and wine tasting rooms (and some wineries, which is one of the best things to do in Fredericksburg), while still providing you with a quiet and peaceful place to spend time with a loved one.
The look and feel of the cabin is one of a kind—elegant with beautiful vintage touches.
The private outdoor hot tub, the king-sized bed, and the fireplace make this retreat the perfect getaway for you and your significant other.
This cabin also has a small kitchenette with the most essential amenities, an expansive bathroom, and a beautiful front porch, where you can enjoy your morning coffee.
A light breakfast is also included with your stay!
Some things to consider are that the cabin lacks a washer (like most of the properties on this list) and a fully equipped kitchen. Furthermore, no pets are allowed.
All things considered, this is one of the most romantic cabins in Fredericksburg Tx.
Secluded Cabin in Fredericksburg
Perfect for travelers who enjoy spending their time surrounded by beautiful nature, the Diamond Belle cabin is just far enough outside of Fredericksburg to be peaceful and secluded and close enough for you to enjoy the town and its perks.
This cabin is designed from an Australian outback home with a "Victorian Ranch" décor that features an array of beautiful fabrics, large mirrors, natural wood ceilings, and limestone floors.
What makes this rental cabin unique is the whirlpool tub surrounded by antique mirrors, the private porch and courtyard, the indoor fireplace, and the outdoor shower.
The Diamond Belle, however, lacks a fully equipped kitchen. There is no Wi-Fi available, which can honestly be a good thing since it allows you to spend more quality time with your significant other.
Cabin Overlooking a Spring Creek
This Fredericksburg rental, located 10 miles away from town, offers peace and quiet like no other. You get to wake up and fall asleep to the gentle sounds of nature and the babbling creek nearby.
This lovely cabin has a homey and cozy interior that features wooden floors, walls, furniture, and ceiling.
What makes this rental cabin in Fredericksburg stand out? You can spend time with your loved one in the private outdoor hot tub, sit on the front porch and observe the wildlife or swim and fish in the Spring Creek.
In a place like this, you are guaranteed to escape the routine of the day-to-day city lifestyle.
Another bonus is that there are actually four of these Texas cabins with a common area that features a large fire pit with supplies to build a campfire.
It is the perfect place for a romantic stay with your partner and a getaway trip with other couples.
A nice feature of this cabin is that it's pet-friendly.
Spacious Cabin in Fredericksburg, Tx
Just a short drive away from Downtown Fredericksburg, this Casita (little house) is not so small after all!
It will allow you to bring your friends, family, or furry babies (at an additional cost) as it accommodates a total of 6 people.
The cabin has two private bedrooms, additional sleeping space in the living room, a bath with a spacious walk-in shower, and a fully equipped kitchen. The interior is colorful and homey.
What makes this Texas cabin stand out is the outdoor area that features two charcoal BBQ grills and a large fire pit.
You can enjoy a bottle of wine while watching the sunset or make S' mores on the fire under the beautiful Hill Country night sky.
During the day, you can observe the wildlife—whitetail deer and wild turkeys or enjoy the many wildflowers in the nearby surroundings.
No wonder this is one of the most romantic cabins in Fredericksburg Tx.
Elegant and Romantic Accommodation in Fredericksburg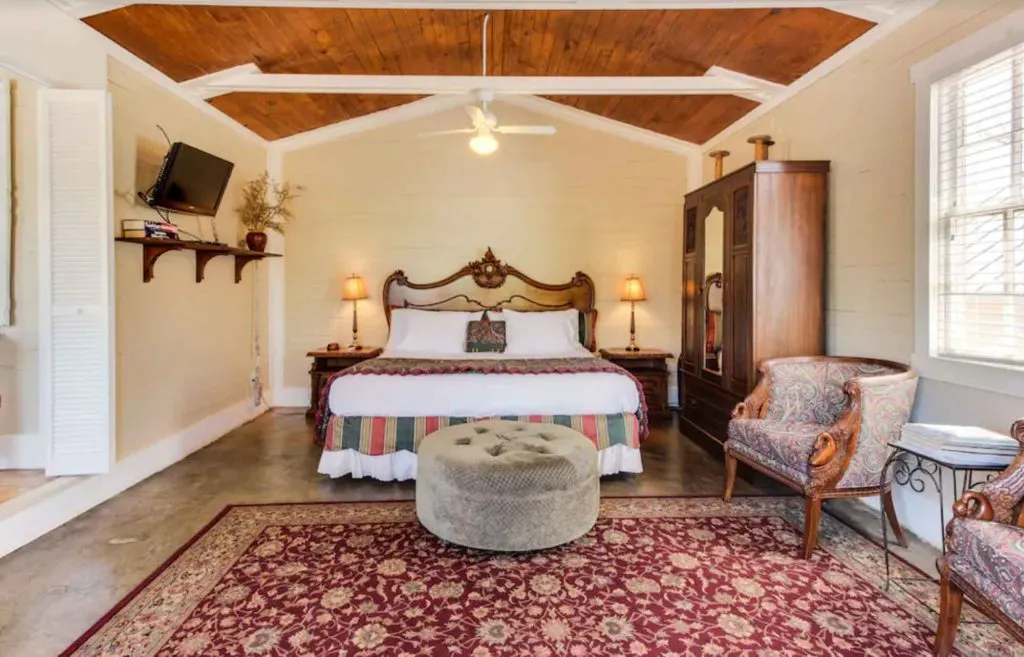 Contemporary style meets rustic elegance in this Fredericksburg getaway, perfect for a couple. Just a quick drive will put you right in the heart of the Texas wine country.
This cottage is spacious and light with a luxurious wood-beamed ceiling, a beautiful chandelier, a giant rug, paintings, and soothing pale tones.
The bathroom offers a jetted tub to melt all your worries away. There is no shower, which can be unfortunate if you are a strict shower person.
There is no need to hurry in the mornings since you will have an excellent breakfast waiting!
Cabin with the Beautiful Front Porch View
If you are looking for something a little off the beaten path, look no further! Das Eck Haus is a secluded log cabin that is close to town but will make you feel like you are miles away.
The cabin was built in 1995 by the owner himself, and it can accommodate up to 6 people.
This Fredericksburg rental has two bedrooms and two baths—one with a shower and one with a whirlpool tub. The interior is rustic with a country feel.
The best part is the front porch with a rocking chair and a swing—it is the perfect place for you to unwind and enjoy the scenery.
When it gets colder, snuggle up on the couch with your loved ones and listen to the crackling sounds coming from the fireplace.
Das Eck Haus does not have Wi-Fi, helping you enjoy a more relaxing stay.
Rustic Cabin with a Hot Tub in Fredericksburg
This cabin in Fredericksburg has so many unique and beautiful touches; we don't know where to start.
It is the perfect place for a honeymoon or a romantic retreat as it offers a fantastic nature experience.
Situated in the Texas Wine Country, this cabin is just a stone's throw away from incredible wineries.
The rental is clean, beautifully decorated, full of Texas charm, and surrounded by nature—there are lots of deer in this secluded area.
Perhaps best of all, you have an incredible hot tub right outside your bedroom on the back deck!
Longing for some time away with your special someone? Then this romantic cabin is everything you needed to spend some quality time together!
Elegant German-Style Cabin in Fredericksburg
If there is a place where you will feel like an actual queen or king, it has to be this beautiful cabin!
It is located right in the heart of Fredericksburg, Texas Hill Country, allowing you to explore this quaint town with ease. You are within walking distance of popular eateries, local attractions, and wine tasting rooms.
You first see the light-colored stone exterior of the cabin with a cute covered porch. There you can enjoy the light breakfast that is provided before heading out into the heart of Texas wine country.
The inside of the cottage rental will probably take your breath away—golden, warm tones, high ceilings, stone walls, polished floors, and abundant light pouring in from the garden-facing windows.
Sounds magical, doesn't it!
Well, there is also a custom stone gas fireplace, large walk-in shower, double vanity, private outdoor hot tub, firepit, and a king-sized bed.
The result is a perfect wine country base camp for you and your special someone to enjoy a secluded getaway.
Cozy and Rustic Getaway Cabin in Fredericksburg
If you are a fan of rustic atmosphere, rocking chairs, cozy indoor fireplaces, and you have a dog, this is the place for you.
This Fredericksburg cabin is just a short three-mile drive from town.
You will feel secluded while still being able to enjoy everything this town has to offer, have an excellent location to discover the Texas Hill Country, and go on a wine tour or two.
The cabin is meant for 2 people. However, there is a possibility to rent out the place with which the cabin shares a covered breezeway.
The interior of the cabin is very rustic and homey. Don't worry, you are also provided with modern touches to help you relax—air conditioning, cable TV, an indoor fireplace, and a jetted bathtub.
Don't even think about taking your work life with you at this getaway because there is no WiFi!
The light breakfast that will be waiting for you will make your lazy late mornings even better.
Romantic Log Cabin with Dry Sauna and Hot Tub
The Wild Ram log cabin is the perfect location for an anniversary or romantic getaway as it is an old restored home from 1847.
The interior is rustic and beautifully decorated with oversized and jetted showers as well as a dry sauna to relax while enjoying some quality time with your significant other.
As the sun sets and the stars appear, head to the outdoor hot tub with a saltwater system and enjoy sipping a glass of complimentary local wine while stargazing.
That's the ultimate romantic experience!
If you want to go out for dinner, Fredericksburg Downtown is just 3 miles away! On top of that, you're in the heart of the Texas Wine Country, so this romantic cabin will be the perfect base to visit nearby wineries on a romantic afternoon.
Historic Fredericksburg Cabin
Located 7 miles from Downtown Fredericksburg, Wine Cup Cabin is perfect for both couples and solo adventurers.
What makes this cabin unique is its story—the logs in the cabin date back to the late 1800s, the barn wood is over 100 years old, and the pie safe is a former Texas piece bought in Fredericksburg.
Every time you enter this cabin, you will discover another new and exciting piece of history.
The place also has a king-sized bed, fireplace, coffee bar, and a whirlpool tub.
Also, you can bring your dog for a small fee. There is no Wi-Fi and kitchen available.
Luxury Cabin in Fredericksburg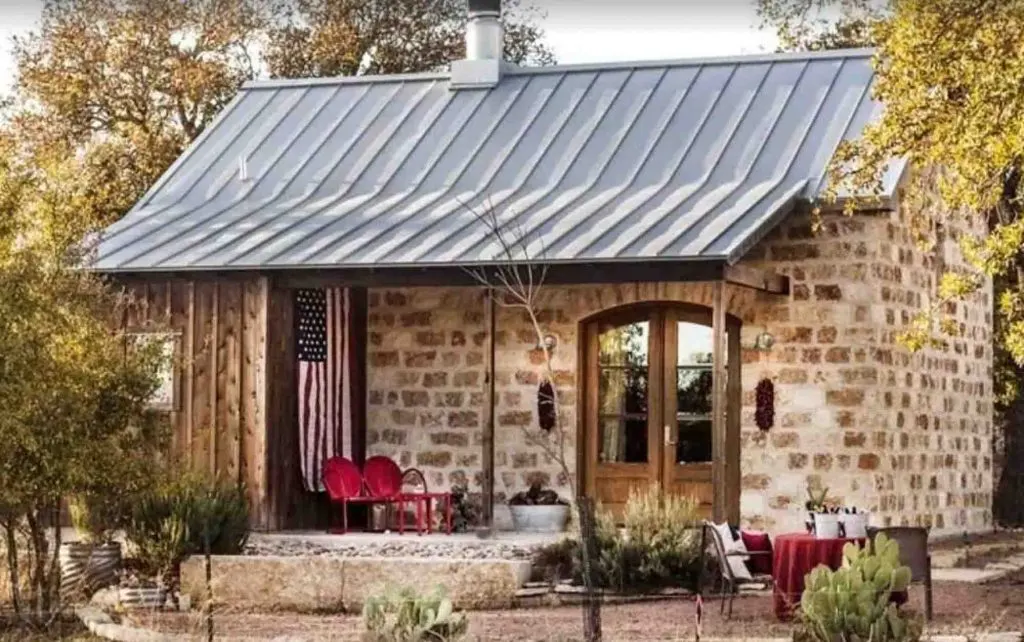 The last retreat for you on our list is located on a beautiful ranch 5 miles north of Fredericksburg.
The Double Deer Ranch is the best kept (not-so-secret) secret in Fredericksburg. On the outside, the cabins look cute, but on the inside, they are truly luxurious.
(In fact, they are almost among the prettiest luxury cabins in Texas!)
Some unique pieces that will leave a lasting impression are the vintage Italian sheets, the electric guitars, graphic art, and the double-sided fireplace. Oh, and the stylish interior is also quite unique.
The bathroom, however, is definitely what stands out the most. The whirlpool tub for two overlooks the creek cliff providing you with a gorgeous view, and the large shower has a massaging river stone floor.
There is a modern kitchenette that offers a coffeemaker, microwave, and fridge. The cabin has no Wi-Fi. This means more quality time spend with your loved one away from the distractions of modern technology.
Like all good things, our list has come to an end. It most likely left you absolutely mesmerized by the beauty and versatility of the small town of Fredericksburg.
This magical place and its beautiful nature and wildlife will make all your worries go away. You will be surprised how at home you will feel thanks to the Texas hospitality.
Wrapping Up on the Most Romantic Cabins in Fredericksburg
Now what's left for you is to pick the perfect cabin for you and your significant other.
Add any of these fantastic cabins to your couples bucket list—or Fredericksburg to your USA bucket list, at least—and enjoy the calm of this small town.
If you prefer other types of accommodation, check out this guide with the best Fredericksburg Airbnb, cabins with hot tubs in Texas, or this guide about where to stay in Fredericksburg!
Whatever place you choose, we're sure you'll enjoy your stay!
For more unique accommodation in the Lone Star State, check out the most romantic cabins in Texas.
Looking for a perfect wine tour in town? Then you might want to read this comparison of the best wine tours in Fredericksburg TX!
Did you like this article on the most romantic cabins in Fredericksburg Tx? Then share it with a friend who might like it too!
Latest posts by John Oakley
(see all)