Home to a dramatic coastline, towering snow-capped peaks, expansive deserts, idyllic lakes, and picturesque seaside towns, there's no shortage of wonderful things to do in California, even for the fuzziest of travelers.
If you're currently in the planning stages of your trip to California, chances are you're having a pretty hard time deciding what to see and what to do.
Seriously, you could easily dedicate an entire year to exploring the Golden State and never have to do the same thing twice, thanks to the vast array of diverse landscapes and destinations it offers.
If it's your first time visiting the Golden State or you're looking for a perfectly curated bucket list, we decided to put together the ultimate list of the best things to do in California everyone needs to complete at least once!
26 Fun Things to Do in California
Here are our favorite things to do in the Golden State!
1. Big Sur Road Trip
Big Sur is one of the most sought-after scenic drives in the entire country, making it a must on your California bucket list if amazing views are what you're after.
Running 90 miles along the coast, this highway is more about the drive itself rather than the destination.
Boasting panoramic views of the rugged coastline to one side and the alluring Santa Lucia Mountains rising on the other, this drive pretty much guarantees eye candy mile after mile.
Aside from the awe-inspiring vistas all over, another allure about Highway 1 (Big Sur's actual name) are the many beautiful stops that dot the road, including picturesque towns, sandy beaches, and gorgeous state parks to get lost for a while in.
Favorite stops on a Big Sur road trip include Carmel-by-the-Sea in northern California, Point Lobos State Natural Reserve, Garrapata State Park, Bixby Bridge, Pfeiffer Beach, Julia Pfeiffer Burns State Park with its magnificent McWay Falls, and Sand Dollar Beach.
2. Cross the Golden Gate Bridge
Crossing the Golden Gate Bridge isn't only one of the most popular things to do in California, but it's actually more like a rite of passage in the Golden State.
Inaugurated on May 27th, 1937, its characteristic red silhouette has become the most iconic symbol of San Francisco, northern California. Two hundred thousand people walked across the bridge on the day it was opened!
Today, the bridge has lost none of its grandeur, and visitors from all over the world love crossing 1.7 miles over the sea.
If you're wondering how you can go across the bridge from one side of San Francisco Bay to the other, there are four ways to do it: walking, biking, driving, or else by booking one of the many guided bus tours that include it in their itinerary.
3. San Francisco's Painted Ladies
One of the most photographed spots in the San Francisco area is the charming row of Victorian houses lining Hayes and Steiner Streets on Alamo Square.
Dubbed San Francisco's Painted Ladies, these Insta-perfect streets are backdropped by enormous skyscrapers, creating a stunning contrast of old and new.
If you're wondering how these beautiful houses came into being, well, they were built during the famous California Gold Rush, when lots of people (and money!) moved to the city and San Francisco builders were eager to show off their newly-acquired wealth by building majestic homes.
4. Visit Alcatraz Island
Back in the day, stepping foot on Alcatraz Island was not exactly a good thing because it housed the infamous federal prison where the most notorious criminals were jailed!
However, it has become one of San Francisco's most popular attractions in the United States.
Floating in the middle of San Francisco Bay, the island now houses the prison's abandoned building, remains of a military compound from the 1850s, and the oldest operating lighthouse on the West Coast.
You can reach the island in under 15 minutes by hopping on a ferry from Pier 33, right between the Fisherman's Wharf and the San Francisco Ferry Building.
Once there, you can explore the former prison and the historic Alcatraz Gardens, which were once tended by the island's military personnel and inmates.
To top your visit off, you can also explore the island itself, which boasts gorgeous rock pools and provides a beautiful opportunity for birdwatchers to encounter species like western gulls, egrets, and cormorants.
5. Hollywood Sign & Griffith Observatory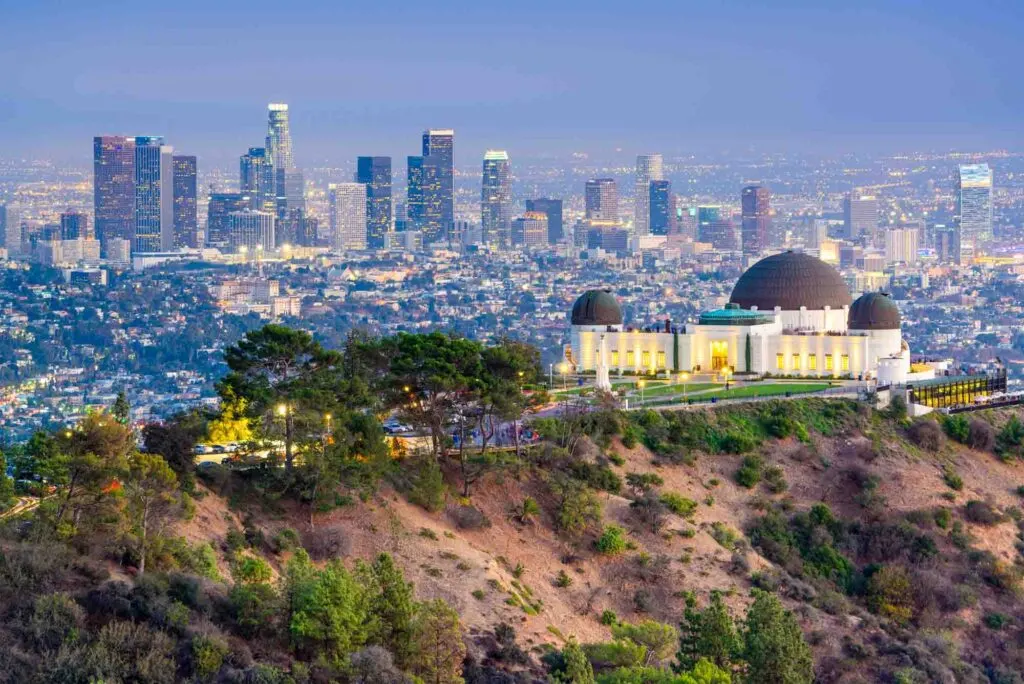 The Hollywood Sign is probably the most famous landmark in California. Jutting proudly from Hollywood Hills, it's the most iconic vista in cinema history, and millions of visitors have come from every corner of the world to snap pictures of its famous white letters.
You have two options to get to the sign. If you're up for a bit of hiking, you can follow a trail through the forest that ends at the city's best views of the sign.
If you'd instead not break a sweat, though, you can also take the elevator to an observation tower near the cliffs.
If you're up for more adventure, head over to the Griffith Observatory on the south slope of Mount Hollywood.
Once you reach it, you'll be able to look through telescopes, see exciting exhibits, and enjoy educational live shows at the Samuel Oschin Planetarium, all with fantastic vistas of Los Angeles and the Hollywood sign, of course!
6. Drive the Pacific Coast Highway
One of the most exciting things to do in California is driving the Pacific Coast Highway for the ultimate road trip in the entire United States.
While following the road, you'll spend hours skirting along stunning bluffs that overlook the Pacific Ocean while also coming across excellent stops worth lingering a while in.
The drive technically takes 10 to 12 hours if you don't make any stops, but this California road trip is all about the fantastic activities scattered along the way, so we recommend dedicating at least three days to it!
If you are planning to cruise along the Pacific Coast Highway, driving the route from north to south is recommended–and yes, you'll drive through Big Sur on this road trip.
Even though there are plenty of stops worth making, these seven spots, in particular, are absolute non-negotiables: Golden Gate Bridge, Greyhound Rock Beach, Monterey, Dana Point, and Point Loma (the exact spot where the first European landed on the West Coast of America).
7. Wine Tasting
It's no secret that California is king when it comes to wine production, and a visit to the state wouldn't be complete without dedicating some time to touring its wine estates and indulging in some serious wine-tasting.
Imagine picture-perfect vineyards, posh spas you can unwind in with a glass of wine in hand, and farm-to-table restaurants with wine lists longer than their menus.
Sounds tempting? If you wouldn't exactly mind a grape-filled escape, a few of the must-visit destinations in California to visit for all things wine include Napa Valley, Santa Barbara, and Sonoma County!
8. Hit the Beach
We feel like recommending going to the beach in California sounds almost redundant because, well, that's what most people do as soon as they arrive in the Golden State!
With over 800 miles worth of coastline, Cali has no shortage of fabulous beaches, from the raw, the surfer-friendly, and the manicured ones to delight all types of travel styles.
The best beaches in California? There are so many that it's hard to narrow them down. Still, Zuma Beach, Laguna Beach, Carmel Beach, Butterfly Beach, La Jolla Shores, Santa Monica State Beach, Pfeiffer Beach, Redondo Beach, Natural Bridges State Beach, and Santa Catalina Island in southern California are a few of our favorites!
9. Soak in Natural Hot Springs
California sits along the Pacific Ring of Fire, which results in unusual geographical phenomenons and natural wonders.
Mineral-rich hot springs are one of them, and there are thousands of them spread all over the state, beckoning you to soak in their soothing waters.
A few of the best spots for a mineral-rich soak in California include Beverly Hot Springs in the heart of LA, Glen Ivy Hot Springs (or "Club Mud" for its ray-clay mud baths) right between Palm Springs and LA, and Desert Hot Springs in the Coachella Valley (we promise, virtually every lodging option in Desert Hot Springs features at least one hot spring!).
10. Take in Lake Tahoe
Lake Tahoe is, without a doubt, one of the highlights of any California trip. Surrounded by snow-dusted mountain peaks and boasting kool-aid blue waters, a visit to this stunning alpine lake located on the border to Nevada is a must for storybook-like views.
Besides the stunning landscape and vistas, Lake Tahoe is home to some of the best things to do in California.
During the winter, the mountains around the lake become a mecca for winter sports, with skiing, snowshoeing, and ice skating being some of the favorite activities.
Come summer, the attention focuses on the lake, where you can swim, sail, kayak, scuba dive, fish, or simply relax and sunbathe by the water of one of the best places to visit in California.
11. Visit the National Parks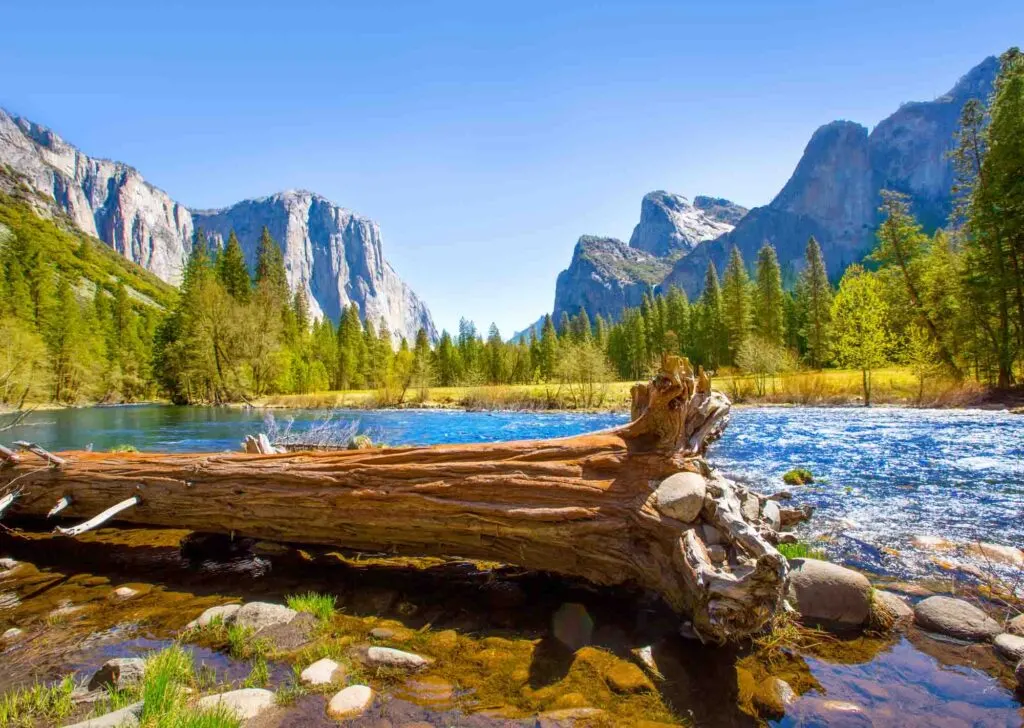 California is home to nine national parks, more than any other state in the country!
Choosing which ones to visit can be a pretty tough decision, especially when you consider each and every national park is vastly different from the last.
Death Valley National Park, for instance, is all about that desert goodness with its cracked salt flats of Badwater Basin (the lowest place in the United States!) and unexpected life and colors. In contrast, Yosemite National Park is all about mountains, granite cliffs, and waterfalls (Yosemite Falls is the tallest waterfall in North America, by the way!).
Redwood and Sequoia National Parks are all about enchanting forests made up of larger-than-life trees, and Joshua Tree National Park is about vibrant flora and desert charm.
Only you can decide which ones catch more of your fancy, but we would recommend adding at least one of the above to your California bucket list.
Moreover, California is also home to some unique hidden gems in the national park system, including Lassen Volcanic and Pinnacles national parks, which are great destinations to visit a lesser-known side of California.
12. Head to Pismo Beach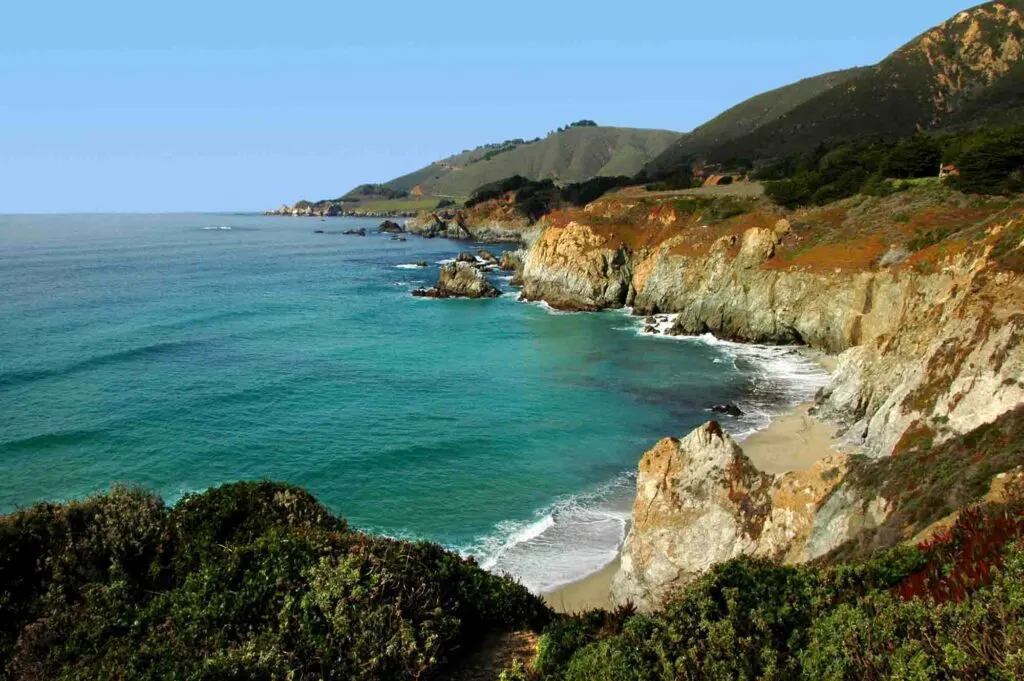 A classic beach town on California's central coast, visiting Pismo Beach is one of the most quintessential things to do in California.
Be prepared for long white sand beaches, great weather, and spectacular sunsets during your visit.
Moreover, you'll find tons of other fun things to do, including visiting one of the incredible wineries in the area, golfing, horseback riding, fabulous shopping at its premium outlets, and, of course, surfing.
Pro tip: Drive about 15 minutes inland from Pismo Beach to find the lovely San Luis Obispo with its Spanish mission, museums, art galleries, and excellent tasting rooms.
13. Winchester Mystery House
If eerie experiences are your jam, make sure a visit to Winchester Mystery House is on your California bucket list.
Legend has it that, back in 1886, eccentric Sarah Winchester left her life in New Haven, Connecticut, behind to start a new life in San Jose, California. She bought a small eight-room farmhouse and started a small renovation project.
Her new life in California didn't exactly go to plan, though. According to the story, Mrs. Winchester began seeing ghastly sights of the people killed by Winchester rifles, the company his late husband had created.
In 2018, a horror film was made about the infamous Winchester Mystery House and the spirits inhabiting its haunted walls.
14. Go Surfing
Whether you're a local or you're planning a trip to California, getting to ride waves on the Pacific Ocean is a sort of rite of passage in the state.
Ever since the '60s, Southern California has been considered one of the most surf-immersed cultures in the world, equaling that of Waikiki Beach in Oahu or that of Coolangatta in Australia.
Whether you're an expert or a newbie hoping to learn the craft, there are very few more exciting things to do in California than challenging the ocean on a surfboard.
Even though there are plenty of unique destinations to give the sport a try, a few of the best places include Rincon Point in Santa Barbara, Malibu, and Venice Beach (aka muscle beach) in Los Angeles, Huntington in Huntington Beach, Lower Trestles in San Clemente, and The Wedge in Newport Beach.
15. Admire the Majestic Burney Falls
McArthur-Burney Memorial Falls State Park is a dreamy park where you'll find an enchanting forest, five miles of streamside and lake shoreline, and its centerpiece, a majestic 129-foot waterfall known as Burney Falls.
Thanks to the 100 million gallons of water that flow every day from underground volcanic springs, Burney Falls look gorgeous pretty much any time of the year!
If you want to spend the night, you can bring your camping gear or opt to stay in one of the cabins available for rent.
16. Visit Balboa Park
Visiting Balboa Park in San Diego is one of the favorite things to do in California for locals and tourists alike. Originally a 1400-acre land set aside in the 17th century by San Diego's civic leaders, Balboa Park is the nation's largest urban park.
Balboa Park is a wonderland of museums, including the San Diego Zoo, the San Diego History Center, and the Fleet Science Center. Aside from that, the park is also home to beautiful gardens, countless art venues, restaurants, and more.
While strolling the park, you'll find Spanish Revival architecture dotting every corner, which is a homage to the early Spanish settlers in California.
17. Attend a Lakers Game
Whether you're an NBA fan or just curious, watching a Laker's game at the Staples Center is one of the most exciting things to do in California if you find yourself in the Los Angeles area.
Not only is it a must-do activity due to the team's popularity, but also because The Lakers are a pretty massive part of Californian culture!
18. Hike in Redwoods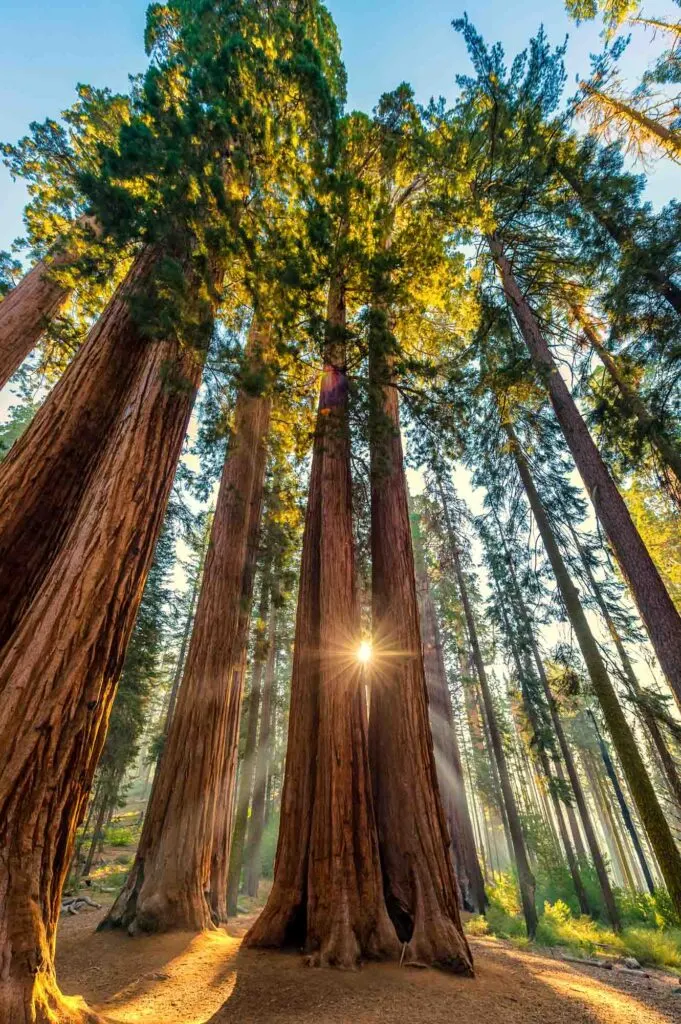 Redwood trees are a staple of California, and no trip to the Golden State is complete without hiking under a canopy of the world's tallest trees, with the tallest Sequoia tree reaching 379.7 feet tall. The best place to do just that? Redwood National Park, of course!
No matter your comfort level and experience, walking and hiking options are available for everyone at Redwood National Park.
With more than 200 miles of trails weaving through different environments that include prairies, old-growth redwood forests, and beaches, a peaceful immersive experience in nature is guaranteed no matter which hike you choose.
Seriously, there's nothing like walking under those giants to better dimension everything in life!
19. Day Trip to Santa Catalina Island
A day trip to Santa Catalina Island is one of the most amazing things to do in California if you're looking to explore the state beyond its coast.
As the main island of Channel Islands National Park, known as "The Galapagos of North America," there's no shortage of adventures to be had on Catalina Island, all of which include lovely seafood, crystal-clear waters, fantastic hiking trails, and wildlife galore.
Catalina is surprisingly easy to reach by ferry from several ports in Orange County, including Los Angeles, making it a super easy day trip to escape the bustle and hustle of the mainland!
20. Relax in Palm Springs
In the 1950s, Palm Springs, California, was considered the proverbial playground of movie stars.
Celebrities like Frank Sinatra and Elvis Presley built elegant getaway houses, played golf in its fine courses, and wined and dined in this desert oasis countless times.
Today, Palm Springs retains its sophistication, with a dose of hipster retro vibes, perfect quantities of glamour, nature, and kitsch.
This town in the heart of the California desert is the ideal getaway for anyone yearning for a glitzy escapade with lots of vibrant colors and desert vibes, delicious food, star-filled skies, and a burgeoning art scene.
21. Enjoy a Weekend in Santa Barbara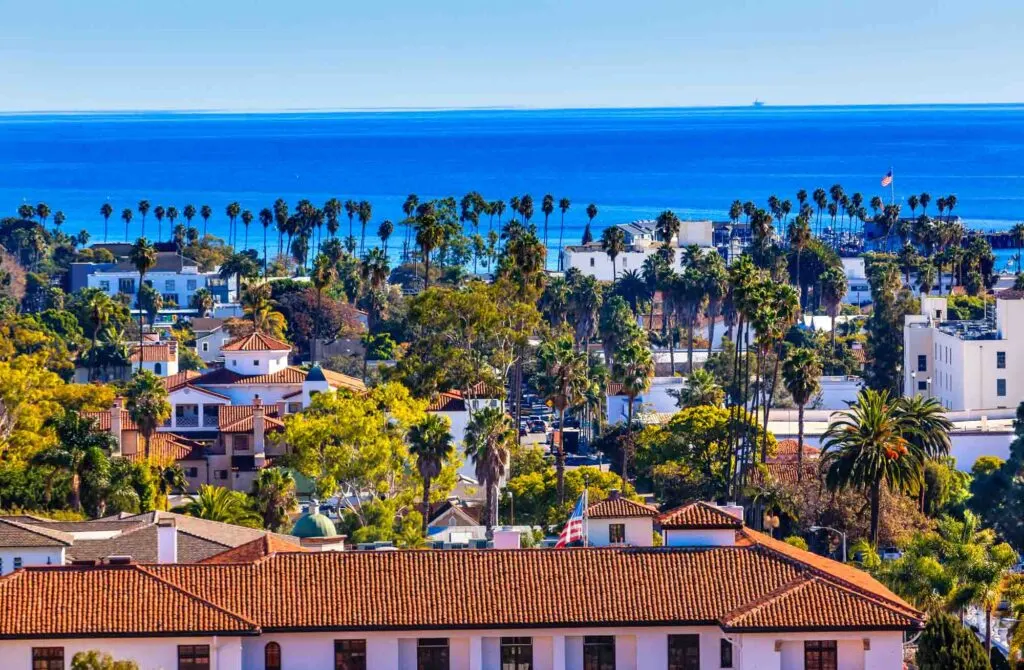 Santa Barbara is dubbed the American Riviera because of its posh coastal feel.
Set a 2-hour drive away from Los Angeles (four from San Diego and five from San Francisco), this gorgeous seaside location offers many things to do that your best bet is to spend the whole weekend here.
Take in the historical sights, museums, and gardens, lounge on the beach, do some shopping and wine & dine to your heart's content.
Be on the lookout for the rainbow-hued Chromatic Gate, one of Santa Barbara's most Instagrammable spots!
22. Visit Glass Beach
Glass Beach is a southern beach in MacKerricher State Park in Fort Bragg that gets its name from the thousands of colorful glass pieces that you can find within its pebbly sand.
This site used to be a garbage dump, and broken bottles were polished by the ocean and turned into glittering, multi-colored stones.
Today, these "gems" are considered tiny treasures meant to be scavenged for and photographed.
23. Buy a Cupcake from an ATM
Okay, so this may sound kind of crazy, but in California, you can actually press a button and have a cupcake appear.
Spread all over the state, you'll find cotton candy pink ATMs that, instead of money, deliver a dose of sugar to please your sweet tooth 24/7.
First created in Beverly Hills back in 2005, there are now many cupcake ATMs featured by Sprinkles (a popular bakery famous for their generous layer of frosting and characteristic bright candy dot in the middle of their cupcakes).
Take your pick from an assortment of flavors, ranging from dark chocolate to red velvet to salted caramel and more. Gluten-free, sugar-free, and vegan options are also available, so there's no excuse to miss out!
24. Universal Studios Hollywood
Universal Studios Hollywood, set in Universal City, is a must-visit attraction that should be included in everyone's California itinerary, but more so if you are a cinema and TV aficionado and want to get an immersive and super personal experience with the cinematographic empire that is California.
The attractions in this theme park really can't be compared to anything in the world.
The world-famous Studio Tour at Universal Studios Hollywood is an exciting attraction full of adrenaline. Still, it is also a real operating spot where some of the most popular movies and TV shows were filmed.
King Kong 3D and a high-speed chase in the Fast & Furious attractions are only a couple of examples of how movies and TV shows come to life here.
The Wizarding World of Harry Potter, Jurassic World, and Waterworld are some other fantastic sections that you must check out during your visit!
25. Mammoth Lakes
Want to get off the beaten path? If you're on the lookout for a quiet slice of nature you can enjoy in solitude, Mammoth Lakes is the ideal destination for you.
Boasting more than 300 miles of pristine trails extending over different landscapes, hiking around the nature surrounding this beautiful town is an absolute delight.
The trails here are so diverse that you'll be able to see calm meadows, dozens of lakes, stunning pine forests, a vast high-mountain desert, and towering mountain peaks, all on the same day!
26. See the Monarch Butterflies
Humans aren't the only ones who love escaping to California's warm coast during the winter months. Monarch butterflies do it, too!
During their annual migration from Canada to Mexico, Monarch butterflies flock to California, usually arriving in October and leaving by February.
If you're game for seeing thick orange and black ribbons of butterflies hanging in eucalyptus and pine trees, head to the Monarch Butterfly Grove in Pismo Beach, one of the largest viewing areas in the state.
You can walk around and learn more about these tiny international travelers during your visit.
Another great option is the state's designated Monarch Preserve, nestled inside Natural Bridges State Beach in Santa Cruz.
Here, you can walk along a boardwalk to an observation platform located beneath eucalyptus trees to observe them.
Keep in mind that warm, sunny days are ideal for planning your visit because that's when butterflies are most active.
Final Thoughts on What to Do in California
We hope this list of the best things to do in California helped you plot the perfect itinerary for your visit.
Whether you do a few of them or every single item on the list, we guarantee you'll enjoy every single moment of your trip to the Golden State!
What are some other amazing things to do in California that didn't make it to the list? Let us know if you have any other suggestions for activities and destinations in the comment section below!
Latest posts by Olivia Perez
(see all)