With elegant mansions, quirky neighborhoods, Creole cuisine, and epic jazz bands, deciding where to stay in New Orleans can be frustrating – we get it!
You're in good hands as this article will reveal New Orleans's best-kept secrets ranging from luxurious hotels in the heart of the French Quatre to budget accommodation in ultra-cool neighborhoods.
So, if you really want to know a bit more about New Orleans' hidden gems (including haunted hotels) and the pros and cons of staying in certain neighborhoods – read on!
TL;DR Where to Stay in New Orleans
Best Places to Stay in New Orleans
Considered to be both the birthplace of jazz and of the southern Civil Rights Movement, New Orleans is a unique place to visit in Louisiana.
Hotel Monteleone: Historic Hotel In The French Quarter
Situated in the iconic French Quarter, or the Vieux Carré, the elegant Hotel Monteleone, established in 1886, was a writing haven for the likes of Tennessee Williams and Truman Capote.
Today it offers guests opulent rooms with upmarket amenities like a Spa, fitness center, rooftop pool, and an incredible Carousel Bar that rotates, serving classic cocktails to the tune of ambient music, including a premier Criollo Restaurant for delicious meals.
Monteleone's location is perfectly suited to partygoers who want to stay in a more peaceful area, with easy access to the Bourbon Street nightlife scene (perhaps NOLA's most famous street) and the surrounding neighborhoods.
The French Quarter is also renowned for its magnificent 18th-century architecture, stunning boutiques, great music, and fabulous food at the likes of Café du Monde (their beignets are delicious) and Decatur, where you can enjoy idyllic views of the Mississippi in their sun-drenched outdoor area.
It is also a family-friendly destination with fun street performers, carriage rides, the educational Aquarium of the Americas, including the Cabildo Museum.
Click here to check availability
A former stately Old French Opera House, the iconic Four Points Hotel, situated on the corner of Toulouse and Bourbon streets in the city center, has fabulous balconies overlooking the French Quarter's party scene, so you can sit back and be part of the action.
Hotel guests can expect spacious, elegantly decorated, well-equipped rooms with modern amenities like a gym and restaurant, coupled with an outdoor swimming pool set in a tropical courtyard.
But the best part about staying at this gorgeous hotel is that you are just a stone's through away from the French Quarter's Frenchman Street, with nightly world-class jazz performances and entertaining daytime New Orleans tours.
Other great attractions nearby the hotel include Royal Street, Jackson Square, Preservation Hall, St. Louis Cathedral, Laffite's Blacksmith, Canal Street, and the haunting St. Louis Cemetery No. 1.
Suppose you plan to stay at the Four Points Hotel or any hotels in the French Quarter during any major events like the Mardi Gras, Sugar Bowl, Southern Decadence Festival, or St. Patrick's Daybook, as soon as possible. In that case, hotel reservations fill up soon and are prepared to pay top rates.
Pro tip: if you are on a tight budget and want to enjoy any of its major events when hotel rates are mostly overpriced during peak seasons, consider staying in one of the surrounding trendy neighborhoods, with easy access to the French Quatre mentioned further on in this article.
The elegant Pontchartrain Hotel, built-in 1927 in the heart of the peaceful Garden District, is a luxurious, 14-story hotel with ultra-chic rooms decorated with gorgeous antiques, including all the modern amenities you would expect in a high-end hotel.
Other perks include two outstanding in-house restaurants, including a rooftop bar with breathtaking cityscape views and the surrounding stately historic mansions.
Adjacent to the city's enchanting streetcar route, Pontchartrain is conveniently located with easy access to famous landmarks like the spooky Buckner Mansion (featured in American Horry Story Coven) and Magazine Street with various restaurants and shops and the National WWII Museum.
The New Orleans Garden City is a great location if you want to feel like an old-school millionaire, surrounded by mansions in a peaceful setting. It's an ideal location for anyone who prefers a less lively neighborhood.
Click here to check availability
Located in the hip New Orleans Art District, the pet-friendly Ace Hotel suites feature a vast two-level living area with all the amenities that will make you and your furry friends feel right at home, with added quirky touches like an acoustic guitar and a retro Music Hall turntable.
Other hotel perks include a glistening rooftop pool, an amazing bar, a world-class music venue, and a restaurant that is a stone's through away from museums, art galleries, shops, and the iconic French Quarter.
Major nearby attractions include over 25 art galleries, Ogden Museum of Southern Art, Louisiana's Civil War Museum, and National World War II Museum. Oh, and enjoy the buzzing nightlife at the Republic of Music and the Howlin' Wolf (what's not to love!).
Fortunately, traveling with your furry friend has become a lot easier in cities like New Orleans, as most pet-friendly hotels offer doggy amenities like water bowls, pet beds, or goodie bags as a warm welcome.
So, if you love art and want to travel with your fur baby, staying at the incredible Ace Hotel is a no-brainer!
If you are intrigued by haunted hotels, look no further!
The historic Andrew Jackson Hotel situated on Royal Street in the French Quarter embodies all the old-world charm of New Orleans with its wrought-iron balconies, Creole courtyard, and elegant architecture.
The Andrew Jackson Hotel has all the modern amenities required for a comfortable stay – if you are willing to contend with a ghost or two.
Listed on the National Register of Historic Places, the Andrew Jackson Hotel is famous for being one of the most haunted hotels in New Orleans due to its tragic past as an orphanage that burnt down and the eerie whispers of a young boy wake guests up with his ghostly laugher.
Ghosts aside, the hotel steps away from amazing swinging jazz clubs and bars, with incredible restaurants, close enough to Bourbon Street's buzzing nightlife.
Click here to check availability
Consistently ranked as one of the best hotels in New Orleans, the luxurious Winsor Court hotel, based in the Central Business District (CBD), is a family-friendly home away from home with several premier amenities,
This immaculate hotel also has a full-service spa (moms can also have a break), a world-class restaurant with delicious meals, and a sparkling outdoor pool to keep your kiddies well entertained.
The Windsor Court Hotel is conveniently located close to several kiddie-friendly attractions like the Aquarium and Insectarium, Audubon Zoo, the educational Children's Museum, and various other family-friendly attractions.
While most people think of New Orleans as an adults-only travel destination, due to the likes of Bourbon Street, and its wild party scene, it is a family-friendly city that will keep your kids well entertained.
Other great nearby attractions include the South Market District, which was transformed from obscurity into a trendy area with award-winning bakeries, and incredible restaurants, mixed with restored theatres like the Joy, Saenger, and the Orpheum that host spectacular Broadway shows.
So, if you are looking for a family-friendly hotel that is also close to the French Quarter and the Garden District, the CBD area is a great choice!
Staying in the CBC area, the ultra-modern Aloft New Orleans Downtown, Global Green USA certified eco-friendly hotel features spacious loft-style rooms and all the luxurious modern amenities you would expect – with a slight twist.
Aloft is perfectly suited to travelers who are serious about preserving the planet and sustainability as the hotel endeavors to conserve electricity and water to reduce its carbon footprint.
Although, the hotel is most famous for hosting great live musical events, with delicious signature cocktails to match. So, you don't have to venture far to enjoy New Orleans' great nightlife.
And, if you want to venture off into the heart of the city, explore the giant Caesars Superdome, attend an event at the Smoothie King Center, or let your hair down in a Bourbon Street jazz bar.
Click here to check availability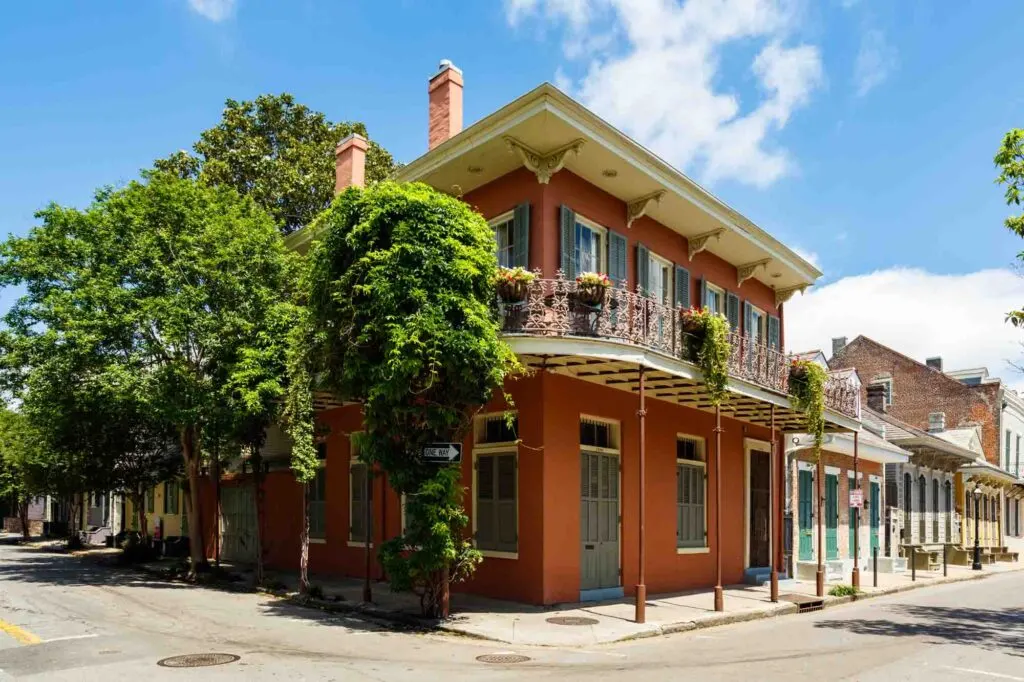 Situated in the ultra-cool neighborhood of Faubourg Marigny, the elegant Madame Isabelle's House, built-in 1831, is a tastefully furnished stately home that offers comfortable yet affordable accommodation for budget travelers (with rave reviews).
Guests choose between cheaper dormitory rooms, albeit with comfortable beds, including private rooms equipped with a refrigerator, cable TV, and a private bathroom.
But the hostel's most outstanding feature is its hidden lush courtyard garden, replete with an awesome outdoor deck, including a bubbling Jacuzzi which is a perfect place to relax after a long day of sightseeing or to meet new friends.
Talking about sightseeing – Faubourg Marigny is a hidden gem with its eclectic mix of 50's ere classic revival and creole cottages that have been lovingly restored to their former glory. In essence, it's the local version of the iconic French Quarter, but without its sometimes ridiculously expensive price tags.
This quirky, up-coming hipster neighborhood has an abundance of ultra-cool restaurants with incredible signature dishes, laid-back bars, and other vibe hangouts dotted along the way.
Even though Madame Isabelle's House is in a relatively quiet area, Frenchmen Steet is a mere five-minute walk away, and it takes only ten minutes by foot to reach the notorious Bourbon Street's nightlife.
If you are looking for old-world charm at a great price, look no further! The Hotel Provincial, situated in the French Quarter, is a fabulous hotel that affords you a comfortable stay without a hefty price tag.
This stunning architectural gem offers everything you need for a comfortable stay, including little modern touches like iPod docking stations, an ambient courtyard, and a sparkling pool.
Apart from all the previously mentioned French Quarter attractions, the hotel is only 300 m from the spectacular St Louis Cathedral, including several other hidden gems you will only find wandering through the picturesque neighborhood.
Click here to check availability
If you are looking for something different and don't want to stay in a chain hotel – look no further!
The one-of-a-kind Peter & Paul, situated in the hipster neighborhood of Marigny, or Bywater, is a stunning old Catholic church and school that took four years to refurbish into an incredible hotel.
The magnificent schoolhouse boasts spectacular 14-18th century paintings, cozy European-style sleeping lofts, refurbished classrooms, exquisite antique furniture, fabulous ball-and-claw baths, and The Elysian Bar, the city's best-kept secret (you must reserve a table well in advance).
Marigny or Bywater, situated across Esplanade Avenue, is known as the continuous neighborhood and the trendiest part of New Orleans for hip young people and has (fortunately) not been invaded by cheesy hotel chains.
This incredible neighborhood is dotted with historic homes and charming multi-colored Creole cottages transformed into art galleries, cafes, and shops, including vintage record stores and the buzzing Crescent Park riverfront.
The neighborhood's restaurants are mostly casual, with a few vegan-friendly cafes in between, especially on St. Claude Avenue, and the bars range from the elegant Three Muses to the "warts-and-all" Hi-Ho Lounge.
Frenchmen Street is right in the heart of this trendy neighborhood with incredibly diverse music venues that cater to all tastes in music ranging from New Orleans style blues and jazz, reggae, and rock, including the odd brass band, entertaining curb-side crowds.
While the Frenchmen Street area is crowded, it is a good alternative to the French Quarter party scene!
Situated in New Orleans's Mid-City region, the ultra-charming Canal Street Inn features elegant decor, gorgeous parlors, a tranquil garden terrace, and delicious homemade complimentary breakfasts. So, it's a great centrally located option if you are looking for a home-away-from-home
The Mid-City neighborhood, with a richly diverse and artsy community, rainbow-colored homes (on Bayou St. John), and historic buildings, is between Lake Pontchartrain and the Mississippi River and home to the world-renowned annual Jazz and Heritage Festival.
Carrollton Avenue is home to numerous amazing restaurants, artisan breweries, retro bars, and pop-up stalls, surrounded by families who have been living in this trendy neighborhood for generations, so it's a great place to get to know the locals!
However, if you truly want a unique experience in this quirky neighborhood, head on over to the Rock 'n Bowl venue, where you can dance and practice your bowling skills simultaneously to the tunes of live music with bands that play anything ranging from zydeco to blues.
Once you have explored everything the neighborhood offers, the Mid-City area provides easy access to the French Quarter via a conveniently located streetcar or a taxi. Alternatively, you can access the French Quarter via the bikeable paved 2.6 miles Lafitte Greenway trail.
Click here to check availability
Final Words on Where to Stay in NOLA
Whether you're spending a week or a weekend in NOLA, we hope this accommodation guide will help you find the best hotels in New Orleans to enjoy this incredible southern city.
After all, there are so many things to do, restaurants to visit, and stories to learn, so choosing the right place to stay is no luxury.