When it comes to cities that seem to have it all, Las Vegas just happens to be one of the best destinations for those looking to have all the things a big city can offer as well as amazing getaways to escape the bustle.
Thanks to its location close to California, Utah, and Arizona, Las Vegas makes for the perfect place to explore not just some of the best the state of Nevada has to offer, but also a few of the best destinations in North America.
From big American icons like the Grand Canyon to many of Utah's Mighty Five as well as small towns and hidden gems, there is so much you can explore from Vegas independently using only your car.
Whether you're looking for a fun day trip from the Strip or an easy weekend getaway that doesn't require much planning, here are some of the best places to visit near Las Vegas by car.
21 Incredible Places to Visit Near Las Vegas by Car
1. Valley Of Fire State Park, Nevada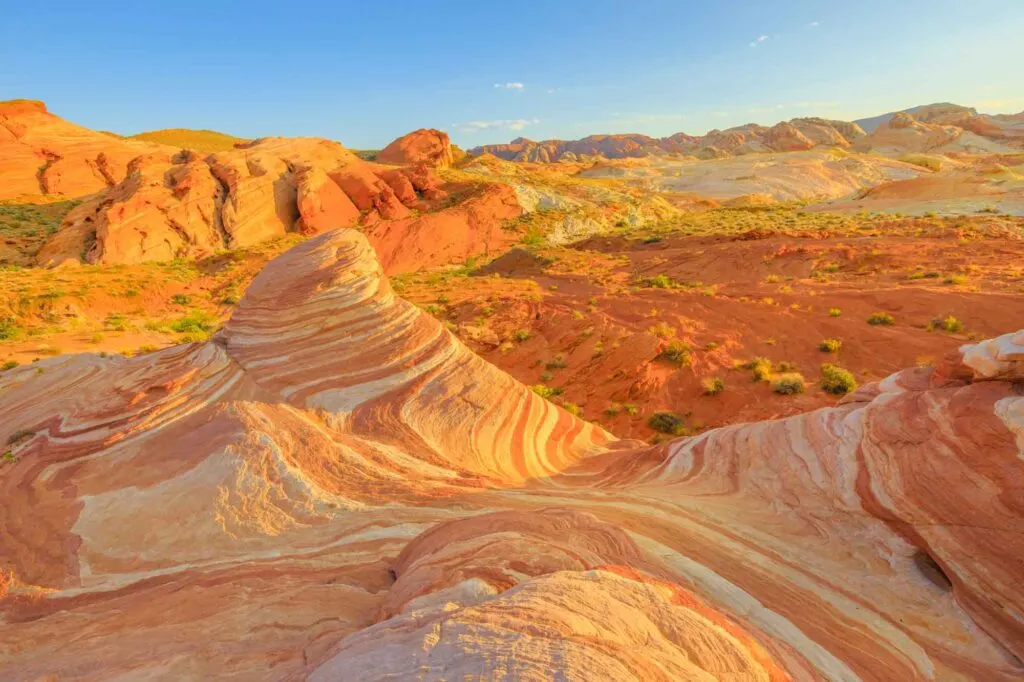 Located only 50 miles from Las Vegas, Valley of Fire makes for a perfect day trip from Las Vegas.
The reason Valley of Fire got its name is due to the fact that, when sunlight hits the red Aztec sandstone rocks that make up the park, it makes them look as though they were actually on fire.
During your visit, you can try your hand at hiking in the desert, with trails available for all experience levels. A few notable trails include Fire Wave, Rainbow Vista, and White Domes.
Moreover, you can also drive the Mouse's Tank Road, which is the park's scenic road, to explore a huge portion of the park. Make sure you park your car and hike the Pink Canyon trail, which will take you to a gorgeous narrow pink canyon!
Read Next: Incredible Places to Visit in Nevada
2. Red Rock Canyon, Nevada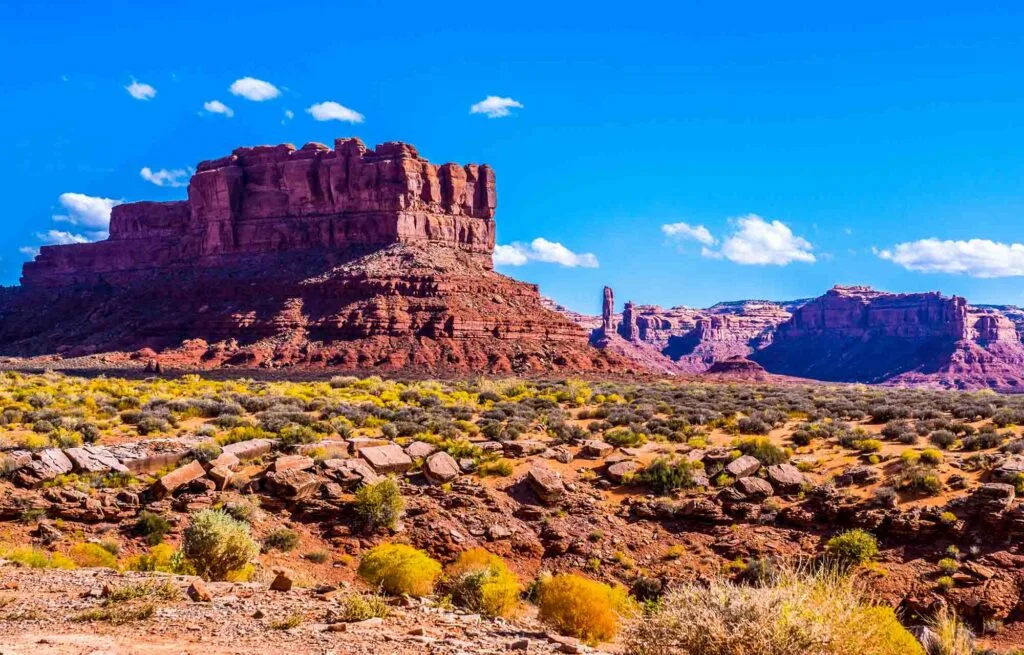 Set only 15 miles away from Las Vegas, Red Rock Canyon is famous for its unique red rock formations that make the landscape look as though it came straight out of Mars.
Red Rock Canyon is actually considered one of the best places near Las Vegas for beginner hikers to test out their skills in the desert. A few incredible hikes that come with gorgeous views include Calico Tanks, Calico Hills, Lost Creek Canyon, Ice Box Canyon, and White Rock Hills.
Moreover, the park also features a scenic highway in case you want to explore more of the park in a short amount of time.
3. Nelson Ghost Town, Nevada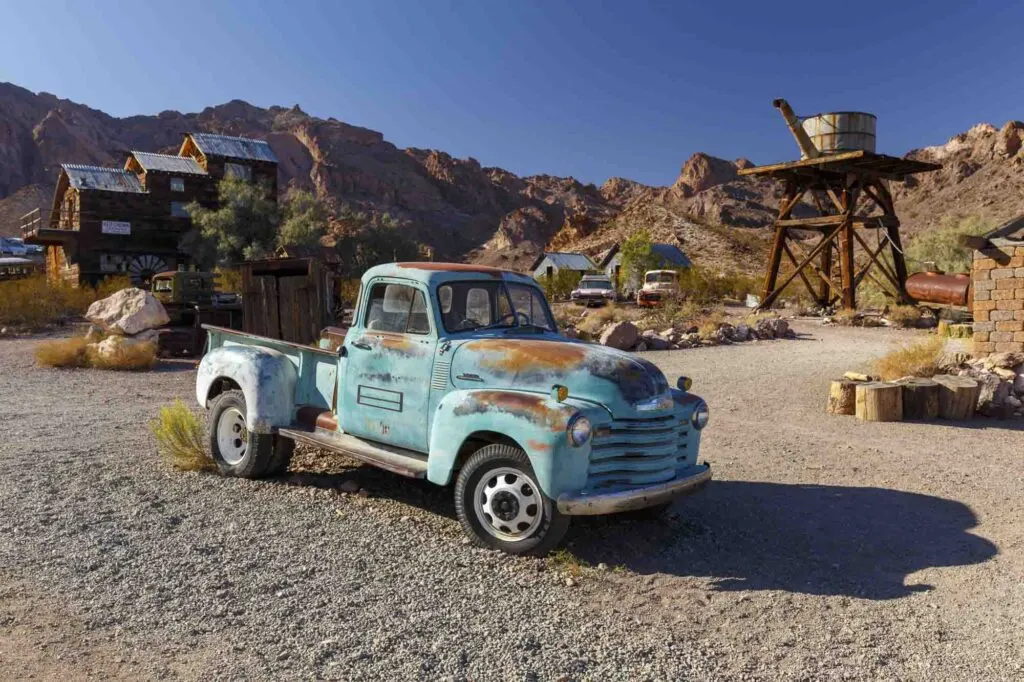 Once called Eldorado back in the 18th century, Nelson became a thriving mining town during its golden era thanks to the establishment of the Tachatticup Mine.
Unfortunately, despite the prosperity it brought in terms of money, the mine also brought in a series of grim events. Due to disputes in ownership, management, and labor, Nelson became a place where killings were considered a normal everyday occurrence.
Today, the mine is no longer operational. Visitors can visit the mine on a guided (and extremely entertaining tour). Moreover, you'll also enjoy looking at the artifacts, abandoned buildings, and vintage cars that were left behind.
4. Zion National Park, Utah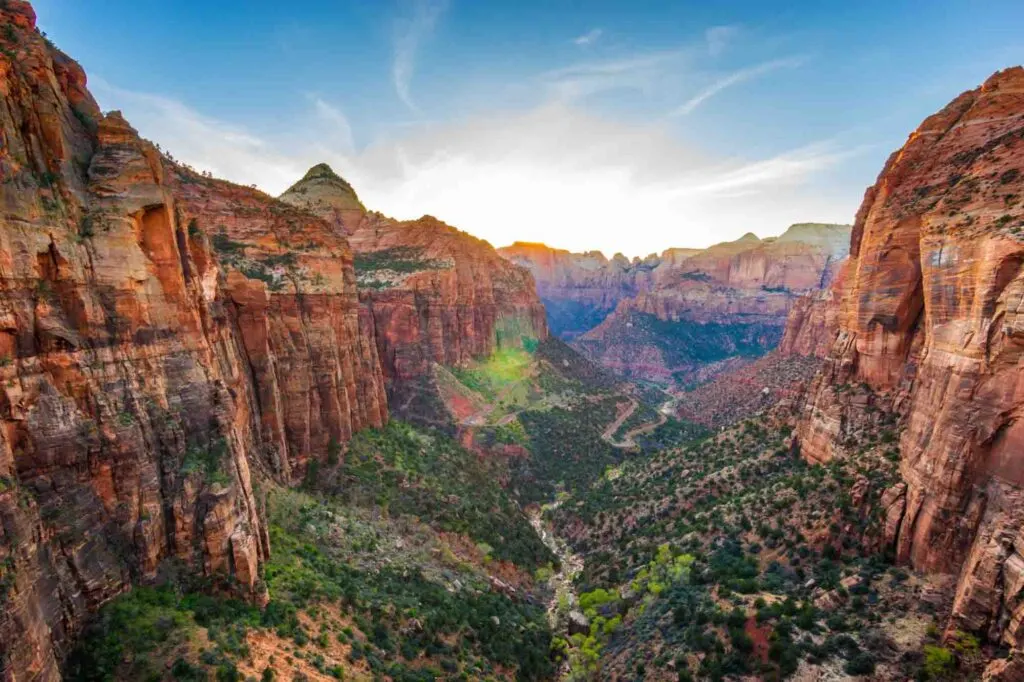 Even though Zion is located in Utah, it still makes up for a great day trip from Las Vegas thanks to the fact that it's located relatively close to Sin City. Plus, the fact that this national park near Las Vegas is pretty small makes it easy to cover in a few hours.
While here, you'll be treated to a great variety of landscapes, which range from hidden grottos to dramatic red rock cliffs and even hanging gardens and meadows.
During your visit, check out the Zion Human History Museum in order to learn more about the Pauite people who once inhabited the area, try a few easy hiking trails (The Emerald Pool Trail, Riverside Walk, the Canyon Overlook Trail, and The Watchman are all great options), and drive the Zion Canyon Scenic Drive.
If you have an extra day or you simply want to go all in while exploring Zion, you can also brave the Angel's Landing Trail. Do take note that this hike is considered very challenging and definitely not for those afraid of heights, though!
Pssst: Wanna go on a long road trip? Check out this Utah National Parks Road Trip Itinerary!
5. Lake Mead and Hoover Dam, Nevada and Arizona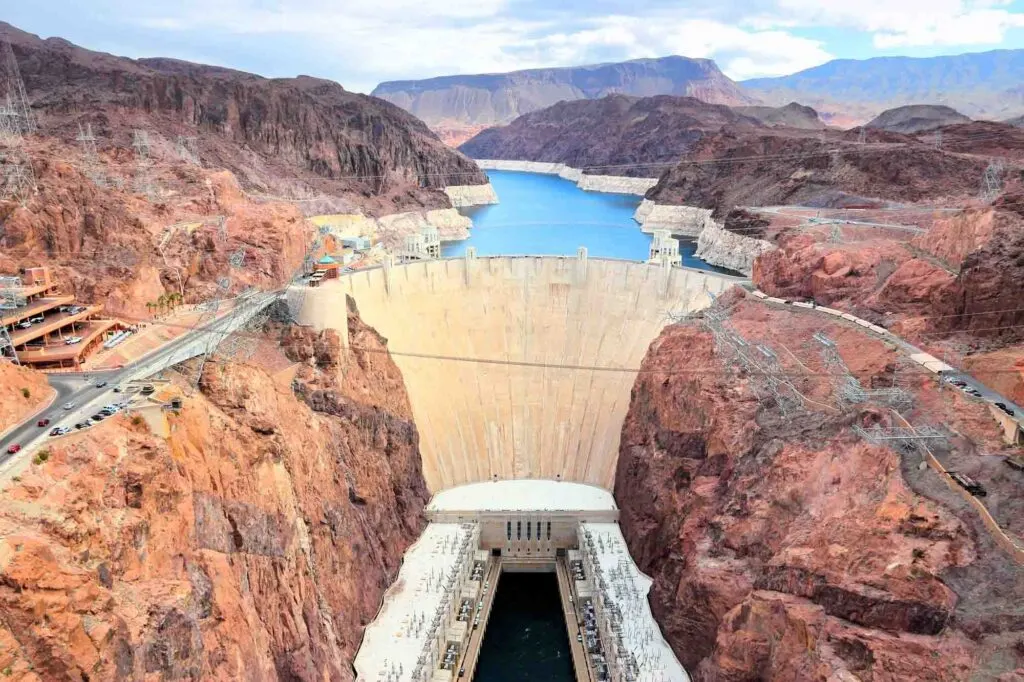 Boasting vibrant blue waters surrounded by striking desert scenery, Lake Mead National Recreation Area is the largest of its kind in America.
Most of the park is made up of the Mojave Desert, which means you'll have opportunities galore to explore beyond the main reservoir. Here, you can spend the day swimming, boating, hiking, scenic driving, fishing, or simply relaxing by the shores of Lake Mead while being surrounded by beautiful views of the desert contrasted by the blues of the water.
While here, make sure to also check out Hoover Dam near Boulder City, an engineering marvel built inside the beautiful Black Canyon over the Colorado River. One of the best things to do here is to simply stand at its top in order to enjoy the views of the canyon and the river.
6. Cathedral Gorge State Park, Nevada
Set over a narrow valley in southeastern Nevada, Cathedral Gorge is a world filled with gorgeous slot canyons, sandstone spires, and hoodoos. The unique color of the rocks makes this canyon look straight from another planet!
During your visit to Cathedral Gorge, you can spend the day hiking, picnicking, and looking for unique desert wildlife, which includes black-tailed jackrabbits, bobcats, cottontail rabbits, mule deer, and kangaroo rats. If possible, try spending at least a night camping within the park, as stargazing here is considered one of the best experiences to have near Las Vegas!
7. Bryce Canyon National Park, Utah
Thanks to its small size, Bryce Canyon makes for an excellent place to visit near Las Vegas even though it's four hours away.
The staple of Bryce Canyon is its amphitheaters of striking red rock hoodoos.
The best way to see many of these unique rock formations is by hiking the Queen's Garden to Navajo Loop Trail, where you'll get to make your way through rock tunnels, walk through pine forests, and see unbelievable vistas of the hoodoos that make the landscape at Bryce Canyon the incredibly unique one it is.
Moreover, if you're not sick of driving after making your way from Las Vegas, another great way to see a ton of the park is by driving Highway 12 to Rainbow Viewpoint and then making your way back slowly by stopping at the 13 viewpoints along the way, which feature vistas of the park's main highlights.
8. Eldorado Canyon, Nevada
Home to the most famous goldmine in southern Nevada, Eldorado Canyon is not just a natural wonder, but also a site that brims with history.
Even though the mine isn't operational anymore, these days, you can take a tour through the place to learn all about it and how it brought prosperity (but also misery) to the region.
In the area, you can find a wild west-era ghost town and many mine tours to discover more about this region.
Moreover, you'll also find tons of movie settings near and around Eldorado, with notable films and shows including Breakdown, 3,000 Miles to Graceland, Surviving the Apocalypse, First Platoon, and Brain Games.
9. Page, Arizona
Located in northern Arizona, Page is an American small town on the shores of Lake Powell.
Even though there's a lot to keep you entertained inside Page itself, the main reason to visit this town is that it acts as a great gateway to some of the best things to see and do in Arizona, including various national and state parks as well as several natural wonders.
A few of the best things to do near Page include visiting Antelope Canyon, Grand Canyon, Horseshoe Bend, Vermillion Cliffs, Glenn Canyon, and White Pocket for a hidden gem. Of course, Lake Powell is another highlight of the area, where visitors can boat, kayak, fish, swim, and more.
10. Grand Canyon National Park, Arizona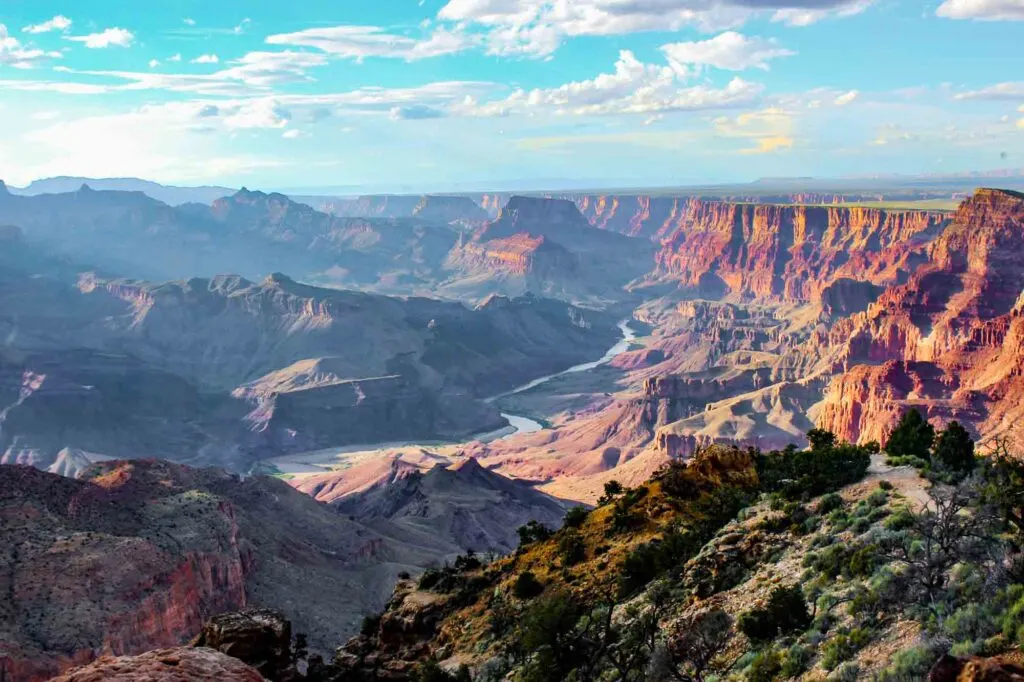 As the most famous natural landmark in the United States, the Grand Canyon is a can't-miss sight when road tripping the Southwest and one of the best places to visit near Las Vegas by car.
Throughout the course of millions and millions of years, the Colorado River etched its way through the Colorado plateau. In the process, it slowly formed the mesmerizing landscape we can see today at the Grand Canyon.
Most visitors to the Grand Canyon prefer to visit the South Rim, which is known for its accessible hiking trails and viewpoints.
If you want more solitude, you can also head over to the North Rim, which is only visited by 10% of visitors and provides tougher trails and backcountry experiences. Both sections of the Grand Canyon are located about 270 miles from Las Vegas.
However, if you prefer to drive a briefer distance or find yourself short on time, you can also check out the West Rim section of the canyon, which also provides great hiking trails and views of the Grand Canyon West and the Colorado River.
11. Kingman, Arizona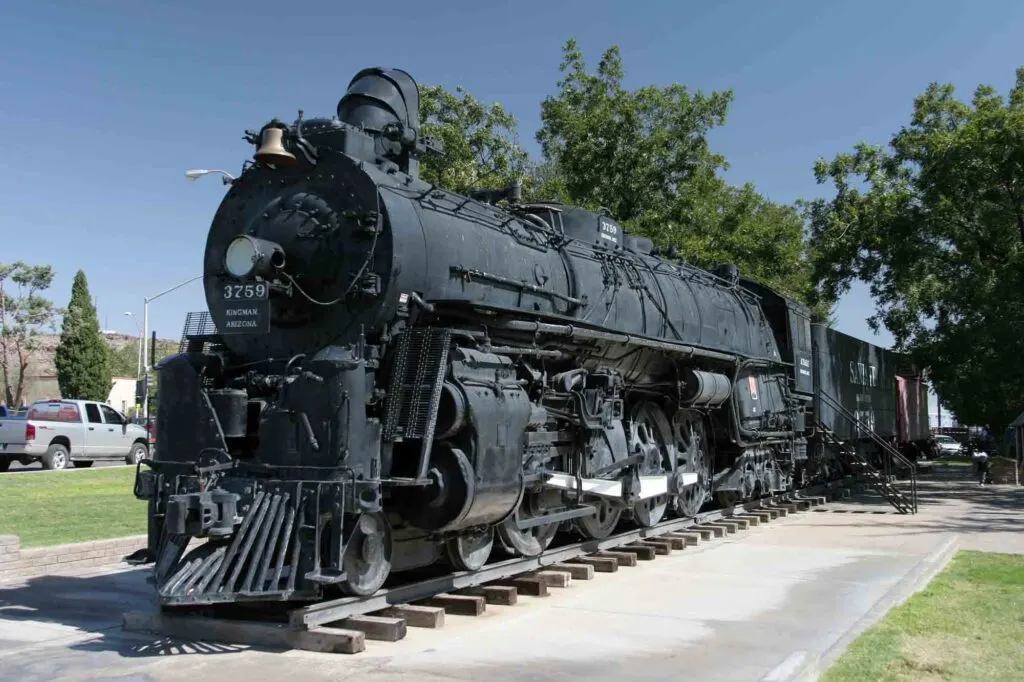 Set in northwestern Arizona, Kingman is a small town known for being a favorite Arizona destination along the historic Route 66 Highway.
Even though Kingman is not nearly as popular as it once was back when Route 66 was more famous, this town is a great place to visit in order to learn all about this epic USA road trip.
A highlight while at Kingman is exploring the Route 66 Museum inside the Powerhouse Visitors Center, where you'll get to see collections of memorabilia as well as learn all about the history of the route from its use by the Indians until the 50s.
Aside from its Route 66 background, Kingman offers a ton of other attractions for history aficionados. A few must-see places include the Mohave Museum of History & Arts to learn about the indigenous communities of the area, Kingman Railroad Museum to see vintage train layouts, and the Bonelli House to learn about one of the most famous families in town.
Kingman is also a mecca for wine and beer, with several distilleries and wineries dotting the area. A few can't-miss ones include the Desert Diamond Distillery, the Stetson Winery, the Cella Winery, and the Black Bridge Brewery.
12. Area 51, Nevada
Area 51 is actually off-limits to the public (it's a highly patrolled active military base and you can risk prosecution for trying to get in).
Still, the Extraterrestial Highway, which winds around the region, is one of the most popular places to drive near Las Vegas, especially for those interesting in all things aliens, UFOs, and paranormal.
Don't worry, "okay" areas to visit are well-marked, so as long as you stay within them, you won't get into any trouble!
This 2.5-hour drive will take you on an adventure through the desert like no other and we guarantee you'll feel as though you're part of a science fiction movie.
A few must-do stops include the E.T. Fresh Jerky Shop to buy all sorts of alien-themed goodies, The Alien Research Center to catch exhibits that celebrate space, and Rachel, a town where everything seems to be space-inspired, including its restaurants, shops, and wall murals!
13. Sedona, Arizona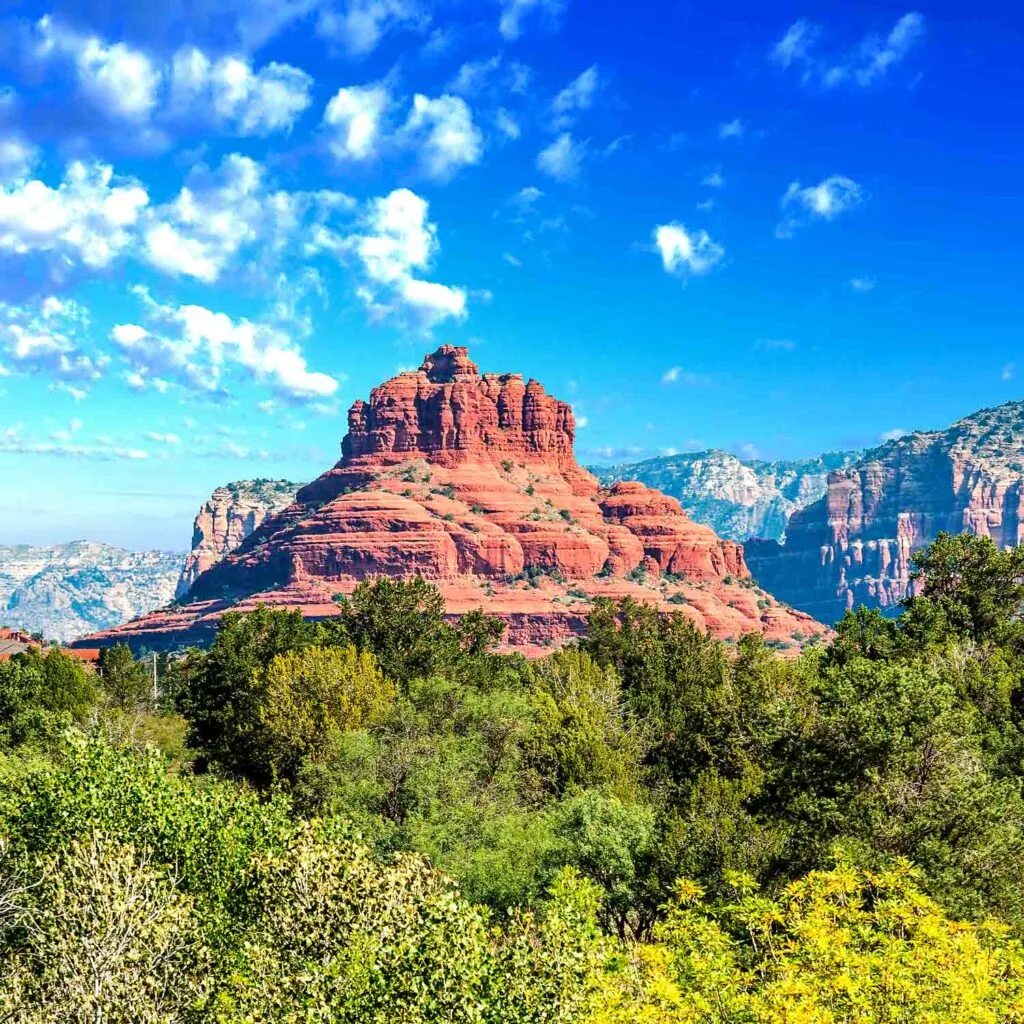 Being set only 280 miles away from the city, Sedona is one of the best places to visit near Las Vegas by car if desert magic, spiritual affairs, and artsy vibes are your jam.
In town, you'll find all sorts of spiritual awakening-themed activities, ranging from psychic readings, healing spas, and rituals. Moreover, Sedona is also a mecca for historical goodness, with lots of museums to explore in order to understand the indigenous tribes who once called the area their home.
As if that weren't enough, Sedona is considered one of the best gateways to the Arizona desert, with Red Rock State Park, Slide Rock State Park, and Dead Horse State Park being just a few of the places you can visit as part of your itinerary.
Read next: Best Places to Visit in Arizona
14. Joshua Tree National Park, California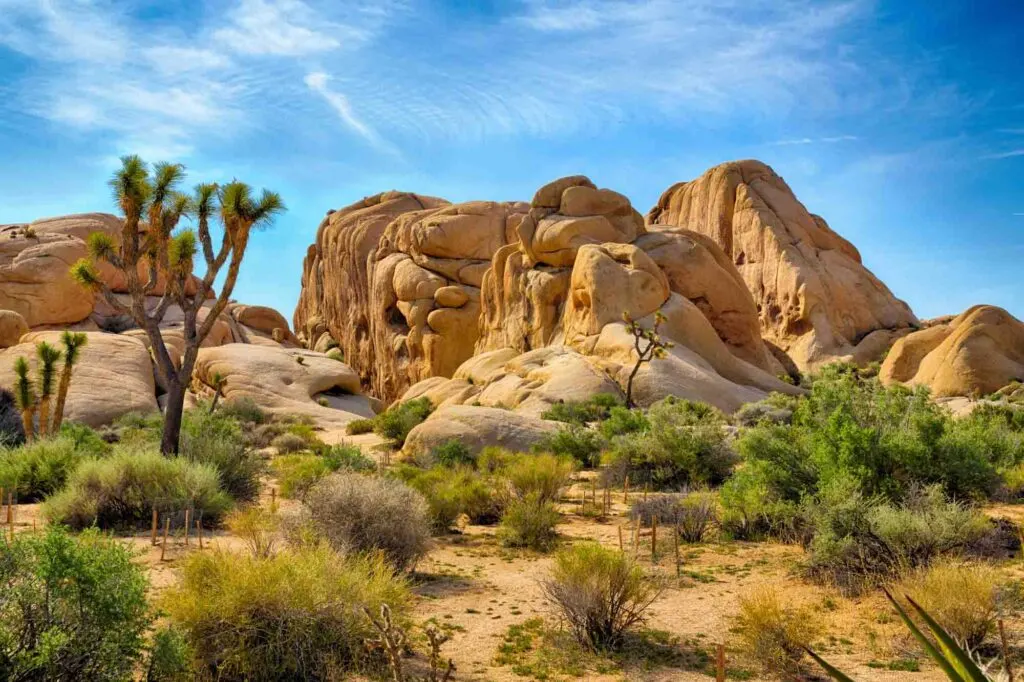 Home to enormous Joshua Trees and a desert landscape like no other, Joshua Tree is one of the best places near Las Vegas in order to experience the best of Southern California.
During your visit, you'll get to experience a variety of landscapes, especially when you consider this national park is located at the intersection where the Colorado and Mojave deserts meet, creating a unique ecosystem unique in the world.
Joshua Tree is absolutely massive, so we recommend starting your day early or even considering spending a night at the many glamping spots located within and near the park. A few must-dos here include hiking, rock climbing, scenic driving, and stargazing!
15. Death Valley National Park, California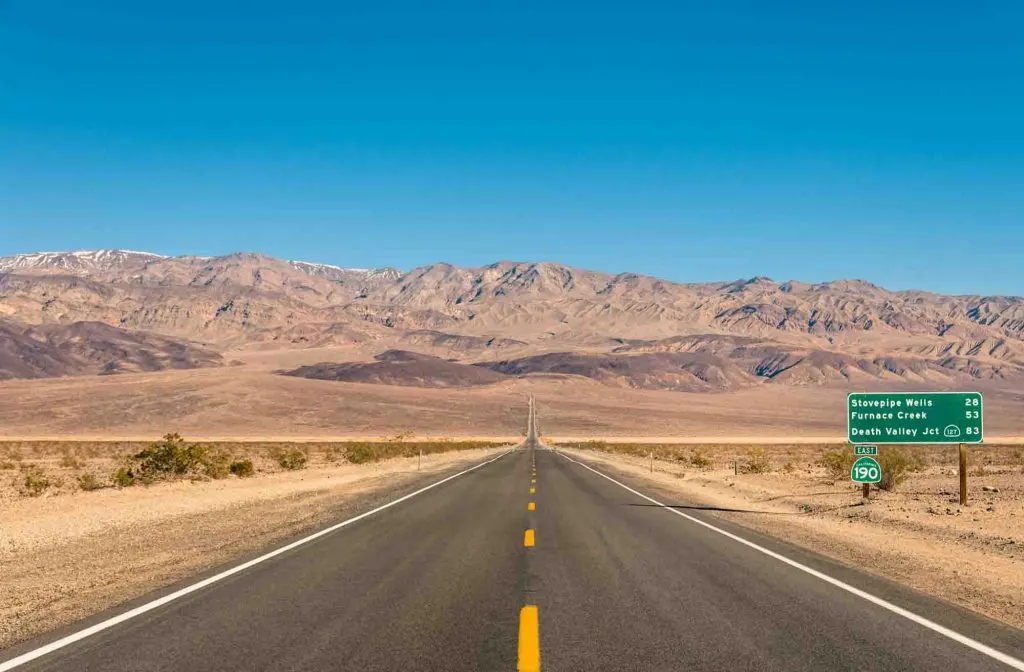 Even though its name may make it sound like a pretty dull place, Death Valley is actually one of the most vibrant places you can visit near Las Vegas by car.
During your time here, you'll be treated to views of colorful mountains, rolling sand dunes, quirky rock formations, and multicolored canyons.
Some of the best ways to make the most out of your visit to Death Valley National Park include hiking over hills of borax, having fun over the rolling sand dunes, and checking out Badwater Basin, which is the lowest point in the United States!
Moreover, make sure not to miss out on driving the Artist's Drive loop, a road that will have you winding your way through kaleidoscopic-looking mountains and hills!
16. Los Angeles, California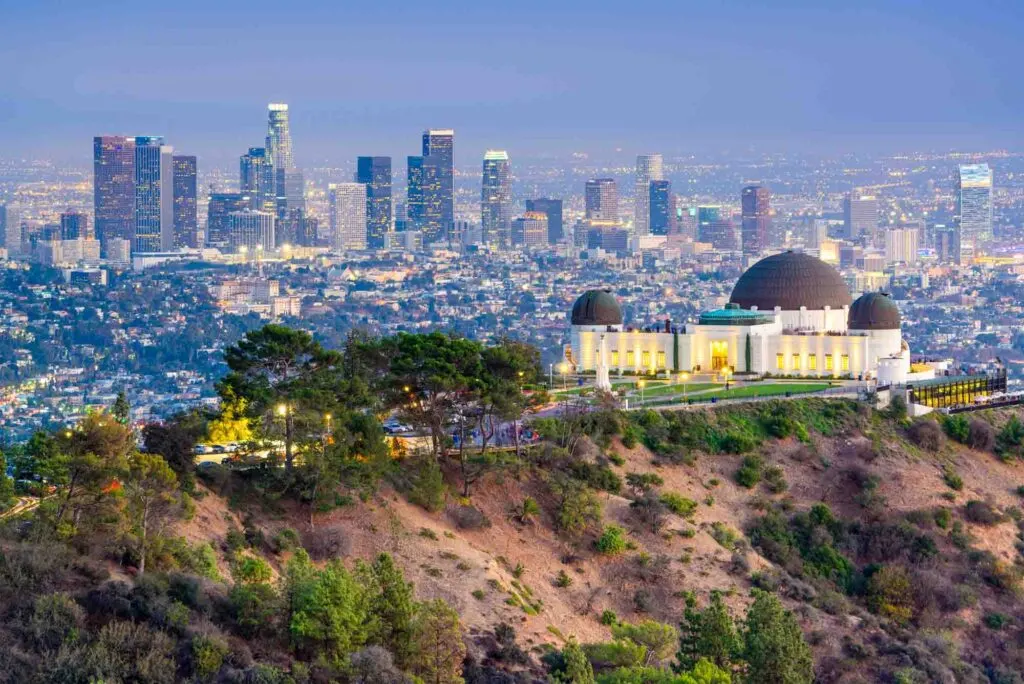 We're pretty sure Los Angeles needs no introduction, but thanks to the fact that it's located only 270 miles from Las Vegas, it makes for a pretty splendid escape if you're looking to explore a city that has a completely different feel to it.
During your visit to LA, some of the best things to do include driving around Beverly Hills and Rodeo Drive, visiting the Paramount Studios to get your dose of movie fun, checking out the Hollywood Sign from the Griffith Observatory, and spending a few hours relaxing at the Santa Monica Pier and Beach.
17. Lake Havasu, Arizona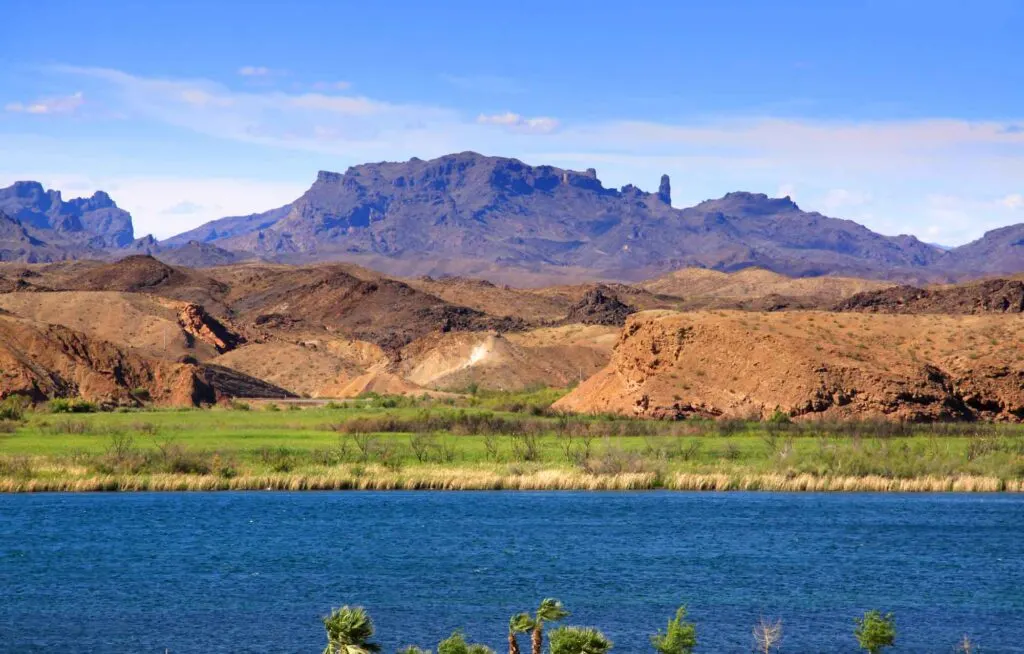 Home to a beachfront resort, Lake Havasu is anything but what you'd expect to find in a landlocked state that is mostly known for its rugged desert landscapes.
Thanks to its location along the Parker Dam just off the Colorado River, Lake Havasu is a city that has quickly become a perfect place to take a respite from the city.
While here, you'll get to enjoy views of European-looking architecture as well as enjoy a variety of recreational activities, including swimming, boating, fishing, golfing, hiking, and off-roading.
Read next: Arizona Road Trip Itinerary
18. Seven Magic Mountains, Nevada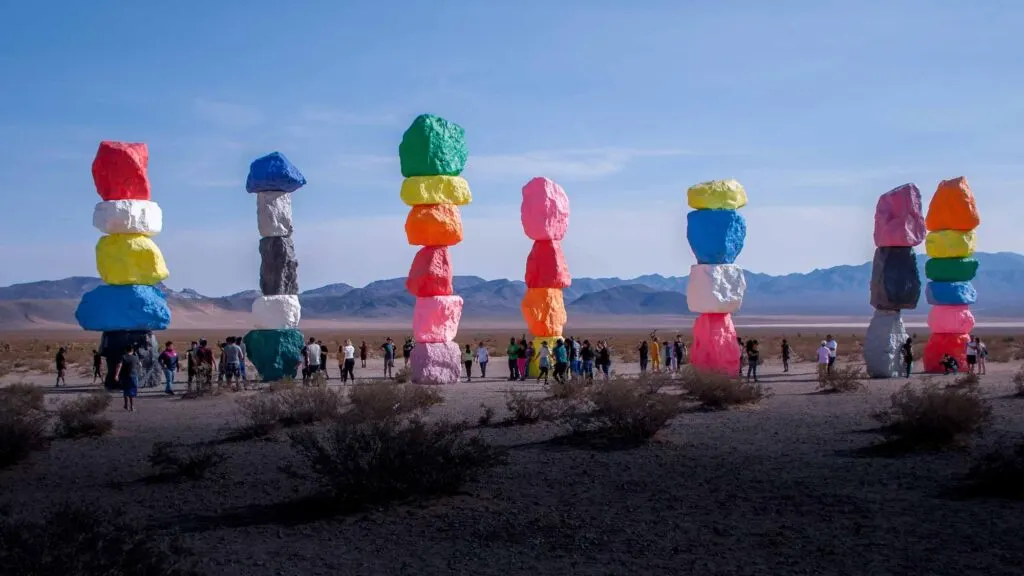 As one of the most instagrammable places near Las Vegas, Seven Magic Mountains is a large-scale art piece by Swiss artist Ugo Rondinone.
The Seven Magic Mountains is a series of seven colorful towers created by stacked boulders that sit right next to the highway in what feels like the middle of nowhere. The contrast of the piece's vibrant colors against the desert and the mountains makes it look insanely poetic!
19. Mount Charleston, Nevada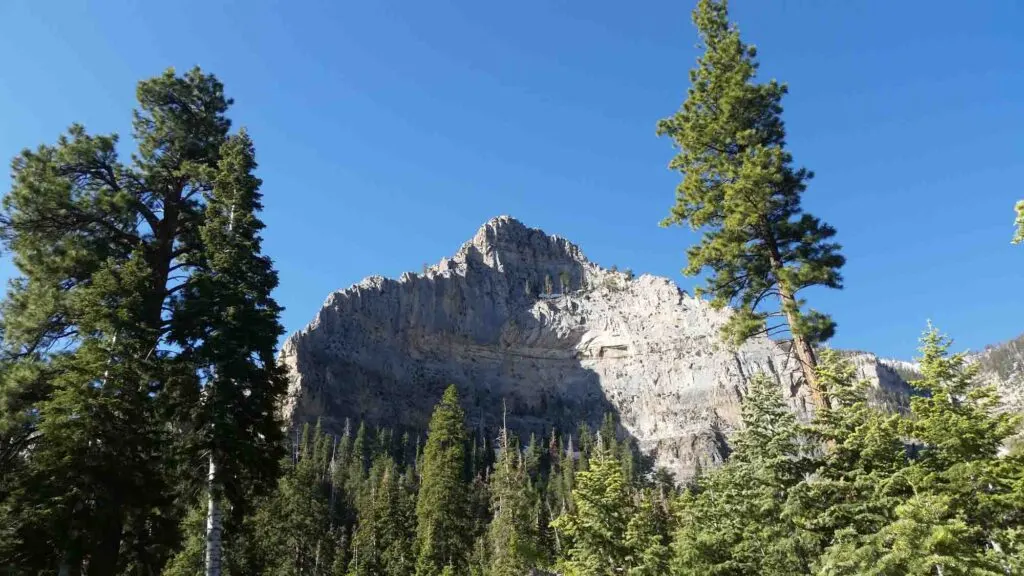 Tucked away inside the Spring Mountain Range, Mount Charleston is one of the best places to drive near Las Vegas if mountain goodness is what you're after.
Being the fifth highest summit in Nevada, summitting Mount Charleston is no easy feat. Getting to the top involves braving a 17.2-mile out and back hike with a whopping elevation of almost 5,000 feet.
If you're up for the challenge and consider yourself experienced enough, though, the trail is absolutely worth the effort not only because you'll get to conquer one of the toughest hikes in the state, but also due to the beautiful views it has to offer throughout.
20. St George, Utah
Located 120 miles from Sin City, St George is one of the best places near Las Vegas for pretty much everyone to visit regardless of their interests.
Most people visit St George in order to see Zion National Park, but there are plenty of more places for outdoor lovers to check out nearby. These include Gunlock Falls, Candy Cliffs, Snow Canyon State Park, Cedar Breaks, and Sand Hollow State Park.
If you're into history, you'll find plenty of attractions to explore, including the Brigham Young's summer house, the Mormon St George Temple, and the St George Tabernacle.
For art lovers, you'll find plenty of local art galleries dotting the town as well as the Tuacahn Amphitheater, an outdoor theatre surrounded by red rock hills where you can catch a show!
21. China Date Ranch Farm, California
If you're looking to do something a little different from the usual highlights near Las Vegas, China Date Ranch Farms is a perfect choice.
This small family-owned farm is what we'd call a bit of an oasis amid the Mojave Desert. Here, you'll find palm trees, cottonwoods, willows, and streams, all of which will make you feel as though you're in an entirely different setting!
As if that weren't enough, China Date Ranch is also a wonderful place to get a good dose of history, especially when you consider the Old Spanish Trail starts pretty close to the farm and you can also hike to several abandoned miles scattered all over.
Within the farm, the best things to do include trying a variety of delicious California dates as well as several goodies created with them (muffins, cookies, and nut bread).
Moreover, you can also book a guided walk where you'll get to learn all about the geology, history, flora, and wildlife around the area.
Best Places to Visit Near Las Vegas By Car
We hope this list of the best places to visit near Las Vegas by car inspired your next day trip or weekend away from the city. With so many amazing places to drive near Vegas, choosing what to see and do can feel quite overwhelming, but hopefully, this list helped you narrow down the options a bit!
What are some other amazing places to drive near Las Vegas? If you know of any other destinations close to the Strip, please feel free to drop your recommendations in the comment section below!