There are so many romantic things to do in Boston with your significant other. Believe it or not, Boston is one of the most romantic cities in the United States!
Not only that, but a lot of these romantic places are also Instagrammable sites in Boston.
From going to a Boston Red Sox game at Fenway Park to dining at the Top of the Hub, there's sure to be something for you to enjoy!
After all, Boston is not only a couples bucket list item but also a USA bucket list item. Don't you agree?
Are you looking for a place to stay in Boston? Then you might want to use Booking.com. We use them to book our trips because it's a reliable and easy-to-use website.
15 Romantic Things to Do in Boston
So seeking the most romantic things to do in Boston? Here are the top things to do in Boston for couples, on a weekend trip or romantic getaway in the United States.
1. Have a Fancy Dinner in Boston's North End
There is an abundance of great places to eat in Boston, but the city's North End is home to many fantastic Italian restaurants and decadent Italian dessert shops.
This area is commonly referred to as Boston's own Little Italy! Though it is entirely possible to walk into one of the restaurants, it's much better to call ahead and book a time to avoid waiting for hours.
It can be hard choosing where to eat in the North End, but one of the best places to eat here is Ristorante Fiore.
There's a beautiful outside patio where diners can enjoy their meal. This makes it perfect for a romantic date night, especially if the weather is good!
If you ever eat here, definitely order the gnocchi. A great alternative to this restaurant is La Famiglia Giorgio's, known for having heaping portions.
While in the North End, be sure to also try some Italian pastries! Though Mike's Pastry is the most well-known, Modern Pastry and Bova's Bakery are two underrated alternatives.
Keep in mind that most of the pastry shops in the North End don't take cards, so carry your cash when you visit the neighborhood.
Read next: Incredible Summer Vacations in the US
2. Enjoy a Picnic in the Boston Commons
Located in the center of Boston, the Boston Commons is one beautiful park that you can't help but come across!
The park itself ranges over 50 acres, so there's definitely an area that you and your significant other can find a bit of peace and quiet amidst the hustle and bustle of Boston.
Try stopping at one of the local grocery shops or street food vendors (which are commonly lining the streets of the Boston Commons).
Once you have your food, find a quiet bench in the Commons with your S.O. and sit and enjoy a lovely picnic!
It's undoubtedly one of the most romantic things to do in Boston!
Besides, this is an excellent area to just people-watch as well, and there are some pretty great views in the area. Having a picnic in the Boston Commons is only one of many free things to do in Boston.
Oh, and the park is especially beautiful in the autumn, so you might want to add it to your fall vacation in the US.
3. For the Literary Couple: Explore the Boston Public Library
The Boston Public Library (commonly referred to as the BPL by Bostonians) is the free public central library. It's open for anyone to visit during opening hours!
You absolutely must visit this library because of its beautiful architecture. Though the BPL has had more modern and recent renovations, you can still explore its old structure.
There are so many great photo locations throughout the BPL as well. If you're looking for the perfect photo spot, be sure to go to the main entrance where the stairway is.
Also go to Bates Hall, which is the room commonly Instagrammed filled with magnificent green lights. If you stand at the end of the room, you can snag a pretty awesome photo!
Read next: Fantastic Spring Break Destinations in the US
4. Dine at the Top of the Hub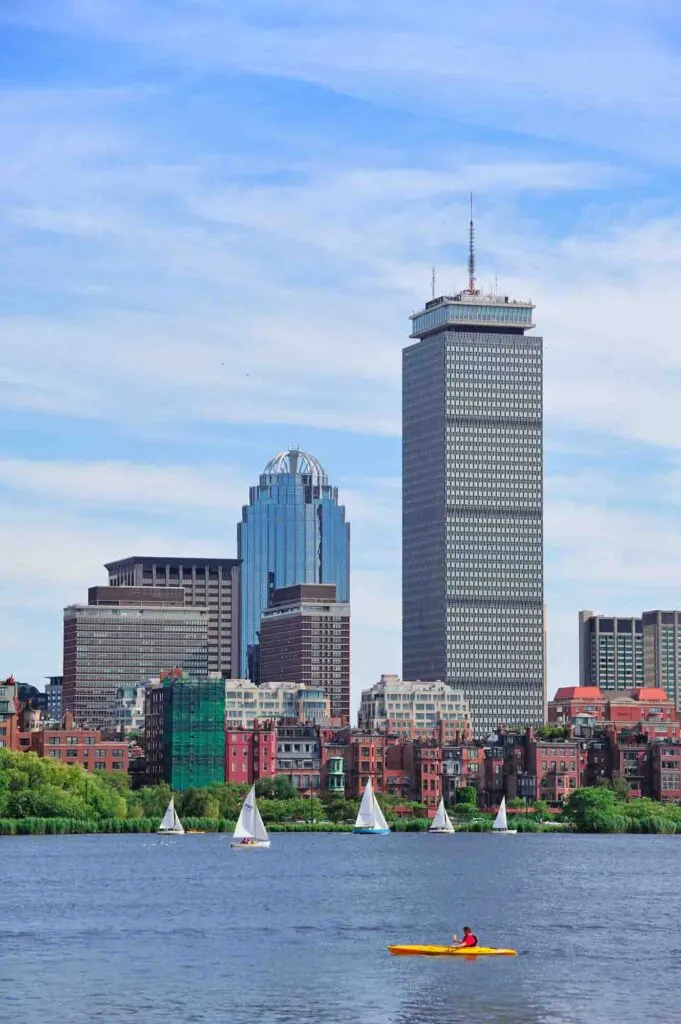 Though many people might not know what the Top of the Hub is, it's the restaurant located at the very top of the Prudential Center, which is Boston's second tallest skyscraper.
The restaurant offers absolutely amazing views of the city down below. The vistas are only better at dinnertime when the town is all lit up!
The restaurant commonly has live music to accompany your meal. It's recommended that you make reservations ahead of time to guarantee that you'll be able to dine there with your S.O.
Unfortunately, there isn't a lot on the menu, so it isn't the best place for picky eaters to dine!
Nevertheless, dining at the Top of the Hub is absolutely one of the most romantic things to do in Boston!
5. Go Bowling
If you and your significant other are into more athletic activities, definitely go bowling in Boston!
The most popular bowling location in Boston is King's Dining and Entertainment.
There's a location in Back Bay and near the Seaport – the Seaport location is actually new! You can grab something to eat from the bar while you bowl.
There's also a great arcade that you and your partner can game in after you both bowl. The deals for game tickets are pretty good as well, and the arcade is pretty huge!
Luckily, you are allowed to bring your beverages and food into the arcade while you game. Keep in mind that bowling in Boston is not cheap.
6. Watch a Game From One of Boston's Local Teams
Boston is the sports city of America. Boston's teams have won countless championships since 2000.
The city is home to the Boston Red Sox (baseball), Patriots (football), Celtics (basketball), and the Bruins (ice hockey).
One of the teams (if not more than one) is sure to be playing during your trip to Boston. The Red Sox's stadium is the most centrally-located, as it's right in Boston's Fenway neighborhood.
Tickets can be expensive if you purchase them ahead of time, so it's suggested that you actually wait and try to be spontaneous with your ticket buying!
Pro tip: Download the app called GameTime and wait until it's almost time for the game to start. Then, log in and swipe some tickets for a much more affordable price! This is a typical hack used by college students in the Boston area.
7. Explore One of the Art Museums/Galleries
Boston has quite a few excellent art museums and galleries, with the most popular being the Museum of Fine Arts (MFA) and the Isabella Stewart Gardner Museum.
Both are located only a block away from each other, so you can easily see both museums in a relatively short amount of time.
Both have rotating gallery rooms as well, so if you were to visit multiple times over a year, you could see pretty different pieces of art.
Tickets are pretty affordable and don't need to be reserved ahead of time! Other art museums in the city include the Institute of Contemporary Art, the McMullen Museum of Art, and the Harvard Art Museums.
8. Attend a Show at the Boston Symphony Orchestra
One of the most romantic things to do in Boston is to see a show at the Boston Symphony Orchestra (BSO).
There are shows typically every single night for $30 around 8 PM. It's recommended that you purchase your tickets ahead of time, you could show up and there could be no tickets left!
This is a great way to spend an evening, even if you and your S.O. aren't big music fans.
It's an opportunity to dress up real nice and hear some fantastic music in a room built just for acoustics like the ones done by the BSO.
Some great places to grab dinner in the area include Back Bay Social Club, Boston Burger Company, and The Cheesecake Factory.
9. Marvel at the New England Aquarium
If you and your date are animal fans, you absolutely must take a trip to the Boston Aquarium.
It's located in downtown Boston right near the water and Faneuil Hall. It's better if you visit right when it opens because it can get hectic by the end of the day.
Towards closing hours, the whole aquarium can get overrun by children and families!
The absolute best part of the aquarium is all of the cute little penguins on the ground floor. The aquarium is home to so many penguins that there are even infographics all over to help you identify them by the color of their wristbands.
They're so cute, and you could spend hours just watching them swim around and play with one another!
10. Have a Pint at the Sam Adams Brewery
Take your S.O. out for a pint at Sam Adams Brewery! This is a great place to go if you're looking for a more lively atmosphere.
You could even book a tour of the brewery to really immerse yourself in the Sam Adams history! The journey is entirely free to do, though they ask for donations at the end of the tour.
In addition to the tour, Sam Adams Brewery offers other great things for you and your partner to do. Check out the Tap Room to order a flight or a pint.
They also sometimes have food trucks there for you to purchase something to eat as well. While you're in the area, be sure to check out Centre Street and the Jamaica Pond.
11. Walk Along the Charles River Esplanade
The Charles River is the beautiful river that runs right through Boston into the ocean. It's lovely water, and the paths near the esplanade offer some great views to Cambridge right across the river.
If you and your S.O. want to find a calming way to spend the morning or afternoon, plan on taking a walk along the Charles River Esplanade. You could pack a picnic or just stroll.
There are lots of great little spots that you could sit as well, so definitely take advantage of those.
One part of the esplanade is even near the famous Newbury Street, so you could pull off to do some quick shopping along your walk if you wanted!
12. Ice Skate at the Boston Common Frog Pond
If you're lucky enough to be visiting the beautiful Boston city in the winter months, you absolutely must go ice skating with your date!
The city is one of the best winter vacations in the US!
The most popular place to go ice skating in Boston is at Frog Pond. Though it can be expensive to rent skates and go ice skating, it's totally worth it.
There are also other pop-up ice skating rinks across Boston during this time, including at 401 Park and the area right next to the Government Center T-Stop.
Even if you aren't that good at ice skating, you're sure to have a blast! Depending on the weather, it can be jam-packed, so keep that in mind.
13. Eat at Max Brenner
There are tons of great places to eat in Boston, and Max Brenner is one of them. This restaurant is a chocolate lover's paradise.
You and your S.O. are sure to love this place. It's the perfect place for dinner or dessert. Dinner prices range from $10 to $20, depending on what you order.
Some of their best entrees include Original Mac & Cheese, Caprese Chicken Sandwich, and the Oozing Mac & Cheese Burger.
However, the real highlight of eating at Max Brenner is their dessert menu. The restaurant is known for its chocolate.
In fact, you can smell the chocolate wafting through the restaurant while you're eating!
Their best-selling chocolate item is their hot chocolate, which comes in a multitude of flavors from Marshmallow to Peanut Butter.
They also serve fondue, milkshakes, waffles, crepes, chocolate pizzas, sundaes, and more!
14. Do an Escape Room
Boston has so many fantastic escape rooms! Prices typically range from $20-30 in the city, and you and your S.O. would have 60 minutes to try to escape a room.
These are a lot of fun and require you to use your brain and crack codes and solve countless puzzles.
If you're looking for an escape room recommendation, definitely do Escape the Room Boston. It's located right near Boston Commons and has some pretty great themed rooms!
The price to escape a room at this location is $25. Many people also like to go to Trapology.
15. Visit the Skywalk Observatory
The penultimate panoramic view of Boston is from the top of the Skywalk Observatory. Tickets are $21 for adults.
You have to expect to pay a bit of a fee for a view like this one! The Skywalk Observatory is located at the top of the Prudential Center, just like the Top of the Hub.
With your ticket, you will also get an audio guide to go along with your view. Also, there are multiple exhibits about the city's history.
This is a great place to get a fantastic panoramic view of the city and learn a bit about its history!
About the author
Krystianna is the blogger behind Volumes & Voyages, a book and travel blog.
She studied abroad in Spring 2019 in Dublin, Ireland, and has been chasing her wanderlust ever since.
Volumes & Voyages mainly covers travel in Europe and the U.S. Still, once Krystianna travels more around the world, she's hoping to expand her content.
Did you like this article about romantic things to do in Boston? Then save it to your Pinterest board!