As the capital of Texas, Austin is truly one of the top-rated cities to visit for a vacation. Luckily, if you're wondering where to stay in Austin, you're in the right place.
This post will introduce you to four of the best places to stay in Austin to make your planning a lot easier.
Because it's such a big city, there are many different neighborhoods in Austin, which can usually make planning a getaway here a bit difficult.
From hotels to hostels in Austin, we're sharing with you the best of the best. By the end of this post, you'll know exactly where you'll want to book your accommodation in Austin.
So, settle in, grab your notebook, and take some notes so you'll remember the most excellent areas to stay in Austin!
Best Places to Stay in Austin, Texas
Downtown
First timers
First-time visitors will love the accommodation in Downtown Austin. Accommodations here are relatively affordable, and they are right in the center of everything you'd want to visit during your travels. Perfect for first-time visitors.
South Austin
Families
South Austin is by far the best place to stay if you're traveling with your family. The area has parks, a botanical garden, a waterfall, a springs pool, and more! This is the favorite area for little ones and adults alike.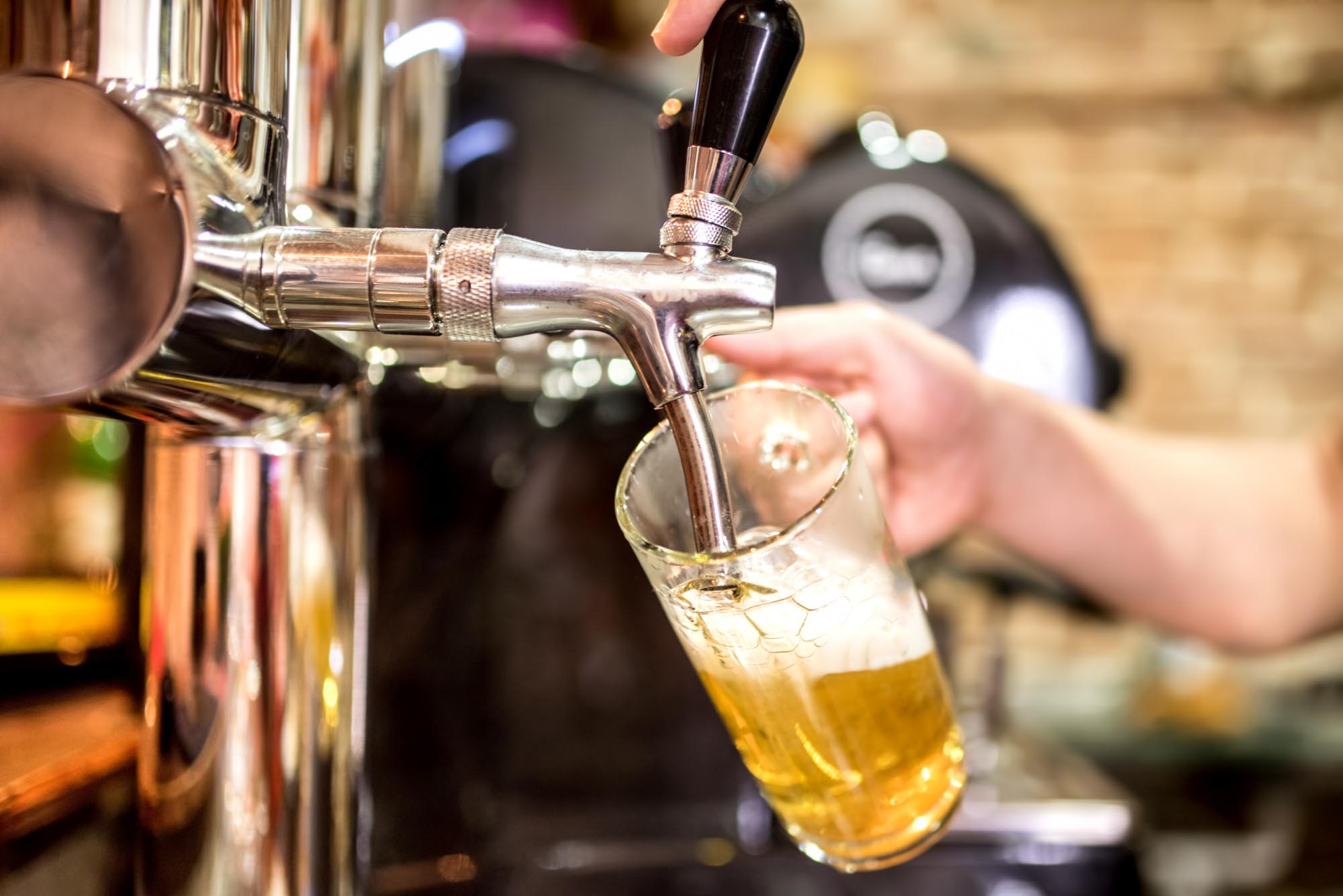 East Austin
Couples & Culture
Trendy and filled with incredible music venues, East Austin is the perfect area to stay in for couples or music lovers. On top of that, this neighborhood is right next the heart of the city so you're near the main attractions.
North Loop
Solo & Young travelers
Ideal for young and solo travelers alike, North Loop is the best area to stay in if you wanna stay in a hotel but don't wanna break the bank. Besides, this funky area is filled with great vintage boutique shops, stylish bars, as well as record and book stores.
Editor's Picks: Where to Stay in Austin
If you don't have time to read this whole article on where to stay in Austin, don't fret! Here are our top picks for accommodation in Austin.
Best Hotel in Austin
Our best recommendation for a hotel in Austin is the Hyatt House Austin. Not only is it affordable pricing if you're traveling with a few people, but it's also located in the center of the city. In fact, it's a short walk from a few of the university stadiums and the Austin Convention Center.
The overnight stay comes with many amenities, including a fitness center, on-site bar and market, and a hot breakfast buffet. Plus, some of the rooms even come with a kitchen if you're looking to stay in a hotel with a suite.
Best Hostel in Austin
Traveling on a budget is totally doable in Austin, especially if you stay at the Firehouse Hostel, our favorite hostel in Austin.
Not only does it have more than 1,400 high-rating reviews by others who have stayed there, but it's located in downtown Austin with incredibly affordable pricing.
If you're traveling alone, you can book an overnight stay in a mixed dorm, private room, or a female-only dorm. Each guest has a personal locker, free bed linens and pillows, and power outlets. Oh, and did we mention there's even a speakeasy here?
Best Vacation Home in Austin
Sometimes traveling is a lot easier when you book a whole vacation home, and we can't recommend the Chic Studio Bungalow in Trendy East Austin enough.
This 450-square foot bungalow studio sleeps two and has a private bathroom. If you're looking for a romantic place to stay, this is your place!
Sleeping accommodations include a queen bed and a sleeper sofa, and the decor inside the home is just as trendy and unique as the neighborhood where it's located. There's also a kitchen with a coffee machine, a private porch, and flat-screen TV.
Austin Neighborhood Guide
Downtown: If you're visiting Austin for the first time, then Downtown is absolutely perfect for you. Not only would you be right in the heart of the city, but you'd save money on transportation because you wouldn't have to travel as far for the top attractions.
South Austin: Visiting Austin with a family is a fantastic experience, and there's no better place for families to stay than in South Austin. There are lots to do in this area, so travelers of all ages will be able to keep busy.
East Austin: Believe it or not, but Austin can be a great place to visit for a couple's getaway. East Austin is affordable for couples, this residential neighborhood is trendy, and the music venues here are unlike anywhere else in the city.
North Loop: Young travelers will love staying in North Loop. It's not that far from some universities, there are lots of places to go shopping, and prices are crazily affordable for those on a budget who would rather not stay at a hostel.
Best Areas to Stay in Austin
Downtown: The Best Neighborhood in Austin for First-Time Visitors
The Hyatt House Austin is easily one of the best hotels in Austin, and it's one of our Editor's Picks for a reason.
It's located in the city center, and prices are pretty affordable considering the top-rated location. For reference, it's less than a ten-minute walk from the Capitol Building.
Other great attractions nearby include the O'Henry Museum, 6th Street, and a Voodoo Doughnut, an excellent place if you have a craving for sweets.
Parking is available right at the hotel, so if you rent a car for your trip to Austin, you're in luck.
Amenities at this hotel are worth the price tag. There's free wifi, a hot breakfast buffet, a fitness center, and even a lovely outdoor pool. Rooms here range in price depending on what type you book.
There are king rooms, studios, and suites. The suites, in particular, are spacious and even include a small dining area and kitchen.
The interior of the hotel is also incredibly modern. Large windows offer great views, minimalistic furniture, and pops of color with throw pillows and Austin-inspired artwork.
If you happen to be visiting with children, you'll be happy to find that there are board games and puzzles in the hotel that can keep the little ones entertained for hours.
While couples in particular absolutely have loved staying at this hotel, it's a great place to stay for anyone visiting Austin for the first time.
Not only will you be pampered because of how nice the hotel is (there's even a spa!), but the central location truly can't be beaten with this price for a hotel.
Pssst: If you're more into boutique hotels, you'll love this one right in the heart of Austin!
If you're wondering where to stay in Austin on a backpacker budget, the Firehouse Hostel is perfect for you.
Not only is it top rated, but it's actually built inside the oldest firehouse in the city that was built in the nineteenth century. It's been renovated into a trendy and hip hostel for young travelers on a budget who want to get social!
Similar to the hotel downtown, the hostel is in a prime location. Not only is it easy to get to the hostel on public transportation from the airport, but it's truly in the center of the city.
It's even right near 6th Street, which is one of the best places to go for nightlife in the city. The Texas State Capitol Building is also only a ten-minute walk away.
Austin doesn't have a lot of hostels, so if you know you really want to travel on a budget, you should be sure to book your stay here as soon as possible.
The inside will remind you a lot of European hostels if you've ever traveled there and is definitely one of the most excellent hostels located in the United States.
Unlike a lot of hostels, the Firehouse Hostel is filled with amenities for its guests. There's a complimentary breakfast buffet, a speakeasy cocktail bar, lockers, free linens and towels, and more.
The reception is also always open 24/7, so any guest can ask questions if they want a local's opinion on what to do in the city. The value for money here is fantastic, and so are the location and security!
A townhouse is a perfect place to stay Downtown, especially if you've never visited Austin before!
What's so great about staying in a B&B like this is that you'll get an entire home just to yourself, so you can even save money by cooking your own meals. Plus, the pricing is surprisingly affordable.
It's a few short blocks from the Texas Capitol and is in the heart of central Austin. The home is 500 square feet and can host two people per night.
There's one bedroom, one bathroom, and the minimum stay is one night, so it's an excellent place to stay for just a weekend.
The amenities in this home are also abundant. The house has air conditioning, free wifi, a flat-screen television, and a full kitchen with a Keurig for your coffee needs.
What's even better about this house is that it's actually historic! The home was built in the nineteenth century by a man named Edward Clark who worked under Sam Houston, who was the Texan lieutenant governor for a time.
The inside of the home is very comfortable, and it truly feels like a home. The townhouse owner put a lot of care and compassion into the decor throughout the house, which is immediately apparent and makes the stay even better.
You'll find fun Texas-inspired artwork throughout the home in addition to quirky touches and even some mosaic windows.
Privacy is nothing to worry about here, as there are a private entrance and private parking spot. The host even stocks the refrigerator with water bottles and dairy products you might need during your stay.
South Austin: The Best Neighborhood in Austin for Families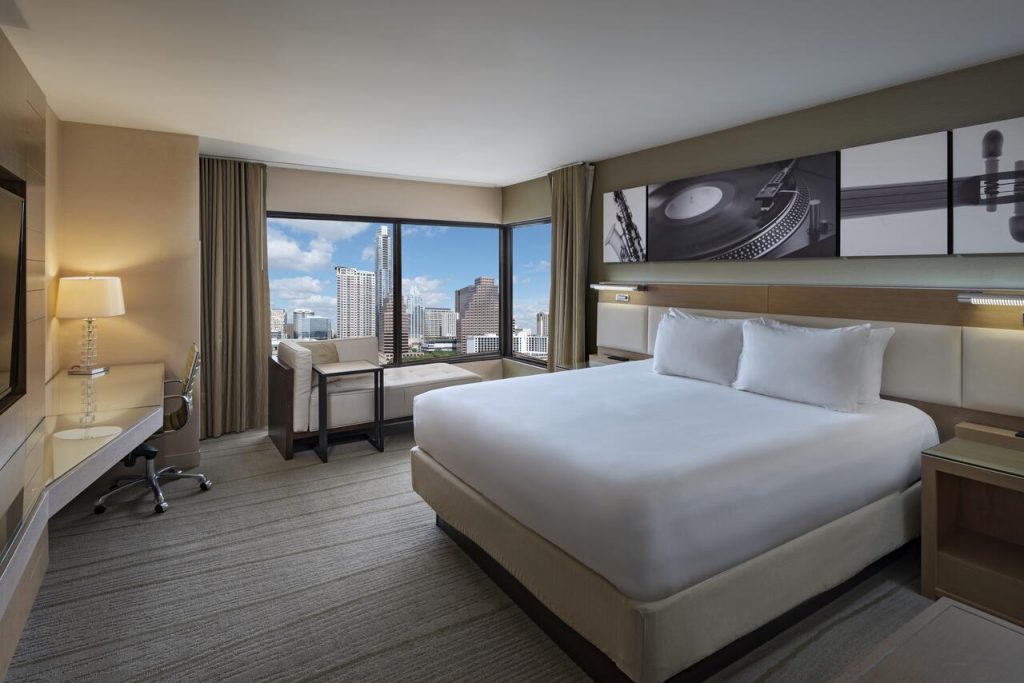 If you're traveling to Texas and you're wondering where to stay in Austin with a family, look no further than South Austin, just across the Lady Bird Lake!
The Hyatt Regency Austin could be the perfect option for you. The majority of the rooms have a gorgeous view of the Austin skyline, and it's a short walk from Austin City Hall, the Children's Museum, Shoal Beach, and Congress Avenue Bridge. Barton Springs Pool is just 2 miles away!
In addition, the hotel is a short walk from great walking and biking trails near the river. While the area seems pretty tranquil, though, anyone staying in South Austin will not be short of fun things to do.
The rooms vary in price depending on which type you book, and each room can hold between two and four guests.
You can even pay a little extra if you want a river view or a corner room, which could make your trip to Austin even better. Pro tip: book the corner room if you really want the best view in the entire hotel.
Many people who have stayed at this hotel even report that this is their favorite part of the city and that if they were to return, they'd stay in South Austin again.
So, why not see what all the rage is about and stay here for yourself during your family vacation?
As with any hotel, the price comes with tons of terrific amenities. There's breakfast, a restaurant (Southwest Bistro), a Starbucks, outdoor swimming pool, sundeck, fitness center, and a business center in case you have to make any necessary calls during your trip to Austin.
The rooms come fully furnished with a coffee machine and a flat-screen TV, among other things.
For a fun visit to Austin, why not consider staying in a treehouse? Compared to the hotel in South Austin, this treehouse is a much more affordable option and is still great for a family, as it hosts up to three guests at a time.
There's also a pull-out couch, and the hosts are open to letting up to four people stay at a time, especially if you have two kids who can share the pull-out together.
This 650 square foot apartment requires a minimum stay of two nights and is especially charming.
While it's not your traditional "treehouse," it is incredibly unique on the inside with fun vintage furniture and a great charm that you'll love. The owners like to call it a "Mid-Century Mash-Up."
The home comes with a full kitchen, dining area, living room area, fold-out sofa, bed, and a bathroom.
It's completely detached from the other house on the property where the owners live, so there is still great privacy, and it feels very secluded.
This South Austin apartment is surrounded by tons of fun things to do on South Congress Avenue. You'll find top-notch restaurants, attractions, stores, and it's only 1.5 miles away from the famous Rainey Street.
This is the perfect place to stay in Austin if you want to be somewhat central but don't want the loud noise of staying directly downtown, which makes it an excellent option for families.
Pssst: If you're into unique experiences, you might want to read this article about the best treehouse rentals in Texas!!
East Austin: The Best Neighborhood in Austin for Couples and Music Lovers
The East Austin Hotel is incredibly hip, trendy, and affordable. In other words, it's one of the coolest neighborhoods in the city.
Besides, it's a perfect place to stay for a romantic getaway if you're wondering where to stay in Austin! Not only is the location great, but it's filled with tons of terrific amenities that make the price look even more attractive.
Since it's located in East Austin, you'll find lots to do in the area. A short walk will bring guests to the Texas Music Museum, Lott Park, Sixth Street District, and the Capitol Building, among other fun stops nearby.
Plus, the restaurants are great! Some of the best restaurants in the area include Ah Sing Den and Buenos Aires Cafe.
The most affordable room to book here is a queen room with an external private bathroom, but you still et the great amenities like air conditioning, free wifi, and a city view.
If you pay extra, you can also book a room with a balcony. Imagine waking up in the morning with your significant other and watching the sunrise with your cup of coffee from a private terrace!
No matter what room you book, you'll have a wardrobe, flat-screen television, and a desk in case you have to get any work done during your trip. Each room also comes equipped with a tea and coffee maker.
Many other amenities are included too. Guests can enjoy an on-site coffee shop, snack bar, restaurant, sun deck, swimming pool, air conditioning, wake-up service, packed lunches, and more.
For a unique couple's retreat, check out this chic studio bungalow! It's hosted by Evolve Vacation Rental, one of the top vacation rental companies in the country. The home can host two guests at a time, which is perfect for a couple's getaway.
The 450 square foot studio requires a minimum stay of two nights. The home has a really unique rustic feel to it, and it almost feels like a cabin in the woods.
There's a living room, dining area, bathroom, porch, queen-sized bed, full kitchen, and in-unit laundry. Throughout the home, you'll find fun decorations like a wooden Texas cutout and industrial lighting.
Oh, and did we mention that the home is located in one of the best places to stay in all of Austin? It's known for being super trendy because there's always so much happening, and the area is well-known for its music scene.
A short walk will bring you and your partner to amazing food trucks, restaurants, breweries, and bars.
Some places that are worth visiting in the area include Yellow Jacket Social Club and Zilker Brewing Company, and Taproom.
You'll indeed never run out of things to do if you stay here. The area is also filled with trails, great views, and art galleries.
North Loop: The Best Neighborhood in Austin for Young Travelers
Young travelers will love staying in North Loop. Not only is this area known for its shopping, but it's also relatively affordable and won't break the bank.
If you're wondering where to stay in Austin in North Loop and you want to stay in a hotel, Embassy Suites Austin could be an excellent option for you.
For the great price, you might be surprised to find that this hotel is filled with only suites. Rooms include one bed or two, and breakfast is always included.
The hotel is located inside North Hall and is actually only ten minutes away from Downtown by car if the traffic isn't bad.
Near the hotel are also tons of great places to visit. By car, guests can easily access Highland Shopping Center, Highland Mall, Antique Marketplace, and Lincoln Village Shopping Center.
There are also great restaurants nearby like Pappadeaux and Baby A's Mexican Restaurant.
Embassy Suites Austin also is filled with amenities. Guests will love free parking, a jacuzzi, a full complimentary breakfast, a fitness center, a business center, air conditioning, and an on-site restaurant.
Book a stay here in advance to make sure you lock in the lowest rates possible for your trip to Austin because this is one accommodation that you won't want to think twice about booking.
Last but not least is another excellent apartment in North Loop if you're a young traveler on a budget!
Not only is it extremely affordable, but the apartment is also really bright and airy and isn't what you'd expect for a budget apartment.
Three guests can stay here at a time in this studio apartment. It's 400 square feet, and the minimum stay is only one night.
The apartment's inside is incredibly modern and bright, with fun pieces of art and plants throughout that help bring it to life and create a lovely ambiance.
The home is very cozy and is filled with fun amenities. Guests will have access to a swimming pool, full kitchen, Keurig with k-cups, smart tv, and free wifi.
The host is also sure to provide guests with some necessary toiletries to make their stay and travels even more effortless.
You don't even need to rent a car to stay in this area, which makes it even more budget-friendly.
The home is located a short distance from the Crestview Metrorail Station and a major bus stop. Visiting Austin on a budget is more than doable if you stay in this recently renovated apartment in North Loop!
Wrapping up on where to stay in Austin, Texas
Now you know exactly where to stay in Austin! Hopefully, this post has made it a lot easier for you when planning your Austin itinerary. Finding a place to stay can truly be one of the most challenging parts.
Austin resources
If you're planning a trip to this fantastic city, you might consider reading our guide to the best things to do in Austin as it covers the city's highlights, including some state parks near town.
Whether you're spending a weekend or a whole week here, we're sure these attractions will keep you busy during your trip!
Still, if you want to see more of Texas during your trip, you will want to check out these incredible day trips from Austin.
Either way, don't forget to save and share this post. You might be able to help out a friend who is also visiting Austin soon!