Are you spending 3 days in Seattle and need a ready-to-use itinerary? No need to worry–we've got you covered!
Seattle is more than just a rainy destination. It has a rich industrial history, a great foodie culture, and a buzzing urban city surrounded by some of the most beautiful natural sights.
But with the exponential growth that this city has seen, there are so many things to do in Seattle, it sometimes seems impossible to narrow it down.
So, being a Seattle native and knowing all the best spots and "must-see" attractions, today I'm going to share the best way to spend 3 days in Seattle.
Local's tips: A long weekend in Seattle
Every day I discover a new coffee shop or hear about another restaurant I should try in this ever-growing city. So I know a thing or two about what to see in Seattle in 3 days, including where to go and what to eat.
But if you are not sure about the length of your trip, check out our article on one day in Seattle.
Ever since I was a little girl, I loved to be taken out to crab dinners on the water. And over the years I've discovered that Seattle is more than just the space needle or Pike Place Market (although those are both pretty amazing symbols).
Before you head over to the rainy city (don't worry, there are also sunny days in Seattle), check out my article on what to expect before you get here. I've included some more in-depth tips on weather, the "Seattle freeze" and how to navigate the city!
So, wanna know what to do in Seattle in 3 days? Read on!
Read next: Best Places to Visit in the USA
The Structure of this Seattle Itinerary
This guide is designed to work for a 3 day Seattle itinerary.
The first two days of this Seattle itinerary cover Seattle's most popular attractions and interesting things to do.
On day three, we'll share some options for fun laid-back experiences. You can't see everything in a few days, but if you happen to have 3 days in Seattle, you'll definitely find plenty of fun things to do!
How to get around the city during your 3 days in Seattle
When coming to Seattle, you'll probably arrive at the Seattle-Tacoma Airport, Sea-Tac. The most convenient way to get to downtown is by train.
The Light Rail runs every 6 up to 15 minutes from Monday to Saturday (5 am-1 am) and Sundays (6 am-1 am), and the trip takes around 40 minutes.
A one-way ticket costs about $3-4, and you can buy your ticket in vending machines around the stations. Click here for more information about the route.
Moreover, to get around the city itself, simply take the bus because this is the easiest way to get from one neighborhood to another. A one-way ticket costs $2.75.
Where to stay during your three days in Seattle
I recommend finding a hotel or Airbnb as close to the city as possible, especially if you only have 3 days in Seattle and you're experiencing it for the first time.
It's going to be easier for you to explore and once you're down there, you can walk around most places.
Still, if you want to experience other areas of the city, check out our guide on where to stay in Seattle.
Again, Seattle is a large city, and it is full of a ton of neighborhoods that are all so unique from each other.
But you'll want to avoid staying anywhere in Ballard, West Seattle, and anything North of the University district because you'll end up paying a lot for cab fees during your Seattle vacation!
Sometimes hotels will advertise that they're only a 10-minute drive from downtown when they aren't (thanks to our lovely friend, traffic).
So you should probably just try your best to stay in the city, for example, the Belltown Inn. This affordable hotel is a 10-minute walk from the Space Needle, Pike Place Market, and lots of good restaurants.
If you're not really keen on traveling to Seattle with an umbrella, know that they can borrow you one.

Pssst: They have a rooftop terrace with a mesmerizing view.
Click here to book your hotel in Seattle.
What to pack for your Seattle three day itinerary
Seattle is a great lively city with lots of things to do, see, and eat. But it has a significant downside: it rains a lot here. Therefore, while preparing your Seattle itinerary, be sure to pack:
Comfortable sneakers to explore the city (Seattle is a hilly city)
Nicer outfit to go on a show and dine out
How to spend 3 days in Seattle: Day 1
Breakfast at Oddfellows Café
Start your day off at Oddfellows in Capitol Hill. It's so adorable on the inside, and they have great breakfast and brunch.
If you can, and if the weather permits, try to sit in their back patio area. It's definitely the best spot in the restaurant.
This brunch spot is also attached to my favorite bookstore, Elliott Bay Bookstore. I love looking around at all the staff picks, art books, and cookbooks. And inside you'll find Little Oddfellows, which is a cute little coffee shop.
You'll find a lot to explore around Capitol Hill. There's a record store across the street from Oddfellows, and there are a lot of apparel shops and other storefronts nearby.
Feel free to explore this neighborhood for a bit. The crowd is different around here; everyone is very expressive of their uniqueness in their choice of apparel, hairstyles, and an all-around personality.
Take the monorail to the Space Needle
I mean, it wouldn't be a trip to Seattle if we didn't check out the Space Needle right? Grab a Lyft/Uber or cab (personally I prefer Lyft here, they tend to be friendlier) and have them take you to the downtown monorail station. The entrance is at Westlake Center.
You can download the app Transit Go Ticket on your phone, or you can just buy tickets when you get there.
The monorail will drop you off right at the Space Needle! Okay, full disclosure, I personally think going to the top of the Space Needle is completely over-priced.
I'm actually more amazed by seeing the city skyline in its entirety than being inside of the Space Needle, looking down.
But some people want to go up just to say they did, so if it's within your budget and you're gung-ho about taking the ride up, by all means, go for it!
The view is absolutely gorgeous, but I wouldn't recommend eating there. Again, the food is okay but super over-priced.
Visit the Chihuly Garden
This exhibit is definitely a new Seattle icon these days. The artist Dale Chihuly created large-scale glass blown sculptures, and the results are incredible.
If you've ever seen photos of people who have visited the garden, they're usually inside the Glasshouse because they have a gorgeous ceiling installment. I mean, who wouldn't want that Instagram shot?
Sometimes people will rent the Glasshouse for events, so double-check their website for visiting hours.
If the Glasshouse is rented, you can still walk through the garden, but you probably want the full experience. Tickets can only be bought at the museum.
Go to Pike Place Market for Lunch
You can spend hours exploring Pike Place Market. This farmer's market takes up a whopping 9-acres made up of about 85 local farmers, 225 artists, and 240 small businesses.
Spend some time exploring here and grab some lunch while you're at it. I recommend trying Beecher's Mac and Cheese (which is some of the best I've ever had) or popping into Michou, which is a deli that has a ton of different sandwiches, salads, soups, etc.
A couple of other places I love to check out in the Market are Storyville Coffee, which is kind of hidden and hard to find if you've never been there, so use your Google Maps app to find it.
They have delicious coffee and delicious cookies that are always warm – a must-visit to include in your Seattle 3-day itinerary.
The Market is open from 9 am-6 pm and closes at 5 pm on Sundays, so plan accordingly.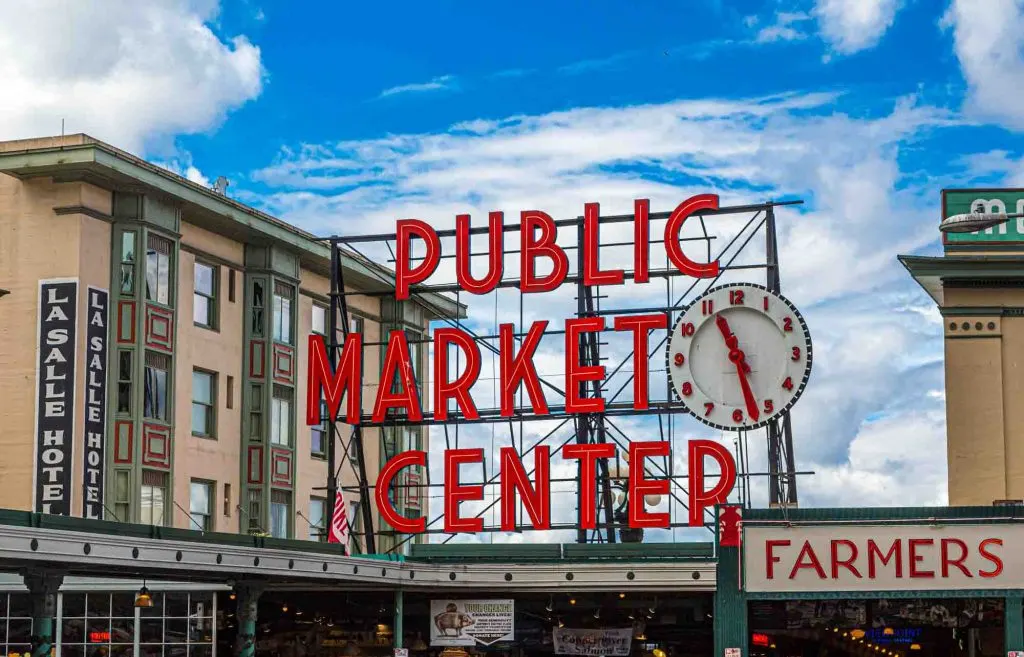 Check out The Can Can for dinner and a show
One of my absolute favorite spots in Seattle, The Can Can, is a burlesque and cabaret restaurant located in the heart of Pike Place Market.
Not many people know about it, you have to go downstairs to an underground building to find it.
It's a small and interactive show and dinner, and it's some of the most fun I've had in Seattle.
You can purchase tickets ahead of time here. What I love most about these shows is they'll always interact with the crowd. It's a small venue, so the host will most likely ask you what brings you to the city!
Day 2 of your three days in Seattle itinerary
Breakfast at the London Plane
The London Plane is located in Pioneer Square, which is one of the oldest neighborhoods in Seattle. Most people know it as the old heart of Seattle, which is now underground.
But the above-ground has become a hot spot for up and coming bars, restaurants and other local small businesses.
The London Plane is a Mediterranean inspired restaurant/cafe with a local florist shop and a small home goods store inside. It's a beautiful spot to start the 2nd day of your Seattle vacation.
I recommend any of the pastries, and if you can, try their bread. They make it fresh in-house every single day.
Explore Pioneer Square
Like I said earlier, there are so many great local businesses in Pioneer Square. For a more in-depth exploration into some of them, check out the highlights from my Pioneer Square Walking Tour.
But once you're done with breakfast, I would take the time to explore the area and check out a couple of stores like MadeHere, Flora and Henri, and Intrigue Chocolate.
This is the perfect place to find a unique souvenir or gift to take home. Or just enjoy some snacks and drinks!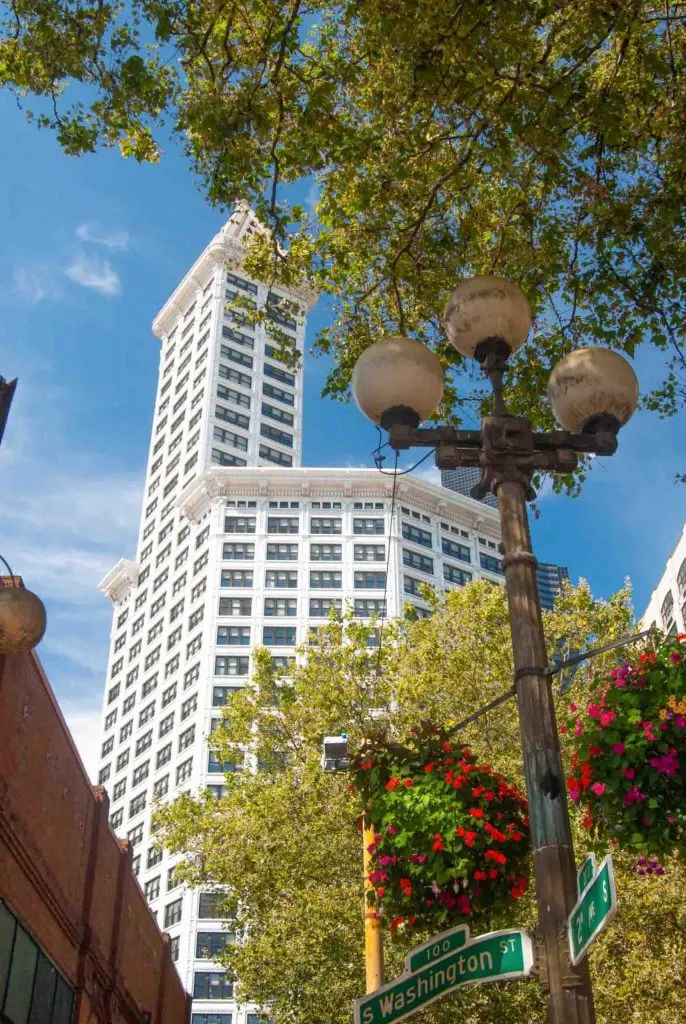 Take an Underground Tour
While you're in Pioneer Square, this is also a great time to explore the history of Seattle. Like I said earlier, this is one of Seattle's oldest neighborhoods and today's Pioneer Square is actually built on top of the old one.
Buy tickets to the Underground tour, and they'll bring you down to explore the history of Seattle and why they needed to build on top of the old city.
Visit the Seattle Art Museum – SAM
After exploring the underground, stop at the Seattle Art Museum. Located in the heart of downtown Seattle, the SAM has amazing rotating exhibits featuring art from all over the world.
If you're lucky to visit on a first Thursday, the museum is free! But plan accordingly because the SAM is closed on Monday's and Tuesday's and is only open late on Thursdays.
Check out their website for their hours.
Explore the Pier and take a ride on the Great Wheel
After scoping the art, head down to the Pier, another iconic Seattle area. There's much to see here including the tons of shops to find trinkets and Seattle memorabilia.
This is another excellent spot to grab a bite or eat some ice cream.
If you're only going to spend 3 days in Seattle, you have to make sure you go up the Great Wheel.
Each gondola holds up to 8 people, and if you're taking a ride on a Friday, Saturday or Sunday, they usually have an impressive light show on the wheel in the evening.
Although the wheel is always lit up, which adds to some of the most beautiful views of the city at night.
There is sometimes a line, but it never takes too long. And they provide you with a photo to remember the experience.
Dinner at the Crab Pot
Finish your night at the famous Crab Pot on the Pier. And get ready to eat A LOT of seafood.
When you come here, you can't get anything but the Alaskan Seafeast. They pile a large bucket of crabmeat, shrimp, clams, mussels, Andouille sausage, and vegetables on your table, hand you a hammer and napkins and tell you to dig in.
It's a very messy and very delicious meal to share!
Read next: 27 Summer Vacations in the US
Day 3 of your long weekend in Seattle
Breakfast in Ballard
Ballard is a pretty easy drive from downtown Seattle, and though it's only one of the neighborhoods that make up this vast city, it's almost like its own city in itself. Most people who live in Ballard don't usually leave Ballard.
And why would you? They've got everything you need there. So if you're wondering what to do in Seattle in 3 days, you've found one of this itinerary's highlights.
My suggestion is to have breakfast at Fat Hen. They have an amazing Eggs Benedict, and you have to try the Cardamom Twists and order them first because they sell out quickly sometimes.
This is actually one of my favorite little food pockets in Seattle. You'll be surrounded by a bunch of restaurants, and they're all fantastic.
If you're not afraid to have some ice cream after breakfast (I mean you're on vacation, so why not?) you have to try Frankie and Jo's. It's all plant-based, dairy-free and gluten-free. And it's absolutely incredible!
Shop till you drop on Ballard Ave
Once you're done exploring food heaven, scoot on over to Ballard Ave. You'll find yourself walking down a boulevard of a ton of local shops, bars, restaurants, and coffeehouses.
Each store is completely unique and unlike the other. This is one of my favorite spots to do some shopping and look for unique pieces for my home.
My two favorite stores around here are Prism and Ballard Furniture.
Photograph the Fremont Troll
Next door to Ballard is Fremont, another unique and eclectic neighborhood.
If you haven't heard of the Fremont Troll, it's a sculpture that lives under the Fremont Bridge that was created in 1990 by four local artists who were inspired by Scandinavian folklore.
It's fun to try to find it on your own and take a photo of this quirky photo of it.
Chill at Gasworks Park
Now you'll be near one of my favorite parks in Seattle, Gasworks Park. It used to be the Seattle Gas Light Company gasification plant and is now considered historic preservation.
They have maintained parts of the plant and painted them different colors that you can now explore and climb on (if you're a kid or an adventurous adult).
But there's also a large park right on Lake Union with one of the most gorgeous views of the city. A perfect place for a picnic or to relax, get some sun and people watch.
Dinner at The Pink Door
Finish off your day with another one of Seattle's most beloved restaurants, The Pink Door. Named after its iconic pink door, this restaurant offers more than just Italian inspired cuisine.
You'll be entertained by cabaret and burlesque, aerial performances, musical performances, tarot reading, and more.
Double-check their website for their show schedules and special events and definitely be sure to make a reservation for shows!
They do accept drop-ins, but it can get jam-packed on the weekends.
3 Days in Seattle Summary
We made a handy summary of this Seattle itinerary to make your life easier. Still, you will want to bookmark this page to check all the details later on.
Day 1
Day 2
Day 3
Breakfast at the Fat Hen in Ballard
Shopping on Ballard Ave
Shop till you drop on Ballard Ave
Photograph the Fremont Troll
Chill at Gasworks Park
Dinner at The Pink Door
Seattle Itinerary Map
Click here to access our map with all locations mentioned in this Seattle itinerary.
Wrapping up on three days in Seattle
If I only had 3 days in Seattle, this is exactly how I would spend it.
If you want to look deeper into some more Seattle recommendations on restaurants and spots to check out, head to my website absolutelyalex.net and check out the Seattle tab.
Hope to see you around the city!
About the author
I'm Alex, I was born and raised in Seattle, and I'm crazy passionate about exploring this city and inspiring people to love themselves.
Growing up, I've dealt with a lot of insecurity and body image issues. And in the past few years, I've been working to grow out of them and into myself.
I use my blog as a creative outlet to express who I am and share my fun adventures in Seattle and around the world. Absolutely Alex holds all my best kept Seattle secrets and all the things you can't miss, as well as my other travel experiences and my journey into self-love.
My primary mission is to help people explore the world in the best possible way, all while being absolutely themselves.
Follow Alex on Instagram, Twitter, and Facebook.
Did you like this itinerary of three days in Seattle? Then help us spread the word and pin it to your Pinterest board!
Latest posts by Olivia Perez
(see all)