Spending a weekend in New Orleans and wanting a fun list of things to do in New Orleans? Look no further. Here's a handy guide for your trip!
New Orleans is one of the most amazing cities in the United States due to its unique flavor.
The city is a melting pot of Native American, French, Spanish, Caribbean, and American cultures.
Still, New Orleans is renowned worldwide for its distinctive music, Creole cuisine, unique dialects, and annual celebrations and festivals, especially Mardi Gras.
The French Quarter is the city's historic center, renowned for its French and Spanish Creole architecture and lively nightlife through the infamous Bourbon Street.
The article below will cover a bunch of activities and things to do in New Orleans. The city has something for everyone, from learning about the history of New Orleans to watching art or going on hikes. Check it out!
Pssst: Looking for accommodation in the city? Then you will want to read our guide on where to stay in New Orleans!
Best Things to Do in New Orleans
1. Visit The French Quarter
With its vibrant nightlife, historical landmarks, world-class jazz clubs, world-class galleries, and NOLA restaurants, the French Quarter is the beating heart of New Orleans.
It's hands-down one of the best things to do in New Orleans. The area is a National Historic Landmark and is considered the "heart and soul" of the city.
The ancient buildings, some of which date back more than 300 years, are adorned with arcades, iron balconies, red-tiled roofs, and beautiful courtyards.
It mixes fashionable stores, artisanal cocktails, and treasured antique shops and restaurants. These structures now house hotels, restaurants, souvenir shops, galleries, and various jazz venues like Preservation Hall.
The area's focal point is the French Quarter's most famous thoroughfare, Bourbon Street. During the day, this street is relatively quiet, but it transforms into a noisy and lively place at night.
Royal Street's most well-known building, The Court of Two Sisters, opened in 1832 and is today a jazz brunch hotspot.
2. Walk Around In Jackson Square
The bronze monument of Andrew Jackson in the center of the square gives the landmark its name.
In front of the St. Louis Cathedral, Jackson Square is on Decatur Street between the Jax Brewery Shopping Mall and the French Market. Many prominent feature films and television series have used Jackson Square as a background.
Both commercial and residential buildings flank Jackson Square. Jackson Square is on Decatur Street, opposite the St. Louis Cathedral on the Mississippi River, between the Jax Brewery Shopping Mall and the French Market.
Across the street from the square lies the world-famous Café Du Monde.
If you're near the Convention Center, you can get a ride on the Riverfront Streetcar, which will drop you off at Jackson Square. Amazing artisans that may produce excellent souvenirs and street performers will keep you amused in the square.
Visiting Jackson Square is by far one of the best things to do in New Orleans!
3. Exploring City Park
Botanical Garden, Museum of Art, and Sculpture Garden are in New Orleans' 1,300-acre City Park. In addition, families may visit Carousel Gardens, Storyland, and the soon-to-open City Splash water park.
On-site recreation includes both tennis courts and a golf course with 18 holes. City Park also has a New Orleans-themed mini-golf course called City Putt.
There are two courses at City Putt, one with a New Orleans theme and the other with a Louisiana one. Enjoy some fishing in one of the park's 11 lagoons. In addition, you may rent a bike or paddleboat to explore the park and Big Lake.
The park has one of the world's most significant concentrations of mature living oak trees, including an 800-year-old.
The 50-acre Festival Grounds opened in 2012 with sports fields, a bike path, an exercise area, wetlands, and more. In addition, the Grounds host private events and live music throughout the festival season.
Pssst: Louis Armstrong Park is a wonderful place to enjoy outdoor activities and learn about the local history by visiting Congo Square.
4. The Garden District
There are many lovely neighborhoods in and around New Orleans, but none are as beautiful or historically significant as the Garden District.
The Garden Neighborhood in New Orleans, about 2.5 miles from the French Quarter, offers a welcome change of pace from the district above.
Some companies provide guided tours to learn about the area's history and monuments.
First Street, Camp Street, and Prytania Street have luxurious 19th-century homes with large lawns. Lafayette Cemetery No1 is also in the Garden District. This location is home to many celebrities. Most visitors come to relax and explore the residences, although there are stores and coffee shops.
5. Audubon Park & Audubon Zoo
The Audubon Zoo is one of the park's centerpieces. It's a great way to escape the city with vast grounds and a decent range of domestic and exotic animals. Giraffes, orangutans, elephants, rhinos, jaguars, and alligators are the zoo's most notable residents.
Feedings, petting zoos, and animal exhibitions are available for families. The Swamp Railway, a miniature train that runs through the zoo, passes the Louisiana Swamp Exhibit, sea lions, and Reptile Encounter areas. In addition, the Zoo's Cool Zoo splash park is open throughout the summer.
Fine stands of oaks, a butterfly garden and insectarium, hothouses, the Audubon Golf Club, many small lakes, and plenty of open green space are available within Audubon Park.
In addition, honey bees have a spring bloom every season, and visitors to the Audubon Zoo may notice an uptick in activity beginning in March and extending through the summer.
6. St. Louis Cathedral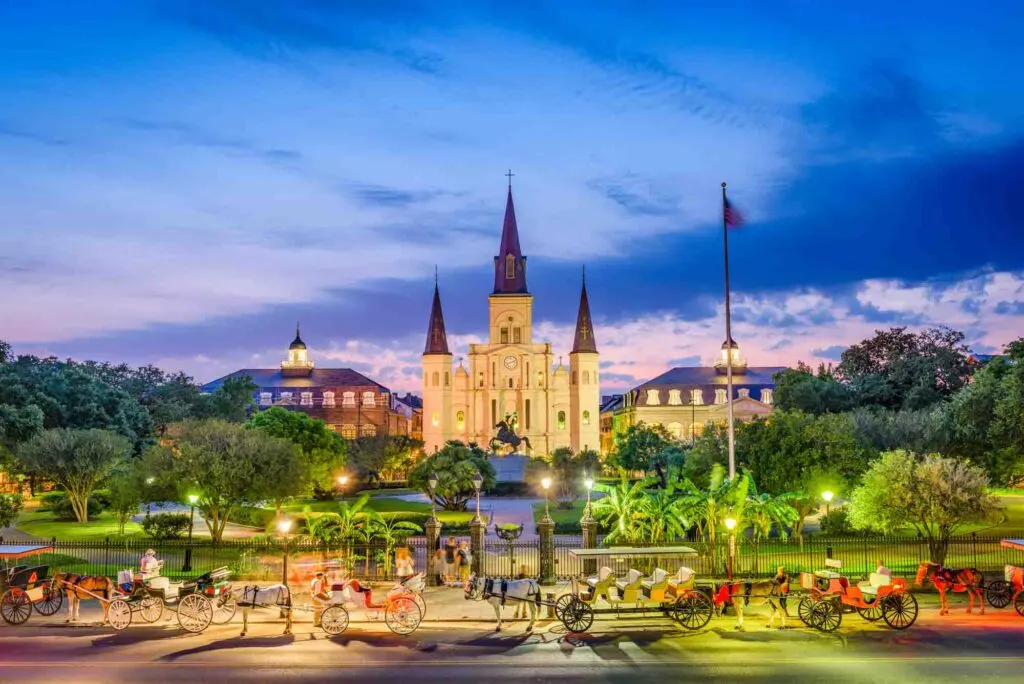 The St. Louis Cathedral, a New Orleans landmark, stands on the north side of Jackson Square. It was built in 1794 on the site of two former churches and is the United States' oldest cathedral in continuous operation, hence why it is one of the best things to do in New Orleans.
This historic church still holds mass every Saturday and Sunday. The structure got added to the National Register of Historic Places in 1966 as part of the Vieux Carre Historic District.
For a $1 donation, visitors who want to tour St. Louis Cathedral can acquire a brochure at the entrance.
In New Orleans, the St. Louis Cathedral is a well-known monument. In addition, this cathedral is easily recognized across the city because it faces Jackson Square.
There's a lot to like about the construction and the attention to detail on the outside. For example, saint Louis is in many stained glass windows, paintings, and artwork.
In addition, several sculptures of well-known Catholic figures from the church's history can get found throughout the cathedral.
7. Take a Trip on the Steamboat Natchez
A voyage on the Steamboat Natchez is a fantastic thing to do in New Orleans and the Mississippi River.
The three-hour port tours include live jazz music and stunning views of New Orleans in the evening cruise. Seasonal special events cruises and dinner options are also available.
There is a gift store on both riverboats, and the Natchez has bars on all three decks.
Unfortunately, cruises get canceled when the Coast Guard believes there will be severe weather along the river. Only service animals get permitted on board the Steamboats.
As a result, if you plan to board with a service animal, please let them know ahead of time.
In addition, a jazz pianist or jazz trio performs on the Harbor Jazz Cruise and a professional live narration of the river's sights and history. It is a non-smoking vessel both inside and outside on the decks.
Click here to book your evening cruise!
8. Tour The New Orleans Cemeteries
It's a fascinating and must-do experience to go through these "Cities of the Dead." New Orleans is one of the few cities where cemeteries constitute a significant tourist attraction. New Orleans is known for many things, but its cemeteries are an indelible part of its identity.
The above-ground graves and mausoleums have been meticulously created and tastefully placed to give the impression of a mysterious neighborhood for the souls that reside there.
Because of the city's marshy geography, New Orleans' cemeteries are full of above-ground graves, and the cemeteries attract tourists.
These cemeteries are safe in guided groups but not alone. The high water table in New Orleans generates shallow burials. After a few feet of digging, the grave becomes moist.
In New Orleans, most historic cemeteries are free to visit. However, St. Louis Cemetery No1, the city's most famous cemetery where Marie Laveau and Bernard de Marigny rest, is off-limits to tourists without a tour.
9. Dare to Visit the Historic Voodoo Museum
Calling all history buffs! Consider going to the Voodoo Museum in the French Quarter, a modest, folksy makeshift museum.
You might also want to pay a visit to one of New Orleans' great Voodoo Shops, which frequently feature exhibits and personnel who are eager to assist you in learning more about the subject.
The New Orleans Historic Voodoo Museum is one of the city's many intriguing little museums and one of the best things to do in New Orleans.
Here you will find the mysteries, secrets, history, mythology surrounding rituals, zombies, gris-gris, Voodoo Queens, and more. It's full of legends, strangeness, and intriguing Southern charm.
But, unless you can strike up a discussion with a local witch or voodoo warlock, it'll be strange and crazy in twenty minutes.
Voodoo has long dominated New Orleans legends, mythology, and history, yet it often gets misconstrued by popular culture and Hollywood.
10. Experience The Mardi Gras
See how Mardi Gras is put together and come close to some of the most spectacular floats and sculptures.
Mardi Gras refers to the activities of the Carnival festival, which begin on or after the Christian feasts of the Epiphany (Three Kings Day) and end on Shrove Tuesday, the day before Ash Wednesday.
Mardi Gras is French for "Fat Tuesday," referring to the last night of eating rich, fatty meals before the Lenten season's ceremonial sacrifices and fasting.
Some traditions, such as the one in New Orleans, Louisiana, regard Mardi Gras to last from Twelfth Night (the last night of Christmas, which marks the beginning of Epiphany) through Ash Wednesday.
Needless to say but experiencing the Mardi Gras is one of the best things to do in New Orleans!
11. Visit The National WWII Museum
The National WWII Museum, originally known as the National D-Day Museum, is a military history museum situated on Andrew Higgins Drive between Camp Street and Magazine Street in New Orleans, Louisiana, United States.
The National WWII Museum contains immersive exhibitions, multimedia experiences, an impressive collection of artifacts, and first-person oral histories that immerse visitors in the tale of the world's most famous conflict.
Beyond the galleries, the museum's online collections, virtual field tours, seminars, educational travel programs, and renowned International Conference on World War II provide patrons with new opportunities to interact with history and remember the generation that gave so much to ensure our freedom.
D-Day was the world's most significant seaborne invasion and an unmistakable signal of America's determination to demolish Hitler's unrelenting hatred machine.
12. Visit Crescent Park
Crescent Park is a 1.4-mile, 20-acre urban linear park that connects the community and visitors to our riverfront and is within the French Market District.
This exceptional public space offers breathtaking views of New Orleans, native landscaping, bike paths, a dog run, and multipurpose pavilions for the enjoyment of all.
Before 2014, the Mississippi River banks bordering the Marigny and Bywater neighborhoods in downtown New Orleans were impassable.
So the city invested heavily in a renovation program that transformed an unattractive post-industrial wasteland into a beautiful riverside park.
The 1.5 mile-long Crescent Park feels like a local hangout; you won't find Mardi Gras-clad tourists here. Instead, grab a bottle of wine and a cheese platter from the nearby Bacchanal Wines, and find a grassy riverside spot for a picnic in the afternoon.
13. Experience Studio Be
Studio Be is a dazzling and illuminating public art exhibition housed in a massive warehouse in the Bywater neighborhood of New Orleans. Brandan "BMike" Odums worked with over 40 artists to create murals and exhibits exploring activism, resistance, and black American history.
Most displays employ spray paint and graffiti techniques, and the entire undertaking requires six months.
The expansive facility encompasses four buildings and up to five stories and is 35,000 square feet in size.
It is the largest single-site public art exhibition in the American South and attracts international visitors. However, the floor-to-ceiling portraits are the true stars of the show and the works for which he is best known.
14. Visit The New Orleans Museum Of Art
City Park, on the shore of Big Lake, is the city's most prestigious art museum. NOMA contains over 40,000 works ranging from the Italian Renaissance to contemporary art.
Explore works by Monet, Degas, Rodin, and O'Keefe, in addition to glass, ceramics, pre-Columbian art, and an extensive collection of photographs.
The adjacent Sydney and Walda Best off Sculpture Garden showcases the museum's sculpture collection in a beautifully landscaped setting.
The building, situated in City Park and has alabaster walls and Greco-Roman columns, is imposing and imperial. There is also a lovely five-acre sculpture garden with artwork beneath magnolias and live oaks covered in Spanish moss.
Inside, the collection is equally impressive, with French and American art and traveling exhibits showcasing everything from digital media to fashion. It remains one of the south's most remarkable collections of fine art.
Visiting NOMA is by far one of the best things to do in New Orleans!
15. Experience Beautiful Art At Jamnola
There is art and music to enjoy at this interactive installation in the Marigny. The 5,500-square-foot warehouse transformed into a selfie paradise with rooms designed by local artists that celebrate local art, music, and culture.
Enter a giant crawfish pot, take pictures with oversized busts of local musicians, and become a part of the art in virtual reality booths.
It is a case of sensory overload, New Orleans-style. Joy, art, and music are the ingredients in this locally sourced jam, a "cultural experience with a Crescent City theme."
When it opened in the summer of 2020 in a converted warehouse in the Marigny neighborhood, this 5,500-square-foot artistic adventure playground was an instant hit.
Due to its social media-friendly nature, word quickly spread among locals, and it soon appeared that everyone had posted a JAM selfie.
16. Walk Around Frenchmen Street
Frenchmen Street is the place to go for a more unique New Orleans experience than Bourbon Street or the French Quarter.
Frenchmen Street is a four-block stretch of bars, restaurants, nightclubs, and art galleries popular with locals, making it a fun thing to do in New Orleans.
Here, not only will you find fewer crowds (though not by much), but you'll also find cheaper food and beverages and better music – it's like Bourbon Street's younger, trendier cousin.
If you're not a night owl, the Palace Market is a shopping paradise where locals sell handmade art and jewelry (open daily from 7 p.m. to 1 a.m.).
Frenchmen, which is crowded, active, and vibrant, is perhaps New Orleans's most musically consistent stretch of asphalt.
Its venues, which feature traditional jazz, blues, reggae, and rock performances, are renowned for attracting audiences from around the world.
17. Walk Around At Magazine Street
This six-mile stretch has everything: shops, restaurants, art galleries, distinctive architecture, an award-winning zoo, and hospitable local business owners.
Reward yourself with a meal at one of the many restaurants that offer sidewalk dining or patios overlooking the bustling street after a day of shopping at local boutiques.
Magazine Street is ideal for a stroll due to the abundance of coffee shops, cafes, and restaurants that provide a pit stop and refreshment for weary shoppers.
A bus departs from Canal Street for Magazine Street, or you can take the St. Charles Streetcar and walk several blocks towards the river to reach Magazine.
18. Visit Audubon Aquarium Of The Americas
Since its opening in 1990, millions have visited the striking glass and steel buildings on the Mississippi River banks that house the Audubon Aquarium.
The exhibits are organized according to various regions of North and South America and feature approximately 10,000 animals and 530 species.
There is a massive Gulf of Mexico reef with sharks and sea turtles, an Amazon River tank with piranha and stingrays, and, of course, a Mississippi River section with a rare white alligator as the main attraction.
Other animals range from penguins to parakeets, and it appears to be an exhaustive collection of genuinely fascinating wildlife.
In addition, it is one of the largest family-friendly museums in the city, so there are always many families, couples, and school groups—a true cross-section because who doesn't enjoy aquariums?
19. Food And Beverage Museum
Sometimes it feels as if the majority, if not all, of the celebrations in and around New Orleans are simply excuses to prepare and consume local foods and drinks.
Therefore, it makes sense that this museum was opened in 2014 to celebrate this region's famous foods and beverages.
This expansive, open-floor warehouse has a bohemian air. Exhibits from all southern states, not just Louisiana, populate the museum packed with antique artifacts.
There will likely be several live events each week at the museum, ranging from demonstrations and lectures to nights where you can sample specific foods and cocktails.
Local and regional chefs and bartenders get invited to showcase their talents, and the Gumbo Garden is a charming outdoor space. Additionally, a demonstration kitchen hosts regular cooking demonstrations and classes.
Visiting Food and Beverage Museum is hands-down one of the best things to do in New Orleans!
See Beyond New Orleans
If you want to see beyond the city limits, consider going on one of the best New Orleans swamp tours near Jean Lafitte National Historical Park, or on a day trip from New Orleans to a small town. Louisiana is a wonderful state that offers a lot! Don't miss it!
Get The New Orleans All-Inclusive Pass
Tourism in New Orleans is as robust as ever, and the New Orleans Pass by GoCity is a fantastic way to visit over 20 of the Big Easy's most popular attractions for a single price.
The pass is ideal for tourists who wish to see as many attractions as possible since the more attractions you visit, the more you save. The 5-day pass for adults is $33 per day, and the 5-day pass for children is $25 per day.
Some Of The Attractions Included With The Pass
Visit the Audubon Zoo, Audubon Insectarium, and Audubon Aquarium of the Americas for a wild time.
Explore the past at the National WWII Museum
Tour Blaine Kern's Mardi Gras World to get into the spirit of carnival.
The New Orleans Museum of Art is home to a world-class sculpture garden.
Steamboat Natchez Cruises traverses the Mississippi River.
Click here to get your New Orleans Pass!
Final Words on Things To Do in New Orleans, Louisiana
New Orleans is a terrific strolling city, with many key sights and attractions in or around the French Quarter, but you might wish to take a vintage streetcar to explore the Garden District. Of course, buses are also a terrific method to get about, especially if you're going to a far-flung location like the zoo.
With this list of the top attractions in New Orleans, you can choose the most incredible locations to visit.
People say that the city is the "most distinctive" in the United States, in large part because of its multicultural and multilingual heritage. In addition, New Orleans has become increasingly known as "Southern Hollywood" due to its prominence in the film industry and popular culture.
Did you enjoy reading about the best things to do in New Orleans? Then share this article with your dear friends!