Planning an American Southwest road trip but only have 10 days? Fret not!
Even though the Southwest is a massive region filled with incredible sights, 10 days is just enough to get a pretty well-rounded introduction to the best this gorgeous area offers.
Starting and ending in Las Vegas, this American Southwest road trip itinerary will have you checking out some of the most sought-after highlights of the area.
These places include the desert landscapes of Monument Valley that will make you feel as though you're in a Wild West movie, the allure of the Grand Canyon, slot canyons so beautiful you'll have to pinch yourself, and so much more!
The Best Time to Go on an American Southwest Road Trip
The best time to do an American Southwest road trip is during the spring and fall when temperatures and mild and pleasant for hiking and exploring.
We highly recommend avoiding visiting during the summer months, when temperatures reach the hundreds and places get extremely crowded.
On the other hand, winter is also not exactly recommended as temperatures drop and snow can make several locations close.
You might want to consider the America the Beautiful Pass if you plan on visiting 3 or more national parks within 12 months. This national park pass saves you money on entrance fees, including Bryce Canyon and Zion, mentioned in this itinerary. Click here to buy your pass!
Ultimate 10-Day American Southwest Road Trip
Day 1: Las Vegas, drive to Grand Canyon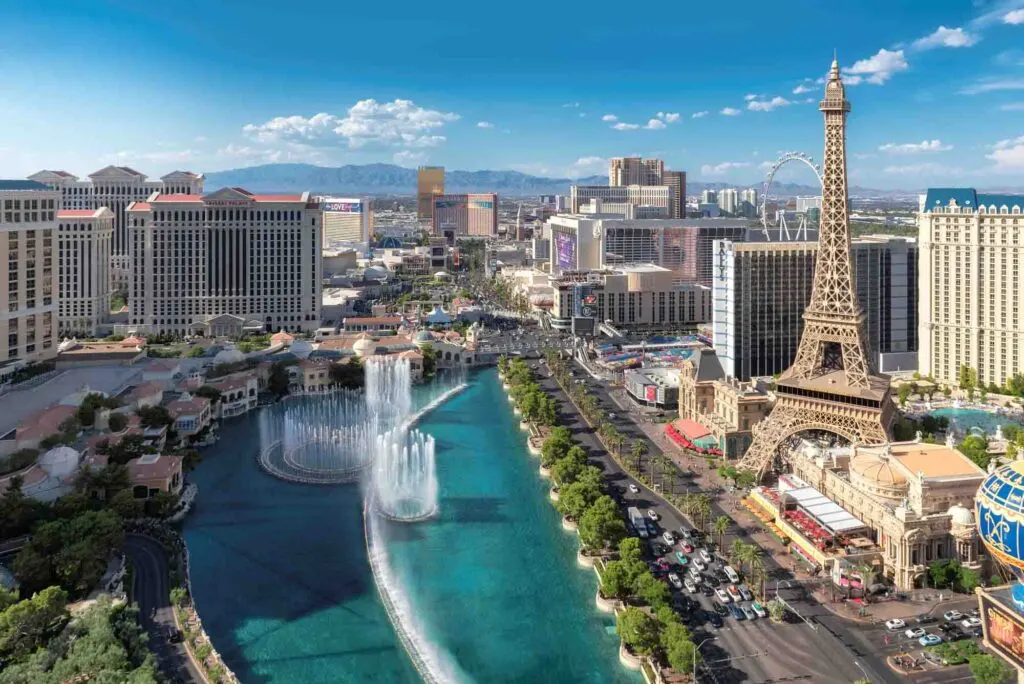 Pssst: Before you start your road trip, you might want to rent a camper van to get the ultimate road trip experience! Click here to rent a camper van!
Sprawling, glitzy Vegas is located 279 miles from the Grand Canyon, which gives you enough time to take in some of its highlights before officially starting your American Southwest road trip in the afternoon – talk about contrasts!
During the morning, check out some of the Las Vegas Natural History Museum exhibits or learn some history at Old Las Vegas Mormon State Park before taking a stroll down the Las Vegas Strip.
The Strip is 4.2 miles long and runs from Mandalay Bay to the Stratosphere. It takes about 90 minutes to walk without stopping along the way, but with so much to see all over, you'll want to give yourself 3-4 hours to explore.
The Bellagio Dancing Fountains, Fremont Street, The Strat, Neon Museum, the High Roller Observation Wheel, Caesars Palace Casino and Shops, the Venetian Casino, and Grand Canal are non-negotiables.
The South Rim of the Grand Canyon is not exactly a hop and a skip away from Sin City. The drive takes a little over four hours, but you can make a couple of quick stops to stretch your legs along the way. We recommend viewing Hoover Dam from the Memorial Bridge and Lake Mead from the overlook, which you'll find along the highway.
Read next: USA Bucket List
As for the Grand Canyon, this natural world wonder is absolutely humongous. This itinerary is crafted for you to visit the South Rim, which is the most popular section of the canyon, especially for first-timers.
The hiking trails in the South Rim are relatively moderate, and there are tons of things to do as well as amenities, so it makes for the ideal place to visit if it's your first time in the Grand Canyon.
Lodging is available at the canyon, or you can spend the night at the town of Tusayan, which is set only 6 miles from the South Rim.
On the other hand, if you want to challenge your hiking skills and are looking for a chance to experience more solitude, you might be better off heading to the North Rim.
This is an excellent option if you enjoy the road less traveled, as the North Rim or "other side" of the Grand Canyon is visited by only 10% of all Grand Canyon visitors!
If you decide on this option, you will have to make a few adjustments to your driving time to the following destination.
Distance from Las Vegas to Grand Canyon (South Rim): 279 miles (about four and a half hours)
Where to Stay at Grand Canyon
Day 2: Grand Canyon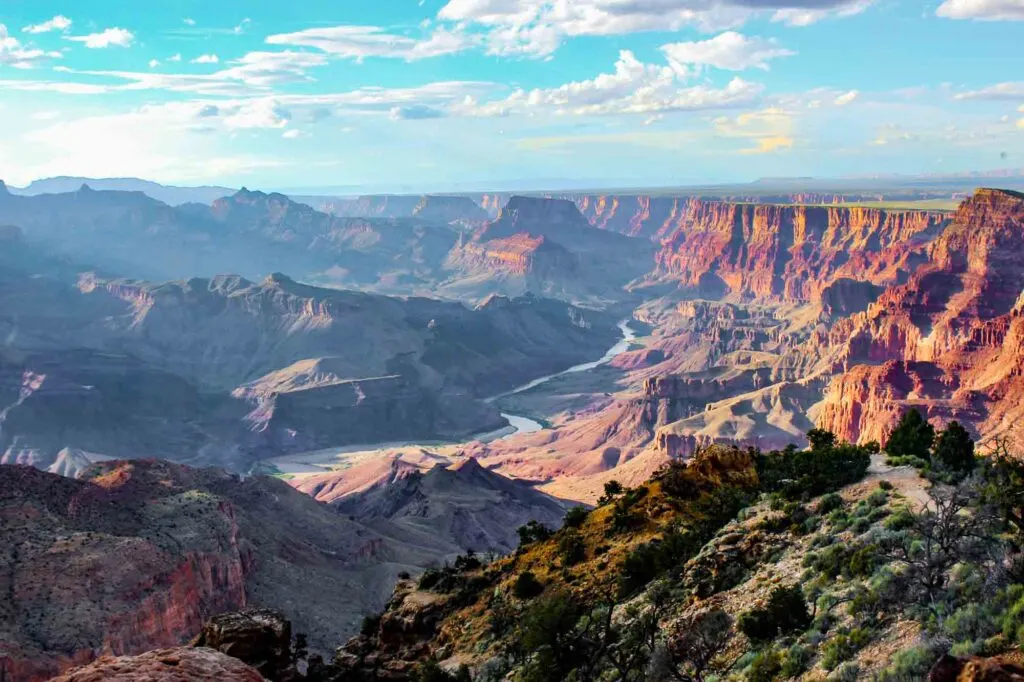 The second day of your American Southwest road trip will be dedicated exclusively to exploring the Grand Canyon, one of the best places to visit in Arizona.
Even though simply getting to look over the vastness of this American wonder is a breathtaking experience in itself, there are tons of other exciting things to do here.
You can start by visiting the Yavapai Geology Museum, located at one of the most impressive viewpoints of the South Rim.
Here you can learn more about how the canyon was formed and its geology while enjoying incredible views.
Aside from spectacular views, there are so many options for activities that it can get a bit overwhelming.
You can explore the trails by hiking, biking, and horseback riding, or you can also drive around to some of the viewpoints and even book a helicopter tour if the weather allows!
It actually feels a bit silly to recommend the must-see viewing points for Grand Canyon National Park when all of the Grand Canyon is one huge must-see.
Just a glimpse of this tremendous natural abyss is jaw-dropping and spectacular.
However, still, we did our best in deciding what the absolute must-see sights you can experience, and here they are for you to take your pick: Yavapai, Pima, Grandview, Moran Point, Desert View, Zuni, and Papago.
As for hiking trails, the more gentle trails are the Rim Trail, Trail of Time, Shoshone Point, South Kaibab Trail to Ooh Aah, and the Cape Royal Trail.
Uncle Jim, Widforss, and North Kaibab to Coconino Overlook are not-too-difficult ones that go below the rim if you find yourself wanting to do more than just a stroll.
You can brave the Bright Angel Trail for a real challenge, a 9.5-mile trail that goes past some of the most enthralling viewpoints in the Grand Canyon, but completing the hike out and back in one day is not recommended.
You can turn around at several points, though, so it's up to you and your skills how far you want to venture in!
Where to Stay at Grand Canyon
Day 3: Grand Canyon to Monument Valley
The distance between the Grand Canyon and Monument Valley is 180 miles along a desert road, which gives you the chance to spend a few more hours exploring the canyon before hopping back in the car to continue your American Southwest road trip.
The drive is dotted by plenty of exciting stops requiring minimal detours, though, so do consider a couple of extra hours to stretch your legs and check a few of the gems you'll stumble across!
A must-see along the drive is the Navajo National Monument. You'll get to take a glimpse back in time to ancient settlements carved in the rock face of the Tsegi Canyon thousands of years ago by ancestral Anasazi civilizations.
The next point of interest is the picturesque rock formation Sculpted Rock or Artenesales de Piedra, most commonly known today as Church Rock.
You can see it from a distance by parking on the roadside. A few miles further down, you'll find Baby Rocks, a spectacular red rock landscape in the middle of the desert that will remind you of the terrain at Bryce Canyon, but on a much smaller scale!
You will want to use Page as your base for the next couple of days because it's a short drive from Monument Valley, Horseshoe Bend, Antelope Canyon, and the Grand Staircase-Escalante National Monument. We recommend this property.
Where to Stay in Page
Bonus location: If you have time to spare after driving, make sure you visit the charming town of Mexican Hat. The town's name derives from the fact that its shape looks like, well, a Mexican sombrero!
The town is located 20 miles southwest of Bluff, right on the San Juan River, making activities like floating or kayaking a treat. Stargazing here is unparalleled, too!
Distance from Grand Canyon National Park to Monument Valley: 174 miles (about 3 hours)
Pssst: If you're missing some incredible attractions in Arizona, you might want to check out our 10-day Arizona road trip itinerary to explore the state!
Day 4: Monument Valley Navajo Tribal Park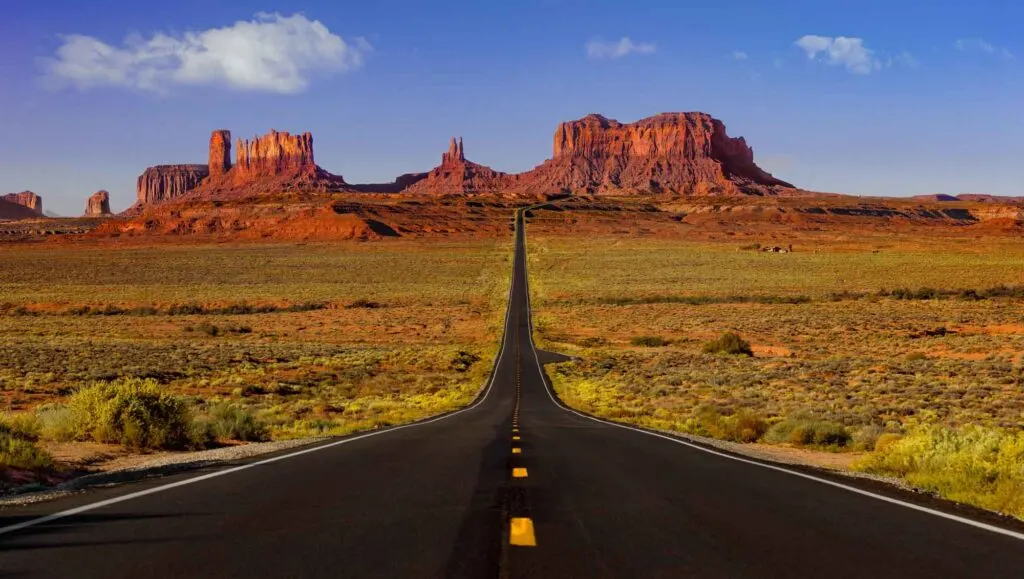 Monument Valley, one of the best places to visit in the Southwest USA, is among the most enthralling and photographed spots in the world and a sort of icon of any American Southwest road trip.
Stretching across the border of Arizona and Utah, this majestic valley boasts towering sandstone masterpieces that reach heights of up to 1,000 feet.
During your visit, you'll be captivated not only because of its unraveled beauty but also its sheer size.
The fragile rock formations that tower over the desert floor are surrounded by seemingly endless miles of mesas and buttes, shrubs, and sand backdropped by blue skies that make the scenery look almost other-worldly. Put together, the entire setting will make you feel as though you're standing on Mars!
Mitten Buttes and Merrick Butte are the most famous landmarks at Monument Valley. Be aware that you will need to book a guided tour led by a Navajo to venture closer.
That's because the area is considered sacred, so make sure you keep this in mind! The tour will have you hopping on a Jeep and driving down into the valley to get a closer look at both landmarks, but along the way, you'll get to see plenty of more exciting attractions!
Fun fact: Hollywood has long been in love with Monument Valley. Many movies have been filmed here, including Stagecoach, Forrest Gump, Mission Impossible 2, Easy Rider, Back to the Future III, National Lampoon's Vacation, and the 2013 version of The Lone Ranger. You can actually visit Forest Gump Point during your visit, too!
Where to Stay in Page
Day 5: Horseshoe Bend and Antelope Canyon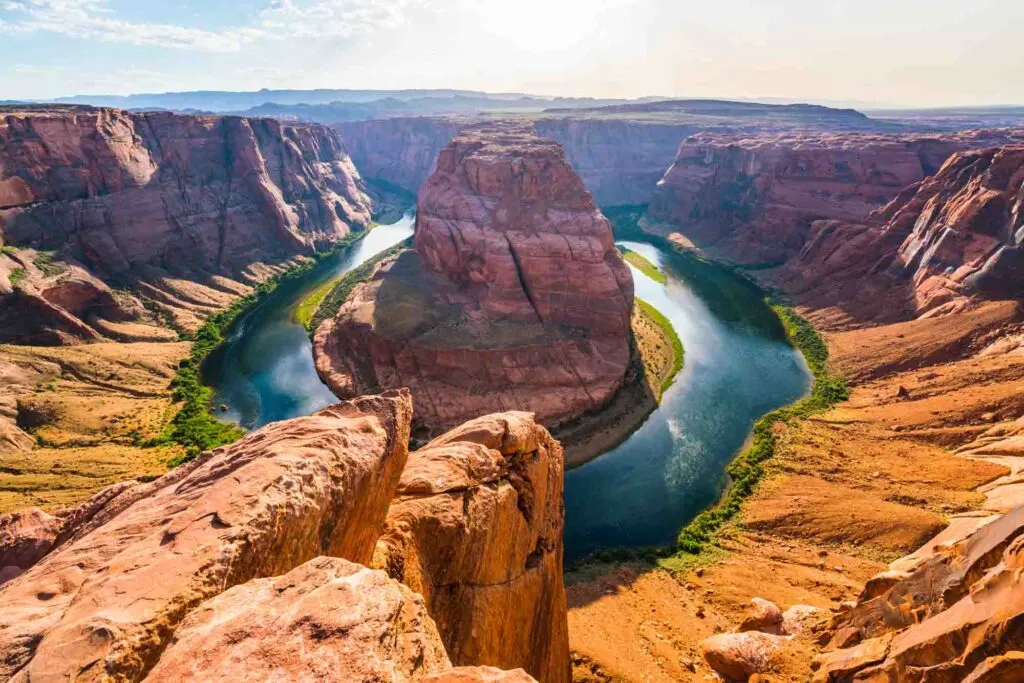 Shaped like a horseshoe, Horseshoe Bend is a meander formed overtime when the Colorado River looped its way around the landscape's rock.
Today, this incredible location only 123 miles away from Monument Valley is one of Instagram's favorite spots and a perfect stop to break up the drive between Monument Valley and Antelope Canyon.
Even though the reason most people pay Horsehoe Bend a visit is to look at the "bend" from the main viewpoint, you can actually find a whole lot more activities here, including hiking a few trails in search of eye candy or kayaking on Lake Powell!
Distance from Monument Valley to Horseshoe Bend: 123 miles (about a two-hour drive).
Next on your American Southwest road trip is the alluring Antelope Canyon, a breathtaking slot canyon, thanks to the wave-like effect sunlight creates on its narrow sandstone walls.
Antelope Canyon is located only 10 minutes away from Horseshoe Bend, so it's easy to combine both locations in one go!
Antelope Canyon has two access points: Upper Antelope Canyon and Lower Antelope Canyon. Upper Antelope Canyon is the popular side of it due to the fact that it's considered easier to hike through.
We also recommend checking out the lesser-frequented Lower Antelope Canyon side – while the sunlight effect isn't as striking here, its walls are narrower, which makes for a ton of fun while hiking as you'll be squeezing your way through some sections.
Note that Antelope Canyon can only be hiked through via a guided tour, and you'll need to get a permit in advance in order to gain access.
After exploring Monument Valley and Antelope Canyon, head over to the town of Page, where you'll find plenty of accommodation options to spend the night. Still, we recommend the Home2 Suites by Hilton Page Lake Powell.
Even though it's considered a hop-off point to nearby natural destinations, the town itself has plenty to offer as well, including lots of restaurant options for you to recharge your batteries after a day spent adventuring.
A must during your visit is to visit the Carl Hayden Visitor Center if you have enough time after Antelope Canyon.
Here, you'll get the chance to learn about the history and engineering of Glen Canyon Dam via interpretative exhibits.
At night, you can decide to rest your legs or head out on yet another adventure by booking a jeep tour that will take you into the depths of the desert for some serious stargazing!
Distance from Horseshoe Bend to Antelope Canyon: 8.7 miles (about ten minutes)
Where to Stay in Page
Day 6: Grand Staircase-Escalante National Monument
If you're into backcountry adventures, Grand Staircase-Escalante National Monument is guaranteed to please.
Home to several slot canyons (narrow gorges created by rushing water), multicolored sandstone cliffs jutting above canyon walls, ancient prehistoric sites, and even a few abandoned old Western movie sets, there's plenty to keep you entertained at this enthralling spot.
Grand Staircase-Escalante spans almost 2 million acres of land and encompasses a ton of geological gems, including monoliths, slot canyons, natural bridges, buttes, and arches.
Moreover, this remote location is home to a total of five different ecosystems, ranging from low-lying desert to lush pine forests.
Besides the famous Grand Staircase, there are other interesting landmarks for you to explore, such as Grosvenor Arch, Cottonwood Canyon, and the Kodachrome Basin State Park.
This last one is a well-kept jewel not many people know about. Plus, the area was once the home to the Anasazi and Fremont cultures, so you can expect to find a lot of petroglyphs as you explore this humongous park!
Distance from Page to Grand Staircase-Escalante National Monument: 27.5 miles (about half an hour)
Where to Stay in Bryce
Day 7: Bryce Canyon National Park
Not far from the Grand Staircase-Escalante National Monument, you'll find Bryce Canyon National Park.
Even though it is a relatively small park as far as national parks in the United States go, there's a huge array of things to see here.
Bright red hoodoos are what make the landscape at Bryce Canyon so incredibly unique.
The best way for you to see them is by hiking the Queen's Garden to Navajo Loop trail, a winding trail that will have you making your way through pine forests, wacky-looking rock tunnels, and, of course, iconic hoodoos.
The tallest one is Thor's Hammer, which was named after its hammer-shaped top that reaches 150 feet in height! Other popular hoodoos of Bryce Canyon are Camel's Head, Three Kings, and Toadstool.
Another popular hike to consider is the Bryce Canyon Fairyland Loop, an easy and enjoyable day hike that loops through the Fairyland amphitheater north of Bryce Canyon and will give you the chance to see some seriously stunning landscapes made up of rocks that look as though they belong on an entirely different planet.
If hiking isn't exactly your thing, you can also drive Bryce Canyon's scenic road to explore further.
The route cuts right through the park and will take you to some of the best viewpoints (like Sunset Point, Natural Bridge, and Inspiration Point), making it quite easy to explore from the comfort of your car if you're not in the mood to break a sweat on a hike.
Note: We didn't want to squeeze in Arches National Park, Canyonlands National Park, and Capitol Reef National Park because 10 days would be too short to truly see these natural wonders.
Still, if you're extremely eager to visit these places, we highly recommend checking out our Utah National Parks Road Trip.
Distance from Grand Staircase-Escalante National Monument to Bryce Canyon: 19.3 miles (about half an hour)
Where to Stay in Bryce
Day 8 and 9: Zion National Park
Even though Zion National Park is relatively small, there's a whole lot to do on its menu.
Unlike the rest of the destinations on this American Southwest road trip itinerary, Zion feels a bit more lively when it comes to its landscapes, with soaring cliffs, tons of wildlife, hanging gardens, hidden grottos, and lush meadows draping the scenery.
When you get there, the first thing you'll want to do is pop in at the Zion Human History Museum, where you'll get to learn all about the park's history and the indigenous Pauite people who once inhabited the region so you can have a better understanding of the land you're standing on.
After learning about Zion's past, it's time to hit a few beautiful trails and explore further afield. Most of the hikes at the park are short, relatively easy, and breathtaking, so you can do several of them in a few hours.
A few we recommend hitting are the Canyon Overlook Trail, the Emerald Pool Trail, Riverside Walk, and The Watchman.
If you're itching for a bigger feat, you can also take on the more challenging Angels Landing trail, which will have you hiking across streams and over sandstone ledges.
Do keep in mind, though, that this is considered a very strenuous trail, so make sure you're prepared for the challenge! If you're afraid of heights, we wouldn't recommend taking on this trail.
If you're not that big into hiking, you can explore Zion National Park's beauty from your car by taking the 54-mile Zion Canyon Scenic Drive.
The route will take you along the Virgin River and other famous landmarks, such as Angel's Landing, the Court of the Patriarchs, Twin Brothers Mountain, and Kolob Viewpoint.
From here, you might get lucky and catch a glimpse of the Grand Canyon's North Rim, which can be seen in the distance on clear days.
If you're itching for a rugged adventure, you can get overnight backpacking and canyoneering permits at the Backcountry Desk.
Another fun way to explore Zion in a more alternative way is by saddling up on the back of a horse, a unique tour that will give you the chance to venture deeper into the park before arriving at the most charming spot to watch the sunset.
Distance from Bryce Canyon to Zion National Park: 72.3 miles (about an hour and a half)
Where to Stay in Zion
As for accommodation, we recommend these lodges. The first is in Zion; the other two are nearby:
Day 10: Drive to Las Vegas & Return Home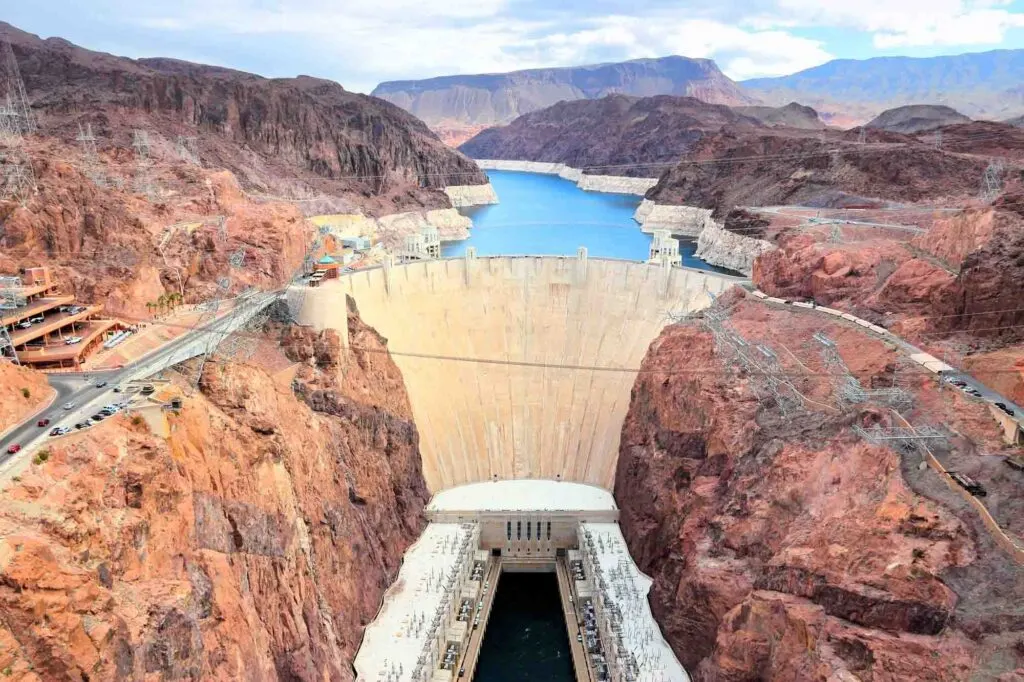 After an epic American Southwest road trip, it's time to head back home!
The road to Las Vegas from Zion National Park is 166 miles long and takes almost 3 hours to drive through, but if you have a bit of time to spare before your flight, you can still squeeze in a few more attractions along the way.
A few stops worth considering on the last leg of your trip include the Mike O'Callaghan–Pat Tillman Memorial Bridge, Hoover Dam, Valley of Fire State Park, and Kolob Canyon.
Distance from Zion National Park to Las Vegas: 166 miles (about three hours)
Where to Stay in Las Vegas
Summary of Your American Southwest Road Trip
Be sure to bookmark this page for future reference.
Day 1: Las Vegas, drive to Grand Canyon
Day 2: Grand Canyon
Day 3: Grand Canyon to Monument Valley
Day 4: Monument Valley
Day 5: Horseshoe Bend and Antelope Canyon
Day 6: Grand Staircase-Escalante National Monument
Day 7: Bryce Canyon National Park
Day 8 and 9: Zion National Park
Day 10: Drive to Las Vegas & Return Home
Other Attractions in the Region
If you have plenty of time to extend your Southwest road trip, we recommend checking out these popular spots:
Mesa Verde National Park (home to Cliff Palace)
Salt Lake City
Dead Horse Point State Park
Goblin Valley State Park
Cathedral Rock
Santa Fe
Rainbow Bridge
Bell Rock
Seven Magic Mountains by Swiss artist Ugo Rondinone
Cathedral Valley
Cathedral Gorge State Park
Death Valley National Park
Joshua Tree National Park in southern California
Final Words on Southwest Road Trip
We hope this 10-Day American Southwest road trip itinerary helped you plot the perfect route through this insanely gorgeous region of the United States.
It's definitely a pretty packed itinerary, and you're guaranteed to need several days of sleep after you get back home, but the striking landscapes and experiences are definitely worth the effort!
Are you currently planning an American Southwest road trip? We'd love to know which place in this literary you're looking forward to visiting the most, so let us know all about your plans in the comment section below!