With white-sand beaches, turquoise waters, incredible wildlife, and entertainment galore, there are so many diverse things to do on South Padre Island, TX, that any traveler is sure to make memories worth writing home about.
South Padre Island has easily enough fun activities to pack your itinerary for weeks, so we're breaking down the best of the best, from classic beach lounging to out-of-this-world adventures.
The Lone Star state's very own tropical island makes it hard to believe you're still in a region better known for its cowboys and rodeos.
In fact, it's one of the best beach towns in Texas. If you're ready for your seaside vacation, read on!
Pssst: Looking for vacation rentals in South Padre? Check these places out!
23 Fun Things to Do on South Padre Island, TX
Did you know? South Padre is the world's longest barrier island, separating the Gulf of Mexico and Laguna Madre, one of the few hypersaline lagoons in the world (which means its calm waters are saltier than the ocean).
There's no shortage of things to do on South Padre Island, Texas! Between the ocean and the lake, there are endless opportunities to splash, sunbathe, and sightseeing.
1. Watch a SpaceX Rocket Launch
By heading just across the bay, your imagination can take off all the way to Mars. The Boca Chica launch site is where some of the most advanced rocket technology in the world gets put to the test.
So grab a front-row seat to history-making advances in space exploration! According to Elon Musk, "the first person to go to another planet could launch from [the Boca Chica launch site]."
Make sure to block out at least a few days surrounding a planned launch just in case there are weather or equipment issues.
2. Take a Walk on the Wild Side at the Laguna Madre Nature Trail
More than 300 species of migratory birds make their home on South Padre Island, and there is perhaps a no better place to spot them than the Laguna Madre Nature Trail.
This 1500-foot boardwalk crosses four stunning acres of South Padre marshland, offering a chance to get up close and personal with all kinds of wildlife.
The trail is open 24 hours a day and totally free to use. You can also pay a small entrance fee to visit the adjacent South Padre Island Birding & Nature Center, which boasts a 5-story viewing tower and educational theater.
Read next: 33 Best Things to Do in Texas
3. Become a Certified Sandcastle Architect
Have you ever seen an outdoor sandcastle competition? Watched in awe as artists carefully sculpted the Eiffel Tower or a beloved movie character entirely from the sand beneath their feet?
Now it can be your turn! There are several legends in the business that offer sandcastle lessons to crafty beachgoers.
They'll provide the toolkits, and the expertise, all you have to bring are a few friends or family members. After all, sandcastle building is not an easy job for one…
Click here to check availability
4. Slingshot Into the Sky at Gravity Park
An entire amusement park only steps away from the beach? Sign us up!
Gravity Park has a wide range of attractions, but their biggest claim to fame is having the world's tallest reverse-bungee.
If that sounds a little too intense for your vacation, they also offer lighter fare like go-kart racing, mini-golf, and arcade games…all with gorgeous views of the water!
5. Explore a Shipwreck
A lot of the things to do in South Padre focus on the above-water experience, but diving deeper below the surface unlocks a whole other world.
Just 17 miles off the coast, you'll find the remains of The Texas Clipper, a WWII troop transport and attack ship, luxury liner, and now artificial reef.
After it sank in 2007, the wreck slowly became home to thousands of fish, coral, and other fascinating sea creatures.
6. Take a Jetski for a Spin
Sure, you could swim in the waves like everyone else. But why not take to the water in style, and throw a bit of adrenaline into the mix?
Whether you choose to ride solo or bring a buddy on the back, zooming through the turquoise waters of the bay is an unforgettable experience.
Some providers offer jet ski tours on top of jetski rentals, so you can ride with a bigger group and sightsee while you're at it.
Click here to check availability
7. Learn About the Barrier Island Ecosystem at the Coastal Studies Laboratory
All vacations can benefit from a little educational outing, and this lab is the perfect place to learn more about South Padre Island before heading back out to enjoy its spoils.
Walk through on a self-guided tour, see native fish species up close, and check out their impressive seashell collection, with specimens from all around the world.
Read next: Best Texas Beaches
8. Shoot 'Em Up at the Largest Outdoor Laser Tag Arena in Texas
The weird and wonderful Bobz World is a larger-than-life amusement park that manages to bring together arcade games, museum exhibits, and a botanical garden.
Take on your travel partners in a heated game of laser tag, then cool things off with a stop at the ice cream shop (they serve up 32 flavors of Texas' best ice cream).
Although it's definitely out of the ordinary, fun for the whole family is basically guaranteed.
9. Explore South Padre Island Via Scoot Coupe
We've said it before, and we'll say it again. Road trips in Texas are hands-down the best way to explore the state.
But what exactly is a scoot coupe? Well, these adorable miniature cars are the coolest (and most fun) way to scoot around the island in between attractions.
They may be tiny, but don't be fooled! Scootcoupes can hold their own on the road, getting up to speeds of 40 MPH.
Quite a few places have them available for rental, so just keep an eye out.
10. Support the Sea Turtles at Sea Turtle Inc.
A visit to Sea Turtle Inc. is as eye-opening as it is heart-warming. This rescue center is dedicated to rehabilitating injured turtles, with an ultimate mission to return as many as possible to their wild habitats.
During your visit, you can see these incredible creatures up close and learn a lot more about their lives and the challenges they face because of human activity.
If you happen to visit during hatching season, you can even witness adorable baby sea turtles make their journey to the water's edge.
11. Pay Tribute To Local Fisherman at Cristo de Los Pescadores
A bold (and giant) statue of Jesus, Rio de Janeiro style, is not exactly something many travelers would expect to see in this little slice of tropical Texas.
But the Cristo de Los Pescadores, "Christ of the Fisherman," memorial is a favorite spot for both tourists and locals.
Looking out over the water, this statue honors the fisherman who sailed out and never returned, with each of their names inscribed on a plaque near its base.
12. Watch a Sunset at Jim's Pier
The Western side of the island boasts stunning sunset views over Laguna Madre, and Jim's Pier is in prime position to catch the evening sky at its best.
On their shaded patio, you can enjoy the ocean breeze and meet a new friend or two while you're at it, as locals and tourists alike flock here to enjoy the views.
13. Sleep Under the Stars at the South Padre Sand Dunes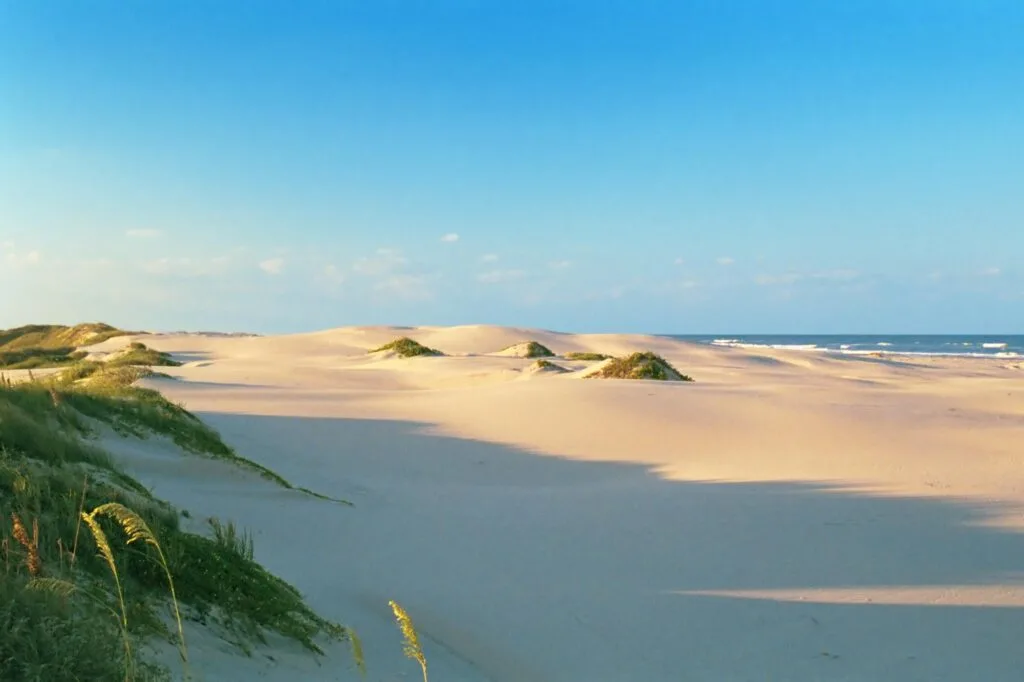 Quiet, secluded, and breathtakingly gorgeous, the South Padre Sand Dunes are one of the least visited spots on the island, which of course, makes them all the more beautiful.
No driving is allowed on the dunes, but hiking is half the fun! Slide down, roll around, and cool off in the waves.
Then, set up camp and fall asleep to the sound of the waves, with a vast seaside landscape all to yourself.
14. Hunt for Treasure on a Black Dragon Pirate Ship Cruise
For that one-of-a-kind South Padre Island experience, join Captain Black-Hearted Andy, "Scourge Of the Laguna Madre," and set sail on a replica 17th-century galleon.
Osprey Cruises offers an interactive adventure that will have you walking, talking, and fighting like a pirate, while the jolly crew treats everyone to pirate stories, music, face painting, and so much more.
You might even see some bottlenose dolphins while out on the water!
15. Pick Up Some Fresh Produce at the South Padre Farmers Market
It's easy to get tired of eating out all the time while on vacation. If you have a kitchen at your hotel or rental, one stop at the South Padre Farmers Market is all you need.
Fresh fruit and veggies, meats, cheeses, juices, and baked goods are all up for grabs, as well as tons of locally-made products.
The market is open every Sunday from 11 AM-1 PM.
16. Take to the Air on a Parasailing Adventure
Few things to do on South Padre Island, TX, are as totally enchanting (and slightly terrifying) as a parasailing flight.
While other spots on this list may offer panoramic skyline or sunset views, sailing over the open waters of Laguna Madre with your legs hanging in the air is a whole new way to take in this stunning island.
Click here to check availability and price
17. Dance the Night Away at Clayton's Beach Bar
The largest beach bar on the Texas coast keeps the party going all day long and well into the wee hours of the morning.
Every Friday and Saturday night, this beach bar at Padre Blvd features Fireworks on the Pier, a dazzling sky show paired with live music and drink deals.
Their margaritas come highly recommended, and the oceanfront real estate is hard to beat.
Concerts, good company, and cool drinks, all without ever leaving the beach? Yes, please.
18. Have a Meal Out on the Water
Although South Padre Island may have a reputation as more of a spring break destination, there are plenty of upscale options on the island.
Southern Wave Sailing Charters, family-owned and operated since 2006, offers all kinds of sailing trips, from dinner or moonlight cruises to snorkeling adventures.
Of course, you can always just lay back in one of their spacious trampolines and enjoy the views.
19. Support Local Artists at the Laguna Madre Art Gallery
Wondering what to do on South Padre Island once all the typical beaches, water sports, and sightseeing spots have been exhausted? The Laguna Madre Art Gallery!
Not only is this non-profit organization doing amazing things for the local community, but they also have tons of gorgeous pieces up for sale, all made in and around the area.
The gallery holds art education workshops and demonstrations as well as music, theater, and dance programs.
Best of all, by shopping their jewelry, home decor, photography prints, and more…you know you're supporting South Padre Island!
20. Score Panoramic Views at Port Isabel Lighthouse
A visit to the only lighthouse still standing on the Texas coast offers a peek into the past and stunning vistas to boot.
Completed in 1853, the Port Isabel Lighthouse has presided over wars, surrenders, and repairs. Check out the visitors' center to learn all about the history in this little slice of Texas.
Then, after climbing the 75 steps to the top of Port Isabel Lighthouse, you'll be rewarded with excellent views of the turquoise waters of Laguna Madre Bay from above and the South Padre Island skyline in the distance.
21. Enjoy Nature's Finest At Laguna Atascosa National Wildlife Refuge
Believe it or not, South Padre Island, Texas, contains one of the most biologically diverse stretches of land in the entire country.
Laguna Atascosa National Wildlife Refuge is home to a staggering 417 species of birds, 45 mammals, 44 kinds of reptiles, 130 butterflies, and 450 plant species.
Keep an eye out for colorful songbirds, javelina, and even the endangered ocelot.
You can hike or bike through some sections or enjoy a guided tour to learn even more about this unique ecosystem.
Pssst: For more outdoor activities and lots of wildlife, head up north to Padre Island National Seashore, one of the 16 national parks in Texas.
22. Make a Splash at Isla Blanca Park
Get your adrenaline pumping with a beachfront 25-acre waterpark complete with waterslides, ziplines, swim-up bars, and dozens of other award-winning attractions.
Ranked the #1 Kid-Friendly attraction by Texas Family Magazine, Beach Park at Isla Blanca is sure to be a hit with the little ones, but it also offers plenty of fun for the adults.
You can even rent your own cabana for some VIP relaxation!
23. Swim, Sunbathe, and Surf at Isla Blanca
Last but not least, on our list of all the best things to do on South Padre Island, Texas, is none other than its most popular beach.
Because bottom line, you don't visit Texas' number one tropical paradise unless you want to spend at least a few days lounging by the water.
A long stretch of sand, refreshing waves, and enough facilities to keep you comfy…what more could you ask for?
Set up your beach chair and umbrella rentals, apply sunscreen, and enjoy this beautiful beach and summer vacation spot!
Wrapping up on South Padre Island, Texas
Beautiful beaches. Incredible wildlife. Unique outdoor activities. South Padre Island is a must-visit destination in Texas, let alone the USA.
From Isla Blanca Park to the Farmer's Market, South Padre has everything to make your beach vacation mesmerizing!
Did you enjoy this article about South Padre Island, Texas? Then share it with a dear friend who might enjoy it too!
Latest posts by Katelyn van Sligtenhorst
(see all)