These are the best fall vacations in the US, from fall foliage to romantic long weekend getaways. Check out these fall travel destinations!
As a breezy season marked by warm moments with our families and orange-hued landscapes, fall is one of the most magical seasons of the year!
As the trees turn into warm tints of red and orange, it is time to hit the road and relish the fall's features.
Thinking of that, we've asked travel writers to name their all-time favorite fall vacations in the US. The result?
An incredible list with mesmerizing fall destinations to add to your USA bucket list!
To help you browse this article, we divided it by best places to visit in September, October, and November.
Hope you enjoy it!
Best Fall Vacation Spots
These are the best fall vacations in the US in no particular order.
Best Places to Visit in September
Seattle, Washington
Seattle is good at a lot of things, including excellent food and scarf weather. Need we say more?
The city is the perfect fall vacation spot in the US! Not only that but it also is a surprisingly romantic getaway in the United States.
Not only are Seattle's outdoor farmers' markets packed with good finds, but the restaurants also change their menu to include local, seasonal ingredients.
Spending one day in Seattle? Then you will want to sip pumpkin beer, catch a cabaret performance, or hang out indoors playing board games at Cafe Mox.
If you have 3 days in Seattle or more, you can even go hiking in the colorful Japanese Garden or Washington Park Arboretum. It has a massive Instagram potential, and no filters are needed!
Besides, there are tons of hikes near Seattle that are magical during this time of the year!
Oh, and if this is your first time in the city, you might want to check out this complete guide on where to stay in Seattle–it has information for all budgets and kinds of travelers.
North Fork, Long Island, New York
The North Fork in Long Island New York is the ideal summer getaway for most living in the New York Tri-State area.
However, as the temperatures start to drop and the days become shorter, the North Fork transforms into the most popular time of year: Harvest season.
The North Fork is home to over 55 vineyards. During harvest season, which usually starts in September, there is plenty for visitors to enjoy.
For families, Harbes Family Farm hosts a fall festival that includes everything from pumpkin picking to hayrides and even a scarecrow relay race.
Also, don't forget to try their apple cider donuts. They are a fall favorite.
If you are really looking for something unique, check out one of the many vineyards in the area—most of them host harvest events. And some will actually let you help pick grapes off the vines.
After you're done picking grapes, you will be treated to lunch and lots of fantastic wine.
Outside of all the fun events and activities in the North Fork, getting there is half the fun. Driving through the North Fork is a great way to enjoy the fall foliage.
During late September and October, the trees put on a show when the leaves turn vibrant from yellow to orange to even red.
It is absolutely stunning.
When you're done, do pop over to one of the many beaches open to the public in the off-seasons. They also are a great spot to enjoy the sunset after a fun-filled day.
For these, and other reasons, North Fork is one of the best fall vacations in the US
Click here to check accommodation in North Fork!
Taima Ramsey from Poor In A Private Plane
Chicago, Illinois
The best time to visit Chicago is fall! Summer brings muggy heat with sweltering humidity.
On the other hand, winters bring frigid temperatures, heavy snow, and icky slush, while spring is notoriously rainy and cold.
September and October have the most delightful weather with highs in the 70s and lows in the 50s.
If you visit Chicago in the fall, you'll be able to miss some of the crowds. Check out Chicago's top attractions, including the Art Institute of Chicago, Millennium Park, Buckingham Fountain & the lakefront trail.
You'll still be able to take advantage of all these exciting tourist attractions in the fall, but it won't feel so touristy.
Chicago is a unique fall destination because it has an extraordinarily rich haunted history to explore!
Today's northside neighborhood of Lincoln Park was built right on top of the city's original cemetery. Each year the Chicago History Museum does ghost tours through Lincoln Park.
Another excellent haunted place to visit in fall is Chicago's Graceland Cemetery. This is where many famous 19th Century Chicagoans were buried.
For visitors looking to see the leaves change, the best place to do is the Chicago Botanical Gardens. They're an hour north of the city, but absolutely worth visiting.
If you are willing to explore the Chicagoland suburbs, you'll find plenty of places to go apple picking.
These farms often have corn mazes, pumpkin patches & other fun seasonal activities. Check out Kuipers Family Farm in Maple Park.
Click here to check accommodation in Chicago!
Valentina from Valentina's Destinations
Door County, Wisconsin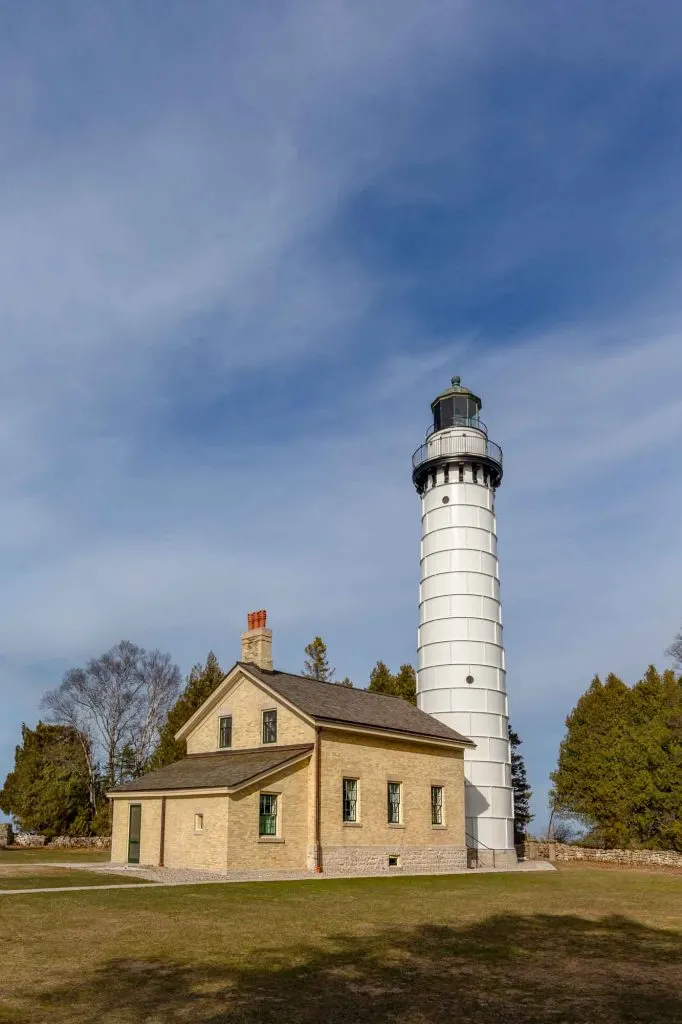 Door County, WI is a delight to visit in fall! It's not only a hotspot for fall foliage but here are also plenty of things to do here in fall.
The Cave Point County Park offers picturesque shoreline cliffs on Lake Michigan and a hiking trail connecting more extensive trails within Whitefish Dunes and State Park.
It is an ideal picnic spot with a half-mile hiking trail and one of the best things to do in Door County.
The historic Leathem and Smith Quarry site, the Quarry County Park, offers inviting views and access to the bay. Launch your boat, enjoy a picnic, or fish off the dock!
The Koepsel's farm market has been making homemade goodies since the 1940s.
It features the incredible collection of tasty world products and is a must-visit tourist attraction. King Island Lighthouse offers a beautiful panoramic view, which makes it all worth the steps.
The Cookies Maze is something you should visit to taste the best sample ciders made from locally grown food!
The best way to experience the beauty of the area is on a road trip. Feel of driving through is quite popular during the fall, and the Door County coastal bay is an excellent place for a tour.
The fall's decoration is pretty impressive too. If you like to explore on two wheels, rent a bike and check out some of the bike trails!
Where to eat? The crisp days of fall are perfect for a hot coffee, and the Door County Coffee and Tea Company has recovered. Also, check out the grapes and apples. Do not miss the pizza at Royal Tomato Restaurant!
Click here to check accommodation in Door County!
Paulina Rubia from paulinaontheroad.com
Black Hills, South Dakota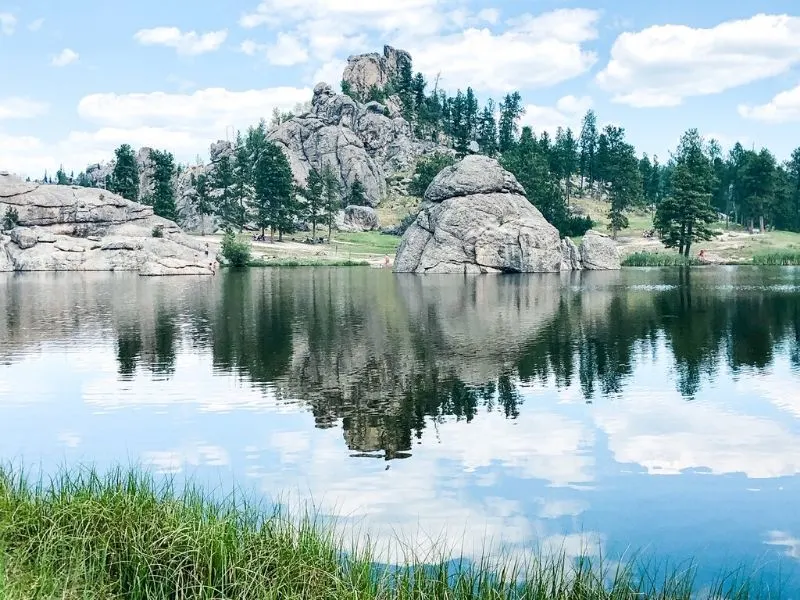 Once the crowds from the annual Sturgis Motorcycle Rally die down and the warm summer temperatures begin to cool, the Black Hills of South Dakota is the place to be.
Of course, you'll visit the highlight of this area, the iconic Mount Rushmore, as it's an impressive wonder of artistry and engineering.
Then, take a drive through the Black Hills to enjoy the beautiful tapestry. If you're lucky, you'll arrive during its colorful fall glory, but even if you miss it, it's still a stunning area.
Custer State Park is one of the most impressive regions of the Black Hills. Through the Needles, the winding road offers gorgeous views and drop-offs, as well as some remarkable rock spires.
There are several beautiful lakes, including the picturesque Sylvan Lake. If you can visit in late September, you can see the annual Custer State Park Buffalo Roundup.
That is where cowboys (and girls!) drive the herd of over 1,200 buffalo to maintain a strong and healthy herd. If you're there a little later, you can join the Deadwood Oktoberfest.
They have old fashioned beer-barrel races, Weiner-dog races, and lots of other fun activities in this historic old Western town. There is a lot to see and do in South Dakota, and particularly in the Black Hills area.
Don't forget to try some local specialties like fry bread, buffalo, and walleye fish.
Though you can have fun at any time of the year, the fall is a special time with good weather and fun community gatherings to show you how much this state offers.
Click here to check accommodation in the Black Hills!
Samantha Glauser from My Flying Leap
Pocono Mountains, Pennsylvania
One of the best autumn destinations in America is the Pocono Mountains in the northeastern region of Pennsylvania.
The Poconos have been a popular destination for years because there really is something for everyone. You can find couples resorts, family-friendly hiking trails, and gorgeous fall foliage.
The Poconos are one of the best destinations for a fall trip in America and one of the best day trips from Philadelphia.
At only two hours from Philly and New York City, it's a fantastic destination to check out in the fall months.
One of the best places to explore the Poconos is Ricketts Glen State Park. You'll find ribbons of gorgeous hiking trails that are peppered with waterfalls and scenic bridges.
The most popular trail is a simple loop of easy hiking, and there are 10 other moderate-difficulty trails to explore.
Another popular Poconos destination is Bushkill Falls, a private hiking area with a series of waterfalls. The tallest of the eight waterfalls is 100 feet in height and truly stunning.
Since the land and waterfalls are privately-owned, there is a fee to enter the trails of Bushkill Falls.
The Poconos are home to several campgrounds, cabins for rent, and hotels for those that prefer better facilities. You can even stay at a casino like Mohegan Sun in Wilkes-Barre or Mount Airy Casino in Mount Pocono.
Wherever you stay, the mountains, nature, and fall foliage are enchanting. That's why the Poconos are a fantastic fall destination in the USA.
Derek and Mike from Robe Trotting
Williamsburg, Virginia
Williamsburg, Virginia, is an excellent place for a fall vacation in the United States. With the colorful foliage enhancing its history, this charming town has a variety of autumn activities to fill your time.
Known as the largest living history museum in the United States, Colonial Williamsburg highlights the city.
Immerse yourself in the neighborhood's history and lifestyle, as historical reenactors go about their day in the 18th Century Colonial-era town.
You can explore many of the buildings that stand from when Williamsburg was a significant city in the Colonial South. At night, you can even take a Ghost Tour through the historic area.
Adding to your autumn Williamsburg itinerary, just next door to Colonial Williamsburg, you can walk through the picturesque campus of the College of William and Mary, the second-oldest higher education institution in the United States.
Aside from its past, Williamsburg has a few fun, modern activities to enjoy as well! If you love amusement parks, check out Busch Gardens Williamsburg.
During the fall season, the park transforms into Halloween's Howl-O-Scream.
It'll feel like an otherworldly experience as you walk through Busch Gardens, exploring their spooky shows and wandering into their haunted house.
Depending on when you're in town, you might even stumble upon one of the many fall festivals.
The Williamsburg Fall Arts Festival, as well as nearby Yorktown's Market Days and Fall Festival Celebration, and the Yorktown Wine Festival all happen in October each year, but make sure to confirm the dates before planning your trip.
Click here to check accommodation in Williamsburg!
Lyndsay Crescenti from The Purposely Lost
Ouray, Colorado
The historic mining town of Ouray is one of the best fall vacations in the US.
It has an abundance of hiking opportunities and nearby geothermal activity. Besides, its natural beauty has given it the nickname the 'Switzerland of America'.
The picturesque main street is backed by snow-capped mountains and the San Juan Forest. Spend a morning exploring Ouray's cute shops and getting to know it's friendly locals like we did on our Colorado road trip.
For a bird's eye view of the town, embark on the accessible Perimeter Trail. It is one of the most accessible hiking trails in Ouray.
Box Canyon Park is located just outside of Ouray and boasts an 85-foot waterfall. But for even more options, explore the network of trails and waterfalls at Cascade Falls Park.
The cooler autumn months and temperatures make it an ideal time of year to hike the region.
After long days of hiking, we suggest relaxing at Orvis Hot Springs. This clothing-optional hot spring spa uses all-natural, never treated lithium water.
Another relaxing activity is taking a drive along the Million Dollar Highway. Stretching from Ouray to Silverton, the Million Dollar Highway is one of the most picturesque roads in the nation. Still, as the leaves change, it is truly spectacular!
Click here to check accommodation in Ouray!
Oksana & Max from Drink Tea & Travel
Woodstock, Vermont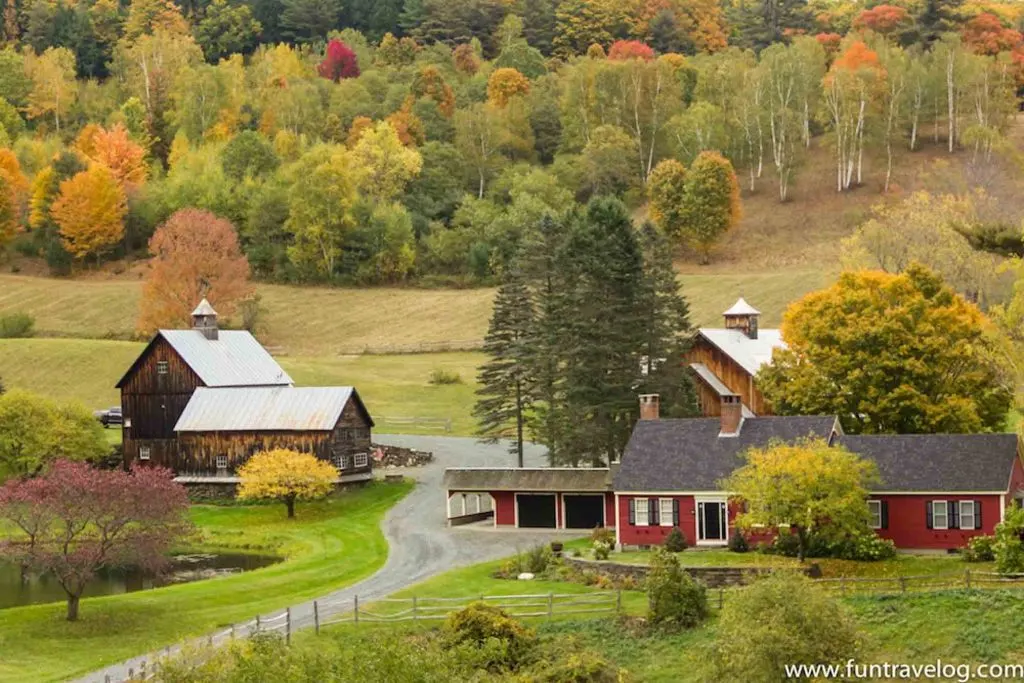 The fall season in Vermont is magical. While all of New England is replete with colors at this time of the year, a few winding foliage drives in Vermont demonstrate the quiet, scenic beauty of the state.
In the center of nature's action is Woodstock, one of America's prettiest villages. One of the most picturesque pit stops in and around Woodstock is Sleepy Hollow Farm.
This non-functioning farm is an example of a quintessentially charming Vermontian setting, that looks even more colorful in the fall and is frequented by many photographers.
Aside from going on foliage drives, there are many attractions in Woodstock, that are popular during the fall season.
These include hiking, visiting a dairy farm and farm to tables, breweries, cheese shops, and making pit stops at covered bridges.
Mount Peg and Mount Tom are two hikes that provide stunning views of the town and the surrounding foliage.
To make up for the calories burnt after hiking, head straight to a local farm to table like Cloudland Farm to replenish yourself with a mini feast.
While you're in the area, don't forget to stop at either Sugarbush Farms or the nearby Quechee Gorge Village for sampling delicious local cheese.
You could even stop by at the Billings Farm & Museum to see local dairy operations in practice. The town center of Woodstock has a few cafes, art galleries, and boutiques too.
Click here to check accommodation in Woodstock!
Supriya Manot from FunTravelog
Columbia River Gorge, Oregon
The Pacific Northwest is known for its natural beauty and varying landscapes. One season that does not disappoint is the fall, and one location that should be added to your 'must-see' list is the Columbia River Gorge.
This 80-mile canyon along the Columbia River (dividing Oregon and Washington) is an outdoor lover's paradise full of incredible viewpoints, hiking, and wine tasting.
When visiting in the fall, you are presented with the unique opportunity to experience Hood River's 'Fruit Loop' during the Fall harvest.
The Fruit Loop is a 35-mile scenic drive that leads you out from the Columbia River into Hood River and back' past local farms, produce stands, wineries, breweries, and more.
Maps are provided both online and anywhere along the loop to make the most of your drive. Apple and pear picking is the ultimate fall activity, and Kiyokawa Orchards is the crown jewel of the area.
A visit during the fall also provides the fun of pumpkin patches and corn mazes, to which Packer Farm has both.
And the perfect way to break up and end your day is by stopping at one of the many wineries or a cider mill–The Gorge White House is full of charm with a variety of unique cider flavors.
Cathedral Ridge Winery has a fantastic view, and in the fall, the colors of the vines into the trees blend into the perfect ombre effect.
Located just over an hour away from Portland, Oregon, the Columbia River Gorge is an easy weekend or day trip, exponentially made even more festive in the fall.
Click here to check accommodation in Columbia River Gorge!
Lindsey Messenger from Seven Day Weekender
Redwood National Park, California
The Redwood National Park in Northern California is one of the most magical outdoor destinations in the USA. They are the ancestral lands of the Yurok, Chilula, and Tolowa tribes.
However, during the fall season, the region really comes alive as the forest of giants shifts colors from green to yellow to orange and reds.
Fall is also the shoulder season when the weather is still warm and pleasant, but the winter rains haven't set in quite yet. Plus, the crowds are considerably less than the busy summer season.
While camping is certainly a favorable option, if you would like more solid lodgings, stay at the historic Hotel Arcata or Requa Inn, all Indigenous-owned.
Of course, one of the best things to do in the Redwood National Park would be to explore the trees.
Some of the best hiking trails are the Boy Scout Tree Trail and the Lady Bird Johnson Grove Trail, both offering incredible views of the towering trees.
However, you can drive through Avenue of the Gods and cruise under the trees from your vehicle for a more accessible experience.
There are a few restaurants around the Redwoods, but a must-stop location is the Mad River Brewery restaurant. It is one of the most popular spots, so be sure to make a reservation!
Kay from The Awkward Traveller
Portland, Oregon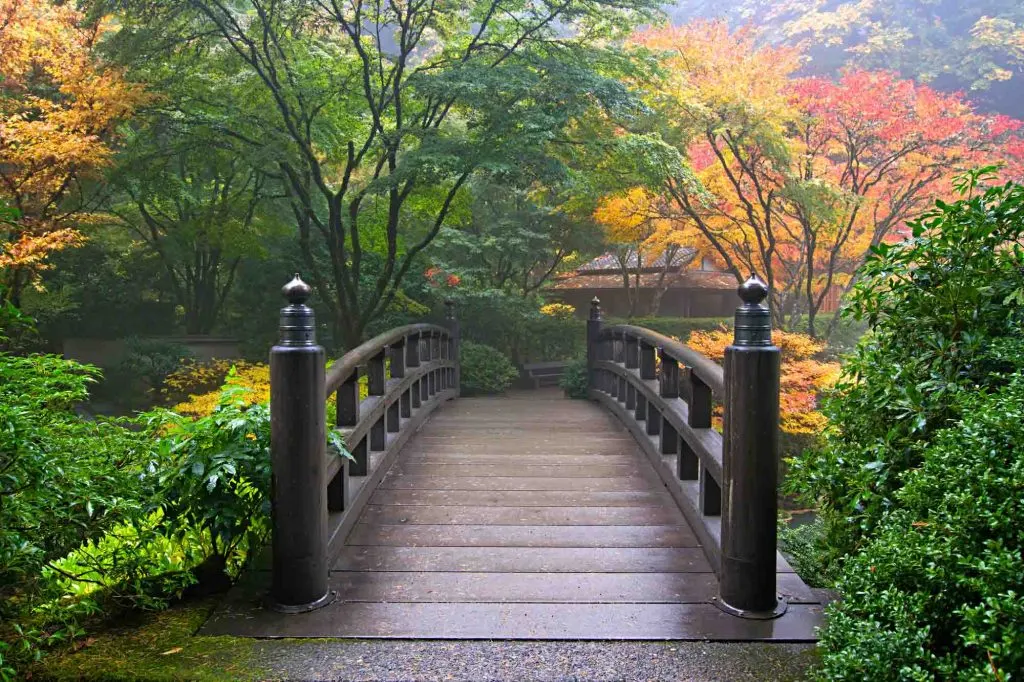 Spend a few days in Portland, OR for a great mini fall getaway. Located in the Pacific Northwest, Portland is a fantastic place to experience the seasons.
You'll get a chance to see the lush green trees turn to oranges and yellows and be captivated by the haunted houses around Halloween, even get go pumpkin picking.
For the best views of the autumn foliage in the city, check out the Portland Aerial Tram.
Also, a local form of transportation up to Oregon Health & Sciences University (OHSU), this tram gives you a quick, 4-minute ride up a hill.
During the fall, you'll be traveling up along with students, patients, and other hospital employees and pass by gorgeous views along the way.
Portland is usually known for its quirkiness, but it's also famous for its uniquely scary haunted houses.
During October, you'll be able to visit The Fear PDX, Dick & Matt's Halloween Horror Nights, and Fearlandia. Note that some of these haunted houses have age restrictions, so be sure to look them up before you go.
Visit Sauvie Island's Pumpkin Patch for u-pick pumpkins beginning in October. They also offer other festive fall activities, including hayrides, hay maze, and a corn maze.
The gift shop is a great place to stock up on autumn decorations and holiday items.
Needless to say, Portland gets into the fall festivities and is great to visit in the autumn for more reasons than one.
Click here to check accommodation in Portland!
Constance from The Adventures of Panda Bear
Santa Fe, New Mexico
Santa Fe is a contemporary and artsy city with architecture that is reminiscent of the past. It's lovely to visit at any time of year, but the fall season is quite unique.
The weather is perfect as it's cool enough that you'll just need a light jacket, but you still have that New Mexico sun shining on you.
If you love the outdoors, you'll want to head to the Santa Fe National Forest. The National Forest is about an hour drive from the downtown area and is perfect for day hiking, camping, star gazing, and more.
During the fall season, the foliage is fantastic! The Aspen trees turn a beautiful golden-yellow color, and the entire forest is a sea of gold and green.
There is also plenty to do indoors! As the weather gets colder, opt to check out one of the many museums or check out Meow Wolf, an interactive art experience.
Feeling hungry? Try hatch chili, it's served as salsa in almost any restaurant in New Mexico. The season typically goes from the beginning of August through September, so you'll get the best of the best in early fall.
For classic New Mexican cuisine, check out Tomasita's. The family-owned restaurant has been serving Santa Fe for over 40 years. Besides, this place is perfect for breakfast, lunch, or dinner.
And if you're thirsty, try one of their Margaritas and enjoy all the things to do in Santa Fe.
Click here to check accommodation in Santa Fe!
Jeanine Romo from Le Wild Explorer
Oregon Scenic Byways, Oregon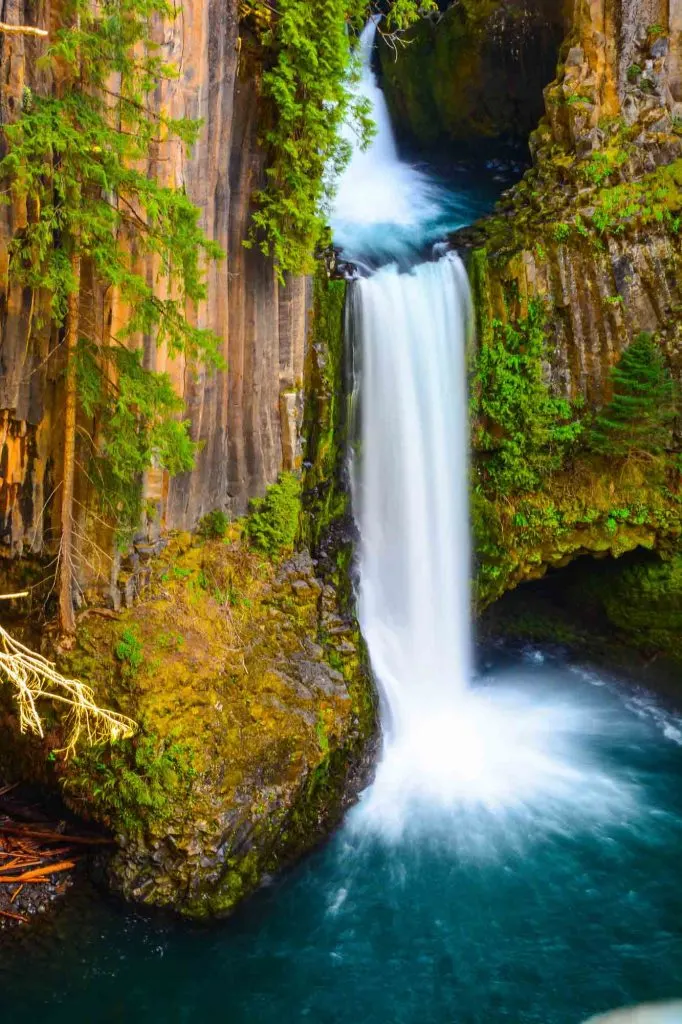 Oregon's scenic byways and it's 30 million acres of forest are the perfect places to spot fall foliage. Many people have seen gorgeous autumn photos of Multnomah Falls on the Historic Columbia River Scenic Byway.
Still, the entire state is filled to the brim with color and fun in September and October. Besides the Columbia River Highway, here are the 3 best Scenic Byways that are 'must-sees' in fall.
The McKenzie Pass-Santiam Pass Scenic Byway is the ultimate autumn drive.
Make sure to hit the McKenzie River National Recreation Trail, where you can hike, bike, boat, and fish surrounded by verdant green forest dotted with red and orange hues offsetting the turquoise water.
You will find tons of red vine maples in the Silver Falls State Park area where you can see multiple waterfalls will fall colors.
Visit nearby Willamette Valley, the wine region of Oregon, for fall harvest festivals, pumpkin patches, and other fall fun.
Cascade Lakes Scenic Byway will wind you through an area of beautiful lakes with mountain views of Mt Bachelor and Mt Hood.
The Deschutes River trail is filled with brilliant red vine maple trees. The heavily forested Rogue-Umpqua Scenic Byway from Gold Hill to Crater Lake and back west through the Umpqua National Forest offers gorgeous foliage.
Don't miss Toketee Falls, the basalt column waterfall where the trail and surrounding area are filled with amber and crimson leaves.
Enjoy fall in crisp and colorful Oregon. It's the perfect USA trip idea.
Click here to check accommodation at Salem, Oregon!
Jenifer Byington from The Evolista
Best Places to Visit in October
Dallas, Texas
It's not a secret that the fall is the best time to visit Dallas, Texas—the temperatures aren't overwhelmingly hot, the tourist traffic has slowed down, and the Texas State Fair is in full swing.
If you're spending one day in Dallas, you will want to enjoy the spirit of the Lone Star state and relish the attractions!
However, if you have at least a whole weekend in Dallas, you will want to hit the Arboretum. There you can savor tasty bites from the veggie garden, celebrate Oktoberfest, and enjoy live performances.
Beyond that, if you're visiting the city with your significant other and are looking for romantic things to do in Dallas–but in autumn style–you might want to munch a generous piece of pumpkin pie together with your partner.
At Emporium Pies, they serve a delicious treat with a gingerbread crust and a pumpkin custard filled with cinnamon cloves. Need we say more?
Oh, and that venue is in the Deep Ellum. You may want to stretch your visit and go on a mural hunt!
If you're looking where to stay in Dallas, know that you are better off booking your accommodation in advance since many people visit the city for Big Tex.
However, for a trip with your significant other, we recommend you stay in a treehouse in the city, which is not only one of the most romantic cabins in Texas but also an incredible Texas treehouse.
Gatlinburg, Tennessee
Gatlinburg is a perfect fall getaway located right next to the Great Smoky Mountain Park. As the leaves change colors, the mountain drives provide amazing vistas of the tree-covered scenery.
At the Gatlinburg, Scenic Overlook, you can see further than almost anywhere else.
Spend some time at Ober Gatlinburg, where you can take a ride on the Gatlinburg Aerial Tramway to get a birds-eye view of the area in a cable car.
You can also check out the Gatlinburg Sky Lift, which takes you to the top of Crockett Mountain for a breathtaking view.
With the summer over, the weather is much better for enjoying the area with less humidity and lower temperatures.
Additionally, you will find the crowds thin out slightly, especially during the week. This makes it a perfect time to check out the more touristy attractions like Dollywood.
Depending on when you go, you might be able to check out some seasonal events like Oktoberfest, Gatlinburg's Taste of Autumn, or Gatlinburg's Chili Cookoff.
You do not need to fill your schedule with activities. Leave some of your time relaxing in your cabin.
The cabins in Gatlinburg are well known for having great amenities like hot tubs and porches with views where you can relax being surrounded by the beautiful colors of fall.
Dan Bagby from Cabin Critic
Yellowstone National Park, Wyoming-Idaho-Montana
For the outdoor enthusiasts, late September, early October is ideal for visiting Yellowstone National Park, a gorgeous area in the northwest corner of Wyoming, United States.
Take the picturesque fall foliage against the backdrop of Mount Washburn or Gallatin Mountain Range. You'll skip the summer crowds and sneak in just before the first snowfall of the fall season.
Head over to Yellowstone National Park while the crowds are meager, and the wildlife is much more abundant. In fact, fall happens to be the mating season for elks and moose.
The mating call of the male elk sounds like a whistling roar and unlike anything you've ever heard. There are also guided tours to witness this phenomenon.
If mating calls don't excite you, see the geothermal features such as hot springs, mud pots, and fumaroles.
While Old Faithful may be the most famous geyser, there are plenty of smaller geysers that are awe-inspiring. Make sure to check out alternative hot springs and geysers such as Pink Cone Geyser and Riverside Geyser.
The Grand Canyon of Yellowstone is spectacular. It provides epic views if you are adventurous enough to hike either South or North Rim trails. Ideally, if you have enough time, you can hike both.
Don't miss out on visiting Artist Point, Point Sublime Hike at South Rim, and Inspiration Point and Lookout Point at North Rim.
If you plan on going in October, some services might be limited. Buy items like drinks and food outside the park since local stores are usually closed. Also, check the dates when the stores in the park are open.
Click here to check accommodation in Yellowstone!
Ivan from Mind TheTravel
Salem, Massachusetts
Salem, Massachusetts, is undoubtedly one of the best fall destinations, particularly for travels in October. Known as one of the spookiest towns in the US, Salem is infamous for its 1690s Witch Trials.
You can learn about this dark part of American history during any visit to Salem, but the fall brings an atmosphere all its own.
Despite its painful past, modern-day Salem has embraced its witchy history. Today, you'll find the town is rife with magic and mystery.
From browsing magic shops in the quaint downtown to joining a practicing witches tour, you can have an enchanting time when you visit Salem.
Visiting Salem in October is the best time of year. There are the usual attractions and sites, but the entire month of October is Halloween-focused, with Haunted Happenings taking place all over town.
There are many spooky and festive events to take part in.
If you're not into the witchy stuff, there are still many reasons to visit Salem in the fall.
For instance, stunning fall foliage, gorgeous cool weather, plenty of maritime and literary-historical sites (including Nathaniel Hawthorne's House of Seven Gables), ghost tours, great restaurants, excellent shopping, and much more.
Click here to check accommodation in Salem!
Amy Hartle from New England With Love
Hudson Valley, New York
There are so many wonderful things to do in New York's Hudson Valley in the fall. First, of course, is leaf-peeping. The valley is ablaze with stunning fall color in mid-late October.
Several top spots to see the stunning fall color are Minnewaska State Park, Mohonk Mountain Preserve, and the rail trails. Get there early, as the parking lots do get full.
An excellent place to stay is Mohonk Mountain House, a Victorian-era hodgepodge fantasy surrounded by spectacular fall color. Fall is also the perfect time to visit a farm.
Plenty of farms are open for apple picking, which is an excellent activity for your family vacation.
For a more adult-focused version, several apple orchards are also home to cider houses, and it's possible to pick apples, then sample cider and enjoy wood-fired pizza in the apple orchard.
Dozens of farm stands sell other seasonal fruit and veggies as well. Several farms also have hayrides for the kids and corn mazes to get lost in.
Pumpkin patches, found throughout the area, are great places to find the perfect pumpkin for Halloween. There is also an incredible Great Jack o' Lantern Blaze in Croton-on-Hudson.
Thousands of pumpkins are carved into Jack o' Lanterns and arranged in mind-bending three-dimensional displays. There is something for everyone in the Hudson Valley in the fall.
James Ian from Travel Collecting
Asheville, North Carolina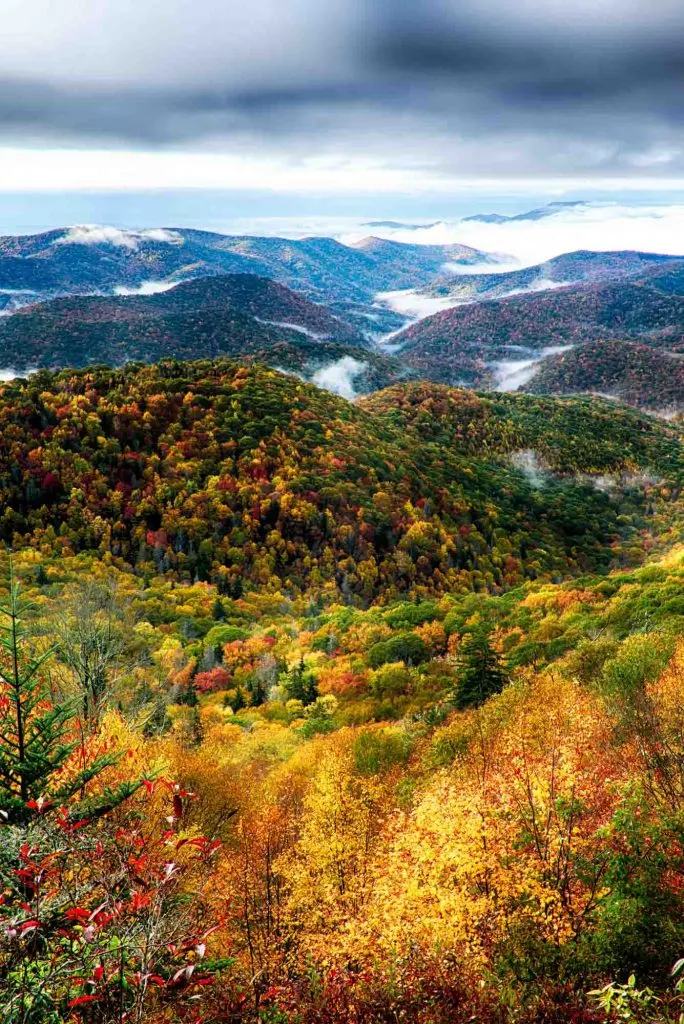 Asheville, North Carolina, is the quintessential southern fall getaway. Renowned for being a top food destination in the US, it's also one of the best places in the US to see the brilliant display of fall colors.
High on the list for visitors looking for what to do in Asheville is to see the fall colors on the Blue Ridge Parkway.
This historic roadway spans 469 miles and features the incredible beauty of the Blue Ridge Mountains and the Smoky Mountains.
You can hop onto the parkway in Asheville and stop for scenic hikes. Park along pullouts for sweeping photo-worthy views, or visit the Great Smoky Mountains National Park for even more vivid fall colors.
Other fun fall activities in Asheville include apple picking at one of the many U-Pick farms.
As one of the biggest producers of apples, western North Carolina becomes an apple lovers paradise in the fall with apple festivals and local farms opening up to the public for a fun fall day of apple picking, pumpkin picking, and corn mazes.
After noshing on apples, you can explore Downtown Asheville and walk the Urban Trail, a 1.7-mile walking trail with 30 landmarks that explain the architecture and history of Downtown Asheville.
You can get a map of the walk at Pack Place on Asheville's Pack Square. No visit to Asheville is complete without dining on some of the local Appalachian inspired southern cuisines.
Standout restaurants include Rhubarb, Jargon, and the original Tupelo Honey.
Click here to check accommodation in Asheville!
Christina from Live A Wilder Life
Albuquerque, New Mexico
Albuquerque, New Mexico, is one of the best places in the US to visit in the fall, especially in October.
Every October, Albuquerque hosts the world-famous Albuquerque International Balloon Fiesta, the largest hot air balloon festival in the world.
People come from all over the globe to see thousands of hot air balloons lift off in flight. These balloons come in wild shapes from penguins to cows to cars.
The sunrise hot air balloon flight and the evening balloon 'glow' can't miss events. The adventurous will even be able to fly in a hot air balloon themselves.
But Albuquerque has more to offer than just the Fiesta. It's the largest city in New Mexico.
It has many wonderful museums like the Indian Pueblo Cultural Center and the Albuquerque Museum, which is dedicated to the history of the town.
These museums host fascinating exhibits on local artists, the history of New Mexico's 19 pueblos, and the Spanish Duke of Albuquerque, for whom the city was named.
Finally, take a tour of filming locations in the town for the TV shows Breaking Bad and Better Call Saul. If you're lucky, you might even see one of the stars around Albuquerque.
Click here to check accommodation in Albuquerque!
Stella Jane from Around the World in 24 Hours
Texas Hill Country
Most of the US is preparing for chilly weather, but not here in Texas. Oh, no. The weather is just cooling off to a comfortable temperature, making it perfect to visit some lovely places in the Texas Hill Country on a fall vacation in the USA!
Of course, you have many more options, but you could start off your fall in Texas getaway by visiting San Antonio, the Alamo City.
From there, head up to Austin, the Live Music Capital of the World. Still, the places you'll visit along the way are what make this fall vacation epic.
The trip to Austin is filled with a bunch of small towns, lush landscapes, enjoyable wineries, and many natural sights.
Stop by charming Fredericksburg for German food (yes, it's a lovely German town in Texas), enjoyable Wimberley for shopping, and New Braunfels and Jacob's Well, for a swim. Places like Canyon Lake and San Marcos are definitely worth the time as well!
If you want to experience fall in Texas, there's no better place than the Texas Hill Country.
Click here to find accommodation in the region or splurge on one of the loveliest luxury cabins in Texas!
Oklahoma City, Oklahoma
Oklahoma City is a great place to visit in the autumn since you can enjoy both NBA basketball and collegiate football.
There are gorgeous scenic drives to take nearby that have stunning fall foliage, and the city always has delicious food and drink options.
Basketball season traditionally opens in late October, so get tickets and come to enjoy an Oklahoma City Thunder game. After the game, walk over to Bricktown, a great neighborhood to enjoy a night out on the town.
If you prefer football to basketball, you can drive to Norman, a suburb of OKC, to watch a University of Oklahoma Sooner's football game.
Year after year, OU is ranked as one of the best football teams in the country. Nothing says fall in the US quite like a great college football game.
Authentic Oklahoma cuisine is excellent to eat in the autumn season since it's heavier. A chicken fried steak with mashed potatoes and a slice of pecan pie are just three of the twelve dishes on the official Oklahoma State Meal.
While you probably can't eat the entire state meal, it is an excellent feat to attempt!
For autumn colors, take a day trip to Talimena Scenic Drive. The foliage here in autumn is stunning, and its a great way to get out and see a bit of the countryside.
Click here to check accommodation in Oklahoma!
Stephanie Craig from Oklahoma Wonders
Yosemite, California
In Yosemite in Fall, you'll find crisp weather, glorious autumnal colors, and be able to see more of the park with significantly fewer visitors.
That makes it a great time to visit. Yosemite National Park remains open for all of October and some parts throughout November, too. Although there are early snows, some areas, like the Tioga road, will close early.
Yosemite tends to have evergreen trees, but you can still see some stunning maples, black oaks, and Pacific dogwoods, which give a tremendous autumnal display.
Average temperatures here are in the mid-50s, so it's an excellent time for hiking, although it could be cooler overnight.
After the dry months of summer, when Yosemite's waterfalls aren't spectacular, you'll start to see some more water in the park, and it makes for a fabulous show.
The Ahwahnee Hotel is quite simply THE place to stay in Yosemite. It's the park's only luxury hotel and is absolutely stunning.
For a more budget-friendly option, head to Curry Village, a great location with comfortable canvas-sided tent cabins and shared bathroom facilities.
There are catering facilities at each of Yosemite's accommodation areas, plus small grocery stores too.
Options range from camp-style kitchens, food pavilions to fine dining, for a treat take Sunday brunch at the Ahwahnee dining room.
Whatever time of year you visit Yosemite, it's a stunning landscape that you will never forget.
Sarah Carter from ASocialNomad
Colorado Springs, Colorado
If you are looking for a place with unmatched beauty and adventure Colorado Spring is the perfect travel destination.
It offers beautiful scenic drives and is home to one of the most beautiful natural creations in the country.
Still, Garden of the Gods is the crowning jewel of Colorado Springs. It is a destination for families and experienced mountain climbers alike. The hikes are not too tricky.
The red rock formations offer a challenge for any professional climber. After spending some time at the park, you can head to Pikes Peak to marvel at the mountains' views.
The perfect places to fill up and get a stomach full of hearty food are the Denver Biscuit Company, El Poblano Mobile, and the Korean Garden.
The portions are enormous and so good, you won't regret any of these choices for lunch or dinner.
If you really want to see something unusual, take a day trip to the Royal Gorge Bridge and walk across one of the longest suspended bridges.
After walking the bridge, you can view the gorge from the trolley car that takes you across back to the other side. Your final adventure is a trail ride through the Rockies next to the Arkansas River.
No matter what you are interested in Colorado Springs has something to offer everyone, especially in the fall. You will see the parks come to life with color, leaving you wanting to come back year after year.
Click here to check accommodation in Colorado Springs!
Corritta from It's a Family Thing
Catskill Mountains, New York
The Catskill Mountains is a beautiful region in upstate New York covered with forests and rivers and is a great place to unwind from the hectic city life.
This incredible fall destination is a must to view the colors of foliage. Being just 2 hours north of New York City, it makes for an easy day or weekend trip.
There are many ways to experience this fantastic event of nature.
For instance, plan to hike some trails and mountains across the Catskills or go on a scenic drive through the small towns and villages with the colorful landscape.
The breathtaking drive from New York through the Catskills makes it one of the best road trips in USA.
There are many adventure activities, including mountain biking or zipline at Hunter Mountain.
A must-try is the train ride on the heritage Catskill Mountain railroad scenic route.
The train ride begins from Westbrook Station at Kingston Plaza, and it traverses through the mountains and rivers on a 1 hour 15 minutes journey giving breathtaking views of the fall foliage.
The Fall Foliage Rides happens from September to October on the weekends and holidays. The tickets are $15 for adults and $9 for children aged 2-12 years.
Besides, there is an open car on the train as well that it is fun to enjoy the vistas.
The best time to visit Catskills is September end to October, with peak foliage around mid-October.
Click here to find accommodation in the Catskill Region!
Neha Kulshrestha from Travelmelodies
Boston, Massachusetts
As one of New England's biggest cities, Boston is one of the best fall vacations in the US.
Located in Massachusetts, a visit to Boston on the weekend is ideal for its New England charm combined with a busy coastal city.
The best season to visit Boston is during fall – the humid summer season, filled with graduations ends, and the cooler fall weather makes for a quieter time.
This is when Boston's leaves turn to a golden-red color, and you don't even have to travel far to see them!
Boston is home to incredible park areas, which are even more special during fall for their foliage. Some of the best areas include the Boston Public Gardens and Boston Common.
Travelers should also go for a stroll through Beacon Hill, a historic neighborhood, filled with cobblestone streets, beautiful brickwork, and beautiful fall foliage.
Lesser known amongst tourists is the Charles River Esplanade. Also, a stroll along gives you views of the quiet Charles river and fall foliage.
By the way, that's a very romantic thing to do in Boston!
If you're feeling a tad hungry after all, your walking and leaf-peeping make sure you stop by Tatte Bakery, a well-known Boston cafe chain.
For those after something more filling, visit The Friendly Toast (locations in Back Bay and Cambridge) instead for some delicious diner breakfast or burgers.
Click here to find accommodation in Boston!
Mae-Gene from The Wandering Suitcase
Best Places to Visit in November
Here are some of the best places to visit in November in the USA!
Aspen, Colorado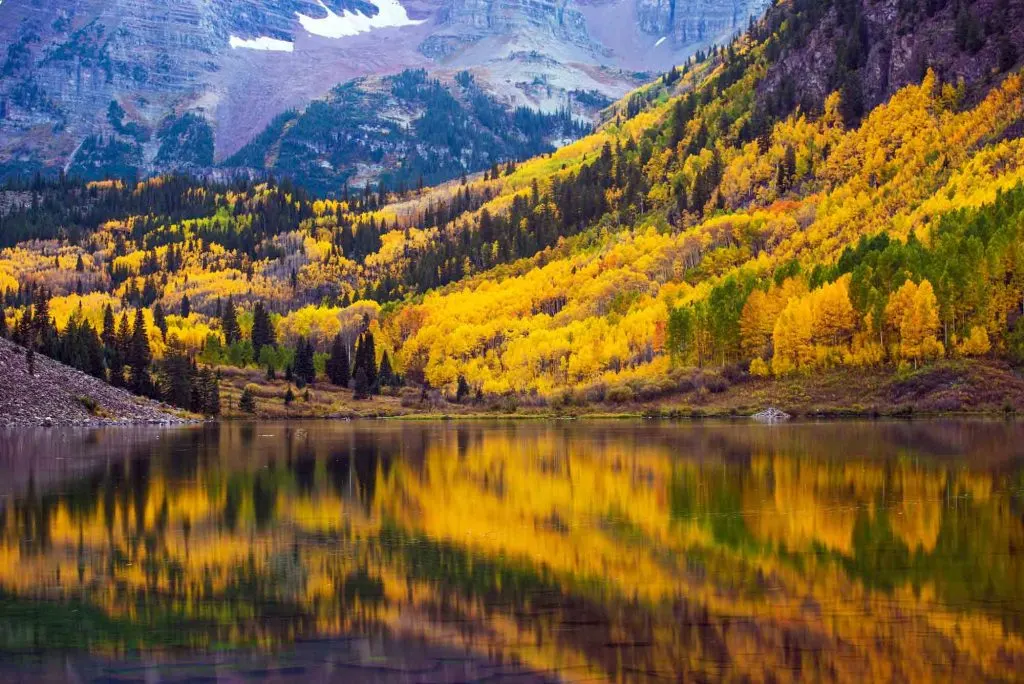 Aspen is one of the best places to visit for fall foliage in Colorado—and in the entire United States, for that matter.
Located in the heart of the Rocky Mountains, Aspen transforms into an incredible palette of colors. Its iconic aspen trees complete the picture with their golden color.
Besides being a haven for outdoor enthusiasts, this mountain town also has plenty of scenic vistas where you can see incredible fall colors.
The most scenic route that leads to Aspen is Independence Pass, the highest pass in continental North America that sits above 12,000 feet.
While you will see some of the best fall foliage on this route, this is far from the only place where you can see the stunning fall colors.
During fall many people flock to Maroon Bells, a pair of jagged mountains in the Maroon Bells-Snowmass Wilderness.
These iconic peaks are among the most photographed mountains in North America, and fall is the best time to see them in full glory. And the good news is that you can even take a shuttle bus from Aspen to Maroon Bells.
Another great way to enjoy the area's fall foliage is to take the Silver Queen Gondola to Aspen Mountain.
When you get to the tops, you will be treated to sweeping views of the surrounding mountains and the vibrant fall colors.
Aspen is also a good day trip from Denver since it's only 160 miles away. If you want to read more about the best things to do in Denver, read this guide.
Click here to find accommodation in Aspen!
Daria from The Discovery Nut
Death Valley National Park, California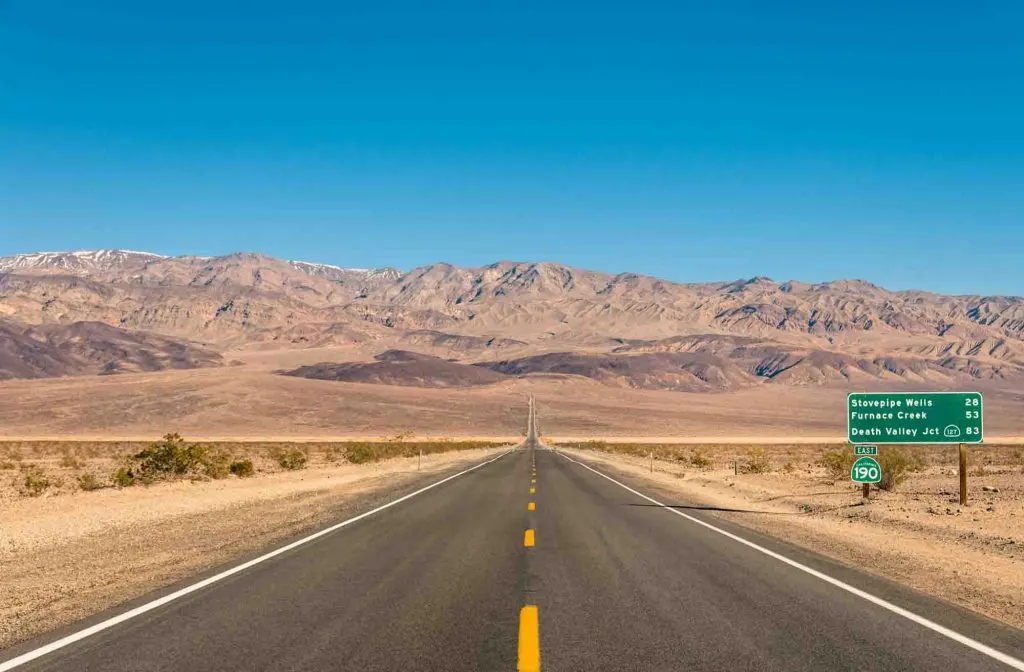 As the largest national park in the contiguous United States, Death Valley National Park is exceptional in California.
Besides the sheer size of the park, Death Valley is also home to the lowest elevation point in the entire US at Badwater Basin, as well as home to sand dunes, badlands, desert landscapes, and mountainous terrain.
Much of the park lies in the Mojave Desert, which is also home to the neighboring Joshua Tree National Park, roughly four hours south.
Because Death Valley is mostly within the Mojave Desert, it is tough to visit during summer, with temperatures often above 120 degrees Fahrenheit.
Best to visit in the fall when cooler temperatures roll in, and hiking is more possible around the park. Hiking in Death Valley can be as easy or difficult as you like, with trails ranging across all levels.
It begins with short half-mile hikes up to challenging 14-mile treks. Be sure to bring plenty of water, no matter the season.
If hiking is not for you, there is plenty to see throughout the park while driving around and stopping at viewpoints. The range of landscapes is unbelievable.
Both camping and resort-style lodging are available inside the park.
Monica from This Rare Earth
Livermore, California
If you are a wine lover, Livermore California is one of the best fall vacations in the US.
Livermore is not as well known as some other California wine regions like Napa and Sonoma despite being one of the oldest wine regions in the USA and having multi-award-winning wineries.
Fall is a beautiful time of year to visit this hidden gem wine region. Firstly the weather is perfect for wine tasting.
The sun tends to shine during the day allowing visitors to cycle in between their Livermore wine tastings or sit outside to enjoy their wine.
This pleasant climate is perfect for enjoying outdoor activities without getting too warm. Secondly, everything is still open in Livermore, but there aren't as many visitors.
This means there are no crowds and few queues. Best of all, winemakers and their staff have time to chat.
One of the most enjoyable elements of tasting wine is learning more about it, such as the stories behind the development of the wine.
Finally, the fall colors of Livermore are just stunning. The leaves across the vineyards are changing colors from soft yellows to deep reds.
The light in Livermore softens with the slightly cooler weather basking everything in a gentle yellow glow.
Sitting outside gazing at the golden Livermore vineyards while sipping a California Chardonnay in the quiet is a little piece of heaven that is best achieved in the fall months of the year.
Click here to check accommodation in Livermore!
Amanda O'Brien from The Boutique Adventurer
Mammoth Lakes, California
The Eastern Sierra of California is a hidden gem for fall vacationers, and Mammoth Lakes is its crown jewel.
Most people visit Mammoth during the winter for snow sports or in the summer for hiking and mountain biking. Still, the fall months are an equally incredible time to visit.
The surrounding lakes and alpine meadows transform into brilliant landscapes as the aspen leaves change from green to gold, and the high peaks get their first dusting of snow.
For outdoor enthusiasts, choose from one of Mammoth's many day hikes. Duck Pass Trail to Duck Lake is a local favorite or head up to Mosquito Flats for one of the most scenic hikes in the Eastern Sierra along Little Lakes Valley Trail to Gem Lakes.
A drive (or bike ride!) along Minaret Road to Minaret Lookout is also a great way to experience the fall foliage. Continue on the same road to visit the geologically fascinating Devil's Postpile National Monument and cascading Rainbow Falls.
For budding or advanced photographers, Mammoth Lakes is a fantastic place to capture images any time of year but visit in the fall to attend the annual Mammoth Photo Festival.
Learn from pros how to capture starry skies, what it takes to be an adventure photographer, and how to create a story through images.
Mammoth Lakes is a year-round destination, but the fall months showcase it at its best. Whether you head out for a hike, take a scenic drive to view the fall colors, or attend a fall festival, Mammoth Lakes will not disappoint.
Click here to check accommodation near the Mammoth Lakes!
Becky Timbers from Two Wheeled Wanderer
Charleston, South Carolina, Is One of the Best Fall Vacations in the US
Charleston is one of the most charming cities for a fall vacation in the US. The weather is mild, with the slightest chill in the air, and the days are shorter.
Just the perfect conditions for romantic walks along the gaslight paths and alleyways that Charleston is known for. Adding to this cozy atmosphere is the smoke you'll smell coming out surrounding chimneys.
While fall weather in Charleston is typically in the low 70's and high 60's ℉, Charlestonian's find this a bit chilly and tend to bundle up at night.
This cool-weather may not be great for the beach, but it is very comfortable for walking tours. Fun options include tours of historic Charleston and pub crawls.
Charleston is rumored to be a very haunted city for those craving a spook, so you could even do a haunted pub tour or explore the Old City Jail after dark. Finally, with summer behind you, fall brings the eating season back again.
This is perfect; as Charleston has an excellent restaurant scene, it would be a shame to miss out. High-end favorites include Husk and Fig, as well as traditional brunch staples like Magnolia's or Poogan's Porch.
No matter what you do, do not leave Charleston without eating biscuits and pimento, either together or separately.
Click here to find accommodation in Charleston!
Theresa J McKinney from Fueled By Wanderlust
San Diego, California
Fall is a wonderful time to visit or at least spend one day in San Diego. The summer crowds have disappeared, but the weather is still delightful, with an average high in the low to mid-70s.
If you are lucky, you might even get a few days in the mid-80s, which would be perfect for a day on the beach.
In the fall, San Diego is cooler, quieter, and all-around a little more peaceful with school back in session and people getting ready for Halloween or Thanksgiving.
On top of it being nice brisk but sunny weather, you can get great deals on travel expenses such as hotels and flights. There are also quite a few fun events in San Diego during the fall that are worth checking out.
Mexican Independence Day in Old Town: Celebrate this Mexican Holiday at some of the best Mexican Restaurants in San Diego. Besides, history buffs will love to explore this area.

San Diego Beer Festival: As one of the Craft Beer capitals of the US, this is the perfect festival to try as many brews as possible.
Halloween Events in San Diego There are plenty of things to do on Halloween in San Diego, from parties to haunted houses and more.
The Coronado Film Festival takes place each November and is perfect for Classic Movie lovers.
Click here to check accommodation in San Diego!
Maria Haase from San Diego Explorer
Wrapping Up on the Best Places to Visit in Fall in the USA
It's not a secret that America has some of the most magical and inspiring fall destinations.
So plan your fall vacation or at least a weekend getaway in one of these spots, and enjoy the mesmerizing features of the season!
Now, tell us what's your favorite fall vacation spot?
Since we couldn't decide on only one place we divided them by month:
Do you agree with us? Let us know in the comments. We would love to hear from you!
Did you like this article about the best fall vacations in the US? Then save it to your Pinterest travel board!