One day in San Diego is not nearly enough time to experience everything the destination has to offer. But we'll help you make the most of your trip, even if it is short.
San Diego is one of the best places to travel to in the USA and it receives more than 35 million people each year.
When visiting San Diego, it can be hard to narrow down just where to visit the beaches, museums, historical sites, and foodie locations.
There is so much more to do than you could fit in a day. But we will do our best to give you a taste of all San Diego has to offer.
Whether you want to enjoy a day trip in San Diego or want ideas for a possible romantic getaway in the United States, let this itinerary inspire you as you plan your one day in San Diego.
Still, don't be afraid to change your plans and stop by anything that catches your interest.
After your day in San Diego, you'll feel like you have seen so much but you will have barely scratched the surface of this beautiful destination. Literally, one of the prettiest places to visit in California.
Best Time to Visit San Diego
With warm weather that averages 60 to 70 degrees year-round, there really is no bad time to visit San Diego. There are a few things to consider before booking your trip, though.
San Diego is a busy summer destination in the US because that's when school is out. During the summer expect to pay more and experience larger crowds.
July and August are the best time to visit San Diego if spending time at the beach and playing in the water is something you really want to do.
The Spring (March-May) and Fall (September – November) are some of the best times to visit San Diego. During spring break and fall, you can typically find great travel deals and experience smaller tourist crowds.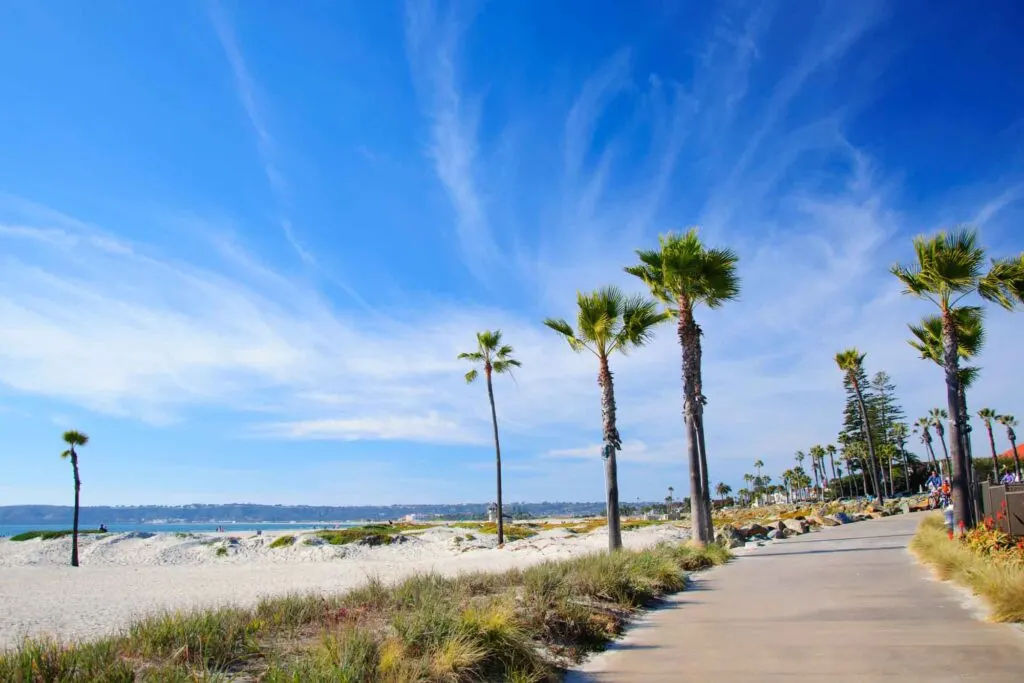 The weather is still great during these times, and on a warm sunny day, you might even enjoy time at the beach.
The winter (December – February) is the coolest time of year to visit San Diego with temperatures typically in the 60s. During the winter even though it stays relatively warm rain showers are common.
Although the city is not one of the best winter destinations in the USA, during this time, you can find great deals on travel, but keep in mind that many attractions will have shortened hours during the winter.
One Day in San Diego Itinerary
Just like anywhere else you travel San Diego is a continually growing and changing city. Still, we decided to share our best tips on where to stay, where to eat, and what to see in San Diego in a day.
While San Diego attractions aren't necessarily close to each other, you can use Uber or a rental car and the addresses for everything found below for your self-guided tour of San Diego.
Where to Stay in San Diego for a Day
When figuring out where to stay in San Diego you have a few options. Each area in San Diego is going to give you a different experience.
La Jolla, Mission Bay, or the Gaslamp Quarter are the main areas you should consider staying in, especially if you're only spending one day in San Diego.
Staying in La Jolla you should plan on paying more for the upscale area. With luxury hotels and high-end restaurants, this area is right on the beach. When staying in La Jolla, there are several hotel and home rental options.
La Jolla Cove Suites – Perfect for couples and families because of spacious room options and the location just steps away from La Jolla Cove and the sea lions.
Mission Bay is right on the bay and just a short distance from Mission Beach. It's a great central location to Old Town San Diego, Balboa Park, and the beach.
Click here to check availability
Hyatt Regency Mission Bay Spa and Marina – Located on Mission Bay, this resort is perfect for couples and families and is located only 5.3 miles from the San Diego International Airport.
The Gaslamp Quarter sits on the San Diego bay and is located near Balboa Park, the zoo, and has a big nightlife scene.
Click here to check availability
The Westgate Hotel – This luxurious hotel is perfect for couples. With amazing views of downtown San Diego and a central location, it's a nice place to stay if you want to be in the Gaslamp Quarter area of San Diego.
Click here to check availability
San Diego in 1 Day
Breakfast at Café 222
The first stop on our day in San Diego is to get breakfast at Café 222, one of the best breakfast spots in San Diego.
Along with the standard breakfast fare you will find delicious alternatives to try like the peanut butter and banana stuffed French toast. Bobby Flay featured this French toast on "the best things I ever ate".
The menu item that really steals the show is the pumpkin waffles, featured in Gourmet Magazine these waffles taste just like a pumpkin pie. The blueberry cornbread waffles are also a great breakfast choice.
After breakfast, grab an uber for a short ride to the USS Midway Museum located at the Navy Pier.
USS Midway Museum
Take a self-guided auto tour aboard the USS Midway, an aircraft-carrier museum at the Navy Pier. The ship has an impressive collection of military planes, plus exhibits that show what life at sea is like for American Sailors.
Many of the volunteers at the USS Midway are veterans so take some time and ask them some questions.
They have fascinating stories to share and many have first-hand experience with what it's like to live on an aircraft carrier.
After learning all about life at sea it's time to head to the beach at La Jolla.
You'll want to buy a skip-the-line ticket to get the most out of your day!
La Jolla
La Jolla not only has some of the most beautiful but also the loveliest family beaches in San Diego.
Beyond that, there are also a couple of places you can watch seals basking in the sun.
Start your time in La Jolla by finding the seals and sea lions at La Jolla Cove. As long as the weather is good you should be able to see some seals and sea lions.
Often, they are just basking in the sun, but you might see a few swimming around and making noise. If you're lucky, you might even get to see a live birth. Your best chance of seeing the birth of a seal pup is in February.
You can also see the best of La Jolla and San Diego in a guided tour, including Mount Soledad, from where you have a bird's-eye view of the city.
After getting your fill of watching the sea lions, you have two choices, head down to the sand and enjoy a nice relaxing walk along the beach or do some shopping.
Shopping in this area, you will find a mix of unique boutique shops, mall stores, and high-end shops. It's a fun place to window shop with its cute storefronts and beachy sidewalks.
After working up an appetite either on the beach or in the shops, it's time to get some lunch.
Lunch at Urban Plates
Enjoy a farm-to-table lunch at Urban Plates, where the menu includes several salads and sandwich options as well as several plated meals, soups, and more.
Everything is made from scratch using clean, wholesome ingredients.
For lunch, you can't go wrong with a grilled steak salad with pineapple-mango salsa or a cage-free chicken club with all the toppings. For one of your sides, be sure to try the roasted brussels sprouts.
No matter what you decide to eat for lunch be sure to save room for dessert. The Mango Tart is worth coming to this restaurant all on its own.
The perfectly crisp tart shell with a thin layer of airy cream all topped with ripe mangoes is not to be missed.
After a delicious slice of Mango Tart, take an uber to Balboa Park for an afternoon exploring the museums and gardens.
Don't miss out: San Diego Harbor Cruise
Balboa Park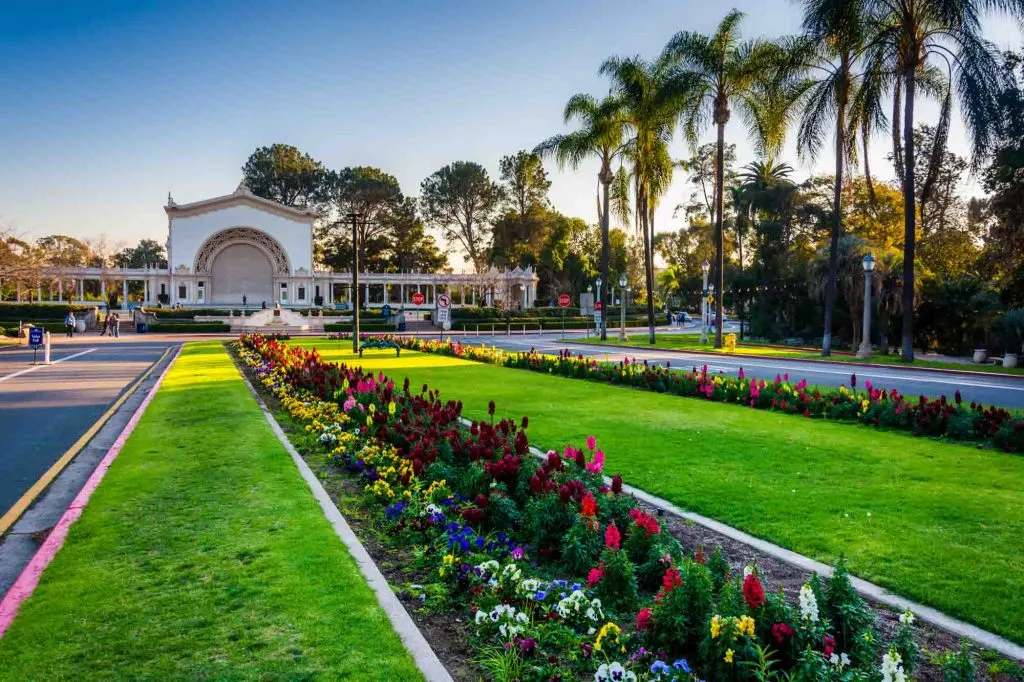 Balboa Park is a walkable collection of 15 museums, gardens, theaters, and cafés you can't possibly do it all in one day. The San Diego Zoo is also located in Balboa Park but that takes a day all on its own!
Pssst: Buy skip-the-line tickets for the zoo and save precious time!
For this part of your day exploring San Diego, you get to choose your next stop depending on your interests.
Some of the museums you might want to visit during this time are the San Diego History Center, the San Diego Museum of Art, the Botanical Building, and the Museum of Man.
San Diego History Center
The San Diego History Center has engaging, family-friendly exhibits that tell the story of the San Diego region past, present, and future.
Visit if you enjoy: History and Location-specific information
Price: Donation- based admission. Suggested donation is $5.
Address: 1649 El Prado, Suite #3 San Diego, CA 92101
San Diego Museum of Art
At the San Diego Museum of Art, enjoy artwork from all periods and all around the globe. Collections on display change frequently, so there is always something new to see.
Visit if you enjoy: Art
Price: Adults $15, Seniors 65+ $10, Youth 17 and under Free
Address: 1450 El Prado, Balboa Park, San Diego, CA
Botanical Building
The Botanical Building with the Lily Pond and Lagoon is one of the most photographed places in Balboa Park. The Botanical Building is one of the largest lath structures in the world.
Visit if you enjoy: Plants or Architecture
Price: Free
Address: Next to the Museum of Art in the heart of Balboa Park on El Prado
Museum of Us
The Museum of Us was formerly known as the Museum of Man. The museum is a cultural anthropology museum that explores the human experience from a multicultural perspective.
Visit if you enjoy: Human history and culture
Price: General Admission $13, Students, Seniors, and Youth $10, Children and under 5 Free
Address: 1350 El Prado, Balboa Park, San Diego
Pro tip: Inside the Museum of Man climb 125 stairs into the 200-foot-tall California Tower. The top deck gives you a fantastic view that extends clear into Mexico.
If one of the museums mentioned didn't catch your interest, don't worry like I said there are 15 museums plus the gardens, so you can easily decide what museum to visit once you are at Balboa Park.
Dinner at Old Town Mexican Café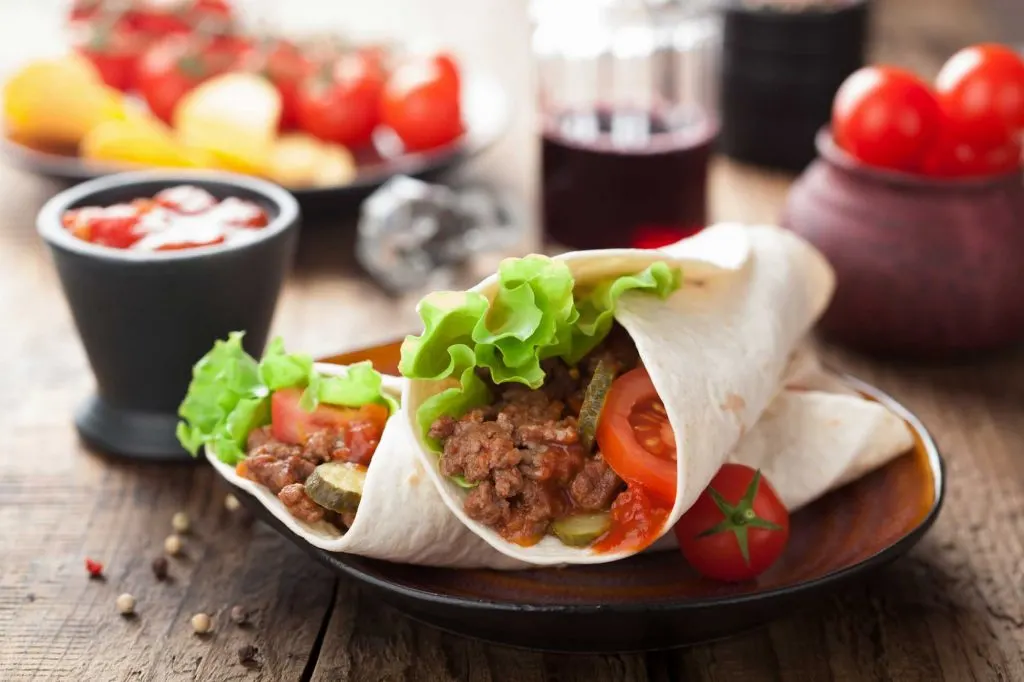 Enjoy an early dinner of authentic Mexican food at the Old Town Mexican Café.
The Old Town Mexican café has been a staple in San Diego for more than 40 years with handmade tortillas and authentic Mexican food–it's sure to be a hit.
Start your meal off with guacamole dip, chips, and drinks. Then good luck deciding on your main course.
The most popular dishes are the Molcajete, Old town Famous Carnitas, ½ rotisserie chicken, Pozole, and Carne Asada Dinner.
Take your time over dinner and enjoy the atmosphere along with some great food.
Explore Old Town San Diego
After dinner, head out to explore some of Old Town San Diego. There are countless things to do in Old Town San Diego.
Still, since time is short, let's keep it simple with some window shopping while enjoying the old town atmosphere, and a couple can't miss spots.
La Dulceria Mexican Candy
Make a stop at La Dulceria Mexican Candy for some Mexican candy to share or take home as a souvenir.
La Casa De Estudillo Museum
The La Casa De Estudillo Museum building was built in 1827 and belonged to the wealthy Estudillo family. The home is now a museum with replica furnishings and décor from over a century ago.
The house is free to tour and a great way to learn a little more about San Diego's history.
Dessert at The Baked Bear
Finish your day with dessert at The Baked Bear where you can create your own custom ice cream sandwich.
Step One is to pick your cookie or brownie. You can pick the same for top and bottom or mix and match. Next, choose your ice cream and finally choose your toppings. You can even get your sandwich warmed up!
Summary of One Day in San Diego Itinerary
You may also want to enjoy a hop-on hop-off trolley around the city! The whole ride takes about 2 hours, and you can hop off at any of the 12 stops to enjoy only the attractions that pique your interest!
Wrapping up a Day in San Diego
One day in San Diego is not close to enough time to enjoy all that San Diego has to offer. But in a day you can enjoy a little taste of the city and hopefully come back to enjoy the rest.
To see San Diego in a day, you often have to rush and spend less time than you would like in a place but getting a taste of this beach town will make you excited for your next trip.
About Adree
Adree is a stay at home mom who loves to travel. While travel looks different for her with young kids than it used to, she doesn't let that stop her from exploring.
She writes about family travel on her family lifestyle blog The Keele Deal.
Follow her on Facebook, Instagram, and Pinterest.
Latest posts by Olivia Perez
(see all)