There are many romantic things to do in Austin, but we will highlight the top 9 activities to do with your significant other in this post. Check it out!
From taste-testing at local wineries to going kayaking and wandering around farmer's markets, Austin, Texas, is a haven for couples and an incredible USA bucket list.
There are so many romantic things to do in Austin that it makes for a fantastic couple's getaway in the US or even a honeymoon destination if you're into boutique shops, a friendly atmosphere, and the great outdoors.
As Texas's capital city, Austin has both history and entertainment and is considered the cultural hub of the region.
Romantic Things to Do in Austin
Known for its live entertainment and gorgeous hills, it's as pretty as it is fun! Options include everything from active days out on the water or cozy afternoons spent wine tasting or trying local Austin flavors.
Whether your perfect couple's weekend in Austin has you dining at upscale restaurants or embracing the grunge music scene, this guide to the romantic things to do in Austin will help you navigate the city and find all of the hidden gems and romantic hotspots to make wonderful memories with your significant other. It'll be a memorable romantic getaway!
Looking for accommodation in Austin? Then you will want to check out this complete guide to where to stay in Austin! It covers hotels, Vrbos, and more!!
Romantic Things to Do in Austin, Texas
To help you plan the best romantic itinerary in Austin, we've put together a list of ultra-romantic and down-to-earth activities that can't be missed.
Whether you're on a road trip around Texas or live in/near the city, you will love these excellent Austin date ideas. Enjoy!
1. Barton Creek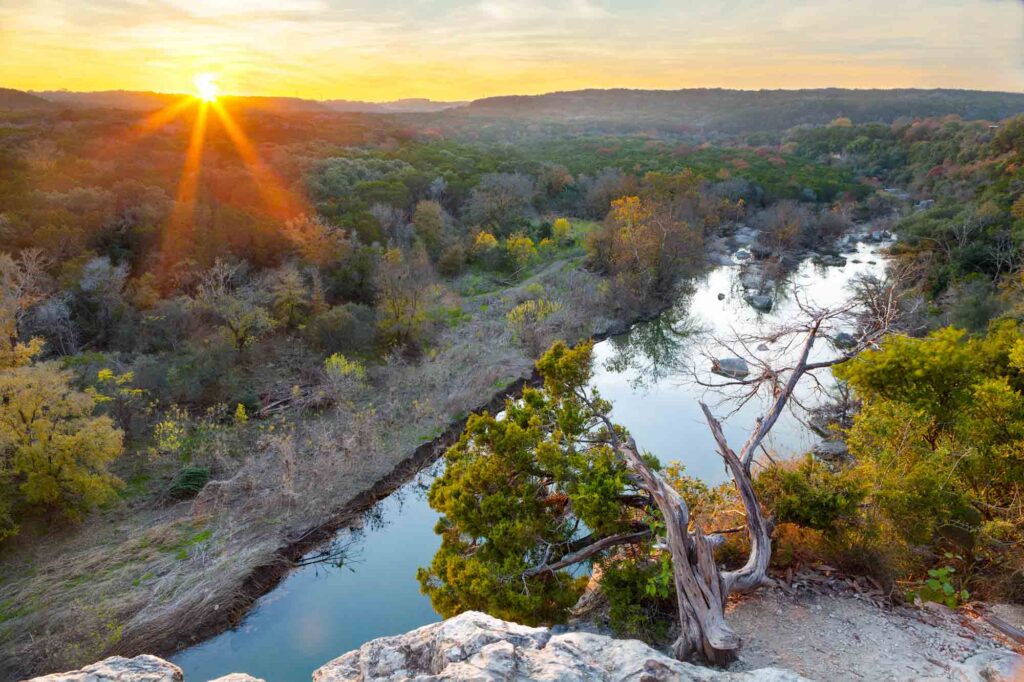 If you're an outdoorsy couple, you'll fall in love with the scenery of Barton Creek, where you can kayak, canoe, or even paddleboard your way down this tributary.
Barton Creek feeds the Colorado River and flows through some of the more scenic areas in Austin.
The land surrounding it is most protected, which means you'll get to see untouched plants and flowers and really get a healthy dose of fresh air as you take part in your choice of activities.
If you prefer to stay on land, enjoy the hiking trails at Barton Creek Greenbelt, or do some bird watching in the area.
The Barton Creek Greenbelt is over 7 miles of public land open for exploring, and there are also opportunities for some rock climbing if you want to get even more adventurous.
It does dry up later in the summer from the heat, so visit earlier in the summer if you want to take advantage of water activities or just enjoy all of the gorgeous Cyprus trees.
You can also take a romantic bike ride through the bike trails that are easy enough for beginners but have rocks and other obstacles to make it a little more interesting.
Read next: Romantic cabins in Texas
2. Umlauf Sculpture Garden & Museum
This gorgeous outdoor sculpture garden and museum was based around the works of Charles Umlauf, an American sculptor.
It's right next to Zilker Park, and it is one of the most romantic things to do in Austin if you want to walk through the grounds and enjoy the art and good weather.
Umlauf was a prolific American sculptor who taught at the University of Texas Art Department. He has more of his sculptures on display in public in Texas than any other sculptor.
The gardens are a charming, quiet location for long walks on the walking trails, and benches are strategically placed around the gardens to give you space to take breaks on your walks.
There's also a gift shop if you want some memorabilia from your trip, and there is also literature available to tell you about each piece of art as you go around.
It takes less than an hour to take a wander through the gardens, making it a really nice way to fit this activity into your morning or afternoon in Austin and still being able to do other things.
On a sunny day, there's no better place for art lovers than the Umlauf Sculpture Gardens!
Read next: 33 Best Things to Do in Texas
3. Covert Park at Mount Bonnell
Known as the highest point in Austin, Mount Bonnell towers over 700 feet above Austin and is a great place to take a picnic and get some fantastic views.
It's a short hike up to the top and takes about 30 minutes.
The peak was named after George Bonnell, who served as Commissioner of Indian Affairs for the Texas Republic.
From the top, you'll be able to look at beautiful scenes of downtown Austin, as well as the 360 Bridge.
Plenty of couple's photos are taken here every day, as Austin has over 300 sunny days per year – perfect for a great snap of a beautiful view!
There are 102 stairs to the top, as well as a viewing deck and pavilion so you can take a rest before you make your way back down.
Free parking is available, making this a fun cheap date idea in Austin, and dogs are allowed on leashes, so if you have a furry friend, let them join in on the fun!
While it is a hike, it is not too strenuous and is more of a fun interlude to your day rather than a hike you'll spend all day on while wondering where the end is.
Don't forget to pack sunscreen and water bottles in addition to your picnic, as there's nothing less romantic than being dehydrated and sunburnt when you're trying to stare longingly into each other's eyes!
4. Take a Day Trip from Austin
If you're in Austin for a longer period, why not consider a day trip from Austin?
Waco is only about an hour and a half away, and this is a fantastic day trip as there are so many things to do in Waco for couples, including a day spent at Magnolia Market where you can visit Chip and Joanna Gaines' store and get a famous cupcake from the bakery.
Waco also has shopping options like Spice Village, as well as just being a smaller Texas city that is easy to navigate.
Alternately, keep driving a little further, and you can get to the Dallas and Fort Worth area in about two hours.
There are so many free things to do in Dallas and Fort Worth so that you can plan a budget day out, or you can have a romantic dinner on top of Reunion Tower with gorgeous views of the city.
Dallas has plenty of green spaces to relax in, and the water gardens in Fort Worth are a fascinating example of what happens when you combine urban architecture with peaceful water fountains.
And don't miss dinner at Pecan Lodge, the premier barbecue place in Dallas that often features a line wrapping around the building because the brisket and ribs are so good. Beyond that, there are many other romantic restaurants in Dallas for you and your partner to enjoy.
Last but not least. Sip a couple of local wines in the Texas Wine Country. Namely, Fredericksburg has excellent award-winning wineries and tasting rooms that you can't miss.
Read next: National Parks in Texas
5. Zilker Botanical Garden
On the south bank of the Colorado River, the Zilker Botanical Garden is one of the best places to go in Austin for couples because it has over 20 acres of varied landscape to explore.
It's the centerpiece of Zilker Park and was established in 1955 to bring beauty and joy to residents.
Spend your afternoon wandering around the themed gardens like the Hartman Prehistoric Garden or the Japanese Garden, or stop and smell the roses, literally, in the Rose Garden.
Koi-filled ponds provide a peaceful atmosphere, and all of the trails are easily accessible and smooth, so you can enjoy it no matter your mobility levels.
Check out the streams and heritage live oaks that also help to create a gorgeous natural atmosphere.
There are gorgeous butterfly gardens built with plants that attract butterflies to fly around them, increasing your chances of having an encounter with one of these majestic animals.
Keep an eye out for the "fairy houses" dotted around – you never know what might pop out!
The trail within the botanical gardens is about a mile long, which provides a good hour or so of strolling, two if you're really taking your time to take it all in.
Get couple's photos done here by the waterfall for picturesque Austin backdrops.
6. Get Dinner at Barley Swine
With a history of trying to support farmers and ranchers in the Austin region, Barley Swine is the best restaurant for couples in Austin who also consider themselves foodies.
Here, you'll enjoy a dining experience with courses inspired by the fresh food and produce available from local areas during the season you're eating in, so no frozen dishes here!
Creative dishes like shitake dumplings and rice pudding with hibiscus make sure that you're always trying a combination of flavors that you haven't considered before, and the cocktails and drinks use ingredients from the restaurant's garden.
The overall atmosphere is rustic, filled with reclaimed wood, farmhouse cabinets, and chopped wood to really make you feel cozy and connected to your earthen side.
Whether you want a new culinary experience together or you're trying to plan a memorable Austin date night, Barley Swine is the place to go.
7. Get Breakfast at Josephine House
This eatery in Austin has classic American cuisine and focuses on quality and attractive plating to make you feel like you're really treating yourself (and you are!)
Start your romantic day out in Austin with breakfast here, and try the steak and eggs for an out-of-this-world option, or opt for the shrimp and grits: a southern classic.
The avocado toast with egg is also a must-try, and if you're getting brunch, you can always enjoy a breakfast cocktail with your meal.
The waffles are divine, and the soulful music playing through the speakers is enough to get anyone having a romantic conversation.
Sit out on the patio when the weather is nice, or enjoy the ambiance inside. It's hip, it's cool, and from the ricotta pancakes to the whiskey drinks, it's all very Austin.
8. The Austin Winery
Visit the taste testing room at the Austin Winery for an exciting and unusual wine list, ranging from sparkling to reds to whites to rose.
The Austin Winery is a big player in the Texas wine movement, working to create blends and grow grapes that work for the native Texas land, rather than trying to manipulate the ground to help produce wines more popular in other regions – this makes it a truly unique Texas experience!
Try the cheese plate for an A+ combination of cheese in the tasting room, ranging from fresh goat's cheese to blueberry infused cheeses to sharp cheddars.
The warehouse atmosphere on the ground floor, the main seating area, is very Austin, but there is comfy seating on the couches upstairs if you want a more casual date or wine tasting experience.
The staff is all experts in not only helping you choose the best pairs but helping you figure out what wine you might like if you're not incredibly familiar.
They know their list inside and out and will spend endless amounts of time with you making sure you have a great experience.
You can also bring in food from the food trucks down the road if you want something heartier, and if you are near the Austin area often, you can join the wine club to get regular free glasses of wine, free events, and so many more perks.
Read next: Luxury Cabins in Texas
9. Take a Bike Tour of Austin
A bike tour is such a fun and unique way to see Austin as a couple, and there are plenty of places where you can rent your own bikes to take a self-led bike tour, or you can book on to a guided bike tour which will take you on the best pathways and trails through the city.
Opt for a downtown Austin biking tour, which will take you past the major sights and sounds in the downtown area with a more urban day out, or try a more nature-inspired trail like the Lady Bird Lake Trail, where you'll get fresh air in addition to beautiful views.
There are even "haunted" rides for those who want to do something in Austin at night while learning about local ghost legends or food-based bike tours where you pedal from restaurant to restaurant to try some of Austin's finest cuisine (and drinks, if you're 21+!)
The best part about taking a guided bike tour is that the experienced guide will make sure you don't get lost and don't have to worry about navigating your way around.
Instead, you can relax and enjoy each other's company as you pedal your way around and see Austin on two wheels.
About the author
Kalyn writes about USA travel and travel tips at All-American Atlas.
Did you like these Austin date ideas? Then share it with a friend who might like these ideas as well. For more romantic things to do in Austin, browse the site.