Plan your swoon-worthy stay in our favorite SoCal metropolis with these hand-picked date ideas in San Diego.
Sunny outdoor adventures, cool cultural activities, mouthwatering local cuisine…We've got something for every kind of couple, which can easily be your next romantic getaway in California.
Balance sightseeing in "America's Finest City" and spending quality time together for the ultimate romantic getaway.
After all, when an idyllic Mediterranean climate, world-class attractions, and vast beaches and beautiful parks come together in one personality-packed locale, it's impossible not to fall in love.
14 Romantic Date Ideas in San Diego
So sit down with your special someone and mix and match these San Diego date ideas for couples to build your whirlwind California romance!
Pssst: For an intimate experience and ultimate romantic time with your date, you might consider booking a night at Hotel del Coronado next to Coronado Beach.
1. Go for a Romantic Dinner Cruise
Want to really send sparks flying on your date? Dress to impress and climb aboard the "Spirit of San Diego" for a lavish 2.5-hour dinner cruise around San Diego Bay and Coronado Island.
Smooth sailing, twinkling stars above, and live onboard entertainment set the mood, while cocktails and a gourmet dinner take romance to the next level.
Enjoy panoramic skyline views from the cozy enclosed cabin during meal service, then head upstairs and hold each other close on the open-air observation deck.
For an additional cost, you can upgrade your ticket to include an open bar–unlimited beer, premium wines, well drinks, and premium booze all evening long, baby!
Don't miss out! Click here to book your cruise!
2. Catch a Show Under the Stars at South Bay Drive-In
Add a hint of nostalgia to your perfect date night with a visit to a drive-in theater.
Less than 20 of these attractions are left in the state of California, so they're well worth savoring while they're still around.
South Bay Theater in San Diego County is actually the city's oldest, first opened in 1953 and recently renovated to include fully digital pictures and sound.
Tickets are just $10/person, and they screen all the latest releases, with occasional double-headers. Plus, it's only 20 minutes from the beautiful city center!
Come hungry because an onsite snack bar dishes up traditional drive-in movie treats like popcorn and candy, as well as a more filling Mexican menu of burritos, tacos, and more.
Alternatively, every Wednesday, Saturday, and Sunday, South Bay hosts a super-popular outdoor swap meet with over 300 vendors, the perfect place to hunt for some treasures together.
Read next: One Day in San Diego
3. Sample Local Bites on a San Diego Food Tour
You know what they say: The way to someone's heart is through their stomach.
Given the city's booming culinary scene and a handful of iconic local dishes (fish tacos, burritos, California-style pizza, oh my!), a delicious food tour is easily one of the most fun date ideas in San Diego.
And downtown dining and entertainment hub, The Gaslamp Quarter, is the perfect place to start.
Known as the "Historic Heart of San Diego," this neighborhood was once a redlight district and the site of illegal booze-running during Prohibition.
This food/drink/walking tour will take you through the area's storied history while you sample some of the best food and drink San Diego has to offer.
Don't miss out! Click here to book your tour!
4. Soak Up the Evening Colors at Sunset Cliffs
Of all the date night ideas in San Diego, nothing is more classically romantic than a sunset over the water.
The aptly-named Sunset Cliffs have drawn lovers for decades, providing the perfect spot for viewing nature's epic nightly show.
Arrive early at Sunset Cliffs Natural Park to take in the sweeping views of the ocean, dramatic cliff formations and caves, and a fascinating cluster of tide pools–as well as to find parking.
You can also embark on a 1.5-mile hike and a short climb down to the beach. (Which is an excellent beach date idea!)
Then stick around to enjoy an iconic California sunset side by side.
In the right season (December through January and mid-February through early May), you can even see migrating gray whales from the shore!
Pssst: Are you a morning person? This is the ideal spot to watch the sunrise, which is an excellent morning date idea!
5. Spot Local Wildlife Aboard a Whale-Watching Cruise
Just at San Diego's doorstep is a beautiful bay full of creatures, both big and small.
While there are many ways to get out and explore, we think we've found the coolest.
This whale-watching cruise takes you aboard a replica of a historic sailing schooner that won the first America's Cup sailing competition in 1851.
As you head out into the Pacific, an expert guide will give you the lowdown on the gray whales, dolphins, and other local marine life, as well as insight into nearby US Navy sites.
Wildlife sightings are so common that they even provide a guarantee. If no whales are found during your tour, you can return for a complimentary cruise on another day.
To up the romance, pack your own picnic lunch and a bottle of wine to enjoy on deck. Snacks and non-alcoholic beverages are also served.
Click here to book your whale-watching cruise!
6. Hit the Trails at Torrey Pines State Reserve
Looking for an active date idea that won't break the bank? A visit to Torrey Pines State Park is perhaps our favorite cheap date idea in San Diego.
The General Admission Day Use fee is $15-25 per vehicle, but you can also take the bus from downtown and avoid any parking fees or find free parking further out.
Then, all you need are some snacks, water, and perhaps a swimsuit if it's warm enough for a quick dip.
For couples that prefer a casual stroll, the 2.3-mile beach loop promises gorgeous views of the Pacific.
More experienced hikers can easily add extra distance and challenge to their outing by combining a few trails.
7. Cheers to True Love at Pure Project Brewery
Home to more than 150 breweries, San Diego is proudly known as the "Craft Beer Capital of America."
So for any couples that love to scout out a solid IPA, few date ideas in San Diego can compete with an afternoon out at one of the city's many award-winning spots.
With its breezy open-concept design and backyard biergarten, Pure Project is a clear favorite.
It's the perfect place to soak up that sunny SoCal weather while sampling from an extensive menu of canned, bottled, and draft beers.
Fan favorites include the Milagro, an Irish stout made with vanilla and Costa Rican coffee, as well as the Diamond Dust IPA with its notes of peach, mango, coconut, and grapefruit zest.
Pure Project partners with a rotating line-up of local food trucks, and you're also welcome to bring outside food from one of the many nearby North Park restaurants, like Empanada Kitchen or Medina Moroccan Baja Kitchen.
8. Stay Late at the San Diego Zoo
As one of the world's largest and most popular zoos, this San Diego institution is renowned for its conservation efforts, educational programs, and unique animal encounters.
Year-round, you'll be able to visit 4,000 animals of more than 650 species, from clouded leopards to bonobos to capybaras.
But romantic date nights get even better during the summer season (end of May-start of September), when the zoo stays open until 9 PM and hosts a series of concerts, contests, acrobatic shows, and other live entertainment.
For an even more unforgettable experience, book an "Inside Look" tour and get a behind-the-scenes peek into the lives of particular beloved zoo residents.
You can choose which animal you'd like to learn more about–giraffes, polar bears, wild canines, and more.
9. Share a Laugh at the American Comedy Co.
Some of the best date night ideas in San Diego keep things casual.
Between beers and belly laughs, an evening at one of the city's most popular comedy clubs is sure to provide enough inside jokes for years to come.
American Comedy Co. is a big name in the scene, hosting both A-list headliners and emerging talent.
They run an open mic and happy hour every Tuesday night, or you can splurge for tickets to a bigger weekend show.
Either way, you can't go wrong with the speak-easy feel, filling American bar bites, and drink menu packed with delicious craft beers + specialty cocktails.
10. Paint and Sip at Bernardo Winery
Bringing together wine, art, and memorable souvenirs to hang on the walls at home, a paint-and-sip experience is one of our favorite date ideas in San Diego for creative couples.
Bernardo Winery holds these classes once a month, and each has its own theme, from landscapes to still lives.
Tickets cost $80/person, including all class materials, instruction from the resident artist, a glass of wine of your choice, small bites, and of course, your finished masterpiece!
If your travel dates don't align with the classes, the winery (opened in 1889 and thus Southern California's oldest!) has plenty of other features that make it well worth a visit.
A wine tasting room with local specialties, a rustic Italian food menu, and lush courtyard seating set the mood for a super romantic evening.
Plus, onsite village shops, artist galleries, and a coffee roaster give even non-oenophiles something to do.
Pssst: Pinot's Palette at Liberty Station Arts District also offers a creative date idea in San Diego.
11. Indulge in Waterfront Fine Dining at Seaport Village
Boasting more than 70 adorable shops, galleries, and eateries on a stunning stretch of waterfront property, Seaport Village offers options galore for a classic San Diego date night.
Kick things off with some shopping. Sample colorful confections at The Something Sweet Shop, purchase personalized bracelets at Custom Commodity or score a new coral table piece at Ocean Avenue.
Trying to impress? Eddie V's Prime Seafood promises a luxurious evening of champagne, fresh-caught fish, and sweeping vistas of San Diego Bay.
It's a popular spot for anniversaries and other special occasions, so they're happy to add thoughtful touches like rose petals and congratulations cards to your table if you let them know when making your reservation.
As though all that isn't romantic enough, Eddie V's also hosts nightly live jazz band performances and serves a mean bananas foster for dessert.
12. Stop and Smell the Roses in Balboa Park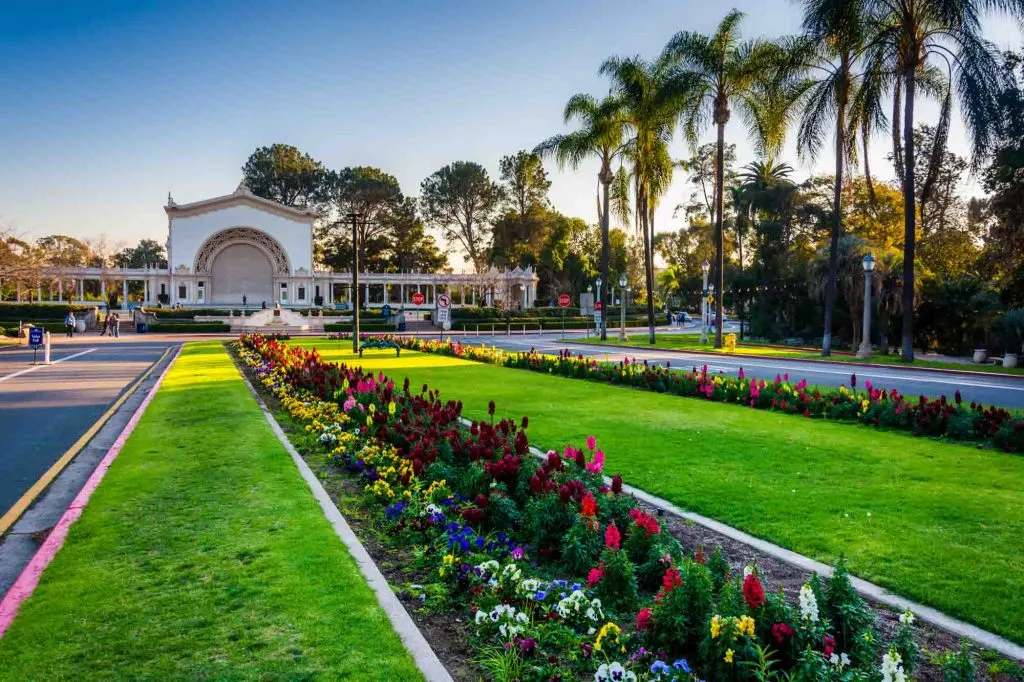 This city has so much green space we could make a list of perfect date ideas in San Diego based solely around parks.
But Balboa Park, in particular, is practically made for romance, full of quiet nooks and crannies, Spanish-style architecture, and low-cost or free attractions.
Join the Balboa Park Dancers for one of their classes, which cost just $6/person and are held Friday and Sunday nights.
They're open to all levels and provide the perfect setting in which to swing your partner around under the moonlight.
Picturesque picnic places abound, and there are more than 65 miles worth of trails if you want to break a sweat.
Meanwhile, the free-admission Timken Museum features a small but impressive world-class collection of European and American masterpieces.
Last but not least, you and your special someone can wander amidst a whopping 1,600 roses in the Inez Grant Parker Memorial Rose Garden, in bloom March-December.
Looking for something a little more thrilling? Then don't miss out the Belmont Park, a beachfront amusement park on Mission Bay.
13. Admire the Masterpieces at the San Diego Museum of Art
This nationally-acclaimed institution is a must-visit while you're in San Diego.
In between admiring your partner, don't forget to take in all the incredible artworks found within this museum's halls.
Spanish and Italian old masters, South Asian manuscript illustrations, and 19th and 20th-century American paintings and sculptures are the main draw, and they also feature rotating exhibits from around the world.
The SDMA has a packed events schedule, hosting everything from studio art workshops to guided breathwork sessions amidst the masterpieces.
While you're in the area, add the May S. Marcy Sculpture Court and Garden to your itinerary.
Here, you'll find even more art, plus lush landscaping and stunning views of the California Tower. Entry is free!
14. Tandem Kayak at La Jolla Cove
Few date ideas in San Diego are as stunningly scenic as a paddle through the gentle waters and enchanting sea caves of nearby La Jolla Cove.
This spot is just 30 minutes from downtown, yet it feels a world removed from the hustle and bustle.
You can join a small group tour or keep things more intimate with just the two of you.
As you paddle, keep an eye out for sea lions, leopard sharks, pelicans, cormorants, and other wildlife.
You'll also be treated to beautiful views of reefs, kelp forests, sandstone cliffs, and of course, the famous sea caves.
Keep in mind that entrance to the latter depends on weather and ocean conditions.
While in La Jolla, outdoorsy couples should also check out the tide pools, one of the windswept beaches, or a clifftop hike.
Final Words on San Diego Date Ideas
Good art galleries, beautiful gardens, amazing views, and many attractions for a fun night with your date—San Diego, one of the best places to visit in California, won't disappoint you.
Did you enjoy reading about these romantic date night ideas in San Diego? Then share it with your friends on social media!