With miles worth of urban green spaces and some of the best nature in Texas just a stone's throw away, hiking in Austin is a must-do for any visitor to the Texas capitol.
We all know and love Austin for its music scene, rowdy nightlife, and government buildings, but there's so much more to explore!
Get away from the crowds and the noise and spend time in the gorgeous Southern wilderness instead.
These 15 hikes cover just about every landscape you could imagine, from dramatic limestone cliffs to tranquil lakes, easy riverside strolls to tough rocky climbs.
We've even got one of the most beautiful spots in the state on this list! Best of all, most of them are less than 30 minutes from downtown.
Keep reading for all the need-to-know tips on how to get to each place, trail lengths and difficulties, unmissable lookouts, wildlife to watch out for, and so much more.
Best Austin Hiking Trails
Hiking in Austin is an unforgettable experience, getting you up close and personal with local landscapes and wildlife, and offering endless opportunities to swim, sweat, and lounge.
Some of these spots definitely deserve a place on your bucket list since they're easily among the best places to visit in the US. So strap on your hiking boots and get ready to hit these fabulous Austin trails!
Easy Austin Hiking Trails
Lady Bird Lake Hike and Bike Trail
This short out-and-back trek is a beautiful section of the 10-mile Ann and Roy Butler Hike-and-Bike Trail, one of the most popular places to hike in Austin.
As the name suggests, it hugs the shores of Lady Bird Lake and the Colorado River, offering lush greenery, well-maintained facilities, and plenty of viewpoints (all only minutes from Downtown)!
The smooth pathway is well-suited for biking, hiking, and dog-walking alike, which means locals hang out here often.
You can easily modify the length of your hike, with lots of bridges and turn-offs to make it either longer or shorter.
Pssst: If you want to experience more of the state and see more of the Lone Star's wilderness up close, you might want to check out these incredible hikes in Texas!
Ann and Roy Butler Hike-and-Bike Trail
One section isn't enough? Hike the whole thing!
As the Austin city government website says, "The Ann and Roy Butler Hike-and-Bike Trail is more than a great pathway–it is a place where Austin thrives."
"For many citizens and visitors, it represents the best Austin has to offer: outdoor recreation; a scenic, natural environment; and a diverse, vibrant mix of people."
We couldn't imagine a more dazzling endorsement of this beloved 10-mile trail. It's no wonder it receives millions of visitors every year.
Along the way, you'll be treated to amazing views of the skyline, charming neighborhoods, and tourist attractions.
So if you want to enjoy the best of the best of hiking in Austin, this is the place to do it.
Walnut Creek Trail
If short and sweet is the name of your hiking game, this loop is the one for you. Just over a mile long and with mild elevation gain, Walnut Creek Trail is smooth sailing for all skill levels.
To take the relaxation up a notch, enjoy some sunbathing by the creek. You can even bring your pups or little ones to play in the water as you watch from the shore.
It's a popular place for family outings, as there are a few playgrounds along the hike and no long drives involved–it's just 15 minutes from the city center.
The wider Walnut Creek Metropolitan Park also includes picnic spots, public restrooms, and a dog park.
The trail gets quite muddy after rain, so do check the weather before you go.
Secret Beach and Roy Guerrero Trail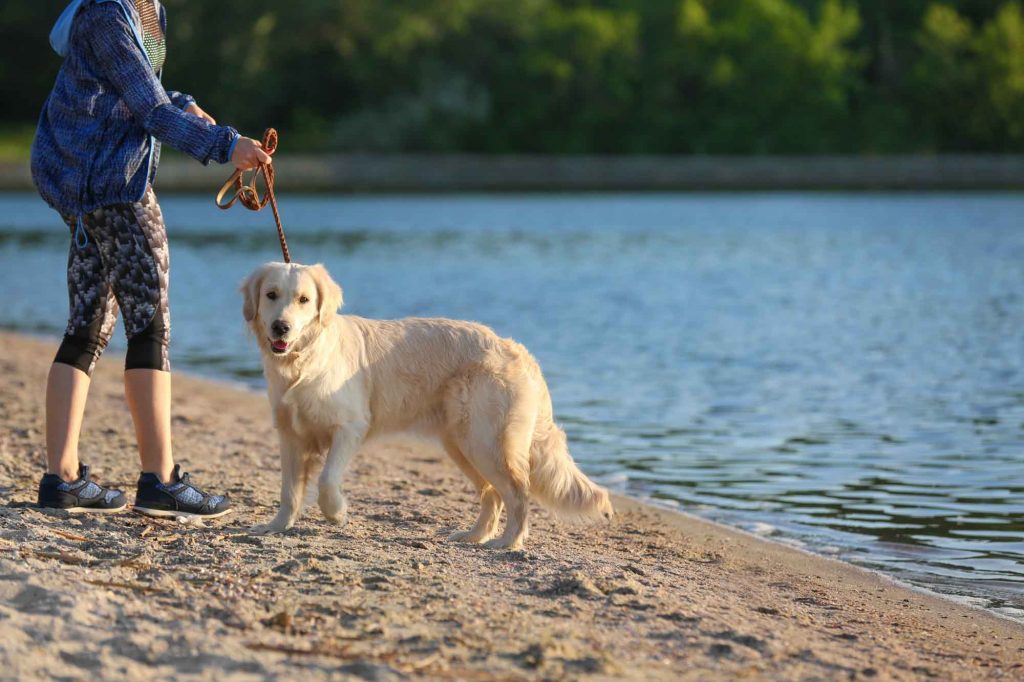 A beach in landlocked Austin, just 15 minutes from the city center? It may sound too good to be true, but the locals have been in on this secret for a while, and now you can be too.
Most of this hike is flat and shaded, with lots of wildlife to spot along the way (keep an eye out for the friendly white-tailed deer)!
But the real treasure is the side trek to Secret Beach, a quiet place along the Colorado River where Austinites love to let their dogs run free and wade in the clean, clear waters.
Once you've cooled off, head out for the rest of the walk on Roy Guerrero Trail's wide, well-kept pathways that are excellent for hiking, biking, and jogging.
Insider tip! There are actually multiple beaches in Austin, and we've already got them all listed for you here.
Mayfield Park Lake Trail
If you're looking for low-effort opportunities for hiking in Austin, Mayfield Park is a go-to.
This super short loop is primarily used for nature walks and bird watching. In fact, you can spot free-roaming peacocks within the wildlife habitat!
You can also sneak a peek into the past at the historic Mayfield-Gutsch Estate, a home first built in the 1870s and later purchased by former Texas Secretary of State, Allison Mayfield, in 1909.
The property even connects to the Laguna Gloria Art Museum, which features a gorgeous sculpture garden.
All in all, it's a lovely sightseeing spot just 10 minutes from the city center, and can easily be paired with other nearby hikes like the Mount Bonnell climb.
Mount Bonnell Trail
Only have a weekend in Austin? This incredible spot in Covert Park, just 10-15 minutes from downtown, provides the perfect quick getaway, with famous sweeping vistas that offer some of the most phenomenal views in the area.
Chances are most Austinites you ask will have visited this lookout at least once or twice.
It's a quick jaunt to Austin's highest point (Central Texas is still flat, after all), only taking about 20 minutes to reach the top. There, you'll be rewarded with a look at the Colorado River and the city below.
St. Edwards Green and Red Loop
This super scenic trek in St. Edwards Park is 20 minutes from downtown, but it feels like you're diving into the wilderness head first.
Rocky scrambles, creek crossings, and some decent elevation changes make this loop an adventure to hike!
However, a lack of proper signage plus an abundance of side trails can make navigation a bit tricky, so you might want to map out your route in advance or bring your phone along.
Moderate Hiking Trails in Austin
Barton Creek Greenbelt Trail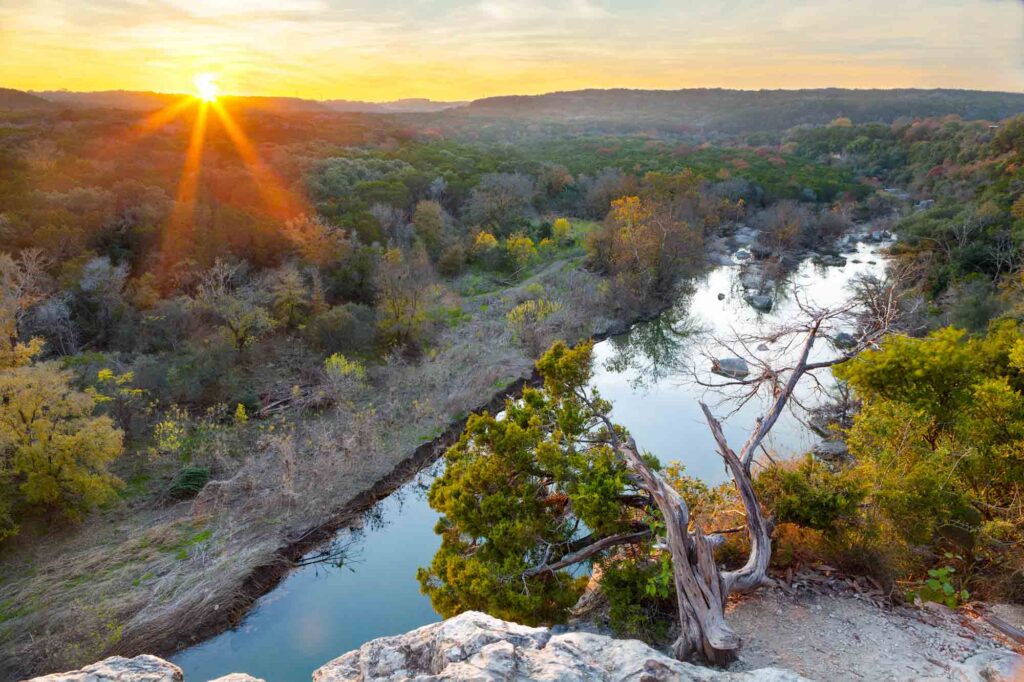 Although the Barton Creek Greenbelt is less than 10 minutes from Downtown Austin, it feels like a true retreat into nature.
The long out-and-back trek features wildflower fields, open grasslands, long sections hugging the river, and even the gorgeous Twin Falls!
For those looking to get a workout in, the elevation changes and rocky slopes will have you breathing hard.
But there are also plenty of points where you can stop and just enjoy the peace and quiet or soak your tired feet in the crystal-clear creek.
The best times to go are on weekdays or early mornings, as the trail can get a bit busy otherwise.
Turkey Creek Trail
Tucked within the sprawling Emma Long Metropolitan Park, Turkey Creek Trail is a moderately difficult out-and-back hike perfect for joggers, hikers, and mountain bikers.
This is a lovely trek to take during the warmer months, as most of the walk is shaded, and there are plenty of water crossings where you can wade and cool off.
It's also a favorite for furry friends! Dogs are welcome on the trail both on and off-leash, and they'll love to explore the forest and splash in the creek.
This spot can get crowded on weekends, so it's best to visit during the week or at least earlier in the day.
Homestead Trail
Nature and history come together at this moderately difficult loop located within McKinney Falls State Park.
McKinney Falls is one of more than a dozen stunning state parks near Austin, but its cascading creeks, ancient rock formations, and thousands of years of history set it apart (and it's only 15 minutes from downtown)!
Besides, McKinney Falls State Park is also within the city limits and provides a trail system that connects two waterfalls (Upper Falls and Lower Falls) and a swimming hole.
Homestead Trail is a popular hiking trail within the area, boasting water crossings, wildflowers, waterfalls, and wildlife galore!
You'll start out crossing the gorgeous Lower McKinney Falls, then the rest of the path is relatively easy walking, plus a stop at the historic gristmill and homestead.
Because there's so much to do within the state park, it's one of our favorite day trips from Austin!
There is a cost of $6 per person to enter the state park.
Lake Austin/360 Bridge Overlook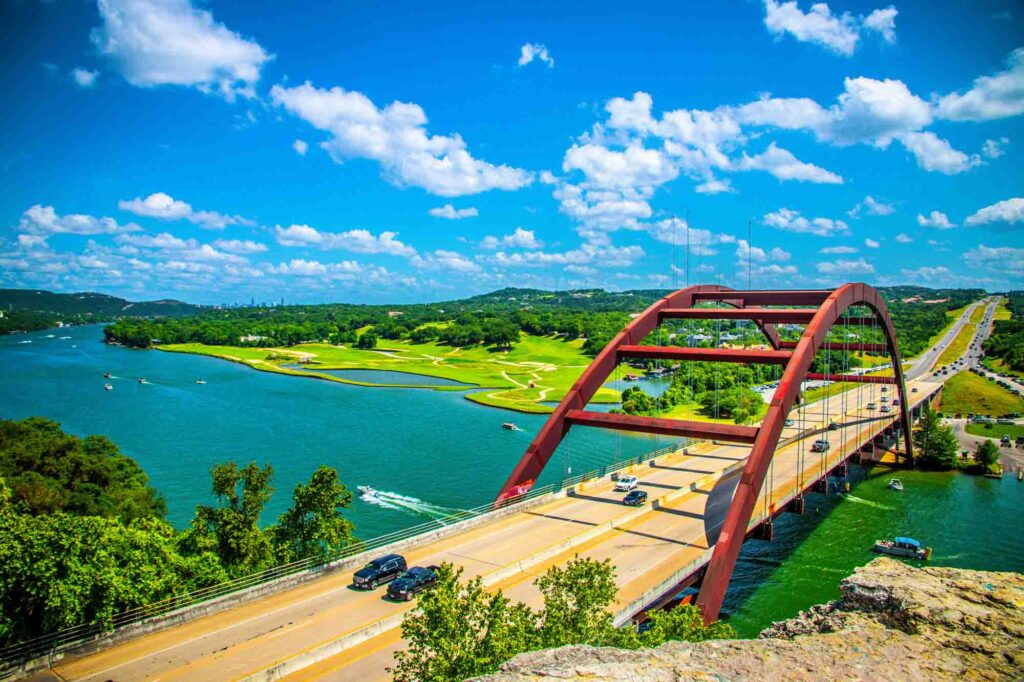 Get your cameras ready for one of Austin's most Instagrammable destinations!
This trail hugs the Colorado River and climbs up to the impressive and oh-so-scenic steel arch Pennybacker Bridge.
All along the way, you'll score beautiful views and lovely scenery. It's also a popular spot for picnicking.
Just 15 minutes from the Austin city center, this is an easy hike to drop into your itinerary, while also continuing to sightsee!
You'll want to start out earlier in the morning to avoid large crowds.
Hamilton Pool Park Trail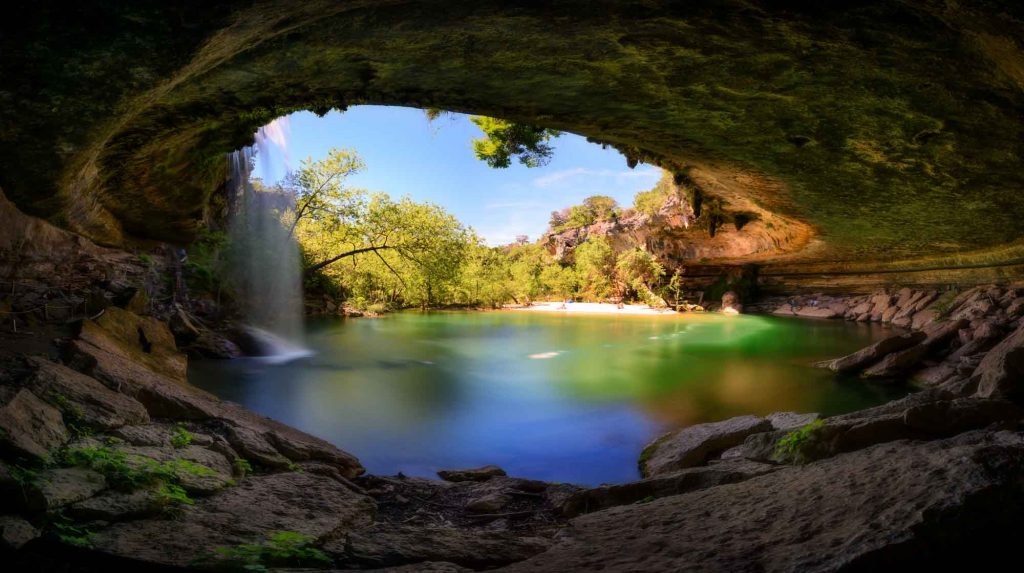 This one is a bit farther out, about a 45-minute drive from downtown.
But when it comes to hiking trails near Austin, it doesn't get much better than this. Hamilton Pool is among the most picturesque destinations in all of Texas, looking more like it belongs in the pages of a fairytale.
Turquoise waters, limestone bluffs, and lush jungles are all par for the course at this stunning spot.
The climb down to the pool is rocky, steep, and quite slippery at times, so wear good shoes and be aware that it may not be the best for all skill levels.
There are multiple hikes around the preserve, as well as plenty of other activities to indulge in, like birdwatching, swimming, and sunbathing.
A visit to the Hamilton Pool Preserve will cost you $8 per person for entry as well as a $12 reservation fee for each vehicle.
Laurel, Yaupon, Possum, and Arroyo Vista Loop
This spot in the Wild Basin Wilderness Park, a 15-minute drive from the city center, is popular for nature walks and pleasant strolls.
There's plenty of shade for hotter days, as well as a few creeks and a small waterfall that you'll pass along the way.
You can do the whole loop in less than an hour, or bring a picnic lunch and take your time for a full afternoon.
There are no pets allowed in the Wild Basin Wilderness Park, but families with young kids will love it!
Challenging Trails in Austin
Bull Creek Trail
With a variety of terrain to explore and some rather challenging stretches, this loop within Upper Bull Creek Park is great for serious hikers.
It's a bit more secluded than other hikes near Austin, despite being only a 15-20 minute drive from downtown.
There's no biking allowed here, which means you won't have to worry about sharing the trail with speedy riders.
Bull Creek Preserve Entry Permits are required if you want to visit March-July, during the golden-cheeked warbler breeding season. Otherwise, the trail is open to the public August-February.
River Place Nature Trail
This tranquil out-and-back trek in the Nature Preserve at River Place is 30 minutes from Downtown Austin, but the beautiful drive is an added bonus.
Make no mistake, however. The enchanting scenery does not come without a cost, (and by that we mean…stairs). To be exact, 2,763 of them!
Many have deemed this the most challenging hike near Austin, with lots of elevation changes that make for a tough workout or excellent training for trail runners.
But don't worry! There are plenty of nice stops where you can sit and have a breather along the way, as well as a viewpoint about ¾ of the way.
Visit on a weekday or early morning to avoid the crowds. There is a $10 fee per hiker to use the trail during peak hours on Saturdays and Sundays, as well as sunrise-4:00 PM on holidays.
Wrapping up on the Best Austin Hiking Trails
With miles of trails, Austin is by far one of the most interesting places to visit if you're an outdoor enthusiast.
From urban trails to parks that will make you completely forget that you're in the city, there are miles of hiking trails for all tastes.
Besides, this list includes easy, moderate, and challenging trails, meaning it suits all fitness levels and you definitely don't have to be a pro to enjoy what this area has to offer!
Did you enjoy this article about walking trails in Austin? Then share it with a friend who might enjoy it too!