Whether you love to bask in the sun or enjoy being active on the water, here are the best beaches in the USA for your bucket list.
We all know most US beaches are packed with swimming, tanning, and sports on the sand, but these beaches have more to offer.
Here is a list of some of the best beaches in the USA. Each has unique attractions and offers diverse landscapes.
Each one has unique characteristics that might just be what you are looking for in your search for the best beach vacation in America.
By knowing which ones offer what you need, you can plan better your next beach vacation in the United States. Oh, and what are the best beaches in the US, in your opinion? Let us know in the comments.
34 Best Beaches in the USA
We divided this guide of the best US beaches by region, so it's easier to browse.
Best Beaches in the US – Gulf Coast
Here are some of our favorite Gulf Coast beaches.
1. Clearwater Beach, Florida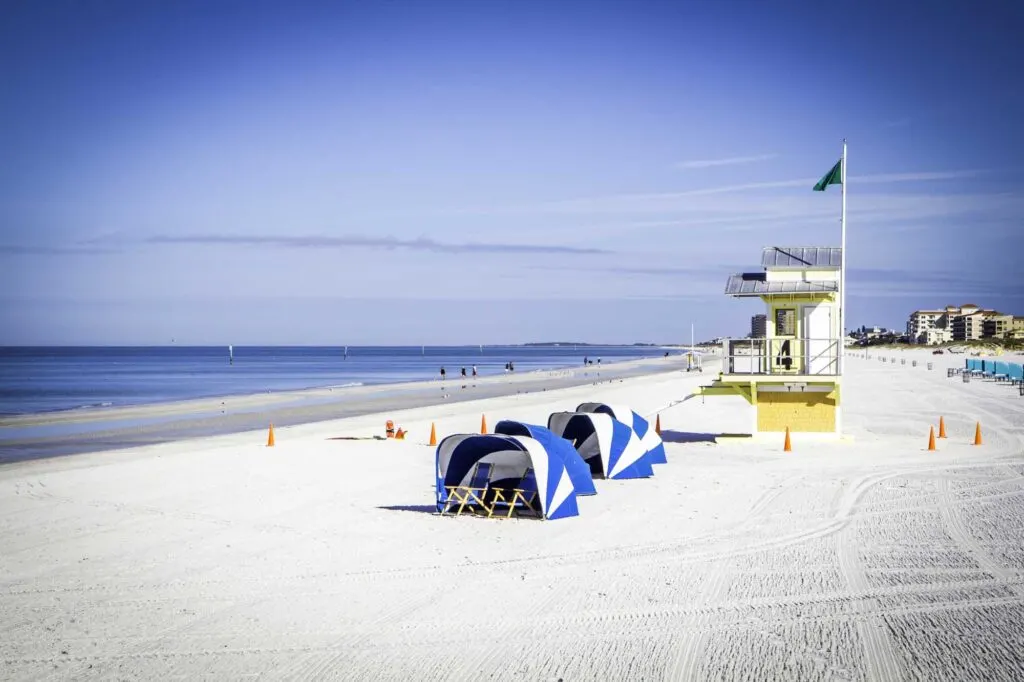 Clearwater Beach isn't only one of the most beautiful beaches in Florida but also one of the best in the US.
With soft, white sands inviting you to enjoy the clear turquoise waters and everything this small town offers, you might just find your holiday beach destination here.
With many hotels and resorts lined next to the beach, many restaurants and cafés to fill hungry tummies, and even great nightlife for the youth – everyone will love this Florida Gulf Coast beach.
Swimming is safe for all, and there's an abundance of watersports available: snorkeling, kayaking, many different boat cruises, scuba, and fishing.
If you want to see more of the region, head over to one of the best state parks in Florida, Caladesi Island State Park, for white sand beaches and perfect spots for picnicking.
2. South Padre Island Beach, Texas
Boy, will South Padre Island Beach knock your feet straight out from under you! This incredible place in Texas isn't one of the best Gulf Coast beaches for nothing.
With plenty of activities, beautiful sands, and calm waters to enjoy, and many attractions, you are sure to add South Padre Island Beach to your bucket list. This beach town in Texas has it all!
The only island vibes in Texas are these beautiful 34 miles of ongoing white sands—South Padre is on a barrier island with the same name.
With inevitable space next to the ocean, the clutter won't ever be too much for a beach day, and the activities are endless.
You can do dolphin cruises, windsurfing, kitesurfing, or normal surfing. Little kids can swim and build sandcastles or attend sandcastle lessons.
There are excellent bars and restaurants next to the beach, live music each night, and an adventure park if the kids need to get rid of their energy.
Those who want to chill more can take a horseback ride on the beach or attend one of the top spas beside the beach and enjoy a massage with a beautiful view.
3. Caspersen Beach, Florida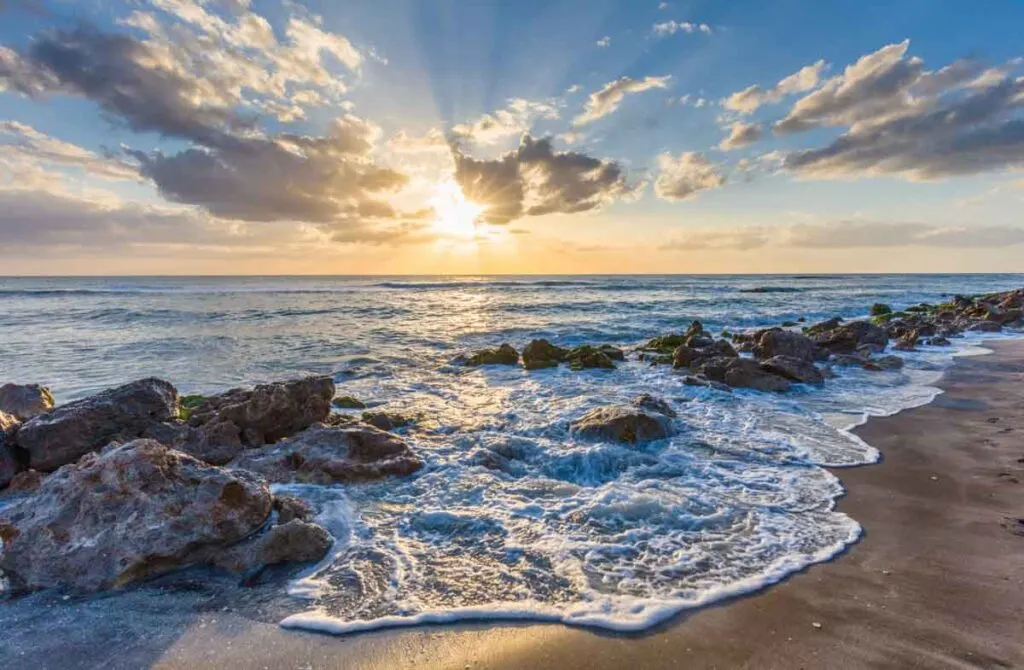 Caspersen Beach in Florida gives a whole other experience for beachgoers.
It's one of the best shelling beaches, and you might discover a historical shark's tooth in your quest to find shells.
Conservation left most parts of the beach in their natural state, giving this beach uniqueness.
There's a playground next to the beach for kids and picnic spots the family can enjoy together.
This beach might not be the typical lounging and walking type, but it offers more than your regular beach.
Many markets and restaurants are available to tickle your fancy while taking in the views of one of the best beaches in the USA.
4. Henderson Beach State Park, Florida
Henderson Beach might mimic your dreams or come very close. This white sandy beach of 30 feet and warm waters of 75 to 80 degrees Fahrenheit will give you a reason to visit one of the most beautiful beaches in the US – for only $6 per vehicle.
The green emerald shade of the water invites you to enjoy fun activities in the water.
Swimming, bodyboarding, snorkeling, scuba, and surfing are some of the things that can keep you busy.
In any State park, it's crucial to adhere to specific rules and regulations to protect the beach and its fauna and flora.
For example, fishing is only allowed if you have a license. Other popular activities in the park include bicycling and hiking while viewing the wildlife.
Henderson beach uses a flag system instead of lifeguards to show people the conditions of the sea. Children should not be left alone to swim and need supervision.
You might see dolphins, turtles, and tropical fish at Henderson beach.
A nearby campsite and outstanding amenities will be the perfect place to sleep over and enjoy the night sky with a bonfire.
Although your dog may not escort you to this beach, it is more than welcome to join you at one of the 60 campsites in the park.
Henderson Beach is hands down one of the best places to visit in Florida!
5. White Sand Beaches of South Walton, Florida
The most beautiful view when it comes to a beach is the contrast of white sand against the blue water.
South Walton boasts 26 miles of these pristine sugar-white beaches and deserves a spot on the best beaches in the USA list.
Some beaches have lifeguards on duty to give you more peace of mind and let your kids enjoy the waves.
Because the shore is so long, each beach gives you a different vibe. At Sandestin, you'll find the only marina in South Walton which sets you up for fun and festivals throughout the year.
Miramar has a more modern twist when it comes to restaurants and hotels. Then there's Dune Allen Beach, which is an entirely natural beach.
Another beach has more of a greek vibe. Whichever type of ambiance you are looking for, you'll find it on the white shoreline of South Walton.
6. Port Aransas Beach, Texas
Located on the 18-mile stretch of beach on Mustang Island, Port Aransas Beach boasts many things to do for the entire family.
It's the fishing capital of Texas and any fisherman's dream. Apart from swimming, people love to rent a beach buggy and enjoy the beach on another level.
The sand's texture is perfect for sandcastles, and you can attend some of the biggest sandcastle competitions in the USA at Port Aransas Beach.
Restaurants and food stalls are abundant, and you won't go hungry anytime.
A fun experience you must include in your visit to Port Aransas Beach is the glow row.
On a guided tour, kayaking with 4400-lumen brightness under your kayak in shallow water will give you spectacular views and surprises of marine life at night.
7. Orange Beach, Alabama
As part of the Mexican gulf, Orange Beach will treat your senses to a luxurious imaginative trip.
White, soft, sandy beaches and shimmering blue waters are some of the reasons this is one of the best beaches in the USA.
Enjoy dolphin cruises and private tours, kayaking on the sea, or dolphin watching from a catamaran.
Orange beach is known for its top-notch holiday accommodation, dining experiences, and breathtaking views. They also host unique events like the arts festival that attract many tourists to this pristine location.
This beach is excellent for families as swimming and beach sport are available for kids and teenagers.
In addition, many attractions like the Gulf Coast Zoo and Alligator Alley is close enough for more entertainment and learning.
Best Beaches in the USA – West Coast
Here are some of our favorite West Coast beaches.
8. Coronado Beach, California
Coronado Beach is one of the prettiest beaches in the USA because of its size, beauty, and various attractions.
The stretch of 1.75 miles of sand will undoubtedly give you a range of things to do – all in one place.
Located in southern California, the entrance to Coronado Beach is at the Hotel Del Coronado, which means you can book your holiday at the hotel and walk over to the beach.
Some people sit here and build beautiful, enormous statues from sand that you can enjoy.
As one of the best places to visit in California, Coronado Beach is vast, and even though it can get busy quickly, the space won't cause crowdedness.
Swimming, surfing, fishing, scuba, and long walks on the beach are some available activities. There are also a couple of volleyball courts available.
The beach isn't dog-friendly, but your dog can run to its heart's desire at the adjacent beach, Dog Run Beach.
They also have wheelchairs with tires for the sand, making this beach even more appealing.
Many restaurants are available next to the beach, where you can enjoy lunch or dinner while enjoying the beautiful views.
9. Cannon Beach, Oregon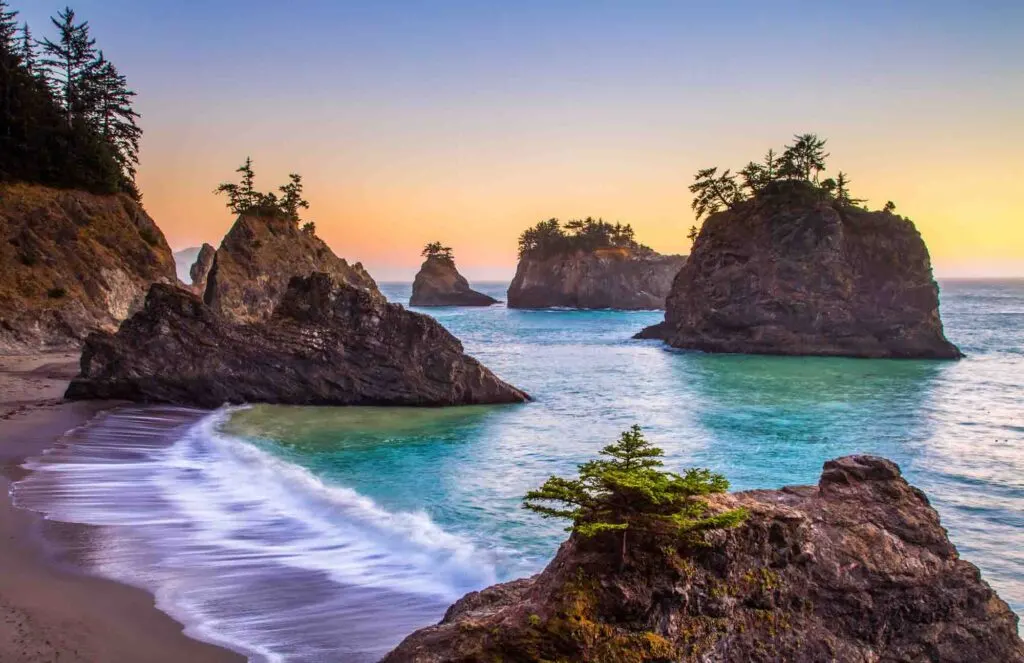 Cannon Beach is one of those beaches you might find on a postcard.
Picturesque views of waves splashing against Haystack Rock with a beautiful sunset and a comprehensive 4-mile-long sandy beach and puffins, if you're lucky.
Cannon Beach is hands down one of the most beautiful beaches in America.
The artistic side of Cannon Beach is relatively high, with many art galleries and shows to attend.
In addition, there are shopping stores for those needing to get out of the sun for a while. The main attraction is the big rock, and the sea causes pooling around it at low tide, where kids can play and search for shells.
The water at Cannon Beach is quite cold, but if you don't mind, you may swim. The stretched-out beach gives way to many activities.
You can take a bike ride on the beach, fly a kite, explore caves and waterfalls, and even make campfires on the beach.
10. Moonstone Beach, California
When you think the list cannot add anything more exclusive, you get Moonstone Beach, another of the best beaches in the USA.
This beach offers excellent surfing waves, swimming, and discovering beautiful stones.
Those who dislike sand ending up everywhere will love this beach as it's mainly covered with small pebbles and moonstones.
Those who want to avoid the ocean can swim in the mouth of Little River just south of the beach.
The beach might not offer stretched sands for a walk, but a boardwalk of a mile is available if you want to take a hike with your dog and enjoy the stunning views.
In addition, dolphins, whales, and sea otters can be spotted during certain times of the year, and you can explore caves along the golden shoreline.
11. Pope Beach, California
Pope Peach is for you if you are looking for a quieter beach surrounded by nature's gems.
This picturesque beach is in the Sierra Nevada National Forest, and the entrance fee of $10 is a small price to discover what Pope Beach offers.
This beach doesn't precisely have waves. Instead, it's located next to Lake Tahoe. Sunbathing is on top of the list of things to do, and swimming is welcome.
The adventurous can enjoy the views from the bike trail, and a restaurant is nearby for a bite to eat. Age 16 and up can enjoy fishing, or hiring a kayak can give you a look at the water from another level.
The camp nearby might catch your eye to stay longer and enjoy this quiet, somewhat remote beach.
Take note that your dog should sit this one out, but kids are welcome. They are strict in conserving the plants and water and have specific rules about cleanliness.
Stick to the rules, and you'll have a lovely time at Pope Beach.
12. La Jolla Cove, California
La Jolla Cove in San Diego is something else. A small beach with beautiful water and many fun things to see and do.
The waves are not as robust as on an open beach, and families love to bring the kids here for a dip in the water.
The lifeguards available at the beach are reassurance for parents, and everyone can enjoy the picnic site.
The sea lions are one of the attractions drawing many to this beach, as they love to chill on the rocks and bark at each other.
There's a cave at the beach to walk through, but you should only attempt this during shallow tide as the waves on the other side can be unpredictable.
No boarding activities are allowed, but you may snorkel and scuba to the artificial underwater marine reserve.
In addition, you can book a tour to see all the beautiful marine life and find out the history of each creature.
13. Harris Beach, Oregon
Harris Beach is one of the most beautiful beaches in the US. With spectacular rock formations, tidal pools, and vibrant wildlife, you will surely agree that this beach is remarkable.
Harris Beach is part of a state park and has ample camping grounds with excellent amenities. Close to the campsite are many tide pools to explore.
Scenic hiking trails, kayaking around the Oregon coast, and swimming are all possible at this beautiful, clean beach.
14. Glass Beach, Washington
Glass Beach in Port Townsend, Washington, made the list of best beaches in the USA because of its unique trait: beach glass.
Look over the water and the waves crashing over the boulders; your eye might catch a glistening on the shore – this is what Glass Beach is about, and exploring, of course.
Before the world started looking after our planet, the refuge was dumped in the ocean. These glass rocks formed from that refuge that was abandoned many years ago.
The thrill of looking for these glass stones is contagious, and you'll soon feel like a child searching for an Easter egg.
So ensure you go when the tide is low, and get out before the tide catches you off guard.
You can find the most beautiful colored glass, including blue, yellow, clear, red, green, and brown. Some even find agate – a stone combining a few colors and patterns.
15. Laguna Beach, California
Located between Huntington Beach and San Diego, Laguna Beach is not only one of the wealthiest towns in America but has some of the best beaches in the US.
A total of 20 miles of white sandy beach is divided into Main Beach, North Beach, and South Beach.
Main Beach covers 3,2 miles of white sandy beach, swimming waves with lifeguards, and no surfers to prohibit your fun in the waves.
Kids can plunge and play in the shallow waters, and parents can take in the views and breeze.
South Beach is perfect for surfers to be on their own, and North beach gives divers a space to perform their hobby.
Suppose you are looking for an activity to get some fresh air away from the hustle and business on the beach; take a stroll on the boardwalk of Laguna Beach.
This 1,4 miles walkway allows you to take in the beautiful views, get a hike in, and do some birdwatching.
Best Beaches in the USA – East Coast
Here are some of our favorite East Coast beaches.
16. Cumberland Island, Georgia
Cumberland Island made the list of best beaches in the US because of its breathtaking rural views.
This undeveloped beach is spectacular to see where you, as a person, will feel one with nature.
Unfortunately, there are no lifeguards, only the open 17 miles of white, soft sand and blue waters.
You may swim and surf, but take precautions. Rip tides, currents, and all the animals living here are allowed to be there—so give them the space they need to feel safe.
There are always things to explore on the beach that washes up, whether it's shells or artifacts like shark teeth. You may dig up and find items but never leave with them.
17. Cape Hatteras, North Carolina
Cape Hatteras previously held the title of the fifth-best beach in the USA.
It's part of North Carolina's Outer Banks and has four lifeguarded beaches along the 70 miles of outstretched beach.
If you have a fishing license, you can go on a family trip to do some crabbing.
The blue crab is famous here, and when you catch one, remember to put it back in the water after you admire its beauty.
Swimming is welcomed anywhere, but be aware of the currents. Families with children should instead visit one of the guarded beaches.
You can see turtles, stingrays, and much more sea life from a kayak or canoe.
Windsurfing and kitesurfing are also popular at Cape Hatteras. Other things to do is a hiking, fishing, and camping.
You can find the best seafood here and must put it on your to-do list when visiting Cape Hatteras.
18. Ogunquit Beach, Maine
Ogunquit Beach is another one of the best beaches in the US.
This beach shows off its beauty with a 3.5-mile long sandy shore, accessible swimming waters, and has a unique trait – the Ogunquit River mouths into the sea here.
The freshwater from the river makes for extra fun.
Small children can swim and splash in the freshwater or do tubing here.
People go out with kayaks onto the sea from the mouth, and the broad sandbanks give way for endless activities on the beach.
Suppose you want to soak in the beauty of this beach, you can take a stroll and view the beautiful dunes, natural vegetation, and beautiful blue waves crashing and dissolving on the soft white sandy beach.
19. Driftwood Beach, Georgia
Driftwood Beach on Jekyll Island is one of the best beaches in the USA because of the magic in the air.
Driftwood and trees from years of erosion signify this beach with enchanting views.
Wedding planners and photographers love to use this beach as their canvas because, with a sunset, beach, the sea, and the shadows of driftwood, it indeed sets a romantic scene.
High tides might leave the beach tiny and inaccessible, so plan your visit on low tide times.
With a 1.5-mile stretch of sand, you can take a horseback ride while enjoying the sunrise or sunset.
The nearby villas and picnic sites give you a reason to stay a little longer to enjoy this beautiful beach.
Bring your hammock and nap in one of the driftwood on the beach; enjoy family time, and your dog is also allowed.
There are a few rocky parts in the sea at Driftwood Beach, but you can swim there if you can find a good spot.
20. South Beach, Florida
You might've thought to run into South Beach somewhere on this list. With some of the best shopping streets, cuisine, and clubs, South Beach is one of the best beaches in the USA.
South Beach, hence its popularity, is the most crowded in Miami, but that doesn't have to stop you from having a great time.
The wide sandy beach of 2,5 miles long can entertain any person or family with a walk, building sandcastles, or playing games.
The beachgoers can swim, bodyboard, and surf. Some can rollerblade on the boardwalk, and others can sunbathe and enjoy the modern vibe around this beach.
The vibrant nightlife will attract another crowd to this beach, where they can enjoy the top-rated restaurants and clubs next to the sea breeze and crashing waves.
21. Myrtle Beach, South Carolina
Myrtle Beach is a 60-mile stretch along the northeast coast of South Carolina.
The beach provides your normal beach activities with endless sand and warm waves but is best known for the attractions you can explore along the shoreline.
A fun park named "Funplex" that will surely get the blood-pumping day or night, and the tallest ride in North America is located here.
Another fun thing is to walk the promenade and enjoy the local shops, treats, and seafood Myrtle Beach provides.
The Ripley's Aquarium will show some of the most beautiful marine life and the history of the area's wildlife.
The SkyWheel at Myrtle Beach is one of the reasons people come here. Take an air-conditioned ride as high as 38 stories to enjoy the best views there are of the great coastal city of Myrtle Beach.
In addition, they have VIP experiences and can do your "gender reveal" for you by lighting up the wheel in the color of your baby's gender.
22. Nags Head, North Carolina
Nags Head is a small beach town in North Carolina. With many attractions and a beautiful 12-mile-long beach, it's one of the best beaches in the USA.
Enjoy any 30 beaches, of which 12 have lifeguards on duty. So bring picnic baskets and your dog on a leash, and enjoy the purity of this beach.
Attractions close by includes the tallest dunes in the east of the US for you to enjoy with your kids or try your luck at sandboarding.
Another fun thing to do is walk out on the pier. It's 1000 feet long, walking you into the Atlantic Ocean. You can hire some fishing gear and try to catch something.
Other sports that you can either try or get lessons for are stand-up paddling or taking Kayaking tours to try your luck at seeing marine life from the water.
In addition, there are excellent beachfront hotels, restaurants, and bars to enjoy while soaking in the sunset over the Atlantic Ocean.
23. Coast Guard Beach, Massachusetts
Coast Guard Beach is a prime swim spot in the Cape Cod National Seashore, especially in the summer months.
With beautiful sandy shores stretching 20 miles, it's on the list of best beaches in the USA. It offers incredible waves, and body boarding is quite the thrill, although you cannot surf here.
Volleyball is a favorite sport that you'll see on the beach. Unfortunately, you won't be able to bring your dog.
Because Coast Guard Beach is part of a National Park, you'll have to pay an entrance fee.
You'll pay according to the way you arrive, whether by car, bicycle, or foot.
Seals are enjoying the sun at Coast Guard Beach, and during mating season, you might be able to see sea lions.
24. Asbury Park Beach, New Jersey
This beach is quite an attraction on the East Coast, and people plan their holidays to visit Asbury Park Beach.
This beach is excellent for swimming, surfing, and getting surf lessons, and they even offer surf camps for those that want to learn quickly or become professionals.
The attraction that makes Asbury Park Beach well known is the boardwalk located next to the beach.
The boardwalk is 9 miles in total, has Wi-Fi, and although there are no rides, there are many things to do for the young and old.
A mini golf course, splash park, and casino are some of the closest attractions you can escape if the sun gets too much.
Unfortunately, the beach has an entry fee, which might be because Asbury is one of the most popular beaches in the region, has lifeguards available, and it can get overcrowded quickly.
25. Coligny Beach Park, South Carolina
Coligny Beach Park is one of the Hilton Head Island Beaches in South Carolina. You can rent a bike, swim to your heart's content, or sunbathe on the beautiful sandy beach.
Hilton Head Island has a stretch of 12 miles of pure bliss. Kids can splash in water fountains, and you can use the change stations and showers to cleanse your body from the salt water.
Nearby attractions are within walking distance away.
At the Coligny Plaza, you can stroll through shops, enjoy the available treats or sit down at the outdoor bar for a cooling end to a successful day at the beach.
26. Miami Beach, Florida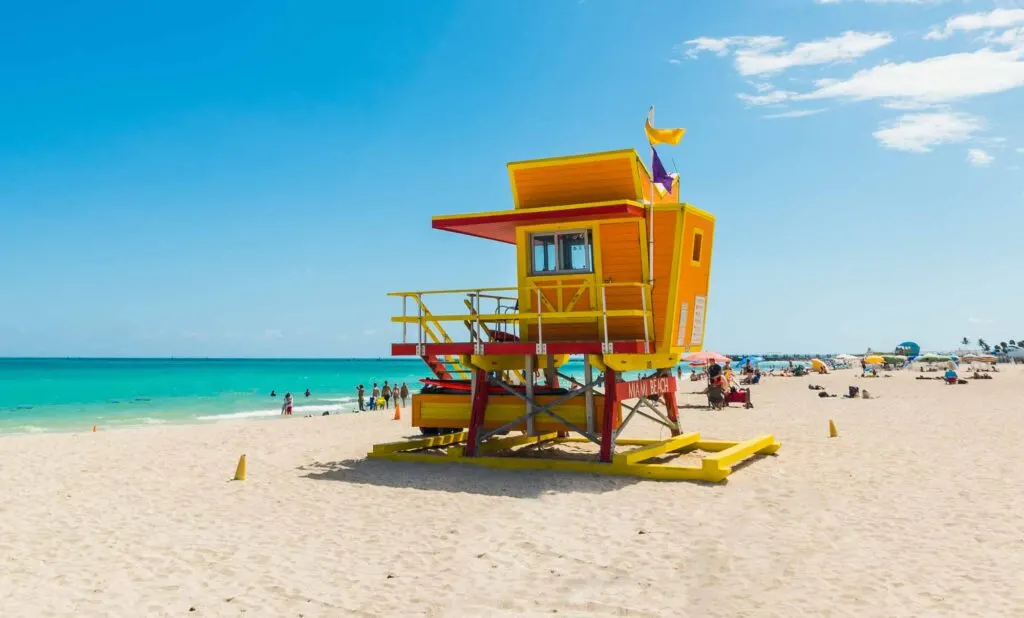 Many people have their wish lists of beaches, and Miami beach is one of them.
But don't mistake this beach as one only for the young at heart that want to party the night away – there are more than enough for young and old to see and explore.
Miami Beach is a city, and the beach area can divide into four different beaches in south Florida.
The stretch is about 9 miles of uninterrupted white sand to sink your toes. The water is fantastic for swimming and various watersports.
(Besides, this is a unique warm winter vacation spot!)
One of the beaches is open to dogs, and you can take your four-footed friend for a walk or game of fetch.
The culture and history of Miami beach are pretty spectacular, and there's a lot to learn.
In addition, each week, there's an open-air show and arts event in the evening, giving those who want to visit Miami Beach a reason to stay the night.
Best Beaches in America – Other Regions
Here are some of our favorite US beaches around the country.
27. Poipu Beach, Hawaii
When people think about the best beaches in America, Hawaii always pops up, and this is not a coincidence.
Poipu Beach in Hawaii is a dream destination, inviting you into a world of sun and sea.
Not only does Poipu Beach have the title of the best beach in America, but the look and vibe of this stunning beach will entice you to agree with the vote.
This crescent-shaped golden beach delivers when it comes to water sports availability and sea animals to see.
This beach is excellent for families and kids, with lifeguards on duty and ocean-formed splash pools.
Snorkeling, bodyboarding, surfing, and swimming are available for young and old.
The park right next to the beach gives families, friends, or couples the privilege to enjoy the breathtaking views while having a picnic.
Sealife that may pass through Poipu Beach is the Hawaiin Monk seal (endangered species), humpback whales, or green sea turtles.
28. Sleeping Bear Dunes National Lakeshore, Michigan
One of the most marvelous things you can ever see when it comes to beaches is Sleeping Bear Dunes National Lakeshore in Michigan.
Dunes, forests, and rich history are a few of the many things the lakeshore presents.
There are museums for those interested in the rich history of the culture of this area, and others might want to take a hike through the forest and learn about the vast flora and fauna while enjoying the captivating views.
Bike and hiking trails are available for 20 miles, and in the snowing season, you might even be able to ski.
Kids love to play on the sand, build sandcastles, or splash in the Lake Michigan waves.
29. Waikiki Beach, Hawaii
Waikiki is one of the most famous US beaches. It only became famous because people like Frank Sinatra raved about seeing it as soon as it was established.
The pristine views of 2 miles of white sands and crystal clear water, surrounded by significant buildings that shoot off reflections of the sun while it's setting – a pretty sight to see.
Swimming, surfing, taking a catamaran out on the sea, or a more adventurous canoe, are only a few things you can do at Waikiki Beach.
It's also called the Royal beach of Hawaii, the prime spot, and you are close to everything happening.
Food stalls with traditional food are available next to the beach to feed the hungry sun-soaked tummies.
An interesting fact is that modern surfing originated at Waikiki beach. Thus do not hinder yourself from trying your boarding skills at Waikiki Beach when you go there.
30. Wai'anapanapa Black Sand Beach, Hawaii
Black Sand Beach has to be one of the most beautiful beaches in the US.
It might not be a long stretch of white sand, but everything you can find here comes together to meet a paradise-inspired place in your imagination.
The sand is actually black, and there's a cave with a sacred connection to the Hawaiian people's queen.
Small pools to swim in will tickle your fancy, and just when you thought you'd seen it all – blowholes and volcanic rocks make their appearance.
Natural stone arches are added to the beauty of this beach, leaving you stunned by how beautiful nature can be. You can find red shrimp in the anchialine pools.
You can learn more about the legend of this beach in Wai'anapanapa state park and hike the beautiful scene.
The clear water might invite you for a swim, but with no lifeguards present and remote, it's best to keep the swimming idea for another beach.
31. Oak Street Beach, Illinois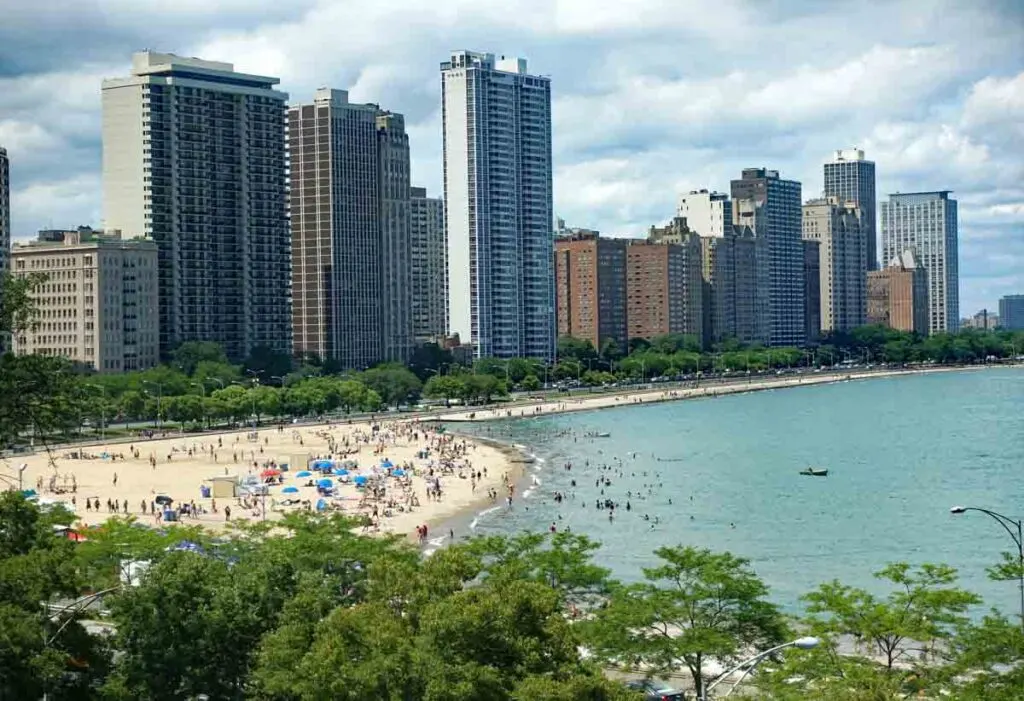 Oak Street Beach is one of Chicago and America's best beaches. With white beaches and perfect waves to surf and swim in, this beach invites you to enjoy a day in the sun.
Chicago Lifeguard Service is the best in the world, so you don't have to fret about your kids' safety.
Chicago beaches test their water daily, which might be one of the reasons Oak Street Beach is one of the best.
An interesting fact is that Oak Street Beach used to be a nude beach at night, but don't worry; police banned the activity in 1995, and you won't get a scare when taking a nighttime stroll.
32. Tunnels Beach, Hawaii
Tunnels beach is a golden beach with great waves for surfing, swimming, and windsurfing, with a backdrop of the jungle, giving you the perfect picture of one of the best beaches in the USA.
The name comes from the tunnel-shaped reefs around this beach, formed by volcanic rock, making way for unique experiences when scuba and snorkeling.
Almost all the beach activities are available here, from horseback riding, hiking, zipline tours, sunset cruises, tubing, and whale watching to many more.
So be sure to put Tunnels Beach on your wishlist when visiting Hawaii.
33. Luquillo Beach, Puerto Rico
Luquillo Beach is one of those typical island beaches with clear water, mirror-like sands stretching for days, and encircled with palm trees, leading to this beach being one of the best beaches in America.
The warmer water at Luquillo Beach ensures pure enjoyment in the waves, whether swimming or trying out water sports.
Water sports accessories and beach gear like umbrellas are available to rent. Food stalls, adequate bathrooms, and lifeguards make this beach one you can spend a significant time at and enjoy with your family.
The crescent-shaped beach has beautiful sunsets and mild waves for anyone to enjoy, even the disabled, that also have access to this beach.
34. Kaanapali Beach, Hawaii
For ample reasons, Kaanapali Beach in Hawaii is one of the best beaches in the USA.
This beach boasts fluffy sand you want to sink in and soak up the sun, long stretched-out sand to take never-ending walks, and an excellent destination for swimming.
Voted the most pristine beach in Hawaii, Kaanapali Beach and its 3-mile shoreline will take your breath away.
It might get crowded because of its popularity, but you have to visit it at least once to see this postcard-worthy place for real.
In previous years, Kaanapali Beach hosted royals and celebrities who stayed in the upstream hotels and villas overlooking the astonishing beach.
This public beach is best known for its cliff diving. As with anything in Hawaii, this ritual is tied to a historical event, and each evening someone dives from the cliff to torch the lights that run along the ridge, re-enacting a feat of one of Maui's historical kings.
Suppose you want a view from the top but would instead not dive from a cliff; you can do a ziplining tour with sensational views from above Kaanapali Beach.
More Beaches Worth Mentioning
Pfeiffer Beach along Big Sur, California
Assateague Beach on Assateague Island, Virginia
Sunset Beach Park, Hawaii
Siesta Beach, Siesta Key, Florida
Key West Beaches, Florida
Venice Beach, Los Angeles
Ocean City Beach, Ocean City, Maryland
Sand Beach, Acadia National Park, Maine
Cape May, New Jersey
Carmel Beach, California
Gulf Shores, Alabama
Daytona Beach, Florida
Lanikai Beach, Hawaii
Kiawah Island, South Carolina
Ocean Beach in San Francisco, California
Panama City Beach, Florida
Final Thoughts – Best US Beaches
There are many beaches in America, over 90,000 of them, and you are sure to find something unique and spectacular on each of the best beaches in the USA.
So get your calendar and budget together; you have a decade-worth of holidays to plan to visit all these fantastic beaches.
Oh, and what are the best beaches in the US, in your opinion? Let us know in the comments.
Did you enjoy reading about the best US beaches? Share this article on your social media!