These are hands-down the best day trips from Denver, Colorado!
Located in the foothills of the Rocky Mountains, Colorado's capital city, Denver, is not only a USA bucket list but also a fantastic vacation destination with a multitude of activities for city lovers and nature lovers alike.
The people here love living in the great outdoors, are avid sports fans, enjoy a drink with a view (bonus points if it's one of the many local beers), and are overall quite friendly and welcoming.
But what if you want to experience more of Colorado outside of Denver?
You will be happy to know some of the best attractions Colorado has to offer are relatively close to Denver.
And while the options are plenty, this list will help you narrow everything down with only 11 of the absolute best day trips from Denver, Colorado.
The Best Day Trips From Denver, CO
1. Red Rocks Park and Amphitheater (~30 minutes)
Located just outside of Denver in the foothills of the Rocky Mountains, Red Rocks Park and Amphitheater gets its name because of the massive sandstone formations in the area.
Listed as a National Historic Landmark, there is plenty to do here for the day.
Red Rocks Park is the perfect place to get in some quality outdoor activity. You can hike, trail run, and mountain bike among the breathtaking scenery with views of downtown Denver to the East.
Visitors also use the amphitheater stairs to elevate their workouts – but fair warning: it is tough, especially at the higher altitude!
But the best way to visit Red Rocks is in the evening for a show! The concert lineup is stacked with the best of the best every year.
They even hold special events like stand-up comedians, large group workouts, or a weekly movie series in the summer.
2. Coors Brewery (~30 Minutes)
The Coors Brewery is the largest brewery in the world, and it is located just outside of Denver in Golden, Colorado.
In fact, Golden produces more beer by volume than any other place in the world – mostly thanks to Coors! And they offer multiple daily 30-minute tours of their operations…completely free of charge!
Visitors on the brewery tour get a first-hand look at what goes on behind the brewery walls. Here you can see the malting, brewing, and packaging processes involved in getting Coors beers to the final consumer.
And, of course, you will get plenty of samples of their beer along the way.
But do not think that is all there is to see here! There are many things to do in Golden, so you can plan to spend a whole day or more exploring one of the closest mountain towns to Denver.
3. Boulder, Colorado (~40 minutes)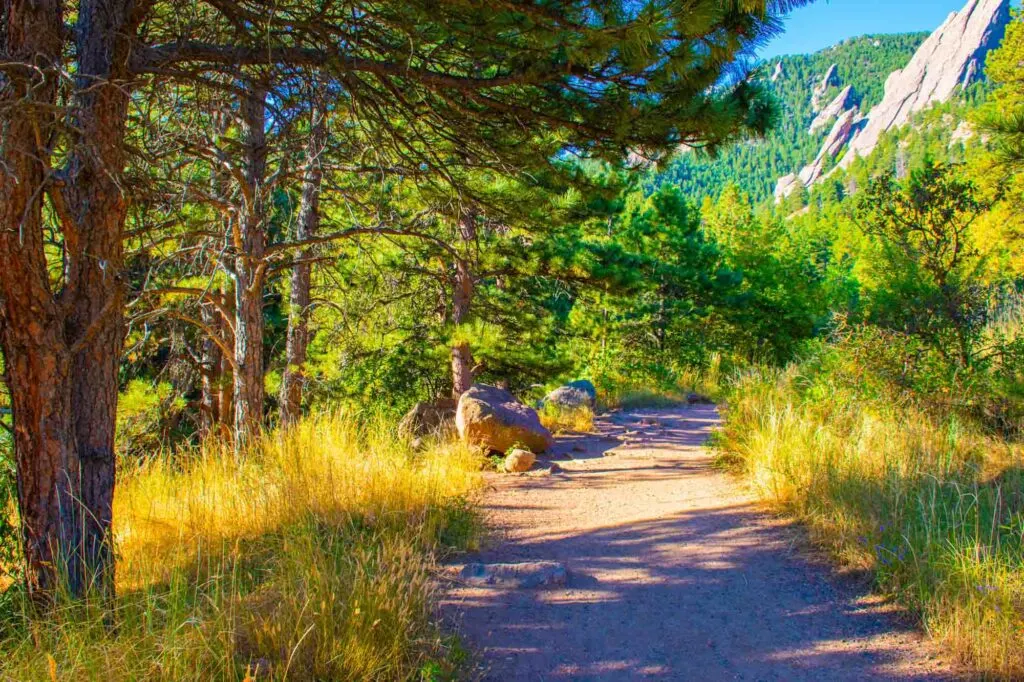 Boulder is only a short drive from Denver, but you will see it feels like worlds away upon arrival.
Boulder has more of a small-town feel, with a perplexing mix of both an upscale and hippie vibe. Making Boulder a fantastic place for city dwellers go to get a break from the everyday hustle and bustle.
In Boulder, you can hike Chautauqua Park, check out the historic Pearl Street pedestrian mall, drink many of the best beers brewed in Colorado, and enjoy delectable bites at their thriving restaurant scene.
There are so many things to do in Boulder to easily fill up a day trip with amazing new memories. So, make sure to leave some extra time in your itinerary to explore more!
4. Blackhawk/Central City, Colorado (~45 minutes)
Taking a visit up to Blackhawk/Central City is like taking a step back in time. Back to the Wild West and what Colorado may have looked like when settlers first arrived and set up shop.
But today, these small, historic communities are more widely known as the premier gambling destination in Colorado! There is a good mix of high-end casinos with plenty of smaller, local places to enjoy as well.
And regardless of where you wind up, you'll find the best gaming Colorado has to offer.
5. Garden of the Gods (~1 hour)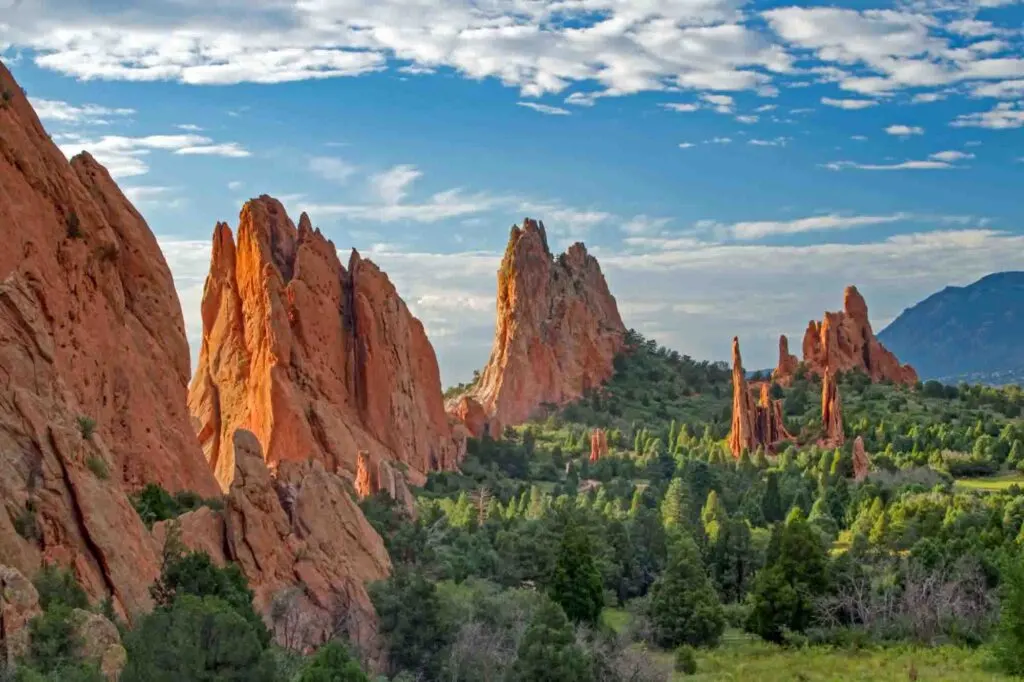 Located a short drive from Denver to the south, the Garden of the Gods is a registered National Natural Landmark and one of the best places to visit in Colorado.
With over 1,300 acres to enjoy and incredible views of towering red rock formations, it is clear why this is a popular destination from Denver.
There are a variety of ways to explore all the park has to offer. You can bike it, hike, ride horseback, or go rock climbing (depending on your personal abilities).
You can also visit the Manitou Cliff Dwellings and Cave of the Winds Mountain Park nearby to really round out your day trip from Denver.
6. Georgetown Loop Railroad and Mining Park (~1 hour)
Located only 45 miles west of Denver, the Georgetown Loop Railroad and Mining Park is a historically immersive experience. Here you can climb aboard the train and time travel back to the 1800s.
The trains running are steam-powered giants preserved and maintained for nearly 120 years. The loop takes visitors between the mountain mining towns of Georgetown and Silver Plume.
Bring the family for the day, ride the train, visit a silver mine, or learn to gold pan.
7. Rocky Mountain National Park (~1 hour 30 minutes)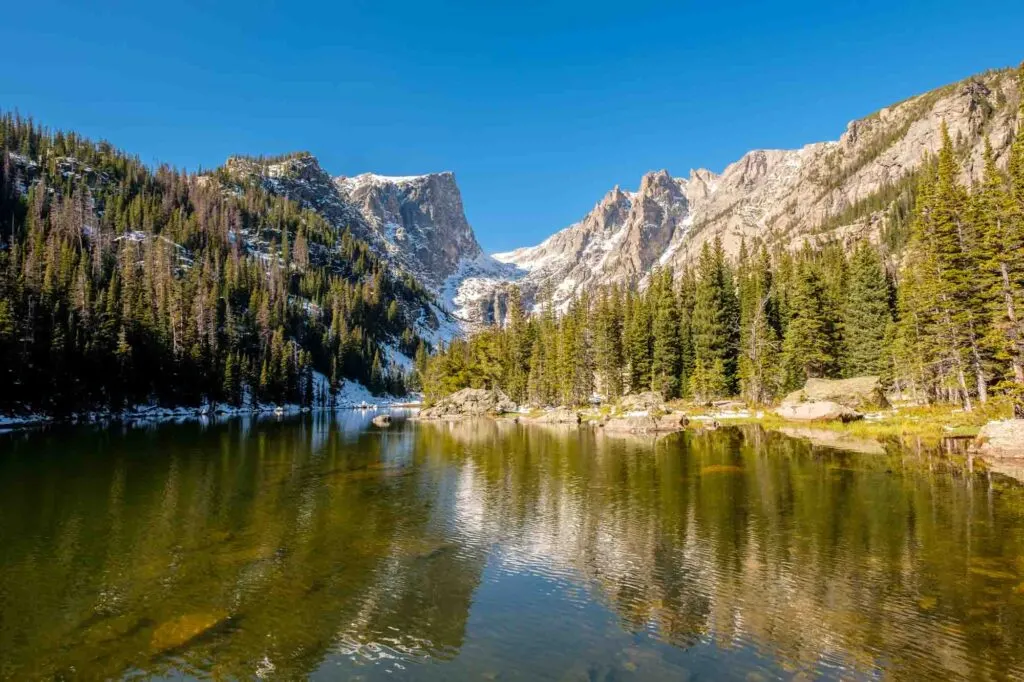 Visiting Rocky Mountain National Park is one of the most popular attractions in all of Colorado. In fact, the park draws in over four million visitors per year to enjoy its 400+ square miles of beautiful mountain vistas. After all, this place is one of the most beautiful places in Colorado!
Visitors can enjoy scenic drives, fishing, horseback riding, wildlife viewing, and more throughout the park. Obviously, you can find insane hikes in Rocky Mountain National Park too!
Trail Ridge Road is especially popular – and it just so happens to be the highest continuously paved road in the country! Which makes sense once you learn that it is also known as the "Highway to the Sky."
And it does not matter what time of year you visit RMNP! There is a variety of activities offered through all seasons. RMNP is an easy day trip from Denver filled with options for the whole family to enjoy.
8. Breckenridge, Colorado (~1 hour 30 minutes)
You cannot have a listing of awesome day trips from Denver without including a ski resort town!
Breckenridge is at the base of the Rocky Mountains and boasts a bustling ski resort (aptly named Breckenridge Ski Resort), as well as a historic small town with plenty of cute mountain charm.
As one might imagine, Breckenridge is an incredible winter vacation spot—activities here are focused on all things snow, from skiing to snowboarding, tubing, and more.
Visit outside of the winter months, and the activities shift to biking, hiking, and alpine activities.
But no matter when you decide to visit – there are plenty of incredible restaurants to enjoy, local shops to peruse, and friendly locals to chat up.
9. Estes Park, Colorado (~1 hour 30 minutes)
Estes Park is another fantastic mountain community located just to the northwest of Denver, CO.
Those hoping to visit Rocky Mountain National Park typically base themselves here for the variety of activities offered and the proximity to the park entrance.
You can take the Estes Park Aerial Tramway for incredible views over the valley. Horror fans will relish (and immediately recognize) a visit to the famed Stanley Hotel, which was featured in Stephen King's movie, "The Shining," and just-so-happens to be one of the most haunted hotels in Colorado.
And, of course, Estes Park includes all the outdoor activities you can handle – which is just so Colorado!
10. Glenwood Springs, Colorado (~2 hours 30 minutes)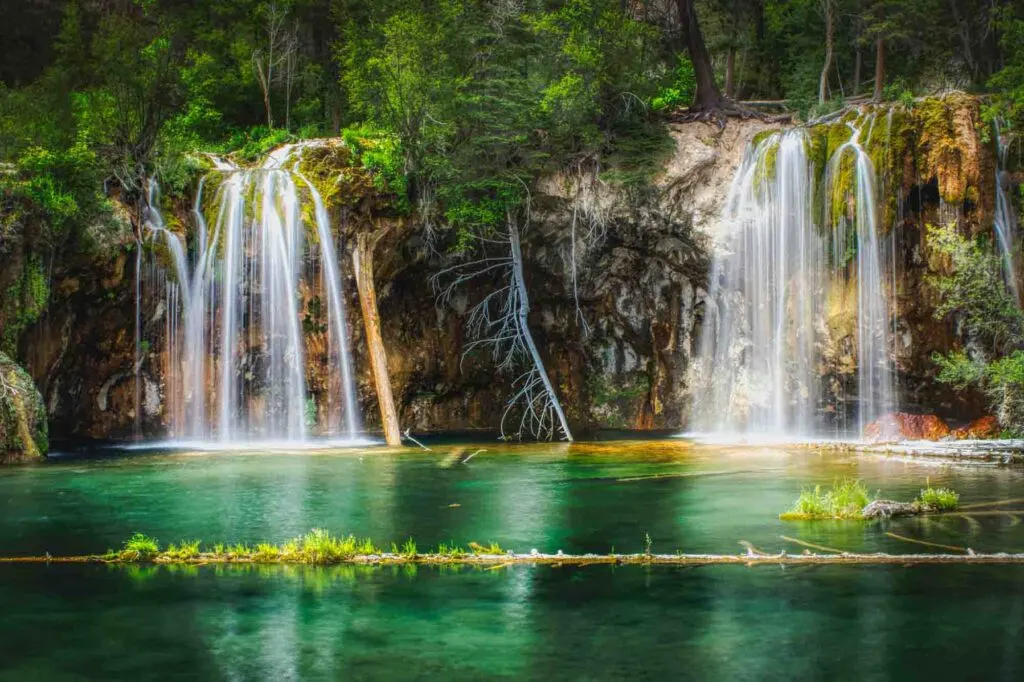 Alright, 2 hours and 30 minutes is probably pushing the upper echelon of a "day trip," but a visit to Glenwood Springs is totally worth it!
Start your day with a scenic drive through the mountains from Denver. The landscape is fantastic!
Then stop just outside of Glenwood Springs for an amazing hike to Hanging Lake Trail, one of Colorado's most beloved hikes (but make sure you plan ahead and get a permit).
It is a relatively short hike at around one mile, but you gain a lot of elevation in that distance, so it's moderately challenging.
Afterward, head into the town of Glenwood to soak those post-hike muscles in the fantastic hot springs.
The Glenwood Hot Springs Pool is massive and centrally located in town. Or check out Iron Mountain Hot Springs for more intimate pools with views of the river.
Follow that up with a nice meal at Juicy Lucy's Steakhouse, and you have had one packed but incredibly fantastic day!
11. Bishop Castle (~2 hours 30 minutes)
This is certainly the "quirkiest" spot on this list, but what is life without dipping your toes into the peculiar?
Named after its creator, Bishop Castle is a one-person project that has become a popular roadside attraction in Colorado. And it's sure to be one of your most memorable stops!
There are no guided tours here – the castle is always open, always free, and visitors are encouraged to explore on their own as they see fit.
The castle features tall towers primarily made of stone and iron with amazing views (you can see for over 100 miles), a grand ballroom, quirky architecture, and a fire-breathing dragon thrown in for good measure.
About the author
Kara is the founder, writer, and editor behind Destination: Live Life, a Colorado travel blog.
After fleeing small-town life in Wyoming, Kara has called Denver, CO home for the last 12+ years.
In her free time, she's dreaming up her next trip, petting any dog that will let her, and laughing (loudly) at any opportunity. In addition to the blog, you can also follow her travels on Instagram and Pinterest.