This Southern hotspot has a little bit of everything, and its sights are the subject of many a top 10 list, so we've put together the perfect action-packed itinerary for a weekend in Austin.
This guide will get you around to all of the must-visit tourist hotspots and let you in on some legendary local secrets too. Best of all, everything fits neatly into two days of totally Texan fun.
From buzzy live music bars to deep dives into state history to finger-licking, fall-off-the-bone barbecue, we're digging into the best Austin has to offer, and basically scheduling your days for you to boot.
So save this Austin itinerary and keep it handy when you head down South because trip planning has never been easier!
Want to see even more of Texas? The best way to explore the giant Lone Star State is definitely by car, and lots of the best road trips in Texas can use Austin as a taking off point or drive-through destination.
When to Visit Austin
There are pros and cons to any time of year, but there's no doubt that, whenever you visit, there will be plenty of activities to pack your weekend in Austin with.
Here's a breakdown of what weather and activities you can expect in each season.
Summer in Austin
How to describe summer in Austin? In one word…hot. Temperatures typically hover in the 90s, but 100+ degree days are not uncommon.
However, summer is also when the city comes to life, with tons of options to stay cool. Natural swimming holes, outdoor concert series, and Lake Travis kayaking are all best enjoyed during the warmer months.
Fall in Austin
Fall is the back-to-school season in this college city, which means the restaurants and bars will be swarming with lively crowds and the music scene will be in full swing.
An autumn weekend in Austin also gives you the chance to attend one of their legendary music festivals, among the best in the country.
Austin City Limits Music Festival happens every October, and recent years have featured headliners like Paul McCartney, Billie Eilish, and Coldplay.
It's also the season of pumpkin patches, corn mazes, and horseback rides galore!
Read next: 33 Fall Vacations in the US
Winter in Austin
Winter in Texas is much milder than most of the country, but Austin can still see some cold snaps.
It's the perfect time for indoor activities like museum visits, but visitors can also embrace a little chill with trips to a rooftop ice skating rink or, during the holiday season, a stroll under Christmas light displays.
Read next: 33 Winter Vacations in the US
Spring in Austin
Spring is a lovely time to visit Austin when the weather is pleasant and events are being held all over the city. The famous South By Southwest, a music, film, and interactive media festival, is held every March.
Where to Stay in Austin
There are a plethora of unique places that offer top-notch comfort, from modern apartments to cozy and secluded spaces. How cool is that?
We wrote a summary below of a few properties worth checking out, but if you'd like to browse more options, including hotels, check out our guide to where to stay in Austin or best Airbnbs in Austin.
The link above is a curated list of those places. Still, here's a quick answer for the top 3 places:
Modern apartment: It's in the heart of Austin, so you can walk to most attractions.
Treehouse-ish apartment: This cozy and functional apartment is near South Congress and Lady Bird Lake, so you're close to the center but sleeping in a quiet area. Love it!
Apartment in East Austin: Unique and modern apartment within walk distance to 6th street, Downtown, and many eateries.
How We Structured This Austin Weekend Guide
First, we will talk about our perfect 2-day Austin itinerary with tips on what to do, see, and eat.
But, if you actually have 3 days in Austin, so a long weekend, you will want to read our suggestions on what to do on that last day of your trip. Enjoy!
Austin Weekend Itinerary: Day 1
For your first day in Austin, it's time to dig into the local history and culture. Austin is the capital of Texas, the second largest city in the state, and one of the fastest growing urban areas in the country!
There are dozens of museums and educational sites, so day one will be spent hitting the highlights.
After all, no weekend in Austin would be complete without a visit to such celebrated spots as the State Capitol, the Texas State Cemetery, and the Bullock History Museum (just to name a few).
You'll also get to know Austin's art culture with a tour of the city's stunning graffiti walls and galleries such as the Contemporary Austin Jones Center and the Mexic-Arte Museum.
You can also add some quirkier attractions to the list, like the Museum of the Weird.
Fuel up With Some Breakfast Tacos
With a busy day ahead, you can't skip the most important meal. Austin is known for its mouth-watering TexMex, so set aside the typical scrambled eggs and bacon for the much yummier and more fitting breakfast tacos.
Jo's Coffee is a beloved Austin institution located in the heart of downtown. They are open from 7 AM serving up strong coffee and hot, hearty dishes that will kickstart your morning and leave you full and ready to take on some sightseeing.
We recommend their signature Turbo, a "sweet, creamy, cold coffee drink" with a yummy blend of chocolate and hazelnut alongside a migas taco, which comes with eggs, cheese, tortilla strips, peppers, and onions.
Snap Some Shots at Austin's Graffiti Walls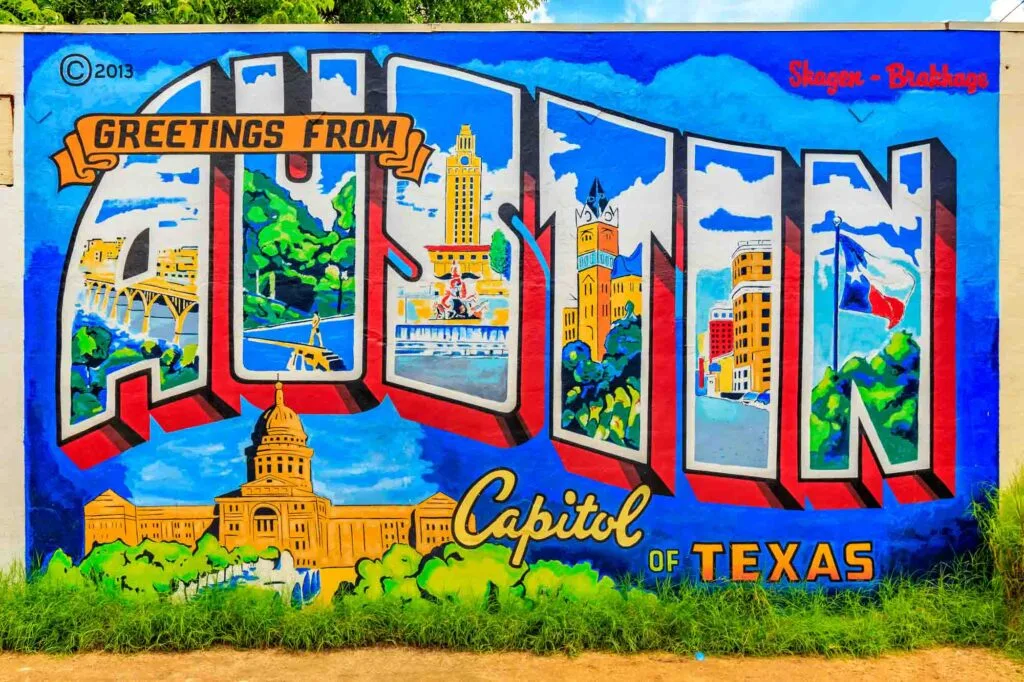 Next up on the Austin itinerary is a tour of the city's graffiti walls. Austin is known for its street art, which can be found anywhere and everywhere there's enough space for a sketch.
One of the most popular–a cursive scrawling of the words "I love you so much" is actually on the wall of Jo's Coffee, so you can start right after breakfast.
It was actually written by the owner's partner more than a decade ago. So sweet!
From North Austin to South Austin to Downtown, there's no shortage of street art, so pop a few coordinates into your phone or just walk around and discover what you can.
For those that like a more organized experience, a number of companies offer guided tours that hit all the best spots and even take photos for you along the way.
Visit the State Capitol
If you're visiting Austin, you absolutely have to hit the State Capitol. This gorgeous red granite building is the seat of the state government and home to some of the most incredible architecture in the city.
Tours run regularly from 8:30 AM-4:30 PM on weekdays, as well as 9:30 AM-3:30 PM on Saturday and 12 PM-3:30 PM on Sundays.
Feel free to take yourself on a self-guided tour with their informational pamphlet if you prefer to go at your own pace.
Don't forget to spend some time exploring the grounds around the building, which hold a variety of historic sites, monuments, and beautiful landscaped lawns perfect for picnicking.
There are a good number of famous Austin food trucks that hang around this area, so you can grab lunch to go and eat on the grass (try Leroy and Lewis for creative barbecue)!
For those that prefer sit-down spots, Texas Chili Parlor is just next door, and they dish up proper TexMex and other Southern cuisines that can get quite spicy.
Go Museum Hopping
A whole weekend in Austin could be spent on museums alone, but for the sake of leaving some time for other activities, we'll recommend just a few.
The Contemporary Austin Jones Center is actually made up of two museums that showcase modern art from across the world. You'll find an outdoor sculpture garden, ground-breaking exhibitions, and lots of special events to keep an eye out for.
Meanwhile, the Mexic-Arte Museum highlights Mexican and Latino art and culture, with both traditional and contemporary displays.
For something a bit more out of the box, try the Museum of the Weird, which really took the city's "Keep Austin Weird" motto to heart. There, you can browse all kinds of oddities, from shrunken heads to strange animals.
Blanton Museum of Art has world masterpieces, including European and Latin American Art.
Lastly, history buffs will feel at home in the Bullock Texas State History Museum, where you can learn about the local culture and all things Texas history–the Civil War, Reconstruction, the oil boom, and so much more.
Dinner and Drinks at Iron Cactus
Hopefully, you're not tired of Mexican food yet, because that's what Austin is all about.
Iron Cactus boasts traditional south of the border dishes and more than 75 different tequilas, so there's no doubt that their menu can sustain you well through happy hour and beyond.
Perhaps even better, the restaurant looks out over downtown Austin, with birds-eye views of the city lights as they come on after sunset.
Austin Weekend Itinerary: Day 2
After a more mentally engaging first day, this one is for sunshine, outdoor activities, and a good shot of adrenaline.
Kick things off with an exploration of Zilker Park, then wander around the artsy SoCo area–shop, grab lunch, enjoy the lively atmosphere–before dressing up for dinner and drinks.
If you've still got energy to spare, end your time in Austin with a bang by heading out to the rough-and-tumble Sixth Street for parties galore.
Breakfast at Snooze Eatery
This adorable cafe is much-loved and usually quite busy. They specialize in healthy and hearty options for early morning fuel or a casual brunch.
Dig into a sweet potato hash, a stack of peanut butter cup pancakes, or a breakfast pot pie, and don't forget to include their house blend coffee. Yum!
Have Fun in the Sun at Zilker Park
Central Park, who? Austin is the home of its cooler, sunnier counterpart–Zilker Park. Stretching for over 350 acres, Zilker has something for everyone.
Go for a dip in Barton Springs Pool, a super refreshing natural swimming hole that stays the same temperature all year round.
Stroll through the stunning Zilker Botanical Gardens, which features a rose garden, koi ponds, and even a prehistoric area that recreates the habitat of dinosaurs that used to live in the region.
Watch a show at the Zilker Hillside Theater, which regularly hosts a range of concerts (jazz, country, and everything in between) as well as summer musicals and Shakespeare in the Park.
Do a Walk and Stop Along SoCo
South Congress Avenue is one of Austin's trendiest areas, full of boutique vintage shops, iconic restaurants, and street performers vying for your attention.
We suggest a walk and stop because there is such an abundance of intriguing places to explore. It's simple–just keep strolling, and head into any place that catches your eye.
When you get hungry, Magnolia Cafe and Torchy's Tacos are two of the best restaurants in Austin, and just happen to be right next to each other.
While Magnolia Cafe dishes up incredible down-home cooking, Torchy's Tacos features, you guessed it, even more TexMex (because there's no such thing as too many tacos when in Texas).
Of all the things to do in Austin this weekend, SoCo is a must.
Dress up for Dinner at Barley Swine
Wind down the day with an experience that lets you just sit back, relax, and be totally taken care of. All you have to do is put on your best dress or suit.
At Barley Swine, award-winning chefs craft incredible farm-to-table meals that delight the palate while also supporting farmers in the region. And according to the rave reviews, a night here will make your weekend in Austin unforgettable.
Traveling as a couple? This spot makes for a fabulous date night and even scored a spot on our list of the most romantic things to do in Austin.
But partnered up or not, the dining experience at Barley Swine is unparalleled, and their menu features a range of elevated Texan options, from melt-in-your-mouth prime rib to pecan chocolate brittle cookies.
It's a great way to take a break from TexMex and street food (although both are basically gourmet meals in Austin) and try some of the bolder culinary innovations in the city.
Sip and Shake a Leg at Sixth Street
One of the perks of a weekend visit to Austin is that the party scene will be in full swing.
If you're willing to get down and dirty with the locals, a stop at the (in)famous Sixth Street is a must. This lively bar street is where all the college kids and fun-loving Austinites go when they're looking for an all-out party.
Every night, Sixth comes to life with neon signs, giant crowds, and boisterous bands jamming at almost every restaurant. In fact, Austin is known as The Live Music Capital of the World!
But don't worry if that's not your scene. Around the area, there are also plenty of more upscale establishments and some swanky speakeasies for those looking for a less rowdy night.
Try The Cat's Pajamas for a retro-themed bar that features Neon lights, DJ, swings, and cool people, or visit The Parish, arguably the best live music venue in Austin (and that's saying a lot).
Whatever way you go, can you really say you've been to Austin if you haven't at least hung out and people-watched at Sixth Street?
Have 3 Days in Austin? Here's What You Can Do!
Austin Itinerary Summary
We made a handy summary of this Austin itinerary to make your life easier. Still, you will want to bookmark this page to check all the details later on.
Day 1
Day 2
Did you like this weekend in Austin itinerary? Then share it with a dear friend who might like it too!