Christmas in Houston is a magical period filled with holiday lights, displays, s'mores, hot cocoas, and Santa visits, of course!
From marveling at holiday lights to sipping hot beverages, there are many things to do in Houston during Christmas. However, this Texas city doesn't have a white Christmas as the temperatures stay in the 40s and 60s.
Which is also why Houston should be on everyone's USA bucket list!
Still, you can enjoy incredible holiday festivals and everything else larger-than-life because as a good 'ol Texan town, Houston, the Space City, is here to make an impression.
12 Festive Ways to Celebrate Christmas in Houston
These are the best Christmas events in Houston. Enjoy!
Traveling around the Lone Star State? Check out these other places to celebrate Christmas in Texas!
1. Lace-Up Your Skates at the Discovery Green Ice Rink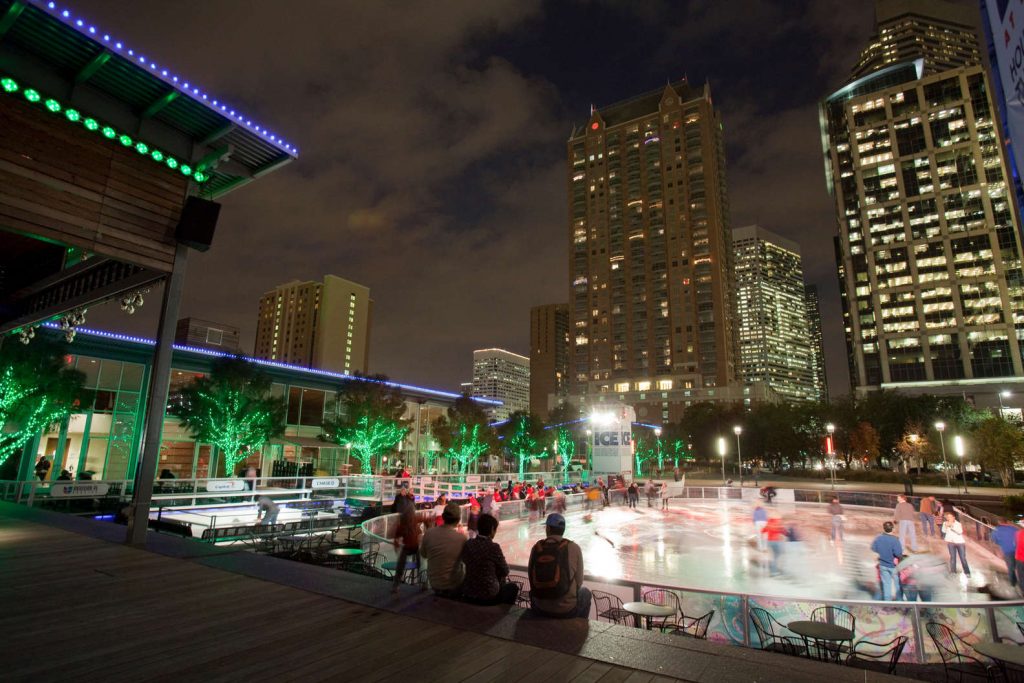 Glide beneath the glittering lights of Downtown Houston and create memorable moments with your family or friends!
While winter in Houston is mild compared to most winter vacation spots in the US, the ice rink in town is perfect for getting in the holiday spirit.
Running on renewable energy, the rink at Discovery Green is open every day of the week, including Thanksgiving, Christmas, and New Year's Day.
Tickets must be purchased online for safety reasons. Admission on Mondays is cheaper, $8, while on the other days, the entrance is $15 per person, skate rentals included.
Read next: Best Places to Visit During Christmas in the USA
2. Rudolph's Light Show
If you want to celebrate Christmas in Houston with the little ones, you will want to drive through Rudolph's Lightshow.
It's a magical experience with light tunnels, larger-than-life Christmas trees, snowmen, and many other displays featuring over 1 million lights!
The lights are synced to music that will be played over the radio, which takes the experience to the next level.
The event opens in early November and runs until the first week of January – dates to be confirmed!
Of all the things to do in Houston for Christmas, this one is pretty unmissable.
3. Marvel at the Spectacular Holiday Lights
Magical Winter Lights is one of the most popular Christmas activities in Houston.
This 20-acre, 52-day, larger-than-life lantern festival has themed lantern sections, nightly acrobatic performances, carnival rides and games, an interactive dino area, and lots of holiday fun for the whole family.
In case you didn't know, this is the largest lantern festival of its kind in the United States, boasting over 100 individual lantern sets in eight unique themed sections.
4. Watch the Nutcracker at Houston Ballet
Calling all culture lovers! The Christmas season marks the return of a beloved audience favorite at the Houston Ballet.
Travel to a winter wonderland set to your favorite carols and an abridged version of Stanton Welch's The Nutcracker, keep the tradition alive, and celebrate the holidays with Houston Ballet!
It's an excellent family-friendly activity that will make your Christmas in Houston even more magical!
Houston Ballet has been around since 1973 and is involved with several community dance programs, including Dance for Parkinson's, Adapted Dance for children with Down Syndrome, Autism-friendly performances, and off-site adapted dance classes (hospitals, schools, etc.), so you'll also be supporting local causes.
The Nutcracker ballet is played from November 26-December 24, and tickets start at $27.
5. Take a Christmas Train Ride
No Christmas in Houston would be complete without a train ride at the Christmas Train.
With 279 trees wrapped in lights, over 500 lbs popcorn popped, and some mouthwatering deep-dish pizza, this activity at Victory Camp in Alvin is one of the local's favorite Christmas events in the Houston area.
Your whole family can enjoy an old-fashioned train ride on open-air coaches while experiencing, wait for it, over 300,000 Christmas lights and displays.
It is a unique holiday experience, unlike anything else in Houston!
The event will run on November 26-27, December 3-4, 9-11, and 16-23 from 6-9 PM, but on extended hours until 10 PM on December 22-23.
Tickets online are just $10 for adults and for rides after 8 PM, it's $8. Kids 2 and under get in free!
Mind you, tickets at the door are a bit more expensive, $12.
6. Take Holiday Photos at the Christmas Tree at the City Hall
This iconic Christmas tree is lit on December 4 to signal all Houstonians that the holiday season has officially arrived!
Stand beneath the towering Holiday Tree at Houston City Hall and take your Christmas photos with friends.
Glowing with energy-efficient LED lights, shimmering ornaments, and a stunning star topper, the tree is the centerpiece of a Christmas holiday in Houston. Namely, it lights up the streets of Downtown Houston year after year.
While the tree will be shining bright all the way through December 31, the 2021 Reliant Lights Mayor's Holiday Spectacular 102nd year event will take place on Hermann Square on December 4, from 4 PM-8 PM.
7. Catch a Gingerbread House Competition
Join the sweetest holiday even in Houston in a traditional competition that will leave you hungry for gingerbread!
If you have little ones along on your trip to Houston, a stop at Architecture Center Houston should definitely be on the itinerary.
Watching their annual gingerbread competition is an incredible thing to do in Houston during Christmas as skilled architecture firms and students show their talent in delicious artworks.
Besides the competition, children can have the time of their lives at the kids' construction zone and say hi to Santa, of course! Admission is free for the public.
The 2021 Gingerbread Build-Off will take place on December 11 from 10 AM-5 PM at Levy Park.
8. Go Wild With the Zoo Lights
Can you imagine celebrating Christmas in Houston while seeing wild animals, visiting Santa, and photographing incredible Christmas displays?
That's perfectly possible at Houston Zoo!
Families and all crowds can enjoy this incredible experience and have a unique Christmas while touring the zoo after dark.
Pack your camera, wander around the wild Christmas displays, and appreciate the holiday season.
This magical event is ideal for celebrating Christmas in Houston and have lots of family fun!
9. Take the Starry Night Express to Another Galaxy
If you're looking for truly unique things to do in Houston for Christmas, look no further. The Houston Museum of Natural Science will hold a live stargazing show for all ages.
Finding planets, the moon, constellations, meteor showers, and the Milky Way band are some of the things you will see departing from the Space City.
You will visit the George Observatory to experience the darkest skies on Earth. Then the show will drop into a star party led by Patrick Stewart.
From this country setting, the show takes audiences through the solar system and into the Universe.
This show delivers the night sky and interprets its wonders all in one spectacular experience.
The live show will run daily from September-December 31, 2021, and tickets cost between $8-$9.
10. Go Holiday Lights Hunting on the Main Street
Stroll along Main Street and take in the twinkling lights bringing the holiday spirit to Downtown Houston!
As a good ol' Texas event, Christmas in Houston has larger-than-life displays, sparking trees, and banners guiding your hunt from one end to the other of the street.
The holiday displays will shine brightly from mid-November-December 31, and the attraction is obviously free for the entire family.
11. Experience an Open-Air Christmas Market
At the Tomball German Festival and Christmas Market, Houstonians and tourists alike can enjoy the unique ambiance of this street festival.
It is a music/street festival celebrating German and ethnic heritage with three stages of live music, a Christmas market with foods and drinks, and antique shops, this festival will ensure a real Houston Christmas for everyone.
The Tomball German Fest happens on December 10 from 6 PM-11 PM, and December 11 from 10 AM-10 PM. Admission, parking, and shuttle are free.
12. Get an Out-of-This-World Experience at the Space Center Houston
Christmas at the Space City couldn't pass by without a visit to the Space Center Houston.
You can embark on a one-of-a-kind festive adventure and continue the Space City tradition this holiday season during Galaxy Lights, an immersive holiday lights tradition bringing to Houstonians and tourists the most interactive and technologically advanced light display in Texas.
This holiday festival has LED lights and interactive displays lighting up some of the world's rarest space artifacts.
Here you can explore the solar system through massive models of each planet, snap a selfie in the Earth photo station, and of course, marvel at a 20-foot twinkling tree.
These are just some of the things you can experience at Galaxy Lights, which will be a blast for space enthusiasts of all ages.
There are s'mores and hot cocoa available for purchase for those who want something to munch on as they ooh and ahh.
The shows happen nightly from November 13 through January 2, 2022, and ticket prices start at $19.95 for the public, $15.95 for members, and ages three and younger get free admission.
Want to experience Christmas in other Texas towns too? Then you might want to check out the holiday events in Fredericksburg in the heart of the Texas Hill Country. Likewise, both Christmas in San Antonio and Austin are absolutely worth experiencing.
Christmas in Houston
There are many things to do in Houston to celebrate the holidays, from festivals to holiday shows and special museum events.
For that reason, we hope this list of Christmas things to do in Houston will be useful to you and your family and that you have a lovely holiday in the Lone Star State.
Happy holidays!
Did you like this article about Houston Christmas events? Then share it with a dear friend who might like it too or save it to your Pinterest board for later.