Looking for the best places to visit in Colorado? Here are fantastic places for a Colorado vacation!
Colorado is a dream when it comes to all things mountains, gorgeous scenery, and unbeatable outdoor activities.
Looming snow-capped peaks, exciting cities, gorgeous alpine lakes, quaint mountain locales, mining towns, and a wide array of national and state parks boasting otherwordly-looking landscapes are just a few of the staples this magical state has to offer.
Put in simple words, the Centennial State is a cirque of gorgeousness, and even though we could virtually write an entire book describing some of the best destinations in Colorado worth visiting, we decided to round up the list with 26 places that stand high above the crowds!
26 Places to Visit in Colorado That You Can't Miss
1. Great Sand Dunes National Park
This may come as a shock, but the tallest sand dunes in the North American continent are actually found in Colorado!
Even though mountain scenery is the first thing that comes to mind when we think of the Centennial State, places like this one are proof of how varied the landscape can actually get.
Imagine a beautiful landscape lined by towering sand dunes (some of which can reach heights of over 700 feet) backdropped by stunning views of snow-capped mountains, and you've got yourself a scene you're very unlikely to find anywhere else in the world.
In fact, this national park is one of the most beautiful places in Colorado!
Hiking is a popular activity here, and even though Colorado may be home to thousands of trails, none of them are quite like the ones you'll find at Great Sand Dunes.
Set over the sand, most hikes at this national park will have you conquering, well… sand dunes! Moreover, two other super fun activities to try while here are sandboarding and sand sledding, both of which guarantee a dose of adrenaline combined with laughter.
Something else that makes Great Sand Dunes a must in your itinerary is the fact that it's listed as Dark Sky Territory.
This essentially means there is no light pollution anywhere around, making it a perfect place for stargazing.
2. Breckenridge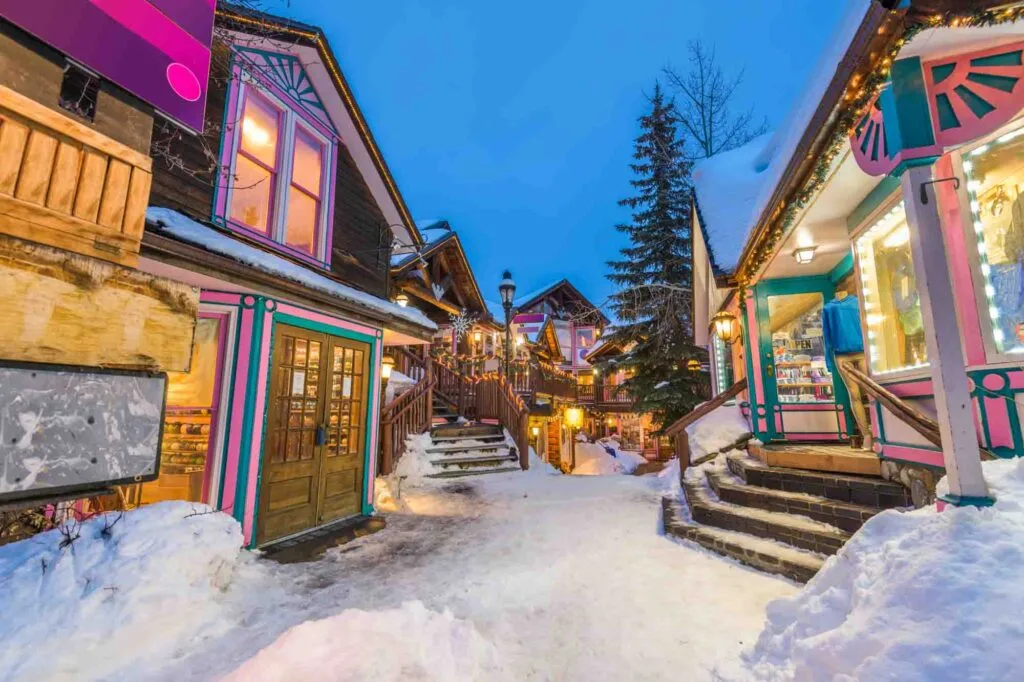 Breckenridge is one of the best places to visit in Colorado if you're keen to explore the state's alpine beauty.
As one of the most beautiful mountain towns in the state and a place that sees 300 days of sunshine throughout the year, Breck offers a myriad of outdoor activities.
From epic hiking opportunities, white water rafting, world-class skiing to various winter sports during the colder months of the year (think dog sledding, snowshoeing, and more!).
Oh, and you can even spot a troll! The Breckenridge Troll is a 15-foot tall wooden sculpture on Trollstigen Trail.
3. Lone Eagle Peak
Lone Eagle Peak is considered the most beautiful peak in Colorado.
Even though simply getting to see it from the many viewpoints available around the Indian Peaks Wilderness area is gratifying enough, if you wouldn't mind putting your hiking skills to test, actually summiting it is an authentic Colorado experience you're not bound to forget any time soon.
The trail to conquer Lone Eagle Peak is 14-miles long (out and back).
While it can take seasoned hikers several hours to reach the top, the hike is actually relatively (keyword here: relatively) easy, making it a great summit to conquer for somewhat newbie hikers!
4. Telluride
Backdropped by the alluring San Juan Mountains in the distance, Telluride is another must-visit Colorado vacation spot, especially if what you're after is gorgeous alpine scenery, amazing adventures out in nature, and unbeatable winter sports during the season.
Even though Telluride is usually recognized as a ski resort, this cozy mountain locale has plenty to offer visitors year-round.
During the warmer months, visitors can tackle a few of its amazing hiking trails, including the famous Bridal Veil Falls, a huge 265-feet tall waterfall (Colorado doesn't have a lot of waterfalls, so Bridal Veil is a pretty unique sight in the Centennial State).
If you're into heart-pumping adventures, a must-hike while here is braving the Telluride Via Ferrata, a trail that will have you traversing treacherous cliff ledges using cables and a harness in order to get to some of the most awe-inspiring viewpoints in town.
Read next: Secluded Cabins in Colorado For A Getaway
5. Emerald Lake
Colorado isn't short of beautiful alpine lakes, but Emerald Lake may just be the most beautiful of them all!
Tucked away inside the famous Rocky Mountain National Park, reaching Emerald Lake requires following a short and easy trail that will have you walking past seasonal waterfalls, idyllic valleys, and spectacular views every step you take, giving you very few reasons to complain along the way.
6. Mesa Verde National Park
If you're keen to get more personal with Colorado's complex native history, Mesa Verde National Park provides a wonderful opportunity to do just that.
Once the home to Ancestral Puebloans, Mesa Verde features massive cliff dwellings, including the impressive Cliff Palace.
Even though nobody really knows exactly why or how this ancient society tumbled, walking amid the ruins of the place they once called home paints a pretty good image of the way they used to live.
7. Million Dollar Highway
It may not be a destination in itself, but the Million Dollar Highway needed to make it into the list for two simple reasons: it's absolutely stunning, and it's also dotted by some of the best places in Colorado to visit.
Known for being one of the most scenic highways in the USA, this gorgeous road is part of the San Juan Skyway Scenic Byway.
It loops 233 miles across some of the best destinations in Colorado, including the towns of Telluride, Ouray, Durango, and Ridgeway, and San Juan National Forest.
Even though the drive itself can easily be completed in around two hours, the best way to truly experience this incredibly iconic road is by treating it as a road trip and making multiple overnight stops along the way.
8. Rocky Mountain National Park
Home to over one hundred hiking trails, turquoise-shaded alpine lakes, rugged ridgelines, scenic drives, and gorgeous mountain views, Rocky Mountain National Park is probably the most iconic place to visit in Colorado.
Rocky Mountain National Park is meant for hiking. With so many miles of pristine trails on its menu, choosing the best one is practically impossible, but we highly recommend the Emerald Lake Hike, Alberta Falls, and Glacier Gorge for first-timers.
Moreover, if you're up for a bit of a challenge, the Bridal Veil Falls and the Lake Helene and Two Rivers Lake trails are both incredible choices.
For experienced hikers, we suggest braving the Glacier Gorge Trail to Sky Pong Lake or Longs Peak, the only mountain over 14,000 feet in the park!
Another must-do activity during your visit is hitting the road and driving the scenic way.
Choose from the Peak to Peak Highway or the famous Trail Ridge Road (or just go for both!) and drive aimlessly in search of the gorgeous viewpoints the park has to offer.
9. Glenwood Springs
Set in the heart of the Rockies, Glenwood Springs is a resort town and one of the best Colorado vacation spots if some serious relaxing is what you're after.
Famed for its geothermal waters and amazing vistas, Glenwood Springs is all about soaking up in its wide array of natural hot springs.
While spending your entire visit to Glenwood Springs bathing in its mineral hot springs sounds super tempting, you'll also find plenty of other things to enjoy in this historical town.
Think hiking trails, mountain biking paths, or simply chilling out on the river across the stunning Glenwood Canyon.
10. Pikes Peak
Also known as America's Mountain, Pikes Peak stands as Colorado's most treasured natural landmark.
Being the highest summit on the southern Front Range of the Rocky Mountains, Pikes Peak is probably one of the most iconic 14ers in the entire state.
Standing atop this roaring mountain is an experience like no other, with scenic views of reservoirs, nearby peaks, the Garden of the Gods, and the Continental Divide being just a few of the things your eyes will get to feast on!
To reach the top, you can choose from several hiking trails on offer if you're feeling up for the challenge.
If you're not too keen on going by foot, you can also drive up to the mountain via the Pikes Peak Highway just outside of Colorado Springs.
The drive is incredibly scenic and will give you the chance to stumble across three beautiful lakes, tons of picnic areas, and a few hiking trails worth tackling, so plan some extra time to get there in order to enjoy the drive itself!
11. Black Canyon of the Gunnison National Park
Commonly dubbed the "Grand Canyon of the Rockies," Black Canyon of the Gunnison is a canyon that plunges over 3,000 feet down into the ground, making the scenery look as dramatic as it can get.
The canyon's name derives from the fact that parts of its gorge only see about 30 minutes of sunlight every day, which pretty much means it is constantly shrouded in shadows.
The easiest way to explore Black Canyon is by driving the Rim Drive, which offers twelve viewpoints of the canyon, each more stunning than the last.
If you're up for hiking instead, though, you can actually follow a trail down to the bottom of the canyon.
It takes a 5-hour, pretty steep hike to reach the bottom, but the experience of standing down there is so dramatic that it's absolutely worth the effort!
On top of that, you can enjoy other activities here, such as rock climbing, kayaking, camping, and more.
12. Maroon Bells
If a dramatic landscape that looks straight out of a painting is what you're after, Maroon Bells is sure to please.
Maroon Lake, a mirroring lake towered by two enormous bell-shaped peaks, Maroon Peak and North Maroon Peak creates one of Colorado's most idyllic landscapes.
Simply put, no visit to Colorado is really ever complete without seeing this gorgeous place with your own eyes.
13. Denver
As the capital city, no trip to Colorado is ever really complete without visiting Denver.
Denver is commonly used as a base to explore some of the best places to visit in Colorado, but the city itself is also worth lingering a while in.
Think quirky neighborhoods with a completely different atmosphere than the last, a fine culinary scene, sunny skies year-round, a vibrant arts scene, and an unbeatable nightlife to get a pretty good image of how amazing this underrated city is!
Be sure to visit the City Park for panoramic views of the Denver skyline.
Pssst: Be sure to go on a day trip to Fort Collins, one of the coolest historical towns in Colorado!
14. Aspen
Aspen is one of Colorado's most popular ski resorts, but it's got a ton more to offer visitors any other time of the year.
Lined by Victorian-era buildings and a backdrop so pretty you'll feel as though you were transported into the German Alps during the 1800s, Aspen is one of the best Colorado vacation spots to visit if you're looking for outdoor adventures combined with city-like amenities and entertainment.
Aside from the fun-in-the-snow activities, Aspen is so famed for, this cozy mountain locale also offers plenty of hiking trails, mountain biking, amazing outdoor bars, and restaurants (don't miss out on visiting the Aspen Brewery House), and even and fine opera house!
15. Garden of the Gods
Towering sandstone rock formations backdropped by snow-capped Pikes Peak and brilliant blue skies – that's Garden of the Gods in a nutshell.
As a registered National Landmark, this picture-perfect destination was first named Red Rock Corral back in colonial times.
The name was later changed to something more fitting in order to truly represent its beauty!
Fifteen miles of hiking trails curve through the park, providing hikes for every skill level, ranging from simple strolls, wheelchair-accessible trails, and more challenging hikes for those in search of a challenge.
Moreover, other fun activities to take part in during your time here include horseback riding tours, camping, scenic driving, and jeep tours!
16. Paint Mines Interpretative Park
If you're into destinations that look like they belong on another planet, the Paint Mines Interpretative Park is guaranteed to please.
Named after its brightly colored geological formations, this park features a wide array of hoodoos, towering spires, and landscapes that look straight out of this world, all of which are splashed in every color of the rainbow.
For a color-filled hike, follow the Paint Mines Trail, a 3.4-mile look that's dotted with kaleidoscopic rock formations and wildflowers.
17. Colorado Springs
Home to striking rock formations, amazing hiking trails, and two of the state's most striking natural landmarks, Colorado Springs is one of the best places to go in Colorado if a combination of nature, amazing landscapes, and indoor amenities sound like your ideal getaway.
Towered by Pikes Peak and surrounded by the alluring Garden of the Gods State Park, Colorado Springs acts as the perfect base to explore some of Colorado's most sought-after natural destinations.
Moreover, there's plenty to do after a day spent exploring the outdoors, including open-air museums, brewery tours, open-air restaurants, and even a 19th-century castle!
18. Roxborough State Park
Set just a short drive away from Denver, Roxborough State Park is one of the state's somewhat hidden gems, making it one of the best places to visit in Colorado if getting off the well-treated path is what you're after.
Loaded with otherwordly-looking red rock formations, flora unique to the area, and tons of wildlife, this 4000-acre state park offers plenty of outdoor activities, including hiking, bird watching, trail running, and wildlife viewing (keep your eyes out for black bears and red mule deer!)
19. Mount Evans
Standing tall at 14,264 feet, Mount Evans is the 14th tallest Colorado fourteener as well as the highest paved road in North America.
This incredibly scenic byway takes visitors all the way to Summit Lake Park, the highest city on the continent, providing mesmerizing views along the way.
As you twist your way through the highway, you'll stumble across amazing views of alpine lakes, ancient bristlecone pines, glacier-cut valleys, humongous granite walls, and so much more!
As if that weren't reason enough to drive this 15-mile road, you'll also be given the opportunity to run across a ton of wildlife, including bighorn sheep, ground squirrels, and mountain goats.
Moreover, there are plenty of fun activities to do along the way, including exploring Mount Goliath Nature Center and the Summit Interpretative Area of Mount Evans.
20. Boulder
Boulder is a cozy student town nestled in the foothills of Colorado's Front Range.
While there is plenty to do inside the town itself, Boulder's magic lies in the nature that surrounds it.
Offering plenty of outdoor activities paired with melodramatic mountain vistas, the outskirts of town are home to over 200 miles of hiking trails, all of which provide beautiful views of the surrounding mountains.
Even though choosing a specific trail to tackle is a pretty difficult feat because they're all just too good, we recommend starting out your Boulder adventures by hiking the Chautauqua Trail, the Green Mountain West Trail, and the Arapaho Pass Trail.
21. Manitou Springs
Obsessed with self-care? Look no further than Manitou Springs, a quaint town nestled on the foothills of Pikes Peak.
For centuries, visitors have traveled to this picturesque spot to experience the magic of its healing waters, making it a wonderful destination if you're into ancestral traditions.
Aside from its healing hot springs and fresh mountain air, a visit to Manitou Springs also offers visitors amazing open-air dining options, local art galleries, wine experiences, and tons of outdoor experiences, including, of course, lots of them based around exploring Pikes Peak!
22. Vail
Vail is one of the largest and most popular ski destinations in the entire world.
The main attraction in this ski town is, of course, Vail Mountain, which offers over 5,000 acres of ski trails for visitors to enjoy.
If you're not too keen on skiing or you're simply visiting outside of the season, Vail's got plenty more to offer visitors year-round.
From incredible hiking trails to killer shopping, you'll fall head over heels in love with this Bavarian-style town.
23. Steamboat Springs
If you're looking to explore Colorado's mountain towns outside of the most popular ones, Steamboat Springs is your-go to.
Nestled in the Rocky Mountains, this enchanting town brims with adventure, history, and culture while also offering modern amenities to keep visitors comfortable.
During the winter months, snow activities become the stars of the show, with excellent skiing, snowmobiling, and fat biking being just a few of the things on offer!
For a unique activity, make sure you book a sleigh ride dinner, a horse-drawn sleigh ride in the backcountry at night, combined with a delicious meal!
After endless days of skiing in the streets and surfing through powder, take some time to relax in the local thermal springs. Strawberry Hot Springs is just a short drive from town.
Summer brings in a ton of things to do in Steamboat Springs! Hiking, mountain biking, hot springs tours, and lake-side beaches are just a few of the summer activities on offer.
24. Morrison
Set at the bottom of winding Bear Creek Canyon, Morrison is famous for being home to Red Rocks Amphitheatre, an open-air amphitheater built into a natural rock structure just outside of town.
Whether you plan on seeing a show or not, visiting Morrison is well worth your while for its restaurants, quaint boutique shops, and antiques.
The outskirts of Morrison aren't short of interesting attractions, too. A bike path encircles and leads to Bear Creek Park and the Dinosaur Ridge, which houses real exposed dinosaur prints on sandstone!
25. Canon City
Although Canon City is traditionally considered a stop on the way to the highest suspension bridge in the USA at Royal Gorge Bridge and Park, that's not the only reason to pay this amazing city in Colorado a visit, especially if outdoor adventures paired with small city pleasures sounds like your ideal place.
Think hiking, white water rafting through the Royal Gorge, and mountain biking with a healthy dose of great dining, wine-tasting, art gallery hopping, and shopping at antique stores.
Moreover, a visit to Canon City isn't complete without checking out the Colorado Prison Museum.
Once the original Women's Correctional Facility, today, curious visitors can learn about the way inmates lived there as well as get to know everything about the Colorado Prison System from the 19th century up to the present day.
26. Colorado National Monument
Colorado National Monument is one of the most magnificent locations of the American West and one of the best places to visit in Colorado for a super quintessential experience.
Rising high above the Colorado River Valley, there's no better way to explore this gem of a place than by driving the Rim Rock Drive.
As you make your way through this scenic road, you'll stumble across six sheer-walled canyons that encompass towering monoliths, dramatic cliffs.
If you're lucky, you may get to spot unique wildlife, including bighorn sheep and soaring eagles.
Final Thoughts on Best Places to Go in Colorado
In addition to the above, consider planning trips to Pagosa Springs, Silverton (which has a ghost town feel), Dinosaur National Monument, Independence Pass, and Ute Mountain Tribal Park.
We hope this list of some of the best Colorado places to visit helped you plot the perfect itinerary!
Even though listing all the amazing destinations the Centennial State has to offer would be practically impossible, these ones, in particular, stand high above the crowds when it comes to the gorgeous scenery and unforgettable adventures!
Did you enjoy reading about these places to visit in Colorado? Then share it on your social media!