Looking for the most romantic getaways in the United States? You're in luck–this mile-long list is about to give you excellent romantic trip ideas.
America is a great country filled with magical destinations that should be on every couples' bucket list.
From big cities teeming with life to secluded spots with a romantic vibe, America has it all, and if you don't already have a USA bucket list, you might want to start one now.
Beyond that, the US has such great options for romantic trips that we decided to team up with seasoned travelers to bring you a list of idyllic vacation spots in the USA–from city trips to beach towns to nature-focused trips.
We have divided this blog post into regions for a better organization–we hope it is helpful this way.
So pour yourself a glass of your favorite wine, sit back, and enjoy this list while you plan your next romantic getaway in the USA.
Hands Down, the Most Romantic Getaways in the United States
Prepare to be blown away by the romance and magic these romantic getaways in the US will inspire on you.
Romantic Getaways in the South
1. Fredericksburg, Texas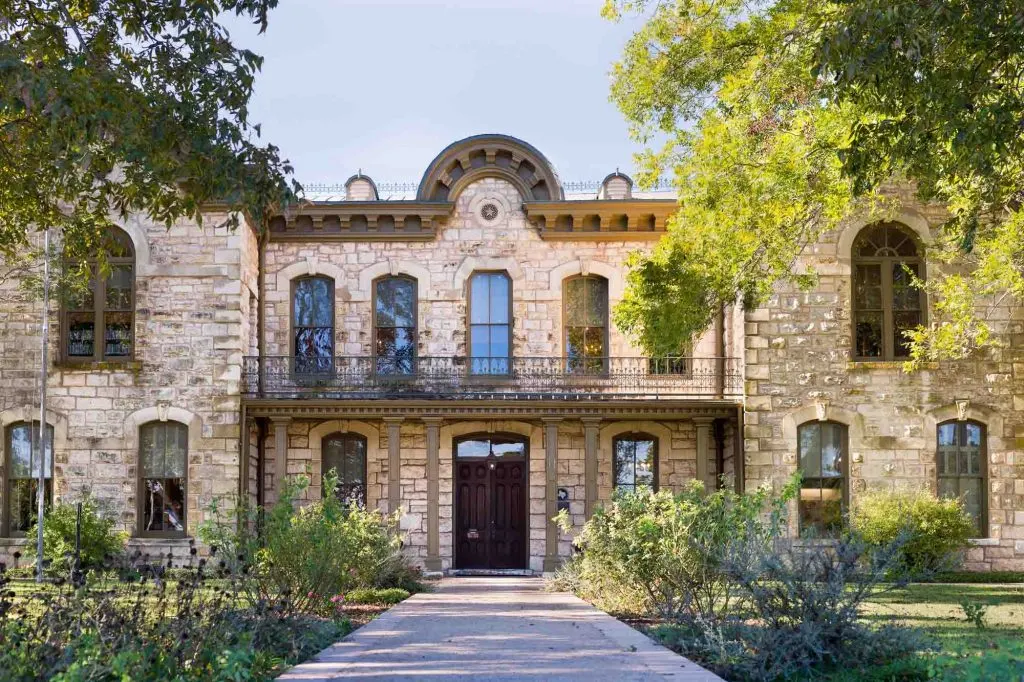 Fredericksburg is a lovely German enclave in the heart of Central Texas, making it one of the most romantic destinations in the US.
The town has not only great wine tasting rooms but the region is packed with award-winning wineries, more precisely along the famous Wine Trail. (And it also happens to be a great fall destination in the US too.)
There is nothing more romantic than marveling at the Texas Wine Country's sweeping landscapes over a glass of wine with your significant other. Yes, this is a unique romantic getaway in Texas!
Beyond that, there are many things to do in Fredericksburg and get to know the history of such a special place.
If you both prefer to stay not where all the action takes place, but rather in a secluded area, where you can sip wine and stargaze together, you might consider one of the many romantic cabins in Fredericksburg–including many cabins with a hot tub, perfect to heat up any couples' getaway.
Oh, and know that Fredericksburg is not only a lovely German town in Texas but it also is an excellent weekend getaway from Dallas!
Where to stay in Fredericksburg, TX?
There are lovely inns, B&B, and Airbnb in Fredericksburg, many of which have a modern or German-style decoration–what is best for you will depend on the couple's style and vibe.
If you're still unsure where to stay in Fredericksburg, we suggest checking out this inn, this B&B, or this romantic cabin–they are all lovely!!
2. Savannah, Georgia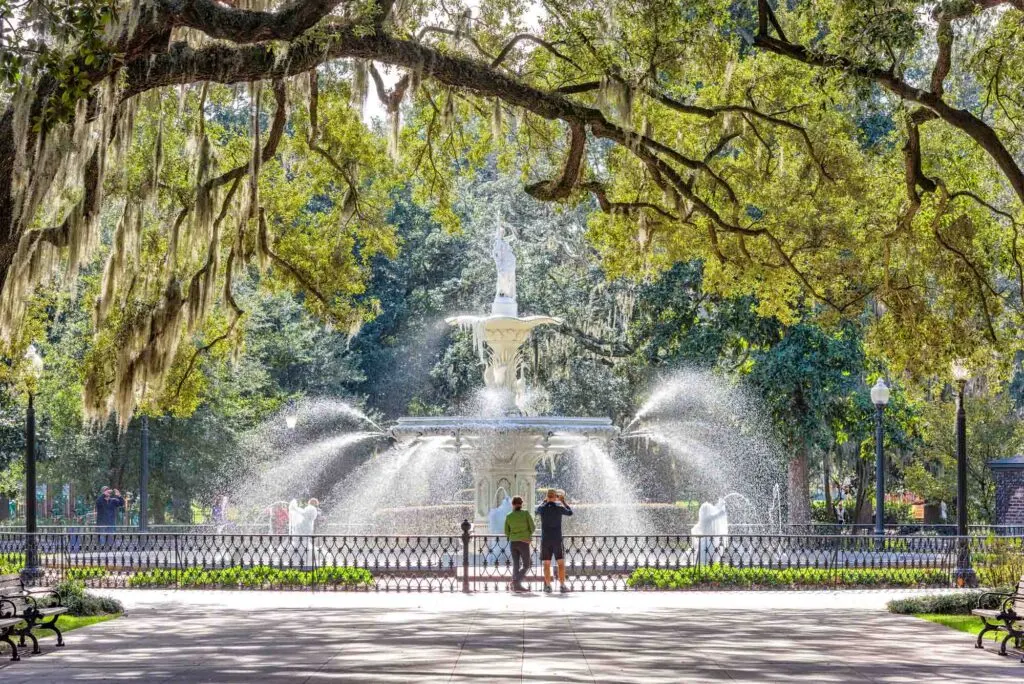 With its draping Spanish moss, beautiful squares, and charming architecture, Savannah is the perfect destination for a romantic getaway in the United States.
Plan on spending at least 3 days in Savannah to experience the city's best.
Savannah's Historic District is the perfect place for a romantic stroll, admiring the beautiful mansions and historic squares before having a picnic lunch at Forsyth Park.
The best part of exploring the Historic District? You can grab a to-go alcoholic beverage to enjoy during your walk! For a romantic dinner date, make reservations at The Olde Pink House, one of the city's best restaurants.
Arrive a bit early for your reservation to grab cocktails from the downstairs bar (the Pink Lady is fantastic) before heading upstairs for a delicious dinner of Southern staples, including fried chicken and collard greens.
After dinner, it's time for an unconventional romantic activity: a ghost tour.
Savannah is said to be one of the most haunted cities in the country, and one of the many ghost tours in town will take you along to some of the most haunted spots (and you can cozy up to your partner if you get too scared).
Sydney from A World in Reach
Where to stay in Savannah?
Andaz Savannah – Savannah is home to many beautiful hotels and bed and breakfasts that are perfect for your romantic getaway in the USA.
Still, one of the best is the Andaz Savannah, which combines Southern charm with modern style.
3. Dallas, Texas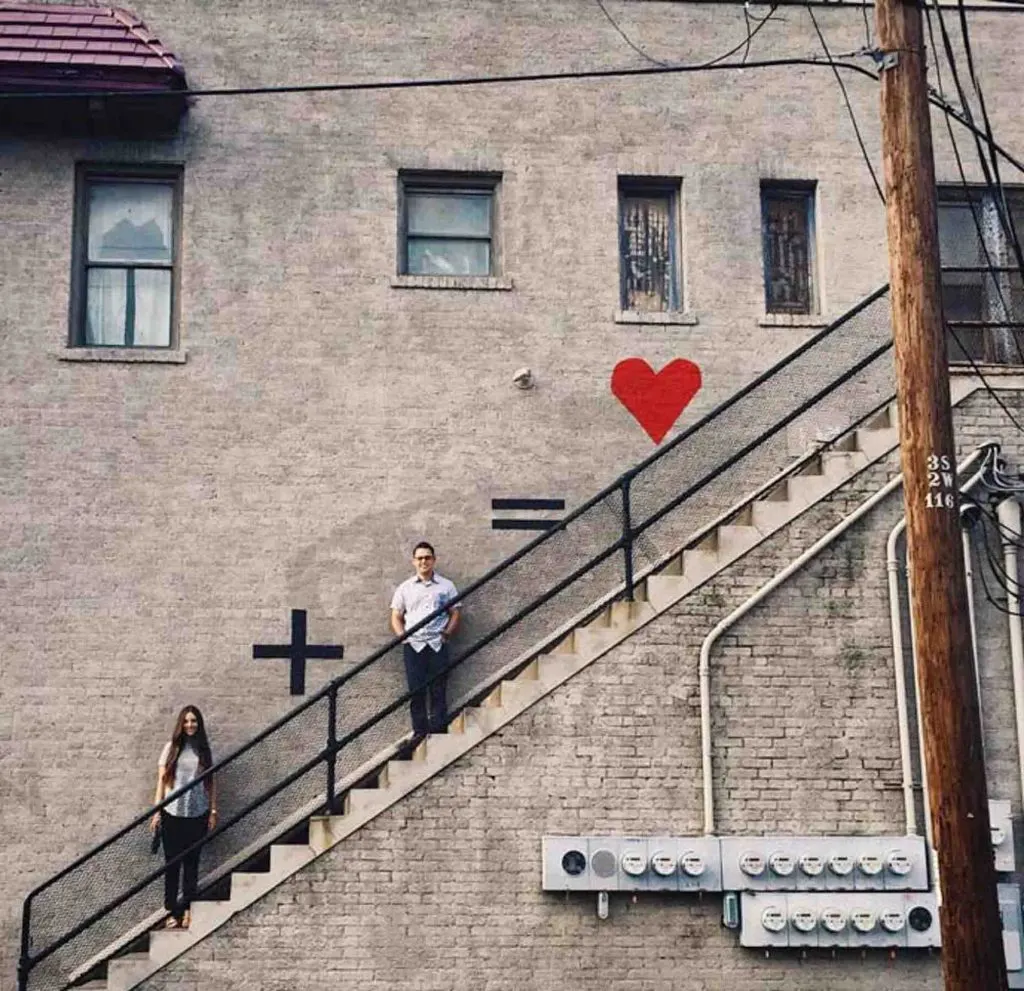 Many people don't know, but Dallas has everything to be one of the most romantic places in the USA.
Whether you're spending one day or a weekend in Dallas, know that there are enough romantic things to do in the city.
There is something for every couple in Dallas, from hunting murals to sipping wine and having a couple's spa treatment.
Elevate your date night by getting artsy at DMA, Dallas Museum of Art. Every Friday, DMA keeps its doors open until late in the night. Grab some drinks at the museum bar and enjoy an alternative date idea.
As for food, you can't go wrong with the city's steakhouses. For instance, hit Town Hearth for massive portions and incredible flavor. Nothing better than savoring good food together to strengthen your bond.
After you have enjoyed the best this city offers, why not go on a romantic road trip from Dallas? Texas is packed with incredible towns and bluebonnet fields. Here are some Texas road trips ideas.
Where to stay in Dallas?
If you don't know where to stay in Dallas yet, we might have a few suggestions.
There are many excellent Airbnb in Dallas, but the one spot we like the most is this treehouse cabin, only a 15-minute drive from Downtown.
Read next: Romantic Cabins in Texas
4. Eureka Springs, Arkansas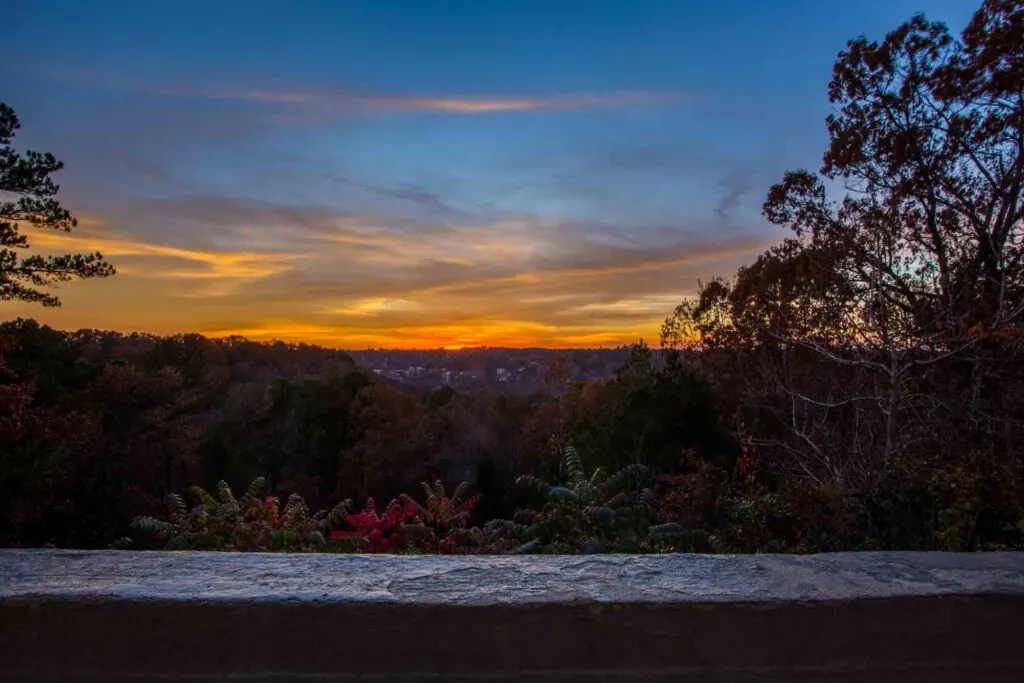 If your idea of a romantic getaway is an eclectic mountain town near a sparkling lake, Eureka Springs has you covered.
This Victorian-style charmer was initially built around its natural 'healing springs,' and the remnants of these can be seen throughout the Historic Center.
Local tip: check an events calendar online before booking. Popular local events attract large and colorful crowds. These are festive for solo getaways but perhaps a bit thin on the romance.
Once you've picked the perfect weekend, you'll be spoiled for choice when it comes to romantic gems. Wind your way through its stone streets to explore the local art galleries and boutique shops.
And the historic Crescent Hotel can't be missed! Take a stroll around the grounds and indulge in a couple's massage at their New Moon Spa. Turn up the romance in the evening with a cozy Italian meal at Ermilio's.
Or if you want something truly memorable, plan an evening at the Grotto Wood Fire Grill. This romantic steakhouse delights the senses as you enjoy a mouthwatering meal inside a beautiful cave.
Don't forget to explore the stunning nature surrounding Eureka Springs as well. Beaver Lake is only 12 miles out of town, and it's worth the trip.
You can rent kayaks in town at Float or book a boat for the day at Starkey Marina. Just be sure to make it back to town for a nightcap at The Stone House wine bar to round off an idyllic romantic vacation in the US.
Emmeline Griffin from Own Your Way
Where to stay near Eureka Springs?
Close to town – The Woods Cabins. Can walk to town but right next to a 15-foot waterfall!
Or for true romantic luxury, Beaver Lakefront Cabins are couples-only and specialize in lakefront romantic vacations (9 miles out of town).
5. Washington, D.C.
While you may not think of our nation's capital as a romantic destination in the US, it is chock-full of romantic locales and plenty of delicious restaurants.
Washington, D.C. is a city filled with the history of our nation, making it a destination you can spend a weekend or even a week in.
Spending a day shopping in Georgetown with your special someone is one of the most romantic things you can do while in D.C.
Then, why not grab dinner at either Barcelona Wine Bar or Filomena Ristorante, and catch a show at the Kennedy Center?
Locals like to spend free days enjoying a picnic lunch with a wine bottle on the National Mall while taking in the city's monuments' sights.
After lunch, many take in a museum or two (popular museums include the Smithsonian National Museum of Natural History) before enjoying dinner at foodie restaurant favorites like Founding Farmers or Zaytinya.
Looking for the best time of year to visit?
Make sure to catch the Cherry Blossom Festival! D.C.'s tidal basin becomes awash in pink and white once the blossoms bloom, and you can view many of the city's monuments while taking in the cherry trees.
Top the day off by shopping or grabbing dinner (or both!) in D.C.'s City Center.
Sarah Hughey from Any Adventure With You
Where to stay in Washington, DC?
The best place to stay in the city is the Kimpton Hotel in Dupont Circle.
Dupont is a neighborhood located right on the Metro, making it easy to get anywhere you want in the town, which is also chock-full of bars and restaurants.
The accommodations are stunning with a beautiful bar in the lobby, and you can request a rose-petal welcome when you check in. It's the perfect hotel for couples looking to explore or have a relaxing trip snuggled in bed.
6. New Orleans, Louisiana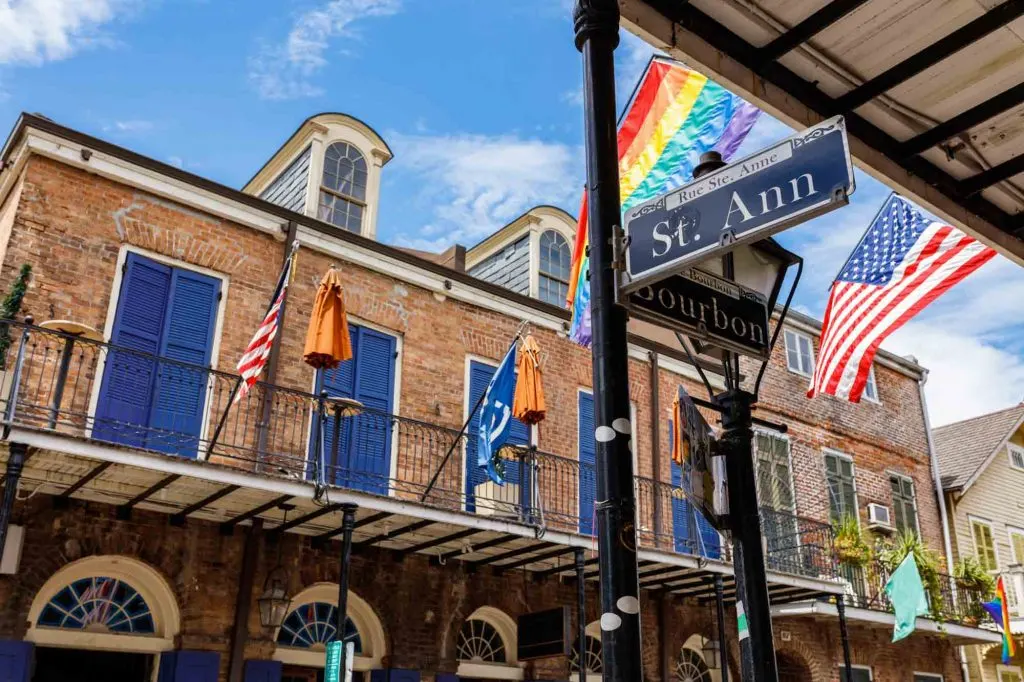 New Orleans is the perfect place for a romantic getaway in the United States. It's such a unique city with incredible history, incredible food, and a vibe like nowhere else.
While you're there, spend time checking out Bourbon Street, where there are tons of bars, restaurants, and live music venues to enjoy together.
New Orleans allows you to drink publicly in the streets, meaning the entire road comes alive – inside and out.
For a more relaxed place, where the locals hang out at night, go to Frenchman Street for incredible live music and funky bars.
There's also a night market here with local art, jewelry, and more to check. For food you have to try beignets at Café du Monde and Café Beignet – how else can you compare what's better!
Cajun cuisine is flavorful and delicious as well. You've got to eat jambalaya, po' boys, and crayfish. While here, also check out the incredible architecture and history.
Head to the French Quarter for astonishing architecture, take a cemetery tour to learn about the unique history and the history of Voodoo.
If you have time, head out of the city, check out the bayou tours available to get up close with some alligators, or a plantation tour to understand the history of Louisiana.
There are so many lovely things to do in New Orleans we could go on and on about them. There is no doubt Nola is a perfect romantic getaway in the United States!
Where to stay in New Orleans?
Royal Sonesta – great location, fabulous courtyard, beautiful historic hotel with fantastic amenities.
7. Asheville, North Carolina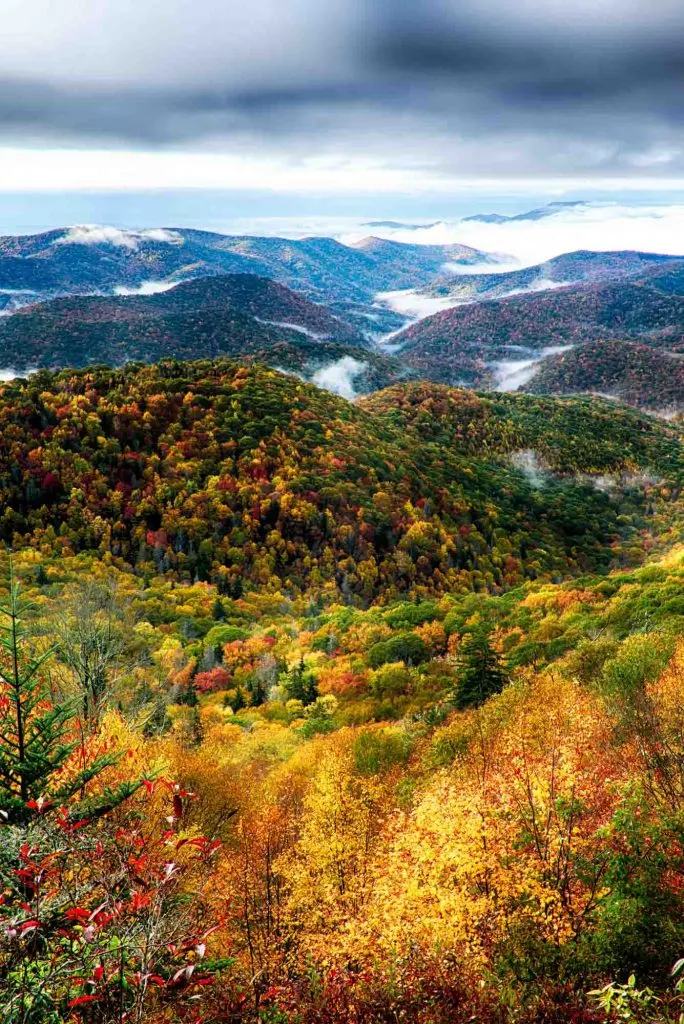 Couples looking for a romantic getaway in the United States will find Asheville, North Carolina, the perfect destination.
Nestled in the beautiful Blue Ridge Mountains, this picturesque town offers couples a range of activities to do, from watching scenic sunsets to intimate dining experiences.
The mountains surrounding Asheville offer a variety of outdoor activities for couples to enjoy. Plan a hike to one of the many waterfalls in the area, including the romantically named Bridal Veil Falls Hike.
To make the trek even more romantic, pack a picnic lunch, including a bottle of local wine and chocolates to enjoy as you take in the scenery. No trip to Asheville is complete without a visit to the Biltmore Estate.
Take a 250-room house tour or take a romantic stroll through the stunning gardens on the property. Couples can also visit the onsite winery and enjoy complimentary wine tastings.
Known as The Paris of the South, downtown Asheville is a delightful mixture of beautiful architecture, shops, and restaurants. Start your day with a tour of one of the many breweries located downtown.
Next, explore the downtown galleries and select a piece of art to take home as your romantic weekend's remembrance. Asheville is made for romantic evenings.
Dinner at Posana features locally grown products in their elevated southern dishes, all served in a cozy, romantic setting in downtown Asheville. Finish your romantic evening with a cocktail at one of the rooftop bars.
Asheville is an excellent destination for romance!
Candy Wafford from Where I've Been Travel
Where to stay in Asheville?
The Omni Grove Park Inn – This hotel has been the epitome of southern hospitality for over a hundred years.
As a hotel located in the Blue Ridge Mountains, The Omni Grove Park Inn offers couples stunning views in a luxurious setting. Couples can request a room on the adults-only Club Floor for an even more romantic experience.
8. Saint Augustine, Florida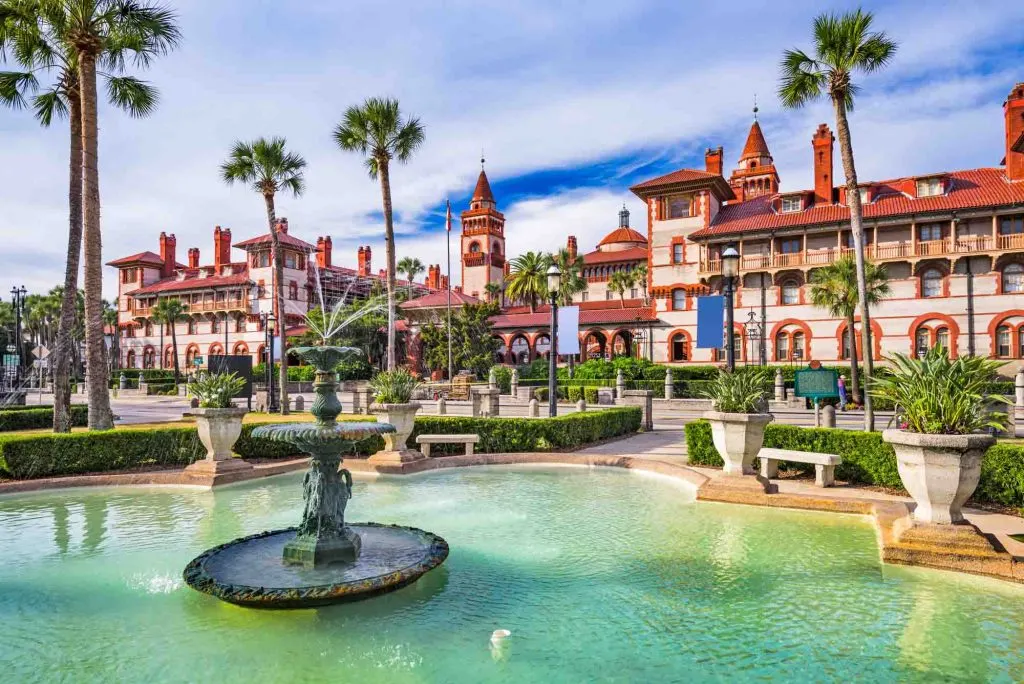 Ancient streets. Striking architecture. Beautiful beaches. Saint Augustine, Florida, is easily one of the most romantic getaways in the USA!
As the oldest city in America, Saint Augustine is packed with historical sites and quaint places you'll want to explore with your significant other.
From dining in family-owned venues to strolling its beautiful streets holding hands, Saint Augustine is the perfect place to have some quality time together.
Still, go discover some historical sites during the day, such as Castillo San Marco. Then, head to the beach or any of the state parks nearby.
Whatever you do, don't leave the city before taking a ghost tour! As the US' oldest city, Saint Augustine has no shortage of spooky places.
Either way, Saint Augustine is one of the best romantic getaways in the United States, no matter what you are into!
Where to stay in Saint Augustine?
Casablanca Inn On The Bay. This romantic and historic property has waterfront views from its balconies, which happen to be the perfect place for a glass of wine after a day in the city.
9. St Simons Island, Georgia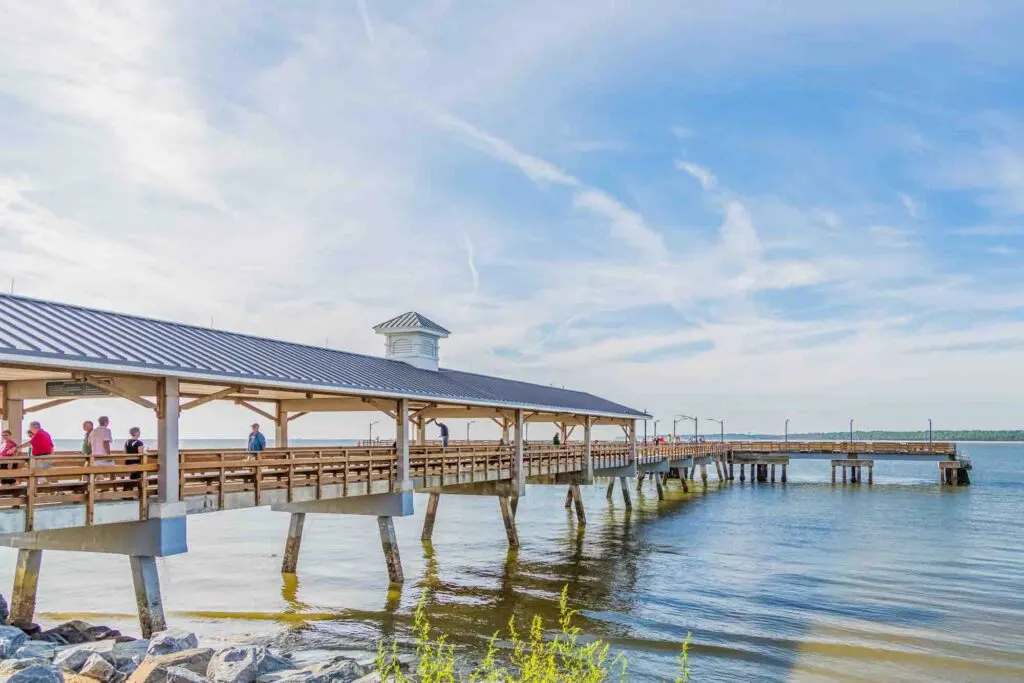 Rated one of the most romantic places in America, St. Simons Island, Georgia, has white sandy beaches to watch the sun and stately live oak trees draped in Spanish moss.
The island, one of Georgia's golden isles, has a strict building code, with limits on building height, to preserve the natural beauty of this place.
Couples can enjoy a romantic picnic for two on the beach or in one of the many parks.
Rent bikes to slow down and explore the island's nooks and crannies along bike trails that meander through the live oak trees. Browse for antiques and coastal collectibles in the quaint shopping districts on the island.
Climb to the top of the St. Simons Lighthouse for panoramic views of the coast or visit historic Christ Church grounds. A sunset dolphin cruise on the coast is a great way to cap off a day of exploring.
St. Simons Island is home to many locally-owned restaurants, each with its flair, and two stand out for romance. With a soft, coastal decor, the Georgia Sea Grill serves unique dishes prepared with locally sourced ingredients.
Meanwhile, Echo, at the King and Prince Resort, serves low country dishes with a creative twist at its oceanfront restaurant. Book a table outdoors just before the sunset for a truly romantic dinner.
It's easy to see why St. Simons Island, with its historic charm, relaxed pace, and beautiful sea views, is considered one of the most romantic towns in America.
Karen Dawkins from Family Travels on a Budget
Where to stay on St Simons Island?
King and Prince Resort – This resort is the only oceanfront resort on St. Simons Island. The rooms are luxurious, with views overlooking the beach where you can see the sunrise and set.
Oceanfront pools, old-fashioned swings overlooking the beach, a cozy bar, and an oceanfront restaurant add to its romantic vibe. But, what makes it truly special is the attentive staff.
They go above and beyond to meet your every need and make you feel like royalty.
10. Key West, Florida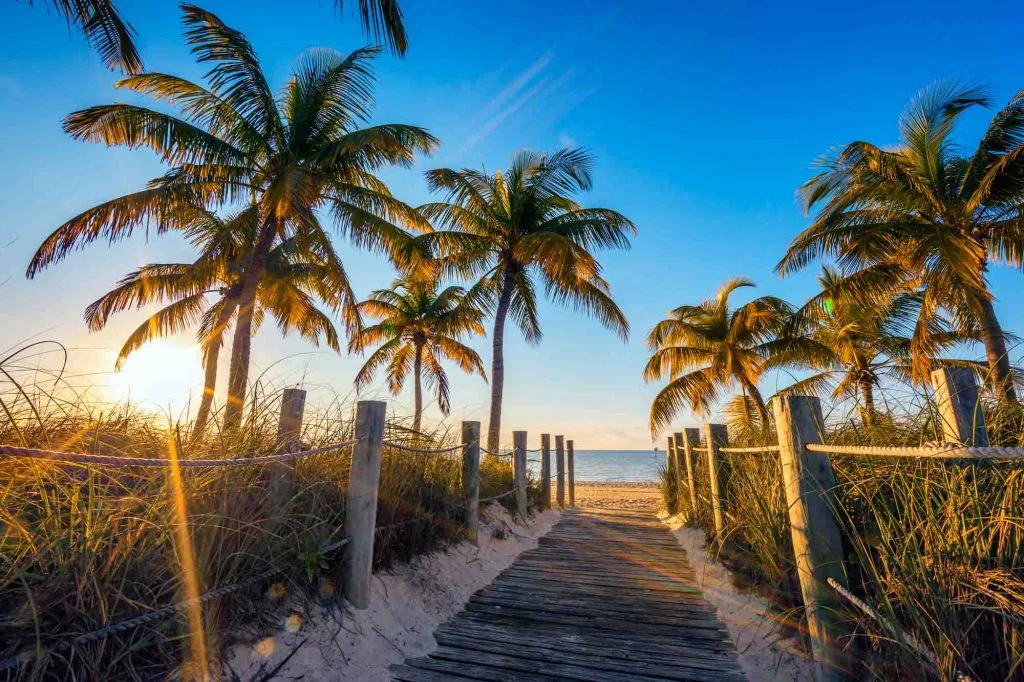 Key West, the last of the beautiful Florida Keys, is a unique and romantic remote island located only 90 miles from Cuba and perfect for a weekend getaway from Miami.
Honestly, it has everything to be one of the most romantic places in the US!
The island's laid-back atmosphere combined with genuinely gorgeous views of the ocean makes Key West feel like no other.
The drive to Key West is already magical by itself: the island is connected to the continent by the famous 'Overseas Highway,' one of the most scenic drives in America.
Some of the most romantic things to do on the island include spending an afternoon sunbathing at Smathers Beach, visiting the beautiful Key West Butterfly and Nature Conservatory, snorkeling with dolphins, or even taking the ferry to Dry Tortugas National Park.
This island is one of the best places to snorkel in the country, which honestly feels like paradise with its turquoise water.
For dinner, there is no going wrong with Spanish tapas at Santiago's Bodega and dessert at the award-winning dessert cafe called 'Better than Sx.' Both places have dark, intimate lighting that makes them perfect for a romantic date.
You can see more tips on visiting Key West here.
Camila Neves from Travel Cami
Where to stay in Key West?
Ocean Key Resort and Spa because it's a fantastic location and romantic bedrooms and spa.
11. Beaufort, South Carolina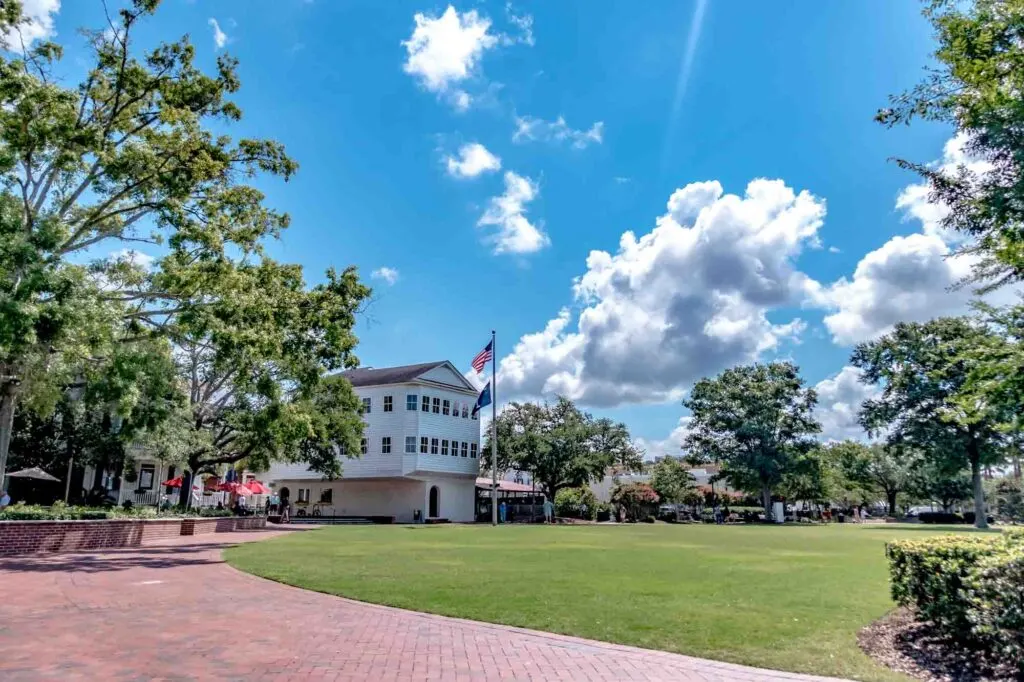 If you're looking for a quaint waterfront town brimming with entertaining activities to share with the one you love, look no further than Beaufort, South Carolina.
Historic Beaufort is one of the best romantic cities in the USA because of the warmth, hospitality, history, and beauty found around every corner.
This city's rich past adds character and charm to its 304-acre Historic District dotted with historic mansions-turned-romantic-inns under oak trees decorated with Spanish moss.
Stroll hand-in-hand along the water's edge of Henry C. Chambers Waterfront Park and then sit for a spell in one of the water-facing swings to watch the boats come into the marina.
Meander through the nearby main street's boutiques, antique shops, and art galleries.
Climb the iconic spiral staircase of Hunting Island State Park's lighthouse for breathtaking views. Then take a walk along the secluded beach at dusk to carefully spy on nesting turtles in the sand.
Last but not least, rent a charter boat to take you on a magical sunset cruise to Saltus River Grill's cozy waterfront restaurant.
Couples could spend several days taking advantage of the romance of the Lowcountry and South Carolina travel!
Shan Walker from The How-to Guru
Where to stay in Beaufort?
The Anchorage Inn (Anchorage 1770) has luxurious four-poster beds, waterfront views, and positioning right in the city's heart.
This makes it easy to stroll from the romantic guest room down to the main street, waterfront park, and fabulous restaurants.
12. Miami, Florida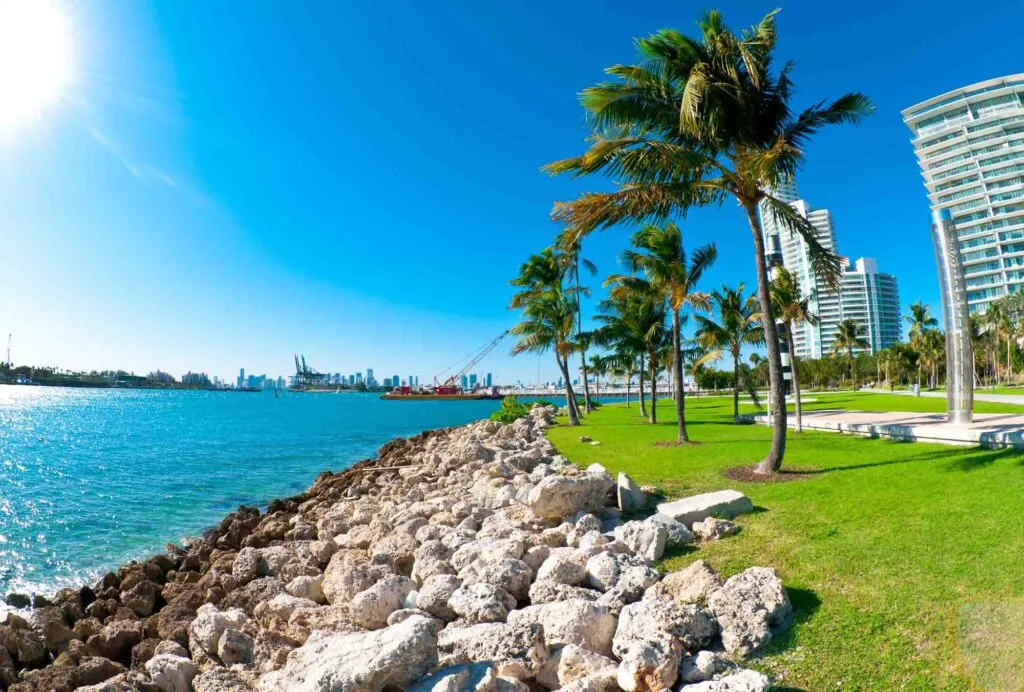 It may have a reputation for being a nightlife and party destination, but Miami is one of America's most romantic cities.
From the scenic backdrops and ocean views to the art, museums, and food scene – there are so many romantic things to do in Miami.
The natural landscape of Miami is the perfect setting for a couple to visit. The long white beaches and crystal clear waters of South Beach make an ideal place to unwind.
A lovers-stroll on South Pointe Park Pier is the perfect way to cap a day on the beach. Couples also love to cruise Miami's waterways, and a sunset cruise on Biscayne Bay is incredibly romantic.
Many include a dinner or a musical performance to add to the atmosphere. If dinner on the water isn't for you, there are plenty of other romantic food options in Miami.
One of the best neighborhoods for foodie couples is Little Havana. Calle Ocho, SW 8th Street, is the heart of this lively neighborhood and perfect to share some local Cuban cuisine.
Miami is also known for the arts, and one of the most romantic places to explore art in the city is the Vizcaya Museum.
It's a gilded age mansion full of manicured gardens, ornate architecture, and the former owner's private art collection.
Derek and Mike from Robe Trotting
Where to stay in Miami?
The Mayfair at Coconut Grove – This romantic hotel is located in the perfect neighborhood for couples in Coconut Grove, an intimate section of the city.
The four-star hotel is affordable and has all-suite accommodations with a gorgeous pool, hot tub, and poolside cabanas.
13. Charleston, South Carolina
Charleston is one of the most charming cities for a romantic getaway in the US, especially during fall when the weather is mild, with the slightest chill in the air, and the days are shorter.
Just the perfect conditions for romantic walks along the gaslight paths and alleyways that Charleston is known for. Adding to this cozy atmosphere is the smoke you'll smell coming out surrounding chimneys.
While fall weather in Charleston is typically in the low 70's and high 60's, Charlestonian's find this a bit chilly and tend to bundle up at night.
This cool weather may not be great for the beach, but it is very comfortable for walking tours. Fun options include tours of historic Charleston and pub crawls.
Charleston is rumored to be very haunted for those craving a spook, so you could even do a haunted pub tour or explore the Old City Jail after dark.
Charleston has an excellent restaurant scene, and it would be a shame to miss out. High-end favorites include Husk and Fig, as well as traditional brunch staples like Magnolia's or Poogan's Porch.
No matter what you do, do not leave Charleston without eating biscuits and pimento, either together or separately.
Where to stay in Charleston?
King Charles Inn – it is conveniently located, the rooms are clean, beds comfortable and the staff very helpful.
14. Mobile, Alabama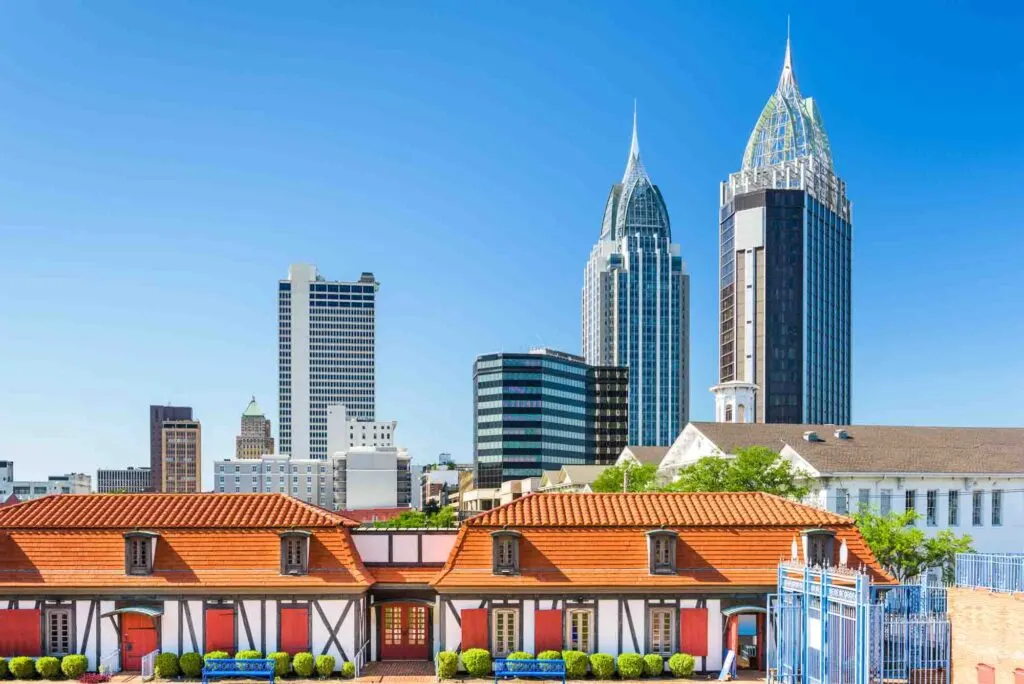 If you and your partner have ever fantasized about playing Rhett Butler and Scarlett O'Hara in Gone with the Wind, then Mobile, Alabama is the perfect place to play out that fantasy.
This quiet city on the central Gulf Coast oozes southern charm and hospitality, and it's easy to feel like you've stepped back in time to the 19th century.
Downtown, the main thoroughfares like Dauphin Street and St. Francis Street are lined with stately mansions from the pre-Civil War era, shaded by towering oak trees with Spanish moss hanging from their branches.
A few of these mansions are now open to the public as museums. The best of these is probably the Oakleigh House, built in the Greek Revival style and was once the home of a wealthy cotton broker.
While the mild weather makes Mobile suitable for visiting at any time of year, it is a particularly lovely spring break destination in the US, mostly because of the Azalea Trail Festival early in the season.
Around the second half of March, the whole city is decked out in pink and white azalea blooms, and lots of special events take place at this time. For a romantic dinner, head to El Papi.
Even though it's a Mexican-themed bar and restaurant, you may feel like you've been transported to the Tuscan countryside when you're sitting outside on the lovely patio.
El Papi is also a growing number of restaurants in Mobile that offer vegan and vegetarian options.
Wendy Werneth from The Nomadic Vegan
Where to stay in Mobile?
Malaga Inn is a boutique hotel located inside one of Mobile's beautiful antebellum mansions. Not only is it very atmospheric, but it also has a convenient location downtown.
15. Naples, Florida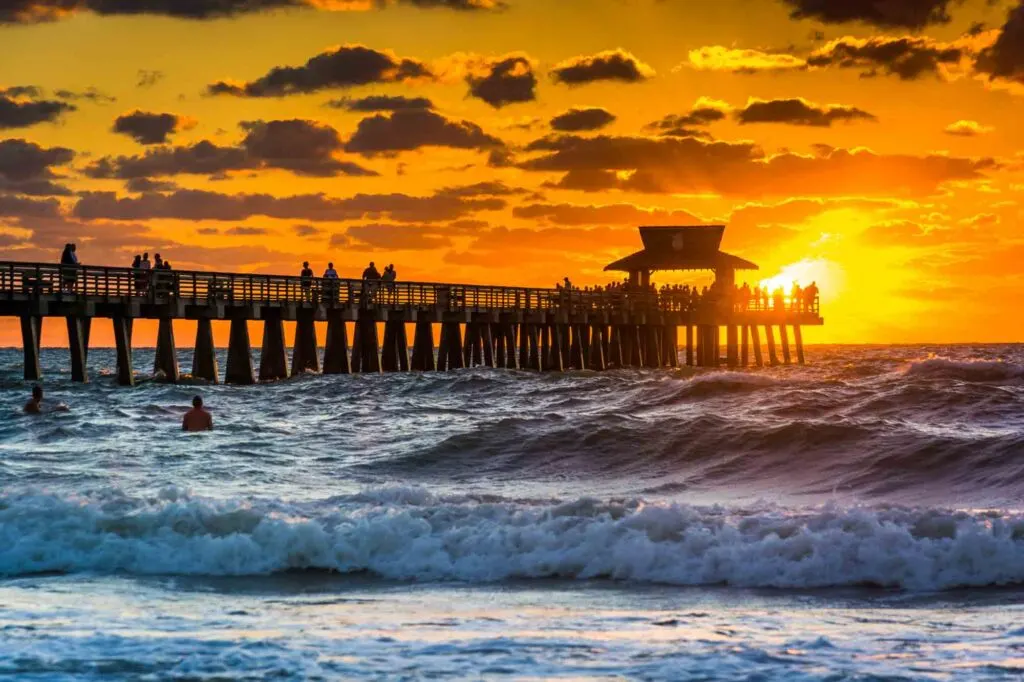 America is brimming with tons of romantic getaways, and Naples, Florida, is one of them.
Naples is tucked away in Southwest Florida and is surrounded by gorgeous beaches with white sand and turquoise water and overall relaxing and romantic vibes.
The most romantic thing to do in Naples is to visit the beach–whether it's a sunrise, sunset, or afternoon stroll, couples won't be left disappointed.
Adventurous couples can even go kayaking or sailing during sunset. Don't forget to keep an eye out for the dolphins! Another good romantic spot to watch the sunset from is Naples Pier.
Another must for couples is to visit Everglades National Park. Couples can go on tours and see abundant wildlife, coastal mangroves, and more.
Naples also offers a cosmopolitan treasure: the South's idyllic Fifth Avenue, aside from the gorgeous natural landscapes.
It has a Beverly Hills vibe and a great place to spend the evening. Mind you, Naples is a great winter vacation spot in the US as it is dry and has comfortable temperatures.
This area has everything from fine dining, theaters, shops, coffee shops, art galleries, etc.
Many restaurants offer a happy hour, so it's fun to grab a drink and appetizers at one restaurant and have dinner at another restaurant.
One of the best restaurants in Naples is the Sails Restaurant, located near Fifth Avenue. Known for its seafood, it also has delicious homemade pasta, steaks, and decadent desserts.
Disha Smith from Disha Discovers
Where to stay in Naples?
The Ritz-Carlton Golf Resort because it sits on a luxury golf course, it's a few miles away from the beach, a few onsite romantic restaurants, and a spa.
Romantic Getaways in the Northeast
16. Hudson Valley, New York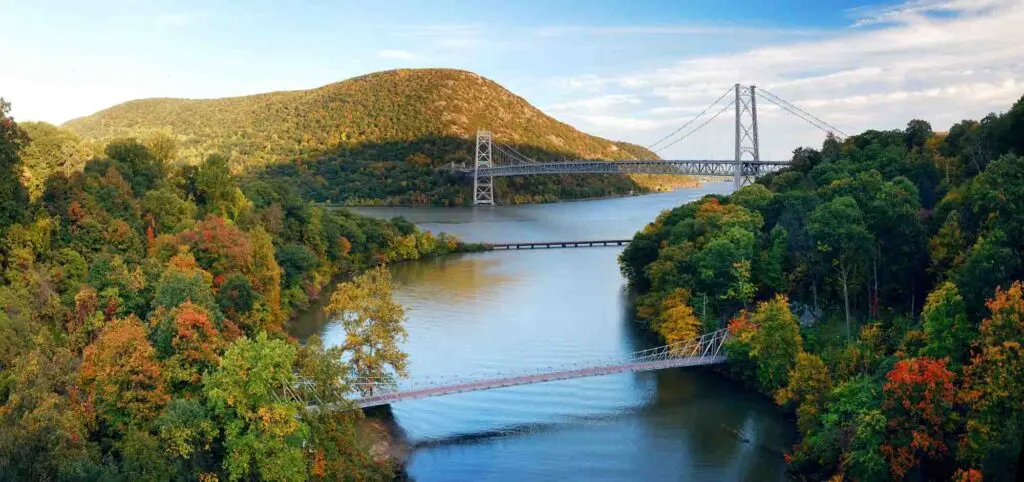 The Hudson Valley in New York is the perfect romantic getaway in the United States. The valley surrounds the Hudson River between Albany to the north and New York City to the south.
There are so many different types of things couples can do.
For active couples, there are plenty of romantic hikes in the Hudson Valley to scenic spots on the Hudson River (Black Creek Preserve), to overlooks with stunning views of the valley and the nearby Catskill Mountains (Bonticou Crag and Table Rocks), to waterfalls (Kaaterskill Falls) and around lakes (Mohonk Lake and Minnewaska Lake).
Or, rent a bicycle in Rosendale and cycle along the Rail Trail to New Paltz and back. Stop off at the Rail Trail café for weekend afternoon live music.
The east side of the river has several mansions from New York's gilded age, with large lawns that make perfect places for a romantic picnic with the Hudson River's views.
There are also several wineries and cider houses where couples can try tastings.
Some sites like Brooklyn Cider House and Westwind Orchard provide cider tastings and wood fire pizza, so it's possible to enjoy pizza and cider on the lawn beside their orchards.
Other romantic options are to take a cruise on the Hudson River from Kingston and even stay in a tiny B and B that used to be a lighthouse, in Saugerties.
For those looking for the perfect piece of furniture or trinket for your place, dozens of antique shops in Hudson and Kingston will browse together.
James Ian from Travel Collecting
Where to stay in Hudson Valley?
Mohonk Mountain House – this Victorian-era hotel looks like something out of a Harry Potter book. It is set on the edge of a small lake. There are fabulous views of the surrounding mountains.
Many activities, such as paddling a canoe together on the lake, are included. There is also a spa where couples can take a spa treatment together. It is the quintessential romantic getaway.
17. The Berkshires, Massachusetts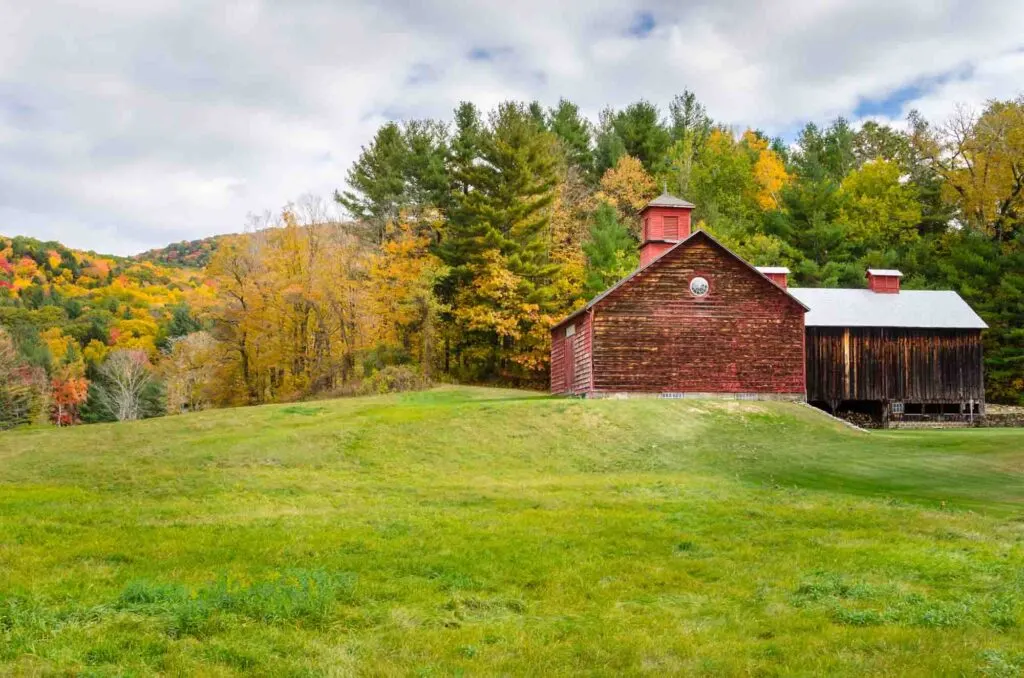 Located in rural Western Massachusetts, the Berkshires is a region best known for its mountains and quaint towns.
It's a popular romantic getaway from Boston and NYC, which are around 3 hours away. The Berkshires are incredibly beautiful in the fall, featuring brilliant foliage.
There are hiking trails for all skill levels, and sections of the Appalachian Trail even pass through the mountain. If hiking isn't your thing, you can also take a scenic drive to the top.
At the summit, you'll find panoramic views extending as far as Vermont and New Hampshire on a clear day. On a clear night, you'll also be able to stargaze.
Be sure to stroll around the Berkshires' small towns, including Stockbridge, Lee, and Lenox. You'll discover antique shops, classic general stores with local goods, and independent art galleries.
For a bite to eat, try the Red Lion Inn in Stockbridge, which offers fine dining in a lavish Victorian setting, or the fresh air of their courtyard.
It's not a trip to the countryside without a visit to a nearby farm, either. Another popular activity is picking fruits and veggies – depending on the season; you might find apples, corn, berries, and pumpkins. Some farms even let you cut your flower bouquets.
Lily Fang from Imperfect Idealist
Where to stay in the Berkshires?
A famous hotel is the historic Red Lion Inn in Stockbridge, with Victorian-style rooms (mentioned as a dining option).
The inn has a classic front porch with rocking chairs, where you can sip cocktails and listen to live music performances. They also offer indoor and outdoor dining, and a pool and hot tub.
18. Bar Harbor, Maine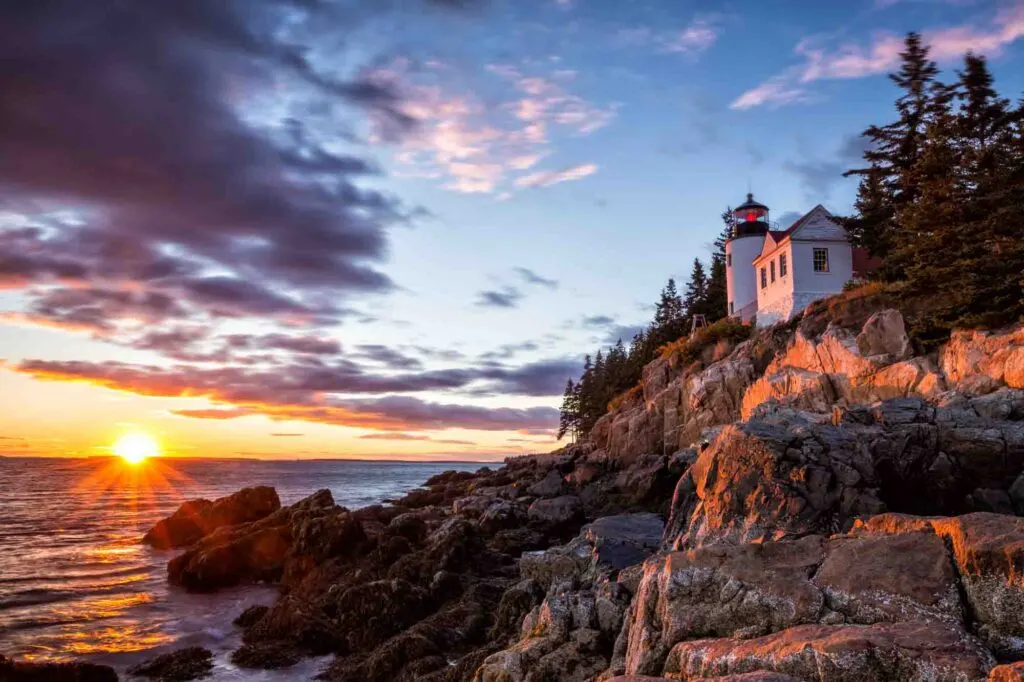 For travelers searching out a romantic holiday on Maine's peaceful coastline, Bar Harbor does not disappoint.
Situated on picture-perfect Frenchman Bay, the small tourist town is a favorite for honeymooners looking to get away from their work lives in busy cities.
Its seafood restaurants, complete with outdoor patios, shops filled with handmade items, and a slow-paced atmosphere draw in those looking for relaxation and quality time with those they love.
Romantic activities abound on land and sea. The Bar Harbor Inn, overlooking the wharf downtown, offers sailing in small groups.
Alternatively, a whale watch is an excellent romantic activity for couples who love nature.
The aptly named Bar Harbor Whale Watch Company offers several tours per day, including options to see puffins on the surrounding islands.
After exploring the sea, what could be more romantic than a hike in the woods? There are some incredible hikes in Acadia National Park, which borders Bar Harbor.
Couples can finish the day with a picnic (or a homemade ice cream!) on the grass at Agamont Park, an activity many enjoy each evening.
For a romantic dinner, seek out a lobster supper at one of the many restaurants downtown, such as Stewman's Lobster Pound. Or share drinks at Paddy's Irish Pub.
A trip to Bar Harbor is so relaxing; you'll wish to stay longer or explore most of Maine's coast. A full Maine coastal vacation itinerary can be found here. Enjoy!
Hillary Newman from The Blog at Hillary Newman Photography
Where to stay in Bar Harbor?
Bar Harbor Inn for its history and location on the waterfront.
19. Rockport, Massachusetts
Situated at the tip of beautiful Cape Ann, Rockport is the ideal romantic getaway in coastal Massachusetts.
Located less than an hour north of Boston by car or commuter rail, there is no shortage of romantic activities to enjoy together.
You can take a stroll down its picturesque streets, relax by the water on its rocky coastline, or rent a kayak for an idyllic mini-sea voyage.
Photograph the iconic Motif #1, a delightful red shack known as the most-painted landmark in America, or enjoy Rockport's art colony, one of America's oldest, boasting dozens of unique and charming galleries.
If you're in the mood for a sweet treat, don't miss The Ice Cream Store, located in an antique cottage, or piping hot apple strudel at Helmut's Strudel.
Window shop along the Bearskin Neck hand-in-hand, popping into the little boutiques that strike your fancy.
If spending time outdoors is your love language, check out nearby Halibut Point State Park, a serene conservation area with beautiful sea views.
When you're ready for a romantic meal, check out My Place By the Sea for award-winning New American fare and breathtaking views.
For a more casual dining experience that can double as a bonding experience, test your hand at cracking open fresh lobster at Roy Moore Lobster Company, drizzled with fresh butter.
Enjoy an evening out on the town by taking in chamber music or jazz act at the renowned Shalin Liu Performance Center.
No matter which activities you choose, Rockport is genuinely a fairy-tale, well-suited for all lovers. For more Boston-area and New England content, check out Why Not Walk's Boston landing page.
Tegan & Alex from Why Not Walk
Where to stay in Rockport?
The Tuck Inn B&B – located in a quaint colonial dating back to 1790, is a lovely and central place to stay while in Rockport.
Located a few minutes' walk from the center of town, guests can relish some peace and quiet while not being too far away from Rockport's main attractions.
The rooms are decorated with antiques and local art, and a delicious breakfast buffet is included.
20. Finger Lakes Region, New York
Couples looking for a romantic getaway in the United States should add the Finger Lakes Region in upstate New York to their shortlist of destinations.
Watkins Glen, on the shores of Seneca Lake, is the ideal setting for lovers looking for romantic activities.
Book a magical sail on Seneca Lake on the True Love Schooner, where you'll recreate the era of the romantic movies of the 1940s and 1950s.
The crew treats its guests to platters of local cheese and a glass of local wine. Blankets are available so you can cozy up to each other. Wine aficionados will want to explore the Finger Lakes Wine Trail.
Local wineries specialize in Riesling, sparkling wines, and ice wines.
For those who want a little variety, add a brewery or two, or even some distilleries — the area has over 100 wineries, breweries, and distilleries to choose from.
Or take some quiet time together to hike the trails of Watkins Glen State Park. With its 19 waterfalls, you'll find one prettier than the next.
Hiking this beautiful gorge will take about two hours with all the stops to admire the views and photo-taking! At the end of your day, stroll over to the picturesque Seneca Lake Pier.
Sit on a bench, hand-in-hand, watching sailboats coming back to the marina. It's a perfect way to end your romantic getaway in the Finger Lakes Region!
Annick from The Common Traveler
Where to stay in the Finger Lakes region?
The Watkins Glen Harbor Hotel is the perfect accommodation for your romantic getaway in the USA.
Steps away from many of the recommended activities, the hotel allows guests to walk to many of their romantic activities simply. Request a room with a view of Seneca Lake for the most dramatic sights.
The concierge at this AAA Four Diamond Award can assist with special requests.
21. Wellfleet, Massachusetts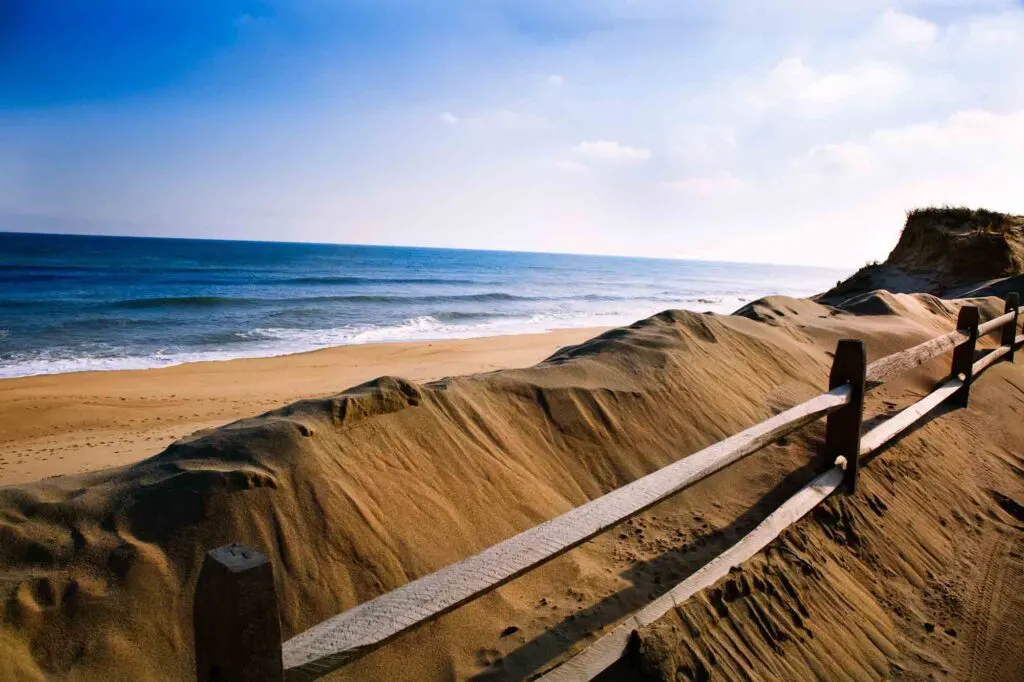 Massachusetts is a narrow stretch of land on the Outer Cape along the National Seashore known for big surf and soft sands.
With its charming vibe, tranquil spring-fed kettle ponds, and quaint art galleries, it's hard not to find this Cape Cod fishing village, romantic.
In fact, for a destination that's only two miles wide, you'll find plenty of romantic things to do.
For instance, you might enjoy taking a romantic stroll on the boardwalk that winds through woodlands and marsh at the Wellfleet Bay Wildlife Sanctuary.
Or rent a bicycle built for two and ride along the Cape Cod Rail Trail.
To enjoy a relaxing beach day among the dunes, head over to Cahoon Hollow Beach. (You might also check out the famous Beachcomber, a small venue that hosts some big-name music acts.)
At day's end, indulge in some nostalgia by cozying up at the Wellfleet Drive-In. For classic romance, pack a lobster roll and beverages to toast the sunset at Duck Harbor Beach.
You'll find plenty of great restaurants in Wellfleet that serve fresh seafood dishes, including the famous 'Wellfleet Oysters.'
Perhaps one of the most romantic places to eat is PB Boulangerie Bistro, an intimate French restaurant. But if you don't get a table, don't worry.
You can grab two decadent chocolate croissants to go that are perfect for savoring in bed the next morning.
Jackie Gately from Enjoy Travel Life
Where to stay in Wellfleet?
Romantic Getaways in the Midwest
22. Cleveland, Ohio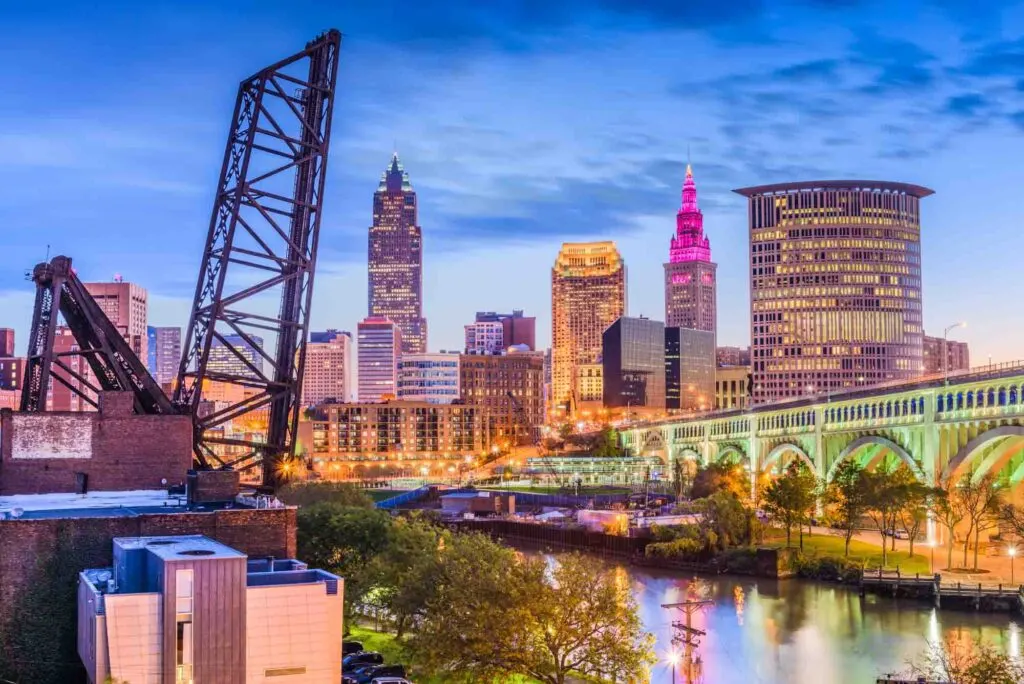 If you're looking for an unexpected romantic getaway in an affordable city in the US, consider a visit to Cleveland, Ohio.
It's an unpretentious lakefront city with Midwestern vibes that offer something for everyone, no matter what your style of romance is.
For those most interested in culture and history, Cleveland is home to museums like the iconic Rock and Roll Hall of Fame and the Cleveland Museum of Art, one of the best free art museums in the country.
You can also take in a Broadway show at one of the historic theaters at Playhouse Square, or perhaps see the world-renowned Cleveland Orchestra perform at Severance Hall.
Suppose nature and the outdoors are more your speed. In that case, you can have a beach date at Edgewater Park (home to Cleveland's city beach on Lake Erie), take a romantic stroll through the Cleveland Cultural Gardens.
Alternatively, watch an incredible Lake Erie sunset from the Solstice Steps at Lakewood Park, or the E 9th Street Pier downtown.
And when all the exploring makes you hungry, Cleveland has hundreds of restaurants to choose from.
Some of the most romantic include L'Albatros for contemporary French fare, and the upscale Pier W, which serves seafood dishes with a breathtaking view of Lake Erie.
Amanda Williams from Cleveland Traveler
Where to stay in Cleveland?
Metropolitan at the 9 – This stylish hotel is located right in the heart of downtown Cleveland and has an excellent on-site restaurant, a chic cocktail bar in an old bank vault, and a rooftop bar with great views.
The King Suites at this hotel also come complete with fireplaces, and what's more romantic than curling up in front of a fireplace together after a day of exploring?
23. Minocqua, Wisconsin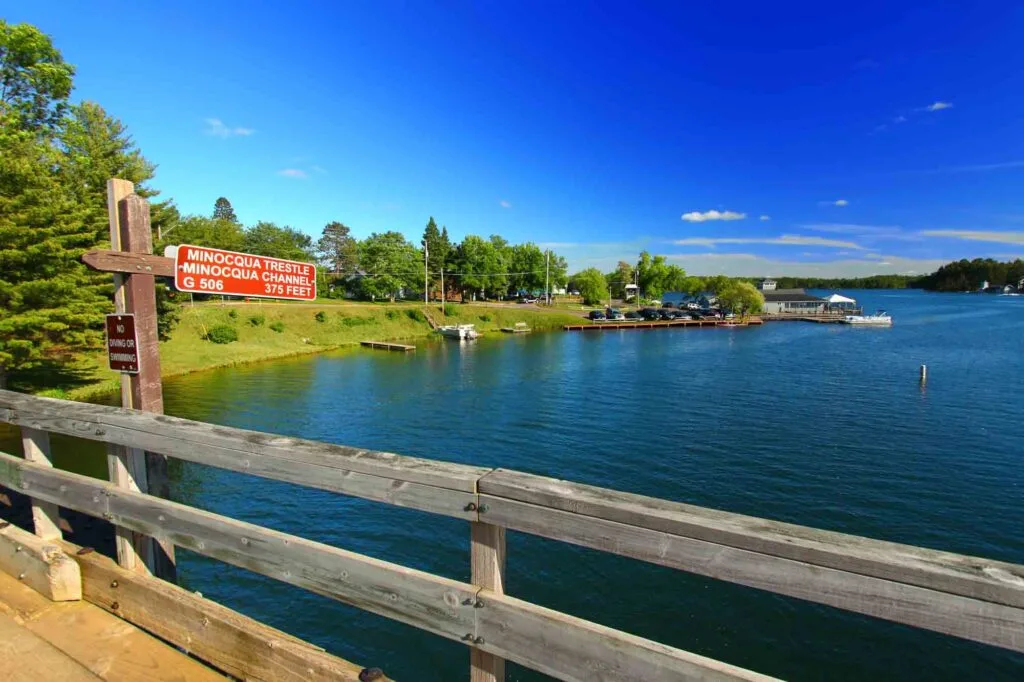 Minocqua is one of the best romantic getaways in the USA, located in Oneida County, Wisconsin. Being a tiny town with a small population, Minocqua is commonly referred to as The Island City.
The city was officially organized in 1889 and is named after Minocqua, an Ojibwe name, meaning noon-day-rest.
Though Minocqua was a logging town in the early 1800s, it eventually developed into a fascinating idyllic tourist destination, especially for lovebirds.
The city, Minocqua, has one of the most massive freshwater bodies globally, alongside possessing a significant industry in the tourism sector.
Also, the center has a famous landmark, known as Clawson Hill, which is the hot-spot of Pointe resorts and hotels. That's what makes it a unique place to visit overall.
Moreover, there you can even tour a romantic site, like Minocqua Winter Park & Nordic Center, featuring winter sporting facilities and many other attractive adventures.
Otherwise, further visit the Bearskin State Trail for jogging, bicycle-riding, or enduring a slow walk with your love partner. Besides that, there are plenty of fascinating lovey-dovey things to do and see in Minocqua.
It includes exploring adventurous spots, like Settlers Mill, Wildwood Wildlife Park, Holiday Acres, Bowling, E-biking, Go-Karts, Minocqua Pontoon Cruises, and more.
Furthermore, to relish a delicious meal along with your companion, visit the Jacobis of Hazelhurst.
When it comes to experiencing a peaceful romantic stay in Minocqua, it will assuredly be the Grand Geneva Hotel and Spa, which is undoubtedly considered one of the best resorts in North Wisconsin.
Paulina from Paulina on the Road
Where to stay in Minocqua?
The Waters of Minocqua – The resort is perfect for enjoying the rustic charm of northern Wisconsin, and it comes with several indoor-outdoor pools.
Their fun waterpark is the largest in the area and is complimentary for all hotel guests.
24. Cincinnati, Ohio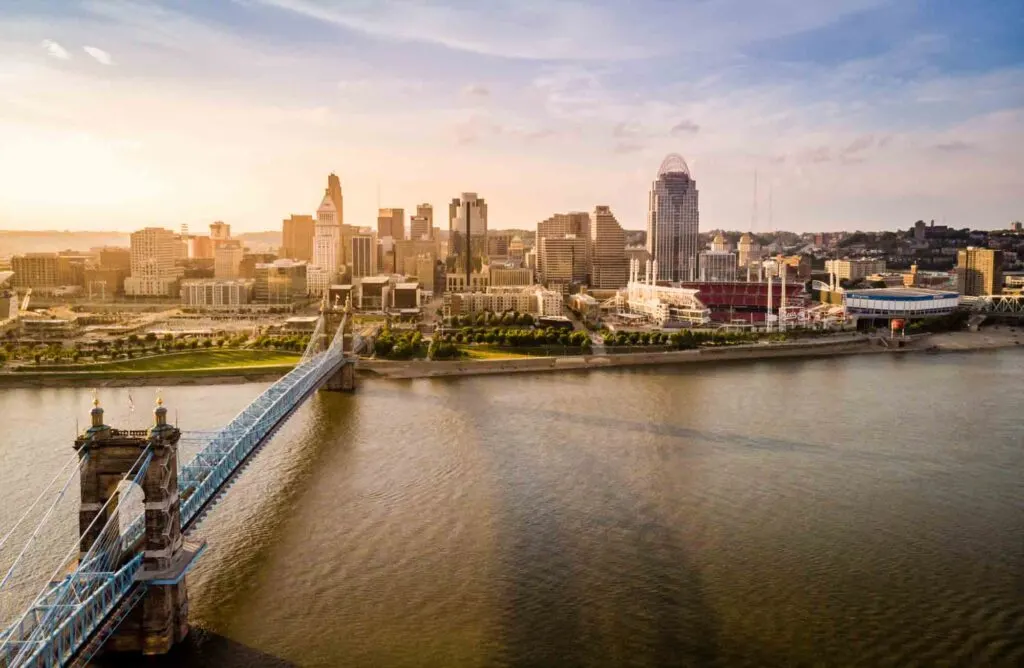 Nestled along the Ohio River, the vibrant city of Cincinnati is the ideal backdrop for a romantic getaway.
Cincinnati, Ohio, has quickly become a popular getaway, as historic neighborhoods such as Over-The-Rhine (OTR) have been revitalized in part to craft breweries, trendy boutiques, etc. booming food scene.
Take in a sunset at Eden Park, stroll along the river at Smale Riverfront Park or catch a show at Cincinnati's iconic Music Hall.
Adventurous couples can take on the thrills at the midwest's largest amusement park, Kings Island, while foodies will nosh their way through Cincinnati's historic Findlay Market.
Cincinnatian's rich brewing heritage allows couples to visit many local craft breweries such as Rhinegeist, MadTree, and Taft Ale House. Brewery Tours and Brew Bus tours are available to widen the experience.
Deemed one of the most romantic places in the city, Sotto is below the street trattoria serving up delicious rustic Italian dishes.
Step into the candlelit basement dawned with red velvet curtains, wooden tables, and their signature scratch-made pasta.
Another romantic restaurant is The Orchids at Palm Court. Found inside the Hilton Netherland Plaza, this AAA Five Diamond Award Recipient is the ultimate fine dining experience in Cincinnati.
There are endless excellent date night ideas in Cincinnati that couples will love.
Stephanie Taleghani from Consistently Curious
Where to stay in Cincinnati?
A top-notch romantic accommodation is the new Lytle Park Hotel. Not a single detail has been missed in this trendy hotel.
Elegant, charming, and conveniently located in downtown Cincinnati makes this ideal for a romantic overnight. Grab a craft cocktail while taking in the panoramic views from the rooftop bar.
Romantic Getaways in the West
25. Napa Valley, California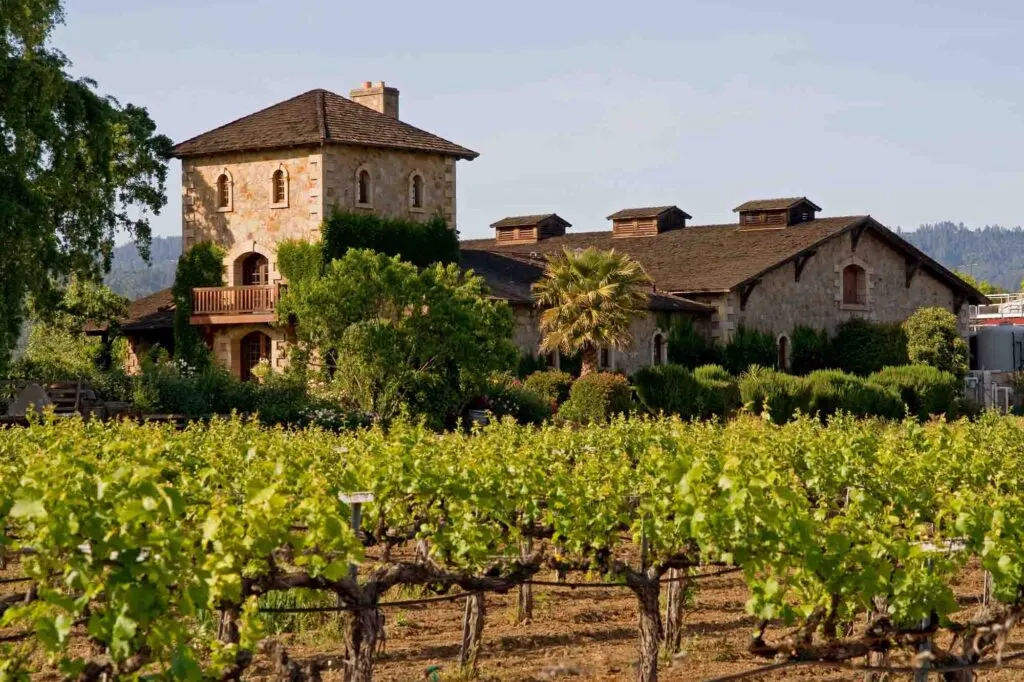 Napa Valley is unquestionably one of the most romantic getaways in the USA, with its scenic countryside, beautiful wineries, and world-class restaurants.
There are so many romantic things to do in Napa Valley that you will be spoiled for choice when you visit.
If you are up for an adventure, a hot air balloon ride is one of the most exciting ways to start a day in the valley. But if you prefer terra firma, try a lovely train ride through the valley.
The evening option is super romantic, with dinner for two and the possibility of a Napa Valley sunset.
Napa Valley boasts some of the most luxurious spas in the country, so book a pampering session to enjoy as a couple! The mud baths of Calistoga are famous, but you can also enjoy a regular spa session.
Book romantic dinners for two for each night of your stay: restaurants for every cuisine and every price point. Bistro Jeanty is a casual French restaurant with delicious food.
Try Oenotri for fabulous portions of pasta, or, if you are celebrating a special occasion, book a table at the world-famous French Laundry!
If you enjoy the outdoors, take some walks through area parks, or for a super challenging adventure, hike to the top of Mount Saint Helena, the region's tallest peak.
Or drive to nearby Lake Berryessa for a kayak or boat ride over the water and swim in the secluded coves if the weather is right.
Dhara from Roadtripping California
Where to stay in Napa Valley?
Solage Auberge Resort in Calistoga. Calistoga is the most charming town in the valley.
The suites at Solage include a hot tub for two on a private outdoor patio, perfect for enjoying the views and a glass of wine with each other. The restaurant on site is fantastic!
26. Seattle, Washington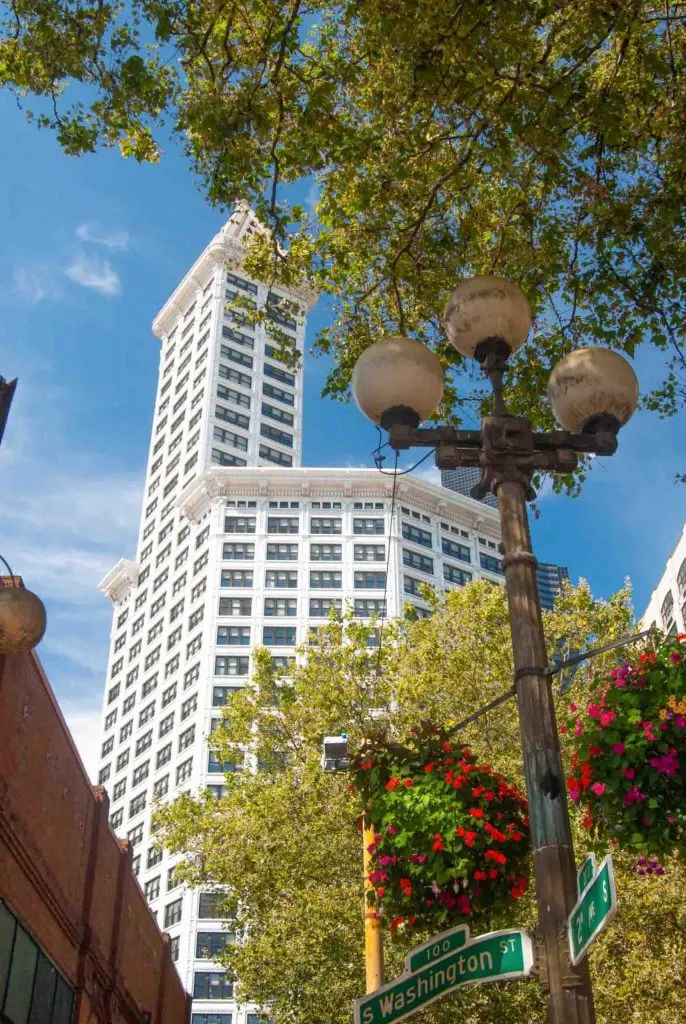 Seattle is not the first option that pops up in people's minds when seeking a romantic getaway in the United States. Yet, the breathtaking mountain and ocean scenery make Emerald City a romantic destination in the USA.
Whether you're spending one day or 3 days in Seattle, you are sure to find lovely things to do with your partner.
Stroll along the Alki Beach, ride the Great Wheel (and steal a kiss from your boo), and picnic with a bottle of wine at the Golden Gardens Park–one of the most romantic spots!
Before the day ends, head over to Discovery Park atop Magnolia Buff to catch a super romantic sunset.
But if you want to surprise your significant other for real, hop on a seaplane flight or, who knows, a whitewater rafting trip!
It's a little splurge, but the moments that it will create will stay forever!
Where to stay in Seattle?
While looking for where to stay in Seattle, you might consider this well-located and affordable hotel, which makes a perfect vacation spot for couples.
27. Kauai, Hawaii
There's something incredibly romantic about a beach getaway, and Kauai takes the cake when it comes to Hawaii.
It's not as busy and built up as the other famous islands like Oahu or Maui, and this allows you to completely slow down, relax, and enjoy quality time together – on island time.
Though it's a small island, there's no shortage of romantic things to do.
Plan a visit to Waimea Canyon to see the incredible views, stand next to the roaring Wailua Falls, or take a boat tour of the unforgettable Na Pali Coast. Bonus romantic points if it's a sunset cruise.
Sunset at the Sea Glass Beach also makes for a romantic outing. For adventurous couples, you can take a unique tubing tour through the jungles where you float down old irrigation channels for the adventurous couples.
Sitting under the fairy lights around food trucks and trying different street foods makes for a romantic date night.
No visit to Hawaii is complete without trying Poke, and Kealia Poke serves fresh, custom-made Poke Bowls. When it comes to breakfast, you can't beat the Haupia Mac Nut French Toast at Anuenue Cafe.
No matter your style, Kauai has something for everyone and is a perfect destination for a romantic beach getaway. Needless to say that Kauai is an excellent anniversary trip idea in the USA.
Katie McIntosh from The Katie Show Blog
Where to stay in Kauai?
Sheraton Kauai because of the beachside location – perfect for cocktails by the beach. The friendly staff makes sure you have everything you need, and the rooms are heavenly.
28. Santa Barbara, California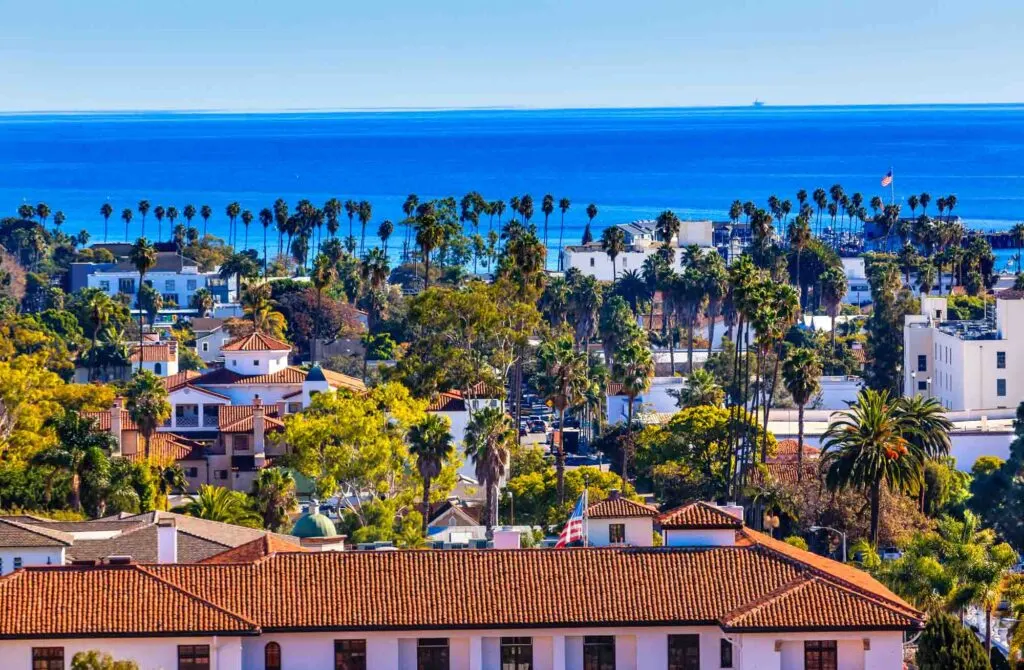 Santa Barbara is a place blessed with many alluring attributes.
The so-called 'American Riviera' is located between the sea and mountains. Downtown is full of buildings showcasing colonial and Spanish Revival styles.
There are plenty of arcades, stretch alleys, tiled staircases, and terracotta roofs. On top of that, bougainvillea and other vivid-colored flowers seem to always be in bloom.
Therefore, the city is considered one of the most romantic in the state of California. Visitors looking to spend quality time with a loved one have a great selection of things to see and do.
A romantic getaway should start with a walk around Downtown. The architectural masterpieces to visit include the County Courthouse, Presidio, Paseo Nuevo, and La Arcada Courtyard.
Those interested in wine tasting should head to De La Guerra Street or the Funk Zone.
Paying a visit to the Mission Santa Barbara is a must. Seeing the inside of the building is worth the small fee. In the vicinity, there is a rose garden and a natural history museum.
On the coat, lovers can stroll the Stearns Wharf, ride a sailboat, or have a picnic on Butterfly Beach. Helicopter rides are available to those who can afford them.
In terms of food, a top option is The Boathouse at Hendry's Beach (also known as Arroyo Burro Beach). A meal at this particular place can be followed by a walk on the beach or the Douglas Family Preserve.
Other food options include Loquita, Jeannine's, Bouchon, and Zaytoon. Do not forget to try the delicious ice cream flavors at McConnell's.
Ruth from Tanama Tales
Where to stay in Santa Barbara?
The Hilton Santa Barbara Beachfront Resort is a top option for romance because of its Mission-style architecture, lush gardens, and location close to the beach.
Besides, amenities include modernly furnished rooms, spacious bathrooms, a spa, pool, hot tub, fitness center, tennis courts, and on-site restaurants.
29. Denver, Colorado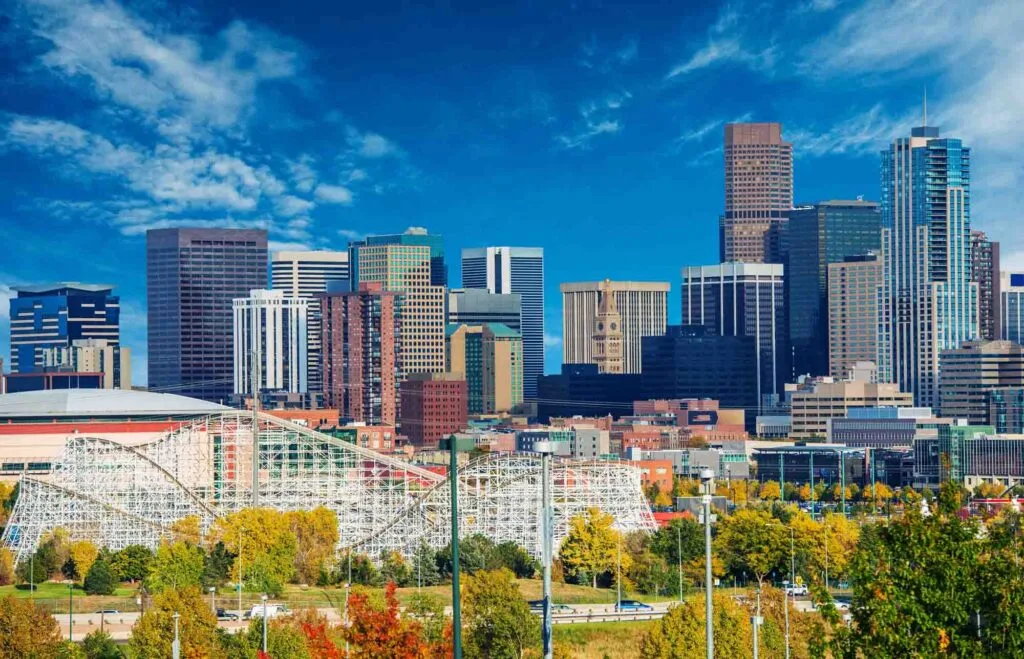 When thinking of the best romantic getaways in the United States, Denver, Colorado, is likely not the first city that pops to mind. And what a shame!
Because Denver is an incredible travel destination for a romantic trip with loved ones.
The city has plenty of food, entertainment, and more, all with a romantic twist. Begin this romantic getaway in the US with a hand-in-hand stroll along Denver's famous 16th street pedestrian mall.
This is the best way to be a tourist and see Denver's most famous landmarks while keeping the romantic theme.
Next, head to Larimer Square and stroll under the twinkling lights strung above the street–this is Denver's most historic block (where it all began), and the perfect place for a romantic dinner.
Excellent options include Osteria Marco, a casual-yet-classy Italian concept that feels like dining in Italy. Or check out Ocean Prime, where you can get some of Denver's best and freshest seafood.
Lastly, The Capital Grille is an incredible, classic fine dining steakhouse. Finally, head on over to the suggestive showroom of The Clocktower Cabaret for some sensual entertainment.
You can join other canoodling couples for an evening of burlesque, comedy, drag, circus acts, and more! All performed in an intimate, Paris-like setting.
Wanna experience the region a bit more? Then head over to Glenwood Springs, a 2.30-hour drive from the city—and an epic day trip from Denver!
Kara Patterson from Destination: Live Life
Where to stay in Denver?
The Brown Palace Hotel & Spa – it is Denver's most historic hotel and is famous for being luxurious (at a cost, of course). Perfect for a memorable romantic trip!
30. Sedona, Arizona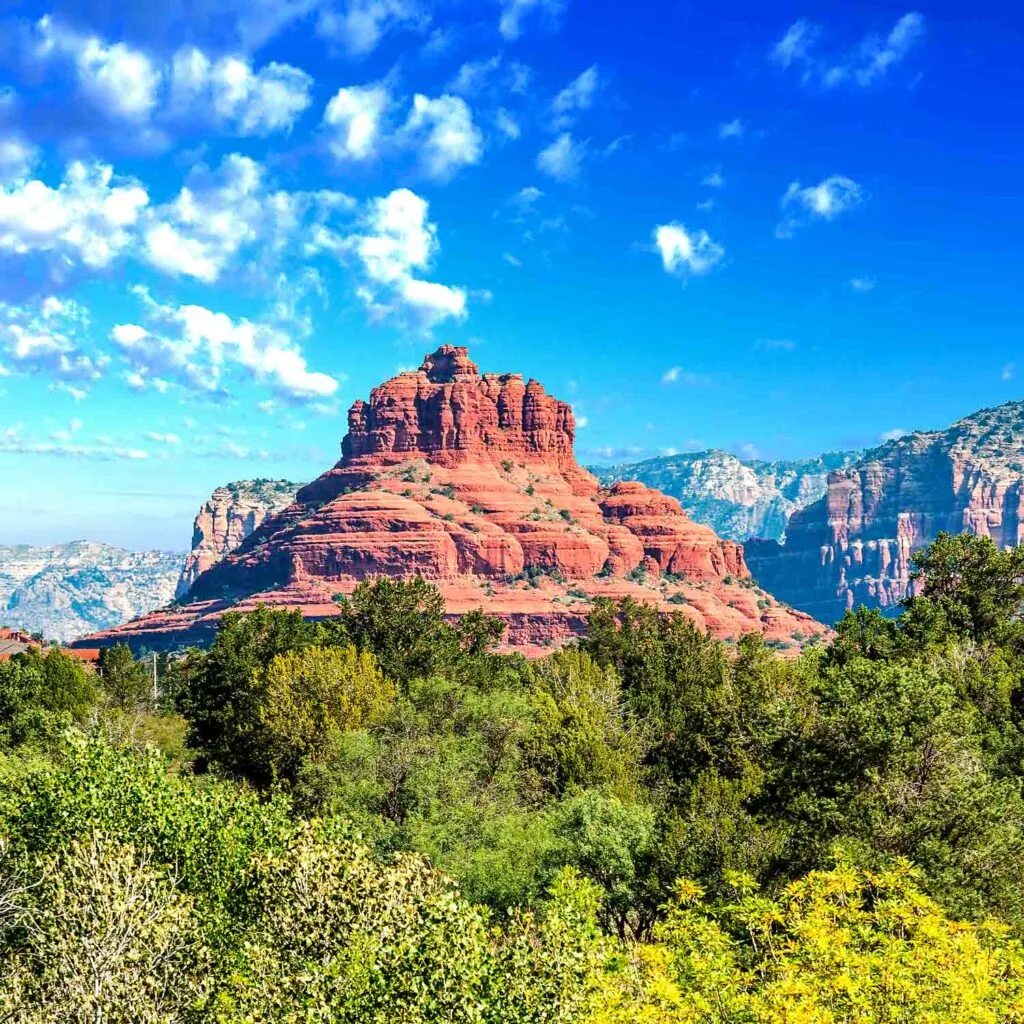 Imagine staring up into the stars above while you and your partner hold each other to stay warm.
The creek sounds on your right, coupled with the flicker from the battery-operated candles lining your tent, make for the coziest, most romantic evening with just the two of you.
The nights in Sedona are just as romantic as the daytime in your secluded campsite.
The red rocks lined with deep green pine trees make the perfect backdrop just to be still together and soak in everything you love about each other.
It's no wonder Sedona is one of Arizona's most romantic destinations. The views are some that you can't find anywhere else in the world.
Camping isn't considered the most traditional romantic getaway, but there is something special about getting away from it and just being together. Sedona is the perfect romantic trip for outdoor enthusiasts.
Hiking, swimming, kayaking, and fishing draw active couples from all over the world.
Packing a picnic with your favorite wine bottle to enjoy in a private nook on the nearby West Fork trail makes a great combination of romance and adventure. Snuggle together at night and take on the trails during the day.
Whatever you choose to do in Sedona, its natural beauty and intimate lodging make for a perfect romantic getaway in the United States.
Taylor Palmer from Rich Living, Less Spending
Where to stay in Sedona?
Manzanita Campground – There are plenty of places to stay in Sedona, but the Manzanita Campground is the most intimate, allowing tent campers only.
Site 5 is the best location because it's tucked away from all the rest of the sites. It's available on a first-come, first-served basis, so get there early to snag your spot!
If Manzanita Campground is full, Cave Springs Campground is the next best thing. Loop A along the creek can be reserved by reservation and has excellent shade cover, larger sites, and swimming access.
31. San Luis Obispo, California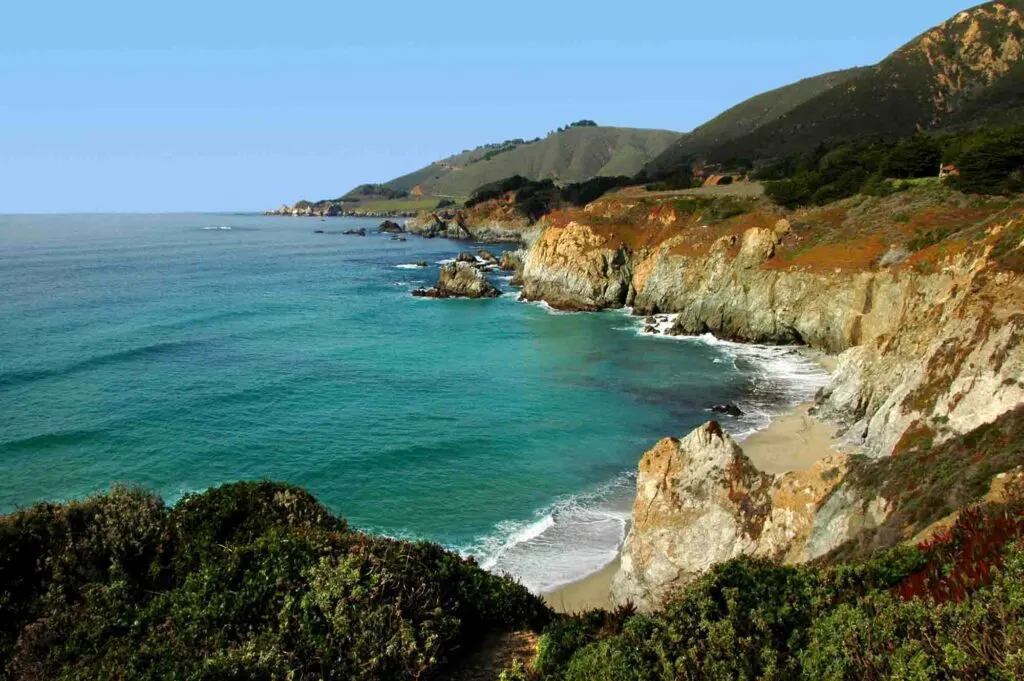 If you're looking for a romantic getaway in the USA, then San Luis Obispo should be on your list of places to go!
There are so many exciting things to do in San Luis Obispo (SLO). Still, this city on California's central coast is especially perfect if you love cute cities or outdoor adventures.
For those looking for a romantic getaway spent in the outdoors, you'll find plenty of places to explore.
There are many beautiful places to go hiking (including the iconic Bishop Peak, which is especially lovely at sunrise or sunset). You'll also love SLO's proximity to several gorgeous beaches.
Montaña de Oro is the perfect beach location for walking along the bluffs or visiting the tide pools. At the same time, Avila and Pismo are excellent choices for more of a classic California beach experience.
But for those looking to enjoy the city or wanting a romantic date night, downtown SLO offers plenty to enjoy as well.
Some restaurants you may wish to try to include Firestone, one of the most popular local BBQ places, or the classy Novo Restaurant & Lounge, which features a beautiful Creekside patio.
The weekly Thursday night Farmers' Market is also a popular attraction.
You can enjoy listening to live music, exploring all that the outdoor market has to offer, and strolling through downtown–this is only a sample of some of the delightful experiences you can enjoy while on a romantic getaway to San Luis Obispo.
And no matter whether you only spend a weekend here or spend longer, you are sure to have fun and make memories you will never forget!
Abi Johnson from Happy Go Abi
Where to stay in San Luis Obispo?
Madonna Inn is the perfect romantic accommodation.
It is a fun boutique hotel, with each room having its unique theme, and this hotel is also well-known in the area for its use of a bright pink color theme everywhere from the lobby to the hotel's tennis courts!
32. Portland, Oregon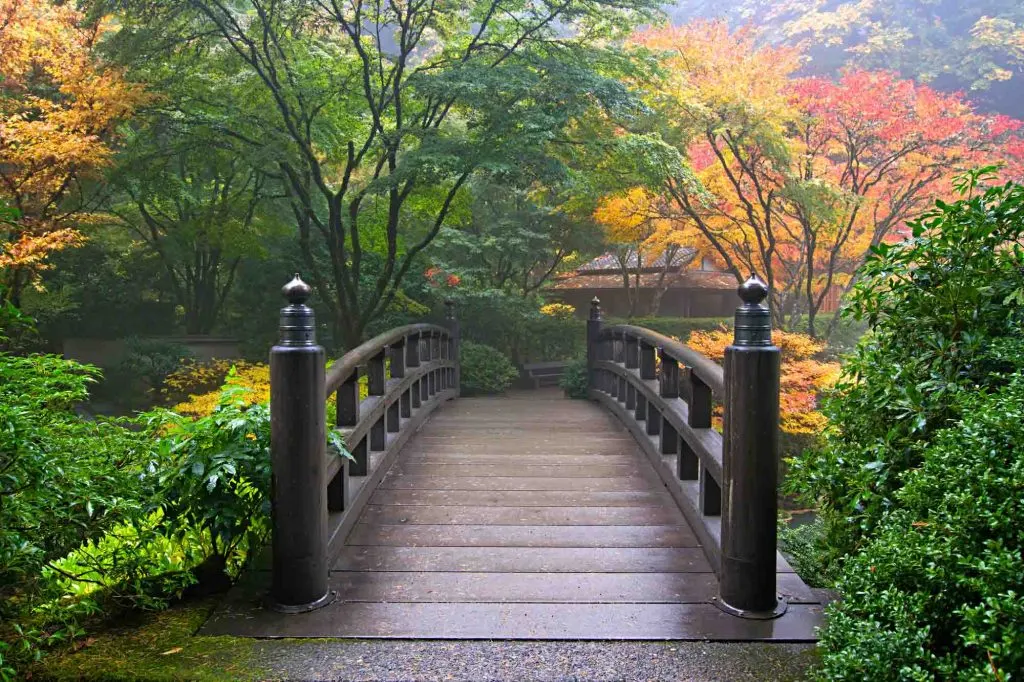 For a romantic getaway, Portland, Oregon, has it all, from trendy, boutique shopping districts to cozy eateries and romantic outdoor recreation and activities.
Mod Fam Global recommends starting with a walk down North Portland's historic North Mississippi Avenue.
Just North of the Lloyd District and Eliot across the Willamette River, Mississippi Ave. has some of the best casual romantic restaurants in Portland, from laid-back options like Prost and the People's Pig (a food-truck-turned-restaurant) to Mee-Sen Thai and gourmet ice cream parlor Ruby Jewel Scoops.
Take your date to Pistils Nursery for a fun, hands-on workshop in macramé, staghorn, and bromeliad mounting, or Houseplants 101.
If music is more your thing, browse Mississippi records for an old-school record shop and distributor that sells quirky $4 mixtapes.
For a romantic hike with 360-degree views of Portland, Mt. Hood, and the Willamette River, head to Mt. Tabor.
Miles of forested hiking paths circle the wooded watershed, with more than a few spots to stop and enjoy the views.
Across the Willamette, you'll find more romantic places like Voodoo Doughnut, with tasty creations like Key Lime Crush, a key lime-filled doughnut with caramel and graham crackers to spice things up a bit.
Finish your romantic tour of Portland with a river cruise or a walk through the Lan Su Chinese Gardens, a short walk from another iconic Portland stop, Powell's Books.
Michelle Earwicker from Mod Fam Global
Where to stay in Portland?
Stay at The Nines, a Luxury Hotel in Downtown Portland. This upscale, stylish hotel in the historic 1909 Meier & Frank Building offers the perfect romantic getaway in the heart of downtown Portland.
33. Malibu, California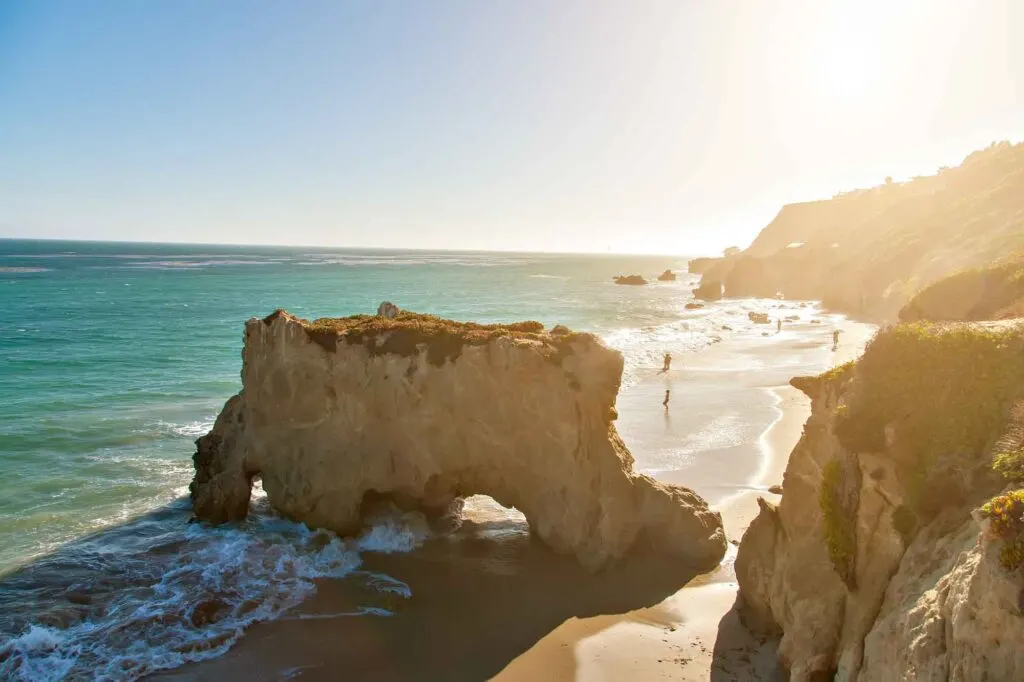 Malibu is a perfect destination for a romantic getaway on the California coast. Though located within LA County, Malibu still has a very small-town vibe that surprises most first-time visitors.
Small restaurants and shops are much more plentiful than chains, and they line the beautiful Pacific Coast Highway.
The beaches are, not surprisingly, stunning. You can find everything in Malibu from vast sandy beaches–great for laying out or swimming together–to rocky cliffs for the more adventurous to climb.
Many locals' all-time favorite beach in Malibu is El Matador State Beach, because of the stunning rocky cliffs you can explore. The views are spectacular, and this is the perfect place to enjoy a romantic sunset.
A lovely dinner spot is found directly on the pier called Malibu Farm, serving fresh and local organic fare under a Pacific Ocean backdrop.
The ambiance is relaxing and romantic, and they have an extensive wine selection available.
If you enjoy hiking, Leo Carrillo State Park is only 3 miles north of El Matador State Beach and offers trails of all difficulties that are accessible all year round.
Malibu also offers everything from beachside hotels to quaint home rentals to suit your fancy.
Whether you are looking for a relaxing stay on the beach or a more adventurous weekend hiking together, Malibu makes a perfect vacation spot in the US for every couple.
Monica from This Rare Earth
Where to stay in Malibu?
VRBO in Malibu – you can rent unique private homes for often cheaper than beachfront hotels! But if you prefer to stay in hotels, check out Calamigos Guest Ranch and Beach Club.
34. Oahu, Hawaii
One of the best places for a romantic getaway in the United States is the island of Oahu! It doesn't get much better than Hawaii, and this Hawaiian island has something for everyone.
Visitors get a taste of city life while still being on a lush, tropical island.
Whether you have 3 days in Oahu or more, some of the popular places to see for couples include the Ho'omaluhia Botanical Garden (mostly to get a stunning Instagrammable photo), Haleiwa Town, the Polynesian Cultural Center, Kualoa Ranch, Ala Moana Center, and the Pali Lookout.
There are tons of romantic things to do in Oahu like enjoy a couples massage near the ocean, go wine tasting, stroll along Waikiki, take a private helicopter tour, listen to live Hawaiian music right on the beach, rent a private pool cabana, enjoy an intimate luau, or even swim with the dolphins!
And it's the ultimate place for a romantic date night dinner. Merriman's in Waikiki has tasty food and one of the best Mai Tai cocktails in the world (spoiler: it's topped with lilikoi foam!)
Plus, there's an epic view of Waikiki Beach.
But, you might just want to grab a Hawaiian plate lunch or poke to go from a local food truck and eat it right on the beach as you watch the sunset.
Whatever you decide, Oahu will have precisely what you are looking for to create a memorable getaway full of romance.
Marcie Cheung from Hawaii Travel with Kids
Where to stay in Oahu?
One of the most romantic places to stay on Oahu is the Royal Hawaiian Hotel, right in Waikiki's heart. It's called the "Pink Palace," and it just oozes romance!
This boutique hotel has tons of terrific amenities, including a newly refreshed Hawaiian luau geared for couples and honeymooners.
35. Lake Tahoe, California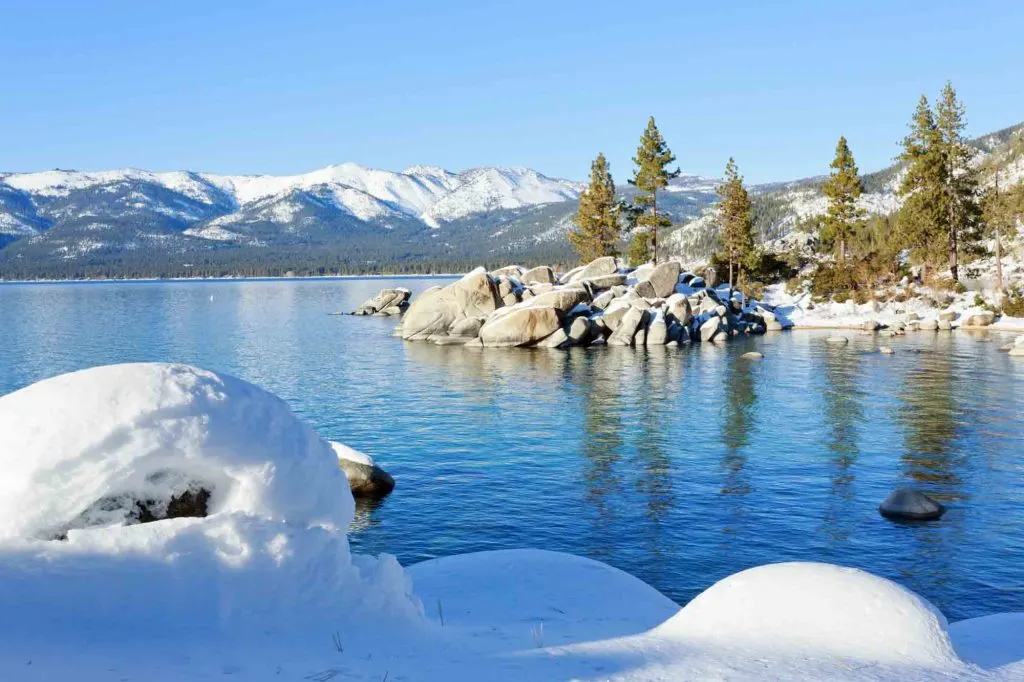 Lake Tahoe is a scenic town that attracts tourists all around the year with its immense natural beauty and fun things to do.
The lake is the largest freshwater one in the Sierra Nevada mountains. This beautiful destination is shared between the two states of California and Nevada.
For couples looking for the most romantic places in the USA, winter is the most magical time in Lake Tahoe with really cool things to do like snowmobile tours, skiing, sledding, sleigh rides, tubing, even snowshoeing if you enjoy hiking in nature.
The Heavenly Gondola is another fun thing to do in Lake Tahoe, both in the summer and the winter.
Summer shows off the bountiful greenery, the majestic pines of Tahoe, while winter makes it magical by covering the lake and the pine trees with snow all around the lake.
It is a beautiful transition between the seasons that must be experienced at least once in a lifetime!
Lake Tahoe is a summer destination in the US that offers relaxing activities for couples like lounging at one of its many gorgeous beaches, taking a cruise, boating, swimming, and fishing.
Hiking, mountain biking, zip-lining, and parasailing are some exciting activities for the more adventurous spirits. Check out the best camping spots around the area beforehand, if you plan on camping at Lake Tahoe.
Priyadarshini Rajendran from Glorious Sunrise
Where to stay in Lake Tahoe?
Luxury Retreat at Heavenly Boulder Lodge is a fantastic spot to stay for a romantic vacation. It is close to the ski lifts and easy to escape the tourist crowds in this ever-popular destination.
It is set amid nature, making you want to stay there forever.
36. Aspen, Colorado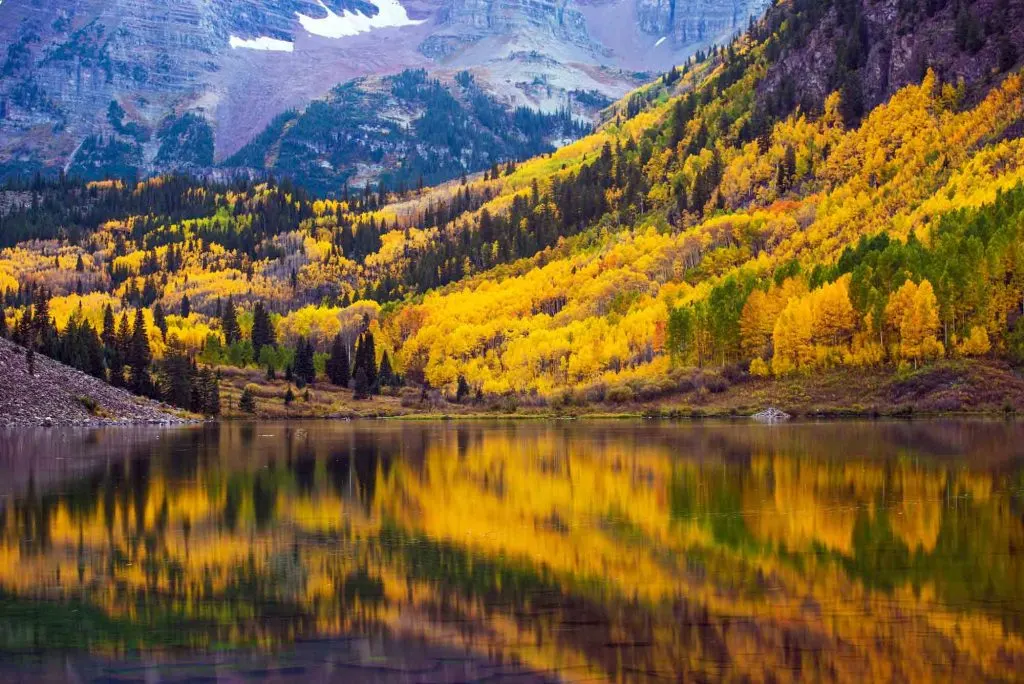 If you're looking for a romantic mountain getaway, Aspen is one of the best places to go in the US. Nestled in Colorado's Rocky Mountains, this beautiful year-round destination has so much to offer.
With stunning views all around, this town is known for its world-famous hiking trails, high-end restaurants, top-notch skiing, and Maroon Bells.
Whether you just soak in the Maroon Bells from the trailhead, take a stroll around the lake, or even hike up to Crater Lake, you will be rewarded with some of the country's most scenic views.
Watching the sunrise here is one of the most magical experiences you can have with your significant other, making it a super romantic couple's trip!
Aspen is also home to a wide chain of biking trails. Bike rentals are readily available in town and offer a great way to see Aspen and the surrounding landscape at a comfortable pace.
Take a stroll down Main Street to check out some of the boutique shops and cafes. Grab a coffee and pastry at Paradise Cafe, or head over to French Alpine Bistro for a delicious meal!
If you're able to time your trip right – Fall in Aspen is breathtaking.
The Aspen trees in the Rocky Mountains put on a spectacular show with their golden foliage, and there's nothing better than going on a hike in the mountains around this time!
Dalya Gershtein from Sweet Little Journey
Where to stay in Aspen?
The Little Nell is a luxury accommodation in the heart of Aspen. It has stunning views from the property, an on-site spa, pool, and hot tub, and large, modern rooms for you to enjoy!
There's a free airport shuttle that can pick you up at the Aspen Airport so that you don't need to worry about renting a car.
37. Solvang, California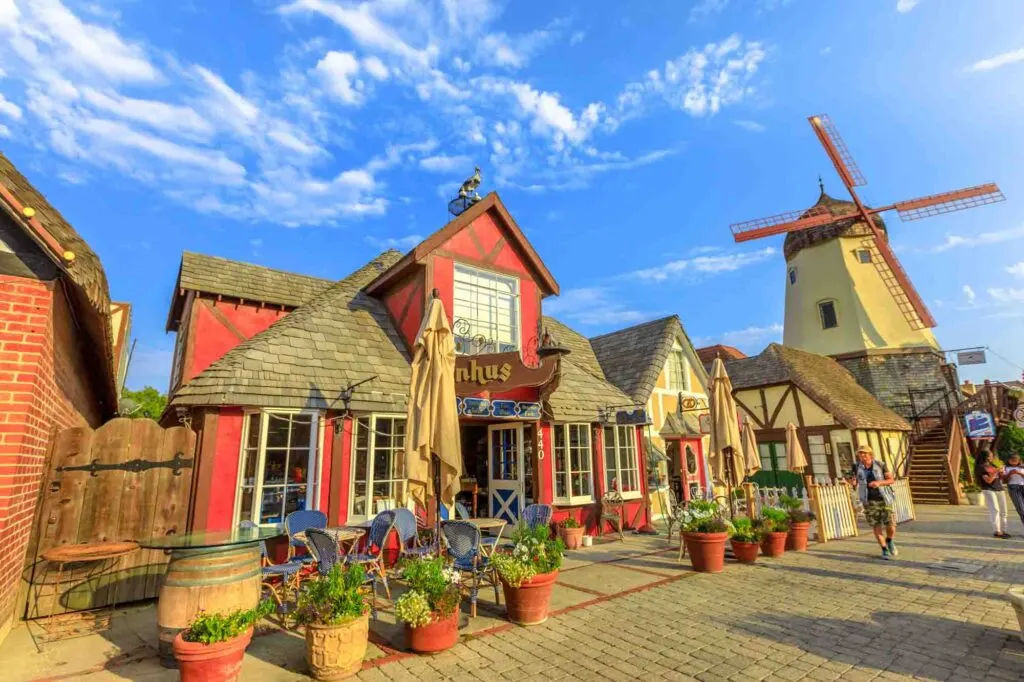 Solvang, California, is one of the unique romantic getaways in the USA!
Known as 'America's Little Denmark,' this Danish village in California is well known for its wineries, windmills, and stunning scenery, making it the perfect spot for a romantic weekend getaway.
Located in Santa Barbara County, Solvang has something for every kind of couple looking for a romantic trip.
Stroll through downtown Solvang in search of the perfect Danish pastry at one of many bakeries, taste various olive oils at several olive shops, go hiking and find a romantic hidden, hot spring at Gaviota State Park nearby, or explore the cutest wineries and tasting rooms in Solvang, Santa Ynez, and Los Olivos.
After enjoying romantic adventures during the day, there are ample restaurants for a lovely candlelight dinner.
Mad & Vin at The Landsby hotel is fantastic with an extensive wine menu, and delicious seafood, and First & Oak at Mirabelle Inn has fresh local food served as small plates- perfect for sharing as a couple.
Solvang, California is a place where beauty, taste, and comfort combine into the most charming town.
From the earthy pinot noirs that Santa Barbara County is known for to the delights of a Danish-inspired village, Solvang is one of the best US vacation spots for couples.
Kat Weiss Butler from World Wide Honeymoon
Where to stay in Solvang?
The Landsby is the cutest Danish-inspired place with a fantastic restaurant and cocktail bar. Mirabelle Inn is the perfect couple's getaway splurge with a spa, bottle of wine in the room, delicious restaurant, and romantic vibes.
38. Las Vegas, Nevada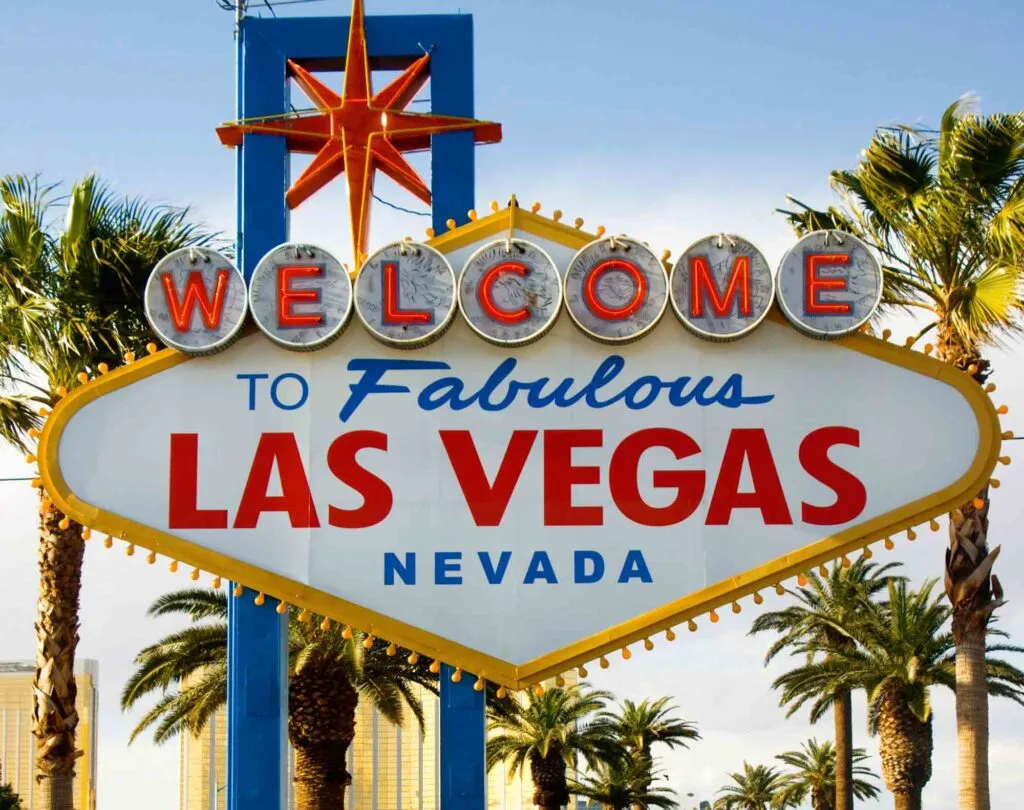 Las Vegas is a romantic getaway in the USA for so many reasons. The city has unique attractions, exciting foodie destinations, and many outdoor things to do for adventure lovers.
Plus, springtime in Las Vegas is pretty perfect – neither too hot nor too cold.
While most know Las Vegas for gambling, drinking, and partying, the city offers a lot of attractions for even those who like to stay away from the casinos.
Most of the things to do in Las Vegas start at the Strip. Officially known as the Las Vegas Blvd, the Strip is where all the leading casinos are located. The highlights of the Strip are the Bellagio Fountains.
The experience of the dancing fountains of the Bellagio is enchanting, a hotel-casino that dazzles with its Tuscan architecture and its artificial lake where fountains dance aiming at the sky in a unique and precious show, to the rhythm of different songs.
Other Las Vegas strip attractions include the roller coaster at New-York New-York, the Eiffel tower ride at Paris, and the circus acts at Circus Circus.
For foodies, a visit to the Las Vegas buffet is a must. Almost every casino offers a buffet, and they all have many food stations and a variety of cuisines to keep a variety of taste buds happy.
Where to stay in Las Vegas?
For a place to stay, consider the Luxor. Located at the start of the Strip, the Luxor is conveniently situated from most attractions. The Egyptian decor and luxurious rooms will make any Las Vegas stay enjoyable.
39. San Francisco, California
With breathtaking vistas, stunning sunsets on the beach, and world-renowned cuisine, it is easy to see why San Francisco is one of the best US vacations for couples.
This vibrant city is known for its iconic Golden Gate Bridge, colorful Victorian houses, cable cars, and diverse cultures.
This 7×7-mile square city packs in many romantic experiences that cater to a full range of spectrum when it comes to budget preferences ranging from free to all-out luxury.
If your idea of a romantic afternoon includes a relaxing picnic, you can visit the Golden Gate Park and take in this vast green oasis. While at the park, you can also go pedal-boating at Stow Lake for a quiet escape.
Known as the bay's city, it would be amiss not to take an intimate walk on Ocean beach to marvel at the sunset.
Food lovers should stop at the Ferry Building, where you'll find a variety of food stalls, artisan shops, and the option for oysters and champagne for a fun and romantic date.
If you're looking to splurge on a romantic dinner, head to Saison or Quince for an extravagant tasting menu that is undoubtedly memorable.
To top of a perfect romantic getaway, drive up to Twin Peaks to watch the city lights twinkling below you as you snuggle up close with your partner.
Kristel and Gabriel Glasier from Chef Travel Guide
Where to stay in San Francisco?
Hotel Vitale – A luxury boutique hotel centrally located and close to many of the city's best attractions. Couples can indulge in pure relaxation at the spa located on the rooftop with sweeping views of the Bay Bridge.
A romantic treatment for two involves a signature bathing ritual complete with a lavender milk bath and rose petals in an outdoor bamboo garden.
40. Hood River, Oregon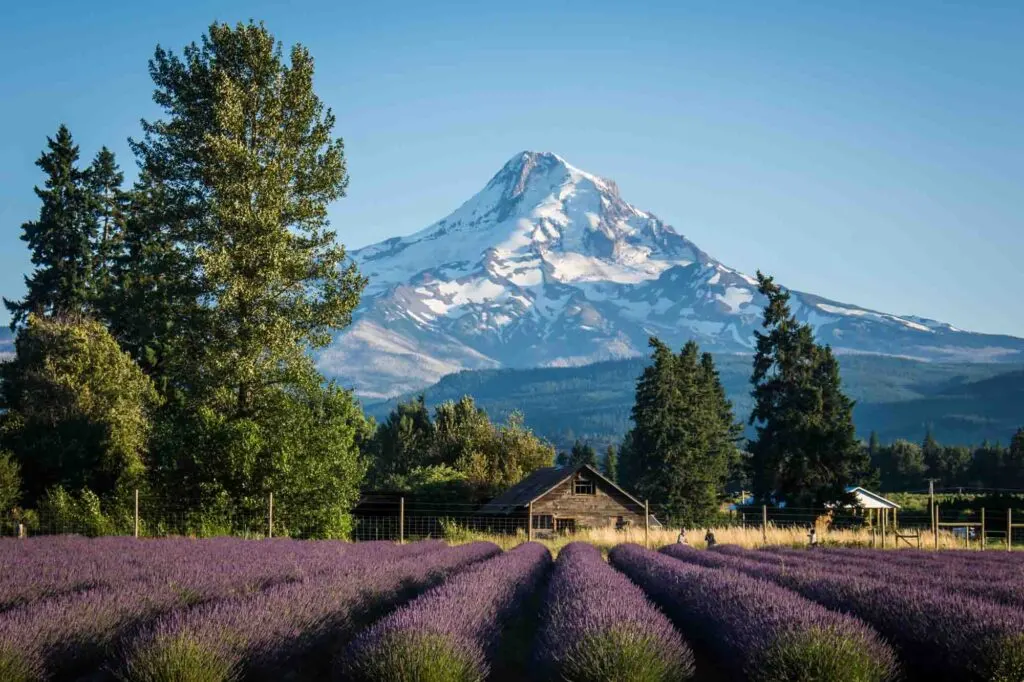 Imagine sipping wine on a beautiful 75 degrees summer day, surrounded by mountains and lush forests.
Hood River, Oregon, nestled within the Columbia River Gorge, offers breathtaking views, exquisite wineries, and is even the Windsurfing Capital of the World (if you're looking for some extreme fun).
Spend a day driving the Fruit Loop, a 35-mile scenic loop filled with wineries, breweries, alpaca ranches, and lavender shops, making it one of the most romantic places in the United States.
You and your love will enjoy stopping at various farms and orchards to pick sun-kissed berries, tomatoes, pears, etc. On the way, stop by Panorama Point, which offers a stunning view of the entire Hood River Valley.
Spend your evenings walking INTO the Columbia River on 'The Spit' – a nearly half-mile sandy beach enjoyed by windsurfers, paddle boarders, and even swimmers (if you can brave the cold water).
Enjoy a beach-side food truck as you watch the sunset surrounded by mountains. When you're ready for a nice dinner, dine with the locals at Stonehenge Gardens.
Be sure to sit outside in their light-strung garden, complete with a fire pit for chilly evenings. Split a crème brûlée and breath in the fresh air of Oregon's forests.
And if you're looking for nature, venture south into Mount Hood National Forest, filled with waterfalls, hiking, and the only year-round ski resort in the United States.
Clarissa Sidhom from Modern Hipster Mama
Where to stay in Hood River?
Columbia Gorge Hotel & Spa – has the best view of the Columbia River Gorge and a beautiful garden.
41. Salt Lake City, Utah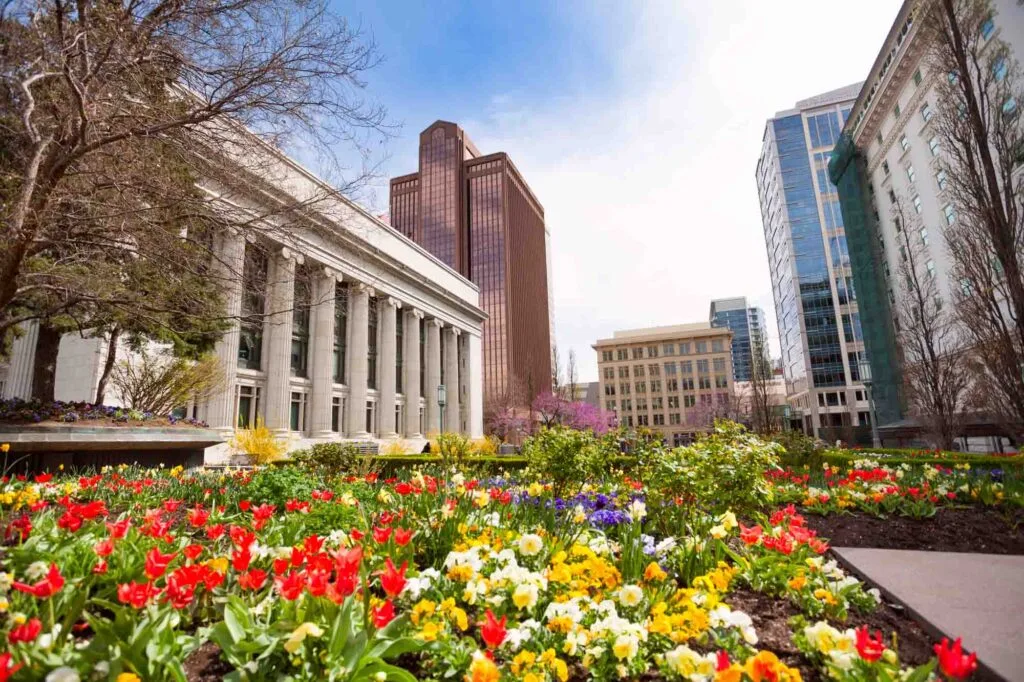 Being an urban gateway to some of the gorgeous natural sceneries, Salt Lake City is a destination that has a lot to offer to couples who love being outdoors.
Be it walking in Downtown along Broadway, or hiking in the Big Cottonwood canyons while breathing fresh mountain air, watching the ducks being ducks in a pond in Liberty Park, wandering around the sprawling salt flats of Bonneville–the possibilities are endless.
A cozy picnic in the lush grounds of the Red Butte Gardens is a must. And if you love skiing, you are in the right place.
Don't feel like being outdoors? Salt Lake City has got many things for you. How about enjoying a performance of the Utah Symphony or Ballet West? Love theatre? Capitol Theater hosts touring Broadway productions.
There are a lot of fantastic cafes like La Barba and the Rose Establishment. If drinks are your thing, definitely hit up BTG (By the Glass), an intimate downtown wine bar.
And Salt Lake City has quite a vibrant dining scene with food from many countries. Log Haven is impressive. So are Red Iguana and Takashi.
Whether you are an American or a foreigner on a visa in the United States, give it a chance, and Salt Lake City will end up surprising you as it is one of the most romantic getaways in the USA.
Deb Pati from The Visa project
Where to stay in Salt Lake City?
The Cliff Lodge in Snowbird is 45 minutes from downtown SLC. Every room comes with a view of the Little Cottonwood canyon and the snow-capped peaks that you can gaze at while relaxing from a hot tub in your room.
It comes with a spa and yoga studio, as well as many other amenities. And, there are many restaurants and lounges to choose from for a date night.
And in case you are into skiing, you would love the ski-in/ski-out convenience.
42. San Diego, California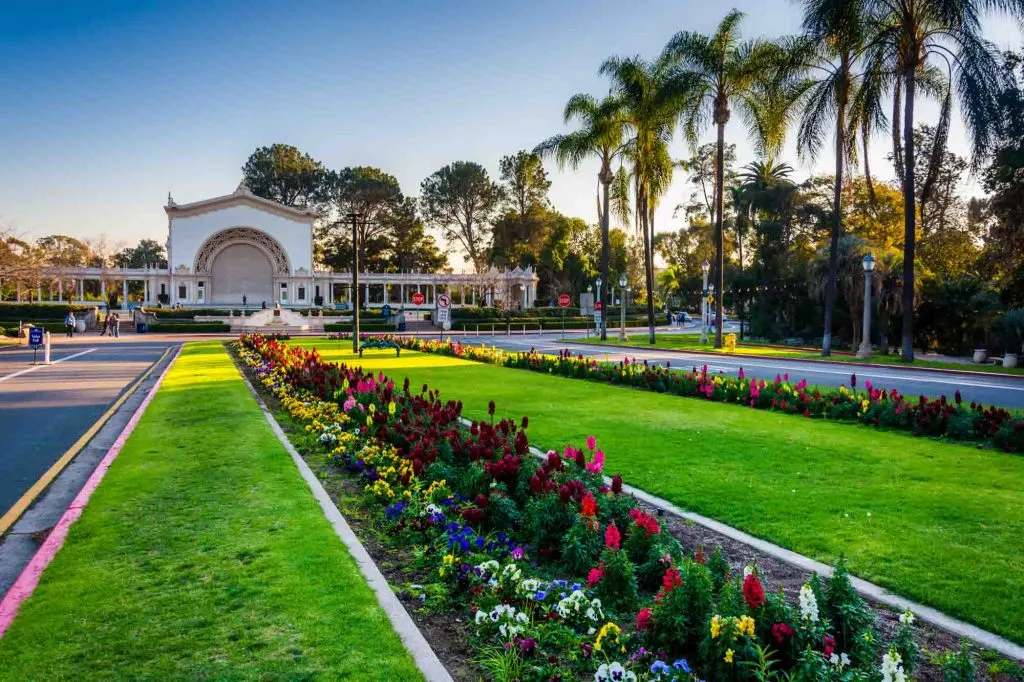 San Diego, California's top beach city, is the perfect choice for a romantic getaway. The climate in Southern California makes San Diego a great choice pretty much year-round.
Even in winter, you rarely need a jacket, and in the summer, it does not get too hot (at least near the ocean).
Also known as America's Finest City, San Diego has so much to offer, whether you are in the mood for a beach getaway at one of the many beach house rentals in San Diego, a few romantic dates in the city, or a mix of both.
Here are some of the best things to do in San Diego:
Explore Downtown: There is a lot of stuff to do in Downtown San Diego.
From eating delicious food at one of the many great restaurants in San Diego, strolling through the cute Little Italy district, visiting the Midway Museum, walking along the waterfront at Seaport Village, or having a fun night out with your love in the Gaslamp Quarter, San Diego has something for everyone.
If you love the outdoors and animals, visit Balboa Park and the world-famous San Diego Zoo, located in Downtown.
San Diego Beaches: San Diego has some of the best beaches in Southern California.
Some of the most popular ones are Mission Beach, Coronado, and the beaches in La Jolla. You can relax on the sand, take surfing lessons, or ride your bike along the boardwalk for a fun day.
If you are into hiking, go to Torrey Pines State Park. You will find some stunning trails overlooking the Pacific, and if you are lucky, you might even spot some whales. It is also a popular spot for proposals >>hint hint 🙂
Even if you only have one day in San Diego, the city has so much to offer and is merely fun that's worth the visit, especially when you want to make memories with your special someone.
Maria Haase from San Diego Explorer
Where to stay in San Diego?
Pantai Inn in La Jolla – A small 5 Star Hotel that treats you like royalty – the Pantai Inn in La Jolla will make your romantic trip to San Diego extra special.
The beach is a short walk away, but you'll see and hear the crashing waves from your room. If you'd like to do something a little more touristy, that's good too.
Nearby are plenty of downtown La Jolla attractions from gift shops to museums and restaurants, and all San Diego attractions are just a short drive away.
43. Kona, Hawaii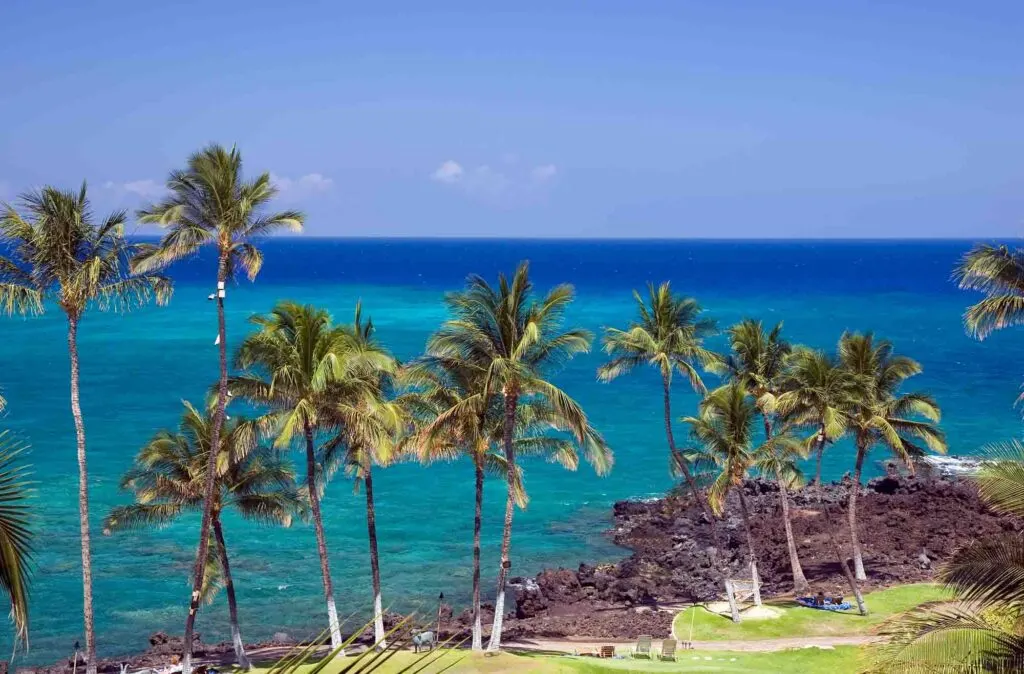 Everyone thinks of Hawaii as a fantastic honeymoon destination; it's no surprise that Kona, HI, is the perfect romantic getaway in the United States for any couple.
There are so many great things to do in the Kona area for couples who love the beach and unique Hawaiian eats.
Makalawena Beach is one of the most beautiful beaches in Hawaii. With its gorgeous (and soft) white sand, it's the perfect place to spend a day at the beach.
The cove also has tidepools for spotting sea creatures, and if you're lucky, you might even catch a glimpse of a sea turtle snacking on some seaweed.
Papa Kona is excellent for a romantic Sunday brunch. When you make a reservation, ask for the water's prime seating as the tables are super limited!
The views are beautiful, and you'll enjoy them with a Hawaiian or American-style breakfast of your choosing.
Their loco moco, a Hawaiian breakfast dish with sunny-side-up eggs, beef patty, gravy, and rice, and their namesake Kona coffee, are delicious.
Kona is the perfect place to visit for any couple looking for a romantic tropical vacation in the United States.
Constance from The Adventures of Panda Bear
Where to stay in Kona?
Sheraton Kona Resort & Spa at Keauhou Bay because the property is gorgeous, and the bay just outside of it is home to manta ray feeding grounds.
From the hotel's restaurant, you'll be able to see them feeding at night.
44. Santa Fe, New Mexico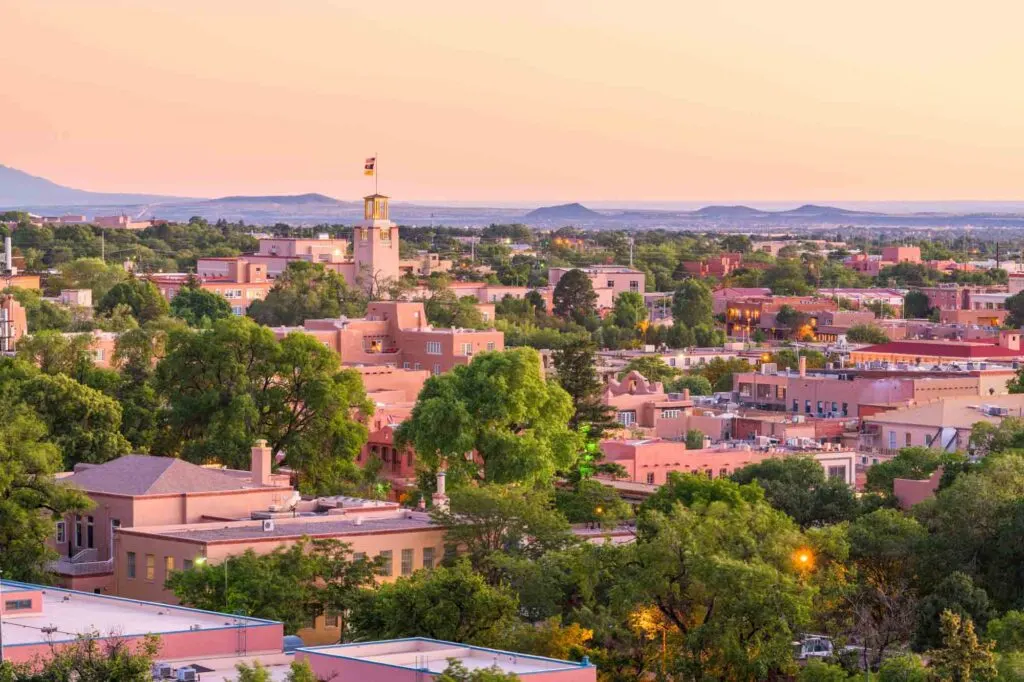 Santa Fe is a great city to visit for a romantic getaway in the United States, especially if you enjoy getting outdoors and a vibrant art scene.
This old historic town has world-renowned art galleries and plenty of independent galleries and an emphasis on local artists and history.
Santa Fe is the oldest capital in the United States and also the smallest city capital.
The city is known for its art ' you can check out the New Mexico Museum of Art and Museum of Contemporary Native Arts, amongst others.
You can also check out other attractions such as the Santa Fe Plaza and the San Miguel Chapel (the oldest standing church in the USA built in 1610).
There are many good Mexican food restaurants in Santa Fe to choose from but for a special night out you can try Saxon. A beautiful restaurant with an outdoor seating area so you can have dinner by candlelight.
The chef is from Mexico City and serves new world cuisine. There are several unique places to stay in Santa Fe, from domes to tipis or airstreams.
Nicole LaBarge from American SW Obsessed
Where to stay in Santa Fe?
Rosewood Inn is the perfect place to stay in Santa Fe for a romantic weekend and has excellent access to Bandelier National Park, where you can spend the weekend hiking.
45. Glenwood Springs, Colorado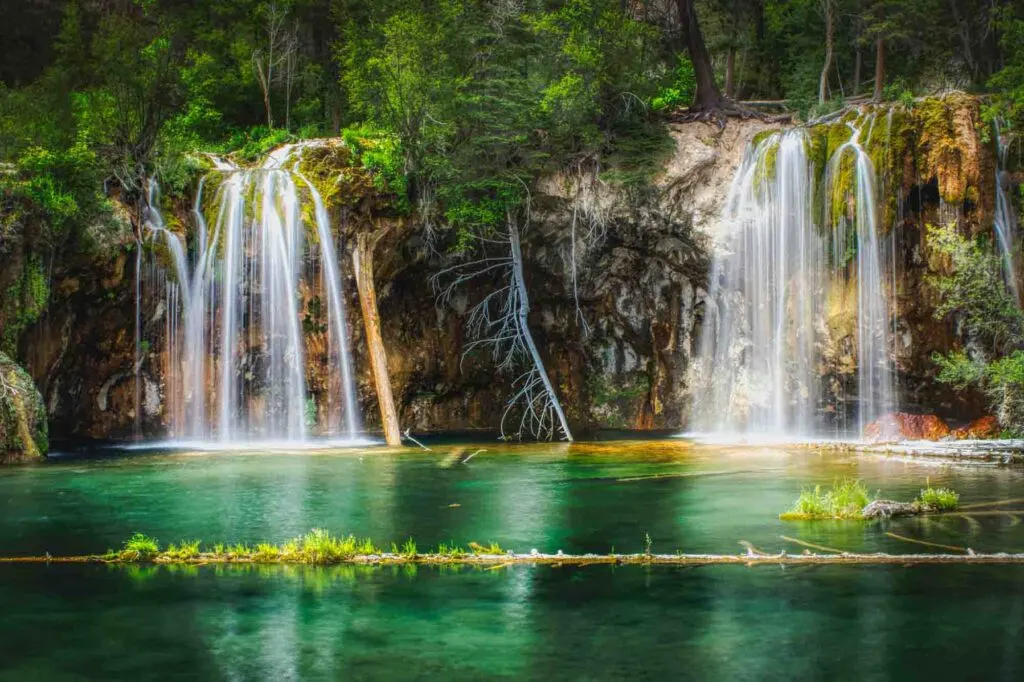 Glenwood Springs checks all the boxes when it comes to a romantic mountain escape in Colorado. This alpine destination has beautiful natural scenery, hot springs, and lots of places to wine and dine.
Iron Mountain Hot Springs and Glenwood Hot Springs are the town's two most well-known natural hot springs. They both offer several amenities like spas and restaurants on-site.
Iron Mountain Hot Springs has over 16 pools. While Glenwood Hot Springs claims fame, it has the largest naturally heated pool in the world.
Active couples will enjoy checking out Hanging Lake. This 2-mile hike leads to a beautiful turquoise lake, which might quickly become one of your favorite stops on a possible Colorado road trip.
Pack a lunch and some sparkling wine for a romantic picnic here.
Rifle Falls National Park is located just outside Glenwood Springs. It has one of the most stunning waterfalls in the nation. There are also lots of hiking and walking trails to enjoy.
For a carnival-like experience, head to Glenwood Adventure Park. Spend the day riding the roller coasters and feasting on cotton candy. However, the romantic thing to do is to ride the Ferris wheel with your loved one.
Oksana and Max from Drink Tea & Travel
Where to stay in Glenwood Springs?
Glenwood Springs Cedar Lodge – it has sustainable practices and great value.
Romantic Getaways in the United States
We hope you enjoyed this great list of the most romantic getaways in the United States, and it inspired you to pack your things and spend some quality time with your significant other.
After all, who doesn't love to enjoy a new cozy environment with their special someone? Especially when it includes romantic dinners, activities, and lots of love!
Now, let us know in the comments, what's your favorite romantic getaway in the USA? We would love to hear from you!
Did you like this post about the most romantic US getaways? Then share it with a friend who might like it too!