Located about an hour and a half outside of both Austin and San Antonio, this tiny central Texas town is a tourist hotspot in its own right. To help you explore, here is our list of 12 epic things to do in Fredericksburg!
Of course, when visitors are planning their travels through the state, Texas small towns aren't the first thing that comes to mind. But some of the state's most interesting culture is actually tucked away in these roadside stops.
Home to only 11,000 people, Fredericksburg boasts everything from world-class wineries to traditional German architecture. Just like the town itself, this list has a little something for everyone. It's a true USA bucket list item!
So if you want to get off the beaten path, maybe spend a lovely weekend in Fredericksburg TX, and explore another side of the Lone Star State, keep reading!
Wondering where else to visit in Texas? Check out our suggestions for a weekend in Dallas, one of the state's most lively cultural hubs and just a 4-hour drive north from Fredericksburg.
Our Favorite Things to Do in Fredericksburg
Looking for a perfect wine tour? Then you might want to read this comparison of the best wine tours in Fredericksburg TX! It also includes the winery experience mentioned above.
Are you trying to decide where to stay in Fredericksburg? Don't miss our extensive Fredericksburg hotel guide and tips on where to stay in Fredericksburg. This article covers the best 3 inns, B&B, and Airbnbs in Fredericksburg.
12 Epic things to do in Fredericksburg, TX
1. Shop 'til You Drop on Main Street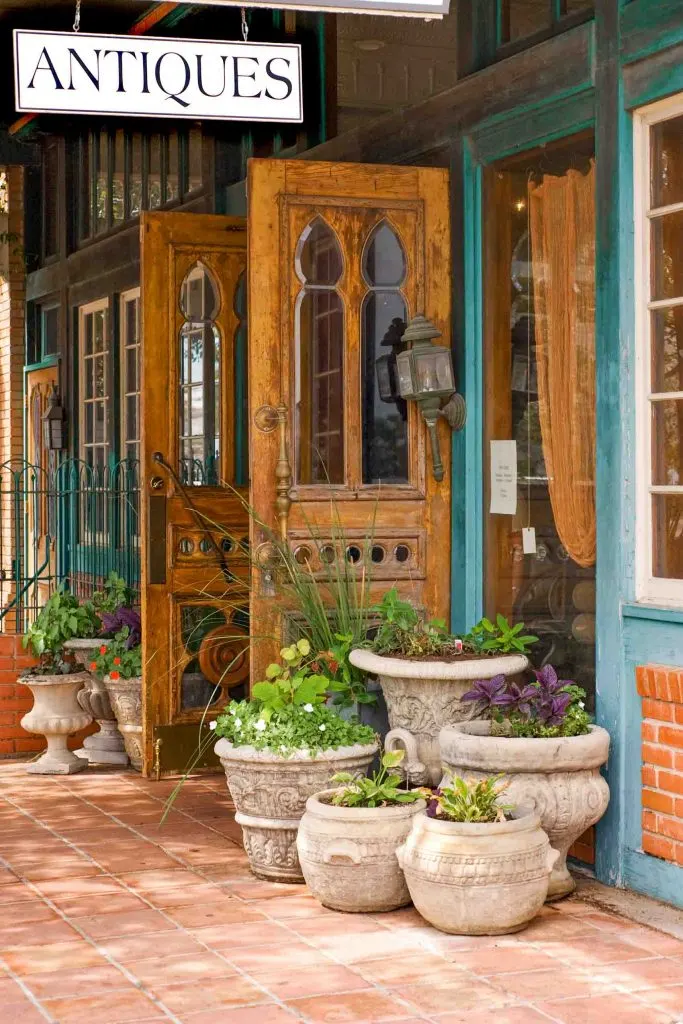 For those in the market for gorgeous antiques, artisanal clothing, cute shops, or one-of-a-kind home goods, Fredericksburg is the place to be.
The so-called "Magic Mile" is a stretch of boutique shops through the center of the town that perfectly captures Fredericksburg's quirky style–quintessentially Texan with a hint of European flair.
While none of the vendors will disappoint, here are a few of the town's favorites.
Barefoot Campus Outfitters is the one-stop-shop for Fredericksburg souvenirs, and their wide variety of jokey Texas-German t-shirts printed with sayings like "I don't give a schnitzel" and "Prost y'all" are sure to be a hit back home.
Meanwhile, Phil Jackson's Granite and Iron Stone specializes in stunning handcrafted tables and other design pieces.
You can even grab a souvenir for your furry friend at Dogologie. If you're traveling with your pet, the store offers dog stroller rentals and a Dog Pause program to keep your pup out of the heat while you hit the town.
Furthermore, the stores are housed in beautiful historic buildings, so even if you're not looking to buy, the architecture alone will make your trip down Main Street a delight.
Read next: 33 Best Things to Do in Texas
2. Rest Your Feet at Marktplatz
This square at the heart of Fredericksburg holds the old site of the town's first church and school (we'll talk about it below), and the two main shopping districts stretch out on either side.
The grounds are full of sprawling gardens, a gorgeous setting for many of Fredericksburg's festivals, special events, and a popular destination for wedding ceremonies. It has excellent photo opportunities too!
Even if you go when there's nothing on the schedule, wandering around Marktplatz is an event in and of itself.
You'll find historical sculptures, picnic areas, and plenty of green space to spread out on after a morning of shopping.
During the warmer seasons, Marktplatz comes alive with a farmers market that turns the spotlight on an array of homegrown delights, from locally sourced foods to live music played by area bands.
Visitors can also order dishes from chefs who are happy to chat about their natural ingredients and delicious recipe secrets.
For the holidays, part of the park is transformed into an outdoor skating rink.
Whatever time of year you visit, Marktplatz is the lively hub of Fredericksburg, with a focus of bringing the community together and supporting local livelihoods.
Pssst: The beautiful public library building is just across the square!
3. Jam Along to Country Hits at Luckenbach
This community 13 miles outside of Fredericksburg has a 3-person population and only 2 buildings left standing–a post office/saloon/general store and a dance hall–but it is a legendary home of country music.
Luckenbach, the music venue, was established in the mid-1800s by one of the first German settlers to arrive in this part of Texas, and exploded to national fame over a century later after country legends Waylon Jennings and Willie Nelson released a song titled, "Luckenbach, Texas (Back to the Basics of Love)."
In the 1990s, Luckenbach again surged onto the country music scene as it explored and popularized new niches of the genre.
Today, the town still hosts live music events almost every evening, and visitors are encouraged to join in on the fun.
Whether or not country music is your cup of tea, it's hard to ignore the treasured history of this community and the joy of informal jam sessions that are free for all ages.
4. Stop and Smell the State Flowers at Wildseed Farms
Looking for outdoor activities?
This gorgeous 200-acre space is the largest wildflower farm in the United States, and home to not only magical sunflower fields but also to the iconic Texas bluebonnet, as well as other state specialties like red corn poppies and phlox.
The best time to visit is in spring when all of the showstoppers are on display, but the farm is still filled with a large selection of summer blooms as well as a stockpile of pumpkins ready to be carved in fall.
Visitors can even shop for their own seeds to plant at home!
A half-mile of leisurely walking trails will get you up close and personal with the flowers, and sitting areas throughout the farm are a great place to relax and enjoy the sights.
It's not a surprise that Fredericksburg is one of the most romantic getaways in the United States.
More recently, Wildseed Farms expanded into vineyards, and now offers up tasting experiences that show off local grapes and wines.
It's easy to spend a whole day in the area soaking in all the sensory delights.
5. Sample European Cuisine in Texas Hill Country
Just off Main Street, you'll stumble upon a novel culinary experience at Otto's German Bistro.
Wondering where to eat in Fredericksburg? Well, this restaurant makes the most locally grown and produced ingredients to dish up farm-to-table German cuisine in the heart of the American South.
The menu is specially curated for each season to ensure that the meals are always as fresh as possible. With delicacies like duck schnitzel, truffle linguine, and their famous wurst platte on offer, you can't go wrong.
Otto's also boasts a number of craft beers and locally made wines. After all, this German town is right in the middle of Texas wine country and home to some of the best wineries and breweries in the state.
If you want to sip some local wines, you might want to stop at one of these wineries in Fredericksburg.
Their beautiful outdoor patio strung with lights will set the mood for a cozy but elevated evening dinner.
6. Travel Back in Time at One of Fredericksburg's Many Museums
For such a small town, Fredericksburg has lots of history! There are several must-see museums located in and around the center, so it's easy to hit the highlights in an afternoon.
The National Museum of the Pacific War, voted the fifth best history museum in the United States in 2020 by USA Today, holds a number of galleries dedicated to World War II.
At the museum's combat zone, you can immerse yourself in a staged reenactment of the events of the war that played out in the Pacific.
For a calmer journey into the past, the Pioneer Museum Complex offers a unique look at the history of the area, tracing the story of the first German settlers who arrived in Fredericksburg in the 1840s.
All of that spread across a 3.5-acre museum complex, which includes the Vereins Kirche Museum.
The Vereins Kirche Museum is, among others, a reconstruction of the original building that served as a Town Hall and a piece of living history.
Visitors aren't limited only to a walk through the main building.
The experience includes a self-guided stroll around the grounds, where historic homesteads, a one-room schoolhouse, and a smokehouse spread out below towering Texas pecans.
National Museum address: 311 E Austin St, Fredericksburg, TX 78624
Pioneer Museum address: 325 W Main St, Fredericksburg, TX 78624
7. Treat Your Palate on an Absolute Charm Wine Tour
Cruise around to 3 of Fredericksburg's best wineries on a luxury tour with Absolute Charm. At each stop, guests will enjoy tastings of 5 or 6 of the venue's best selling bottles with explanations provided by a local specialist.
Unlike other experiences, Absolute Charm sets a leisurely pace for their tours, so you'll have time to take in the scenic vistas and–if you're lucky–some live music performed by local bands.
One of the highlights on the tour is Signor Vineyards, a family venture that has deep roots in Central Texas.
The Signor family can be traced back through five generations of involvement in agriculture in the region, and although the vineyard was started only 6 years ago, it has already become a mainstay on the Fredericksburg wine scene.
You'll also pay a visit to Lost Draw Cellars, another venture with long-running family ties to Texas wine country.
Lost Draw prides itself on 100 percent Texas wines, with every part of the process from growing to production taking place onsite.
Still, you should consider taking a Fredericksburg wine tour (it's a personalized guided tour!) to simply hopping on the Wine Road 290 shuttle bus (at Fredericksburg Visitor Center) to visit some of the best wineries along the 290 Wine Trail.
If you're looking to continue your delicious wine journey around Texas, one stylish winery up north made our list of the most romantic things to do in Dallas.
Read next: Romantic cabins in Fredericksburg
8. Explore the "Texas White House" at the Lyndon B. Johnson State Park and Historic Site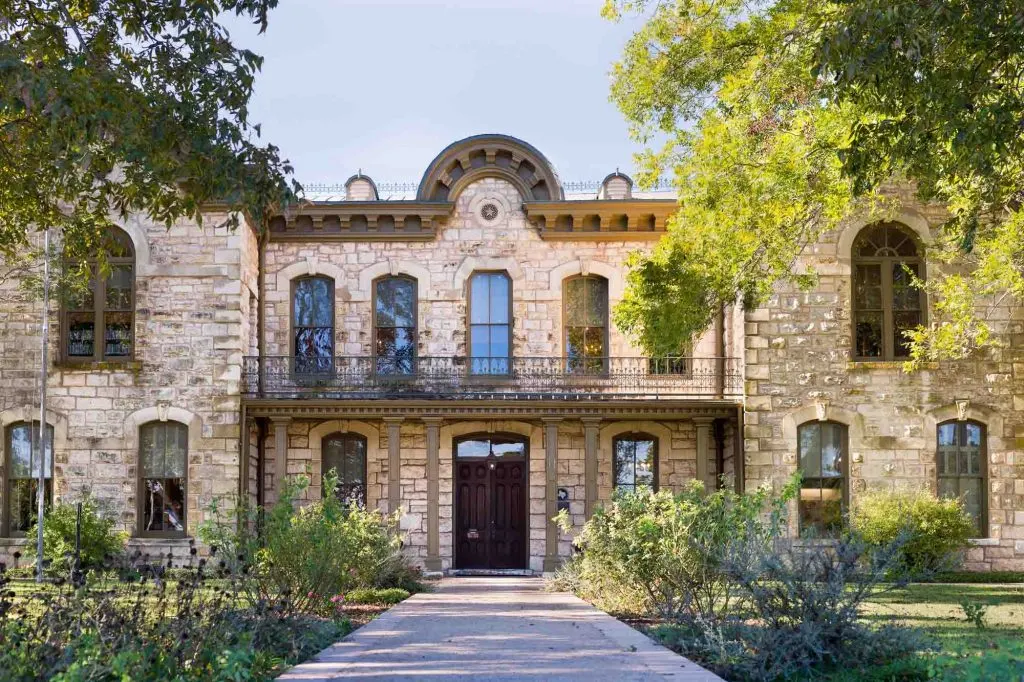 The 36th president of the United States called Fredericksburg his home, and tourists today can still visit the legendary LBJ Ranch–an incredible historic site.
Visitors can pick up free driving permits that allow them to view the grounds from the comfort of their own car, stopping and sightseeing at their own pace.
Among the unmissable lookout spots are the President's birthplace, the family cemetery, and Johnson's sprawling ranch house lovingly known as the Texas White House.
You can also take a tour through LBJ's childhood home or visit his grandfather's cattle driving headquarters, built in the 1860s, and still standing today.
For the nature aficionados, it's not uncommon to spot one of several native Texas species while walking through this State Park, like mockingbirds, armadillos, and even the occasional bald eagle.
Pssst: You might want to check out the Sauer-Beckmann Living History Museum within the LBJ State Park.
9. Watch the Bat Emergence in the Old Tunnel State Park
Imagine watching a colony of Mexican free-tailed bats emerge from an old tunnel spiraling upwards?
Well, you can experience that at the Old Tunnel State Park from May through October. Reservation needed.
The Old Tunnel State Park is a railroad tunnel that ceased operations around 1940 and now it's a very popular spot to watch bats take flight from their home–the tunnel.
As the bats gain altitude, aerial predators catch some of the bats, while terrestrial predators are just waiting to feed themselves on fallen bats. It's an incredible experience you can't afford to miss!
Besides, visiting the Old Tunnel State Park is one of the most popular and free things to do in Fredericksburg!
Pro tip: bring a pair of binoculars to get the best view of the bat emergence.
10. Pick Your Own Peaches at Jenschke Orchards
There are few things more satisfying than fruit picked and eaten straight from the tree, and Jenschke Orchards claims the best tasting peaches in all of Texas Hill Country.
This seven-generation family farm has over 26 types of peaches available for picking between May and September.
Of course, you can purchase ready-to-go boxes at their roadside stand, but it's much more fun to venture into the orchards yourself.
If the peaches are too good not to gobble down, Jenschke also has an array of homemade jams, jellies, and ice cream so you can keep some treats for later.
11. Enjoy off-Broadway Excellence at Fredericksburg Theater Company
For the best entertainment in town, head here! This theater claims they have the loudest applause in the Texas Hill Country, and with their dazzling selection of dramas, musicals, and classic plays, we believe it.
With cozy seating and an intimate atmosphere, there's no bad seat in the house.
The Fredericksburg Theater Company was voted the best theater in the San Antonio region for four years running, from 2016 to 2019, so a trip to the town is not complete without a showing.
Even better, FTC is dedicated to enriching the community around them and offers youth courses and summer camps to support the next generation of performers.
12. Fall Under Nature's Spell at Enchanted Rock
Not only does Fredericksburg boast the country's biggest wildflower farm, it's also only a 20-minute drive from the United States' largest pink granite mountain.
Perched on the Llano Uplift, the incredible Enchanted Rock is a pink granite dome that can be seen from many miles around. The rock is a massive granite dome that is part of the Enchanted Rock State Natural Area.
Enchanted Rock is a stunning natural area with 8.4 miles of hiking trails and some of the best night sky views in the state. Campsites are available across the park.
The Tonkawa Indians believed that this site was inhabited by spirits that protected the land from unwelcome intruders, and much of that magic is still felt today.
Many visitors claim they've heard strange sounds and seen unnatural lights at night.
If that's not enough of an adrenaline rush for you, Enchanted Rock is home to some of the best rock climbing in the state, with routes available for all skill levels. (The rolling hills and pasture views are incredible!)
Wrapping up on 12 Epic Things to Do in Fredericksburg
If you plan on continuing your trip through Texas, the drive north to Dallas along Highway 281 will take you on a scenic jaunt through some of the state's most charming small towns and roadside diners.
Hico, Hamilton, Lampasas, and Marble Falls are all worthy additions to your itinerary.
Oh, and you might want to continue your trip to the big city as Fredericksburg is a perfectly doable road trip from Dallas.
Alternatively, you might want to visit other towns in the Lone Star State. For that, you might want to get some ideas from these incredible road trips in Texas.
Once you make it to the big city, take advantage of our comprehensive guide on where to stay in Dallas, which will fill you in on all the different neighborhoods Dallas has to offer, as well as our favorite hotels, hostels, and Airbnbs.
In the meantime, enjoy the historic sites, the entirely unique atmosphere of Fredericksburg, and all the Texas-German delights it has to offer!
And you? What's your favorite thing to do in Fredericksburg, Texas?
Did you enjoy this post about the best things to do in Fredericksburg TX? Then share it with a friend who might like it too!
Latest posts by Katelyn van Sligtenhorst
(see all)