From beautiful blooming roses to refreshing natural spring swimming pools, the parks in San Antonio hold some of the city's best features and definitely shouldn't be missed on your next trip.
We're counting down the best and most unique that the city has to offer, with botanical gardens, historical sites, hiking trails, and more up ahead.
These San Antonio parks are just the things to break up those busy days. An afternoon spent in one of the city's many green spaces will help you slow down and soak up a different side of the tourist hotspot.
Keep reading to learn more about what to do and see in each of these 16 stunning parks!
Best parks in San Antonio
Have you ever gotten home from a vacation only to feel that you're even less relaxed than when you left? With an itinerary packed full of scheduled tours and crowded attractions, a getaway can get stressful fast.
While many travelers don't think to add parks into their sightseeing plans, it's actually a great way to incorporate some downtime while still being out and about.
San Antonio, in particular, is an excellent spot for outdoor activities, and the city has plenty of gorgeous parks tucked between its cultural, historical, and entertainment sites.
Here are a few of our favorite parks that you need to experience!
Brackenridge Park
A self-proclaimed "Oasis in the City," Brackenridge Park is home to 343 acres of fishing, golfing, and picnicking paradise right next to downtown.
The land boasts quite a long history, and human activity in the area has been traced back more than 12,000 years. Clearly, it's some in-demand real estate.
Brackenridge was first established in 1899 and has been popular with both locals and visitors ever since.
Towering trees and peaceful riverbanks will greet guests along the park's paths, and the facilities include playgrounds, museums, a miniature train, a Japanese tea garden, and the oldest municipal golf course in the state.
The park is open every day from 5 AM-11 PM.
Friedrich Wilderness Park
Few hikes near San Antonio offer such spectacular views and rugged terrain as those in Friedrich Wilderness Park. There, you'll find 10 miles of paved and unpaved trails, with a little something for everyone.
From rocky climbs to deep canyons, and enchanting forests to open vistas, there's no shortage of natural beauty.
The area is also nationally renowned for birdwatching, home to several rare and endangered species that can be spotted with a careful eye.
Because it holds so many native flora and fauna, the park is a designated natural area. As a result, some trails will be closed when muddy to prevent erosion. Make sure to check conditions before you go.
Otherwise, the park is open every day from sunrise to sunset.
San Antonio Missions National Historic Park
There are a total of 16 national parks in Texas, but this is the state's only UNESCO World Heritage site (and a national park to boot!).
Of course, that means it's not your typical green space but rather a dedicated historical site and one of the city's biggest tourist draws.
The park covers quite a large area, so it's best to make it a full-day or at least a half-day trip so you can be sure to cover everything.
While the Alamo is a separate attraction, you will get to enjoy the architectural wonders of Missions Concepción, San José, San Juan, and Espada.
They're all connected by an 8-mile hike and bike trail, with plenty of stops along the way to picnic, climb trees, and refill water.
Admission is free!
Eisenhower Park
Just a 20 to 30-minute drive outside of the city center, Eisenhower Park puts the best landscapes in the Texas Hill Country on full display.
The natural area holds 6 miles of hiking trails, both paved and unpaved, with a range of difficulties to accommodate any traveler.
Explore dried creek beds, look out over plunging canyons, and (if you make it to the top) enjoy panoramic views of San Antonio down below.
You can also find playgrounds for the little ones, picnic tables, and barbecue facilities.
The park is open every day from sunrise to sunset.
Woodlawn Lake Park
More than a century old, this park has long been a San Antonio staple and remains one of the city's most beloved public spaces even today.
Woodlawn is the site of major festivities like the city's official Fourth of July event and the annual Fiesta Earth Day but also hosts a range of activities every single day.
Check out their dance classes, work up a sweat on the tennis court, cool off in the swimming pool, or sit back and cast a line from the boat deck.
The park's 1.5-mile walking trail is another popular feature, equipped with eight interactive fitness stations along the way.
There's fun to be had for all ages, and it's a great way to feel like you're part of the local community, if only for a short time.
McAllister Park
This peaceful park is something of a one-stop-shop for outdoor activities.
There's a wide range of both natural and paved trails for hiking, biking, or jogging, as well as interactive fitness stations, picnic sites, and soccer fields.
McAllister even boasts one of the city's best fenced dog parks, so your furry friends don't have to miss out on the fun.
Wildlife sightings are fairly common on the quieter routes, so you keep an eye out for native species like deer and armadillos.
The park is open every day from 5 AM-11 PM.
Hemisfair Park
Set right in the heart of downtown, Hemisfair Park is far more than just a green space.
It's full of larger-than-life fun for all ages and some of the city's top sights to boot!
In Yanaguana Garden, you'll be greeted by a crazy array of climbing structures, giant slides, human-sized chess and checkers, a splash zone, and so much more.
As if that weren't convincing enough, Hemisfair basically doubles as an art gallery, with interactive pieces and Instagram-worthy murals scattered throughout the park.
The area was once used for the World Fair, so it still houses iconic landmarks like the Tower of the Americas, the tallest building in San Antonio, and a must-visit attraction for the city's panoramic views below.
Pearsall Park
If you're tired of the usual park pursuits like hiking, playgrounds, and picnic areas, Pearsall is where you go to switch things up.
Home to an 18-hole disc golf course, water features, and the largest skatepark in the city, this spot has no shortage of unique activities to try!
For those that want to get their adrenaline pumping, Pearsall ups the ante with a Fitness Challenge Zone, complete with a zipline, traveling rings, and one of the country's only 40-yard sprint timers.
For joggers, it's the only public park in San Antonio whose 5K and 10K running courses don't cross any city streets.
Perhaps best of all, Pearsall was built with a mission of sustainability at its core! Many of the facilities are made from recycled materials, and the park maximizes its water and energy conservation.
Denman Estate Park
Located just 15 minutes from downtown San Antonio, Denman Estate Park is a gorgeous retreat that feels worlds away from the crowds and tourist attractions.
A short walking trail through the woods offers a quiet escape from the city's buzz and looks like something pulled straight from the pages of a fairy tale.
The feature that really sets the park apart is an intricate, colorful Korean monument resting on the banks of the pond. It was hand-built in Gwangju, and the same craftsmen traveled all the way to San Antonio to assemble it.
All in all, Denman is the perfect place to relax and reset, with plenty of spaces for picnicking if you want to make an afternoon of it.
The park is open from 7 AM-9 PM every day.
San Pedro Springs Park
As if lovely natural scenery and crystal-clear waters weren't enough to draw crowds, San Pedro Springs Park is steeped in thousands of years of history.
This area is one of the most significant in the Southwest United States, having played host to Native Americans, European settlers, and many other groups over the centuries.
It's the oldest park in Texas and the second oldest in the country. Today, it continues to offer a refreshing oasis for locals and visitors looking to escape the San Antonio heat.
The pools are surrounded by green space, gardens, playgrounds, and lots of stunning bald cypress trees for shade.
Cathedral Rock Park
Full of limestone scrambles and nooks and crannies, Cathedral Rock Park is like a natural playground for hikers.
The terrain includes rocky climbs, shaded woods, and quiet creeks, putting all kinds of Central Texas landscapes on display.
It's a great place for families visiting San Antonio, with trails that are kid-friendly as well as dog-friendly so the whole clan can join!
Best of all, it's only a 20-minute drive from downtown San Antonio. The park is open from 5 AM-11 PM every day.
Comanche Lookout Park
Leave the concrete to other parks in San Antonio. This spot makes the most of the landscape, with pristine nature, thick woods, and lots of history.
There are nearly 5 miles of both paved and unpaved trails to explore, as well as a number of exercise stations along the way.
You can also admire native Texas flora like towering live oak trees and dainty mountain laurel blooms.
The area was likely once used as a vantage point by Native Americans and continues to serve a similar purpose today, with a lookout tower that resembles the ruins of a medieval castle.
Comanche Lookout is open from 5 AM-11 PM every day.
Travis Park
This tiny but mighty spot is smaller than many parks in San Antonio, but it has the benefit of being located right in the city center.
First established in 1870, Travis Park has since undergone several rounds of renovation. Now, it is home to picnic tables, patio seating, and historic features like an authentic cannon.
They frequently host movie nights, festivals, and other events in the park. On sunny days, you can find it full of people spread across the grass and vendors lining the surrounding streets.
It's a great place to lounge while still enjoying some San Antonio culture like food truck TexMex and the buzz of the city.
Phil Hardberger Park
Phil Hardberger Park has some of the best hiking in San Antonio, with 7.5 miles of trails open for cycling and hiking.
They even connect to another park's trail system, adding on another 14.5 miles if you prefer a long-distance workout.
You can catch free Fitness in the Park classes throughout the year, including yoga and interval training, or bring your pet to enjoy the dog park.
On the more educational side of things, the park has a number of outdoor learning programs to teach visitors more about local flora and fauna.
There's even a natural play area where you can climb trees, build a tee-pee, and otherwise get up close and personal with the landscape.
Concepcion Park
Sightseeing and working up a sweat can go hand in hand at Concepcion Park, located just south of downtown and alongside one of the city's five major Spanish colonial missions.
Once you've learned a bit more about Texas history, you can check out the park's sports complex, which includes a covered basketball court, public swimming pool, and several multi-purpose fields.
From there, you can link up with the longer Mission Trail, a hike and bike route that actually winds through all of the city's missions.
San Antonio Botanical Garden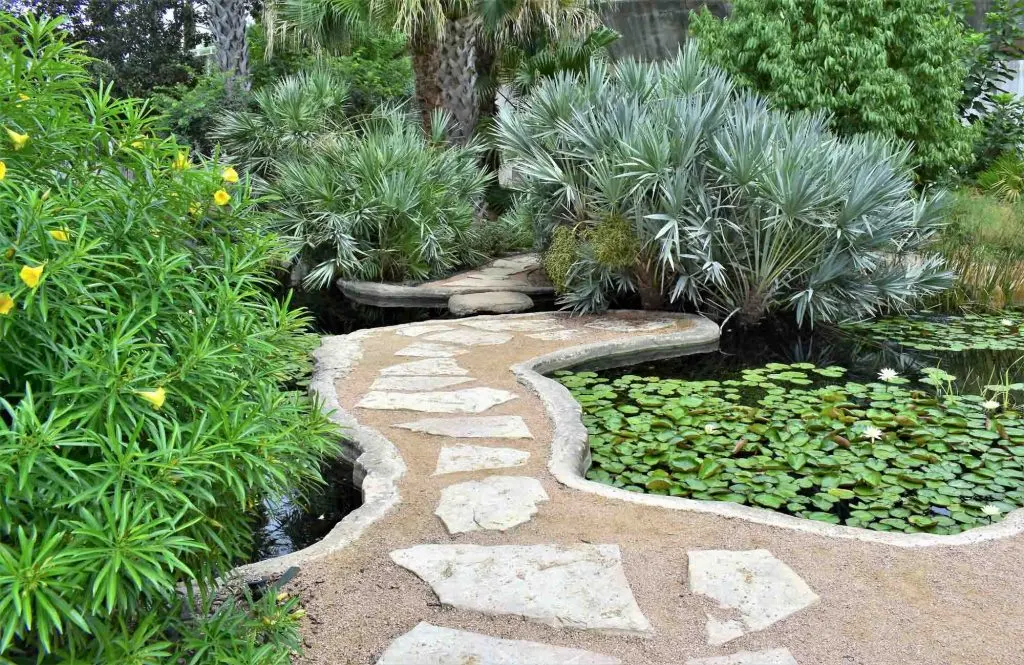 This is one of the most popular parks in San Antonio, drawing locals and tourists alike year-round. There is a wide range of activities to indulge in, all revolving around native flora.
Hike the Texas Native Trail to spot more than 250 local plant species, as well as historic sites like log cabins and adobe houses.
Then, visit the rose garden for some classic beauty, or get hands-on in the Culinary Garden by picking your own fresh ingredients to be used in a special dish.
Needless to say, this is one of the best parks in San Antonio for families!
Park entrances are $15 for adults and $12 for children aged 3-13.
What to See Around San Antonio
If you want more spots for outdoor activities, you might want to check out some of the incredible Texas State Parks around town.
For instance, these are a few fantastic state parks near San Antonio:
Latest posts by Katelyn van Sligtenhorst
(see all)