There are a lot of stunningly beautiful national parks near Las Vegas, and people who call Sin City home are spoilt for choice when nature is calling.
The abundance of natural beauty surrounding Las Vegas is astonishing and worth a visit.
After all, getting outdoors is one of the best things to do in Nevada, right?
Anyway, this post will point you in the best direction if you are looking at visiting a national park near Las Vegas, highlighting what makes them unique, what to expect when going, and what you need to put on your to-do list should you decide to visit a specific national park.
National parks near Las Vegas are unique in their own way, and it doesn't matter what you are looking for, be it beautiful canyons, giant sequoias, waterfalls, petrified wood forests, red hoodoos, or sandstone arches. The following national parks offer something to everyone.
Best National Parks Near Las Vegas
Whether you want to go on a southwest road trip or simply on a day trip from Las Vegas, today's article has a handy list of all national parks and areas near the strip ordered by distance.
Death Valley National Park, California
Drive Time from Las Vegas: 2 hours
Death Valley National Park is the by far the closest national park to Las Vegas, roughly 130 miles from Sin City, and found on the boundary between Nevada and California in the Mojave Desert.
Death Valley has some of the warmest temperatures on Earth and is the most arid of the US National Parks.
A highlight of a trip to Death Valley includes exploring the lowest point in North America, Badwater Basin (282 feet below the level of the sea), a large salt pan that can be hiked (1.8-mile).
Zabriskie Point and Dantes View offer the best views of this beautiful arid space and its mountains.
Look out for Titus Canyon, famous for its multicolored rocks and abandoned ghost town, and the winding pine trail of the Telescope Peak Trail.
Death Valley for Star Wars fans will always be "Tatooine," as many scenes of the iconic series were shot here (A New Hope and Return of the Jedi.)
There are many awesome hikes when visiting Death Valley National Park. Here are some easy to hard ones that are very popular:
Easy Hike – Natural Bridge
Moderate Hike – Darwin Falls
Difficult Hike – Sidewinder Canyon
Death Valley National Park highlights:
Badwater Basin
Zabriskie Point
Dantes Valley Viewpoint
Titus Canyon
Ubehebe Crater Rim Hike
Golden Canyon Hike
Harmony Borax Works
Mesquite Sand Dunes
Best time to visit Death Valley National Park:
Death Valley plays host to some of the world's most beautiful wildflower displays each spring if the weather cooperates.
With enough rainfall during winter and spring, flowers may bloom during late March and the beginning of April in the park's lower elevations.
April and May, you will find blooming flowers in the mid-elevations, whereas June provides flowers in the mountains.
Read next: Places to Visit Near Las Vegas by Car
Zion National Park, Utah
Drive Time from Las Vegas: 2h40 minutes
Zion National Park is a viable option when searching for national parks near Las Vegas.
In fact, you can even go on a Utah National Parks road trip from Las Vegas, where you visit Utah's Mighty 5 in one go: Zion, Bryce Canyon, Capitol Reef, Arches, and Canyonlands.
Back to Zion, this park is well-known for its amazing collection of slot canyons (The Narrows) and the world-famous trek to Angels Landing.
For visitors who like canyoneering, the Left Fork of North Creek (Subway) is an awesome way to enjoy, explore, and figure out routes.
Swimming in the Virgin River is a good way to cool off as you make your way to Emerald Pools which has a hanging garden and waterfalls.
Zion National Park includes hundreds of miles of hiking trails, but there are also picturesque drives across the park's spectacular vistas.
Take Highway 9 from I-15 to Mt. Carmel Junction for a 90-minute drive over undulating boulders and desert colors. (A stop at Valley of Fire State Park is highly recommended!)
Due to the park's popularity, many tours leave and return to Las Vegas daily. Multi-day experiences include Bryce Canyon, Antelope Canyon, and the Grand Canyon, with lodging, transport, and most meals included in the deal.
If you are contemplating which national parks close to Las Vegas to visit, Zion should definitely be on your list. After all, it is one of the most visited national parks for a reason, right?
Zion National Park highlights:
Kolob Canyons
East Rim Wilderness Trails
Southwest Desert Wilderness Hiking Trails
Angels Landing
River Boating
Camping in Zion
Best time to visit Zion National Park:
Fall months (October and November) are the best time to visit as you experience the same scenic beauty as you would in the summer months, except you don't have to share it with the half a million people visiting the park during each of these months.
Joshua Tree National Park, California
Drive Time from Las Vegas: 3 hours
Joshua Tree National Park is definitely one of the best national parks near Las Vegas worth visiting.
It's famous for its unusual rock formations, enormous boulders, cacti, and abundance of the eponymous Joshua Trees that gave the desert area its name. Traveling from Las Vegas takes about three hours.
Climbers, boulderers, and highliners flock from all over the globe to Joshua Tree National Park, which is considered a monzogranite climbing mecca, made famous for its slab, crack, and steep face climbing terrain. Rock formations that you need to see when visiting the area:
Skull Rock
Arch Rock
Heart Rock
The panoramic beauty witnessed from Keys View is a special experience, as is birdwatching and hiking in Cottonwood Spring.
Joshua Tree National Park is the crown jewel of national parks regarding stargazing, and a highlight is the Perseid Meteor Shower, seen annually in mid-August.
Joshua Tree National Park highlights:
Wilderness Backpacking
Black Rock Canyon Camping
Wildflower Viewing
Indian Cove Camping
Stargazing
Cholla Cactus Garden
Best time to visit Joshua Tree National Park:
February to June: Lower altitudes of the Pinto Basin and the park's southern edge may see the emergence of wildflowers in February, with higher elevations following suit in March and April. Plants may continue to bloom in the desert until as late as June if located over 5,000 feet.
Bryce Canyon National Park, Utah
Drive Time from Las Vegas: 3h45 minutes
Bryce Canyon National Park is another beautiful member of national parks near Las Vegas, best-known for the largest constellation of red hoodoos found on planet earth.
Hiking is an extremely popular activity, and visitors flock to see the Bryce Amphitheater (a vast depression with dramatic sandstone cliffs with hoodoos) through popular vantage points like:
Bryce Point
Sunrise Point
Sunset Point
Inspiration Point
Natural Bridge is one of Bryce Canyon National Park's natural arches and produces a magnificent panorama from this viewpoint.
This arch, formed from the reddish Claron Formation, contrasts beautifully with the dark green Ponderosa Forest below.
The challenging hike at the Hayduke Trail connects here to the Under the Rim Trail.
Birdwatchers enjoy the Swamp Canyon Trail because it passes through four different ecosystems, each home to a different set of bird species.
Visitors who want to see the hoodoos at eye level should visit Fairyland Canyon.
A quick hike via Fairyland Canyon Loop will take you to a graveyard of hoodoos in Campbell canyon, which makes for a contrasting experience.
Bryce Canyon National Park highlights:
Ponderosa Canyon
Aqua Canyon
Rainbow and Yovimpa View Points
Mossy Cave
Far View
Best time to visit Bryce Canyon National Park:
The most popular times to visit Bryce Canyon National Park are from May to September, as there can be road closures after winter snow storms.
Grand Canyon National Park, Arizona
Drive Time from Las Vegas: 4 hours
Grand Canyon National Park is an average drive of two and a half hours from the heart of Las Vegas if you are heading towards the west rim. It's one of the most famous national parks near Las Vegas.
It takes four and a half hours if you're heading to the north rim or south rim. It's worth the drive, as you get to witness and experience one of the natural geological wonders of the world—it's one of the best places to visit in Arizona.
It's highly recommended that you take the Desert View drive, which includes six canyon viewpoints, four picnic areas, and five unmarked pullouts.
This drive is the only one open to private cars on the south rim and is known for its eye-catching views of the canyon and the Colorado River.
The Trail Of Time is a 2.8-mile paved trek on a geologically designed timeline. Each meter on the timeline path represents one million years of Grand Canyon geology. Every tenth bronze marker is millions of years.
Along the chronology path, rocks and displays describe Grand Canyon's formation, a must for visitors interested in "how things came to be."
One of the best methods to explore the Grand Canyon, a UNESCO World Heritage Site, is via motorized and non-motorized whitewater rafting trips.
These commercial and noncommercial trips range from 1-day to 25-day trips and are a must for adventurous visitors who don't mind getting wet.
If you are a first-time hiker looking to venture into the inner canyon, it's recommended that you make use of one of the Corridor trails:
Bright Angel Trail
North Kaibab Trail
South Kaibab Trail
Campgrounds are found along these trails, giving you access to ranger stations, emergency phones, and water (Indian Garden, Bright Angel, and Cottonwood Campgrounds.)
For visitors who enjoy photography, Yaki and Mather Point is sure to give you some spectacular photographic memories.
Grand Canyon National Park highlights:
Havasupai Indian Reservation
Hermit Road Scenic Overlooks Via Bus
Backcountry Hiking
Grand Canyon Lodge
Guided Tours
Mule Trips
Ranger Programs
Best time to visit Grand Canyon National Park:
Generally speaking, the Grand Canyon has its finest weather between April and June, when the average rainfall is minimal, and the temperature is not yet at its blistering highs of the summer.
Visiting the park in June, when schools are out, will be a nightmare due to the swarms of people there.
Great Basin National Park, Nevada
Drive Time from Las Vegas: 4h30 minutes
Great Basin National Park is situated in the Great Basin Desert in eastern Nevada, close to the Utah border, and one of the best national parks near Vegas. (And obviously, one of the best places to visit in Nevada!)
The park is known for its ancient bristlecone pine groves found in Bristlecone Grove and its towering Wheeler Peak.
The Lehman Cave is a firm favorite with visitors who want a guided tour of the distinctive stalactites, stalagmites, and columns that make up this magical space.
Guests who want a glimpse into the past should visit the Upper Pictograph Cave, where ancient rock art made by the Fremont Indians can be viewed.
One of the highlights of a visit is undoubtedly the Wheeler Peak Scenic Drive, where you get to experience the park from above, seeing Mount Moriah, Wheeler Peak, Lehman Creek, Doso Doyabi Peak, and the stunning Snake Valley.
Great Basin National Park highlights:
Lehman Cave
Bristlecone Grove
Baker Archeological Site
Upper Pictograph Caves
Wheeler Peak Scenic Drive
Birdwatching
Stargazing
Best time to visit Great Basin National Park:
Great Basin National Park is most popular in the summer when temperatures are mild and when various events are held across the park.
Even better, on many evenings, you can see the Milky Way with the naked eye from this park, which boasts the greatest views of the galaxy in the whole United States.
Capitol Reef National Park, Utah
Drive Time from Las Vegas: 5 hours
Capitol Reef National Park is located in the south-central desert of Utah, known for its colorful canyons, buttes, monoliths, and ridges.
It's rumored that Butch Cassidy spent time in the area, and a moderate 3.4-mile hike takes you to Cassidy Arch, where Butch did some hiding out back in the day.
This national park is famous for its Waterpocket Fold, a monoclinal fold that spans over 100 miles, named after the numerous small "pockets," potholes, and tanks that hold snowmelt and water.
The geological structure is best observed by the iconic Scenic Drive, a 7.9-mile drive through the park.
More experienced hikers love to explore slot canyons with their narrow secret spaces.
There are three popular slot canyons that are worth exploring: Buro Wash, Cottonwood Wash, and Sheet Gulch.
Cathedral Valley is where you will find a row of monoliths called the Cathedrals.
Capitol Reef National Park highlights:
"Loop the Fold"
The Fruita Historic District
Glass Mountain
Gypsum Sinkhole
Strike Valley Overlook
Canyoneering
Halls Creek Narrows
Cathedral Valley
Ripple Rock Nature Center
Best time to visit Capitol Reef National Park:
Capitol Reef National Park is at its most pleasant for tourists in the spring and autumn. Expect scorching heat throughout the summer months.
Petrified Forest National Forest, Arizona
Drive Time from Las Vegas: 5 hours
Petrified Forest National Park is a member of the gang of national parks near Las Vegas, with a road distance of 382 miles between the two.
Known for containing the world's largest concentration of petrified wood, colorful badlands, archeological sites, and portions of the Painted Desert.
Visitors will find designated trails throughout the park that will lead to scenic walks where you get to enjoy chance encounters with local wildlife and plants.
These trail hikes are short treks that expose you to petroglyphs, blue mesas, crystals in petrified wood, and even a 700-year-old pueblo house.
For the visitors looking to experience the park more intimately, hiking through the park off the beaten track, get to see beautiful hues in the badlands, the best-petrified wood inspections, and colorful hoodoos. The best views and areas to visit are the following:
Billings Gap
The Blue Forest
Dead Wash Overlook
Devil's Playground
First Forest Point
Jasper Forest
Onyx Bridge
Red Basin Clam Beds
Petrified Forest National Forest highlights:
Wilderness Loop
Rainbow Forest Museum
Backpacking
Painted Desert Visitors Center
Horseback Riding
Geocaching
Guided Tours
Best time to visit Petrified Forest National Forest:
March through October is when the wildflowers bloom, and visiting during the fall is a great time as the park has milder temperatures, less precipitation, and, most importantly, fewer visitors.
Sequoia National Park, California
Drive Time from Las Vegas: 5h45 minutes
Sequoia National Park is found in the southern Sierra Nevada mountains, with Kings Canyon National Park as its neighbor.
The national park is home to the largest sequoia tree, General Sherman Tree, living in the iconic Giant Forest.
Visitors flock to see the 275 ft. tall, 36 ft. in base diameter monster of a tree.
Another highlight for visitors of this park is a guided tour of the marble cavern called Crystal Cave which hosts tours from spring through to fall.
It's advised to book tickets at least 2 months in advance, as you can't buy them at the cave.
Visitors looking for a great view can take to the 350+ concrete steps leading up to Moro Rock's summit, where you can enjoy views of the Great Western Divide, San Joaquin Valley, and the wilderness to the east.
People love to have picnics on Beetle Rock and watch a sunset atop the granite Sunset Rock.
Sequoia National Park highlights:
Sequoia Tunnel Log
Giant Forest Trails
Crystal Cave
Moro Rock
Summer Drives
Little Baldy
Big Baldy
Kaweah River Kayaking
Ranger Programs
Read next: 27 Best Western and West Coast National Parks
Best time to visit Sequoia National Park:
Summer months are a popular time for visiting as the temperatures are comfortable in the groves compared to the heat in the foothills.
If you plan on lodging or camping, make reservations in advance.
Arches National Park, Utah
Drive Time from Las Vegas: 6h40 minutes
Arches National Park is best known for its natural sandstone arches (over 2,000), massive rock fins, and gigantic balanced rocks and is located north of the Moab in Utah.
If rock formations are your thing, you will be in awe when visiting this red-rock national park. It's also one of the national parks near Las Vegas.
Hiking is very popular here, and trails are generally easy to moderate, allowing visitors to see the famous rocks up close in person.
Balanced Rock is a must-see. The 4,000-ton entrada sandstone boulder, balancing on an eroding mudstone pedestal, towers 128 ft.
Views of the most iconic rock in Arches National Park, Delicate Arch, can be seen from two viewpoints: the Lower and Upper Delicate Arch Viewpoints.
"Cowboy's Chaps" has a light opening that measures 46 ft. high and 32 ft. wide, making it the biggest free-standing arch found in the park.
Arches National Park highlights:
Double Arch Viewpoint
Courthouse Wash Panel
Landscape Arch Trail
The Windows
Courthouse Towers
Devils Garden Trail
Best time to visit Arches National Park:
The best time to pull in for a visit is in spring (April to May) and fall (middle September through October), as summer temperatures can exceed 100°F, which makes exploring difficult.
Kings Canyon National Park, California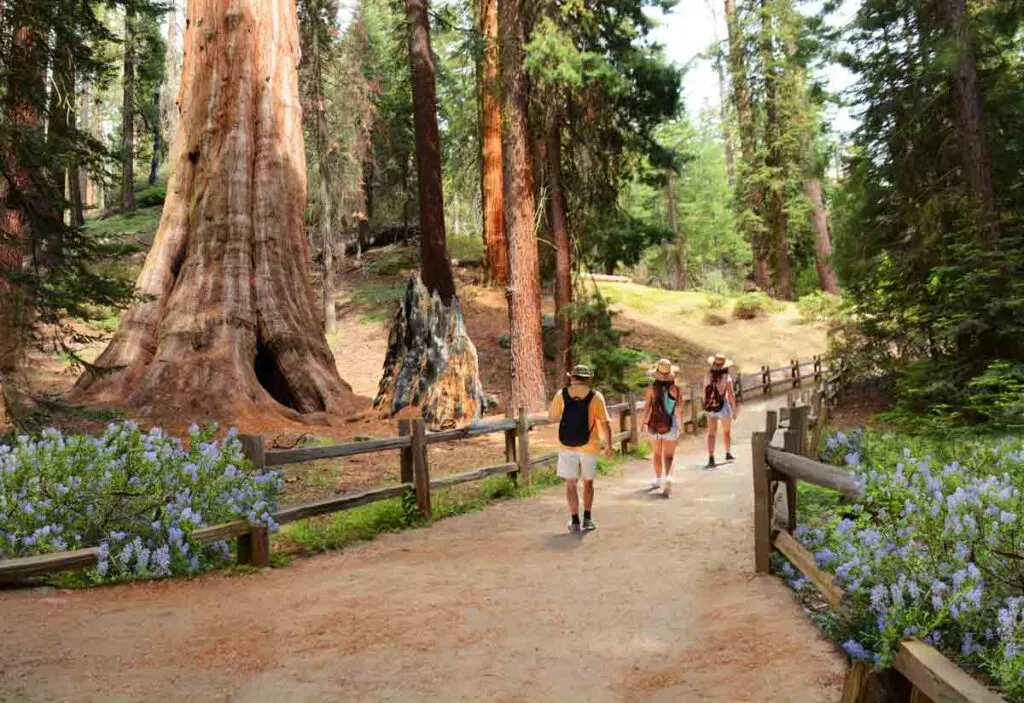 Drive Time from Las Vegas: 5h50 minutes
Kings Canyon National Park is another one of the national parks near Vegas and is located right next to Sequoia National Park.
Kings Canyon features canyon walls with heights of 8,200 ft., making it deeper than the famous Grand Canyon.
The premier attraction is the second largest tree in the world, found in Grant Grove, called the General Grant Tree, which President Eisenhower declared a National Shrine in 1956, and the "Nation's Christmas Tree."
The park's fauna includes black bear, mule deer, lynx, and mountain lion. Numerous birds attract birdwatchers.
Visitors love to explore the Big Stump Basin, a meadow of logged sequoia trees, via a 2-mile loop hike.
Buena Vista Peak is a popular granite peak with a breathtaking 360° view of Redwood Canyon, Buck Rock Fire Tower, and a panoramic view of the Sierra mountains.
Kings Canyon National Park highlights:
Redwood Canyon
General Grant Tree Trail
Grant Grove Trails
Zumwalt Meadow Trail
Best time to visit Kings Canyon National Park:
Summer is the peak season for visitors. The coolness of the sequoia forests is a welcome relief from the oppressive heat of the foothills.
Camping and accommodation reservations are highly advised during the summer months.
Canyonlands National Park, Utah
Drive Time from Las Vegas: 6h30 minutes
Canyonlands National Park is a national park close to Las Vegas, divided into four districts – The Needles, The Maze, Island in the Sky, and its rivers – each area gives the visitor a unique experience regarding adventure and sightseeing.
Here you will find countless canyons and buttes formed by the powerful Colorado River.
The sandstone spires in Elephant Canyon are a must-see, and visitors, who can spare a minimum of a week, should visit the remote canyons of The Maze, either with a 4×4 or by foot.
Horseshoe Canyon is a great place to view spring flowers and impressive rock art found in the Gallery.
Guided river trips allow visitors to explore the canyons from a different perspective.
These multi-day trips include camping as you make your way down the Colorado and Green Rivers before tackling some whitewater rafting below the Confluence.
Canyonlands National Park highlights:
Island in the Sky
The Needles
The Maze
Horseshoe Canyon
Colorado and Green Rivers
Auto Touring
Hiking
Best time to visit Canyonlands National Park:
The best time to pull through for a visit is from March to April and September to October. The temperature is moderate during these months, perfect for being outdoors.
Yosemite National Park, California
Drive Time from Las Vegas: 6h45 minutes
Yosemite National Park is world-famous for its powerful waterfalls, but it also has deep valleys, big meadows, gigantic old redwoods, and a wide wilderness region.
Yosemite's waterfalls are most spectacular in the spring when the huge snowfall of winter melts and flows into the Pacific, and the following is well worth checking out:
Yosemite Falls (2,425 ft.)
Sentinel Falls (2,000 ft.)
Ribbon Fall (1,612 ft.)
Horse Trail Fall (1,000 ft.)
Nevada Fall (594 ft.)
Glazier Point offers the best view of Yosemite Valley, which includes Half Dome and three waterfalls.
Tree lovers enjoy spending time in the Mariposa Grove of Giant Sequoias, where you will find over 500 mature redwoods.
Visitors love exploring the magnificent rock formations from the valley floor, which include the famous Half Dome, The Three Brothers, Sentinel Rock, and Glazier Rock.
If mountain climbing is your thing, then the 3,000 ft. El Capitan will provide you with a stern challenge and breathtaking views.
During winter, the skis and snowboards come out to play at Badger Pass Ski Area, and exploration of the valley through cross-country skiing and snowshoeing are also very popular.
Yosemite National Park falls under national parks near Las Vegas and, on average, results in a 6 to 7-hour drive (450 miles.)
Yosemite National Park highlights:
Fascinating Rock Formations
John Muir Trail
Curry Village Ice Skating Rink
Fishing
High Sierra Camps
Best time to visit Yosemite National Park:
If you are into chasing waterfalls, then the best time to visit is during May, with the fall and winter months also being super popular due to the host of activities taking place during this time.
Best Recreational Areas and National Monuments Near Las Vegas
Red Rock Canyon National Conservation Area, Nevada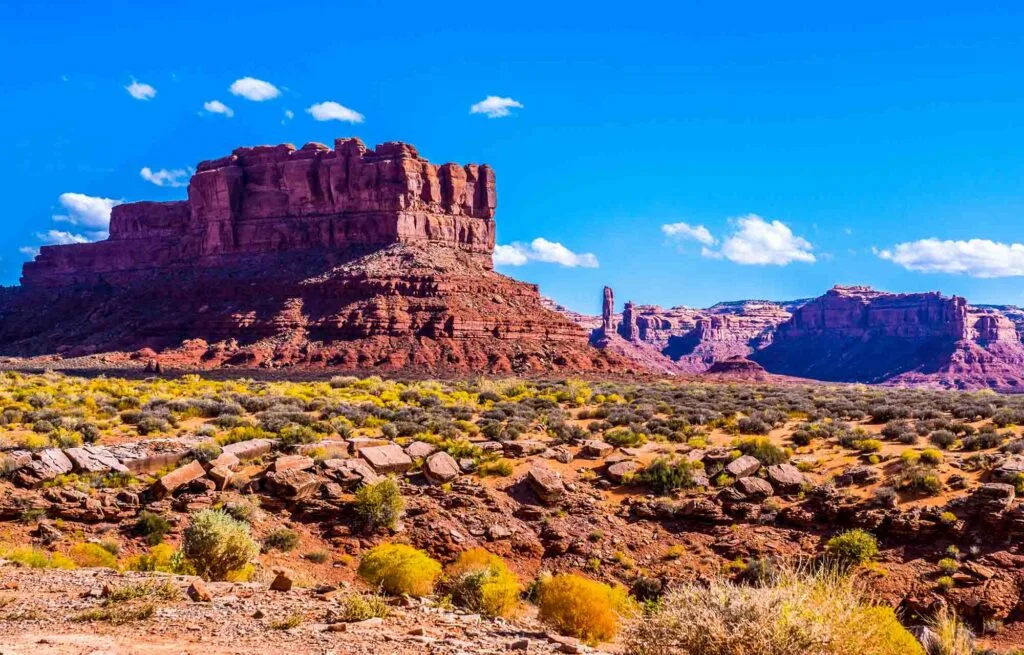 Drive Time from Las Vegas: 20 minutes
Red Rock Canyon is only 16 miles from the strip, so there is no reason to skip it.
The park boasts nearly 31 miles of scenic hiking trails, a 13-mile scenic byway, and many other otherworldly places to visit.
When hiking, climbing, or driving through Red Rock Canyon, keep your eyes peeled for the fascinating critters that call the area home, including wild horses, donkeys, coyotes, and bobcats.
Lake Mead National Recreation Area and the Hoover Dam, Nevada
Drive Time from Las Vegas: 1 hour
The largest reservoir in the United States, Lake Mead is formed by the famous Hoover Dam.
You can enjoy plenty of outdoor activities year-round, like sightseeing, hiking, boating, picnicking, biking, and fishing.
You can even rent a canoe or kayak and hit the rapids of the Colorado River. What's not to love?
Monument Valley Navajo Tribal Park, Arizona
Drive Time from Las Vegas: 6 hours
On the border of Utah-Arizona, this desert landscape is dotted with buttes and mesa, which were also featured in Forrest Gump (we love that movie!).
Besides, it is one of the best places to visit in the southwest.
You can go on a 17-mile scenic drive, hike in the park, and take in the unique landscape.
The park is also near one of Arizona's greatest national monuments, the Navajo National Monument, an ancient Pueblo cliff village with lots of hiking trails and places to see.
Did you enjoy reading about the best national parks near Las Vegas? Then share this article with your friends!