This eclectic Texas city is renowned for its rich history, colorful blend of cultures, and larger-than-life attractions. But look a little closer and you'll see another unmissable itinerary item–all the incredible breweries in San Antonio.
Although it can get overshadowed by the booming brewery scenes in Austin, Dallas, and Houston, San Antonio beer is bold, innovative, and just plain delicious. And we're shedding light on where to find the very best glass!
Already toured the Alamo and wandered along the River Walk? No? These are some of the best things to do in San Antonio. Yes? Then it's time to get down to business and explore a different side of San Antonio's culture, from all-American IPAs to Imperial Stouts and beyond.
13 Best Breweries in San Antonio
Join us as we dive into 13 breweries in San Antonio that have proved they're worth a visit, offering up funky flavors, cozy hangout spots, and award-winning, locally-made brews. Cheers!
Roadmap Brewing Co.
We kick things off in true Texas spirit at an independent, family-owned brewery that evolved from a garage operation to a go-to downtown destination. As they say, "all roads lead to beer."
Spacious and welcoming, Roadmap Brewing is the perfect place to cool off out of the San Antonio heat or huddle up inside during the colder months.
They have plenty of seating and you can even watch the stainless steel brewery tanks from your table.
With such a variety of beers on tap, it can be hard to pick just one. Try the Minivan Dad, a double IPA with notes of tropical mango and citrus (and the Roadmap co-owner's beer of choice), or opt for the tasting flight and find your own favorite.
Roadmap also has a resident food truck called Project Pollo that serves up some super tasty treats!
Dogs are welcome here, and Roadmap even employs one of their own. Keep an eye out for adorable Assistant Brewer, Wesley, and the Assistant to the Assistant, brewery cat Simcoe.
Read next: Best Restaurants in San Antonio
Alamo Beer Company
Located just 0.5 miles away from the iconic San Antonio landmark, the Alamo Beer Co. carries on the spirit of its namesake, crafting brews that are "courageous, independent, unrestrained, and true to themselves."
Still, they also offer several regular beers including the Golden Ale and Luna Blanca White.
Sip on the sweet, subtle Alamo Golden Ale or try their strong, hoppy Alamosaic IPA.
You can also order from the onsite kitchen, which specializes in comforting dishes easily paired with a cold glass. We hear the jumbo soft pretzels and the pulled pork sandwich are particularly delicious.
Trivia, karaoke, live music, fundraising initiatives, and other regularly-scheduled events mean that whenever you visit, you'll find something going on.
Even on a quieter day, there are plenty of ways to entertain yourself. Hit the sprawling outdoor patio for food trucks, picnic table seating, and lawn games like giant Jenga and cornhole, or order for curbside pickup.
Read next: 14 Best Breweries in Texas for Craft Beer
Freetail Brewing Co.
Consider Freetail Brewing Co. an essential stop on your sightseeing tour as few beer brands embody the spirit of San Antonio quite as well as this one.
Among Freetail's most highly-recommended brews are the Soul Doubt, with its enticing notes of citrus, orchard fruit, pine, and wildflower as well as the Bat Outta Helles, "​​a delicate balance of silky, light malt flavor and herbal hop nuance."
Want to see how the bacon (or in this case, beer) is made? Brewery tours run every Saturday at 3 PM and 5 PM.
For those more interested in fun and games, there are plenty of other events to join, like yoga, live music, and trivia.
If you're in town on the first Thursday of the month, drop by for sips and giggles at Freetail Brewing Company's popular stand-up comedy night.
Ranger Creek Brewing and Distilling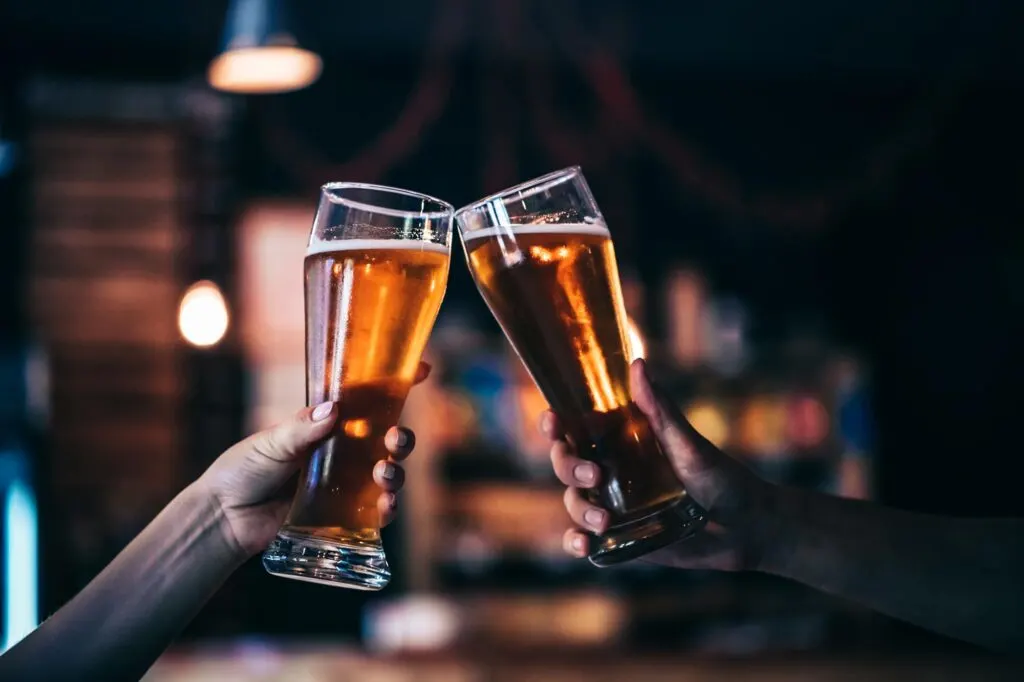 With a menu that features both classic San Antonio craft beer and specialty whiskies, Ranger Creek can proudly claim the title of the city's premier "brewstillery."
We hear your best bet for a delicious beer order is the Strawberry Milk Stout, which "brings to life chocolate-covered strawberries in beer form." Drooling yet?
You can also choose a more classic flavor like the Love Struck Hefe, a deep and slightly sweet blend of German tradition and Texas flair that carries notes of banana and clove.
If wild ales are not your thing, you'll enjoy a number of their regular beers, including San Antonio Lager, Love Struck Hefe, and Skytrooper IPA.
As for whiskey, you can't go wrong with their flagship product, a .36 Texas Straight Bourbon that tastes of caramel, butterscotch, and cinnamon and leaves a warm, sweet finish.
Sign up for a 2-for-1 tour and peek behind the scenes at both of Ranger Creek's drink making processes. Tickets are only $13 for a 60 to 90-minute guided walkthrough, plus your choice of 3 samples.
Blue Star Brewing Company
Rustic, charming, and oh-so-Texan, the Blue Star Brewing Company is a long-standing institution just a short jaunt from San Antonio's iconic River Walk.
Blue Star has been open and serving the beer community since 1996, so they've had plenty of time to perfect their organic beers.
We hear the silky smooth Spire Stout, the hoppy Green Tractor IPA, and the dry, crisp Texican are all worthy of an order (or two).
Feeling hungry? The Blue Star Brewing Company also has a delectable menu packed with upscale pub fare and proper Southern comfort dishes, all made with fresh and locally-grown ingredients.
The smoked brisket sandwich, jalapeño poppers, and fried mushrooms have received rave reviews.
But perhaps their biggest draw happens every Tuesday–Jazz Night! Come and watch San Antonio's grooviest artists play from 8-10 PM.
Pearl Brewery
Through a long, storied history and many twists and turns, Pearl Brewery has weathered the storms and remained one of the finest breweries in San Antonio (even if it's not brewing at the same destination anymore).
The whole operation dates back to 1883 when the brewery was first founded.
Just 4 years later, they struck gold, developing the legendary recipe that would go on to become their signature brew for more than a century–Pearl beer.
Over the years, names were tweaked, ownership changed hands, and a closure in 2001 even seemed to signal the end of Pearl.
But in an incredible twist of fate, the area was redeveloped into one of San Antonio's most vibrant hotspots, and you can still find a cold glass of the namesake today.
Take some time to explore the area, which still holds many of the original buildings, as well as award-winning restaurants, excellent shopping, and gorgeous green spaces.
Künstler Brewing
As the name suggests, this relaxed (but often bustling) brewpub leans into its European charm, with fusion German-Texan food, flags strung from the ceiling, and craft beers that both honor tradition and pioneer new styles.
One of their most popular handcrafted beers is the Bavarian-style Cashmere Hefeweizen, a comforting, lovable wheat beer with flavors of bread, banana, guava, citrus, and flowers.
Not far behind in popularity (and a great choice for those with an affinity for sweets or spice) is the warm, playful Chamuco, brewed with chocolate, vanilla, and 3 different types of chili peppers, plus just a dash of cinnamon.
Künstler Brewing's food receives almost as much love as the beer, with hearty offerings like charcuterie boards, brats, and lobster rolls made with soft pretzel buns.
5 Stones Artisan Brewery
Although this is technically a list of breweries in San Antonio, we're willing to head a little ways outside of the city center for this beer! Plus, it's only a 35-minute drive over to New Braunfels.
One of the best perks of leaving downtown behind? When you make it to 5 Stones Artisan Brewery, you'll be greeted by natural landscapes and tables spread out under enormous oak trees.
Live music, food trucks, and lots of space to run around make this spot super large group and family-friendly, so bring kids, furry friends, the whole crew!
Those of appropriate age can order from a curated list of seasonal beers, all made using fresh, natural, and locally-sourced ingredients.
We hear the Aloha Piña is a must-try, a golden ale infused with the unique pairing of fresh pineapples and roasted jalapeños.
Weathered Souls Brewing Co.
Welcoming, inclusive, and friendly to locals and travelers alike, Weathered Souls Brewing Co. makes beer you can feel good about drinking.
They're the original creators of the "Black is Beautiful" initiative, which has since spread across all 50 states and 22 countries.
Whenever someone orders the project namesake's beer, 100% of the proceeds go to local causes like the Know Your Rights Campaign and 100 Black Men of San Antonio.
Other menu mainstays worth an order include Who's Got the Juice Now?, a hazy New England IPA with citra, simcoe and mosaic hops as well as the all-American West Coast IPA.
They even boast a Southern comfort BBQ menu full of dishes like a pulled pork and brisket plate, Tex-Mex nachos, and fried brussels sprouts in a sweet and spicy peanut sauce.
Busted Sandal Brewing Company
With so many San Antonio breweries to choose from, it can be hard to decide which one truly deserves that spot on your itinerary.
But Busted Sandal Brewing Company is instantly distinguishable not only for its fun name, but also the way their beer is made.
Each brew utilizes locally-sourced seasonal ingredients and is produced in an energy-efficient facility, powered 100% by renewable energy sources.
They emphasize small batches and great attention to detail, so you can be confident that anything you order will be impeccable.
Try a favorite like the Slippery Rock IPA, a smooth, balanced beer with "an assertive citrusy hop profile, a touch of caramel sweetness and color, and an appropriate malt backbone to support it."
Or indulge your sweet tooth further with El Robusto, a porter with strong flavors of chocolate, roasted coffee, and caramel.
Dos Sirenos Brewing
Located near the River Walk and outfitted with a roomy outdoor space in addition to indoor seating, Dos Sirenos is an easy brewery to pop into in between sightseeing excursions.
Fuel up on finger-licking pub grub like their chicken sandwich, German poutine, black bean burger, or wings with your choice of sauce and dip.
Then, wash it all down with a selection from their carefully curated beer menu.
Among the top recommendations are Zeus Juice, a hoppy IPA with strong notes of citrus and passion fruit, and, on the sweeter end of the spectrum, a Morpheus Stout that tastes of roasted malt, coffee, chocolate, and dark fruit.
Each day of the week has its own reason to visit. Wednesday is the highly-anticipated trivia night.
On Thursday, every hour is happy hour, while Fridays and Saturdays feature live music performed by local bands.
Southerleigh Fine Food & Brewery
If you know anything about San Antonio (or beer, for that matter), you've probably heard the name Southerleigh.
Foodies and beer aficionados alike won't want to miss this one which has a menu developed by the acclaimed Chef Jeff Balfour.
The microbrewery and Texan eatery is housed in the historic Pearl District, boasting an absolutely stunning dining room complete with dark wood floors, leather chairs, high ceilings, and a view of the brewing tanks at work on the upstairs balcony.
Snapper throats, deviled eggs, and Mississippi mud pies steal the show when it comes to the food menu, while the drink options range from frozen pineapple cocktails to classic wines.
Of course, the beer is what you really go for at Southerleigh Fine Food & Brewing.
Try the fan favorite Gold Export Lager, a smooth and balanced traditional German-style lager, or get out of the box with a ​​tart, fruity, and funky sour titled Gimme Some Mora.
Black Laboratory Brewing
Last but not least of our favorite breweries in San Antonio is the up-and-coming, IPA-loving Black Laboratory Brewing.
Although it's a newcomer on the San Antonio beer scene, don't be fooled. Run by two former chemists at a food-testing laboratory, Black Laboratory taps into serious brewing science to produce creative and sometimes wacky (but always delicious) beers.
One of their original offerings involved cherry Kool-Aid, pickle juice, and chamoy blended with a blonde ale, a take on a classic San Antonio snow cone treat–the piccadilly.
Among their more tame bestsellers, on the other hand, are the refreshing, sippable Bindi Blonde Ale as well as the Vanilla Joe, a stout made from Costa Rican coffee and Mexican vanilla.
They also boast a rotation of flavor-packed seasonal brews that tap into beloved tastes like apple cider, blueberry pie, and pumpkin spice.
Stop by throughout the week for yoga classes, bike rides, happy hours, and other events, all involving a beer at the end, of course.
More San Antonio Breweries Worth Checking Out
Did you enjoy reading about San Antonio's craft beer scene? Then share this post with a friend who might also wanna enjoy some of the best beers on tap in the Alamo City!