If you're a diehard nature lover, you've probably heard of the America the Beautiful Pass and are wondering if it's worth it.
Even if you're not an avid hiker, the US national parks are unique places to visit and if there's one thing the 2020 crisis has taught us, going outdoors and avoiding crowded cities is the best we do!
And while there's no US national park membership to get you in for free, you can use the national park pass we'll cover in this article.
Whether you're familiar with this national park annual pass or are just hearing about it now, in this post, we'll go over how it works, what parks it covers, how to get one, and how to know if it's worth the money.
For those not already in the know, the America the Beautiful Pass is a USA national park pass that grants you admission to a long list of national forests and other sites managed by the Forest Service, National Park Service, Fish and Wildlife Service, and more – for a whole year.
If you visit a few national parks, wildlife refuges, or other outdoor sites, this is a great way to save some money on your outdoor adventures. Here's what you need to know!
Don't miss out! Click here to buy your America The Beautiful Pass!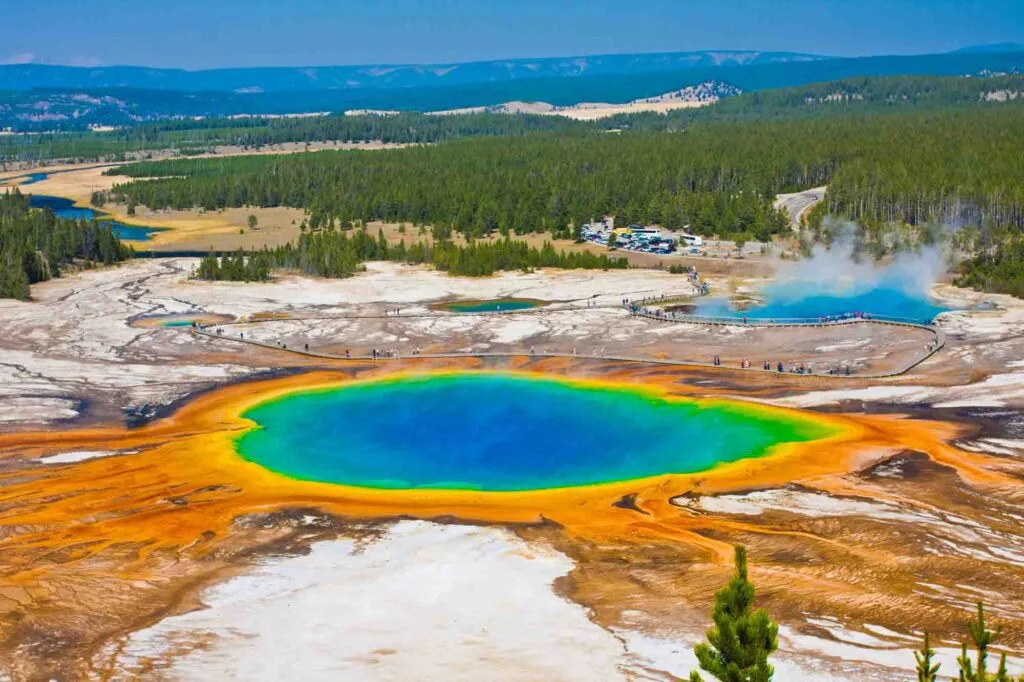 How Much Does The National Park Pass Cost?
The America the Beautiful Pass costs $80 for 2023 and stays valid for one year from the month of purchase. So if you purchase an America the Beautiful Pass in October of this year, you'd be able to use it until the last day of October of 2023 – plenty of time to make the most of it.
For parks that charge admission per vehicle, this national park pass will get you entrance for the pass holder and all passengers in a personal vehicle (like a car or a van, not a bus). For parks that charge per person, the pass covers up to 4 adults (children age 15 and under get in for free regardless).
To give you an idea of what that means, and to answer one of our reader's biggest questions, "Does it cover Yellowstone?", suppose you want to visit this park.
Yellowstone National Park (one of the most visited US parks) charges a vehicle fee of $35 for admission, which is pretty standard. That's just under half the price of the America the Beautiful Pass.
So if you plan to visit more than two national parks in the next year, there's a good chance an America the Beautiful Pass can save you money. Yes, it's that easy!
Visiting National Parks Without the Pass
To give you an idea of how much your national park trips would cost with and without an America the Beautiful Pass, here's what some of the most popular national parks in the country charge for admission.
Yellowstone and Grand Teton National Park: Yellowstone and Grand Teton National Park are positioned close by each other, so a lot of people make a trip out of seeing both at the same time. Each park charges $35 per vehicle. So even if you're just planning to make this trip and one other trip to a national park in the next 12 months, your America the Beautiful Pass will already have paid for itself.
The Great Smoky Mountains: Great Smoky Mountains National Park is one of the few fantastic national parks that doesn't charge an admission fee. So if this is the main one on your list for the next year, you don't have to worry about saving money on admission. Nice!
Zion National Park: Zion National Park charges $35 per vehicle. Admission includes access to the Zion Canyon and Kolob Canyon areas.
Rocky Mountain National Park: Rocky Mountain National Park also charges per vehicle – $25 per day or $35 for a week's trip.
Grand Canyon: The Grand Canyon charges a flat admission fee of $35 per vehicle.
Acadia National Park: This popular spot in Maine charges $30 admission per vehicle.
Guadalupe Mountains National Park: This national park in Texas charges a per person fee of $10 instead of a vehicle fee. (Despite being an epic place, Guadalupe Mountains is one of the least visited US parks.)
Joshua Tree: You can get a 7-day permit into Joshua Tree for your vehicle and all its passengers for $30.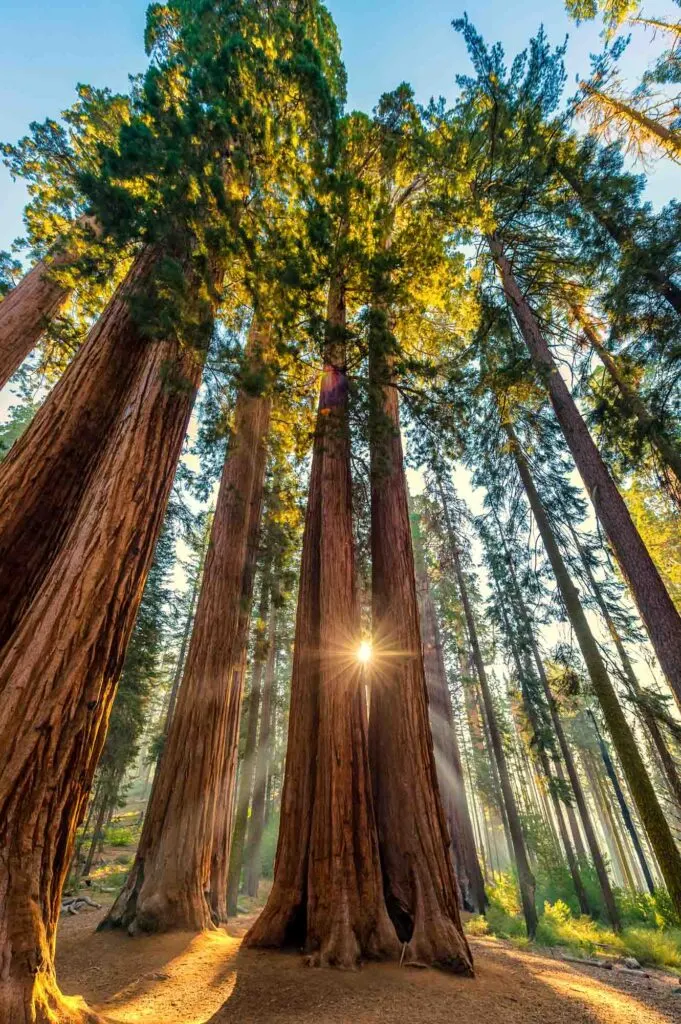 The Takeaway
As you can see, the most popular national parks tend to charge between $25 and $35 for admission.
Therefore, the America the Beautiful Pass will pay for itself if you visit some of these national parks at least three times over the course of a year.
If you're an infrequent visitor to national parks or your favorite park isn't covered, this pass might not be the right choice for you.
But if your idea of a fantastic weekend is driving out for a taste of the great outdoors, the America the Beautiful Pass can help offset that cost and help you get more outdoor adventures for less money.
Besides, hiking is a healthy hobby that allows you to connect with nature and considerably reduce stress—scientists' words, not ours. So, get out there!
Don't miss out! Click here to buy your America The Beautiful Pass!
What Does The National Park Annual Pass Cover
The pass covers admission (or standard amenity fees, if those apply at the park you're visiting) for national parks, national forests and grasslands, national monuments, national wildlife refuges, and lands managed by the National Park Service, Forest Service, Fish and Wildlife Service, Bureau of Reclamation, Bureau of Land Management, and Army Corps of Engineers.
If you have specific sites you know you'll want to visit in the next year, it's a good idea to confirm that they accept the America the Beautiful Pass.
But since it's accepted at such a wide variety of parks and sites, if you don't have any specific trips planned so far, there's a good chance you'll still be covered.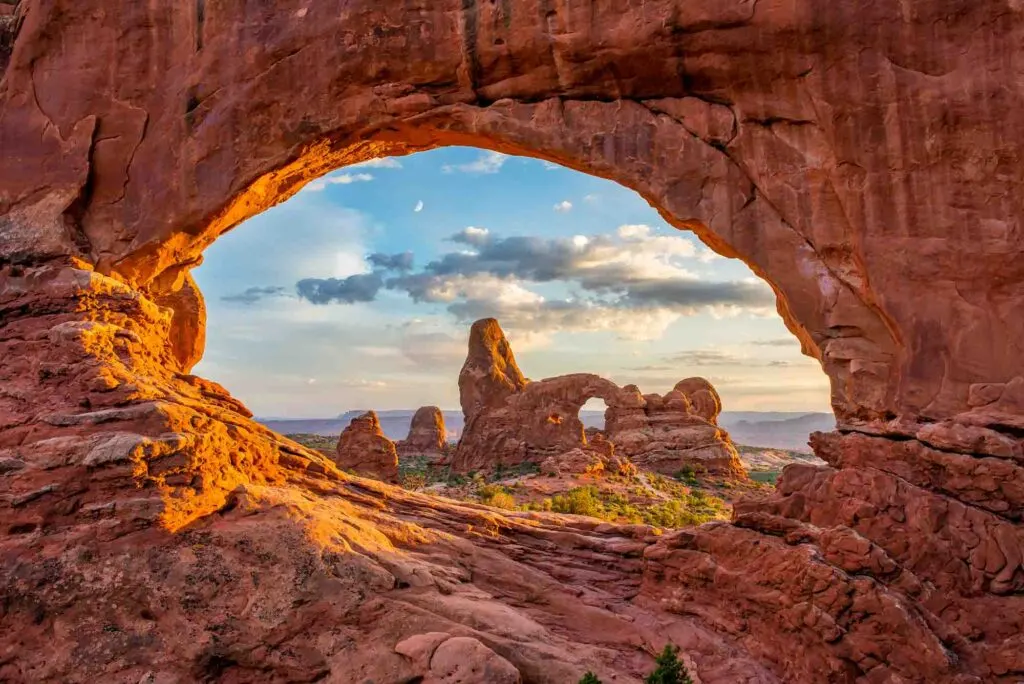 The pass covers entrance fees for a carload of people or up to 4 adults (depending on whether the park charges admission per person or vehicle).
Again, you always want to check the specific park's admission policy before your trip. That way, you won't run into any surprises or risk having to pay admission for one of your buddies. But unless you're traveling with a huge group, you'll probably be fine.
Keep in mind, the pass only covers park admission. It doesn't include Expanded Amenity or Concessionaire fees like RV hookups, parking, campsite rentals, shuttle passes, boat launch fees, or guided interpretive tours.
So while the pass can still help you get a good discount on your trips, you may still have to pay some fees, depending on what activities you have planned and the specific park's policies.
How to Use Your National Park Pass
The America the Beautiful Pass is a card, not a paper pass. Once you order it online, you'll receive it in the mail. Then, pack your backpack and head over to your national park. At the entrance station, hand over the America the Beautiful Pass and your ID to the park rangers.
After that, they'll give them back to you, usually along with a park map, and that's it. Easy peasy.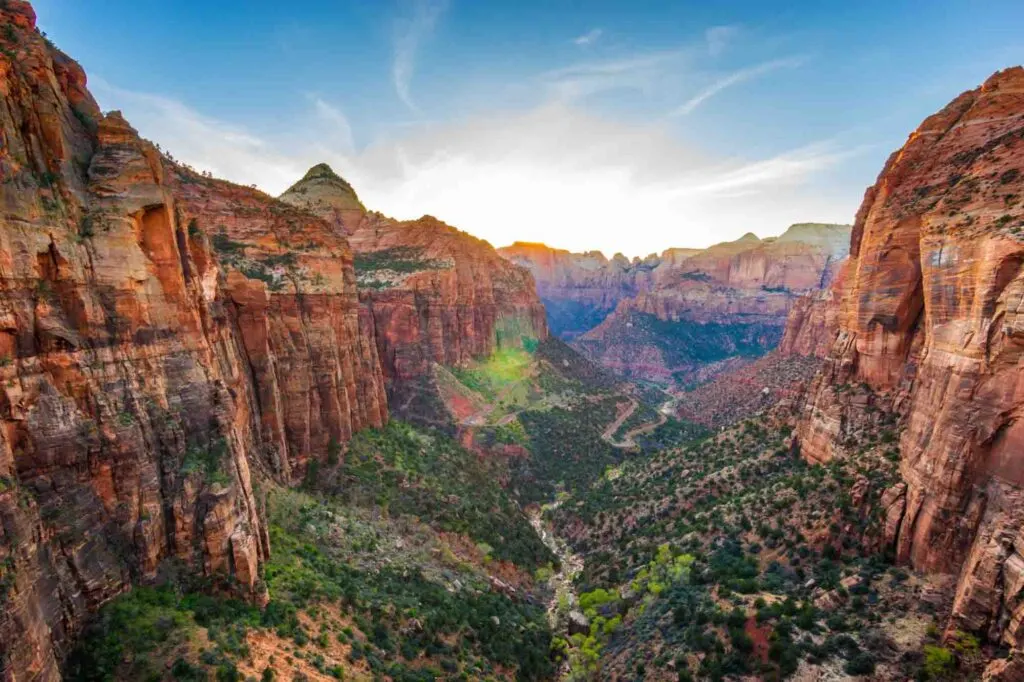 America the Beautiful Pass Parks List
Here's a list of the most popular fee-charging national parks where you can use the America the Beautiful Pass; however, it's not an exhaustive list since the pass covers over 2,000 sites across the US.
Acadia National Park
Adams National Historical Park
Antietam National Battlefield
Arches National Park
Assateague Island National Seashore
Badlands National Park
Bandelier National Monument
Big Bend National Park
Black Canyon of the Gunnison National Park
Bryce Canyon National Park
Cabrillo National Monument
Canaveral National Seashore
Canyonlands National Park
Cape Cod National Seashore
Capitol Reef National Park
Capulin Volcano National Monument
Carlsbad Caverns National Park
Castillo De San Marcos National Monument
Cedar Breaks National Monument
Chaco Culture National Historical Park
Chattahoochee River National Recreation Area
Chesapeake & Ohio Canal National Historical Park
Chickamauga & Chattanooga National Military Park
Christiansted National Historic Site
Colonial National Historical Park
Colorado National Monument
Crater Lake National Park
Craters of the Moon National Monument and Preserve
Cumberland Island National Seashore
Death Valley National Park
Denali National Park & Preserve
Devils Tower National Monument
Dinosaur National Monument
Dry Tortugas National Park
Everglades National Park
Florissant Fossil Beds National Monument
Fort Davis National Historic Site
Fort McHenry National Monument & Historic Shrine
Fort Pulaski National Monument
Fort Smith National Historic Site
Fort Sumter National Monument
Fort Vancouver National Historic Site
Glacier National Park
Glen Canyon National Recreation Area
Golden Spike National Historic Site
Grand Canyon National Park
Grand Teton National Park
Great Falls (George Washington Memorial Parkway)
Great Sand Dunes National Park & Preserve
Guadalupe Mountains National Park
Gulf Islands National Seashore
Haleakalā National Park
Harpers Ferry National Historical Park
Hawai'i Volcanoes National Park
Home of Franklin D. Roosevelt National Historic Site
Hovenweep National Monument
Isle Royale National Park
James A. Garfield National Historic Site
Joshua Tree National Park
Kennesaw Mountain National Battlefield Park
Lake Mead National Recreation Area
Lassen Volcanic National Park
Lava Beds National Monument
Lewis & Clark National Historical Park
Little Bighorn Battlefield National Monument
Mesa Verde National Park
Montezuma Castle National Monument
Mount Rainier National Park
Muir Woods National Monument
Natural Bridges National Monument
Olympic National Park
Organ Pipe Cactus National Monument
Padre Island National Seashore
Perry's Victory International Peace Memorial
Petrified Forest National Park
Pinnacles National Monument
Pipe Spring National Monument
Prince William Forest Park
Pu'uhonua O Hōnaunau National Historical Park
Rocky Mountain National Park
Sagamore Hill National Historic Site
Saguaro National Park
Saint Gaudens National Historic Site
San Francisco Maritime National Historical Park
San Juan National Historic Site
Sequoia-Kings Canyon National arks
Shenandoah National Park
Sleeping Bear Dunes National Lakeshore
Sunset Crater Volcano National Monument
Theodore Roosevelt National Park
Thomas Edison National Historical Park
Tonto National Monument
Tumacácori National Monument
Tuzigoot National Monument
Vanderbilt Mansion National Historic Site
Vicksburg National Military Park
Walnut Canyon National Monument
Whiskeytown National Recreation Area
White Sands National Park
Wilson's Creek National Battlefield
Wright Brothers National Memorial
Wupatki National Monument
Yellowstone National Park
Yosemite National Park
Zion National Park
Don't miss out! Click here to buy your America The Beautiful Pass!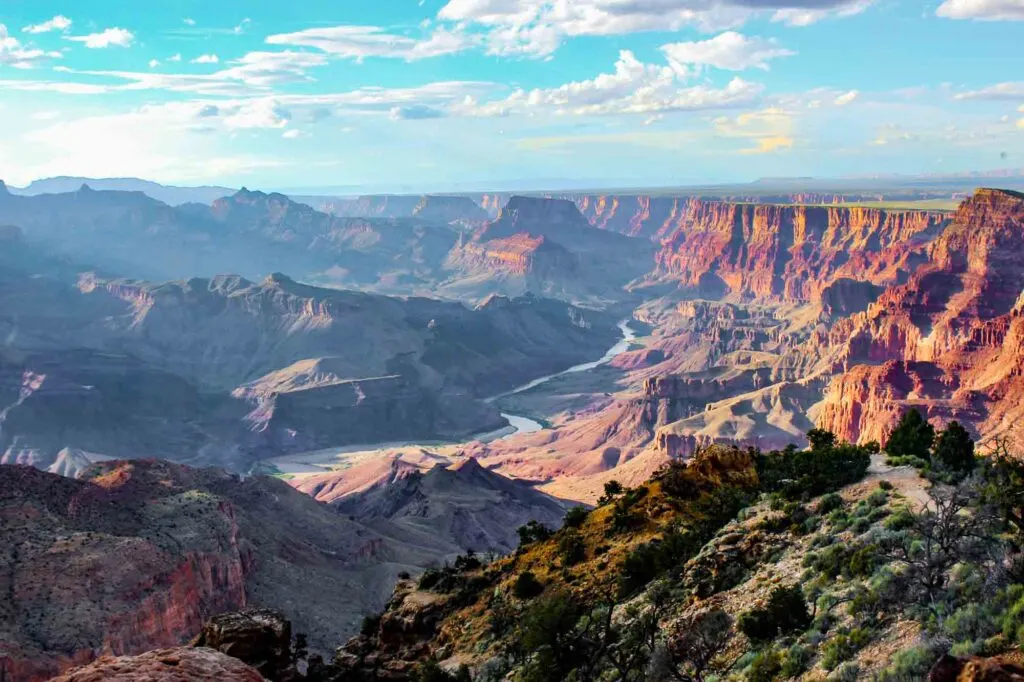 Where to Buy the America the Beautiful Pass
There are three easy ways to order this national park sass.
Over the phone: You can call 1-888-ASK-USGS (1-888-275-8747) to purchase a pass.
In-person: A variety of federal recreation sites sell America the Beautiful Passes.
Online on REI's Website: For most people, the most convenient option is buying a pass online at REI's website. It's quick, convenient, and you don't have to find an in-person location or talk to anyone over the phone. And while you're on REI's site, you might as well take the opportunity to stock up on a few outdoor must-haves to prepare for your next adventure.
Even better, this year, REI will donate 10% of proceeds from their pass sales to the National Park Foundation. So you know your purchase is going toward a good cause that you care about.
Other Frequently Asked Questions About the America the Beautiful Pass
Can I print my pass?
No. After you buy your pass to national parks in the US, you'll receive a card in the mail or in person (depending on how you choose to purchase the pass).
Can I use someone else's pass?
No. Passes are only valid for the pass owner.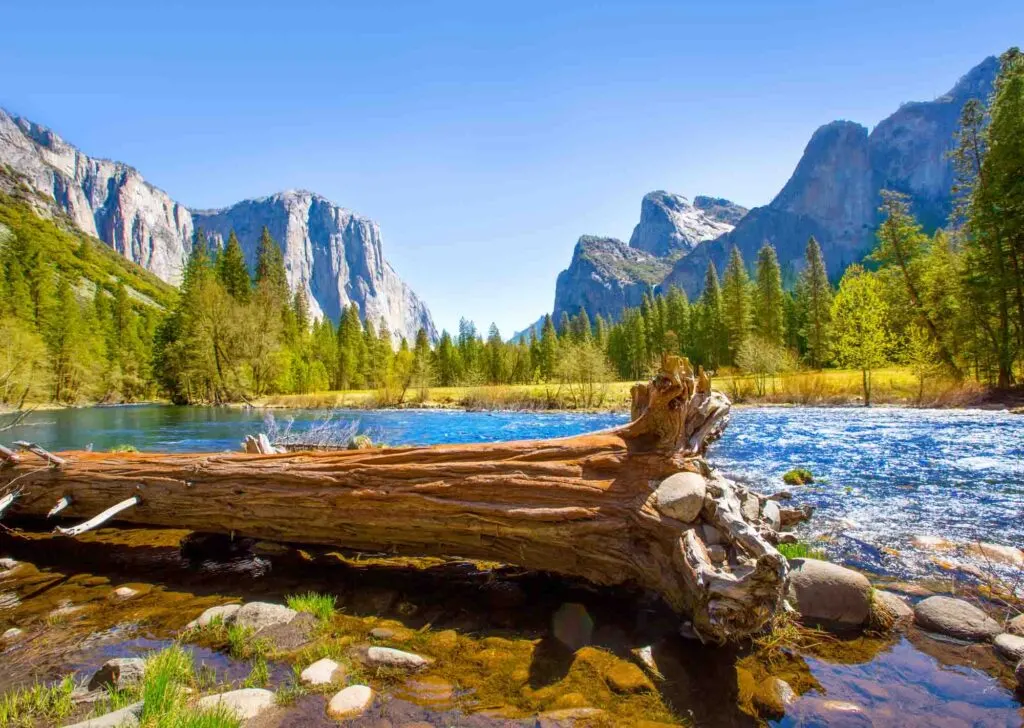 Does it cover state parks?
Unfortunately, no. The National Park Service doesn't manage state parks, so they aren't covered under the America the Beautiful Pass.
Does it expire?
The America the Beautiful Pass is valid for one year from the month you buy it. So eventually, yes, it does expire. If you're buying this USA national park pass for a specific trip you're planning, make sure to plan accordingly so your pass will still be valid by the time you take your trip.
Is the Golden Age Pass the same as the America the Beautiful Pass?
No, but they have some similarities. Golden Age Passes are no longer sold and were specifically for senior citizens. If you're looking for something similar to the Golden Age Pass, the America the Beautiful Annual Pass might be a good alternative for you.
Note that everyone is eligible for the America the Beautiful Pass regardless of nationality or age. That said, there are also other pass options for military and dependents, individuals age 62 and over, or with disabilities:
Military Pass costs $10, and it is only available for current military members (US Army, Air Force, Navy, Marines, Coast Guard, and National Guard with valid Dod CAC card), and dependents can request at a more significant discount.
The lifetime Senior Pass costs $80 and is available for US citizens or permanent residents age 62 or over. (So
Also, the Lifetime Access Pass is free for US citizens and permanent residents with disabilities.
Is a national park pass worth it?
YES!
If you visit at least three national parks or forests or just don't want to have to hassle with admission fees, then a national parks pass might be an excellent option for you. They're convenient and can save you money in the long run.
Besides, they're a great motivation to explore as many national parks as the weekends and days off will allow you.
However, if you only go to national parks once a year or visit sites that aren't covered by a national parks pass, then you might be better off just paying an admission fee. It's really up to you, your travel habits, and your preferences.
Still, regardless of you buying this annual pass for national parks or not, we 100% recommend you to get out there and breathe the fresh air only a green area/park will offer you!
Often, we spend so much time in front of our mobiles and laptops that we forget how satisfying it is to go hiking and exploring the beautiful sceneries in America.
Don't miss out! Click here to buy your America The Beautiful Pass!
Celebrate the USA's landscapes!
Remember: you can use your pass at sites where entrance or standard amenity fees are charged. The Bureau of Land Management, Bureau of Reclamation, Fish & Wildlife Service, National Park Service, U.S. Forest Service, and US Army Corps of Engineers honor the Annual Pass.
Did you enjoy this overview about America the Beautiful Pass? Then send it to a friend who might find it helpful too!