Whether you want to lean into the city's glitz and glamour or keep things a little simpler, these romantic date ideas in Los Angeles are bound to bring you and your special someone closer–while also showcasing all that SoCal has to offer.
From food trucks and rooftop bars to world-class performances and celebrity sightings, we've got an outing for every kind of couple.
After all, the City of Angels is the entertainment capital of the world, practically overflowing with pop culture, unique attractions, and gorgeous natural landscapes.
18 Fun Date Ideas in Los Angeles
As you browse through this list, feel free to pick one and go all in or mix and match until you've built the perfect day for two.
Whatever you end up choosing, romance is basically a guarantee!
1. Search for Celebrities and Skyline Views on Mulholland Drive
Infamous traffic and all, Los Angeles is a city best explored by car. And if you and your significant other are interested in all things Hollywood, then this hillside street is one of the coolest places to cruise.
Mulholland Drive has housed dozens of stars throughout the decades–Madonna, Jack Nicholson, John Lennon, Demi Moore, and more.
You may not spot the celebrities themselves, but you can marvel at their extravagant villas and flowering gardens.
The classic 20-mile route takes about 1 hour to drive, although you'll want to leave extra time to enjoy the many scenic overlooks along the way.
Griffith Observatory, downtown LA, Universal City, and the iconic Hollywood sign can all be spotted from various viewpoints, and there are short hiking trails to explore as well.
Read next: 18 Most Romantic Getaways in California For Couples
2. Pick a Bouquet at the Original Los Angeles Flower Market
For more than a century, this Los Angeles institution has provided the city with beautiful blooms, featuring 50 vendors and more than 125 varieties of flowers.
You can pick up a potted plant or seed packets to take home, or customize a floral arrangement together. Even if you don't leave with a souvenir, wandering the fragrant walkways for an hour or two is enough to make anyone swoon.
The market is open from 8 AM-12 PM on weekdays for $2 admission and 6 AM-2 PM on Saturdays for $1 admission.
If you're not ready for the date to end so soon, head around the corner to the on-theme Poppy + Rose café, a country-style brunch spot that specializes in elevated comfort food.
3. Catch a Comedy Show at the Groundlings Theatre
Nothing brings two people together like a good belly laugh, and there are plenty to be found at LA's premier improvisation and sketch comedy theater.
Throughout its 45-year history, the Groundlings has launched famous actors and comics like Melissa McCarthy, Kristen Wiig, Will Ferrell, and Lisa Kudrow.
So for a knee-slapping Los Angeles date night, snag a pair of tickets to an evening of satire, songs, sketches, and improv galore!
Want to take the fun a step further? You can also sign up for a one-day beginner improv workshop!
4. Eat Your Way Through a Self-Guided Food Tour at Grand Central Market
Is your stomach ready for one of the most delicious date ideas in Los Angeles? In a city known for its wide-ranging cuisines, it can be hard to cut through the tourist traps and truly find the best dishes.
Luckily, Grand Central Market brings dozens of old favorites and rising success stories together under one roof.
Order egg foo yeung from China Cafe (an installation here since 1959!), novelty candy from La Huerta, and award-winning brews from the champion baristas at G&B Coffee shop.
Whatever stalls you stop at, you're sure to discover delicacies from all over the world. Pro tip: splitting something small at each spot means you can sample even more.
5. Witness the Cosmos at Griffith Observatory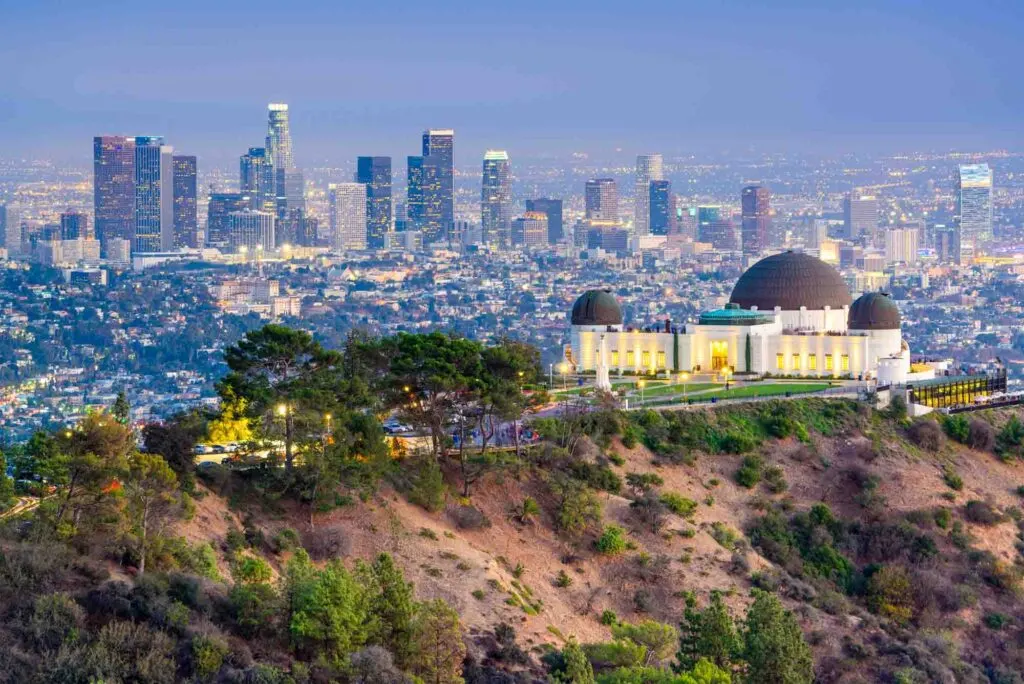 Star-crossed lovers can peer closer into the universe at this world-famous observatory, which is free and open to the public Tuesday-Sunday.
Explore LA's night skies using high-quality telescopes on the observation deck, with the help of monthly sky reports that let you know what planets and special events are currently visible, and browse thought-provoking exhibits covering mythology, space exploration, and more.
In between all the looking up, don't forget to look down as well! Sweeping views of Los Angeles are at their best from this vantage point.
This spot in Griffith Park gets quite crowded on weekends and holidays, so try to visit on a post-dinner date weekday if you can.
6. Attend a Concert by Candlelight
The only thing more romantic than live music–An entire concert lit by the glow of a thousand flickering candles.
Candlelight Concerts, presented by Fever, hosts shows in some of Los Angeles' most iconic venues, with themed genre nights and tribute shows for beloved artists, from Coldplay to Hans Zimmer to Vivaldi.
Check their events schedule and make sure to reserve your seats in advance. After all, world-class musicians, stunning architecture, and a one-of-a-kind ambiance…what more could you ask for when it comes to date night ideas in Los Angeles?
7. Go for a Romantic Boat Ride in Echo Park
For one of the most classic date ideas in Los Angeles, look no further than the swan boats of Echo Park lake.
The surrounding scenery is full of palm trees, lotus beds, and a beautiful fountain, plus skyline views.
But this outing gets even more magical at dusk!
After a stunning LA sunset, the swan boats are illuminated to match the city lights, and all the twinkling on the lake's surface is nothing short of magical. (You can also bring a blanket and some beverages to turn the coziness up a notch).
This romantic experience is one of our favorite outdoor date ideas in LA!
Boat rentals cost just $12/hour per adult, and you need to book in advance.
8. Find Solitude and Sweeping Vistas in Solstice Canyon
When you think of hiking in LA, the Hollyridge Trail (which leads to the iconic Hollywood sign) is probably the first thing that comes to mind.
While we love this outing, there are plenty of lesser-known and more romantic corners of the city to explore on foot.
Leave the Downtown Los Angeles bustle behind and escape to the stunning Santa Monica Mountains (just 30-40 minutes from the center), where you'll find historic ruins, year-round waterfalls, and lush green hills.
The Solstice Canyon loop is accessible for most skill levels, while the more challenging Rising Sun Trail rewards you with breathtaking views of the Pacific Ocean.
9. Cheers to True Love at The Hermosillo
Seeing as the city boasts such a well-known brewery scene, a beer tasting deserves a spot on any list of memorable date ideas in Los Angeles.
And with its low lighting, ultra-cool atmosphere, and menu full of global bar bites, the Hermosillo makes for the perfect drinking destination.
This Highland Park bar is beloved for its stellar IPAs (try the fruity favorite–"Hello, LA"), but also includes hard seltzers, local wines, and some plant-based food options on its diverse menu.
Cozy up in a leather booth or, if the weather is good, hang out and people-watch on the outdoor patio.
10. Tandem Bike Along the Marvin Braude Trail
Meandering for 22 miles of scenic pedaling, the Marvin Braude Bike Trail traces the Santa Monica shoreline and provides nearly nonstop ocean views.
Work up a sweat by tackling it all at once, or stretch it into a full-day activity with stops at Santa Monica Pier, Venice Beach, and other notable attractions along the way.
There are plenty of bike rental shops near the starting point of the trail, as well as all along it.
11. Ride the Ferris Wheel at Santa Monica Pier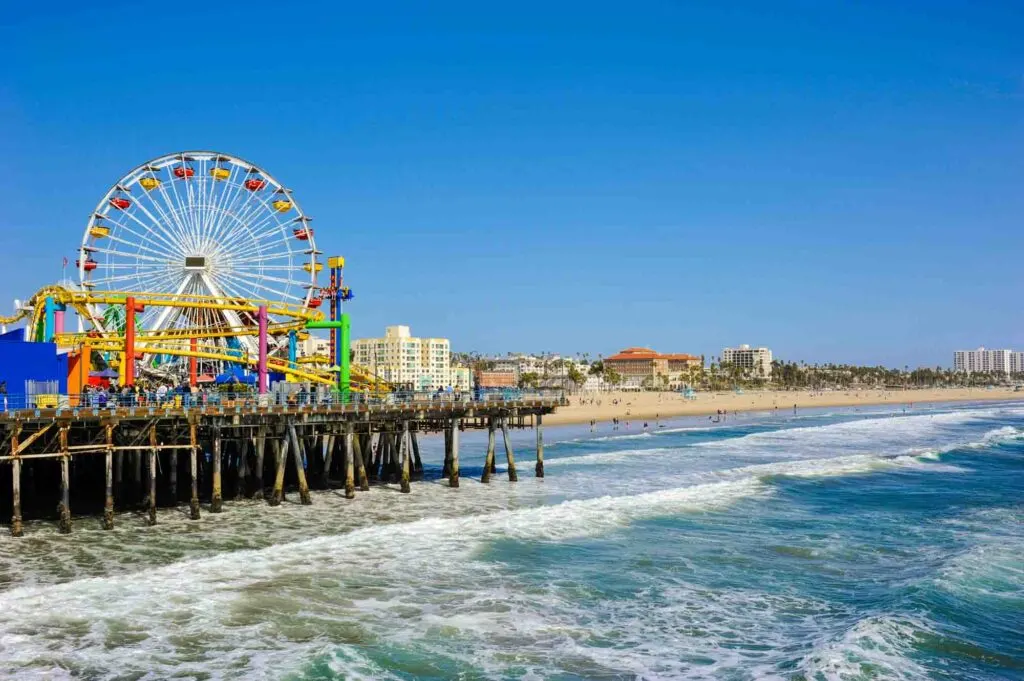 Few date ideas in Los Angeles can compete with the old-school romance of an evening at Santa Monica Pier, spent competing over bumper cars, sharing fried fair treats, and winning prizes for your partner at the midway games.
But the most swoon-worthy part of the date will be a spin on the Pacific Wheel, the world's only solar-powered Ferris wheel and the site of many an LA proposal.
Take in spectacular views of the Southern California coastline snuggled up at your partner's side–no single riders allowed here!
12. Indulge in Drinks With a View at Perch
The glitz and glamour of LA are on full display at Perch, a chic, oh-so-romantic terrace that floats amidst the city lights in the heart of downtown.
Order from a list of craft cocktails or select some glasses from their extensive wine menu, which traverses France, Italy, and Argentina–plus plenty of local offerings.
Firepits, live music, and mouthwatering French small plates round out the impeccable atmosphere.
Perch is the perfect spot for a romantic night in LA!
Head's up: They enforce an upscale casual dress code, so no athleisure, beach wear, or flip-flops allowed.
13. Take a Stroll Through the Los Angeles County Arboretum
Get lost among 127 acres of tropical gardens, waterfalls, tranquil ponds, historic cottages, and wild peacocks in this magical LA oasis.
The Arboretum hosts a number of nature-themed events each month, like yoga in the tranquil gardens, full moon forest bathing, guided walks, and oil painting classes.
But simply strolling hand-in-hand through the many exhibits is enough to send sparks flying. There's also a charming onsite café with outdoor seating and a menu full of light bites.
Tickets must be purchased in advance; It's $15 for general admission.
14. Watch a Film Under the Stars at Melrose Rooftop Theater
Few Los Angeles date ideas are as charming as a trip to an outdoor theater.
Found in the heart of West Hollywood's fashion and design precinct, Melrose Rooftop Theatre brings together city views, cozy bean bag chairs, and a lineup full of both cult classics and new releases to create an utterly unforgettable and perfect date night.
They even have a "Movie Night for Two" package that includes VIP reserved seating, blankets, cocktails, and popcorn + candy to share. It doesn't get any sweeter than that!
15. Search for Graffiti Murals in the Arts District
LA's Arts District is overflowing with colorful creations at every turn, as well as a host of trendy cafés, theaters, and breweries.
For a cheap date idea in Los Angeles, map out the best spots on your own and take your time to stop and snap photos at each one.
Some unmissable pieces are "America Tropical," a mural commissioned by the city in 1932 and still well-preserved today, as well as the super-colorful "Bloom" mural created in honor of Joel Bloom, the unofficial mayor of the Arts District.
Alternatively, you can book a guided tour of the area and dig even deeper into its history.
16. Find Your Favorite Red at San Antonio Winery
Wine lovers will be in good hands at San Antonio, a family-owned spot that has been showcasing bottles from their California estate vineyards since 1917.
That makes it the oldest and largest producing winery in Los Angeles!
Right away, the warm interiors and friendly service will make you feel at home. Once you're settled in, choose from a handful of tasting flights, each including 5 award-winning samples as well as a charcuterie plate to share.
Still hungry? Make a whole evening of it with a gourmet Italian dinner at the onsite Maddalena Restaurant.
17. Admire Masterpieces at The Broad
Between its free general admission tickets, fascinating rotating exhibits, and Instagrammable art installations, The Broad is an easy go-to for your Los Angeles date night.
This contemporary art museum houses works from dozens of notable artists, from Basquiat to Warhol.
At the time of writing, two of the museum's most popular displays are Yayoi Kusama's enchanting Infinity Mirror Rooms, which place you in a reflective chamber full of twinkling lights (and make the perfect backdrop for a romantic snap).
Please note: Although entrance is free, visitors must reserve timed tickets in advance.
18. Hang 10 in Bolsa Chica State Park
Last but not least of our favorite date ideas in Los Angeles is an activity that brings together adrenaline, beach time, and classic Californian culture.
After all, can you really say you've experienced LA if you didn't partake in at least one surf session?
Just 30 minutes away from downtown, Bolsa Chica State Park delivers broad sandy shorelines, plenty of sunshine, and beginner-friendly waves–without the crazy crowds of other popular surf spots.
You can rent boards and practice together or snag an instructor and try a formal lesson.
Other Romantic Date Spots and Ideas
Play mini golf at Sherman Oaks Castle Park
Check out the historic Getty Villa
Go on a jetski adventure to Catalina Island
Stroll around the botanical gardens
Don't miss the LA Phil at Walt Disney Concert Hall
Get competitive at Highland Park Bowl
Drop by the Spadena House in Beverly Hills
Get some drinks at Room Number 13 on Hollywood Boulevard.
Did you enjoy this article about the perfect date idea in Los Angeles? Then share it on social media!