Traveling with little ones can be tricky, but equipped with this list of things to do in Austin with kids, you'll keep them (and the entire family) entertained!
Whether you're looking for a family vacation in Texas or just want some kid-friendly activities near you, we're here to walk you through all the kid-friendly restaurants, museums, natural wonders, and other experiences the Texas capital has to offer.
After all, this city is often cited as an excellent place to raise a family.
Combine that warm, welcoming Southern hospitality with an abundance of activities for all ages, and you'll hardly want to leave.
16 Things to Do in Austin with Kids
Pick a favorite or mix and match from this comprehensive list of children's attractions in Austin to plan a holiday your youngest travelers won't forget anytime soon. Let's go!
Pssst: If you want to take the kids on a little vacation, you might want to check out these all-inclusive resorts in Texas for the whole family!
1. Let Your Imagination Run Wild at BookPeople
They say everything is bigger in Texas, and as the state's largest independent bookstore, you better believe BookPeople has tons to enjoy.
Between three floors to explore and an iconic kid's area, the whole family will find their newest read here.
Little ones will especially love the colorful mini-amphitheater, where BookPeople frequently hosts story times, music programs, puppet shows, and readings with notable children's and young adult authors.
Don't forget to leave with some toys, games, graphic novels, or perhaps even a signed copy of your kid's favorite book.
2. Conquer Whimsical Challenges at Peter Pan Mini Golf
Operating since 1948, this family-owned mini golf course is truly an Austin institution.
So slip on your sneakers, grab your putters, and get ready to play through one or both of the 18-hole courses.
Along the way, you'll discover a quirky cast of characters, from the iconic giant T-Rex to Peter Pan himself, as well as plenty of challenging obstacles.
You're welcome to bring your own drinks and coolers, so stock up on something fun to sip on like juice boxes or ice pops before you head over. They also sell water, soft drinks, and snow cones onsite.
3. Dive Into a Pool of Sprinkles at the Museum of Ice Cream
Welcome to one of the sweetest things to do in Austin with kids, and we mean that literally!
This creative, colorful, and oh-so-delicious experience is unlike any other in the city, and your children are guaranteed to love an afternoon spent amidst dazzling multisensory installations and all the treats they can eat.
Ride on a giant animal cookie, walk through a tunnel of over 1,000 bananas, and (of course) take a plunge into the world-famous sprinkle pool.
Want to keep the sugar rush going? Head over to the onsite café for cones, milkshakes, and sundaes–plus cocktails for the adults in your group.
Tickets cost $21 on weekdays and $24 on weekends. Kids 2 and under get in free!
4. Tour by Land and Water With Austin Duck Adventures
There are plenty of land-based things to do in Austin with kids, but the city is also home to several stunning bodies of water, the most iconic being Lake Austin itself.
And with Austin Duck Adventures, you'll be able to explore both environments to the fullest, without even switching modes of transportation in between!
Hop into one of their unsinkable Hydra Terra vehicles and embark on a 75-minute sightseeing tour that takes you through Historic Sixth Street, the State Capitol Building, and the Governor's Mansion before hitting the water.
Adults will love the chance to learn more about the city, while kids can't resist the plunge from land to lake.
Tickets cost $39.50 for adults and $25.50 for kids age 3-12. Kids 2 and under go for free!
5. Compete Over Arcade Games at Pinballz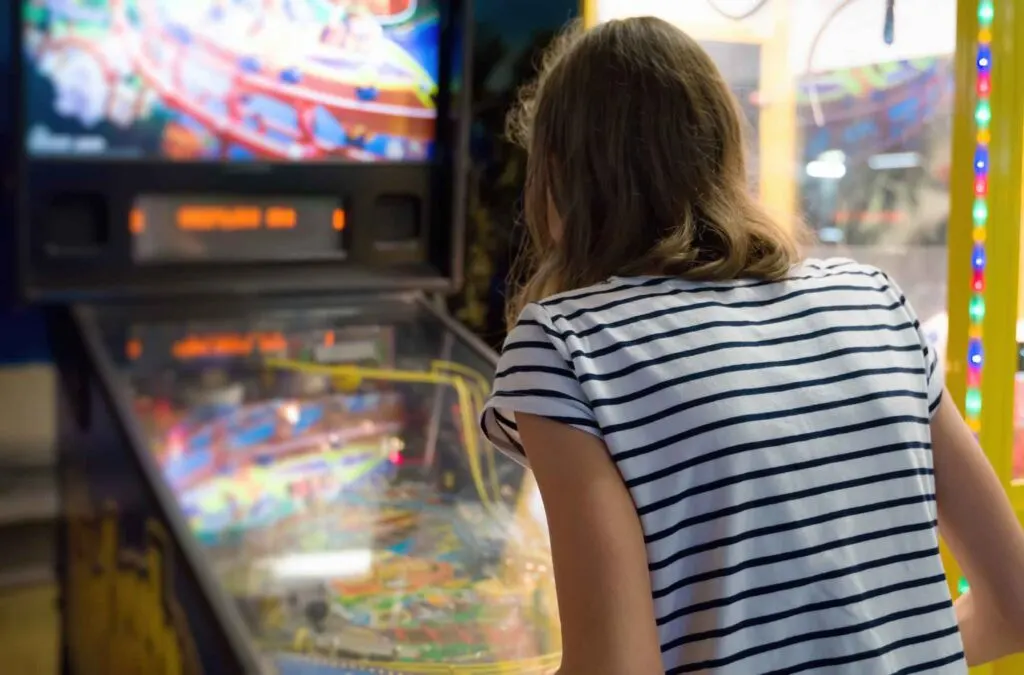 Calling all parents of little gamers! For competitive tots and teens, few kid activities in Austin can compare with the fun of this one.
So step right up and try to win at arcade classics like Super Mario Bros, Pac-Man, and air hockey.
Players of every age will find something to compete over at Pinballz, which boasts a staggering 100,000 square feet packed with retro and modern games, party rooms, and other attractions.
To fuel up between rounds, swing by Mikki's Replay Café for classic Southern comfort foods like Frito pies, fried pickles, burgers, pizzas, and more.
Pinballz is hands-down a fun family activity to do indoors!
6. Go for a Dip at Barton Springs Pool
Cool down on a hot summer day at Barton Springs Pool!
ATX is filled with natural wonders, and one look at this stunning spot will show you exactly why it's one of our favorite things to do in Austin with kids.
Found within the sprawling Zilker Park, South Austin, Barton Springs is an outdoor swimming pool filled entirely with water from nearby natural springs, which keeps it at a refreshing 68-70 degrees Fahrenheit all year round, but it's obviously especially appealing during the summer months.
Depths of the pool range from 0-18 feet, so it's perfect for all ages and strengths of swimmers.
There are also plenty of grassy lawns around where you can spread out for picnicking and sunbathing after your dip.
Daily entrance fees are $4 for kids age 1-11, $5 for kids age 12-17, and $9 for adults.
7. Learn Through Play at Thinkery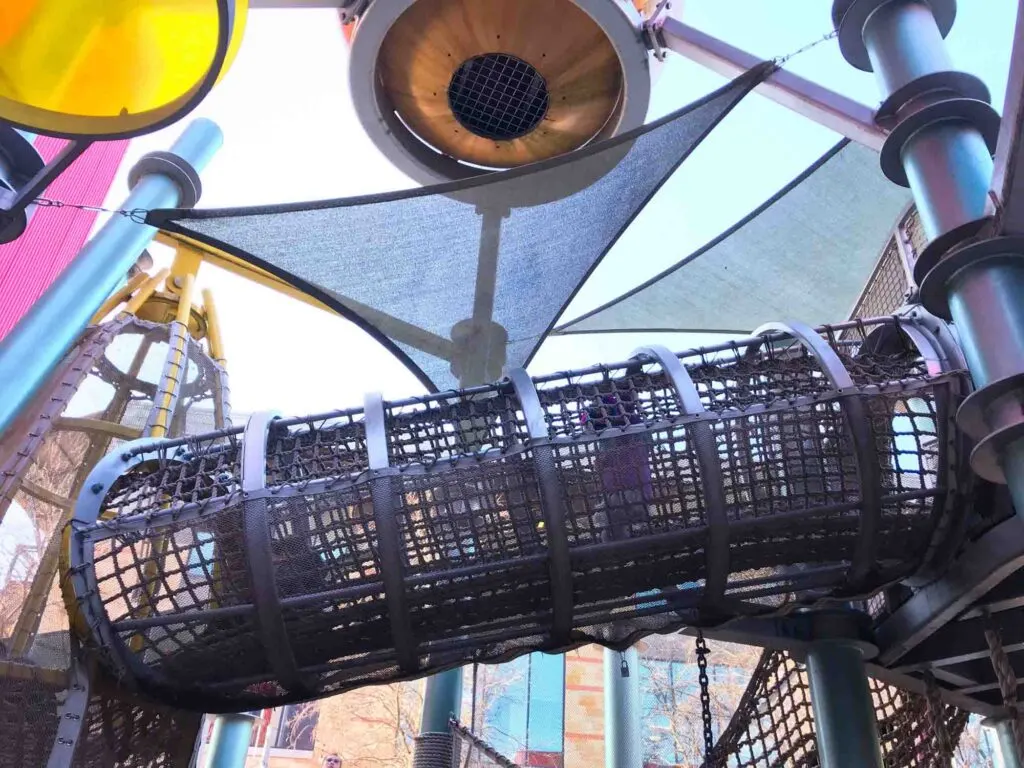 This hands-on, play-based children's museum is overflowing with opportunities for your little ones to experiment, explore, and engage with the world around them.
Use the science of light, shadow, and color to make unique creations in the Light Lab.
Settle into a beanbag and enjoy an interactive reading at the Story Nook. Link up wooden cars and explore the Austin skyline in Train Town.
Perhaps the star attraction, however, is their largest gallery: the Innovators' Workshop.
Here, kids can tap into their creativity through a range of activities, like making simple machines, painting on glass, observing slides through a microscope, and more.
Reservations are highly encouraged and walk-up ticket availability is limited, so plan ahead before you go.
8. See an Improv Show at Hideout Theatre
Named the Best Kid-Friendly Theater by the Austin Chronicle, Hideout Theatre offers the kiddos a creative outlet and a hilarious arts performance rolled into one.
Every Sunday, Hideout Kids take the stage for a knee-slapping improv show, pulling suggestions (and volunteers) from the audience so the little ones get to determine where the story goes next.
Hideout Theatre also offers free family classes, during which everyone can get in on the improv action.
Play silly collaborative games, participate in improv exercises, and perhaps uncover a hidden talent for the stage!
9. Run Around at Pease Park
Looking for free things to do in Austin with kids? Pease Park has all the amenities you need to tire your tots out and delicious food to refuel.
In warmer weather (May-October), make the most of the splash pad, which boasts fountains and other interactive water features.
This public park also has state-of-the-art play equipment, picnic tables, a basketball court, an outdoor amphitheater, and a one-of-a-kind treehouse observation pod.
Alternatively, plenty of flat, shaded paths provide excellent places to go for a simple stroll.
Feeling hungry? Onsite food trucks dish up everything from picnic-perfect paninis to colorful snow cones, and there's also a coffee cart so the adults can keep up throughout playtime.
10. Climb to New Heights at Mt. Playmore
We couldn't make a list of things to do in Austin with kids without a mention of the largest indoor playscape in the entire state!
The cleverly named Mt. Playmore offers room after room of pure fun. Kids can crawl, climb, and swing their way through a giant course.
With tensioned web floors that are easy on the knees and no too-tight spaces, parents can come along, too.
Then, move on to the arcade for skeeball, air hockey, and the popular motion simulator, which will have you flying a plane one moment and riding a roller coaster through snowy mountains the next.
Meanwhile, toddlers can enjoy over 1,400 square feet of designated tiny tot space filled with toys, activities, and imaginative games.
For parents, massage chairs throughout the playrooms mean you're free to relax while keeping an eye on the kids.
11. Watch Nature's Sunset Show at Congress Avenue Bridge
If you're visiting the Texas capital from late March-September, this is certainly one of the battier things to do with kids in Austin and little ones are bound to get a kick out of Mother Nature's evening display.
At the peak of the migrating season, as the sun sinks below the horizon, a whopping 1.5 million Mexican free-tailed bats emerge from the underside of Congress Avenue Bridge and commence a high-flying, acrobatic show as they embark on their nightly insect hunt.
Make sure you arrive early to claim a good viewing spot! In mid-August, festivities get even more lively.
The annual Bat Fest features live music, arts and crafts vendors, children's activities galore, and even a bat costume contest.
12. Have a Food Truck Feast at The Picnic
Even the world's pickiest eater won't be able to hold out at The Picnic, Austin's premier food trailer park.
Here, you'll find a cornucopia of the city's most delicious and affordable bites, so come hungry!
For a fun outdoor eating experience, let everyone choose one truck and one dish, then enjoy it all family-style at Zilker Park, just one block over.
Tacos, Italian, New Orleans gumbo, Thai cuisine…there truly is something for everyone.
And we're pretty sure no one can refuse a gelato or fun-flavored sorbet for dessert.
13. Visit the Imax at the Bullock Texas State History Museum
State history might not sound like the most thrilling subject for a young traveler, but Bullock keeps even the smallest visitors engaged with interactive exhibits, one-of-a-kind artifacts, and thrilling cinematic experiences at the IMAX.
3D movies like Serengeti: Journey to the Heart of Africa and Train Time will have your kids on the edge of their seats. The theater also shows a rotating selection of new feature films.
Check the calendar for all kinds of family-friendly events, like hands-on STEAM (science, technology, engineering, arts, and mathematics) demonstrations and activities.
Prefer to explore on your own? The museum's website provides printable activity guides that will help keep your kids focused and entertained throughout their museum visit.
14. Get an Adrenaline Rush at Lake Travis Zipline Adventures
Just 30 minutes from downtown, you'll find a world of sun, sand, and adrenaline galore on the shores of Lake Travis—the perfect spot for a summer vacation in Texas.
The biggest thrill is found in Texas' longest and fastest ziplines, which fly right over the water.
As part of the experience, you'll enjoy a scenic boat ride to Zip Island, all-day access to the private lakefront, swimming from the private shoreline, lakefront loungers and hammocks, beach games, and the full 5-line course.
The 3-hour guided zipline tour is $139, and reservations are required.
All riders must weigh at least 70 pounds, so little ones will have to watch from the ground.
15. Indulge Your Sweet Tooth at Big Top Candy Shop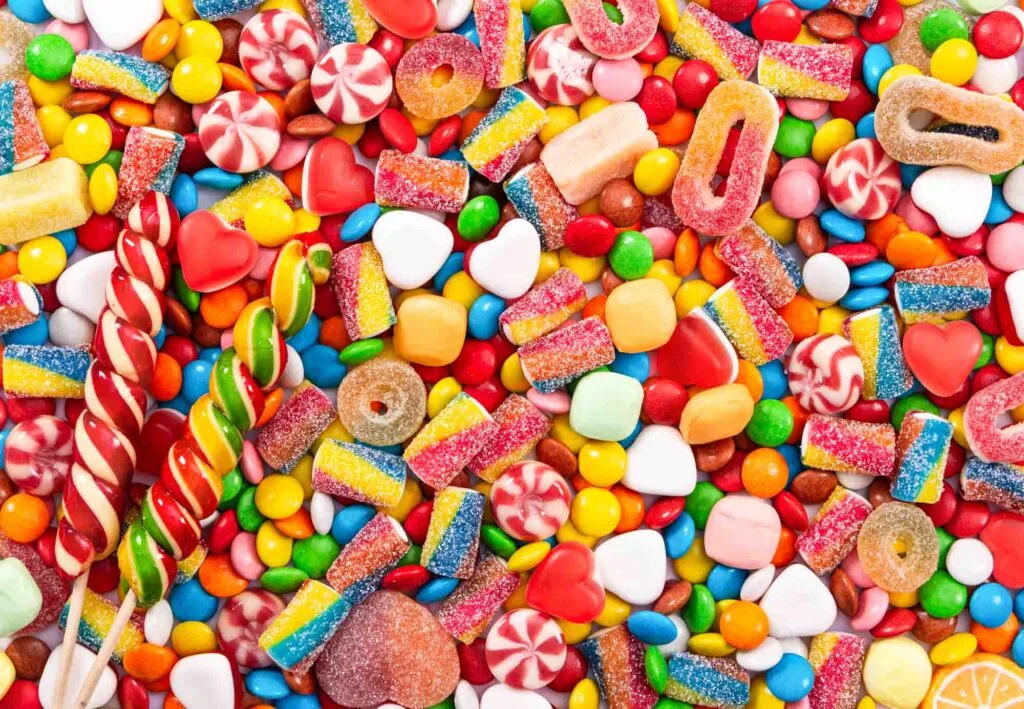 As the self-proclaimed "most amazing candy shop the world has ever known," Big Top had to earn a spot on our list of things to do in Austin with kids.
The circus-themed space is overflowing with goodies. It boasts a fully functioning old-fashioned soda fountain and ice cream case, specialty chocolates and fudge, over 400 bulk candies, and over 3,000 wrapped candies, from nostalgic favorites to new creations from across the globe.
You'll definitely need to set a spending limit for the little ones because everything at Big Top is begging to be eaten.
They even serve handcrafted hard seltzers and boozy milkshakes for the adults!
Big Top is located on lively South Congress Avenue, making it easy to ride the sugar rush straight into a shopping and dining spree at some of the city's best boutiques.
16. Take a Painting Class at the Art Garage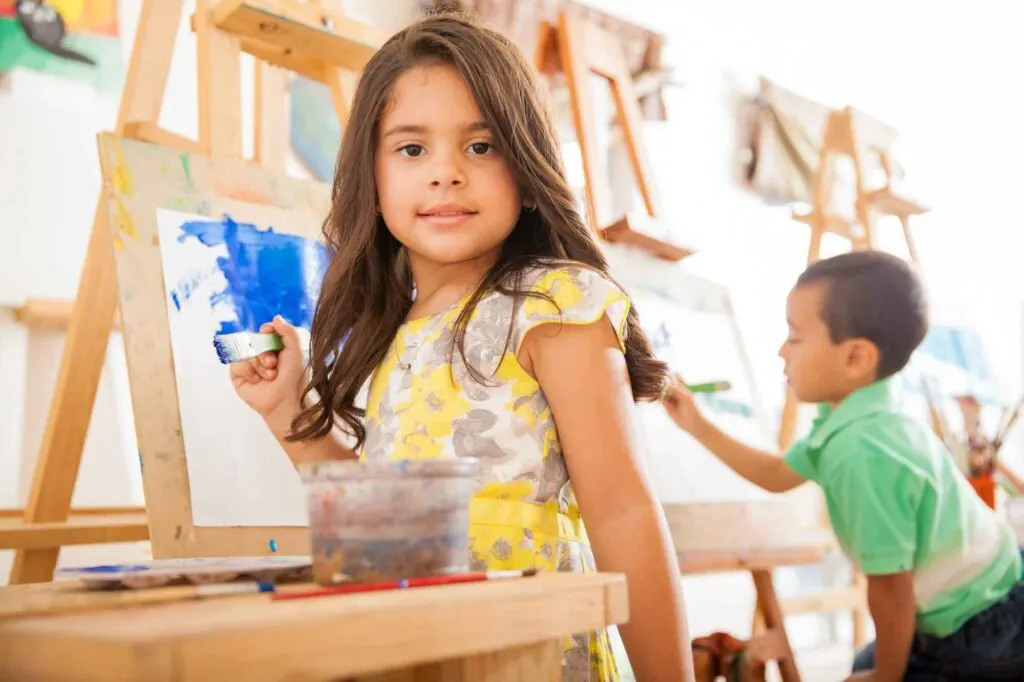 The Art Garage's child-focused art classes are some of the area's most popular and provide the perfect opportunity for your tots to meet new friends, experiment with creative expression, and take home a masterpiece.
Their list of featured mediums is virtually endless: clay, tie-dye, canvas painting, mixed media collage, mosaics, drawing, painting, fiber arts, and more!
Pottery painting is fun for all ages; Select from hundreds of pieces and paint colors, then when your creation is complete, the studio clear coats and fires the pottery, and it's ready for pick-up within the week.
More Fun Things to Do in Austin with Kids
Here are some more fun activities for kids in Austin City:
Make your way around Lady Bird Lake with a swan pedal boat
Get adventurous at iFly Austin
Check out dinosaur tracks at Austin Nature & Science Center
Hike up to Covert Park at Mount Bonnell and take in the view of the city and the Hill Country
Exercise in the 10-mile Ann and Roy Butler Hike-and-Bike Trail
Explore nature at Mayfield Park or Zilker Botanical Garden (located at Zilker Metropolitan Park)
Enjoy some indoor amusement at the Urban Air Trampoline and Adventure Park
Camp at McKinney Falls State Park (one of the best state parks near Austin!)
Push your limits at Austin Bouldering Project
Go bird-watching or come up with any other outdoor activity at Laguna Gloria
Hike around Barton Creek Greenbelt
Make a splash at Typhoon Texas Austin
Check out wild animals at Austin Zoo
Check out some biking trails (or hiking trails, of course) along the Colorado River
Did you enjoy this article about things to do in Austin with kids? Then share it with fellow parents who might also find it useful!