Austin, Texas, is an excellent destination of its own that should be at the top of your USA bucket list. However, its prime location lends itself well because there are many great day trips from Austin.
From beautiful state parks to historic small towns, you're bound to find at least one place that piques your interest on this list.
After all, the Lone Star State has no shortage of incredible places, right?
So, are you ready to visit some charming small towns in Texas? Read this article to learn all about the best places to visit near Austin after, let's say, a weekend in town—you'll love these suggestions!
The Best Day Trips from Austin
Below, learn about some of the best places to visit near Austin. Each one is just as great as the other, so you'll have a memorable day trip no matter which one you choose.
Day Trips from Austin Within a 1-Hour Drive
Gruene
Located 46 miles south of Austin, Gruene can be reached in a short 45-minute drive.
This town along the Guadalupe River has a strong German heritage and beautiful architecture, in addition to tons of fun things to do while you visit. It's most well-known for being home to one of the state's oldest dance halls, Gruene Hall.
Other fun places to explore in Gruene include the Winery on the Gruene, Landa Park, and Son's Island.
Be sure also to spend some time exploring the Gruene Historic District, which is filled with fun restaurants, stores, and forms of entertainment to keep you occupied for hours.
San Marcos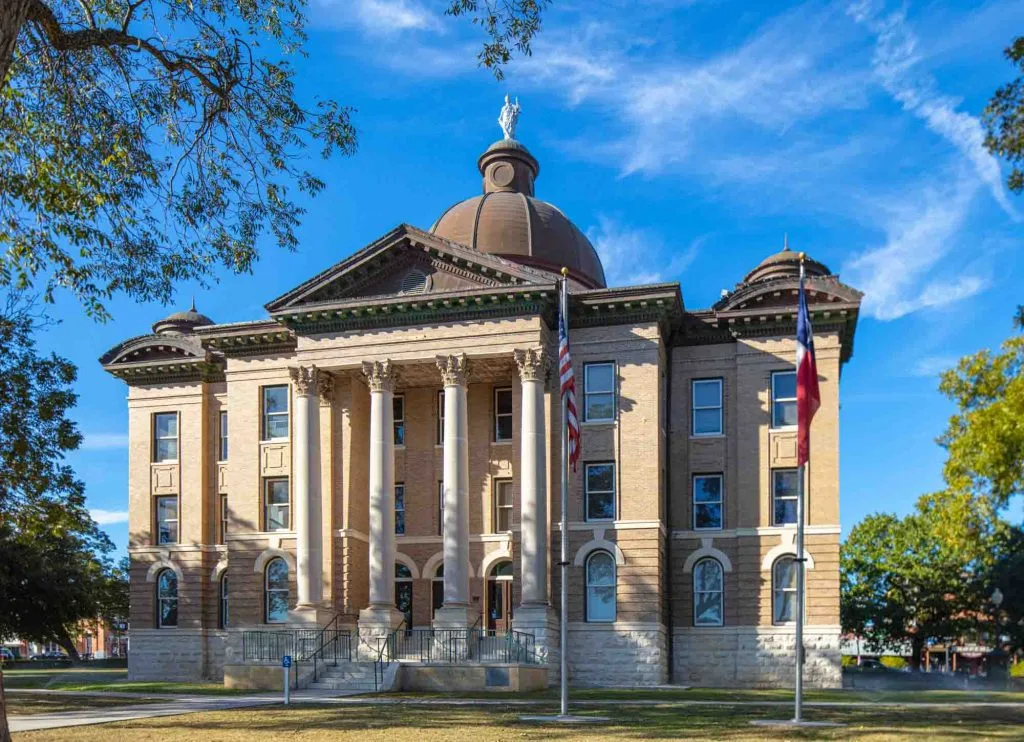 San Marcos is one of the best day trips from Austin, and it's only about a half-hour south, or 32 miles south of the city.
The town is known for being home to a college and has a historic Downtown, which is why it's so frequently visited.
Compared to other places to visit in the area, San Marcos is known for its outdoor activities. If you love spending time in the fresh air, this is the place for you.
Be sure to see a movie at the Stars & Stripes Drive-In Theatre and hike some of the trails at Rio Vista Park.
Oh, and Canyon Lake is right after this town, so you might want to combine the trip, especially if you're going in the summer months.
Round Rock
Next up is another of the best Austin day trips, Round Rock. It takes only a short 20-minute drive, or 19-mile drive, north to reach the city.
Round Rock is most well known for being home to lots of historic landmarks and tons of outdoor fun.
Round Rock is slightly bigger than San Marcos, so there is a bit more to do there in comparison. Some of the best places to visit here include Old Settlers Park, Rock'N River Water Park, and the Brushy Creek Regional Trail.
Georgetown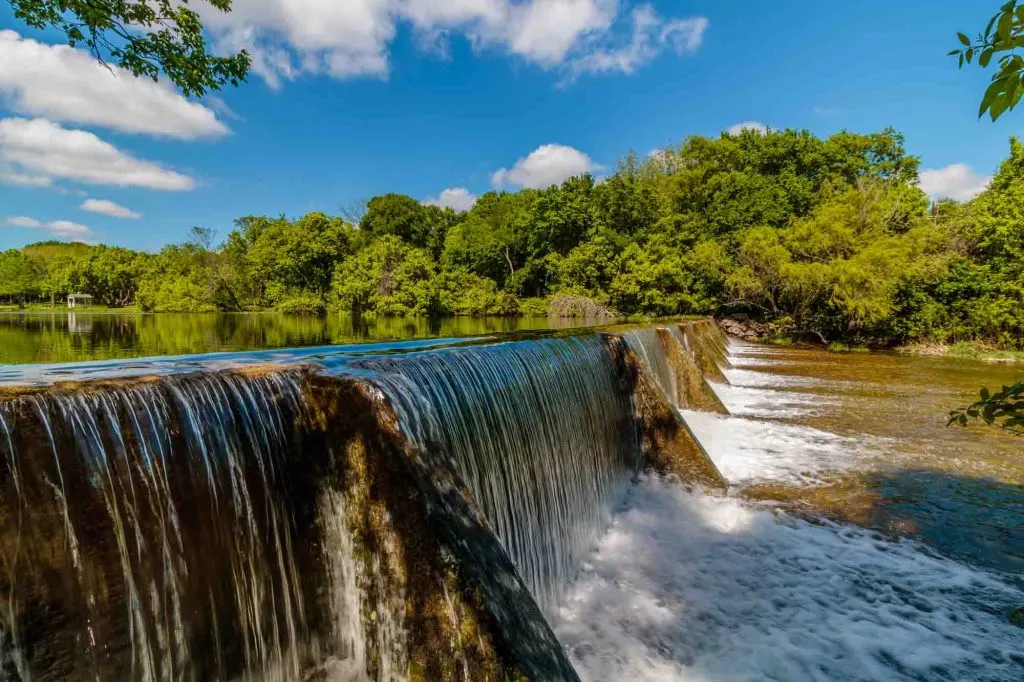 Georgetown is one of the easiest day trips from Austin, and it's only a 28-mile drive from Downtown. It can be reached in a short 30-minute drive north and is said to be one of the best day trips when you're visiting Austin.
One of the must-visit places in Georgetown is the Inner Space Cavern, a cave that's said to be millions of years old.
You'll also want to check out Cedar Breaks Park, Lake Georgetown, and Blue Hole Park if you have time. For a great meal, be sure to stop by Blue Corn Harvest Bar & Grill.
Lockhart State Park
Lockhart State Park is one of eighty state parks in Texas. While they are all incredible, Lockhart State Park is one of the top day trips from Austin that you won't want to miss. It's 40 minutes south, or 37 miles away.
The park officially opened to the public in 1948 and covers 264 acres of outdoor recreational activities. You can go fishing, camping, swimming, hiking, and even geocaching in this park.
For a fun day spent with Texas's nature, this is the place that you'll want to go.
Dripping Springs
Dripping Springs is 24 miles west of Austin or a 30-minute drive away. This is a smaller city to visit from Austin and has a population of just 4,000 people.
If you want to learn more about small-town Texas life, this is the place. You could even turn it into a weekend getaway from Austin if you want.
The city is most popular among tourists and locals because of its small-town feeling, shops, and scenery.
Be sure to explore Charro Ranch Park and the beautiful Hamilton Pool Preserve (our favorite natural pool in Texas), which will make you feel like you're on another planet. Deep Eddy Vodka Tasting Room is a great place to visit with friends too!
Johnson City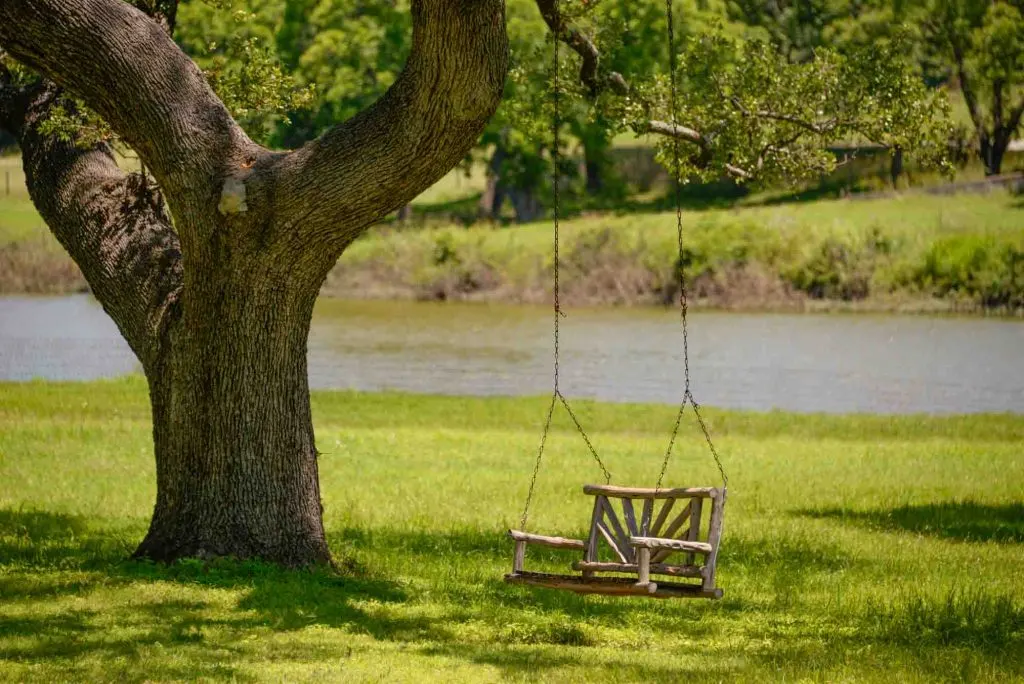 Johnson City is a bit further than other places on this list, about 48 miles or an hour's drive west of Austin.
However, don't let the farther drive sway you. This small town of fewer than 2,000 people is a great place to meet up with locals. Plus, it was the hometown of President Lyndon B. Johnson!
A lot of the fun things to do in Johnson City are outdoors. Some top sights include the Science Mill, Pedernales River Nature Park, and the Childhood Home of Lyndon B. Johnson. This town is filled with history, so soak it up!
Lake Travis
If you're looking for one of the best outdoor day trips from Austin, look no further than Lake Travis!
It's 20 miles north of Austin and can be reached by a 30-minute car ride. It's part of the Colorado River and is a great place to go for some water adventures.
At the lake, visitors can go swimming, boating, and participate in other water sports. The recreational center at Lake Travis also hosts many different events throughout the year, including dances and live music.
Be sure to check the calendar when planning your trip to see if there's something fun going on during your trip!
Longhorn Cavern State Park
Longhorn Cavern State Park is a great day trip or weekend trip from Austin and is an hour's drive away from Downtown, or 62 miles. The park was opened to the public in the early twentieth century.
One of the best things to do at this state park is to tour the caverns. Throughout the tour, you'll learn all about the history of them from a local tour guide, and the tour will last around ninety minutes or so. There are also tons of trails at this park!
Marble Falls
Marble Falls is just an hour outside of Austin, 48 miles away. This tranquil and charming city in Burnet County, Texas Hill Country, has a small population but is filled with beautiful nature.
You can go hiking, swimming, bird-watching, and even golfing within the town if that's what you're into.
If you have time, be sure to stop by the beautiful Lake LBJ or Lake Marble Falls to enjoy some outdoor activities.
Also, stop by some of the wineries that the town is most famous for. Fiesta Winery and Flat Creek Winery & Vineyard are two of the most popular, among others.
New Braunfels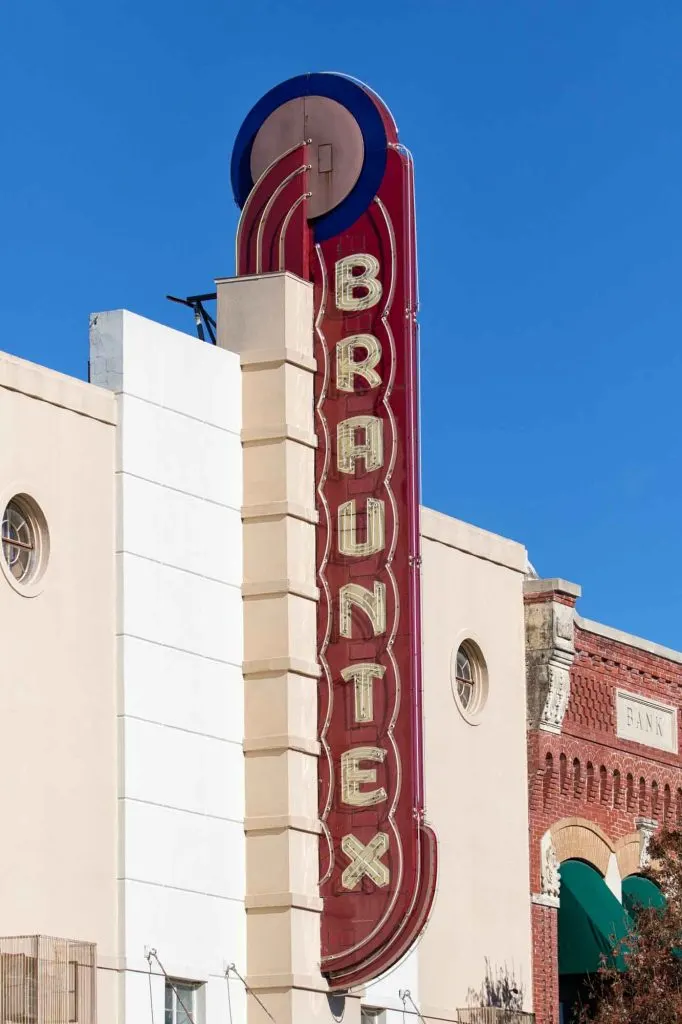 New Braunfels is only 45 minutes away from Austin, or 48 miles. This town got its namesake in 1845 and also has German roots like Gruene, making it one of the best day trips from Austin.
When visiting, be sure to stop by the New Braunfels Brewery and try some local ale. This is also a great way to support a local business.
If you have time, you'll also want to go on a tour of the breathtaking Natural Bridge Caverns.
Wimberley
Wimberley is located near San Marcos and is 38 miles away from Austin. It can be reached with a quick 45-minute drive and is one of the most picturesque parts of the entire state!
This town is an adventure lover's dream because there are so many outdoor places to explore. Take the time to check out the Blue Hole Regional Park and go hiking and visit Jacobs Well, a popular swimming spot.
San Antonio
Only an hour's drive south of Austin is San Antonio, 80 miles away. The route to San Antonio will bring you through other great towns on this list, so you could even make a weekend trip of it.
San Antonio is most well known for being home to The Alamo, which you should visit. If you're not a history fan, check out San Antonio River Walk, especially in the evening.
Austin Day Trips Within 2 Hours Drive
Luckenbach
Located 1.50 hours away, or 72 miles, Luckenbach is one of the best day trips from Austin. While it's a smaller community, it's most well known for being host to some of the best country music in the area!
Despite being a small town, Luckenbach is filled with some fun things to do. Be sure to stop by the Luckenbach Texas General Store and the National Museum of the Pacific War.
Stop by one of the local bars at night for some great music, and head to Heath Sparkling Wines for a delicious drink.
Brenham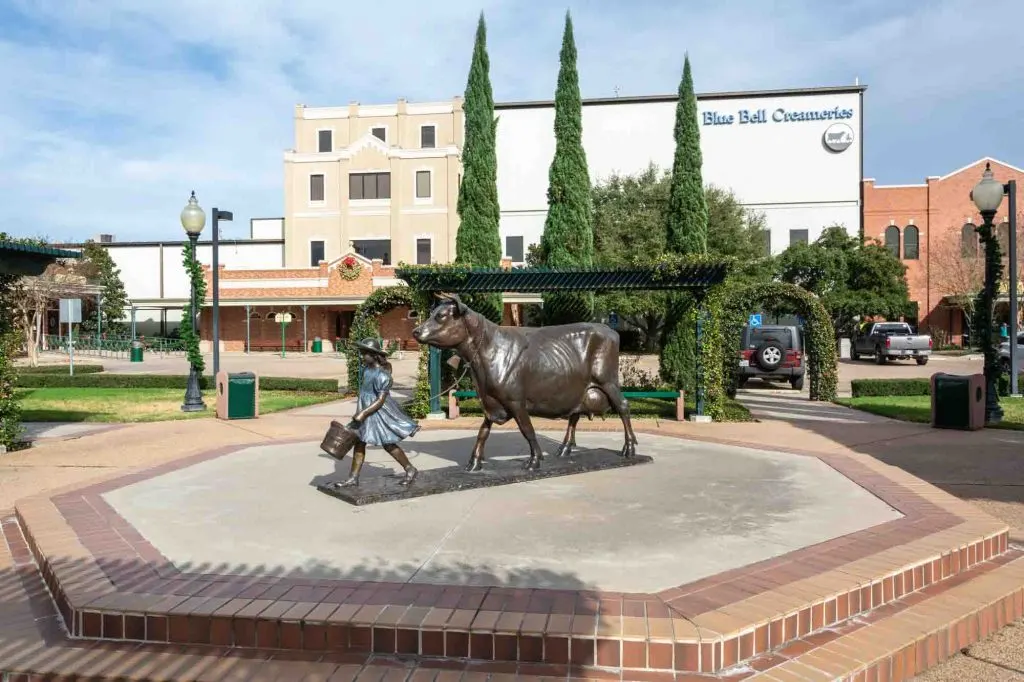 Brenham can be reached from Austin with 1.50 hours drive, and it's about 93 miles away. It can make a great day trip or weekend getaway from Austin, depending on how much time you have when visiting!
This town is filled with history and is also where the famous Blue Bell Creamery is located, making some delicious ice cream.
When visiting Brenham, some attractions you'll want to check out include Brenham Heritage Museum, Toubin Park, and the Giddings Stone Mansion if you have time.
Colorado Bend State Park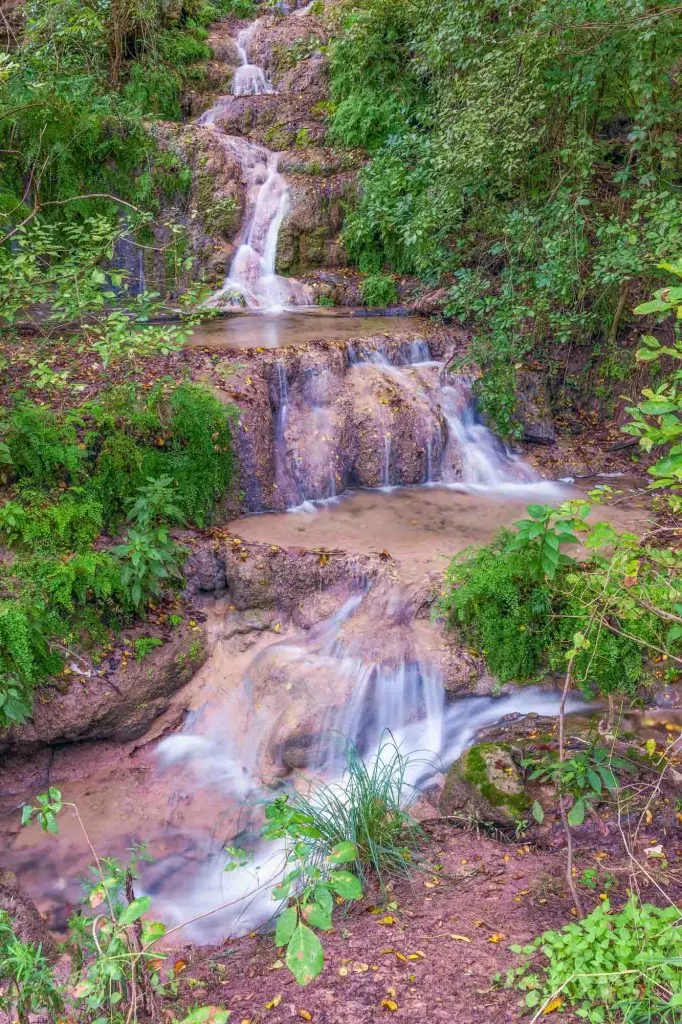 Another one of the best state parks that you can visit from Austin is Colorado Bend State Park. It's 2 hours away from Austin, or 103 miles.
This is truly a gorgeous park spanning more than 5,000 miles and is filled with unique outdoor areas just waiting to be explored by you.
It's located in Bend, Texas, which is a great place to situate yourself if you'd rather make a weekend trip out of it.
Within the park, there are lots of trails, lakes, and wilderness. Oh, and one of the best hikes in this park is the one up to Gorman Falls!
Fredericksburg
Another great way to spend a day if you want to get out of Austin is by visiting Fredericksburg!
It's 78 miles or 1.50 hours drive away from the city, so if you get up early in the morning, you can spend the whole day in the heart of the Texas Hill Country.
Beyond that, this German town is the best place to visit in all of Texas if you want to learn more about the state's history with wine by sampling some delicious bottles in one, or a few, of its wineries. Be sure to book a tour and visit at least one vineyard.
Pssst: Enchanted Rock State Park is not far from here, and it's one of the prettiest state parks near Austin with incredible hiking trails!
Waco
Last but not least is Waco. It's a little less than 2 hours from Austin or 102 miles. Many of the best things to do in Waco actually have to do with museums and history, so if you like either of those things, you're in luck.
When visiting Waco, you can't miss out on the Texas Ranger Hall of Fame and Museum and the Waco Mammoth National Monument.
Austin Day Trips More Than 2 Hours Away
Houston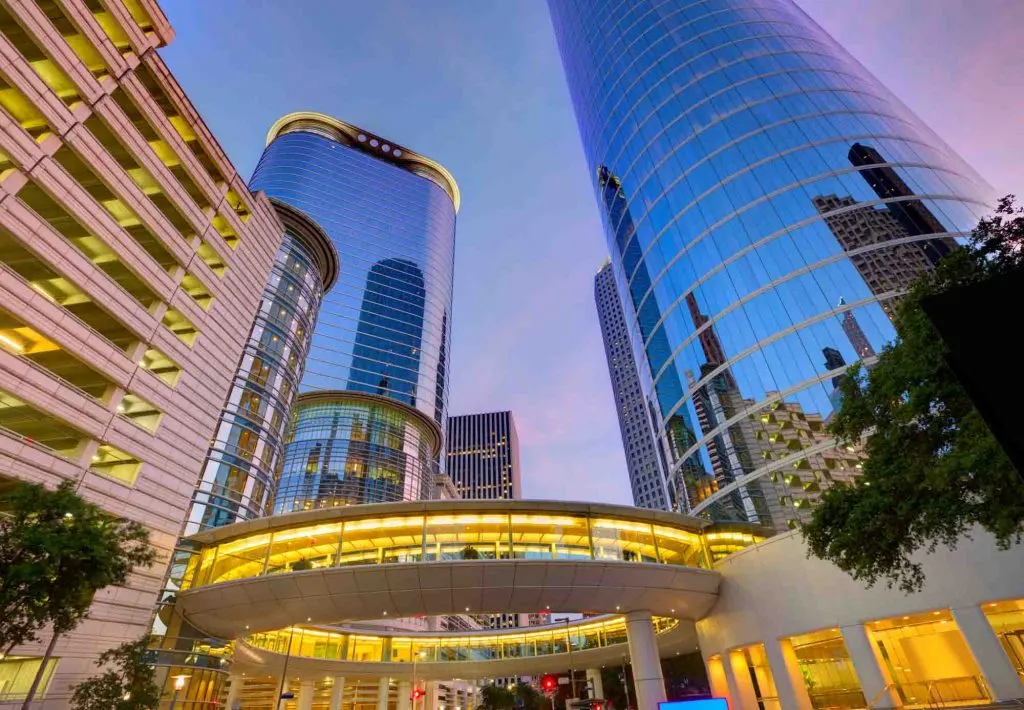 If you're up for a longer road trip, head to Houston. It's almost 3 hours away, or 165 miles, but it's well worth the visit. It's a huge city and is most popular for being home to the NASA Space Center, which you can't miss.
With a bit more time, you'll also want to check out the Houston Museum of Natural Science, the NASA Johnson Space Center, and the Museum of Fine Arts.
Wrapping up on Fun Day Trips from Austin
As you can see, Austin is a perfectly located city in Texas with many day trip opportunities.
Beyond that, Texas itself has excellent natural landmarks, beautiful cities, and charming towns that are only a short ride away. We hope you enjoy your trip to Austin!
Latest posts by John Oakley
(see all)