Bluebonnets in Texas are one of the area's lesser-known but no less stunning natural wonders, appearing every spring to dazzle drivers and passersby all across the state.
We're breaking down 12 of the best places to catch sight of these vibrant blooms, from wildflower farms to scenic drives to full-blown bluebonnet festivals.
Whichever destination you choose, you're sure to enjoy all the spoils of springtime in the Lone Star State–charming vistas, excellent weather, and flocks of friendly Texans and tourists enjoying the sunshine.
12 Best Places to See Bluebonnets in Texas
So grab your cameras and your most festive, floral outfits, and get ready to tour the masterpieces of Mother Nature on this guide to spot the official state flower!
Texas Bluebonnet Season
The Lone Star State has plenty to see year-round, but wildflower season is an extra special time, drawing eager crowds to roadside fields and sprawling farms to catch some of the colors.
Your best chance of spotting these beautiful blue flowers is from late March through early May, although the exact time window is dependent on factors like weather and soil quality.
Bluebonnets actually complete most of their development during winter, and it's the springtime rain and warmer weather that bring out their buds.
That means a cooler spring will result in delayed wildflower blooms, while a wet winter and moderate early spring set the stage for perfectly predictable bluebonnet fields.
Generally, the peak of the season takes place in early to mid-April, so try to time your trip around then!
Bluebonnet Best Practices
Although flower viewing seems pretty straightforward, there are a few do's and don'ts to keep in mind while visiting Texas' wildflowers.
DON'T stop abruptly on the side of a highway.
Texas drivers love to go fast, and although the bluebonnet fields that crop up on medians and alongside busy roadways may seem tempting, it's never smart to just pull over and start snapping photos.
DON'T disturb the bluebonnets.
Many Texas wildflowers (including bluebonnets) are annuals, which means they only reseed once a year. If they're picked or trampled before they can do so, they won't return the following spring. Leave the flowers as you found them, so everyone can enjoy them for many seasons to come.
DO watch out for wildlife.
Bluebonnets aren't the only things in those fields. Chances are, there are plenty of insects and critters living among the flowers, including venomous snakes. Enjoy the scenery, but always be alert!
DO visit wildflower hotspots on weekdays.
No matter how out of the way they may seem, many of these destinations get crowded, especially on public holidays and weekends. If you're able to visit outside of peak hours, you'll enjoy shorter lines and fewer people in the backdrop of your bluebonnet pictures.
Where to See Bluebonnets in Texas
Ennis
Ennis is an easy go-to when it comes to viewing bluebonnets in Texas, located just 40 minutes outside Dallas and boasting both an extensive system of driving trails and a festival dedicated to the wildflowers.
In fact, Ennis was designated by the 1997 State Legislature as the home of the Official Texas Bluebonnet Trail and even holds the title of the Official Bluebonnet City of Texas!
There are more than 40 miles of free, car-accessible routes to explore, open every year from April 1-30. The Ennis Garden Club keeps a close eye on the status of the bluebonnets and can always tell you the latest updates as well as where to catch the best blooms.
Can't get enough of the colors? The Ennis Bluebonnet Trail and Festival takes place on a weekend in early April and features live music, local arts and crafts vendors, wildflower walks, and firework displays. Admission is just $5 for adults and children 12 and under get in free.
Burnet
While Ennis claims the title of the "Official Bluebonnet City of Texas," Burnet has an accolade of its own–the "Bluebonnet Capital of Texas." Clearly, both have plenty to offer in the way of wildflowers.
Found 1-1.5 hours outside of Austin, this otherwise sleepy Texas town springs to life on the second weekend in April as the site of one of the state's largest bluebonnet festivals.
Here, any traveler will find tons to do, like pet parades and fun runs, live music and dancing, and plenty of shopping for handmade arts and crafts, local spirits, and good food galore.
Even if you don't attend the festival, you'll find bluebonnets strewn all across Burnet during the springtime.
The most picturesque spots (if we had to choose just a few) are Haley Nelson Park, Burnet Municipal Airport, and Wallace Riddell Park.
Brenham
Situated about halfway between Austin and Houston (1.5-2 hours driving), Brenham is an excellent weekend destination for escaping the big city and enjoying some wildflowers while you're at it.
When you arrive, swing by the Downtown Visitor Center, where you can find maps and advice on scoping out the best bluebonnet bloom in Texas. Each spring, the city also keeps a regularly updated Wildflower Watch, complete with updates and driving routes.
Each year, some of the most reliable patches can be found heading north on Highway 36 and along the smaller turnoffs (like FM 390).
While in Brenham, it's also worth stopping by the nearby Washington-on-the-Brazos State Historic Site, where the Texas Declaration of Independence was signed in 1836!
Llano
Any fan of Texas bluebonnets has certainly heard of Llano, a Texas small town found 1.5 hours outside of Austin.
Surrounded by a handful of other spots on this list, like Burnet, Wildseed Farms, Turkey Bend, and Marble Falls, Llano is the perfect base for a weekend full of spring wildflower viewing.
You can head in any direction from the town center and find fields of bluebonnets.
According to wildflower watchers, the best routes to see roadside fields carpeted in blooms are Highway 16 north out of Llano to Babyhead Cemetery, along Highway 17 toward Pontotoc, or Highway 29 (east or west of town).
There are also lots of dirt roads around that will lead you to more secluded spots, so keep an eye out!
Washington County
This stretch of the Lone Star State must have been a favorite stop for Mother Nature because it holds the creme de la creme of viewing spots for bluebonnets in Texas.
Winding through Brenham, Burton, and Chappell Hill, Washington County holds more than 70 miles worth of bluebonnet trails. In the latter town, you can even attend the official Bluebonnet Festival of Texas.
It's held on the second weekend of April every year and boasts live music, local vendor booths, tours of the community's historic buildings, and tons of family-friendly activities. Perhaps best of all, admission is completely free!
Around the area, there are also practically unlimited options to enjoy the great outdoors. Explore strange underground worlds at Longhorn Cavern (a great Texas state park), jet ski at Lake Marble Falls, or take a dip in the refreshing waters of Krause Springs.
Wildseed Farms
No list of the best places to see bluebonnets in Texas would be complete without a mention of Wildseed Farms, the largest working wildflower farm in the United States.
Found just outside Fredericksburg near Highway 290 and 1.5 hours from Austin, this charming venue is full of picturesque activities.
Of course, the bluebonnets are one of their main springtime attractions, as their 200-acre property fills up with wildflowers of all kinds–red corn poppies, rocket larkspur, and even giant sunflowers later in the summer.
Wildseed's walking trails and gardens are free and open to the public year-round, so you can get close up with all the blooms. Butterfly gardens, water features, and scenic sitting areas are also dotted throughout.
To wind down afterward, sample some wines from the onsite vineyard, proudly produced from delicious Texas Hill Country grapes.
Marble Falls
Marble Falls is already known as a haven of natural wonders, and the springtime bluebonnets in Texas only add to its jaw-dropping beauty.
Even better, such incredible nature can be found less than an hour outside Austin.
Marble Falls is actually one of 6 popular small-town stops along the Highland Lakes Bluebonnet Trail, a DIY driving tour that takes around 2 hours from start to finish, but extra if you plan on stopping for photos.
The best non-floral highlight? A stop at the Blue Bonnet Cafe, a beloved local institution that serves just the Southern comfort food you'll be craving after a long day of sightseeing (think homemade soups, decadent pot roast, and world-famous pies).
Kingsland
While bluebonnet fields are undoubtedly beautiful, it can make for even cooler photos to see them in a different kind of setting.
In Kingsland, the state flower grows in all kinds of picturesque small-town spots–over old train tracks (off RR 1431 near County Road 321), along the banks of the Llano River, and around the Hoover's Valley Chapel and Cemetery.
This destination is just over an hour outside Austin and also offers sprawling vineyards, lake activities galore, and even The Antler's Inn, a 1901 property where you'll find the house featured in the classic "Texas Chainsaw Mas sacre."
Poteet
Although it's just 30-40 minutes from San Antonio, Poteet is one of the lesser-known spots to find bluebonnets in Texas. Of course, that means you'll be greeted with fewer crowds!
It's better recognized as George Strait's birthplace and the site of an annual Strawberry Festival (also held in the spring!), but their wildflower fields can compete with even the most popular spots on this list.
For picture-perfect portraits, hit the Rolling Oaks Mall. For bluebonnets in a more natural setting, Eisenhower Park definitely delivers.
You can also drive around the outskirts of the city to find wildflower patches or take a longer Texas road trip through the area between I-37 and I-35, traversing the towns of Pleasanton, Devine, and Somerset.
Turkey Bend Recreation Area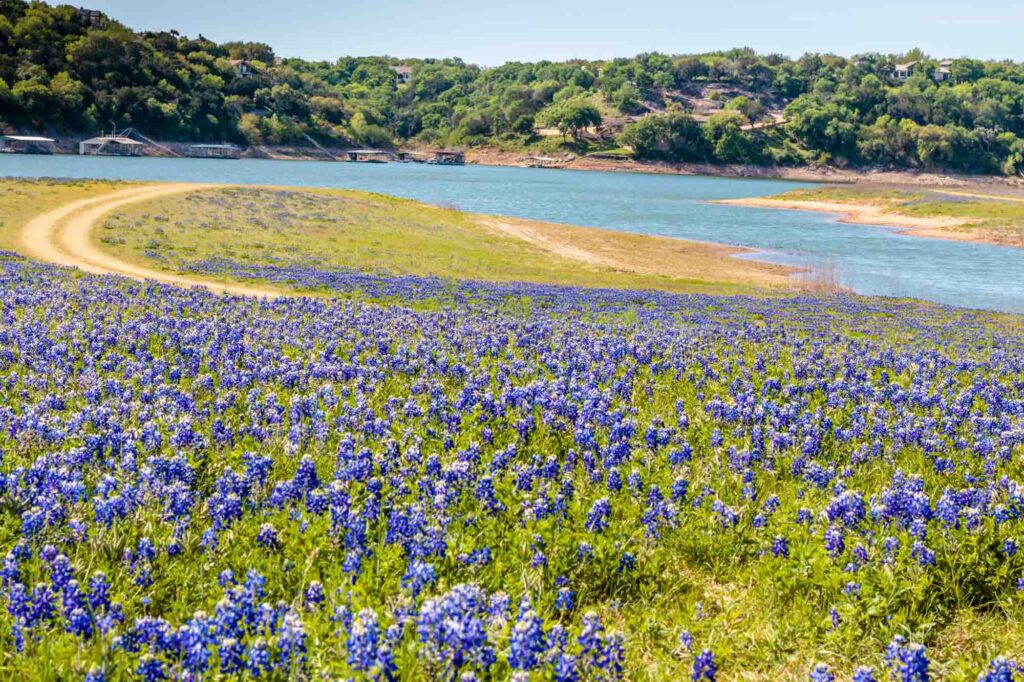 This spot boasts so many beautiful blooms that Turkey Bend and bluebonnets in Texas are practically synonymous. Every spring, a staggering 1,000 acres fill up with wildflowers. (And not just the Texas state flower, but also bright clusters of Indian paintbrush and white poppies).
Within the park, you can also kayak, canoe, swim, picnic, or set up camp for a night and catch the bluebonnets under a stunning Texas sunset.
To get there, it's a quick 1-hour drive from Austin, then a park entrance fee of $5 per person (kids 12 and under get in free).
Got time to spare? Visit the neighboring Balcones Canyonlands National Wildlife Refuge to enjoy sweeping vistas, rugged hikes, and the chance to get up close and personal with native flora and fauna.
Muleshoe Bend Recreation Area
Less than an hour outside downtown Austin, Muleshoe Bend is an easy day trip, although the stellar views may inspire you to stay at least a night or two.
The recreation area runs beside a stretch of the Colorado River, which means the bluebonnets grow right along the tranquil waters, making for a scene straight out of a storybook.
Around 10 miles of hiking and biking trails will take you through this scenic landscape. It's a great space to spread out and find your own patch, especially if you're hoping to escape the crowds of photo-takers that typically flock to bluebonnet fields.
The park entrance fee costs $5 per person, and kids 12 and under get in free.
Willow City Loop
Bluebonnets in Texas don't get much better than this! The Willow City Loop is one of the state's most popular spots, and deservedly so.
The 13-mile Texas scenic drive takes you through the best of Hill Country nature–rolling hills, lush ranchland, and of course, the fields of wildflowers that have made it so famous.
You can make your way through the loop in either direction, but we recommend going north to south, which leaves the most scenic part (and densest patches of bluebonnets) for last.
Such impressive vistas, unfortunately, come equally as impressive crowds. Drive the trail on a weekday if you can, as weekends can mean sitting in bumper-to-bumper traffic (albeit with excellent scenery to distract you).
Afterward, enjoy authentic German cuisine and award-winning wineries in nearby Fredericksburg (just 30 minutes away), or drive roughly 2 hours into Austin, the Live Music Capital of the World.
Now you're ready to see bluebonnet in the spring! Pack your camera and a good mood, and prepare to see the beauty of these blue flowers!