New Orleans is a bustling city that has you covered if your idea of a weekend away involves the classic trio of eating, drinking, and being merry.
Our New Orleans weekend itinerary will guide you through this historic city, whether it's a girls' weekend, a romantic break, or a family vacation with the old folks.
Settled since the eighteenth century, New Orleans is ideal for a getaway – in one weekend in New Orleans, you can experience magnificent architecture, incredible museums, mouth-watering cuisine, laid-back music, and endless shopping.
Read on to discover the must-see sights and the essential eats for your weekend in New Orleans.
Where To Stay in New Orleans
Many unique hotels offer top-notch comfort, from unique boutique hotels to simple but practical properties. Here's a quick answer for the top three places to stay in the city, but if you want a detailed review, you can read our guide on where to stay in New Orleans:
Pontchartrain Hotel St. Charles Avenue: This charming boutique hotel in the Lower Garden District is just a few steps away from a streetcar station and is in a quiet area. The rooftop bar offers incredible views of downtown and the Mississippi River.
The Jung Hotel and Residences: This 3-star hotel in the French Quarter is near many attractions and restaurants. The rooms are spacious, comfortable, and have air conditioning.
Wyndham New Orleans French Quarter: This 4-star hotel is within walking distance to Bourbon Street, Jackson Square, and many New Orleans attractions. Great location and amenities: heated indoor pool, fitness center, self-service laundry, and more.
When To Visit New Orleans
Whether you're planning your visit to New Orleans to coincide with a festival or just wanting to explore the city's rich history, there's something to do whatever time of year you plan your weekend in New Orleans.
New Orleans In Winter
December and January mark the sweet spot for a visit to New Orleans. The city is cool, calm, and relatively quiet – you don't need to make hotel reservations a year in advance.
Temperatures range between 40 and 65⁰F, so you'll need a jacket and boots to layer up in the chilly dampness. Aim to visit during the holiday season to delight in the seasonal decorations, take in a sporting event, and celebrate a New Year like no other.
New Orleans In Spring
New Orleans is getting a little warmer and busier by February or March. You're hitting Mardis Gras season with your weekend in New Orleans.
Plan a year in advance to get the best hotel deals. Some of the city's tourist attractions close down during Mardis Gras, so organize your sightseeing around this exciting festival.
Spring is the prettiest time to visit New Orleans, with flowers beginning to bloom and daytime temperatures sometimes reaching the upper 70s. Pack comfortable shoes and a rain jacket in case of spring showers. Don't forget your festival costume!
Spring also brings the annual Tennessee Williams/New Orleans Literary Festival.
Late Spring heralds jazz festival time with Jazz Fest, so plan your visit for May if you're a music fan. Pack your sunglasses and shorts as the temperatures rise.
New Orleans In Summer
This beautiful city sizzles in summer, with the mercury hitting the mid-70s to upper 90s.
You can get excellent hotel deals between June and August, so if you don't mind the heat, humidity, and summer storms, plan a weekend in New Orleans.
You'll spend a lot of time sipping cocktails around the pool, so make sure you've got a bathing suit and sun hat. Keep an umbrella handy for venturing out in the afternoon rain to sample the cuisine.
New Orleans In Fall
Fall brings a welcome relief from the oppressive heat and is the busiest time for New Orleans. The city is thronged with tourists enjoying the treasure trove of sports events and festivals between September and November.
Temperatures drop from the mid-70s to the mid-50s, and you can expect rain. Fall is hurricane season down south, so keep an eye on the weather reports.
How We Structured This New Orleans Weekend Guide
First, we will talk about our perfect 2-day New Orleans itinerary with tips on what to do, see, and eat.
But, if you actually have 3 days in New Orleans, so a long weekend, you will want to read our suggestions on what to do on that last day of your trip. Enjoy!
New Orleans Itinerary – Day 1
The first day of your New Orleans weekend itinerary explores the French Quarter, one of the city's most historical and cultural neighborhoods.
The so-called Crown Jewel of New Orleans, the French Quarter, could keep you busy for a week, but one day is enough to experience the joys of this romantic, Bohemian area.
Bite Into Breakfast At Café Du Monde
Beignets, those crispy-edged fried pastries with a pillowy middle, are an essential part of New Orleans cuisine.
Start your weekend in New Orleans with a cup of chicory-rich café au lait and beignets (three on a plate) at the legendary Café du Monde.
Watch the riverside city wake up from your table, or carry your still warm pastry to a bench on Jackson Square (General Andrew Jackson, not Michael) and enjoy the fresh morning.
If you're in need of a heartier breakfast, head to Brennan's, another of New Orleans' famous eateries. Their signature breakfast is Eggs Hussarde, a unique spin on Eggs Benedict, and their Brioche French Toast is heavenly.
Take A Pew At St Louis Cathedral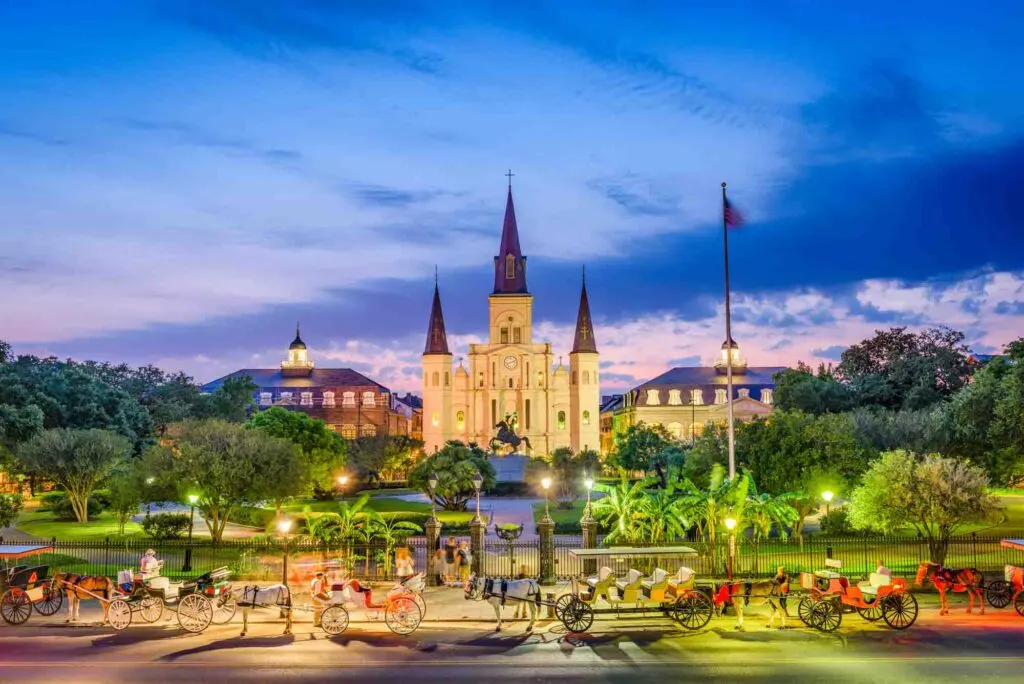 Across from Café du Monde, you'll notice the impressive butter-colored façade of St. Louis Cathedral.
Wander across Jackson Square and take time to reflect and relax in this historic church. The back garden is haunted by Marie Laveau, a devout Catholic who is better known as the Voodoo Queen.
Look out for the imposing statue of Jesus, with its missing thumb, a reminder of Hurricane Katrina.
Immerse Yourself In Louisiana's History At The State Museums
St Louis Cathedral is flanked by two magnificent Louisiana State Museums, both worth of which are worth visiting.
On the left, you'll find the Cabildo, which once housed the Spanish colonial administration and is where the Louisiana Purchase was signed.
The landmark building houses a wide range of exhibits on the history of Louisiana and the New Orleans French Quarter in particular. Most people leer at Napoleon's death mask, but there are many other fascinating exhibits.
In a matching building, you'll find the Presbytère, which, as its name suggests, was built on the site of a Capuchin monastery.
Once a commercial building and then a courthouse, this branch of the Louisiana State Museum celebrates the culture and vibrancy of the Mardi Gras.
The extraordinary Mardis Gras tradition comes alive through an interactive, high-tech exhibition, offering the virtual experience of riding a float through the city.
Marvel at the enchanting collection of Mardis Gras memorabilia and learn about the ancient origins of the present-day phenomenon.
Munch On A Muffuletta From Napoleon House
By now, you should have worked up an appetite for lunch, and you can't go wrong with a muffuletta from Napoleon House.
Two people are needed to tackle this sumptuous Italian sandwich stuffed with cheese, cold cuts, and olive salad.
Wander down to the riverbanks of the Mississippi, and share the sandwich picnic-style as you watch the ships and steamboats pass by.
An alternative lunch venue is the Farmer's Market Pavilion, part of the French Market. Packed with fresh, local produce, the Farmer's Market has delicious food, drinks, sweets, and snacks to suit any palate.
Meander Through The French Market
A walk through the French Market is essential for souvenirs of a weekend in New Orleans. This charming open-air market offers traditional and modern art, crafts, and shopping.
Starting in 1791 as a Native American trading post on the Mississippi River, the French Market has seen vendors from France, Spain, Africa, and the Caribbean.
Designed by African-American architect Joseph Abeilard in the nineteenth century, the bazaar-like structure now houses a melting pot of specialty stores, butcheries, coffee shops, and souvenir sellers.
Amble Through Art, Antiques, And Architecture On Royal Street
If you've still got a thirst for shopping, head to Royal Street, a pedestrian area lined with high-end antique shops, art galleries, and boutiques.
Take a moment to admire the architectural heritage of the French Quarter, then stroll back into MS Rau, a century-old antique store that houses items both sublime and ridiculous.
When you've blown your budget, marvel at the talented and colorful street performers, buskers playing mournful saxophones, and swallows gliding above Royal Street.
Take A Tailored Tour in New Orleans
History buffs and ghost enthusiasts, or those who aren't enamored with shopping, can spend the afternoon ghost hunting or taking one of the many themed guided tours of the French Quarter and surroundings.
After all, NOLA is considered one of the most haunted cities in America.
You'll find literary tours, ghost tours, LGBTQ history tours, and tours on various vehicles, including bikes and segways.
Art-lovers should look out for walking tours, including Woldenberg Park, filled with sculpture installations.
Here are our favorite tours in NOLA:
Sip A Cocktail On Bourbon Street
As dusk falls, hop in a cab and take in the near-mythical Bourbon Street. Unless you're a diehard fan, you may find Bourbon street a little wild and touristy later at night.
Early in the evening, you can feel the noisy, flashy vibe that makes Bourbon Street a must-see sight on any New Orleans weekend itinerary.
Enjoy a pre-dinner cocktail – the Hurricane is the specialty – on the lively patio at Pat O'Brien's.
Dive Into A Wonderful New Orleans Dinner
The delightful French Quarter is rich in famous restaurants, some a century old.
Indulge in Oysters Rockefeller at Antoine's, a delicious Creole gumbo at Arnaud's, or shrimp roulade (or traditional French dishes) at Galatoire's.
Or make a reservation at Brennan's if you didn't have breakfast at this iconic restaurant, named after the famed first family of New Orleans.
Relax To Slinky Jazz At Preservation Hall
Still not tired out from the first day of your New Orleans weekend itinerary?
The French Quarter is home to arguably the most famous jazz club in the city, Preservation Hall, where you can sit back and savor some traditional jazz.
For late-night revelry, move on to the Jazz Playhouse, where you get your music with a side of burlesque.
New Orleans Itinerary – Day 2
For the second day of your New Orleans weekend itinerary, you explore more magnificent old neighborhoods, the Garden District and Uptown New Orleans. Enjoy the quiet oak-lined streets and ancient architecture for a relaxed, lazy day.
Ride The St Charles Streetcar
No, we haven't forgotten breakfast! Instead, start the day with a breezy morning ride on the St Charles Streetcar, the world's oldest continuously operating streetcar.
Your journey from Uptown takes you past gorgeous, ornate mansions, the university, and Audubon Park.
Marvel at the mahogany seats and brass fittings, the open windows (no AC here), and the sprawling oak trees lining the gracious old road. For a full day of public transport, buy the JazzyPass.
Find A Brunch Feast At Commander's Palace
The legendary Jazz Brunch at Commander's Palace is an award-winning dining experience, only available on Saturdays and Sundays.
Sample delights from the Creole-inspired menu, or enjoy Chef Meg's Brunch Package, complete with Bloody Mary.
Commander's Palace has been around since 1880, seen celebrity chefs come and go, and has an old-world dress code to match – don't turn up in your shorts and sandals.
Wander Through The War Museum
If your brunch doesn't send you directly for a nap (it goes on until 2.30), spend a couple of hours at the National World War II Museum.
This fascinating museum tells the story of the war through the eyes of veterans, a very moving experience. Airplane fans of all ages will enjoy My Gal Sal, the restored B-7 bomber that "flies" from the roof.
Take A Gander At The Garden District
History not your bag? Take a tour of the Garden District, which is best done on foot or by bike.
If you're interested in architecture and beautiful homes, you can compare buildings created in all major styles, from Queen Ann to Greek Revival and Gothic to Swiss Chalet.
Grab Lunch At The Camellia Grill
When your brunch wears off, or you need to take a break from the historical, take the streetcar to The Camellia Grill, which you'll find on Carrolton Avenue.
This stalwart eatery, dating back to 1946, has seen it all. Order a hot sandwich or cheeseburger if you still have the room, or enjoy the warm pecan pie and a cup of coffee. You might catch a glimpse of Harry Connick, Jr.
If you're an early morning person, The Camellia Grill opens at 8, so you can enjoy a breakfast of waffles, hashbrowns, grits, and bacon, and pass on the Jazz Brunch.
Meet Old And New At Magazine Street
Magazine Street offers five miles of exquisite boutiques, curious thrift shops, and weird antique and junk shops.
There are souvenir shops galore (with edible souvenirs like hot cause and spices) and several places to stop for coffee or something more substantial.
Read next: Incredible Small Towns in Louisiana
Get Gothic At Lafayette Cemetery
Fans of Southern Gothic and anyone interested in history can turn down the temptations of Magazine Street and cross the street from Commander's Palace to Lafayette Cemetery.
The ambiance is peaceful, not creepy, and the gravestones make for fascinating reading. There are four matching mausoleums belonging to four childhood friends.
Unfortunately, Lafayette Cemetery requires maintenance, which the city is undertaking – check whether the cemetery is open to the public before you put this landmark on your New Orleans itinerary.
Partake Of a Po'Boy On Magazine Street
You may have brunched and/or lunched (no judgment here), but Magazine Street has several fabulous eateries to enjoy.
You have to try a po'boy, a traditional New Orleans sandwich made with French bread stuffed with roast beef or fried seafood. You'll get unbelievable sandwiches at Stein's Market and Deli.
For a more upmarket dining experience, try La Petite Grocery or Coquette, both serving magnificent Southern Food with a twist.
Love The Nightlife At A Nightclub
After dinner, take a cab to a nightclub and catch a local band at the Maple Leaf, Tipitina's, or Le Bon Temps Roule. If you're lucky, the Rebirth Brass Band or the Soul Rebels Brass Band will be playing.
If you can't find your groove there, head across to Frenchmen Street in the Faubourg Marigny District. There are plenty of nightclubs and jazz bars to while the night away as you round off your weekend in New Orleans.
Have 3 Days in New Orleans? Here's What You Can Do!
Visit City Park: stroll around one of the biggest urban parks in the country, covering 1,300 acres!
Learn About Louisiana's Dark History: go on day trip from New Orleans to one of the plantations in NOLA that show the ugly history of the region and have since been transformed into a slavery memorial. This way, you can learn about and pay respect to thousands of West Africans who were enslaved and yet somehow managed to shape the culture of New Orleans. This is a chapter of history that should never be forgotten. The main plantations in the area: are Whitney Plantation and Laura Plantation. Unfortunately, Oak alley used to dress their employees in Antebellum clothing until recently, so we can't recommend them.
Learn About Louisiana's Musical History: The New Orleans Jazz National Historical Park is a renowned national park in Louisiana and hands down one of the best places to visit in the south.
Munch on More Beignets: because they are delicious! Head over to Cafe Beignet on Bourbon Street for your extra dose of beignets!
Get Some Drinks in Rooftop Bar: Hot Tin is a wonderful woman-owned rooftop bar atop the Pontchartrain Hotel St. Charles Avenue. The views are incredible!
Explore the Pirates Alley: Andrew Jackson and William Faulkner lived here. Today, it's a lovely place to shop and sip some coffee.
New Orleans Itinerary Summary
We made a handy summary of this New Orleans itinerary to make your life easier. Still, you will want to bookmark this page to check all the details later on.
Day 1
Day 2
Did you like this weekend in New Orleans itinerary? Then share it with a dear friend who might like it too!
Latest posts by Victoria Green
(see all)