Spending just a couple of days in Texas' cultural center without a serious case of FOMO is a daunting task. Still, we've put together the perfect itinerary for a weekend in San Antonio to help you make the most out of your visit.
Only in a city like San Antonio can you find tons of Texas history, Mexican culture, and gorgeous, artsy spaces, all within walking distance of Downtown.
In this guide, we're breaking down the best San Antonio has to offer, from the more obvious tourist attractions that just can't be missed to some quirkier activities for the offbeat traveler.
From stunning Spanish missions to colorful river cruises to fun takes on Tex Mex, a weekend trip to San Antonio is sure to be action-packed and full of plenty of opportunities for learning, lunching, and lounging.
So history buffs, art aficionados, and foodies alike–save this San Antonio itinerary and use it the next time you're spending a few days in everyone's favorite sunny Southern city!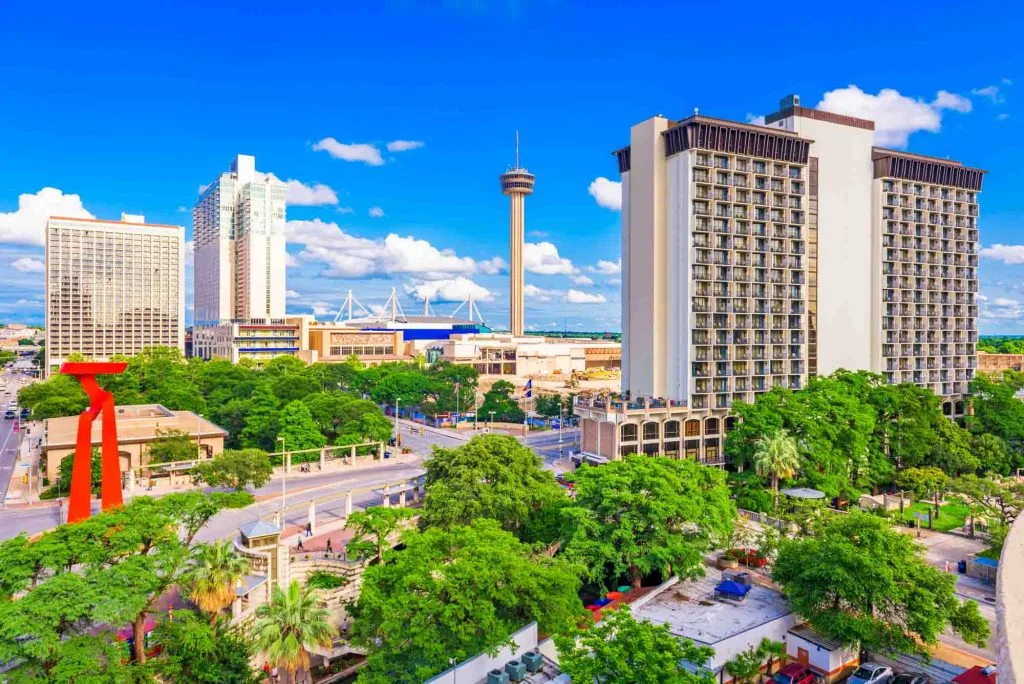 When to visit San Antonio
A weekend in San Antonio is a good idea any time of the year, but there are definitely a few things to consider while you're planning, like special events that take place in certain months.
Here's a breakdown of what weather and activities you can expect in each season.
Summer
San Antonio is in full swing in the summer. The weather is hot (often scorching), the San Antonio restaurants are full, and tours are usually booked up.
However, like any Texas city, San Antonio is properly equipped to ensure visitors stay cool as temperatures hover in the 90s. Theme parks and water parks are popular in this season, and the shade along the River Walk will keep you from melting.
The Fiesta Noche del Río, the country's longest-running outdoor musical event, is held each summer and features music and dance from Argentina, Spain, Mexico, and Texas. Definitely don't miss it if you're in town!
Read next: 27 Summer Vacations in the USA
Fall
Fall in Texas brings slightly cooler temperatures, but it can still be quite hot for travelers not used to the states' weather.
This is the season for all things arts and culture. Check out the World Heritage Festival every September for trivia nights, concerts, and special exhibits at the San Antonio Missions.
San Antonio goes all out for Halloween, with events across the city. Fright Fest at Six Flags, massive costume parties, and Dia de Los Muertos celebrations are all worth a try.
Read next: Cozy Fall Destinations in the USA
Winter
San Antonio winters are generally mild but travel with extra layers just in case. This is the quietest time of year for tourism, so you'll enjoy smaller crowds, shorter lines, and cheaper hotel stays.
Christmas in San Antonio is a magical affair as the city lights up and hosts a range of parades, festivals, and holiday events. The Ford Holiday River Parade is a must-do, and the decorations along the River Walk keep things festive all the way from early November into the new year.
Art lovers will want to check out the Luminaria Contemporary Arts Festival in November for larger-than-life experimental art installations that use the city as a canvas.
Read next: Magical Winter Vacations in the USA
Spring
Spring is perhaps the best time to pay a visit to this Southern city. The weather is gorgeous, between 60-80 degrees F, and native wildflowers are in full bloom throughout the San Antonio parks and hillsides.
It's an excellent season for outdoor activities, like hiking or biking the Mission Trail or visiting one of the nearby state parks.
Read next: Fantastic Spring Break Destinations in the USA
Where to stay in San Antonio
Suppose you want to find accommodation without the hassle of looking up the best neighborhood, locations, hotels, etc. In that case, we highly recommend reading up our guide to where to stay in San Antonio.
It's well laid-out, practical, and we cover the city's main areas to help you book your accommodation hassle-free.
As mentioned, the link above is a complete guide. Still, here's the top 3 places you might want to check out:
How We Structured this San Antonio Weekend Guide
First of all, we will talk about our perfect 2-day San Antonio itinerary covering tips on what to do, see, and eat.
Still, if you actually have 3 days in San Antonio, so a long weekend, you will want to read our recommendations on what to do on that last day of your trip.
Still, SA is a USA bucket list, and there is much more to do in the city. Take your time and enjoy it!
San Antonio Weekend Itinerary: Day 1
Your first day in San Antonio will be spent getting to know the city's history and digging deeper into the rich blend of cultures that can be found there.
Kick things off with a cozy breakfast and then head out on a full-day adventure exploring the Mission Trail, which takes you through 15 miles of hiking or biking between five historical San Antonio missions.
If you have extra time in the afternoon, enjoy the air conditioning at a museum or two.
Then, rest your tired feet before heading to dinner at Boudro's.
Dig into a Texas-Sized Breakfast at The Guenther House
For a truly decadent dining experience that takes you back to the past as you indulge in towers of fluffy pancakes, buttermilk biscuits, and sweet cream waffles, Guenther House is the place to be.
The restaurant is actually part of the old Pioneer Flour Mills estate built in the 1880s by Carl Hilmar Guenther, an early German immigrant to Texas.
It makes use of the original kitchen, tea room, and dining room, with ballroom-style seating that will make you feel as though you've wandered onto the set of an old Southern film.
Their menu is full of hearty home-cooked American cuisine, and the beautiful, historical setting is just the thing to set the tone for your weekend in San Antonio.
Hike or Bike the Mission Trail
Of all the things to do in San Antonio this weekend, a tour of the Mission Trail is absolutely unmissable.
The 15-mile hike and bike path takes you through each of the city's five missions–The Alamo, Mission Concepcion, Mission San Jose, Mission San Juan, and Mission Espada.
These Spanish colonial structures, dating as far back as the 1700s, are as educational as they are gorgeous. Proudly claiming the title of the only UNESCO World Heritage Site in Texas, they offer hands-on insight into the state's history.
It's also a great way to see a different side of San Antonio, as the trail winds through parks, farmland, and smaller neighborhoods. Keep an eye out for all the native plants and animals that live in the area!
If you're planning on visiting the Mission Trail in the summer, make sure to bring along lots of water, sunscreen, and a good hat to ward off the Texas heat.
There are plenty of restrooms, picnic tables, and viewpoints to stop at along the way when you need a rest.
Of course, depending on the weather or the fitness level of your group, it's always an option to explore by car as well.
Get to Know Texas History at the Witte Museum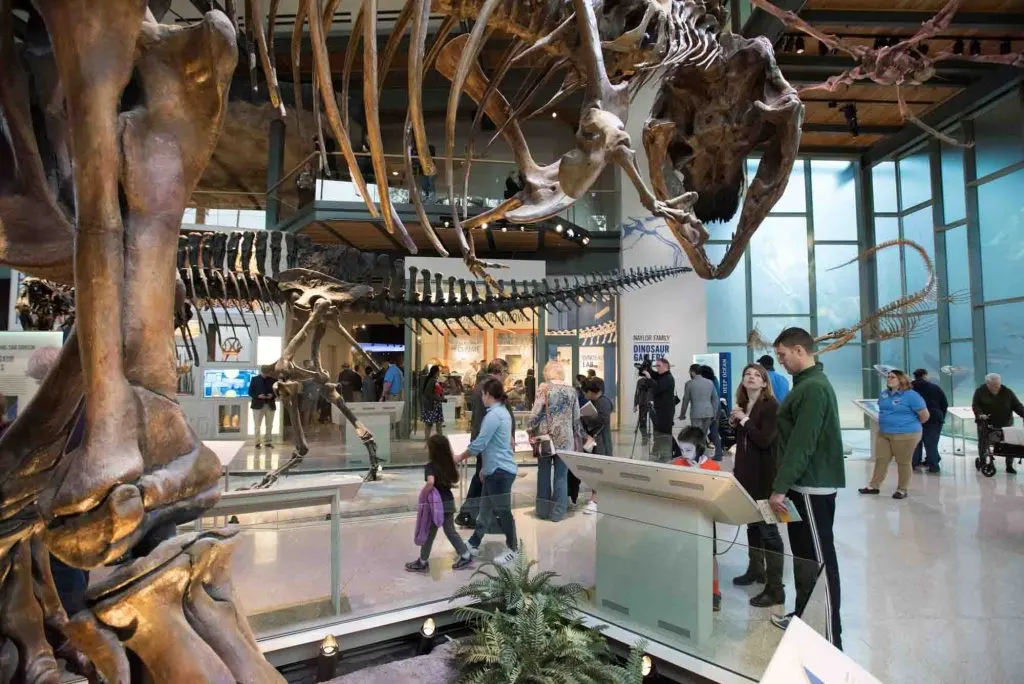 In their own words, the Witte Museum is "dedicated to telling the stories of Texas, from prehistory to the present." That means you'll get to go through everything from dinosaur displays to cowboy stories to exhibitions on the oil boom.
The museum brings together nature, science, and history to provide an unforgettable learning experience for all ages. It's excellent as a family activity or for smaller adult groups.
They have a schedule packed full of programs and events, so be sure to check it out and see if you can catch one or two during your visit.
If you're visiting in the warmer months, this activity also provides a welcome break from the heat.
Spoil Your Senses at Boudro's Texas Bistro
San Antonio is all about two things–Mexican food and barbecue. Since you only have a weekend in the city, why not fill up on as much of both as you can?
For your first night, go all out with a meal at the award-winning Boudro's Texas Bistro. This popular spot puts a unique spin on Texas cuisine, with plenty of tried and true staples as well.
Steaks, seafood, and some particularly stunning guacamole appetizers will bring you back to full strength after a long day spent exploring the city.
You can choose where you want to indulge–in the restaurant, on their outdoor patio, or even floating on the San Antonio River!
San Antonio Weekend Itinerary: Day 2
There's so much culture in San Antonio that it can't possibly be fit into just one day, so put your walking shoes back on and get ready for more exploring!
Day two of your weekend in San Antonio will take you through Mexican markets, historic neighborhoods, and cathedrals for shopping, snacking, and more.
Then, bid a proper farewell to the city by spending the evening at one of its most beloved attractions–the River Walk. Sightsee, dine, and drink to your heart's content, catch some live music, or embark on a boat ride.
Get Lost at the Largest Mexican Market in the US
You can't visit San Antonio without stopping by one of the largest Mexican markets outside of Mexico.
Historic Market Square is a proper San Antonio institution, jammed with dozens of locally-owned businesses selling food, art, and lots of other goodies.
The three-blocks that the market occupies are bursting with color, sights, and sounds. You can sample traditional Mexican cuisine, dance along to live Mariachi music, and shop authentic Talavera pottery to take home to your loved ones.
There are Folklorico dance performances almost every weekend, so definitely keep an eye on the several stages throughout the marketplace.
La Margarita is an excellent spot for a midday meal, dishing up daily lunch specials (enchiladas, fajitas, and tacos, oh my!) as well as, of course, their famous margaritas, which come in classic renditions and all kinds of fruity flavors.
Admire Traditional Art at La Villita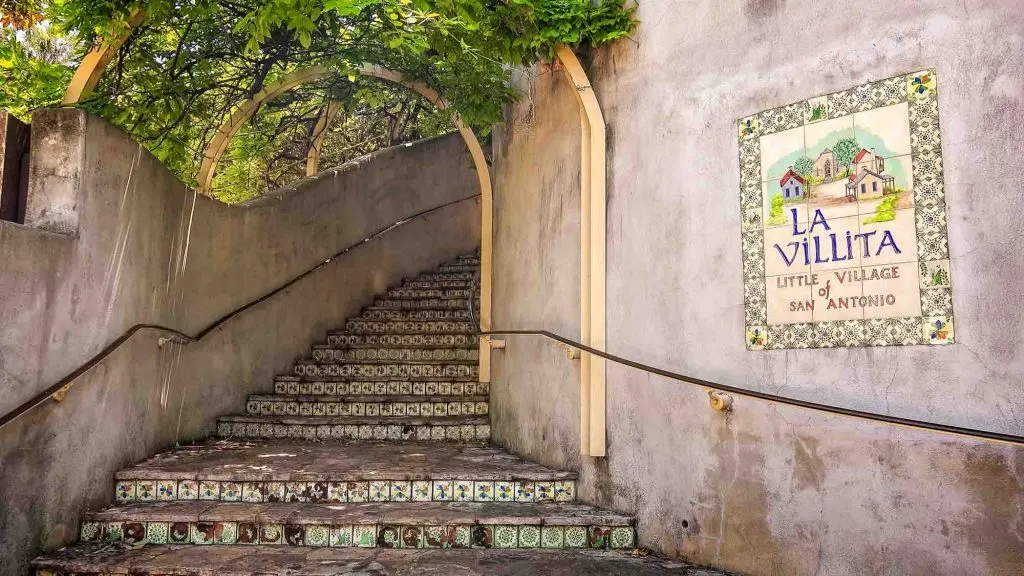 Not finished with your shopping just yet? After fueling up on a delicious Mexican lunch, head onwards to one of the city's most popular historical districts, another must-do on any San Antonio itinerary.
A hub for arts and culture, La Villita, or "Little Village," boasts boutique shops, art galleries, and more than three centuries of history.
It was once a Native American settlement, then a base for Spanish soldiers in the 1700s, and later an enclave for European immigrants who arrived throughout the 19th century.
Marvel at the unique architectural blend that emerged from this area's long history, everything from small adobe homes to sweeping Victorian-style structures.
Strolling through the amalgamation of buildings is like watching Texan history unfold, and there are markers placed throughout the village so you can learn more about each spot's history.
You can hunt for custom jewelry, traditional Mexican pottery, souvenirs, or just soak in the culture and browse the rich collections of art.
Snag Some Incredible Skyline Views at the Tower of the Americas
You've seen San Antonio from many angles, but now it's time to view it from above. Rising 750-feet into the air, the Tower of the Americas offers panoramic views of the city and a revolving lounge and restaurant.
It was built for the 1968 World's Fair and held the title of the country's tallest observation tower for almost 30 years.
If you're traveling with little ones, the Tower also has a 4D film experience with regular showings of movies like Rio and Ice Age: Dawn of the Dinosaurs.
Tickets are $14.50 for adults and $11.50 for children and include access to the observation deck and 4D theater. Combi-tickets are also available.
Soak up San Antonio's Atmosphere at the River Walk
The well-known San Antonio River Walk is at the very heart of the city, both geographically and socially. Aside from the Alamo, it's San Antonio's foremost tourist hotspot, so expect it to be busy and buzzing whenever you visit.
No weekend in San Antonio would be complete without some time spent strolling along the pedestrian-only river banks, which is why we've saved this one for last.
End your visit with a bang by indulging in one of the many classic River Walk activities. The attraction stretches for 15 miles of food, shopping, and sightseeing.
Visit the Spanish Governor's Palace for a glimpse into the past. This stunning building was constructed in 1749 and is the only aristocratic 18th-century Spanish Colonial townhouse in Texas that has survived until the present day. The space now functions as a museum with excellent walk-through exhibits.
Grab a ride on a river cruise to admire the lights and live music from the water, and learn more about San Antonio's history and culture as you float along.
Last but not least, settle in for dinner and drinks at The County Line, home to legendary Texas barbecue and a generous spread of ice-cold beers and margaritas.
Their lovely open-air, river-side patio lets you kick back and soak in the city's atmosphere, the perfect end to your weekend in San Antonio.
Have 3 days in San Antonio? Here's what you can do!
If you turn out to have more days in the city, here are some fun things to do in Austin.
San Antonio Itinerary Summary
We made a handy summary of this San Antonio itinerary to make your life easier. Still, you will want to bookmark this page to check all the details later on.
Day 1
Day 2
Was this weekend in San Antonio guide helpful? Then share it with a friend who might benefit from it too!
Latest posts by Katelyn van Sligtenhorst
(see all)