The Lone Star State capital is home to endless attractions, so we're counting off the top 11 things to do in Austin.
Known for its live music scene, sprawling outdoor spaces, and world-class museums, Austin is the city of choice for any traveler that wants to pack a wide range of activities into their itinerary.
It's the perfect destination for family adventures, couples getaways, or a weekend road trip with all your closest friends.
On this list, you'll find everything from America's best barbecue to stunning natural spring pools to Wild West-style saloons.
So keep reading to find out all the highlights that you just have to hit while visiting the festive and fabulous capital of the great state of Texas!
Looking for accommodation in Austin? Then you'll want to check out this guide on where to stay in Austin. There's something for all budgets, from hostel and studios to hotels.
Lots to see but too little time? No worries. We've got you covered with our comprehensive weekend in Austin itinerary, which walks you through two organized days of all the best things to see in Austin (museums, shopping, and Tex Mex, oh my)!
11 Fun Things to Do in Austin, Texas
Some cities are famous for just one or two points of interest, but Austin is almost overwhelming in its rich range of sights, sounds, and tastes that set it apart from the rest of the country.
Here are a few of our favorite things to see and do when traveling to Austin. Whether you hit one or all 11, you're guaranteed to find some gems!
1. Hunt for Treasures on South Congress Avenue
The South Congress district, or SoCo to the locals, is a haven for adorable boutiques, funky vintage stores, and bustling patio bars.
Visit the circus-themed Big Top to bring out your inner child. Shop their rows of colorful candy or fill up at the old-timey soda fountain.
Then head next door to the Parts and Labour variety store for locally handmade clothing, candles, and vintage jewelry.
Further down the street, Mi Casa offers gorgeous Latin American pottery and art to spruce up your home.
The list goes on and on, but one thing is for sure–SoCo will have you shopping until you drop!
Once you've collected all your bags and your feet are feeling a little tired, it's time to grab a happy hour drink or dinner at one of the area's trendy restaurants.
Check out the retro South Congress Cafe for hearty, down-home cooking or the iconic Torchy's Tacos for proper Austin Tex Mex, then top it all off with a stop at Amy's Ice Cream (they feature more than 350 flavors!).
2. Cool Off at Barton Springs Pool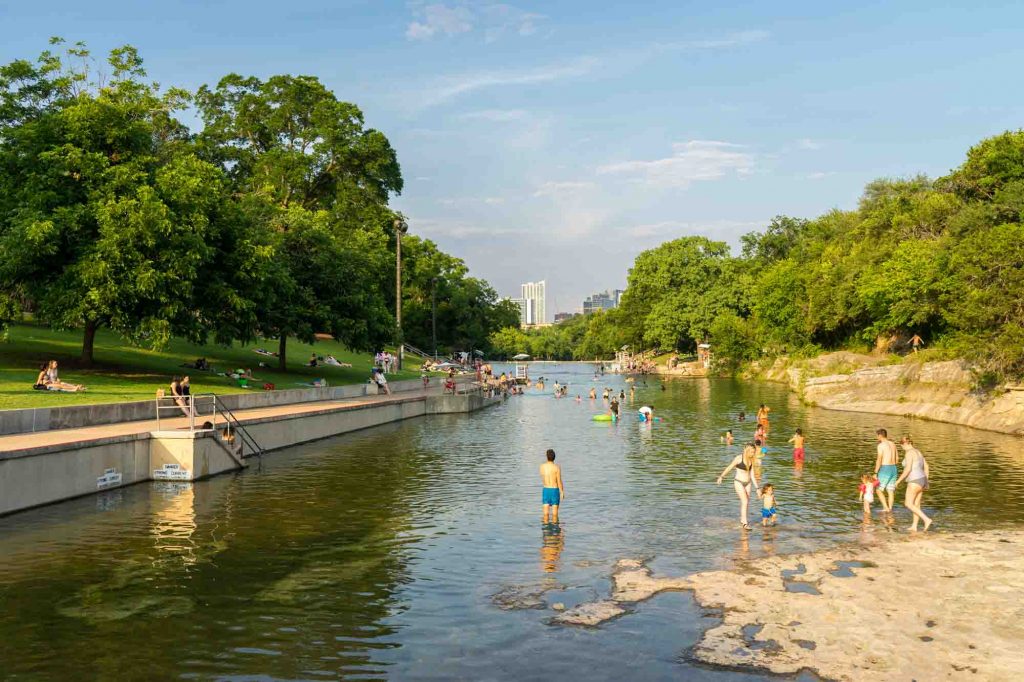 This popular watering hole is hands down one of the best things to do in Austin during the summer.
But Barton Springs is actually open for swimmers all year round, hosting a Polar Bear Plunge every winter and, of course, serving as a lovely refresher during the warmer months.
The pool is filled entirely by natural springs, which means it stays around the same temperature–a cool 68-70 degrees F–regardless of the weather outside.
It's also home to the endangered Barton Springs Salamander, so be careful where you step!
This is not a typical swimming pool; it's built around local wildlife. Park officials ensure that the salamanders are safe to enjoy their natural habitat.
Barton Springs has both shallow wading areas and deeper swimming spots, so the whole family can find something to enjoy.
When you're ready to warm up again, stake out a spot in the grassy hills surrounding the pools and let the sun dry you off.
Read next: 33 Best Things to Do in Texas
3. Sample the Best Brisket in Texas at Franklin Barbecue
Food critics call it the best barbecue in the country. Everyone from Anthony Bourdain to Barack Obama has dined here.
The lines form early in the morning (as many as four hours before the doors open) and often stretch around the block.
Some may wonder if Franklin is really worth the hype, but this establishment–which started just over a decade ago serving barbecue out of a trailer–has sold out of brisket every day since it opened.
With dozens of awards to its name and plenty of local love to back it up, Franklin is one of those places you just have to try. No visit to Austin would be complete without the ultimate barbecue experience.
Their brisket is made from all-natural beef (hormone and antibiotic-free!) that has been smoked for 12-18 hours. Topped with Franklin's signature espresso sauce, the meat absolutely melts in your mouth.
Even if you can't score the legendary brisket, you can't go wrong with anything on the menu. The pork ribs, Tipsy Texan sandwich, and bourbon-banana pie are all made to perfection.
4. Get to Know Local Government on a Tour of the State Capitol
Austin is the state capital of Texas, which means the city is packed with historical sites and seats of government that are well worth a visit.
The most iconic building is the gorgeous red granite State Capitol, home to the offices and chambers of the Texas Legislature and the Governor of Texas.
Tours run regularly from 8:30 AM-4:30 PM on weekdays, as well as 9:30 AM-3:30 PM on Saturday and 12 PM-3:30 PM on Sundays. You can also take a self-guided tour if you prefer.
The visitor's center always has fascinating exhibits on display. It offers a more in-depth look into state history and culture, including the Texas Revolution and (of course) cowboys.
5. Go Batty at Austin's Annual Bat Watching Festivities
Of all the things to see in Austin, this is certainly one of the weirder attractions, but that's all the more reason to add it to your list!
From approximately mid-March until late October, the centrally located Congress Avenue Bridge becomes a full-on bat cave. That's because the United States' largest population of urban-dwelling bats has happily decided on Austin as their place of residence.
At sunset, thousands of Mexican free-tailed bats take to the sky in a stunning aerial display.
There are a number of vantage points from which you can watch the spectacle–from the city's hiking trails, on a river cruise, etc.–but make sure to show up on time.
The bats typically take off anywhere between 7:30 PM-9:30 PM, and this is one Mother Nature shows that you don't want to miss.
If you visit in August, you can even participate in Bat Fest, which boasts a viewing of the night flight but also live music, food trucks, and a bat costume contest.
6. Guac Your World at Veracruz All Natural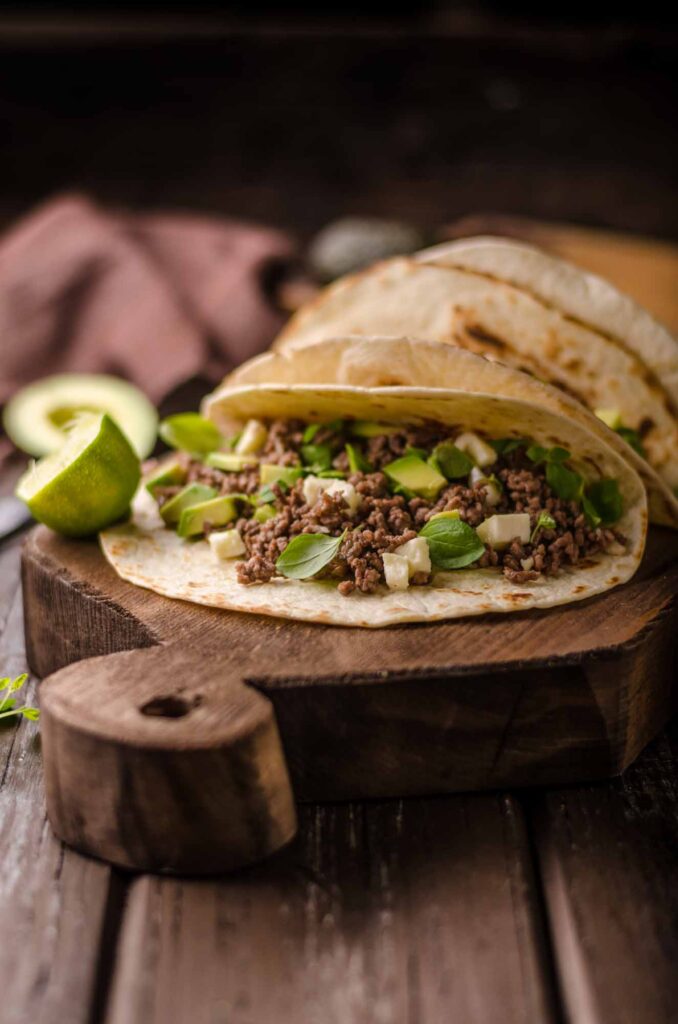 What to do in Austin when you've already worked your way through all the top-rated barbecue joints? Well, if there's one cuisine this city knows (besides barbecue, of course), it's Tex Mex.
Veracruz All Natural is a family, Latina, and women-run business that has truly captured the hearts of all Austinites and visitors alike.
Their ultra-trendy taco truck sells out daily, so make sure to arrive with time to spare. They also serve breakfast tacos, so you can never start too early.
Check out one of their locations around the city, and order a few dishes to share since they're too good just to settle on one.
For breakfast, The Migas is a classic choice, while La Reyna offers a slightly healthier take on tacos with egg whites, avocado, and pico de gallo.
For lunch or dinner, don't miss out on the homemade corn tortillas, which can be filled with steak, pork, chicken, or fish.
They also have vegetarian options available, so even the non-meat-eaters can enjoy them. In fact, we don't blame you if you want to come for all three meals.
7. Admire the Masterpieces at Blanton Museum of Art
As one of the biggest university art museums in the country, Blanton has far too many exhibits to cover in a single visit.
Their permanent collection features almost 20,000 pieces (European paintings, ancient Greek sculptures, contemporary American art, and more), and rotating shows highlight everything from woven textiles exploring different identities to compilations from renowned art historians.
They also hold frequent events, like block parties, late-night visits, and other art-inspired activities.
If you're traveling as a pair, this is one of the most romantic things to do in Austin and makes for an excellent date night activity.
The only trouble you'll have is deciding whether to stare at your special someone or all the gorgeous artwork!
8. Feast on Food Truck Cuisine at The Picnic
One of the essential things to do in Austin is an exploration of their food truck scene, which has truly taken the concept to a whole new level.
The city is so passionate about food trucks that they have an entire food trailer park located just outside of downtown, The Picnic.
The driving idea behind the endeavor is to support local businesses, so you can go all out safe in the knowledge that you're adding to the community while you indulge.
Thai, Italian, Tex Mex, American…you name it, they've got it. The best way to satisfy your cravings is just to wander around and order from any place that catches your eye.
Before you know it, you'll have a whole food truck picnic ready to be devoured!
We recommend The Mighty Cone for a unique dining experience and Cannone's Italian gelato for dessert (especially refreshing on a Texas summer day). There's even a dog treat truck for your furry friend.
9. Go for a Spin on the Ann and Roy Butler Hike and Bike Trail
Escape the hustle and bustle of Austin city life and indulge in a quiet afternoon walking or cycling alongside Lady Bird Lake.
Although this Austin hiking trail winds for 10 miles through the heart of the capital, the streets' noises are far away, replaced instead by water lapping against the shore. You can even trade in your running shoes for a kayak or paddleboard.
The Ann and Roy Butler Hike and Bike Trail, named for a former Austin mayor and his wife, brings together all of the best features of life in this Southern city–proximity to nature, fun in the sun, and plenty of opportunities to people-watch.
And it still counts as sightseeing! Along the way, you can capture sweeping views of the Austin skyline and visit a number of iconic statues and other cultural attractions.
10. Catch a Free Show at Zilker Park's Hillside Theater
While visiting Austin, bypass Broadway in favor of a stunning outdoor amphitheater that hosts musicals, shows, and cultural performances from March-October.
Everything is free and open to the public. You can bring your own blanket or lawn chair and a snack bag or picnic dinner to munch on while you watch.
The iconic Zilker Summer Musical is a highly anticipated event every year. Past productions include classics like The Little Mermaid, The Wizard of Oz, Hairspray, Oklahoma!, and more.
The venue also showcases family movie nights, Shakespeare in the Park, and live music. Make sure to check the schedule before traveling to Austin so you can work a show into your itinerary.
11. Listen to Live Music on Sixth Street
Of all the many things to do in Austin, a live music experience is absolutely unmissable.
In fact, this city is known as the Live Music Capital of the World, home to open mic jams, local band sets, and all kinds of performances virtually every night.
And Sixth Street, despite its twin reputation as a rather wild party place, is the epicenter of it all.
Filled to the brim with bars and restaurants that light up neon when the sun sets, this street is open only for pedestrians on the weekends. Crowds spill out of the establishments and bring the party to the pavement.
Whether you go just to people-watch from afar or jump straight into the thick of it, you're sure to catch some excellent entertainment.
The Parish hosts lots of big-name artists and local up-and-comers alike, while Pete's Dueling Piano Bar offers infectious performances with music from every decade.
Jam to reggae at Flamingo Cantina or enjoy hip-hop and electronic hits at The Belmont. Whatever music genre you can think of, Austin has it.
Austin Travel Resources
If you're traveling to Austin, Texas, chances are you will want to read some practical info about getting to nearby towns, right?
So, in case you want to experience more of the Texas Hill Country, we have a list of the best day trips from Austin that you won't want to miss. It includes Fredericksburg and some its top-notch wineries, and a few state parks near Austin as well as lovely beaches near or in Austin.
Did you enjoy reading this list of the best things to do in Austin? Then share it with a dear friend who might like it too!