From Big Island to Kauai, here are the best beaches in Hawaii!
With 750 miles of coastline filled with calm sheltered coves, towering cliffs rising out of the ocean, and pearl-white, pitch-black, and emerald green sand surrounding these islands, virtually all beaches in Hawaii, are marvels of nature.
Throw in a crystal-clear and marine-rich ocean to thrill divers and snorkelers, powerful swells to create perfect surfing conditions for all skill levels, and spectacular scenery everywhere you look, and you have paradise here on earth.
But it's hard to believe that violent volcanic eruptions and earthquakes could have created such natural beauty over millions of years, which have formed and shaped these magical islands.
With so many different types of beaches, it's impossible to call which ones are the best.
We have long golden beaches in the middle of modern cities with all the amenities. In contrast, others are so remote, you'll be surrounded by tall coconut palm trees, spectacular mountains, and a crystal blue ocean, you'll swear you were the first human to set foot here.
In fact, if ever we make it to heaven and it doesn't look like this, we'll be so disappointed.
Beaches in Hawaii
Below we have made a feeble attempt to list our best 17 beaches in Hawaii divided by island. Let's start off with a real gem!
Beaches on Big Island
Here are our favorite Big Island beaches in no particular order.
Hapuna Beach
One of the most popular family-friendly beaches in Hawaii is situated on the northwest shoreline of Big Island, Hawaii.
Hapuna Beach is a soft white-sand beach with calm shallow water, perfect for swimming and snorkeling, and excellent for the body and board surfers when the surf picks up.
It's a reasonably wide beach with loads of space to soak in the sun and for kids to run around. On the north end of Hanupa Beach, you can go on a short hike exploring the rocky shoreline.
A large shaded picnic area with grills, plus restrooms and showers are available.
Close-by parking costs $10 per vehicle and $3 per person, while a wheelchair-friendly path leads you straight to the life-guarded beach.
Read next: Best Beaches in Kona
Kauna'oa Beach (Mauna Kea Beach)
A short distance to the north is another little gem known as Mauna Kea Beach.
This small horseshoe-shaped bay, sheltered by rocky outcrops and coral reefs on either side, offers excellent swimming and snorkeling, safe for the whole family.
The entire beach is fringed with tall palm trees, offering relieving shade, while restrooms and showers are available at the free parking area, five minutes' walk from the beach.
The Mauna Kea Beach Hotel on the north side of the bay is an excellent place to grab a bite or a refreshing drink.
If you stay after dark, the hotel aims its floodlights onto the bay attracting tons of plankton, bringing in giant manta rays to the surface, which you can view from the hotel's lookout platform—an experience not easily forgotten.
Punalu'u Black Sand Beach
Moving down to the island's southern section, we come to the most renowned of all black sand Hawaiian beaches.
This magnificent beach is one of the few places in the world where green turtles and the rare hawksbill turtles can be seen lazing together on the beach and foraging in the shallow coral reefs.
Beyond that, Punaluu Black Sand Beach is an excellent destination for swimming, snorkeling, and fishing. Still, rough black lava rocks and hot black sand make wearing water shoes necessary.
Free parking and a vast picnic area with showers and restrooms are provided at Punaluu Beach.
Papakōlea Green Sand Beach
If you thought you'd seen enough weird geological anomalies already, you haven't seen anything yet…wait until you visit Papakōlea green-sand beach.
That's right green sand! One of our planets' only four green-sand beaches. You will, however, have to work up a sweat getting there, but it's an effort well worth it.
A three-mile hike from the car park on a rough and dusty track will take you to the rim of a crater, from which you'll need a few minutes to catch your breath and take in the spectacle that lies before you.
You'll be looking down into a 50,000-year-old volcanic crater on the edge of the turquoise waters of the Pacific.
The green sand is a semi-precious mineral, olivine, that has been eroding out of the lava, creating this almost "extra-terrestrial" looking landscape.
After a steep climb down the inside of the crater, you can cool off in the ocean, but take care as the water can get pretty rough. There are no facilities here, so take all your provisions with you.
Beaches on Maui
Ka'anapali Beach
Surrounded by luxury resorts, condos, and a golf course, Kaanapali Beach is a long stretch of beach great for swimming, snorkeling, kayaking, scuba diving, taking long walks, or just soaking in the sun and the spectacular scenery.
In the right conditions, and especially in winter, it is also an excellent bodyboarding and surfing spot with good waves found close to shore.
The coral reefs offshore, particularly near Black Rock at the northern end, are teeming with tropical fish and turtles. Whales are often spotted from the beach too.
Parking can be a little tricky to find, but if you're staying in one of the resorts, just a few steps and you're on the sand.
No amenities here, unfortunately, but spoilt for food choices. Located on the west shore, this spot is one of the best beaches in Hawaii to view the spectacular sunsets.
Views of Lanai and Molokai in the distance add more splendor to this already stunning location.
Makena Beach
South Maui is an undeveloped gem, with only soft golden sand, a lush tropical forest, and the crystal blue ocean to surround you.
Nearly two-thirds of a mile long and 100 feet wide, Makena is one of the largest beaches in Maui flanked by two black lava outcrops, ideal for long walks and swimming, but only when the sea is calm.
Perhaps not ideal for small children or weak swimmers, as strong currents and powerful waves often pound this beach.
It's ideal, however, for surfers and bodyboarders, who don't mind getting punched once in a while.
No showers are available but only some port-a-loos at the two parking lots. Being part of the Makena Beach State Park, there is an entry charge of $10 per vehicle.
There are usually several food trucks that frequent this beach.
Being west-facing, sunsets from here are spectacular, with great views of the Kaho'olawe Island and the Molokini Crater in the distance.
All in all, a most beautiful secluded beach if you want to spend a day far from the madding crowds surrounded only by nature.
Beaches on Lanai
Polihua Beach
On the north-western corner of Lanai is another untouched and secluded jewel of Hawaii called Polihua Beach.
But you can only access it by 4×4 vehicle or mountain bike. The trip will take approximately an hour from Lanai City, leading you through the Garden of the Gods, a bizarre, lunar-like landscape with unusually shaped rocks and boulders in various shades of red.
The scenery changes dramatically when you reach the beach.
Empty, untouched, and truly magnificent! You could cool off in the shallows, but please take care as strong undercurrents and a steep ocean floor makes it extremely dangerous.
There are no facilities or amenities anywhere in sight, so take all the provisions you need.
It's an excellent spot for sunbathing and exploring the shoreline with stunning views of Molokai Island in the distance.
Hulopoe Beach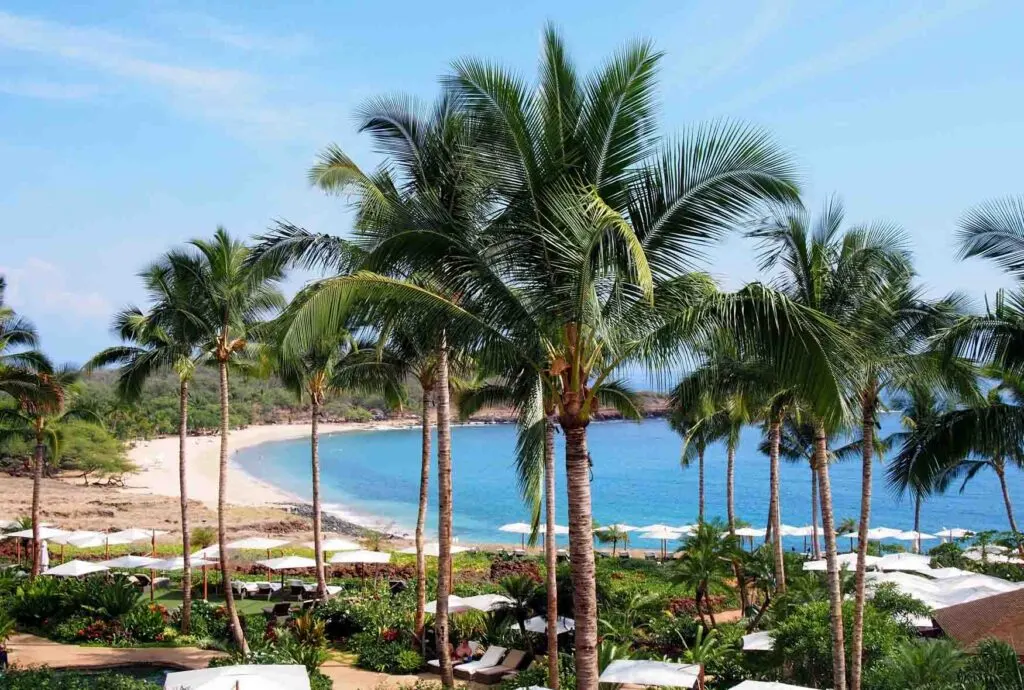 Another fabulous snorkeling location is on the opposite side and southernmost tip of the island and directly in front of the Four Seasons Resort.
Part of a marine protected area, the reefs are rich in marine life, including turtles and spinner dolphins during summer while humpback whales pass through in winter.
Hulopoe Beach is in the middle of a crescent-shaped bay flanked and sheltered by two rocky outcrops, making it the perfect family beach.
It offers safe bathing, sublime snorkeling, and excellent surfing and bodyboarding when the surf picks up, mainly in winter.
A beautiful tidal pool lies among the volcanic rocks and boulders on the left side of the beach, below the 80 foot Puu Pehe cliff face, a famous Lanai landmark. The perfect spot for children to play and explore at low tide.
The Beach Park provides restrooms and showers, picnic tables, barbeque grills with plenty of shade, and a free car park above the pearly-white beach–an excellent place for a family to spend the day.
For a relaxing beach vacation in Hawaii, this stunning location will not disappoint.
Beaches on Molokai
Kumimi Beach
Moving to the eastern shore is a little family-friendly beach, which is a popular spot on weekends but deserted on weekdays, with easy parking on the edge of the sand.
A long offshore reef provides shelter and excellent snorkeling conditions in shallow clear water, close to shore.
Snorkeling is better on the high tide, but currents can sometimes be strong during that time. It's very rocky, so wearing flippers or water shoes is advisable.
Excellent spot for swimming, catching a tan or having a picnic under the coconut palm trees close to the water's edge.
Pity there are no restrooms here. This beautiful isolated spot offers excellent views of the Maui and Lanai islands in the distance.
Papohaku Beach (Three Mile Beach)
If you're looking for a beach with nothing to do but experience inner peace, nature, and solitude without a soul in sight, then head to the western section of the island.
Three miles long and 100 yards wide, and taking up a quarter of the entire western coastline, Papohaku Beach is one of the most extensive white-sand beaches in Hawaii.
The vastness and emptiness will be the first thing to impress you, making you believe you are the first human to set foot here. It's just you and the ocean.
Although you could go for a dip in highly calm conditions, this secluded spot is no swimming beach. In fact, it can be rather dangerous.
But the perfect spot for taking long walks and sunbathing in complete solitude.
The closest sign of any civilization is found at the Papohaku Beach Park, a little inland, where bathrooms, showers, and picnic tables are available at the two campsites for the odd beachgoer.
Needless to say, sunsets from this remote beach are sublime.
Beaches on Oahu
Here are the best beaches on Oahu, one of the most popular Hawaiian islands.
Waikiki Beach
Situated in the heart of Honolulu and snuggled in between the vibrant Kalakaua Avenue with its high-rise luxury resorts and world-class dining establishments and the tranquil, turquoise Pacific Ocean lies the world-renowned Waikiki Beach.
For many people, effortlessly the most stunning of all beaches in Hawaii.
When you have some tall coconut palm trees along the snow-white sandy beach, all the amenities you want, and the city's skyline together with the iconic Diamond Head crater as your backdrop, it's easy to see why this is one beach you must not miss when visiting this island.
Waikiki Beach has everything and is ideal for almost all watersports activities.
Swimming, surfing, and bodyboarding for pros and kooks, kayaking, soaking in the sun, and, as it can get pretty busy, it is the perfect spot for people-watching too.
It is a truly magnificent setting for the whole family with its gentle waves.
Facing south-west, sunsets from here are indescribable, with a different vividly painted sky every single evening!
Read next: 3 Days in Oahu Itinerary
Wai'alae Beach Park
Wai'alae Beach Park is just three miles east of Waikiki Beach, the perfect family-friendly spot to escape the crowds. Still, it's a family's favorite beach in the summer months.
Situated next to the Kahala Hotel on the north shore, the park is divided by a stream flowing through to the beach, with an arched stone bridge joining the two sections.
Free but limited parking is available, although some street parking is close by.
Plenty of shaded picnic areas with tables and benches, as well as showers and restrooms, make this spot a favorite for a whole day at the beach.
The white-sand shallow beach is ideal for small children to play in, while the west side of the channel is a favorite spot for surfers and windsurfers. Fishing is pretty popular too. The beach offers fantastic views of the Koko crater.
Sunset Beach
Located on the north shore right next to the Kamehameha Highway is the Holy Grail of surfing beaches in Hawaii – Sunset Beach.
The water is super calm and crystal clear in summer, offering fantastic snorkeling spots among the coral reefs.
But it's during the winter when gigantic waves roll in, and top-class surfers are drawn here in their droves to compete in the numerous surfing events.
Sitting on the soft white sand watching these ocean warriors dicing the waves will leave you in awe.
Plenty of free parking is available with showers and restrooms, while several food joints and food trucks provide all the nourishment you'll need.
For the history buffs, a short hike will lead you up to the Ehukai Pillboxes. These WW2 bunkers offer stunning views of the shoreline.
As the name suggests, sunsets from this beach are breathtaking!
Lanikai Beach
We now turn to Lanikai beach on the eastern shore for spectacular sunrises.
This little jewel is best visited early in the morning not only to catch the sunrise but to secure a parking spot, which can be a nightmare to find later in the day unless you catch the bus.
In the afternoons, the sun dips behind the mountains, and the beach becomes shady.
This gorgeous, powdery white-sand beach is ideal for small children with calm shallow water and a coral reef offering an excellent kayaking and snorkeling spot, particularly close to the two tiny islands offshore.
Turtles and reef fish are in abundance here. There are no amenities or food joints close by, so bring your snacks and drinks.
Beaches on Kauai
Poipu Beach
Situated almost on the island's southernmost tip is Kauai's most popular beach – Poipu Beach.
It is a series of sheltered bays and coves, excellent for virtually all water activities and perfect for small children.
Swimming, snorkeling, kayaking, bodyboarding, surfing, or lazing in the sun taking in the splendid scenery can all be done here without going anywhere.
It can get a little crowded at Poipu Beach, but there is always plenty of space between the people and the turtles that also hang out here snoozing on the beach, not to mention the monk seals.
A grassy picnic area with tables, showers, restrooms, a playground, and natural wading pool makes this one of the most convenient, family-friendly beaches in Hawaii.
Food joints for all palates are a mere stone's throw away. Yet another sunset hotspot for photographers, and if you come here after dark, all you'll see are stars and turtles.
Hanalei Bay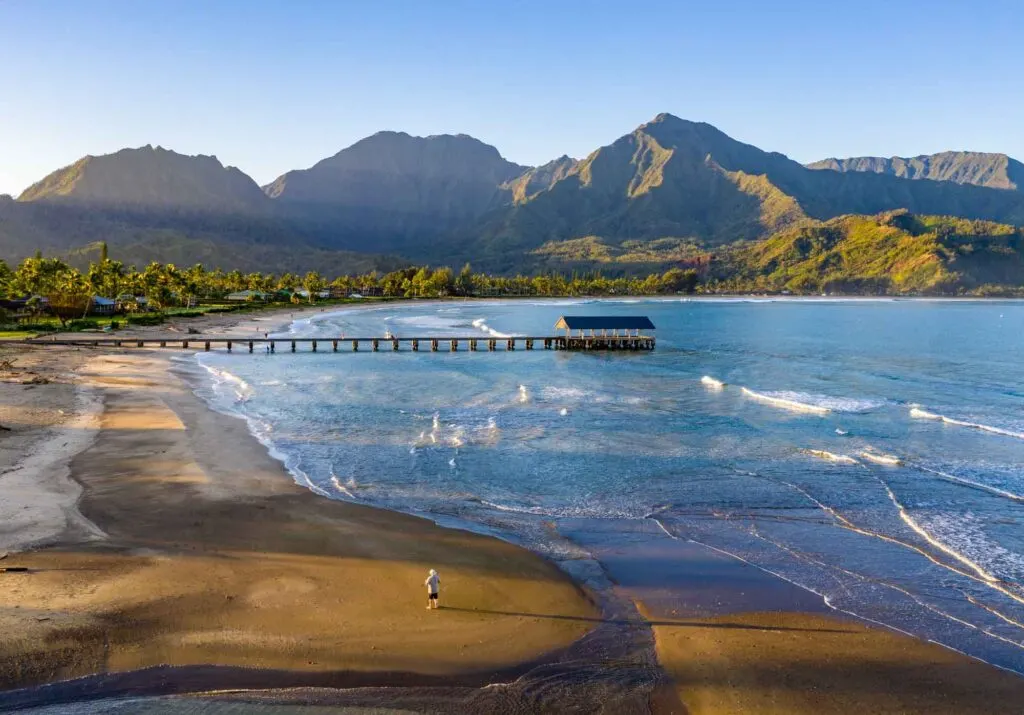 Situated on Kauai's north shore, Hanalei Bay is a most picturesque bay over a mile wide, with a vast soft stretch of sand.
The sandy beach is incredible, offering superb velvet green mountain views on one side and a deep blue ocean on the other.
In summer, the calm waters offer sheltered berthing for yachts, excellent swimming, kayaking, and novice bodyboarders.
But it's during the winter months, when big swells arrive, that this spot becomes one of the world's premier surfing hotspots for expert surfers, not scared of dying.
Watching these daredevils racing down 30-foot monsters is something to behold—certainly one of the finest of all Hawaiian Beaches for big wave surfers.
Showers, bathrooms, and free parking are available, but getting there early is advisable. Lifeguards also patrol the beach periodically.
Tunnels Beach (Makua Beach)
Five miles to the west is another secluded jewel of the northern shore, but you'll have to get there really early as there is limited parking.
The first thing is to explore the humungous cave next to the parking – it's simply amazing! This vast beach offers excellent swimming and snorkeling when the water is calm, usually in summer, but it becomes pretty rough during winter.
This beach is a favorite spot for surfers, wind, and kite surfers when the winds pick up.
The scenery, however, is stunning all year round, with towering mountains plunging down to the lush tree-lined and golden sand shoreline and crystal blue water teeming with fish, turtles, and perhaps a monk seal if you're lucky.
Another option would be to park at the Haena Beach parking lot and walk to Tunnels – about 10 minutes. Showers and bathrooms are available.
Did you enjoy reading about the beautiful beaches of Hawaii? Then share this article with a friend who might enjoy it too!