There aren't many people, but there are plenty of wineries in Fredericksburg, Texas. The original settlers set down roots nearly two centuries ago, and they've been pouring up delicious beverages ever since.
If there's anything this tiny town is known for, it's the fine local wine. The Hill Country is Texas' prime vineyard destination, and Fredericksburg sits right at the center of the state's wine production and tasting facilities.
Whether you are driving from Dallas, Austin, Houston, San Antonio, or Lubbock – a fun wine weekend in Fredericksburg is only hours away.
In Fredericksburg and the surrounding Gillespie County alone, you'll find 50 wineries. And as you drive an hour or two out in any direction, you'll come across even more!
That's why we've compiled the ultimate list of Fredericksburg wineries.
So if you're feeling overwhelmed by choice and wondering how to make the most of a central Texas wine tour, use these recommendations to craft the perfect stop and sip adventure.
Prefer to have everything taken care of? Then you might want to read this comparison of the best wine tours in Fredericksburg TX!
Want to see more of Fredericksburg once your glass is empty?
Check out our suggestions for things to do in Fredericksburg, which includes everything from wandering a wildflower farm to gobbling down German cuisine.
The best wineries in Fredericksburg – your perfect wine getaway!
With so many wineries in Fredericksburg, the heart of the Wine Country, it's no wonder you need help narrowing it down.
We hit all the highlights in this post–from tasting costs to special features to the histories behind the vineyards.
We've even included a map at the bottom of a bunch of other spots along the Texas Wine Trail that you just can't miss, so get planning and let your palate thank us later!
And if there are still too many enticing options, try out a fabulous boutique winery tour that takes the guesswork out of planning a Fredericksburg adventure–this tour is included in the comparison article we mentioned above.
It comes complete with transportation and private tastings at three different venues.
Don't miss out! Check availability for a boutique tour here!
Ps: Be sure to call in advance as some wineries require a reservation.
Grape Creek Vineyards
One step onto the gorgeous acreage of Grape Creek Vineyards will have you thinking that you've somehow teleported from central Texas to the sprawling Tuscan countryside.
A classic tasting will run you $25 per guest and includes samples of six of the vineyard's best wines, as well as a free glass to take home–at any of their three locations.
Visitors who want to get a look behind the scenes can opt for a full tour of the facilities alongside their tasting. This way, you'll get to view the entire estate, from the production rooms to the grapes themselves.
In just the past year, Grape Creek's wines have won more than 25 Double Gold and Gold medals from top international competitions, so the consensus is in. Their bottles are top-notch.
And for the most committed wine lovers, Grape Creek even offers a Wine Club membership program.
Upon joining, you gain access to a complimentary tasting for two, VIP lounge spaces, and invitations to dinners and events that are exclusively for other Wine Club members.
10587 E. US Hwy 290, Fredericksburg, TX 78624
(830) 644-2710
Hours: Daily 11 am – 5:30 pm. The last open bottle at 5 pm and last tasting/pour is 5:15 pm daily.
Woodrose Winery
Woodrose is a true Texas take on the winery experience.
Bringing an unpretentious air and a hearty helping of Southern hospitality to wine touring, this spot will have any visitor–from seasoned sommeliers to first time tasters–feeling instantly at home.
For just $15, you can pick your flight of six homemade wines, with the option to go all-in on white or red wines, or sample a mix of the two.
No matter what you choose, all of the beverages are made from 100% Texas-grown grapes and produced onsite.
Furthermore, Woodrose is one of the oldest wineries in Fredericksburg, so it has been in the game longer than many of its competitors.
When wine tasting is this accessible (and cheap!), there's no reason not to indulge.
And if your accessible travel approach extends to accommodation, don't miss our list of the best Airbnbs in Fredericksburg so you have the freedom to come and go from your home base like a local.
662 Woodrose Lane, Stonewall, TX 78671
(830) 644-2539
Hours: Friday through Sunday, 12 Noon to 5 pm
Messina Hof
With three locations across the state and a history that stretches back to 1977, Messina Hof is a big name in the wine industry.
Not only is it the most award-winning winery in Texas, but it's also the single largest producer of local wine.
With accolades like these, it's no wonder Messina Hof is an unmissable stop for anyone traveling the Texas Wine Trail.
But beyond just the prestige, Messina Hof boasts stunning grounds to explore and more than 50 unique bottles to choose from.
For $18 per person, you can enjoy a guided tour of the vineyards and a four-wine tasting flight.
One of the winery's knowledgeable staff will even teach you a number of tasting techniques as well as the optimal food pairing for each glass. If that doesn't impress at your next dinner party, we don't know what will.
If you're wondering where to stay in Fredericksburg, Messina Hof also has its own bed and breakfast. The four European-inspired getaways have lovely nature views and, of course, easy access to wine.
9996 US Highway 290 East, Fredericksburg, Texas
(830) 990-4653
Hours: Curbside daily: 12 PM – 6 PM. On premise Saturday-Sunday: 12 PM – 6 PM
Texas Wine Collective (former 4.0 Cellars)
As the name suggests, Texas Wine Collective brings together the magic of three award-winning wines across Texas that joined forces to bring the best local flavors to lucky visitors.
The masterminds behind it all are nothing if not passionate about Texas, and tastings feature homegrown wines as well as other locally produced products, including cheeses, chocolate, and olive oil.
You can choose between three tasting flights–the Cellar Selection (a mix of reds and whites), Light & Sweet (which includes a delicious rosé), and Reserve Red (the best dry classics for those that know what they like).
All of their menus include five wines and cost between $18-$21. For an upgrade, opt for the Texas Wine and Cheese Experience, which pairs each of the five glasses with an artisan cheese also made in-state.
That'll run you $35, but the delight for your senses will be well worth it.
10354 E US Hwy 290, Fredericksburg, TX 78624
(830) 997-7470
Hours: Monday through Saturday from 10:00 am to 5:30 pm and Sunday from 11:00 am to 5:00 pm.
Hilmy Cellars
A rustic winery alongside Highway 290, Hilmy Cellars is full of rolling hills and a farming-focused approach to creating one of the world's most popular beverages.
According to Hilmy, "wine is made in the vineyard."
Living and working by that philosophy, they minimize their use of chemical fertilizers and pesticides, nourish the land with compost so as to minimize waste and harvest the grapes by hand in the early hours of the morning.
Although Hilmy is a relatively new vineyard on the Fredericksburg wine scene, the attention to detail is evident in their bottles.
A tasting costs $20 for a flight of six wines, including reds, whites, and rosés. Their blends that are still aging will certainly be ones to watch at future competitions.
Just because other wineries in Fredericksburg have been doing it longer, doesn't mean a fresh face can't shake things up!
12346 E US Highway 290, Fredericksburg, Texas 78624
(830) 644-2482
Hours: Monday – Saturday: 11 am – 6 pm and Sunday: 12 – 6 pm.
Fiesta Winery
This just might be one of the most fun wine tastings in Fredericksburg. There's always a party going at Fiesta Winery, and guests will feel like family in no time thanks to the warm, welcoming atmosphere.
They have a couple of locations in Fredericksburg–one on Main Street and one along Highway 290–as well as two others throughout the Texas Hill Country.
From the wine bottle labels to the tasting room decor, everything at Fiesta is lively, colorful, and ready to help you have a good time.
When you enter one of the tasting rooms, you'll be ushered to the bar to browse the 33 bottles on offer.
Then, chat with the staff about your favorite flavors and any likes or dislikes so they can help you build a personalized tasting experience including six of their local wines. All of this comes in at only $15.
Not sold yet? For every three bottles you purchase, you'll score a free tasting. Plus, they have wine in a can to go. Cheers!
6260 East US Hwy 290, Fredericksburg, TX 78624
(830) 997-4466
Hours: Monday – Friday 10:30 – 6 pm. Saturday 10:30 – 6:30 pm. Sunday 11 – 6 pm.
Becker Vineyards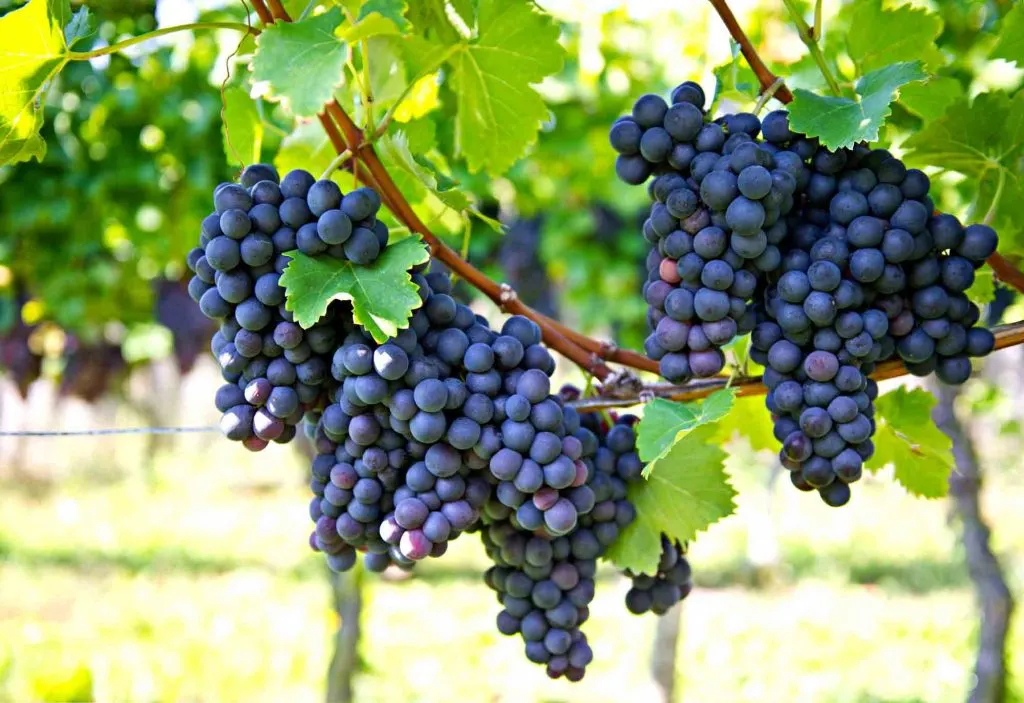 This stunning winery is just the place to go if you're traveling with your significant other. The luxurious estate and intimate tasting rooms make for quite an impressive date night.
For $60 per person, you can visit the Reserve Wine Library for a private tour and tasting of three wine and cheese pairings.
For those on a budget that still want to impress, $35 will get you a gourmet tasting featuring five wines and small dishes to enjoy alongside them.
To spice things up, even more, check out our list of romantic cabins in Fredericksburg for gorgeous, secluded accommodations in the heart of the Hill Country, one of the most romantic getaways in the United States.
Of course, this spot isn't only for couples. Anyone will enjoy Becker's award-winning bottles, which have even had the honor of being served at the White House.
464 Becker Farms Rd, Fredericksburg, TX 78624
(830) 644-2681
Hours: Monday – Thursday: 10 am – 5 pm. Friday – Saturday: 10 am – 6 pm. Sunday: 12 pm – 6 pm.
Pedernales Cellars
The lovely Pedernales Cellars is a family affair, started and run by a sixth-generation Texas clan that prides itself on sustainable production.
Their specialties are Spanish and Rhone-style wines made with 100% Texas grapes, including grapes from the Texas Hill Country and Texas High Plains.
And the expertise shows–Pedernales Cellars has been the recipient of "Top Texas Wine" in the HLSR International Wine Competition for three of the last six years.
But perhaps the best feature of their vineyards, which are located 15 minutes outside of Fredericksburg, is the stunning view of the surrounding Texas Hill Country.
If you don't feel like making the drive, they still have a complete tasting room right in the heart of town, where you can enjoy a flight of wines for $20.
Pedernales also hosts a number of events throughout the year, from grape stomps, where you can make your own wine through foot-powered production, to live music on the weekends.
Fun fact: Some of the most popular grapes grown in Texas are the Cabernet Sauvignon, Malbec, Merlot, Tempranillo, and Viognier, and about 80% of them are grown in the Texas High Plains.
2916 Upper Albert Rd, Stonewall, TX 78671
(830) 644-8186
Hours: Monday – Thursday 10am – 5pm. Friday & Saturday 10 am – 6pm. Sunday 12pm – 5pm.
Lost Draw Cellars
No wine tour in Fredericksburg is complete without a stop at Lost Draw Cellars. Although they only opened their doors in 2014, four generations of the family have lived and worked on the land.
Drawing from a number of vineyards across the state, Lost Draw Cellars is able to showcase the best and brightest of Texas wines.
Their warm, inviting courtyard and tasting room are located just outside downtown Fredericksburg.
For only $20 per person, you'll get a tour of the facilities as well as a flight of six local wines carefully explained by one of Lost Draw's expert associates.
And for only $10 more, you can upgrade to a private tasting that pairs five delectable wines with carefully selected small platters to up the flavor even more.
Andy Timmons, one of the brains behind the operation, is considered a pioneer of the Texas wine scene, so you'll certainly be in good hands.
113 E Park Fredericksburg TX 78624
(830) 992-3251
Read next: Best Weekend Getaways from Dallas
William Chris Vineyards
In a perfect blend of past and future, the ultra-elegant William Chris Vineyards has mastered the art of bringing Southern charm into the luxury of wine tastings.
They've pulled together time-honored European traditions of production and uniquely flavored Texas-grown grapes in order to contribute greatly to the elevation of the state's wine scene.
For $40, you score access to an intimate private room in the vineyard's refurbished farmhouse, where you'll sample an array of seasonal wine and small plate pairings.
If you want to take the tasting outdoors to marvel at the landscape, the winery's deck offers panoramic views of Texas Hill Country, and further seating is available under a shady historic oak grove.
Whatever the weather, William Chris Vineyards will make sure you're comfortable while sipping on your wine.
For those that just can't get enough of the local goodies, this winery offers some excellent insider deals.
The tasting we mentioned earlier is half off for members, and they also get exclusive access to five or six specially released bottles each year!
10352 U.S. Highway 290 Hye, Texas 78635
(830) 998-7654
Hours: Monday – Wednesday: 10 am–5 pm. Thursday – Saturday: 10 am-6 pm. Sunday: 11 am-5 pm.
Heath Sparkling
While most other Fredericksburg vineyards are known for their reds and whites, Heath is the first winery in the state to focus exclusively on sparkling wines.
Garnering near-perfect reviews for its stunning architecture, exquisite tastings, and knowledgeable service, Heath Sparkling certainly stands apart from other wineries in Fredericksburg.
For $25 per person, you can enter into a "multi-sensory tasting experience" that features four of their signature sparkling wines served alongside delicious small bites.
Beyond the bottles, it's easy to spend hours just gazing out the floor-to-ceiling windows that overlook acres of rolling hills decorated with the latest crop of grapes.
If you like what you see, membership opens up a whole other world of perks.
At Heath Sparkling, club members receive discounts on wines and tastings, free shipping on all orders, and a complimentary glass of house wine at any of their locations. Talk about a warm welcome!
10591 East US, US-290, Fredericksburg, TX 78624
(830) 304-1011
Hours: Open Daily 11 am – 5:30 pm.
Fredericksburg winery map
We know it can be overwhelming to find the location of the lovely wineries in Fredericksburg online. While many wineries and vineyards are along the Wine Road, many others are further away.
For that reason, we decided to pin all of them to an interactive map that you can use on your mobile for your Texas road trip.
Click here to access the map.
Fredericksburg TX wineries
Oh, your wine tasting trip is going to be so exciting! We hope this guide can help you, dear wine enthusiast, pick the best venue, or venues, and plan an incredible day!
We have a feeling your wine tasting experience will be A-M-A-Z-I-N-G!
If you have any questions re: Fredericksburg TX winery drop them below and we will make our best to answer you!
But, if you're in a dreamy mood, you might want to read this inspirational USA bucket list, that is packed not only with incredible summer destinations but also with magical winter vacation spots in the country.
Cheers!
Did you like this guide about the best wineries in Fredericksburg TX? Then share it with a friend who might like it too!