These are the top 10 hikes in Joshua Tree National Park in all levels of difficulty. Ready to experience one of the best national parks in America?
Joshua Tree National Park is well-known among rock climbers, but what many don't realize is that it's one of the best winter hiking destinations.
Straddling two deserts, Joshua Tree is scorching hot in the summer. But from fall to spring, temperatures drop, making it the best time to explore the park's trees, boulders, and wildlife on a hike.
This post highlights the best hikes in Joshua Tree National Park, plus the best time to visit, where to stay, and how to get around this incredible park that should be on everyone's USA bucket list.
Don't miss out! Click here to purchase your America the Beautiful Pass!
Hiking in Joshua Tree National Park
Joshua Tree National Park sits in the southeast corner of California, only a few hours from major cities like Los Angeles and Las Vegas. Its claim to fame is the unique Joshua Trees (which aren't actually trees at all).
With nearly 30 hiking trails, visitors to Joshua Tree can explore the unique geology and wildlife up close. From short nature walks to strenuous desert hikes, Joshua Tree has something for every type of hiker, which makes it one of the best places to visit in California.
Essential Things to Know Before Hiking Joshua Tree National Park
Always check trail conditions and weather forecasts on the Joshua Tree National Park website before hiking.


Joshua Tree is an excellent winter vacation in the US, so for the best hiking weather, plan to visit Joshua Tree National Park between late October and early April.


Do not attempt to hike moderate to strenuous trails in high heat. The desert environment in Joshua Tree is harsh and extreme. Check alerts on the national park website for heat advisories if hiking in the summer.


Hiking in the desert dehydrates you faster than in other environments. Plan to carry at least 1 liter of water for every hour of hiking and hydrate ahead of time.


Joshua Tree National Park is home to many different types of wildlife, including rattlesnakes. Be aware of your surroundings as you hike. If you come across a rattlesnake or hear one rattling nearby, wait several minutes for it to retreat. If you still hear the snake rattling, find an alternate route.


As with any desert environment, temperatures fluctuate dramatically. While days can be hot, overnight temperatures typically drop around 30 degrees—plan to dress in layers for morning and evening hikes.


Always carry the 10 hiking essentials on hikes in Joshua Tree—this includes extra water and food, additional layers, sun protection, first aid, a map, pocket knife, flashlight, lighter, and an emergency shelter. These items will protect you if you happen to get lost or stranded in the desert overnight.
How to Get to Joshua Tree National Park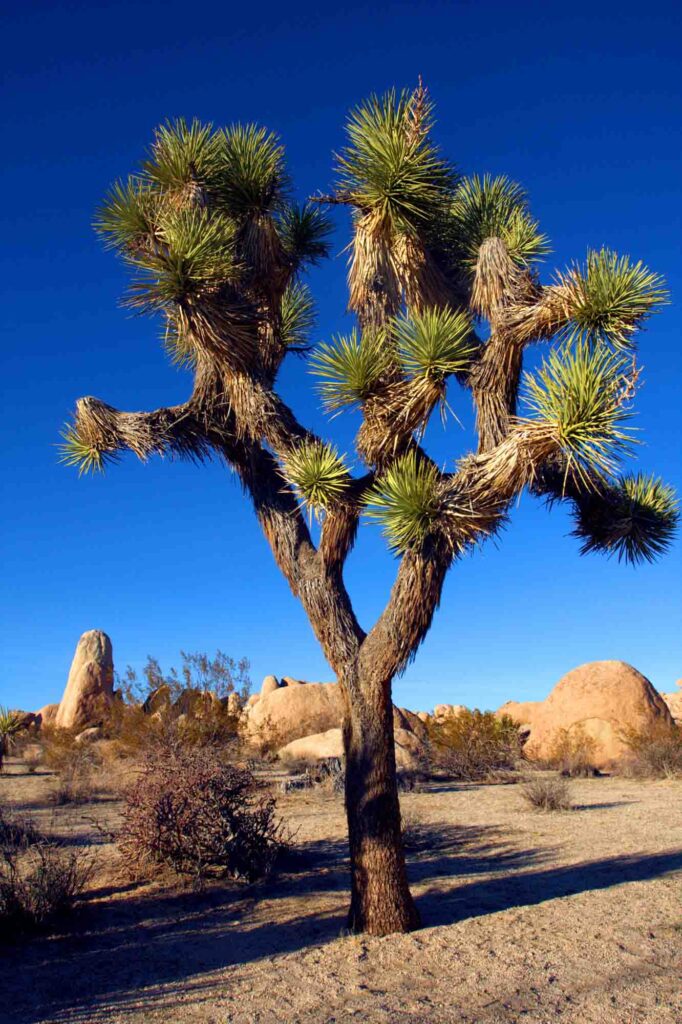 Palm Springs International Airport is the closest to Joshua Tree. From here, you're less than an hour to the park entrance. For cheaper flights, consider flying into Las Vegas or Los Angeles and driving to Joshua Tree.
The best way to get to the park from the airport is by car. All these airports offer plenty of rental car options.
Where to Stay in Joshua Tree National Park
Unlike many other national parks, Joshua Tree does not offer any in-park lodges. If you want to stay within the park, you'll need to camp at one of the park's 9 campgrounds.
The best campground for hikers is Jumbo Rocks, but it is incredibly popular, so plan to reserve a site 6 months in advance.
Just outside of the Joshua Tree National Park boundaries are several towns. Look for hotels or Airbnbs in Yucca Valley, Twentynine Palms, or Joshua Tree.
How to Get Around Joshua Tree National Park
Joshua Tree National Park does not offer a shuttle service. The best way to get around the park is by car. The main roads through the park are paved and do not require an all-wheel-drive vehicle.
Park Boulevard runs through the heart of Joshua Tree National Park, connecting most trailheads. To ensure you can find parking at popular trailheads, plan to start your hike in the morning or later in the afternoon.
Click here to find affordable rental cars
Admission to Joshua Tree National Park
Joshua Tree National Park requires visitors to buy a pass to enter the park. Passes are available at all visitor centers and entrance stations.
The 7-day pass is $35 per vehicle and gives you and everyone in your vehicle unlimited entries to the park for 7 days.
If you plan to visit another national park within a year, the best value is to buy the America the Beautiful Pass. For only $80, you get access to every US national park. Buy the pass online from REI at least a month or two before your trip.
Click here to buy your America the Beautiful pass at REI
Best Time to Visit Joshua Tree National Park
While Joshua Tree National Park is open all year, summer temperatures are too hot for hiking. The best time to visit is from late October to early April when daytime temperatures are between 60 and 80 degrees.
Fall and spring are peak seasons for Joshua Tree, with fewer visitors in the slightly colder winter months. January and February are the best time to visit for hiking with fewer crowds.
Best 10 Joshua Tree Hikes
Incredible Easy Hikes in Joshua Tree National Park
1. Barker Dam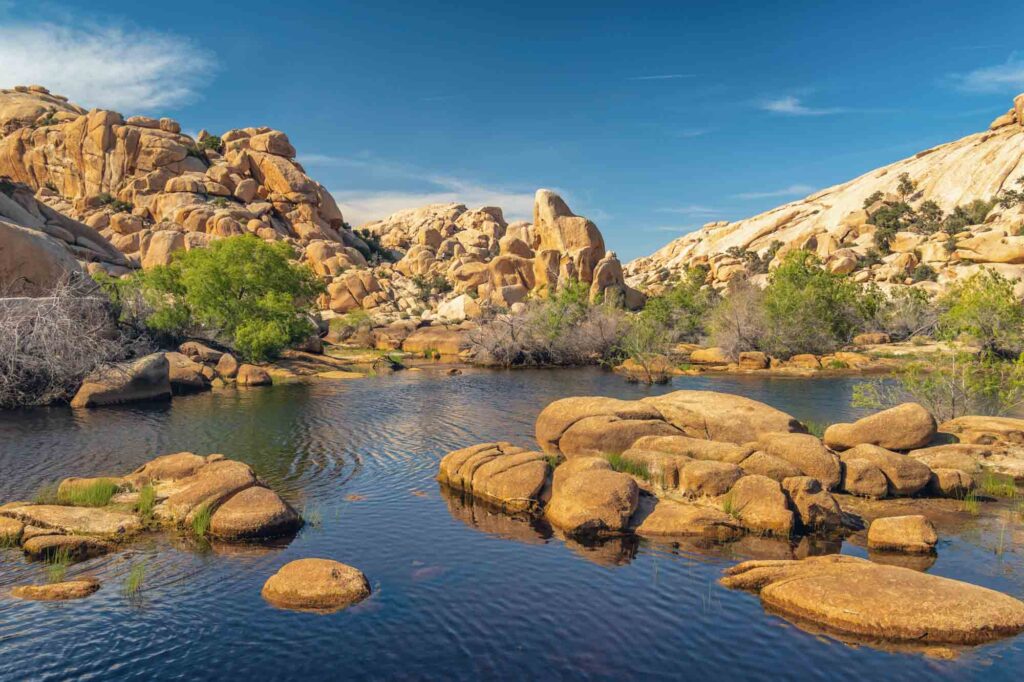 Joshua Tree was once home to early settlers and cattle ranchers. The loop to Barker Dam gives you some insight into that history.
Bark Dam was built by early cattle ranchers as a water tank for their livestock. Today, it's a rare source of water in the desert. You may even be able to spot a bighorn sheep on the hike!
The easy 1-mile loop out to the dam is perfect for sunrise or sunset when the colors of the sky and surrounding rocks are reflected in the still water.
Distance: 1.1 miles
Elevation Gain: 50 feet
Trailhead: Barker Dam Parking Area
Time Required: 1 hour
Psst: You can find the Wall Street Mill Trail at the same parking lot as Barker Dam. It's an easy hike in Joshua Tree, and you get a piece of gold mining history all in one!
2. Cap Rock
The Cap Rock Trail takes you through winding boulder fields and Joshua Tree groves. Here you can scramble the boulders that line the trail, making this the perfect hike for adventurous kids.
This is also a great place to explore Joshua Tree's plant life and wildflowers up close. Nature lovers can use Joshua Tree's Botanical Trail Guide to identify flowers and plants along the trail.
Distance: 0.4 miles
Elevation Gain: 20 feet
Trailhead: Cap Rock Parking Area
Time Required: 30 minutes
Read next: 27 Epic Summer Vacations in the USA
3. Cholla Cactus Garden
Joshua Tree is known for its trees, but in the southern part of the park, you'll find Cholla Cactuses instead. The short, fuzzy cactuses are clustered close together and line Park Boulevard for miles.
This short nature walk takes you on dirt paths and boardwalks through the cactus garden. But don't get too close to the cactuses – they are incredibly sharp and prickly!
This hike is best at sunrise, when the Cholla cactus catches the warm morning light, resulting in an orange glow.
Distance: 0.25 miles
Elevation Gain: 10 feet
Trailhead: Cholla Cactus Garden Parking Area
Time Required: 30 minutes
4. Hidden Valley
Hidden Valley used to be inaccessible. Giant rock piles completely enclosed the valley. Cattle ranchers removed the boulders and discovered this previously hidden valley.
The short loop trail takes you through the boulder formations and Joshua Tree groves to explore the park's plant and animal life.
This is an excellent hike for families and kids who want to climb on the boulders. The nearby picnic area is the perfect place for a post-hike lunch.
Distance: 1 mile
Elevation Gain: 100 feet
Trailhead: Hidden Valley Picnic Area
Time Required: 1 hour
5. Keys View
The short, paved walk to Keys View should be at the top of your Joshua Tree bucket list. The drive to Keys View takes you to one of the highest points in the park.
From the vantage point, you can see the expansive Coachella Valley and surrounding mountain ranges. On an extremely clear day, you may even be able to see into Mexico!
As one of the best places in the park for sunset, the parking area fills up. If you want to catch the sunset from Keys View, plan to arrive about an hour before sundown.
Distance: 0.25 miles
Elevation Gain: 25 feet
Trailhead: Keys View Parking Area
Time Required: 30 minutes
6. Skull Rock
One of the unique rock formations in the park, Skull Rock resembles a human skull. Over many years, water pools eroded the rock, hollowing out what looks like eyes.
It can be seen directly off Park Boulevard but is also accessible on an easy trail from Jumbo Rocks Campground.
Jumbo Rocks Campground is one of the most popular campgrounds in the park. Directly from your campsite, you can take the short, meandering trail through the boulder fields to Skull Rock.
Distance: 1.7 miles
Elevation Gain: 160 feet
Trailhead: Jumbo Rocks Campground
Time Required: 1.5 hours
Read next: 33 Coziest Fall Vacations in the USA
Best Moderate Hikes in Joshua Tree National Park
7. Lost Horse Mine
Not only was Joshua Tree home to cattle ranchers, but it was also a hot spot for gold miners. Roughly $5 million in gold and silver was mined at Lost Hose in the early 1900s.
The trail to Lost Horse Mine follows the road used to deliver supplies to the miners at Lost Horse.
Lost Horse Mine has been well-preserved by the National Park Service. Today you can still see the historic mine shaft and structures.
Be careful to stay out of fenced areas around the mine shaft and historical buildings as they can be unstable and dangerous.
Distance: 4 miles
Elevation Gain: 550 feet
Trailhead: Lost Horse Mine Trailhead
Time Required: 3 hours
8. Ryan Mountain
Ryan Mountain is one of the only summits in Joshua Tree National Park. Few places in the park provide such panoramic views, so Ryan Mountain is one of the most popular trails.
The climb up to Ryan Mountain summit is short but strenuous. You climb directly up the side of the mountain, gaining over 1,000 feet in just under 1.5 miles.
You can see the surrounding valleys and mountains from the summit, making it the perfect sunset hike.
Distance: 3 miles
Elevation Gain: 1,050 feet
Trailhead: Ryan Mountain Trailhead
Time Required: 2 hours
Best Difficult Hikes in Joshua Tree National Park
9. Boy Scout Trail
The Boy Scout Trail takes you through many terrains. You'll hike through groves of Joshua trees, the Wonderland of Rocks, and desert washes.
This is the best hike to get away from the crowds and escape into Joshua Tree's wilderness.
The least strenuous way to do this hike is as a one-way trail. Start at the south end of the trail and end at Indian Cove.
Since the park doesn't offer a shuttle, you'll need to park one car at each trailhead to travel back to your starting point.
Distance: 8 miles
Elevation Gain: 1,190 feet
Trailhead: Boy Scout Trailhead
Time Required: 6 hours
10. Fortynine Palms Oasis Trail
An oasis is a rare escape from the hot desert environment. Fortynine Palms Oasis provides much-needed shade and water in the middle of the desert.
One of the few hikes that don't start along Park Boulevard, this trail gets fewer visitors. The solitude on this hike makes it the perfect place to escape from the desert for a picnic.
You'll follow a cactus-filled ridgeline before descending into a palm tree oasis. This trail isn't long, but it is very hot, so be sure to bring plenty of water.
Distance: 3 miles
Elevation Gain: 300 feet
Trailhead: Fortynine Palms Parking Area
Time Required: 3 hours
Final Thoughts of the Best Hikes in Joshua Tree National Park
Joshua Tree National Park is the perfect off-season hiking destination. If you only have one day in Joshua Tree National Park, be sure to hike Keys View, Ryan Mountain, and Cholla Cactus Garden.
If you're looking for more adventures, Joshua Tree is an excellent addition to a California road trip (Pacific Coast Highway, anyone?) or a road trip to other Southwest national parks.
About the author
Julia is a detail-oriented traveler with the goal of visiting every U.S. national park. Her blog, Well Planned Journey, helps you plan epic national park trips with detailed itineraries, hand-crafted gear guides, and tips to elevate your hiking skillset.
Follow her journey to visit every national park on Facebook, Instagram, and Pinterest.
Did you like this article about hiking trails in Joshua Tree? Then save it to Pinterest or share it with a friend who might like it too!