Are you planning a trip to the capital city of the Lone Star State, or are you looking for green areas close to home? You're in luck, especially if you love partaking in outdoor adventures. There are many state parks near Austin.
Beautiful scenery, breathtaking hikes with rewarding views, and camping in mystical locations can all be experienced if you visit any state parks.
By the end of this article, you'll have a comprehensive understanding of all the best state parks located near Austin that you won't want to miss, as well as what to do for everyone.
So, what are you waiting for? Start reading this article and plan your next trip to Central Texas!
Get unlimited free entry to 89 Texas state parks for yourself and guests for a year—plus discounts on camping, park store purchases, and equipment rentals—with this Texas State Park Pass Certificate.
The 13 Best State Parks Near Austin
There are so many Austin state parks, so find them all compiled below in no particular order.
1. McKinney Falls State Park
The first of the state parks near Austin is McKinney Falls State Park. The park has become one of the most visited in the Austin area since it is close enough to be within the city limits.
This park was established in the 20th century and is filled with many fun things to do.
There are more than 80 different campsites throughout the park featuring electricity and water hookups, and there are even cabins for rent.
McKinney Falls State Park is known for its incredible natural beauty, specifically with Onion Creek. There are countless hiking and cycling trails, spots for geocaching, fishing, swimming, and even places to relax.
Easily, the most popular trail here is the Onion Creek Hike and Bike Trail, which can even be walked with children and even strollers.
But, you might want to check out the Homestead Trail as it is rated as one of the best Austin trails.
2. Buescher State Park
One of the perfect campsites near Austin is Buescher State Park, a great place to relax and enjoy the night sky.
This park is known for its gorgeous trees, which are a welcome reprieve from Austin city life.
There are places to set up tents and cabins are available for rent if you want to spend the night in a bit more comfort.
This park is a traditional state park featuring spots for kayaking, canoeing, and hiking. Children will be happy to find there are geocache locations throughout the park!
If you go on a hike, take the time to find the Big Tree, one of the highlights in Buescher State Park.
Read next: 16 National Parks in Texas
3. Bastrop State Park
Located in Bastrop, Texas, Bastrop State Park is one of the state parks near Austin that is perfect for an outdoor adventure.
It's home to its recovering forest of loblolly pines – the famous Lost Pines – and is filled with a lot of greenery despite being ravaged by fires in the past.
There are campgrounds at this Texas state park, so if you're looking for an overnight trip, this could be an excellent place for you to consider.
Bastrop State Park even has group barracks in case you're traveling with a larger group. Fun activities at this park include swimming, biking, fishing, and more.
4. Inks Lake State Park
Inks Lake State Park is a truly magical destination that is particularly popular among families visiting the Austin area!
Its main highlight is the breathtaking lake, which is known for being a top-notch sunset spot.
There are many things to do for all ages at this park, including scuba diving, fishing, geocaching, hiking, and bird watching. Luckily, there is a rental shop so you can get any of the gear you'll need.
This is one of the best campsites near Austin, with more than 200 different spots available.
Don't miss out! Buy your Texas State Park Annual Pass!
5. Pedernales Falls State Park
Next on this list of the best state parks near Austin is Pedernales Falls State Park in Johnson City!
It's most well known for having the Pedernales River, so there are many great water activities you can do here, including some of the best beaches near Austin.
Be sure to take the time to see Pedernales Falls, which the whole park is named after.
Other things to do here include swimming (but not near the falls!), mountain biking, tubing, fishing, and miles of hiking trails, ranging from easy hikes with incredible overlooks to backcountry trails that are best suited for experienced hikers.
There are multiple places to spend the night and camping is allowed with both water and electric hookups, along with some primitive camping sites.
There are also areas for youth group camping and equestrian group camping.
Read next: Best State Parks in Texas
6. Lockhart State Park
For a welcome escape, look no further than Lockhart State Park, easily one of the greatest state parks near Austin and San Antonio too.
This park is filled with tons of outdoor activities and almost feels like a sanctuary of sorts.
What sets this park apart from others near town is that there is a swimming pool and a golf course that's been there for almost 80 years!
Other fun activities here include hiking, biking, swimming in the pool, fishing, and looking for wildlife.
In short, Lockhart is one of the best day trips from Austin for outdoor lovers.
Similar to other parks on this list, there are campsites at Lockhart State Park. Some of the sites have electricity and water while others don't, so make sure you do your research.
7. Longhorn Cavern State Park
Another one of the fantastic Austin state parks is Longhorn Cavern State Park.
It's located in Burnet and is popular because of its impressive caves, which are incredibly unique and mystifying. No matter your age, you'll love these caves!
As you may have guessed, the best thing to do at the Longhorn Cavern State Park is going on a tour of the cavern.
Other fun activities here include hiking, visiting the exhibit, and having a picnic.
While this is not a state park that you can camp at, it is located near Inks Lake State Park.
8. Blanco State Park
Blanco State Park is a genuinely breathtaking park because of the Blanco River. There's a fun little waterfall area that you can walk up to while swimming, and it's even safe for young children.
Because the park is home to part of the river, there are many water activities here!
Fun things to do here include fishing, boating, and swimming in the cool water of the river.
If you don't have a boat of your own, you can easily rent one. Of course, there are other great activities like geocaching, wildlife spotting, and hiking too.
Campsites are available, and you can also request a spot near the river for an unforgettable experience.
[image in media-library]
9. Guadalupe River State Park
Another one of the best state parks near Austin for water activities is the Guadalupe River State Park.
The park is known for its four miles of river frontage, allowing visitors to pass long and enjoyable summer days swimming!
Swimming, tubing, and fishing are other fun things to do on the river. If you aren't a fan of water activities, don't fret!
There are nature trails for hiking and horseback riding, areas for camping, and even geocache locations.
The trails in this state park are expansive, and some of the trails are short while others are long. A lot of the trails will have great views of the Guadalupe River.
10. Colorado Bend State Park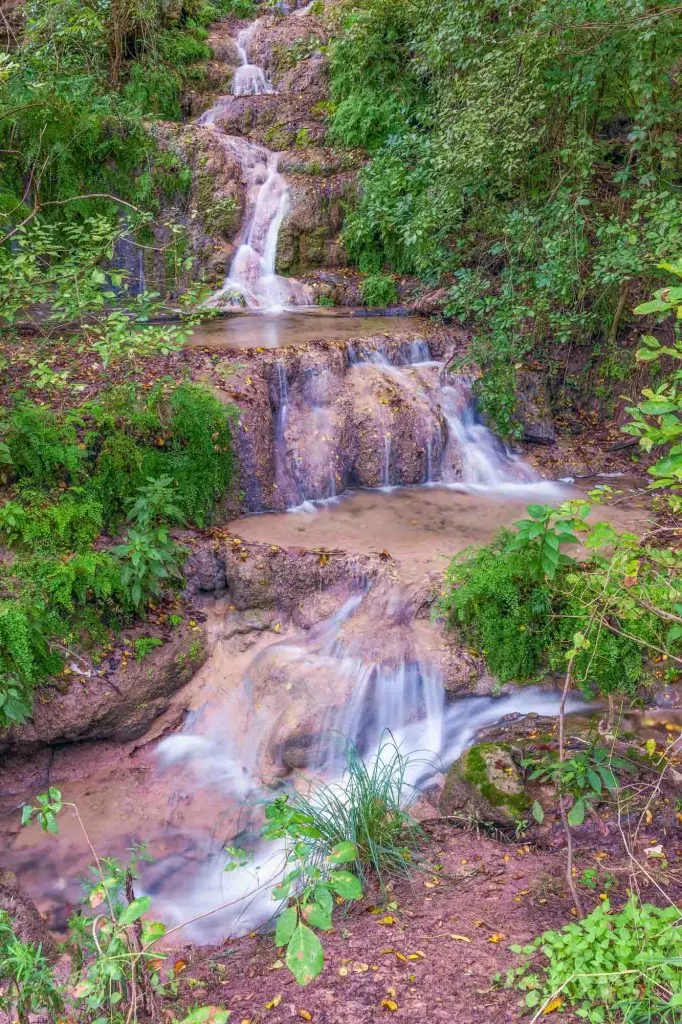 As far as state parks go, the landscape at Colorado Bend State Park is incredibly unique. Throughout the park, you can find caves, waterfalls, and other rocky landscapes.
The one activity you won't want to miss out on is taking a tour of the caves. These are guided tours, so make sure you sign up for one.
You also will want to check out the Gorman Falls Hike, which you can do on your own. The views are incredible, but keep in mind that it is not your usual leisurely hike.
There is also a multitude of camping options here. They even have composting toilets and an open-air, rinse-off shower near the campground to make your camping trip a little bit easier.
11. Palmetto State Park
Take a trip to another world by visiting Palmetto State Park! Located in Gonzales, most of this park has a very tropical vibe that will make you forget you're even in Texas.
Palmetto State Park is most popular among locals and tourists for being home to many different types of flora and fauna. The plants here are unlike those that you'll find in other state parks.
In this park, you can go hiking, fishing, paddle boarding, and more. There are also tent and RV camping sites.
12. Lake Somerville State Park
For a traditional camping experience with wildlife, take a trip to Lake Somerville State Park.
The park is home to Lake Somerville, which is perfect for swimming, fishing, and boating.
There are lots of parts of the park waiting to be explored—adventure through the park by geocaching, bird-watching, or even hiking. The park features miles of trails for all purposes.
The amenities here for camping are great if you're looking for them. Otherwise, you can camp off-grid!
13. Enchanted Rock State Natural Area
Last but not least is the Enchanted Rock State Natural Area in the Texas Hill Country.
The rock here is the most popular attraction! You can hike up it or even go rock climbing.
This is the only park on this list that includes rock climbing as an activity! These are also some of the most popular Austin hiking trails.
The rock here has been here for a few thousand years and has been a popular attraction among locals and tourists. Keep in mind that some activities might not be as easy to do if it rains.
Other activities here include bird-watching or geocaching. There are no campsites or spots for swimming.
Wrapping Up on the Best State Parks near Austin
Miles of hiking trails, incredible rivers, and fantastic forests, there are tons of epic state parks near Austin, and no matter what kind of adventurer you are, there's surely one that will make your next trip to Texas unforgettable.
Note that while most of these state parks near Austin charge a daily entrance fee for adults, children under 12 are always free.
What state park do you think sounds most intriguing? Leave a comment below, and don't forget to save this post for your future trip planning.
Did you enjoy this article about Austin state parks? Then share it with a friend who might like it too!