Finding where to stay in Seattle can be confusing and stressful, especially if you're visiting for the first time.
There are loads of questions to ask and consider: would the area be nice? Would we like it? Would it be close to public transportation–and what about shops and restaurants?
Scouring the web and asking friends and family for suggestions may help ease the stress, but we are here to help you even more!
We DO NOT want you to be stressed out when figuring out the best places to stay in Seattle.
Finding the best area to stay in Seattle can be confusing for anyone, and especially for first-time visitors, which is why we created this guide just for you with specific recommendations!
Below, we will break down the best places to stay in Seattle by neighborhood and price.
Although many of your personal needs and preferences will influence where you want to stay in Seattle, we hope this guide can help you navigate the city while ensuring you can plan your trip with ease!
Where to stay in Seattle – Budget overview
Seattle is one of the more lively cities in the US, but it's also not one of the most expensive. Hotels, restaurants, and transport costs don't reach the crazy heights of Los Angeles and New York City.
Seattle, like New York, is a somewhat walkable city, especially if you stay in the downtown neighborhoods. A lot of what you'll want to see and do can be walked to, which saves on public transport.
Both busses and link trains in Seattle are reliable, but a single ticket on either will set you back around $2.50. Budget restaurants are trendy and easy to find in Seattle, making eating out on the hipster streets very doable.
And the range of hostel options is excellent for those who want to avoid hotel costs.
Where to stay in Seattle
Budget: $50-$60 for a hostel bed
Mid-range: $100-$150 per night
Luxury: $200+ per night
Best places to stay in Seattle
Our top picks for where to stay in Seattle
Not enough time to read this article in one sitting? If you want a quick answer to the best accommodation in Seattle, here are our top picks in the city.
Belltown Inn is easily the overall best hotel in Seattle thanks to the fact that it strips back everything that's not needed and, instead, seeks to provide guests with a bright, colorful, and charming experience.
The walls of the rooms are painted in positive primary colors. Facilities are considered with guests in mind.
And the very best part of the whole hotel is the rooftop terrace, which is fully furnished with the comfort of its guests in mind. That includes incredible views of the Seattle skyline.
When trying to find a budget hostel that also provides the best comfort, atmosphere, and security for the average traveler, HI Seattle Hostel is it.
Encouraging you to meet and spend time with your fellow travelers, this hostel also wants you to feel safe and secure, so it gives each guest plenty of wardrobe space and the choice to watch TV in the TV room or read in the library.
The comfy beds ensure a sound night's sleep, and the location puts you within a short walk of some of the city's best sights and landmarks, as well as the train station which can take you anywhere in Washington state.
Seattle neighborhood guide
Are you traveling solo? As a family or a couple? What do you want to have on your doorstep? Whatever you're looking for, we'll cover it here in this Seattle neighborhood guide.
Belltown: Belltown is Seattle's hipster district. For a frame of reference, it's Seattle's answer to New York City's Brooklyn or London's Shoreditch.
It's a district that's densely packed full of people enjoying the local flavor at a whole host of independent restaurants and coffee shops. It's also packed full of great bars and clubs, with a thriving music scene.
Seattle is famous for its punk, grunge, and metal music, and you'll still find a whole lot of that in Belltown, which is what makes it such a lively and exciting place to stay for first-timers.
Capitol Hill: Despite its relatively upmarket sounding name, Capitol Hill is Seattle's gay capital. It's a place full of great bars and clubs for the city's thriving LGBTQ population.
This makes it a great choice if you want to get to know Seattle's gay scene. The other half of what makes up Capitol Hill is its historic park, Volunteer Park.
This place offers hiking trails, great views of the city, and even Seattle's Asian Art Museum.
These two different sides to Capitol Hill make for a very diverse and beautiful place to stay in Seattle.
Pioneer Square: The oldest and most historic district in Seattle in Pioneer Square.
Known as Seattle's 'original neighborhood,' Pioneer Square is home to two beautiful parks that are great for strolling and unwinding, as well as a huge number of tour options for visitors wishing to dig right into Seattle's history.
This is where the city began, after all. Much like Belltown, however, Pioneer Square also provides those who stay there a great taste of modern Seattle, with independent cafes and restaurants to enjoy while admiring the historic architecture on every street.
Downtown: Seattle's Downtown district is the Manhattan of Seattle: a district of tall skyscrapers and man in suits hustling to work each morning.
It's also a great place to stay in Seattle if you're a couple or a family, thanks to the wealth of art galleries and museums in the area, as well as the almost hundred-year-old Paramount Theatre.
The waterfront area is also home to a Ferris wheel that's perfect for children to enjoy. Nearby is a world-famous market packed with delicious food stalls to eat at.
The best areas to stay in Seattle
Seattle is one of the USA's most beloved cities, most notable thanks to its thriving arts and music scene. Seattle is, undeniably, in a rainy and cold part of the US, but that climate has brought us some of the best musicians, writers, and artists the United States has ever seen.
And these writers and artists have emerged from bright, vibrant, beautiful districts of Seattle that are overflowing with street art, world foods, and natural beauty.
Seattle is a city of parks and outdoor fun. Whether you stay in Belltown or Pioneer Square, you'll find some stunning walks through the local parks where you can picnic or simply unwind from the bustle of the streets.
Seattle also has some of the best museums and art galleries in the country, and many of them can be found in the family-friendly Downtown district of Seattle.
The city is also home to a thriving Asian population, with an impressive Chinatown that provides some of the best Chinese, Japanese, and Korean food around. And that Asian influence can even be seen in the Asian Art Museum.
Wherever you choose to stay in Seattle, you'll find beautiful street art, captivating museums and galleries, tranquil and picturesque parks, and, best of all, an enormous wealth of local restaurants, bars, and cafes that bring the city to life day and night.
The gay scene, club scene, and the coffee scene of Seattle are all the best on the west coast, and you'll have a blast wherever you choose to stay.
Belltown: The Best District in Seattle for First-Timers
Belltown encapsulates everything great about Seattle. It's a local area of hipsters running their own coffee shops, restaurants, and bars.
Craft beers, the best bakeries, and the friendliest locals live and enjoy their lives here. You can enjoy a classic movie at the independent cinema or explore the Olympic Sculpture Park for free.
Things to do in Belltown
Explore Olympic Sculpture Park: A very artsy spot in Belltown, Seattle, the Olympic Sculpture Park is free to explore and is home to some of the city's coolest modern art sculptures. From the park, you can enjoy the city's skyline as well as views over the water.
Catch a movie at Cinerama: This is a unique independent movie theatre in Seattle that serves a range of food and alcohol. This is one of those delightful cinemas that shows a vast array of brand new and classic movies that you might never have seen before.
Enjoy the baked goods: As already mentioned, Belltown is home to a wealth of local businesses selling excellent food and drink. Some of the best come in the form of doughnuts, pizza, and other bread products. Try Top Pot Doughnuts and Dahlia Bakery for the best in town.
Explore the bars and clubs: Belltown is one of Seattle's biggest nightlife capitals, with clubs like Amber and Ora Nightclub being two of the city's most popular venues. There are also plenty of sports bars, dive bars, and hipster bars filled with arcade machines and selling local craft ales.
One of the most charmingly bright and simple hotels in Seattle, the Belltown Inn has a stripped-down and homely atmosphere to it.
This is a hotel with rooms painted in bright, sunny summer colors and a foyer that welcomes guests with a modern decor of bubble-shaped furniture of primary colors and positive vibes.
One of Belltown Inn's most significant benefits is its rooftop terrace, which is fully furnished and makes this the best Seattle hotel during the summer months.
Then there's the fact that, from here, you're a short walk from such iconic parts of town as the Olympic Sculpture Park.
There's a real vintage vibe to this Seattle hostel, with its deep-colored wooden bunks and communal areas that encourage the meeting of new people to hang with, explore the city with, and even cook with.
This hostel is located in one of the best parts of Seattle, a delightfully short walk from the Seattle Art Museum.
Seattle is all about its art scene, and so this is one of the best places to stay in the city if you're looking to explore its galleries and museums so that you can discover all this art and beauty for yourself. And there's good WIFI, too.
Capitol Hill: The Best District in Seattle for that Local Feeling and LGBT Culture
These days, Capitol Hill is best known as the LGBTQ heart of Seattle. At night, the district comes alive with some of the best gay bars and clubs on the west coast.
In fact, there's such an exciting local presence in the whole area, most notably seen at The Crocodile, a local music venue that hosted Nirvana in their early days. Then there's the biggest and most beautiful park in the city: Volunteer Park.
Things to do in Capitol Hill
Wander Volunteer Park: An enormous park that makes up the beating heart of Seattle. Volunteer Park is full of ponds and plenty of grassy areas to play with your kids, enjoy a picnic, or an afternoon stroll. In the summer, the flower gardens bloom a thousand different colors.
Visit the Seattle Asian Art Museum: A Unique museum in the heart of Seattle found inside Volunteer Park. This museum boasts a range of art and artifacts from countries across East Asia.
See a gig at The Crocodile: Seattle, home of Nirvana and birthplace of grunge, also has The Crocodile, a music venue that hosted Nirvana back in the early 90s, as well as such legends as REM. Today, every kind of live music can be enjoyed here, at one of the USA's most legendary music venues.
Explore the Elliott Bay Book Company: An enormous and beautiful independent bookstore in Capitol Hill. Seattle is a bookish place that has birthed many great writers and a general love of literature. At Elliott Bay Book Company, you can browse the best literature to your heart's content.
This historic mansion built in 1909 features 8,000 square-foot of pure comfort.
The rooms are clean, spacious, and warmly decorated, offering all relaxation you would need after a day exploring the city.
This is one of the most beautifully decorated guesthouses in town, with the stained glass windows, fireplace, and a crystal chandelier in the day rooms.
Location-wise, the mansion is reasonably close (a little over a mile) to many prime attractions, such as the Space Needle, Pike Place Market, and Seattle Art Museum.
This makes Bacon Mansion B&B a warm, cozy, and homely place to stay.
This is a lovely apartment that will surely make you feel at home. It's a delightful blend of comfort and practicality, with the comfort being high-speed WIFI and bright rooms.
The practicality is this apartment has all amenities you would need while visiting Seattle. It has a fully equipped kitchen, washing machine, bathtub, and colorful rugs to brighten the place.
This is also a great location, with Space Needle only 1.8 miles away and Seattle Center 2.1 miles away.
Pioneer Square and Chinatown: The Best Districts in Seattle for Nightlife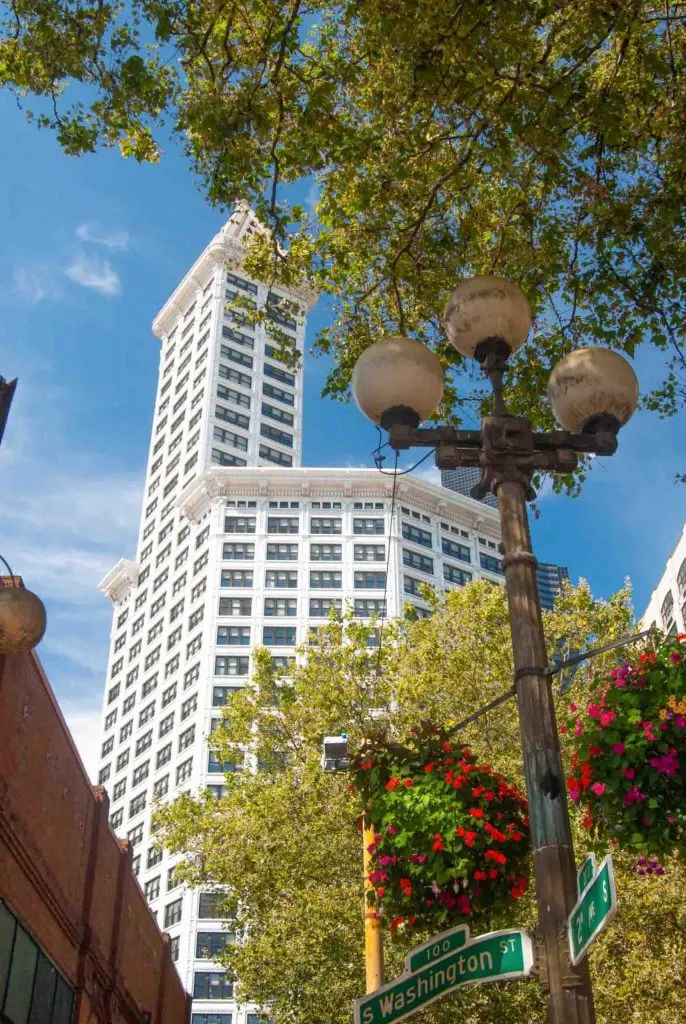 Pioneer Square is the social capital of Seattle.
Its Occidental Park is buzzing and bustling night and day, especially during the summer months, with live music playing, children running, families enjoying a picnic outside, and food stalls selling delicious and freshly-made foods.
There is also a considerable amount of local history to be found here, including the Underground Tour and Klondike Gold Rush National Historical Park.
Things to do in Pioneer Square and Chinatown
Take the Underground Tour: Decades ago, an enormous fire burned up Seattle and buried half of it. The city was then rebuilt anew on top of the old one, but the ruins of the old underground city can still be toured, and the tour starts in Pioneer Square
Explore Occidental Park: This park in Pioneer Square is rammed full of people enjoying the summer sun, live music, and street food. A great place to soak up the atmosphere.
Visit the Klondike Gold Rush National Historical Park: This is a lesser-known historic park that honors the memory of those explorers who passed through Seattle on their way to Alaska in search of their fortune.
One of the most inviting parts of this Pioneer Square hotel is its comfy and spacious bedroom. The tall windows are a nice untouched detail from this historic building.
The hotel also offers an indoor pool, on-site bar, fitness room, laundry, and dry cleaning facilities.
Beyond that, this is the Seattle hotel to stay at if you want to be in the middle of the action as it is close to many attractions and a train station.
One of the most practical and convenient hostels in Seattle, the HI Seattle Hostel, has all the amenities that you need to feel relaxed and at home, even while staying in a room with your fellow travelers.
Every room comes with a wardrobe space to store all of your travel clothes. There are washing and drying facilities, and enough kitchen space to cook and eat.
There's also a library and a TV room, meaning plenty of opportunities to get to know your fellow travelers staying at the hostel. The location is also a short walk from both the bus and the train station.
Downtown and the Waterfront: The Best Districts in Seattle for Families
The Downtown and Waterfront districts of Seattle are relaxed centers of local history and culture, ideal for families with children, but also for couples looking for a place to unwind and relax for a weekend or even a full week.
What makes the Downtown Seattle district ideal for this is its focus on museums and galleries, such as the Seattle Art Museum, but also the family-oriented entertainment like Pike Place Market (the city's oldest farmer's market) and the Seattle Great Wheel.
Things to do in Downtown and the Waterfront
Explore Pike Place Market: The most famous market in Seattle, Pike Place Market, is also the oldest farmer's market in the city. It provides fantastic waterfront views of the bay, and its stalls offer a wide variety of fresh local produce to browse and buy.
Ride the Seattle Great Wheel: Great for families with young children or couples visiting the city, the Seattle Great Wheel is a big Ferris wheel on the edge of the water that provides views of the bay and the surrounding area.
Visit Seattle Art Museum: Another fantastic museum in Seattle, the Seattle Art Museum, is a several-stories-tall building filled with art and artifacts from all around the world. Its front door is framed with the enormous and moving silhouette of a blacksmith known as the Hammering Man.
There is a loose and subtle nautical theme to the Palihotel Seattle.
This charming place is painted in deep greens, with bright and softwood furniture breaking up the greens to create this organic dynamism that really sets the site apart from other Seattle hotels.
The lounge area, with its bookshelves, mirrored walls, and wide sofas, is one of the most inviting and sleekly designed rooms you'll find in Seattle, and the hotel itself is ideally located close to the famous Pike Place Market.
From the rooms, city views can be enjoyed, and inside each room is a TV to unwind with after a day of exploring.
Here is a bright and charming hotel that puts comfort and a positive atmosphere above everything else. Marriott Waterfront offers spacious rooms with desks for those who need to work remotely.
Also, many rooms have a bay and mountain view–worth asking for one of those at check in!
The halls and common area are moodily decorated with wooden details and soft carpets.
The restaurant of this hotel is also a great place to sample local Seattle favorites as well as American dishes. You're also a very short walk from the famous Pike Place Market and Seattle Art Museum.
Where to stay in Seattle
Again, finding accommodation in Seattle can be quite stressful, especially if this is your first time in the city.
And because we want to help you to have the perfect stay in Seattle, we wrote this detailed article jam-packed with tips and advice.
Although the best places to stay in Seattle for one person won't be the same for the other, we believe we did a pretty good job in recommending the best hostels and hotels in Seattle.
After all, finding the best area to stay in Seattle can be confusing for anyone, and especially for first-time visitors.
To recap, the best hotel in Seattle for us is the Belltown Inn, because of the lovely design in the rooms, the perfect location, and the incredible rooftop terrace with skyline views.
While the best hostel in Seattle is Hi Seattle because it offers the best comfort, atmosphere, and security for their guests.
Both accommodations are very well reviewed and offer the best possibilities for sightseeing in Seattle for different budgets.
Seattle travel resources
We want you to have a fantastic time in Seattle! To help you with that, we wrote a few useful guides.
If you don't have an itinerary yet, you might want to read our one day in Seattle or 3 days in Seattle guides. They have lots of local insights we kindly got from a fellow blogger.
While Seattle is not your usual spring break destination, you might get surprised at how many things you can do and see in that period in the city.
Obviously, summer vacation tends to be more pleasant, and winter vacation can have that magical atmosphere. Spring is usually a good time to avoid the crowds.
Anyway, Seattle is certainly a place to visit in the USA! Oh, and maybe you would like to check out our favorite quotes about Seattle. (Just so you have your Instagram captions ready!)
Did you like this article about the best places to stay in Seattle? Then share it with a friend who might like it too!