Once you've seen the Alamo, the River Walk, and all of this central Texas city's other tourist hot spots, it's time to break off from the crowd and explore the many stunning state parks near San Antonio.
Within a few hours of the bustling downtown, you'll find crystal-clear rivers, dense forests, and countless opportunities to hike, bike, or paddle your way through some of the best nature in the state.
We've got a breakdown of what to do and see in each spot, need-to-know costs and planning pointers, as well as some tips on native wildlife to keep an eye out for.
So keep reading to plan your next city getaway at one of these spectacular San Antonio state parks!
If you just can't get enough, this massive state has plenty more to explore. Check out our recommendations for the best road trips in Texas, where we break down the coolest landscapes, quirkiest small towns, and most scenic drives on which you can see the Lone Star State at its finest.
Get unlimited free entry to 89 Texas state parks for yourself and guests for a year—plus discounts on camping, park store purchases, and equipment rentals—with this Texas State Park Pass Certificate.
14 Dazzling State Parks Near San Antonio
San Antonio is not only a USA bucket list item but also the second largest city in Texas and one of its cultural and historical centers.
But while most people limit their itineraries to the city itself, there are actually a number of natural wonders not too far away!
This list will help you dive deeper into the beauty of Central Texas and all the lush landscapes and outdoor adventures it has to offer.
1. Guadalupe River State Park
The highlight of the Guadalupe River State Park is, of course, the Guadalupe River, which twists and turns for 270 miles through South Texas, offering a number of aquatic activities and gorgeous views.
Tubing is the most popular pastime for hot summer days. You can go for a few hours or make it a half-day trip, and routes range from a relaxing float down the river to a more heart-pumping splash through sections of whitewater rapids.
Rafting and kayaking are also excellent ways to explore, especially when the water is rougher.
For more secluded natural spots, head away from the river for camping, bird-watching, and 13 miles of scenic biking and hiking trails.
Entrance costs $7 per adult for a daily pass, but children 12 and under get in free.
Read next: Best Parks in San Antonio
2. Garner State Park
Many state parks near San Antonio offer beautiful hikes and cozy campsites, but Garner State Park has a unique activity all its own.
Ever since the park was established in the early 1940s, crowds have gathered on summer nights for "The Dance." Jukebox tunes and a Texas-sized dancefloor await as the heat fades and guests get their groove on along the banks of the Frio River.
During the day, you can tube and paddle boat on the river, or stay on land to hike, picnic, and play a few rounds of mini golf.
Entrance costs $8 per adult for a daily pass, but children 12 and under get in free.
3. Blanco State Park
The tiered pools of Blanco State Park make it an excellent spot for swimmers of any level.
There is a shallow wading area for the little ones, as well as a deeper pool where you can float, swim, or ride the rope swing into an icy plunge.
After all, while other swimming holes heat up under the Texas sun, Blanco is fed by natural springs that keep its temperature low all year round.
The park is also known for its fishing. Bass, catfish, and trout are easy catches, and no license is required to fish from the shore.
Entrance costs $5 per adult for a daily pass, but children 12 and under get in free.
Don't miss out! Buy your Texas State Park Annual Pass!
4. Lockhart State Park
Lockhart is one of the few state parks near San Antonio that has its very own historic golf course, a gorgeous 9-hole site built more than 80 years ago.
A round will run you $9 on weekdays and $11 on weekends and holidays, and you can also rent clubs if you don't have your own.
For those that aren't interested in teeing off, the park boasts hiking and biking trails that give you the chance to spot native wildlife like bobcats, beavers, and rattlesnakes.
After all the activities, swing by the town of Lockhart for an incredible meal; It was deemed the "Barbecue Capital of Texas" in 1999!
Entrance to the park costs $3 per adult for a daily pass, but children 12 and under get in free.
5. Choke Canyon State Park
Choke Canyon is a wildlife haven, with world-class birding and fishing. A wide variety of water birds and songbirds can be found throughout the park, and the lake is full of largemouth bass and catfish ready to be caught.
American alligators, javelina, and white-tailed deer are just a few of the other native species that also call Choke Canyon home.
In fact, the area's natural history stretches all the way back to the extinction of the dinosaurs. The present-day location of the Choke Canyon Dam was once an ancient sea bed along the Gulf of Mexico shoreline, around 30 million years ago!
Entrance to the park costs $5 per adult for a daily pass, but children 12 and under get in free.
Read next: Best State Parks in Texas
6. Government Canyon State Natural Area
Only a 30-minute drive from downtown, Government Canyon is a 12,000-acre wilderness area that features everything from 40 miles of hiking trails to 110 million year-old dinosaur tracks.
Visitors looking for a jolt of adrenaline can try mountain biking or trail running, while those that want to take things slower can enjoy the historic Zizelmann house, built by one of the early families who settled on the land.
Entrance to the park costs $6 per adult for a daily pass, but children 12 and under get in free.
7. Old Tunnel State Park
This is definitely one of the most unique state parks near San Antonio. The abandoned railroad tunnel that gives the park its name comes to life at night as millions of bats flood out into the night sky.
Visit from May to October to view the spectacle, or stop by at any other time of the year to walk the nature trail, search for other native species, and learn about the history of the railroad.
Entrance to the park is free, but permits to remain in the park after 5 pm and to enter the bat viewing areas must be obtained in advance.
8. Palmetto State Park
Missing the tropics while landlocked in Central Texas? Look no further! With its trees dripped in Spanish moss and a landscape covered in the dwarf palmettos that gave the area its name, Palmetto State Park feels like an escape to another world.
Boasting a river, lake, and swamp waterways, the grounds have no shortage of places to canoe, swim, and fish.
Eastern and Western species merge at Palmetto, so chances are you can catch a glimpse of some beautiful wildlife, like armadillos and red-shouldered hawks.
Entrance to the park costs $3 per adult for a daily pass, but children 12 and under get in free.
9. Enchanted Rock State Natural Area
Of all the state parks near San Antonio, Enchanted Rock is far and away one of the most well-known, and for good reason.
The Tonkawa Indians believed that this site was inhabited by spirits who protected the land from unwelcome intruders, and some visitors claim they've heard strange sounds and seen lights at night.
Aside from the legends surrounding Enchanted Rock, its other claim to fame is its status as the United States' largest pink granite mountain.
It's a popular spot for rock climbing and bouldering in the relatively flat-landscaped state, but if you prefer to stay grounded, there are plenty of hiking trails around the park.
Enchanted Rock also offers some of the clearest and brightest night skies in the area, so if you have the chance to camp overnight, take it!
Entrance to the park costs $8 per adult for a daily pass, but children 12 and under get in free.
10. Lost Maples State Natural Area
Texas is known much more for its blazing summers than its display of all four seasons, but Lost Maples is home to arguably the most stunning autumn foliage in the state.
The park is in full color during October and November, which also makes that season the busiest. If you visit at another time of year, you'll not only escape the crowds but you'll still be greeted by fields of wildflowers and impressive rugged terrain.
There are more than 10 miles of trails to explore, including a loop that edges along a stunning 2,200-foot cliff.
Entrance to the park costs $6 per adult for a daily pass, but children 12 and under get in free.
11. Hill Country State Natural Area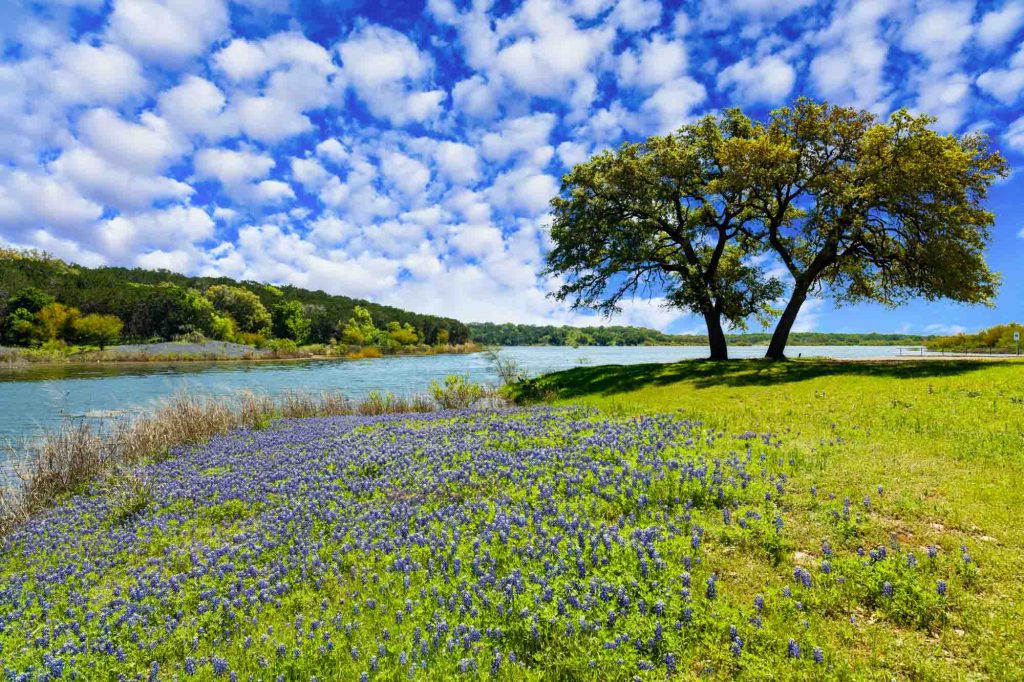 Texas Hill Country is famous for its diverse array of landscapes, and this San Antonio state park includes steep canyons, vast plateaus, natural springs, and more.
Hikers and bikers can enjoy a large network of trails that range in difficulty from one-mile strolls to multi-day backpacking jaunts into primitive campsites.
Whether you check out the site of a former ranch or embark on a steep climb with sweeping vistas at the top, the hikes are always rewarding.
Entrance to the park costs $6 per adult for a daily pass, but children 12 and under get in free.
12. Goliad State Park
If you love the history and culture found in San Antonio, Goliad State Park is the perfect next stop.
This site, traversed by Native Americans, early Spanish explorers, and Texan soldiers throughout its storied past, lets visitors step back in time.
History buffs will delight at the restored colonial-era Spanish mission, Mission Espíritu Santo, with its bright chapel and cheery church bells. Ruins of other missions, statues, and historical roads are also found throughout the park.
The best way to step into the past is on foot, along one of the hiking and biking trails that winds past the monuments (and also offers excellent opportunities for bird-watching).
Entrance to the park costs $4 per adult for a daily pass, but children 12 and under get in free.
13. Devil's Sinkhole State Natural Area
On a warm night outside of Devil's Sinkhole, lucky visitors can watch as more than 3 million Mexican free-tailed bats pour out from the underground caverns all at once.
The park is home to one of the largest populations of these creatures in all of Texas!
The bats are found in the area from late spring to early fall before they head south to Mexico for the winter, so keep the timing in mind when planning your trip.
Evening bat tours run Wednesday-Sunday from the start of May to the end of October, and tickets cost $14 for adults, with discounts for seniors and children.
If you're heading to the area in the off-season, there are still plenty of things to do. Nature walks, bird-watching tours, and day hikes to the sinkhole are available throughout the year.
Whatever activity you choose, guests can only enter the park on guided tours, with a reservation required in advance.
14. South Llano River State Park
The spring-fed South Llano is like nature's lazy river, perfect for paddling, tubing, and all forms of family-friendly fun out on the water.
On land, the surrounding area is a bird lover's paradise, with over 250 species recorded. It's particularly popular with turkeys, who roost there from October through March and can often be spotted at one of the park's four bird-watching spots.
Because it seems to just have it all, South Llano also boasts some of the best campsites near San Antonio, with both easy walk-in and more remote hike-in locations.
The area is a designated International Dark Sky Park, which means the stargazing is absolutely breathtaking, and their 22.7 miles of rugged trails will have you earning that rest at the end of the day.
Entrance to the park costs $5 per adult for a daily pass, but children 12 and under get in free.
Did you like this article about state parks near San Antonio? Then share it with a friend who might like it too!