What are the best hikes in Acadia National Park? We have narrowed it down to the top 10 trails to explore when visiting this New England treasure.
Tucked away in a far corner of the continental United States in a remote wilderness lies the worst kept secret in America's National Parks.
In fact, Acadia National Park is one of the busiest parks during peak season. Over 3.5 million people visit every year. But if you have ever made the trip, you will quickly discover why this place is on most people's USA bucket list.
Acadia National Park Hikes
The iconic rocky coastline of the northeast is seldom seen in its natural glory. With 158 miles of interlocking trails climbing on sheer cliffs to open summits, you are sure to get a breathtaking view however you decide to explore.
However, hiking challenging trails is not the only way to get around. About 45 miles of carriage roads offer a beautiful walk through nature without breaking a sweat.
Many of the most popular sites have parking lots nearby with an easy stroll to the ocean. The NPS has provided an accessibility guide for those with limited mobility.
Maine's mild summers make it an attractive destination to escape the mid-summer heat of the rest of the country. Additionally, the fall colors make for an ideal route for leaf-peepers.
Don't miss out! Click here to purchase your America the Beautiful Pass!
Acadia Hiking Essentials
These are our tips for hiking in Acadia:
The more popular sites require parking reservations during peak seasons in addition to the park entrance fee ($30 per vehicle or $15 per person). Arrive early or take the free Island Explorer shuttle to the most visited sites.


If you plan to visit another national park within a year, the best value is to buy the America the Beautiful pass. For only $80, you get access to every US national park with this handy national park pass. Click here to buy you America the Beautiful pass.


Popovers at the Jordan Pond House. Yes, they are essential.


Beware of ticks in the northeast. Always wear repellent and check after every hike.


Portions of the Park Loop road are one way with limited parking. Be sure to download the Acadia National Park map ahead of time when planning your route.


Bar Harbor is a lovely little town and has everything you need. From groceries to gear, you are not far away from the necessities.
How to Get to Acadia National Park
Many in the northeastern United States visit Acadia as part of a road trip. I-95 will take you to Bangor or Augusta before following State Routes 1A or 3 to Ellsworth.
Bangor International Airport is about an hour from the park entrance. Many of the major car rental companies are located there.
You can fly directly from Boston to Hancock County Airport. Although a smaller airport, there are still car rental options. And from there, it is only a ten-minute drive to Acadia.
Lodging in Acadia National Park
Hotels
There are over 80 hotels around the park, with plenty of options available, ranging from budget-friendly to outrageous. Be sure to book early during peak season.
To snag good deals, you might want to look for your hotel using Booking.com since they have interesting rates and an excellent cancellation policy.
Vacation Rentals
From cottages to lakefront cabins, there are many nearby glamping options. Cabins, houses, traditional B&Bs, and VRBOs are all located around Acadia and Bar Harbor.
Camping
There are tons of options for camping. And since backcountry camping is prohibited, Acadia is an ideal park for car camping.
Many will prefer camping in the park. For private campgrounds, check out these reviews from HipCamp and The Dyrt.
National Park Camping:
Backcountry camping is prohibited in Acadia, but there are 4 campgrounds available in the park. The introductory rate is $30 per site, $60 for group sites.
While there are flush toilets and sinks in 3 of the campgrounds, shower facilities are not provided.
Because of invasive species, you must burn local firewood. You can buy bundles at the campgrounds, a few stores in Bar Harbor, or look out for roadside stands.
You can simply Google "firewood" on your way to Bar Harbor to find options nearby.
Blackwoods Campground is on the east side of Mount Desert Island. It is only open from early May to about mid-October.
A short walk to the ocean, Blackwoods Campground is set inside an evergreen forest. Pay showers are down the road, so bring coins and drive over.
There are no utility hookups at the sites, but there is a dump station for RV campers.
Read next: 13 Best East Coast National Parks Ranked
Seawall Campground is on the west side of Mount Desert Island. It is open from late May to early October.
Featuring drive-in, walk-in/boat-in, and RV sites (without utilities, except seasonal dump station). Coin-operated showers are available at Seawall Camping Supplies about 1 mile away.
All campsites are within walking distance of the coastline.
Schoodic Woods Campground is open from late May to early October. It is the only site on the mainland and the only one that offers utility hookups. With just a few tent sites, this campground caters to RV travelers.
You can pay for showers a few miles down the road at the Schoodic Marine Center or at the Winter Harbor Inn.
Duck Harbor Campground consists of 5 primitive lean-tos. It is only accessible by mail boat from mid-June to late September.
The rest of the year, the ferry stops at Isle au Haut Town Landing. From there, you will have to hike 4 miles to the campground.
While it is primitive, there is a composting toilet and a hand pump for water nearby.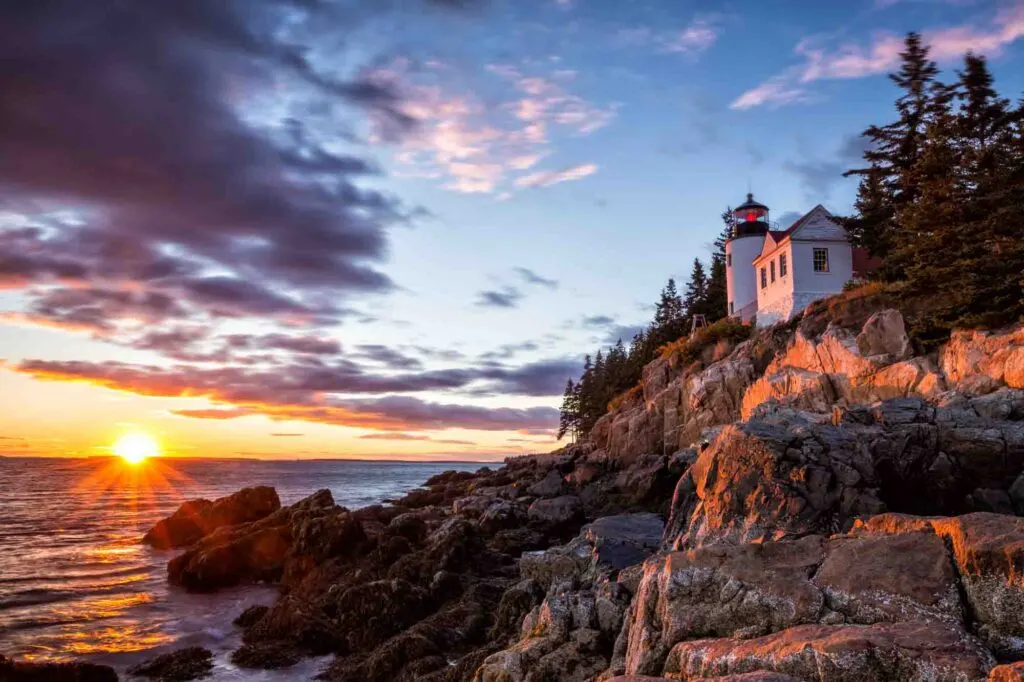 Best Time to Visit Acadia
The three most important factors to consider are the weather, the number of visitors, and bugs.
The average temperature peaks at 76°F in July, making it a lovely getaway from the oppressive heat of the rest of the lower 48 states. However, the mild temperatures in the summer are tempered by the growing crowds.
July and August have the highest number of visitors. Jumping from around 500,000 in June to over 750,000 in July, the more popular sites can get crowded.
Additionally, black flies and mosquitos are more prevalent from mid-May to mid-June.
April and May have highs in the 50's and 60s, but be prepared for the lows in the 30's.
Late September to mid-October seems to be the most ideal time to visit. A combination of milder weather, decreasing crowds, and insects are appealing.
And add the fall foliage that generally peaks mid-October, and you have the makings for a picturesque retreat.
Read next: 33 Best Fall Vacations in the US
Best Easy Hikes in Acadia National Park
1. Ocean Path Trail
Ocean Path is one of the best hikes in Acadia National Park! If you want to eschew the climbing and just enjoy a walk along the coast, you could do worse than this trail.
Beginning at the Sand Beach parking lot and ending with views of Otter Cliff, this out-and-back trail follows the coast past some of the park's favorites.
Points of interest along the route include Thunder Hole, Monument Cave, Otter Cove, and a Rockefeller plaque. You will have views of Cadillac and Dorr Mountains along the way.
Wear good shoes as parts of the path can get slippery. You have the option to walk back or take the Island Explorer Bus during the busy seasons.
Distance: 4.5 miles (out-and-back)
Elevation Gain: 375 feet
Trailhead: Sand Beach parking lot
Difficulty: Easy
Time Required: 3 hours
2. Wonderland Trail
Following an old gravel road, the Wonderland trail is more of a leisurely stroll when compared to the rest of the hikes in Acadia.
However, you will hike through a beautiful forest down to the coast to play in the tide pools and watch the ocean slowly carving the coastline.
This is a relaxing hike in Acadia that calls for a bit of lingering to enjoy the sights and sounds of the rocky shores.
Distance: 1.3 miles
Elevation Gain: 78 feet
Trailhead: Wonderland Trail
Difficulty: Easy
Time Required: 1 hour
Best Moderate Acadia National Park Hikes
3. Acadia Mountain Trail
The trailhead is located about a half-mile south of Hall Quarry Road on Maine Route 102.
Acadia Mountain Trail may not be as dramatic as the more challenging hikes. But walking through this woodland trail is a treat.
Occasional views of Echo Lake along the way give an excuse to stop and take it all in. And near the summit, you will gain views of Somes Sound and the sprawling coastal forest.
You can complete the trail by following the Man o' War fire road. Along the way, don't miss the short detour to see Man o' War Brook Falls cascading into the Atlantic below.
Distance: 2.5 miles
Elevation Gain: 682 feet
Trailhead: Acadia Mountain Trailhead
Difficulty: Moderate
Time Required: 2-3 hours
4. Gorham Mountain Loop
A moderately difficult trail with a touch of history, Gorham Mountain trail offers beautiful views at a relatively low altitude.
Begin at the Gorham Mountain parking lot. The trail marker is carved into a stump at the southeast corner.
Hike just under a mile to the peak. Beware, there is a false peak only a few hundred feet from the actual peak.
At this point, you can go back to make a shorter Acadia hike, or you can continue down the Bowl Trail to the Ocean Path Trail. After stopping at Thunder Hole, continue back to the Gorham Mountain parking lot.
Distance: 3.1 miles
Elevation Gain: 580 feet
Trailhead: Gorham Mountain parking lot
Difficulty: Moderate
Time Required: 2-3 hours
5. Great Head Trail
A safer alternative to Beehive Trail is the Great Head Trail. Beginning at Sand Beach, it ambles along the ocean before diving into the forest.
Along the way, you will see a few remnants of what was once the Satterlee tower and the accompanying tea house.
A much more manageable climb allows views of Sand Beach, Beehive, Otter Cliffs, and other favorites of Mount Desert Island.
Distance: 1.8 miles
Elevation Gain: 285 feet
Trailhead: Sand Beach Parking Lot
Difficulty: Moderate
Time Required: 2-3 hours
6. South Bubble Trail
An easy hike to begin, South Bubble Trail can be combined into a more challenging loop. With options to connect to Jordan Pond Path, North Bubble, or the complete Bubbles Nubbles Loop.
The hike up to Bubble Rock is easy enough and about halfway up the trail. After that, it gets a little steeper with some more scrambling.
Along the way are views of Jordan Pond and plenty of spots to stop and absorb the views.
Distance: 1.4 miles
Elevation Gain: 500 feet
Trailhead: Bubbles Divide Trailhead
Difficulty: Moderate
Time Required: 1-2 hours
7. Cadillac South Ridge Trail
There are easier ways to get to the summit of Cadillac Mountain. But this long hike in Acadia allows you to take in the scenery along the way.
Start at the trailhead just southwest of the entrance to Blackwoods Campground. You will be in the forest for the first portion of the hike, but soon will be above the treeline. Watch for cairns and blue blazes to reach the summit.
Near the summit is the parking lot along with a gift shop for everyone who chose to take the easy route to the top.
You can cut out the return hike by going down a short trail and catch the Island Explorer shuttle back to the campground.
Distance: 8 miles (loop)
Elevation Gain: 2,286 feet
Trailhead: Cadillac South Ridge Trailhead
Difficulty: Moderately strenuous
Time Required: 3-4 hours
Best Difficult Hikes in Acadia National Park
8. Precipice Trail (Orange and Black, Champlain North Ridge) – The Most Thrilling Acadia Hike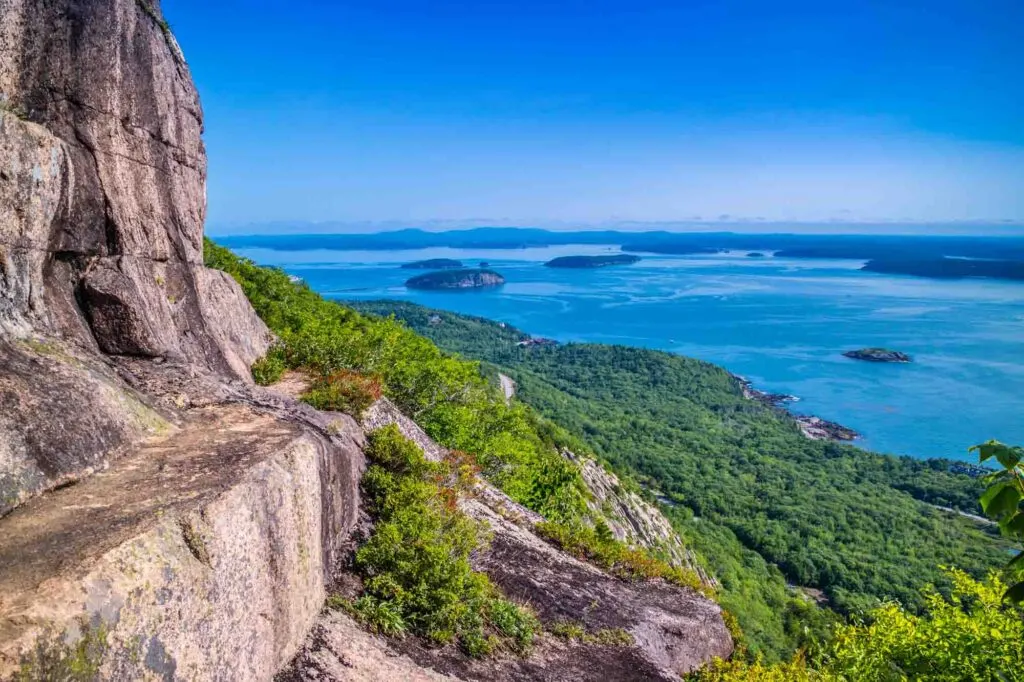 There is a small parking lot for the Precipice Trail just a couple of miles past the Sieur de Monts entrance. It fills up quickly, so you will want to get there early.
Although it is only 0.9 miles long, the Precipice Trail rises sharply to over 1,000 feet. Because of the steep terrain, much of it is only accessible with permanent rungs drilled into the mountain.
Your courage is almost immediately tested as you encounter the first eponymous precipice. With just a couple of metal handholds, you shimmy across the sheer face of Champlain Mountain.
This brief trek sets the tone for the rest of the hike. Scrambling over boulders, climbing metal ladders, chanting "don't look down" you make your way to the summit.
But the prize is worthy of your quest. Along the way, you get vistas of the Maine coastline. And at the top, you get a panorama of the park.
The dangerous climb is made impossible in wet weather. And returning the way you came is highly discouraged.
You can finish the trail by following the Champlain North Ridge Trail to the Orange and Black Path. Although much easier than the ascent, there are still some steep sections to navigate.
Note: this trail is closed from March 15 – August 15 due to Peregrine Falcon nesting. Check NPS for details before you go.
Distance: 2.1 miles
Elevation Gain: 1,053 feet
Trailhead: Precipice Trail parking lot
Difficulty: Strenuous
Time Required: 2-3 hours
9. Beehive Trail
Our next hike begins just about 1 mile down the road. The Beehive Trail, or Beehive Loop Trail, is best accessed from the Sand Creek parking lot.
However, from mid-June to mid-October, you will need to make a parking reservation between 7 am and 5 pm. This is in an effort to control overcrowding at the most popular tourist spots.
Just across the street from the parking lot is the Bowl Trailhead. About a quarter of a mile down the trail, you will come to the Beehive Trail.
This trail is one of the most popular in the park. It's also not for the faint of heart.
Although it's only about 0.8 mi (1.4 km), it consists of loose rock, exposed faces, and at times climbing iron rungs. Clearly, this is not your trail if you are afraid of heights or not conditioned for such exertion.
You will be rewarded with 360° views of the New England coastline.
Fortunately, you will not have to return the way you came. You will finish up by going down the Bowl trail, passing a less rattled crowd making their way up the easy way.
Distance: 1.5 miles
Elevation Gain: 508 feet
Trailhead: Sand Creek parking lot
Difficulty: Strenuous
Time Required: 1-3 hours
10. Jordan Cliffs Trail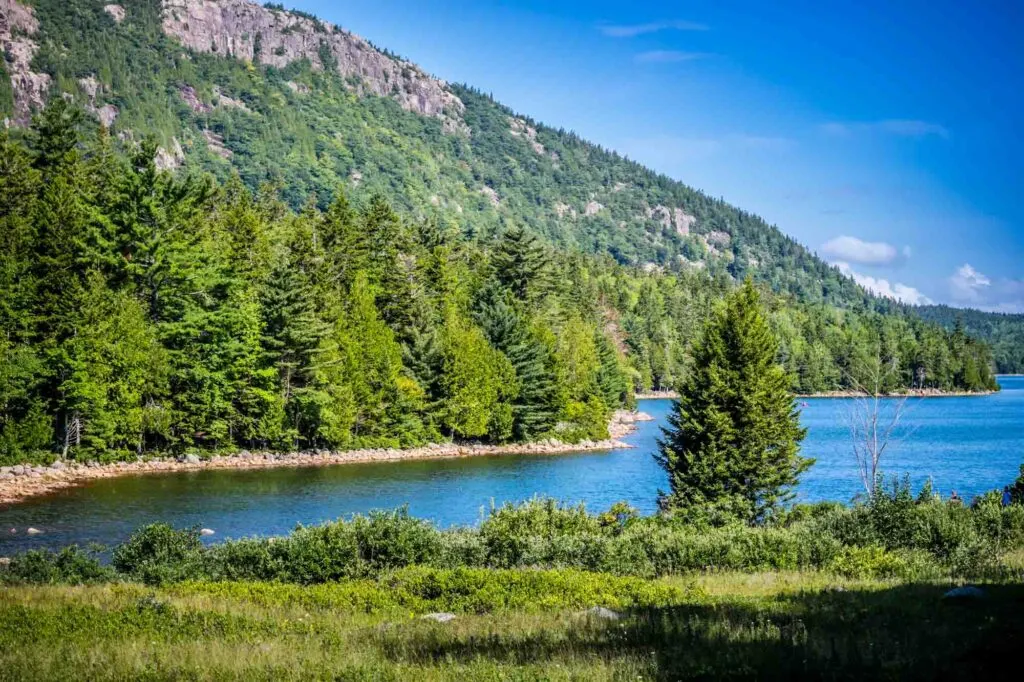 Beginning at the Jordan Pond boat launch and summiting with views of Jordan Pond and Eagle Lake, this trail is another of the park's difficult treks. Occasional iron rungs and a narrow bridge all have to be negotiated along the way.
Together with steep climbs and portions of exposed drops, the Jordan Cliffs trail is best left to those better conditioned for such terrain.
If you are up to it, though, you will not be disappointed with the rewarding views of the surrounding mountains.
Note: this trail is closed from March 15 – August 15 due to Peregrine Falcon nesting. Check NPS for details before you go.
Distance: 5.7 miles
Elevation Gain: 1,955 feet
Trailhead: Jordan Pond Boat Launch
Difficulty: Strenuous
Time Required: 3-4 hours
Summary of the Best Hikes in Acadia National Park
While this is not an exhaustive list, you are sure to find something that will suit your adventure and fitness level.
And with the miles of trails and carriage roads, stays in Acadia can range from a long weekend to a full week of outdoor activity.
Better yet, Acadia is part of one of the best road trips in the US. Use it as a springboard to see other popular destinations in New England. Or get your car ready for an epic road trip from coast-to-coast.
About the author
Camp Coffee is a travel blogger and outdoor enthusiast. His blog Mapsovercoffee.com is a collection of stories and tips for getting the most out of a road trip, anywhere in the world.