Most of Texas' major cities are landlocked, but this urban metropolis' proximity to the sea means that beaches near Houston are some of the best in the state!
The concrete jungle is perfectly positioned on the southeastern curve of Texas that hugs the Gulf of Mexico, opening up an array of options for those in search of a salty, sandy ocean getaway.
We're breaking down all the best Houston beaches, from secluded stretches of white sand to marshy landscapes packed with native wildlife.
Whether you're looking for historic architecture, adrenaline-pumping water sports, or just a cozy pastel cabin on the shore, we've got you covered.
Keep reading for all that crucial know-before-you-go information, including how to get to these spots, how busy they are, what to do, and more!
Best Beaches near Houston
The Houston area may be known for its Space Center and towering skyline, but it's also the proud owner of some gorgeous beaches in Texas!
Here are 11 of our favorite shores just a short drive from the city center. Enjoy!
1. Lighthouse Beach
The soft sands and shallow waters of Lighthouse Beach make it well-suited for family vacations and total relaxation, just 2 hours from downtown, making it a perfect day trip from Houston.
One of the most beloved features (besides the beach itself) is the boardwalk, which takes you through a natural area full of wildlife.
Head out on the Formosa Wetlands Walkway to the Alcoa Bird Tower.
Winding along the water and through the nearby salt marshes, this tranquil path is a haven for birdwatching, where you can often spot pelicans, loons, and osprey.
For the little ones, there are playscapes and splash pads, as well as a public swimming pool open during the summers.
RVers can steal a slice of one of the state's prime RV oceanside campsites, with 55 hook-up sites right on the water.
The cost to access this public beach is $5 per vehicle.
2. Bolivar Peninsula
A lovely 1 ½-hour drive through small Texas towns, and wildlife refuges will bring you to Bolivar Peninsula, a narrow stretch of land connected to Galveston Island via ferry.
The boat runs 24 hours a day and is free for all travelers, both walk-on and drive-on. Since the crossing takes just 20 minutes, it's a great activity to work into your itinerary, especially at sunset.
On Bolivar Peninsula itself, there are a whopping 27 miles of shoreline to explore.
Crystal Beach is one of the best spots, with excellent dining, drinks, and live music, as well as campsites on the sand.
For a more wildlife-centric experience, head to the marshes, mudflats, and beaches of the Bolivar Flats.
It's a designated Globally Important Bird Area, which means you can spot thousands of native species nesting throughout the year.
History buffs will enjoy the Point Bolivar Lighthouse, built in 1872 and retired in 1933 but still standing on the coast.
3. Galveston Island State Park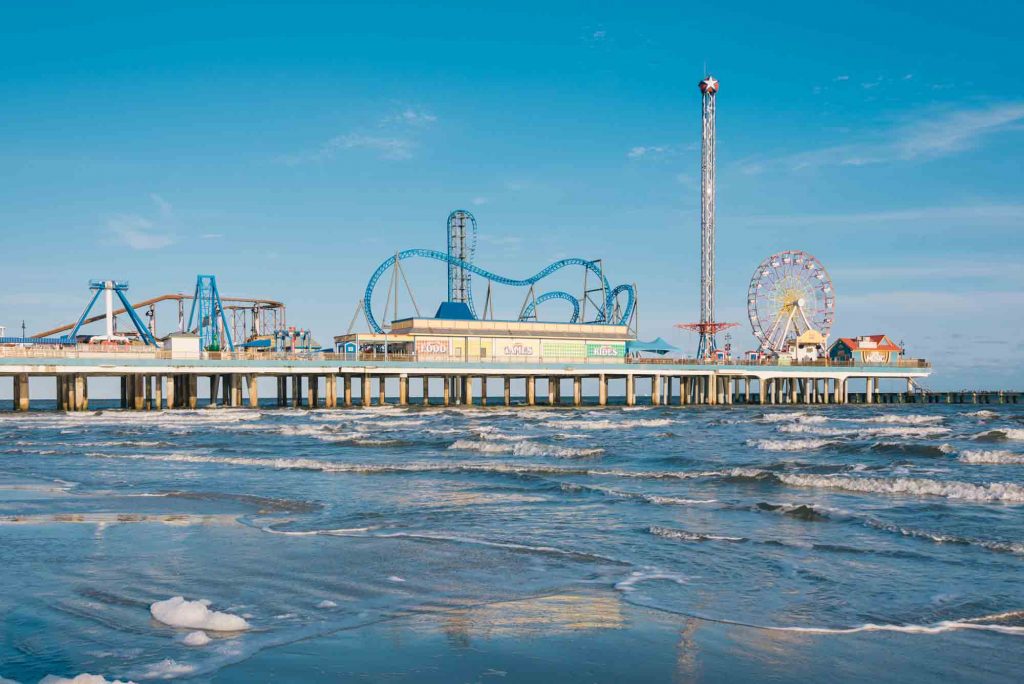 Of all the beaches near Houston, the ones in Galveston Island State Park are easily the most famous.
Galveston, an excellent beach town in Texas and also one of the most pleasant state parks near Houston, has served as a getaway for city dwellers for decades, offering pastel stilt houses, a lively boardwalk, and gentle waves in exchange for the hustle and bustle of downtown.
Not only that, but Galveston County offers lovely Gulf beaches, boating, golfing, fishing, surfing, kayaking, biking, and more.
Perhaps best of all, you unlock all of this goodness less than an hour's drive from the city center.
Galveston Beach boasts long stretches of silky sand and shallow waters safe for swimming.
After sunbathing, visit Historic Pleasure Pier for a range of attractions that bring a bit of extra thrill to your typical amusement park experience by soaring out over the water.
You could easily spend hours hopping between rides and midway games and filling up on all the fair-worthy snacks. The pier is open Friday-Sunday.
Nearby, you can also explore several museums, restaurants, and the historic Victorian-style downtown. Rent a bike or get around on one of the adorable old trolleys.
4. Porretto Beach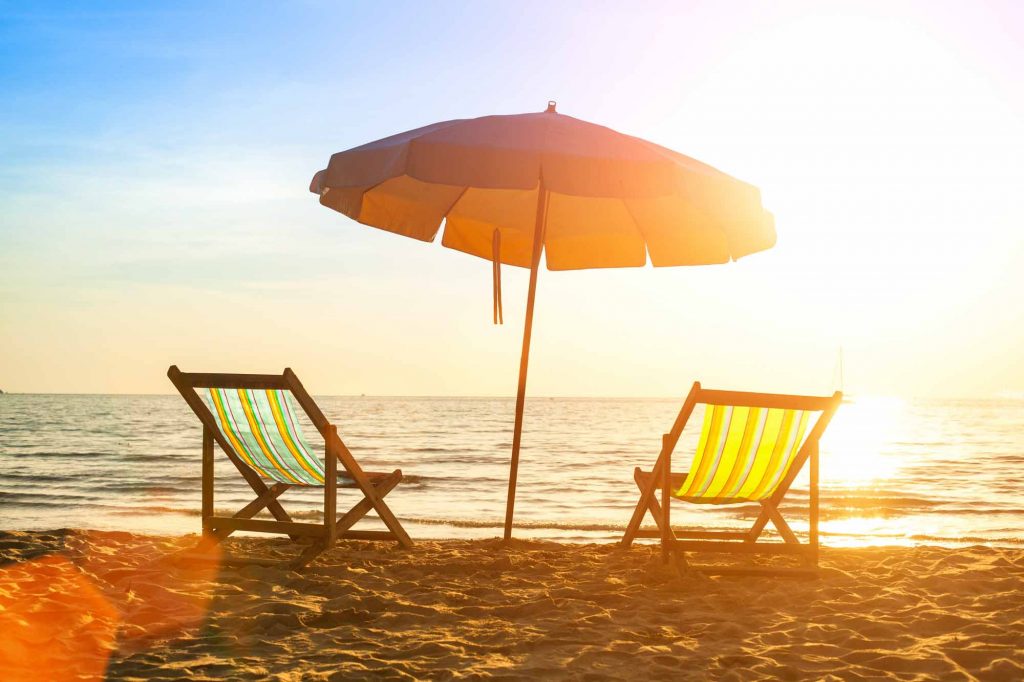 This family-owned, private spot is just the place for large group gatherings and no-fuss beach days.
Easy, on-the-sand parking and friendly staff make for very little planning on your part. Just show up and enjoy the views.
As for activities, water sports enthusiasts can get their fix with jet ski or boogie board rentals onsite, while the tried-and-true beach dwellers relax under the shade of Poretto's trademark colorful umbrellas.
For even more sandy fun, give beach volleyball or a beach bonfire a try.
Porretto Beach is open from Memorial Day weekend until Labor Day weekend and on occasional weekends in April and May, weather permitting.
5. Sylvan Beach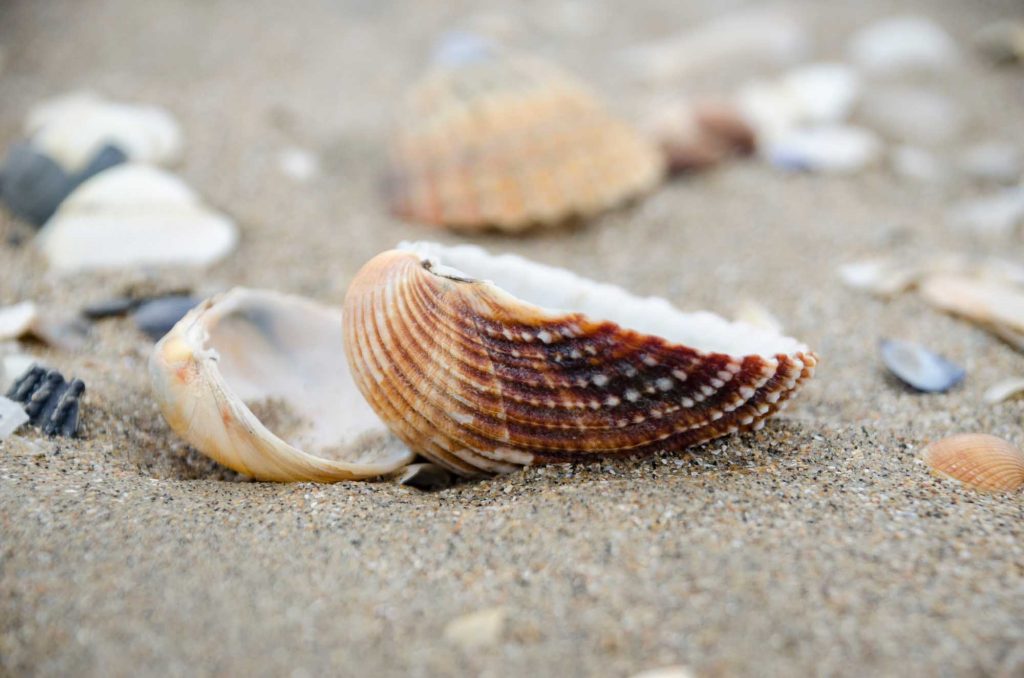 Cheers to the closest beach to Houston! Sylvan Beach Park is a mere 30-40 minutes outside the city center in Harris County, making it a total dream for all the Houston visitors who don't have much time to spare.
Because this beach is human-made, the sand is super fine, the waves are small, and there's no seaweed to clog up the shores.
In addition to all that, Sylvan Beach Park holds a children's playground, picnic tables, a boat ramp, and even an air-conditioned pavilion for hot summer days.
Two picturesque piers extend out into the water, perfect for a short stroll or a sunset viewing if you don't feel like swimming.
But why wouldn't you dive into this quiet paradise? The water is shallow, and there are lifeguards on duty to ensure everyone's safety.
Are you ready for even more good news? Unlike most other spots in the state, entrance, and parking are free!
When it comes to beaches close to Houston, it just doesn't get much better than this.
6. McFaddin Beach
Tired of rowdy crowds, dirty beaches, and parking lots too full to squeeze even one more car?
At McFaddin Beach, you'll find none of that. In fact, chances are good that you'll have the sun and surf all to yourself, especially if you visit during the week.
With 20 miles of sand and surf, this rugged stretch of Texas coastline is one of the more secluded spots you'll find.
This beach is part of the larger McFaddin National Wildlife Refuge, located about 2 hours east of Houston.
Because of McFaddin's unique positioning along the Gulf, animal bones and other artifacts of Texas prehistory are prone to wash up on the shores, so keep an eye out while enjoying a stroll on the hard-packed sand.
If you'd like to explore the rest of the natural area, the largest freshwater marsh in Texas is just next door to the beach. There, you can hike and birdwatch to your heart's content.
Entrance is free, and you're welcome to set up camp for a night or two, but just know in advance that you'll be roughing it–no showers and electricity here!
7. East Beach
Now for the complete opposite of McFaddin Beach…East Beach!
At the heart of Galveston Island's social scene, East Beach is a lively spot known for its parties and festivals (plus, it's one of the few beaches in the area where alcohol is allowed).
The facilities include public restrooms, showers, and a pavilion complete with picnic tables and electrical outlets. Of course, the site also boasts an entertainment stage, where live concerts regularly take place.
You can rent chairs and umbrellas, and several concession stands offer all the snacks and beverages you could want.
With gentle waves and lifeguards on duty, the water is safe even for little ones, although this is much less of a family destination than other beaches on the list.
For a truly unique experience, check out the annual American Institute of Architects Sandcastle Competition, which typically occurs in late summer.
The event features elaborate creations like the Eiffel Tower, giant octopi, and abstract art pieces, all carefully shaped from the very sand you'll be sunbathing in!
Entrance fees are $12 from Monday-Thursday and $15 on weekends. There is a paid parking lot closer to the beach, but free options are also available further out.
8. Sea Rim State Park
The sprawling 4,141-acre Sea Rim State Park holds countless Texas treasures, with lots of wildlife and dozens of water-based activities to enjoy.
It's a bit of a longer jaunt from Houston. The drive takes anywhere from 1 hour 45 minutes to 2 ½ hours.
Once you make it, stretch your legs on the short 0.9-mile Gambusia Nature Trail Boardwalk and keep an eye out for gators, crabs, big water birds, and other native species.
You can also soak in coastline views from out on the water, embarking on one of the canoe and kayak routes, from a 1.79-mile easy trail to a 9.59-mile advanced trail.
Meanwhile, a 5-mile stretch of beach provides plenty of opportunities for a more typical sand and surf vacation.
For overnight stays, you can snag campsites with utilities, cabins, or primitive sites directly on the beach.
Entrance to the state park costs just $3 a day for adults and is free for kids 12 and under.
9. Matagorda Beach
Just a 1 hour 45 minute-drive from Houston, Matagorda Beach shows up as a long strip of green on a map dominated by gray closer to the city center.
The wider Matagorda County is home to 55 stunning miles of Gulf of Mexico shoreline, with 23 of them accessible from land and 35 that can only be reached by boat.
Vast seascapes and some of the most pristine beaches in Texas are a guarantee if you vacation here.
The silky sand is perfect for lounging, sandcastle building, and beachcombing. Because much of the area is so untouched, you can find not only seashells but also driftwood, sand dollars, and even old Spanish coins.
To drive on the beach, you need a Matagorda County Beach Vehicle Permit, but they only cost $10 for the whole year (you'll definitely want to get multiple uses out of it if you can).
Even better, camping comes with no additional fees!
On the water, you can surf or head out on one of several paddling trails, which are simultaneously great for wildlife viewing (alligators, fish, birds, and more!).
The swimming is super refreshing, but stay clear of the jetties and pier, as strong rip currents have been reported in these places.
10. Stewart Beach
With a bit of distance from the busier stretches of shoreline yet easy access to Galveston's hottest attractions, Stewart Beach is the best of both worlds.
This prime piece of real estate is where quaint Broadway Avenue meets the Seawall, only 5 minutes from the Strand Historic District.
Of course, with all the things to do on Stewart Beach itself, you might not even want to head inland!
Named one of the "10 Best Beaches for Families," it features a pavilion, concessions, restrooms, showers, chair and umbrella rentals, beach volleyball courts, and a children's playground.
There are also trained lifeguards on duty, so you don't have to worry about your little ones as they swim.
Safety, convenience, and sandy shores? What more could you ask for!
The beach is open March-October, and parking costs $12 per vehicle Monday-Thursday or $15 per vehicle on the weekends.
11. Surfside Beach
Surfside's secluded shoreline getaways and wide-open beaches make it a popular alternative to busier hotspots like Galveston Island.
In fact, the population of this tiny town in Brazoria County is just over 600 people, and the only time you'll see big crowds is during the busiest part of the summer season.
As the name suggests, Surfside Beach is one of the prime surf spots in Texas, with consistently good waves and deep waters.
If a surfboard isn't your transportation method of choice, you can also take it to the water in a jet ski, kayak, or canoe.
Surfside is only an hour outside of Houston, so it's perfect for a weekend trip or even just a day visit.
For those that do spend a night or two, there are both RV and tent camping sites, as well as areas where you can park your car directly on the sand, so your radio, snacks, and a change of clothes are easily accessible.
Unlike many other beaches near Houston, fires are allowed on the sand, making for a totally enchanting camping experience.
Visit this spot before the secret gets out!
Houston Travel Resources
If you want to experience more of Houston, you might want to check out the other guides we wrote about this great city!
For instance, this guide on the best things to do in Houston covers the city's highlights and the attractions you won't want to miss!
But, if you're a nature lover and want to explore the great outdoors, you might want to learn more about the top-rated hiking trails in Houston, including hikes in and around the Space City.
Did you enjoy this article about the best beaches near Houston? Then share it with a friend who might like it too!