The beaches in Austin, Texas, are one of the city's most beloved attractions, boasting everything from crystal clear turquoise waters to tumbling limestone cascades to white sand shorelines.
Scores of people flock to the Texas capital in the warmer months to make the most of its dozens of stunning pools, lakes, rivers, and waterfalls just a short drive from the city center.
These Austin beaches are some of our favorites, always there to provide a refresher from the heat and an afternoon full of splashing, lounging, and water activities.
Keep reading for all the insider tips and tricks, including how to get to these spots, how busy they are, what to do, amenities on site, and more!
Best Beaches in Austin (+ Nearby!)
Austin truly has it all. Not only is this Southern hub known as the "Live Music Capital of the World" and the seat of the Texas government, but it also has some of the best nature in the state.
The destinations below are perfect to slip into your itinerary when you need a break from the highrises and crowds of downtown. Enjoy!
1. Russell Park Beach
Only 50 minutes from downtown Austin, Russell Park is a quick and quiet getaway with plenty of opportunities to immerse yourself in nature.
The pebble beach is spacious, with an excellent swimming area and super clean water. You can also kayak or paddleboard further out.
On land, a rugged 26-mile hike and bike trail traverses the entire circumference of the lake, taking you through thick woodlands, sprawling grasslands, and other native habitats.
Russell Park is generally quiet during the week, and you might have the wilderness all to yourself. However, traffic picks up on the weekends and Saturdays can certainly draw some large groups.
If you want to stay overnight, there are 27 well-maintained primitive campsites, 10 of which offer screened shelters with bunk beds (just bring your own bedding or sleeping bags).
Public showers and restrooms are free to use.
The park is open all year round, and entrance costs just $5 per vehicle for a day pass.
2. Hamilton Pool Preserve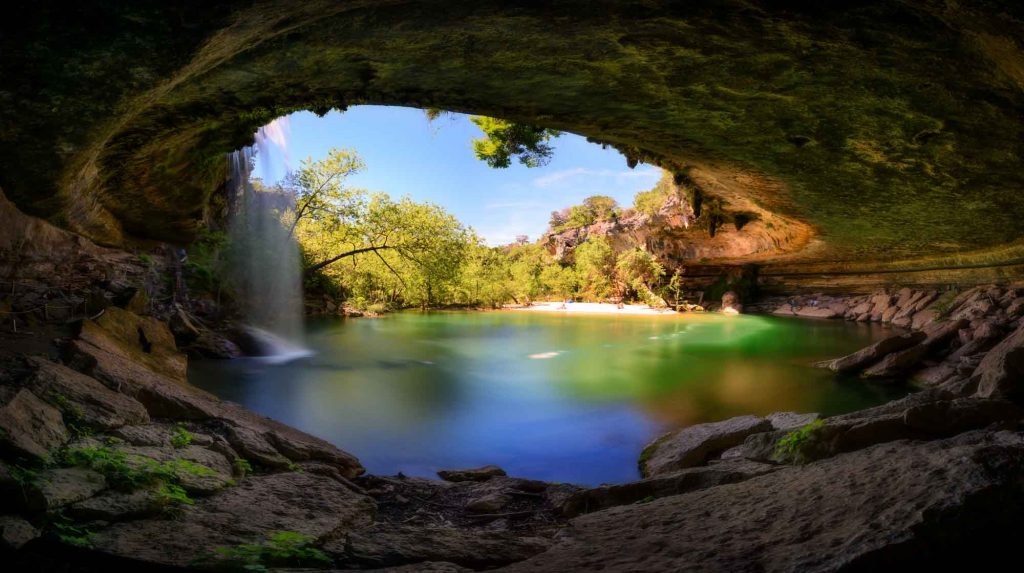 This otherworldly destination is more than just one of the best beaches in Texas…it's one of the state's most incredible natural wonders hands-down.
With lush vegetation all around, turquoise water beneath you, and the blue sky above, it's easy to feel as though you've been transported to some exotic, far-off paradise.
In reality, this spot is just a 40-minute jaunt from the city center, making it an easy day trip.
Getting from the parking lot to the natural swimming pool requires a short, ¼-mile hike. You may want to wear sturdy shoes as there are a few rocky sections.
Once you arrive, you'll be greeted by a 50-foot waterfall that plunges from the limestone cliffs hugging Hamilton Pool on all sides, and a small pebble beach that beckons for sunbathing.
Aside from being a great spot for swimming, Hamilton Pool also is a fantastic place to go hiking. So go on a guided hike to learn more about the area's unique geological features and native wildlife.
Reservations are required before you visit. The entrance fees cost $12 per vehicle paid in advance, and an additional $8 per person on arrival. Children 12 and under get in free.
3. Pedernales Falls State Park
This enormous 5,212-acre state park has no shortage of activities, from hiking to biking to camping.
Located 50 minutes outside of town, Pedernales Falls State Park sits on the shores of the winding Pedernales River and is a great day trip from Austin.
The rocky beach isn't your standard shoreline relaxation spot, but you can still spread out and soak up the sun.
To cool off, head for the river to swim, wade, or float along on a giant tube. Because it flows over and around ancient limestone boulders, there are lots of shallow pockets where the little ones can splash.
Kayak and canoe rentals are also available, and you can launch them directly from the swimming area.
Don't miss the Twin Falls Nature Trail. It's an easy, 30-minute hike, but you'll venture deep into the woodlands until the trees thin out into a secluded grotto where two waterfalls feed a small pool.
Admission to the park costs $6 per person, but kids 12 and under get in free.
4. Milton Reimers Ranch Park
On the banks of the Pedernales River 40 minutes from downtown Austin, this spot is a rugged wilderness haven with pristine swimming.
The riverside beach opens up into a vast recreational area 3-4 miles long, with both shallow and deep sections.
But nice beaches are just the beginning at Milton Reimers Ranch Park. The area is well-known for its adventure sports like mountain biking and rock climbing, as well as some of the best hiking in the state.
There are many miles of trail to explore that cross classic Central Texas landscapes of limestone cliffs, roaring rivers, and panoramic Hill Country views.
There's even an astronomical observatory on the grounds with stellar night sky viewing, but reservations are required in advance.
Entrance to the park costs $5 per person for a day pass, but kids 12 and under get in free. Your furry friend is allowed as long as they remain on a leash.
5. Bob Wentz Park
Calling all water sports enthusiasts! Bob Wentz Park, a scenic basin along the Colorado River, is a go-to spot for Austinites and travelers alike who want to get their adrenaline pumping.
The stark landscape and strong winds out on the water make it prime real estate for sailing and windsurfing, while clear underwater conditions allow this to be one of the few scuba diving destinations in the state.
Of course, there is plenty of relaxation to be had as well.
Head to the sandy peninsula, dubbed The Point, for easy water access and sunbathing. Nearby amenities include barbecue grills, covered picnic tables, and a comfy pavilion with running water and electrical outlets.
All of this only 30 minutes from downtown!
The park is open daily from 8 AM-sunset. Day passes cost $5 per person, but kids 12 and under get in free. Beware, holiday weekends can get quite crowded.
6. McKinney Falls State Park
A mere 15 minutes from the city center, McKinney Falls State Park offers some of the most accessible beaches in Austin.
The namesake of the park, McKinney Falls, is of course an unmissable attraction, and provides lovely swimming areas where you can cool off or sun yourself on the rocks.
There are both deep and shallow spots, as well as a few locations where you can jump from the falls into the swimming hole below.
Hiking, mountain biking, and camping are also popular activities within the area, and it turns out, this is one of the best state parks near Austin.
Make sure you keep an eye out for native wildlife as you explore the scenery. Deer, armadillos, and tons of colorful bird species call the park home, and the plant life is just as incredible.
Pay a visit to "Old Baldy," one of the oldest bald cypress trees on Texas public land, estimated to be more than 500 years old!
Admission to the park costs $6 per person, but kids 12 and under get in free.
7. Sandy Creek Park
Located 30-40 minutes from downtown, Sandy Creek Park sits on the banks of Lake Travis, in one of its quieter coves.
Dense forest opens out onto a stretch of shoreline well-suited for swimming and boating, while hiking trails along the water offer lovely vistas of the lake.
The park has 20 primitive camping sites operating on a first-come, first-serve basis that can be snagged for only $15 a night, in case you want to turn your Austin beach outing into a weekend getaway.
Quiet hours are enforced after 10 PM, so you're guaranteed to fall asleep to the sounds of rustling leaves and waves lapping at the shore.
The park is open daily from 8 AM-sunset. Day passes cost $5 per person, but kids 12 and under get in free.
8. Barton Springs Pool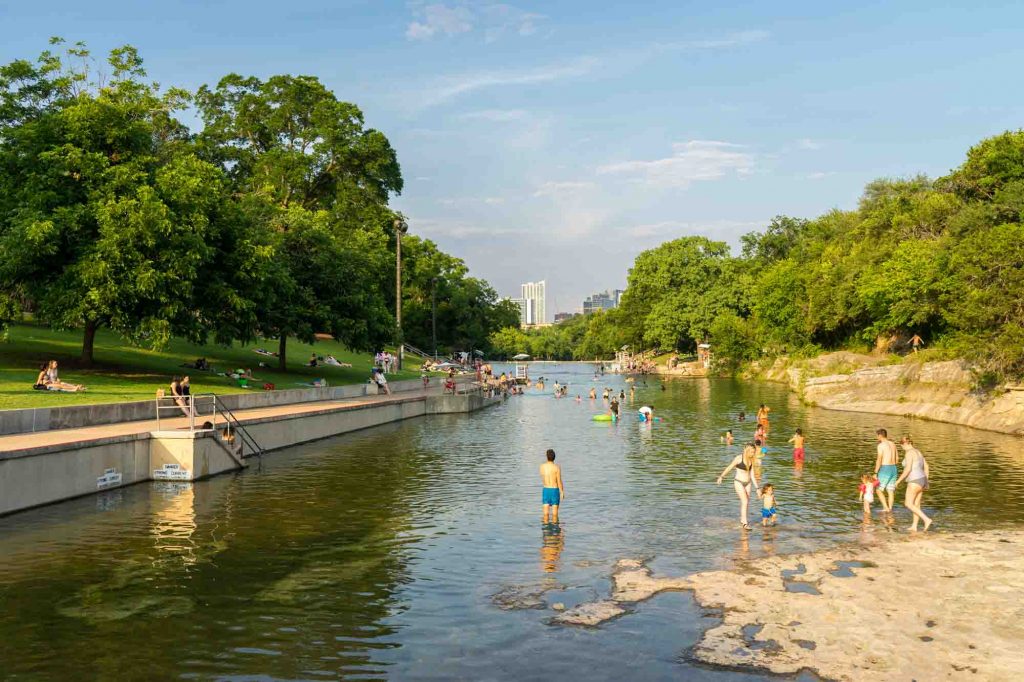 When it comes to beaches in Austin, it doesn't get more convenient than Barton Springs Pool.
Located in the city center itself, this spot has a long history. It was considered sacred by Native American tribes, who used the waters for purification rituals, then used by Spanish settlers as a temporary mission site.
Today, it boasts an array of swimming spots with depths of up to 18 feet, grassy areas for picnicking and sunbathing, and excellent people watching.
The outdoor pools are filled with natural spring water, ensuring that the temperature remains a cool 68-70°F year-round.
Barton Springs Pool is a part of the wider Zilker Park, Austin's hub for outdoor activities, so if you have extra time on your hands, use it to explore some of the area's other features.
Day passes cost $9 for adults, $5 for kids aged 12-17, and $4 for kids under 12.
9. Lake Pflugerville
Just 30 minutes outside of Austin, this man-made reservoir features hiking, swimming, fishing, and lots of family-friendly fun.
Lake Pflugerville was originally built to provide the nearby residents with drinking water, but has since turned into a destination for locals and tourists alike to play by the water.
There is a small pebble beach and roped-off swimming area, as well as a 3-mile jogging/walking trail, playground, and picnic pavilion.
You can even canoe, kayak, stand-up paddleboard, and windsurf! Equipment rentals are available onsite.
Perhaps best of all, access is totally free! This is a great place to head to instead of the local swimming pools, experiencing a day by the water with all your creature comforts still close by.
Definitely be sure to bring water shoes or some sort of protective footwear, because this beach near Austin is a small pebble beach rather than a sandy beach.
10. Hippie Hollow
You might want to leave the kids at home for this one. Hippie Hollow is Texas' only legally recognized clothing-optional public park, welcoming guests 18 years and older.
This spot isn't a beach in the most typical sense, with a rather steep climb down to the water.
However, the rocky shoreline is a great place to spread out, sunbathe, and soak in the views, and you can also bring your own inflatables to float near the shore.
The park is open all year round but can gather quite a crowd on holiday weekends and during the warmer months.
Day passes cost $8 for adults.
11. Mansfield Dam Park
At Mansfield Dam Park, the views both above and below water are worth writing home about.
Situated in a secluded cove, the swimming area is quiet, clean, and refreshing.
Meanwhile, a recreation area slightly further inland offers picnic sites, a playground, chess tables, and panoramic views of the Lake Travis basin.
Hiking and biking trails traverse the area, shaded by towering native trees and looking out over the glistening waters.
Beneath the surface of Lake Travis, guests with their scuba certification can explore a whole different world, with four underwater dive platforms at varying depths and an underwater trail that connects sunken boats, historic dam construction materials, and geological attractions.
Day passes cost $5 per person, but kids 12 and under get in free.
12. Emma Long Metropolitan Park
In the heart of Hill Country, just 25 minutes from downtown Austin, Emma Long Metropolitan Park is a lovely little escape from city life.
Dig your toes into the sand, build a castle, or go for a dip in the shallow waters of the roped-off swimming area.
The calm waves of Lake Austin are perfect for floating by the shores or heading out further in a kayak or canoe.
There are also 12 miles of gorgeously forested hike and bike trails, as well as a number of both primitive and premium campsites for super reasonable prices.
Entrance costs $5 per vehicle on Monday-Thursday and $10 per vehicle on weekends and holidays.
13. Roy Guerrero Park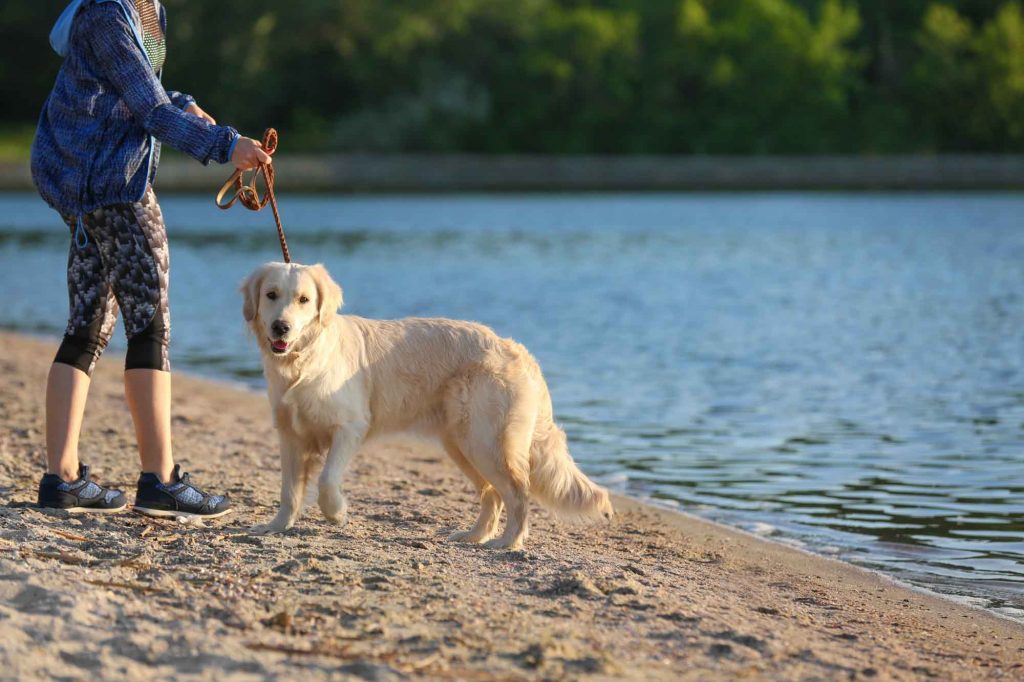 Few beaches near Austin will make you feel as in-the-know as the Secret Beach at Roy Guerrero Park, where locals have been retreating for years to relax, play, and party.
You only have to drive 15 minutes from the heart of Downtown to reach this natural haven, followed by a short 10-minute trek from the parking lot.
Secret Beach is an open, sandy beach tucked in by trees, with access to a shallow, clear stretch of the Colorado River.
Swimming isn't allowed, but you can wade, bring your pets to run off leash, toss a frisbee, make smores, build sand castles or all of the above!
Entrance to the park is free.
Wrapping up on the Best Beaches in Austin, TX
If you want to escape the city and venture on a beach getaway without going on a long Texas road trip, these beaches in Austin are perfect to unwind!
So pack your swimwear, sunscreen, a hat, and cool off in these hot spots around Austin! 😉
Did you like this article about Austin beaches? Then share it with a friend who might like it too!