As Texas' largest city, this metropolis is known for its gleaming skyline and upscale lifestyle. Still, hiking in Houston is an excellent way to escape the tourist crowds and get an up-close look at the area's unique natural landscapes.
With 14 stunning hikes on this list, there's a little something for everyone, so you can find a trek suitable for any age or ability.
Although they're only minutes from Downtown, they feel a world away, perfect for a day trip or quick getaway from the hustle and bustle of the city.
These Houston trails will guide you alongside beautiful bayous and tranquil lakes and through the enchanting woodlands that set Houston apart from the rest of the state.
Keep reading, avid hikers, for need-to-know info on how to get to each spot, trail lengths and difficulties, unmissable lookouts, wildlife to watch out for, and more!
Tips and Advice for Hiking in San Antonio
Trash your trash: People leaving trash, dog poop, and other paraphernalia on trails across the USA is becoming an increasing problem. Leave no trace.
Watch out for wildlife: Some animals might feel or be unsafe near humans. Never startle, disturb, approach, or feed wild animals.
Don't pocket the past: Help preserve the great American heritage. Leave all artifacts exactly where you find them and report their location to a ranger.
Campfire only in fire ring: When allowed, only have a campfire in fire rings to avoid ground scarring and wildfires.
Know your limits: The reason we include trail info, such as distance and elevation gain, is so that you can plan according to your physical condition. Beyond that, always wear sunscreen, insect repellent, and appropriate clothing/hiking shoes. For instance, these trail-runners have the perfect balance of breathability and terrain grip.
Share your plans: Because some trails are more challenging and far out in nature, it's always better to let others know where you'll be.
Drink plenty of water: Last but definitely not least. Pack enough potable water with you. We love this high-quality Camelbak and it fits 70oz of water.
Buy the America The Beautiful Pass: If you plan to visit three national parks within a year, the best value is to buy the America the Beautiful pass. For only $80, you get access to every US national park with this handy national park pass. We highly recommend it! Click here to buy you America the Beautiful pass.
Pssst: If you want to experience more of the state and see more of the Lone Star's wilderness up close, you might want to check out these incredible hikes in Texas!
Best Houston Hiking Trails
Houston is home to so many shiny attractions that it can be hard to break away from the pull of the city. But vacation burnout is real!
To take a breather from your fast-paced itinerary and appreciate the non-human made marvels of the region, give one (or multiple) of these hikes near Houston a try.
Easy Houston Hikes
Marvin Taylor Exercise Trail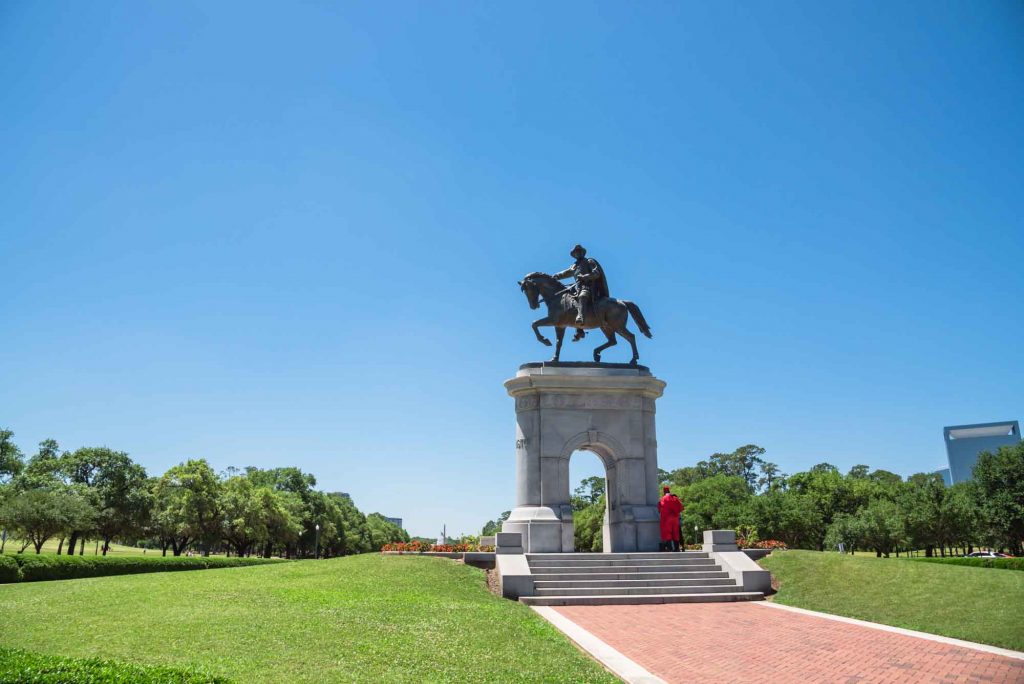 This popular walking and jogging loop is only 10 minutes from the heart of Downtown Houston and surrounded by many of the city's top attractions, like Hermann Park and the Museum District.
If you're already in the area to sightsee, it makes for a quick breath of fresh air without feeling like you have to stray too far from the action.
Stroll under the shade of historic live oaks or work up an extra sweat at the numerous eco-friendly workout stations along the route.
Thanks to its well-maintained paved and lighted paths, you can use the trail comfortably day or night all year round.
Dogs are welcome to join you on the trail as long as they're kept on a leash.
Rice University Running Trail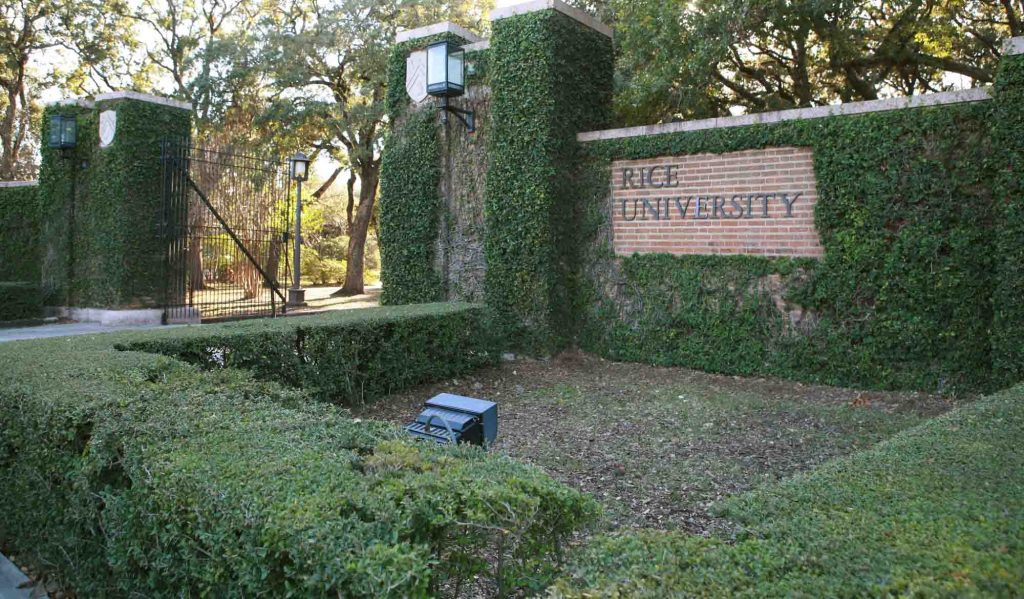 Next up is another easy, breezy loop only minutes away from the Marvin Taylor Exercise Trail.
It's pretty flat and levels the whole way, and the gravel offers a welcome respite from other concrete city trails. As a result, it's a favorite spot for many local runners.
While there is nothing extraordinary about the views along the way, you can enjoy the cover of towering oaks and take a look at the sprawling campus of Rice University.
Water faucets are available at regular intervals, but bathrooms can be a bit harder to find.
Dogs are welcome to join you on the trail as long as they're kept on a leash.
Clapper Rail Trail to Egret Loop to Heron's Walk Trail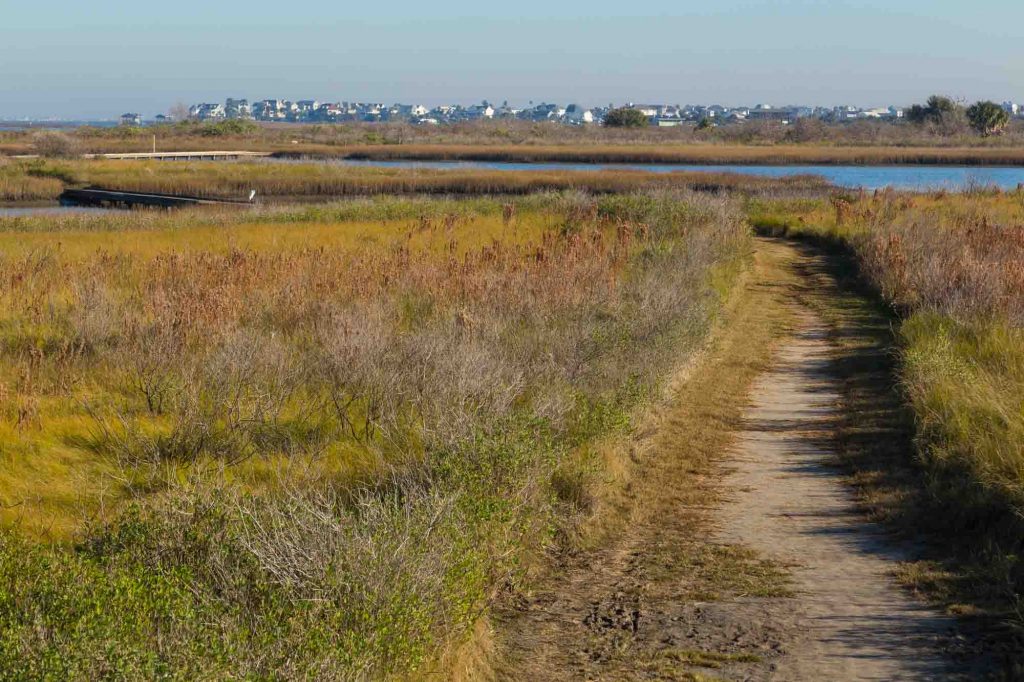 Forget the forests, parks, and bayous. It's ocean time! Tucked away within Galveston Island, one of the best state parks near Houston (1-1.5 hours from Downtown), this loop features salty sea breezes, lovely wildflowers, coastal birds, and incredible sunsets.
Unlike other spots for hiking in Houston, this one has a wide-open landscape, with marshy habitats that are great for birdwatching.
Dig your toes into the sand and enjoy the beautiful bay. If you can spare a few days, incorporate the rest of Galveston into your itinerary, which turns out, is one of the best beach towns in Texas!
With pastel houses, clean beaches, and yummy local restaurants, it's a cute and cozy smaller town that contrasts nicely with the urban highrises of Houston.
Houston Arboretum and Nature Center Outer Loop Trail
Located within Texas' largest urban park, this loop features easy walking for all skill levels, excellent birdwatching, and some of the best wildflower fields in the city.
It's the ultimate family-friendly spot for hiking in Houston. The main trails are wide and well-maintained enough for strollers, while little ones with lots of energy will love the smaller side trails.
While not part of this loop, The Alice Brown Loop and Ravine Overlook paths (also within Memorial Park) are worth mentioning.
Both are wheelchair-accessible, and the nearby Palmetto Multi-Sensory Trail is designed for those with visual impairments.
Because this area is part of the Houston Arboretum & Nature Center, you'll cross through multiple native habitats and encounter educational field stations, insect houses, and other points of interest throughout.
All in all, it's perfect for a quick escape into nature that also allows you to learn about local wildlife.
Elm Lake Loop Trail
Tucked away within the rugged nature of Brazos Bend, the Elm Lake Loop Trail is about an hour outside the city but well worth the drive.
There are quite a few lovely state and national parks in Texas, but Brazos Bend State Park has the bonus of being only 45 miles from Downtown Houston.
A world away from the concrete jungle, you'll be greeted by massive trees and sprawling swamps. Fun fact–Brazos Bend is the home of the American alligator, so you can see them in their natural habitat!
It also holds some of the most incredible hiking trails near Houston. Wide and gravel-paved, this lake trail makes for pretty easy walking and can accommodate strollers and wheelchairs as well.
Visitors have reported seeing upwards of a dozen gators throughout their stroll, as well as other native wildlife like big birds (egrets, herons, ibis, and more) and friendly deer.
There is a $7 entrance fee at the gate, but those with a Texas State Parks Pass get in free.
Quail Trail via Blue Jay Trail
In largely flat Houston, this close-by spot offers some elevation changes that hikers and mountain bikers alike will appreciate.
It's located within Terry Hershey Park, about 20-30 minutes from Downtown. With wide and paved paths, this out-and-back hike is excellent for all ages and skill levels.
The Qual Trail via Blue Jay Trail hugs Buffalo Bayou the whole way, so you can also enjoy waterfront views, plenty of shade, and (if you're lucky) some wildlife sightings.
If you go in the evening, the sunsets are lovely in Terry Hershey Park.
Dogs are allowed on this paved trail as long as they're kept on a leash.
Peach Creek Trail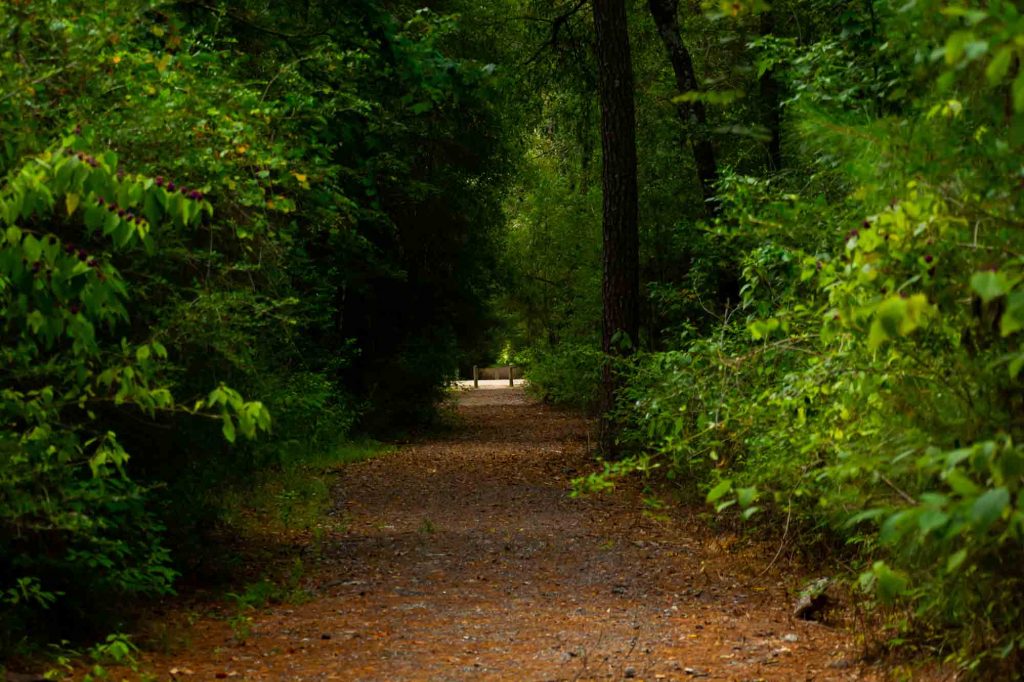 While you'll have to drive 45 minutes-1 hour outside of the city center to find this secluded spot, you'll be rewarded with quiet wilderness and a scenic out-and-back trail perfect for hiking and mountain biking.
Much of the route winds through woodlands along a lovely creek, and there are access points along the way where you can swim or wade.
With sandy shores and refreshing water, it's one of the more unique places to hike in Houston and truly allows guests to immerse themselves in tranquil Texas landscapes.
Peach Creek Trail is part of the wider Lake Houston Wilderness Park, which offers overnight camping and cabin stays (a weekend in the woods is a wonderful escape from busy city sightseeing).
Pups are welcome on the trail if they're kept on a leash.
Spring Creek Greenway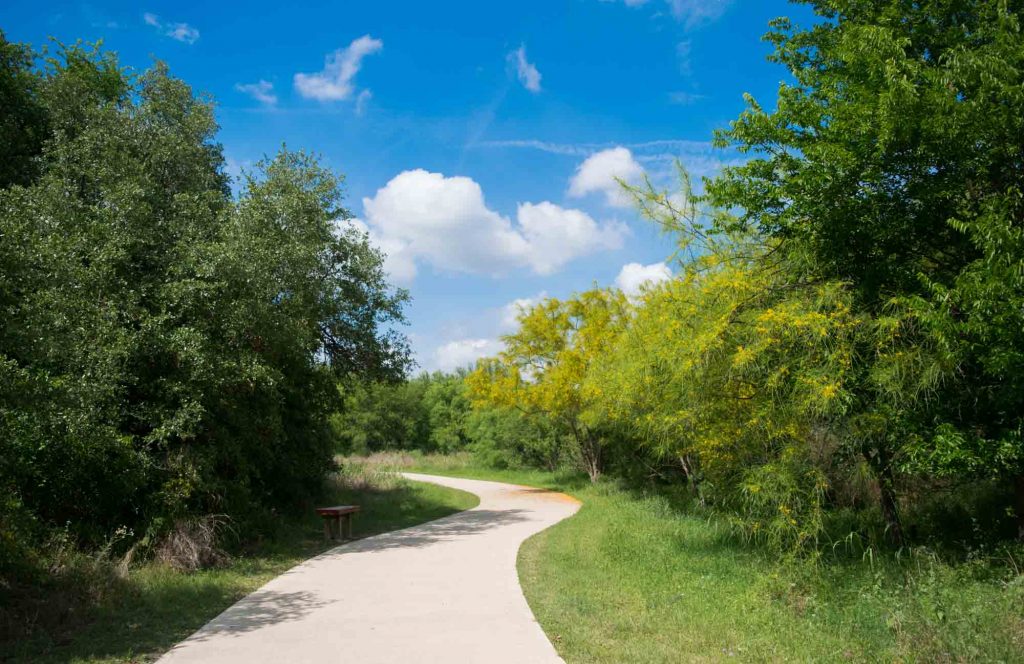 Beloved by mountain bikers, horseback riders, and hikers, the Spring Greek Greenway is an easy out-and-back trail that boasts a range of natural features and native wildlife.
Catch the trailhead in Pundt Park, about 30-40 minutes outside Downtown Houston.
For much of the route, two trails run parallel to each other–one paved and one dirt–so you can take your pick between the two.
About halfway out, take a break on the shores of a secluded lake ringed by stately bald cypress trees. It's a gorgeous spot to catch your breath or go fishing.
While the Spring Creek trail is well-maintained and easy to follow, it can get busy during the afternoons and evenings, so it's best to visit early to avoid crowds.
White Oak Bayou Hike and Bike Trail
Not too far from Downtown, this short neighborhood loop is nice for a quick walk or cycle and features views of the Houston skyline.
It's definitely more of an urban setting, but you can still enjoy some birdwatching and wildflowers in the spring. Part of the path also runs parallel to White Creek Bayou waterway.
The concrete and asphalt trail is both wheelchair-accessible and stroller-friendly, and dogs are allowed as long as they're kept on a leash.
Sundew Trail – Big Thicket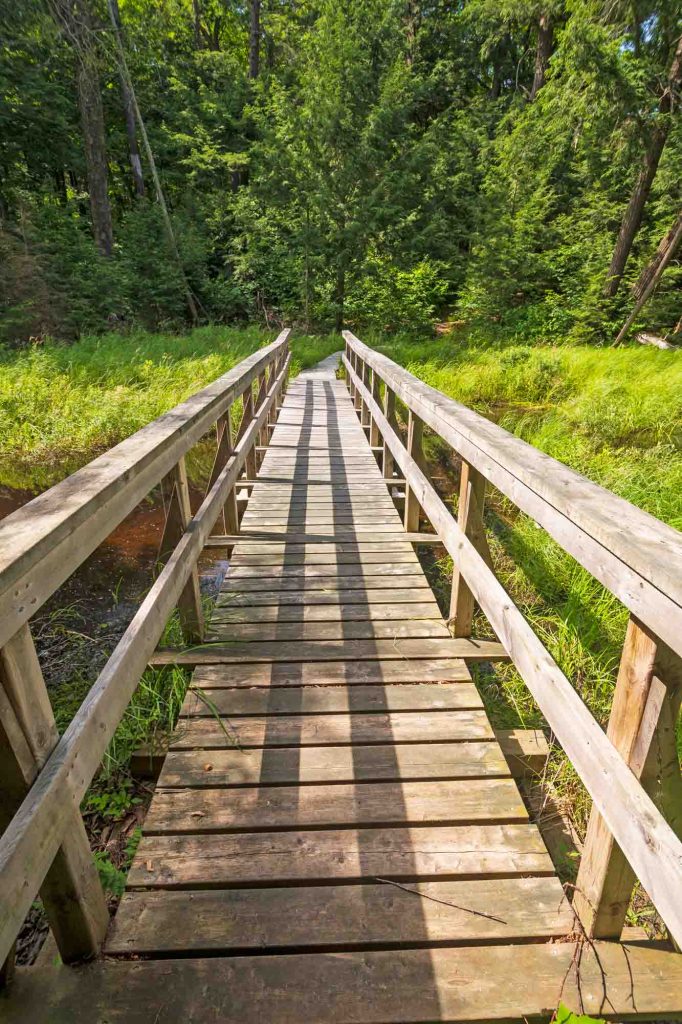 Alternating between sunny pine forests and open savannah, this hike puts the best of Central Texas landscapes on display.
You can grab Instagram photos galore in the wildflower fields next to the trail in the spring and summer. Fascinating pitcher plants and sundew also make themselves at home in this area.
The boarded walkway makes for leisurely strolling, perfect for family outings and adventures with your furry friends.
Of course, the price you pay for such pristine woodlands is a long drive from the city center. Big Thicket National Park, where the trail is located, is about 2 hours from Downtown Houston.
We recommend making it a weekend trip and exploring the rest of the park if you have the time.
Moderate Houston Hikes
Buffalo Bayou Loop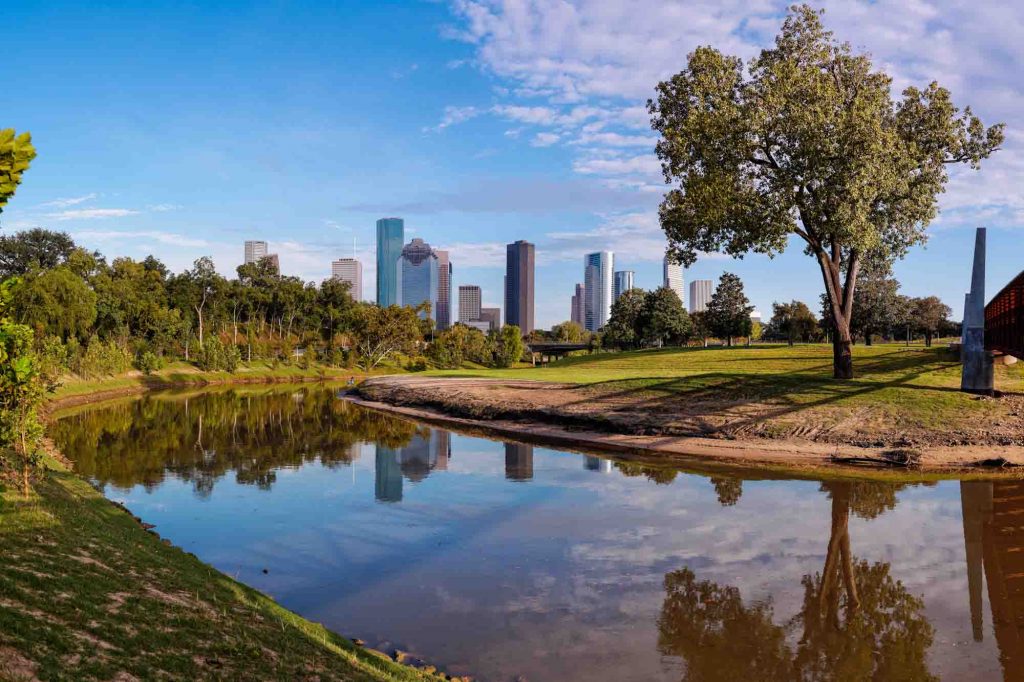 As its name suggests, this long, winding loop hugs the shores of Houston's beloved bayous, boasting a range of scenery that alternates from city views to tranquil stretches of woodland.
There are separate trails for hiking and biking, so it doesn't get too congested, especially if you visit in the morning.
With both paved and dirt sections, as well as several offshoots to explore, you can mix and match your way to an experience that suits your preferences for trail length and difficulty.
Perhaps best of all, Buffalo Bayou Park is located just west of Downtown Houston, which means there's lots to check out near the trail.
Visit the historic Glenwood Cemetery, a 30,000 square-foot skatepark, or one of the many parks accessible from the path.
Green Ridge Trail
Just a short jaunt from the Houston Arboretum and Nature Center, and still within the bounds of Memorial Park, you can enjoy the lush greenery and wildflowers of Green Ridge Trail.
Most of the path is dirt, which makes it particularly popular with mountain bikers, but experienced hikers will enjoy the slightly more challenging terrain as well.
The shade and seclusion make this spot in Memorial Park feel far removed from the hustle and bustle of Downtown, even though it's just a short drive from the city center.
Dogs are welcome to join you as long as they're kept on a leash, but the number of bicycles may not be ideal for easily spooked pups.
Pilant Lake to Bluestem Trail and Riverview Trail
We're back to Brazos Bend State Park for this one, which means more alligators, great birding, and another opportunity for some longer-haul hiking in Houston.
There's an excellent array of landscapes along this loop–wetlands and woodlands, riverside stretches, and a spillway that cuts through Pilant Lake.
You'll definitely get the chance to see alligators and beautiful water birds up close, so keep an eye out for critters.
The best time to hike in the area is March-October. There is a $7 entrance fee at the gate, but those with a Texas State Parks Pass get in free.
Challenging Houston Trails
Lone Star Hiking Trail
Amateurs, step aside. This impressive hike is the longest continuous trail in Texas, sprawling in a gentle arc north of Houston. You can join up with one of the trailheads about an hour out from Downtown.
The trail is point-to-point in the Sam Houston National Forest, which means you can hop on and hop off where needed.
Most short-term visitors won't have time to tackle the whole thing, so instead, you can just venture out shorter sections that still showcase the scenery.
Unlike shorter Houston trails, this one is great for backpacking if you'd like to spend a night or two camping.
You're virtually guaranteed to have large stretches of the wilderness to yourself, yet most of the way is still flat, well-maintained, and clearly marked.
Hiking in Houston
From dirt trails to paved paths, there are miles and miles of trails in Houston in the most varied distances and levels, meaning you're bound to find an exciting hiking trail for your taste and physical condition.
With scenic trails, Houston Area is the perfect place for outdoor enthusiasts to exercise, breathe fresh air, and go wildlife watching.
Did you like this article about hiking in Houston? Then share it with a friend who might also like it!