Thanks to this city's deep European ties and commitment to sticking to its roots, tourists will be spoiled for choice when it comes to delicious, bona fide German restaurants in Fredericksburg, TX.
Little would many suspect that a cozy, Central Texas town is full of such vibrant German culture and history, carefully kept alive throughout the centuries. Yet the proof is in the pudding (or rather, the sauerkraut and schnitzel).
This charming German town in Texas has a lot of pride in its German roots and welcomes guests from across the globe to feel the Southern hospitality.
From Oktoberfests and festivals to county fairs to incredible German cuisine, there's plenty to enjoy in Fredericksburg! But first things first–let's focus on the food.
9 Best German Restaurants in Fredericksburg, TX
It all began back in 1846 when the first German immigrants arrived and began to plant crops, build town landmarks, and grow their small community.
In fact, Fredericksburg was welcoming traveling guests as early as the 1950s, and it hasn't slowed down since. The fantastic German cuisine dished up at these nine restaurants is certainly part of why people keep coming back.
Check out these nine places to savor some German specialties!
Altdorf Restaurant & Biergarten
Originally built in 1977, this historical Fredericksburg favorite has since been meticulously restored to its former glory.
A stone-lined, hand-dug well featured in the foyer and furniture carved from the original building's wood are just a few of the special touches that set Altdorf apart.
Their menu includes a range of traditional German sausages, side dishes, and appetizers.
The schnitzel is a regular recipient of rave reviews, and you can't end your meal without sampling their famous apple strudel, served with homemade ice cream!
In warmer weather, the outdoor, pet-friendly patio is beloved by happy hour drinkers (check out the hearty beer list) and sightseers alike.
Altdorf frequently hosts live music events, so check their website for any upcoming shows.
The Ausländer Restaurant & Biergarten
The moment you set foot in The Ausländer, you'll know you've landed in one of the best German restaurants in Fredericksburg, TX.
Smack in the heart of downtown, this establishment boasts a distinctly German look and feel, complete with a "Willkommen" sign hanging from the front door.
Their sweet spot is Bavarian food, with a menu that features all the staple dishes of the south-eastern German region.
Attention plant-based eaters–they even serve up a meatless sausage!
Read next: Romantic Cabins in Fredericksburg, TX
Der Lindenbaum
The adorable Der Lindenbaum feels like a home away from home, with cozy decor, friendly service, and some of the tastiest German cuisine in Fredericksburg, all tucked away within its historic limestone building.
The restaurant's name translates to "The Linden Tree," a proud symbol of the German pioneer's homeland (just as bluebonnets are for Texas).
Try the Rheinischer Sauerbraten, a juicy, succulent roast that gets to soak in its marinade for a whole week!
They even boast "the best schnitzels on either side of the Atlantic," a claim you'll just have to go test out for yourself.
For dessert, go for their famous Black Forest cake!
Old German Bakery & Restaurant
Want mouth-watering, finger-licking German food that tastes just like the real thing? Look no further than the Old German Bakery & Restaurant.
This family-owned establishment uses traditional German recipes and makes all its meals from scratch.
They even sell freshly baked bread and pastries each day, so make sure to show up early if you want to snag a treat or two.
Otherwise, the restaurant is open for both breakfast and lunch…with giant portions guaranteed at either meal.
Otto's German Bistro
If you ask the locals where to eat German food in Fredericksburg, TX, and have a fantastic dining experience, chances are this name will come up.
Having opened in 2013, Otto's is an upscale bistro that is slightly newer on the culinary scene, but it's already a crowd favorite.
Their specialty? Upscale, farm-to-table German cuisine that provides business for local, independent farms, ranches, and artisan producers…as well as delicious, healthy meals for all its guests!
You can find duck schnitzel and Bavarian beef soup on their menu too.
Their menu changes seasonally, but you can expect an excellent wine list and incredible beers and cocktails year-round.
Read next: Best Wineries in Fredericksburg
Rathskeller
None of the German restaurants in Fredericksburg, TX, have a story quite like this one.
Rathskeller is now a rustic, welcoming spot for a warm meal, but the stone building it's housed in was actually a hospital in the 1800s.
Conveniently located on Main Street but nestled in the basement, it's something of a hidden local hotspot, serving up German classics like schnitzel and sausage plates, but also seafood, steaks, and sandwiches for those craving more American fare.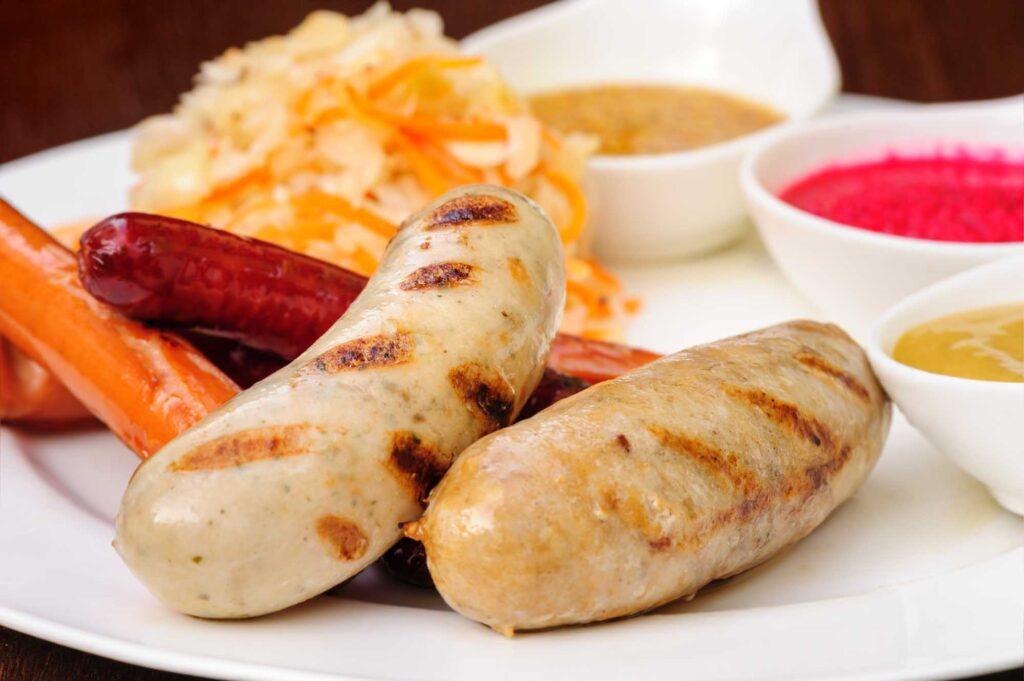 Altstadt Brewery
Feeling less hungry and more like a happy hour?
Well, the 4th best brewery in the United States just happens to be located in Fredericksburg!
They proudly craft their own "authentic, German-style beers in the heart of the Texas Hill Country," each one carefully adhering to standards inspired by the Reinheitsgebot (or German Beer Purity Law) established in 1516.
Now that's a drink story you can vouch for!
If you pick up an appetite along the way, Alstadt also has plenty of schnitzels, sausage platters, and Bavarian pretzels on deck.
Fredericksburg Brewing Company
Cheap, classic, and backed by many, many years of experience, the Fredericksburg Brewing Company is the oldest operating brewpub in Texas!
Complete with a main hall, Biergarten, and award-winning fresh ales and lagers brewed on-site (you can even watch the machinery as you drink), this is the place to be for any beer enthusiast.
They even have a "Bed & Brew" if you want to spend the night and start fresh on another round of drinks in the morning!
Friedhelms Bavarian Restaurant
$$ | Website not available | (830) 997-6300
Note: Friedhelms is temporarily closed until September 2021 due to the Texas Freeze.
We wrap up our list of German restaurants in Fredericksburg, TX, with the iconic Friedhelms.
Quirky, charming, and entirely unique, this spot (which doubles as an inn) truly feels like you've been whisked away to Europe. Dark wood and low lighting add to the ambiance.
As for the food, guests from around the world (including Germany itself) have raved about how spot-on Friedhelms' Bavarian flavors are. Their specialty? Pepper schnitzel!
You might as well close your eyes and point to something on the menu–you can't go wrong!
Wrapping Up on the Best German Restaurants in Fredericksburg, Texas
Texas has a rich German heritage plus all the delicious European cuisine that comes with it.
Not only that, but Fredericksburg is a town proud of its German roots, hence why you can find some of the best German restaurants in Texas Hill.
Now back to you. What are your favorite restaurants in Fredericksburg, Tx, that serve mouthwatering German food? Let us know in the comments! We'd love to hear from you!
Oh, did you enjoy this article about German restaurants in Fredericksburg, TX? Then share it with a friend who might enjoy it too!