This city is a haven for music aficionados, adrenaline junkies, and party people all year round, but Christmas in Austin brings with it lots of extra special festivities.
Whether you want to hit some holiday markets for last-minute gift shopping or skip the sleigh ride for a fun run under the lights, there are Christmas things to do in Austin for any type of traveler.
To help you plan the best itinerary, we've put together a list of holiday activities that can't be missed.
Our picks run throughout the season and range from family-friendly to more adult events, so there will definitely be at least a few you can combine for maximum enjoyment.
Keep reading for the highlights that will make your Christmas in Austin the holiest and jolliest it can be!
Spending a weekend in Austin and need accommodation? Then you will want to check out these unique Airbnbs in Austin! From modern lofts to vintage Airstreams, this list has all sorts of accommodation for all tastes!
11 Festive Ways to Celebrate Christmas in Austin
Here are the 11 things to do in Austin for Christmas that should be on everyone's USA bucket list.
Traveling around the Lone Star State? Check out these other places to celebrate Christmas in Texas!
1. Stroll Under the (Artificial) Stars at the Trail of Lights
In the heart of Austin, 2 million lights, nearly 100 trees, and over 70 other lighted tunnels or displays come to life at Zilker Park.
The Trail of Lights is one of the city's longest-running annual traditions and has garnered several accolades over the years, including Best Family Festival and one of USA Today's Top 10 Best Public Holiday Lights Displays in the United States.
On its 56th anniversary, the Trail of Lights will be drive-through only, but that doesn't make it any less spectacular. You can even tune in on your car radio to listen to holiday hits and a bit of the history of the event.
For those that want something to munch on as they ooh and ahh, many of Austin's most delicious food trucks will be parked around the grounds.
The event opens on November 28, 2020, and runs until January 3, 2021. Prices start at $25 per vehicle for general admission and $60 per vehicle for a dash pass, which will score you early access and a box of holiday treats.
Of all the things to do in Austin for Christmas, this one is pretty unmissable.
2. Get Down Alongside Artisan Goods at the Armadillo Christmas Bazaar
Bringing together some of the best shopping and live music of the season, the Armadillo Bazaar is a true Austin Christmas classic.
Visitors can browse the rows upon rows of ultra-cozy, decked out stalls to find the perfect personalized treasures to take home to friends and family, jamming to local musicians all the way.
In fact, it's an Armadillo tradition to dance in the aisles while shopping for gorgeous paintings and other homemade goodies, all of which support independent artists and small businesses in the area.
This year, the event will take place online only, allowing you to shop local vendors from the comfort of your own home. The in-person bazaar and all its accompanying events will be back and better than ever in 2021!
3. Sip on Bottomless Hot Chocolate at Mozart's Coffee Roasters
Mozart's is a beloved local institution and host to one of the most popular Christmas activities in Austin.
Their outdoor patio, which bumps up against the shores of Lake Austin, is a prime spot not only for dining but also for viewing their annual lights show.
You'll be serenaded by live music as the Christmas decorations dance along.
Just book a table in advance, then stop by anytime from 6 PM-11 PM between November 11, 2020, and January 6, 2021, for the show!
Reservations start at $10 for a 1-hour time slot, but you can also add some delicious food and drink deals to take your viewing to the next level.
Bottomless hot chocolate and coffee are on offer, as well as fresh-baked brownies and cookies. Are you drooling yet?
4. Celebrate a True Texas Christmas at Santa's Ranch
A 50-foot Christmas tree, 1.5 million lights, and a variety of animated displays and drive-through tunnels are just a few of the highlights to spot as you roll down the meandering country roads at Santa's Ranch.
Of course, it wouldn't be a proper Christmas drive without some Texan holiday snacks, so make sure to stop by the concession stand before you get going.
There, you can stock up on fresh kettle corn, roasted pecans, and homemade hot cocoa to keep you warm on the ride.
The event will run from November 6, 2020, to January 3, 2021, open daily from 6 PM-10 PM and 11 PM on Fridays and Saturdays.
Grab your tickets for $35 per vehicle or $70 for a season pass so you can go more than once.
5. Watch the Skyline Get a Holiday Makeover at the Zilker Tree Lighting
Towering a whopping 155 feet over the joggers and loungers of Zilker Park, this iconic Christmas tree is lit at the end of November to signal to all Austinites that the holiday season has officially arrived!
But it's more than just a flashy decoration. The Zilker Tree is actually a refurbished moonlight tower, a revolutionary form of street lighting that allowed residents to stay safely out and about after the sun had set.
They fell out of fashion in the 20th century as other lighting forms became more practical in scale, and Austin is now home to the only remaining moonlight towers in the world.
During the holidays, 39 strings of colorful lights extend from all sides of the tower, and when seen from a distance, the tree looks like yet another stunning skyscraper making up the cityscape.
You can attend the virtual lighting ceremony on November 29, and the tree will be shining bright all the way through January 1, 2021.
No Christmas in Austin would be complete without a stop by the Zilker Tree!
6. Work Off all the Cookies and Cocoa at the Trail of Lights Fun Run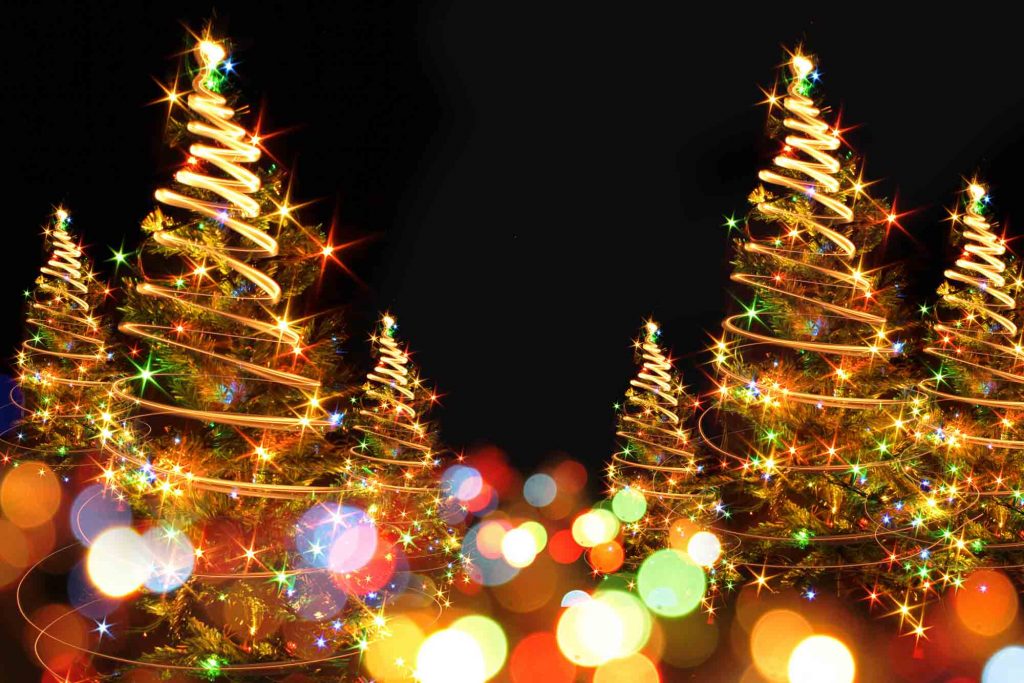 Calling all fitness enthusiasts! If you're looking for a Christmas in Austin that goes beyond traditional snacking and sightseeing, get your heart rate up with a more active activity.
The annual Trail of Lights Fun Run weaves for 2.1 miles through Zilker Park, starting at the Zilker Tree and heading under and around the dazzling displays of the iconic Trail of Lights.
In the end, runners will be greeted with live music and dancing, a festive Ferris wheel and carousel, and the mouthwatering Austin food trucks that are a must-have at any event.
This year, the Fun Run is going virtual. Participants can run or walk 3 miles anytime between November 28, 2020, and January 3, 2021. The updated course will take you all around downtown Austin, through some of the city's most famous landmarks.
Registration is $25 for adults and includes a t-shirt, bib, and unique swag bag. You'll also get a coveted ATX Lights Savings Card, which gives you discounts for lots of the best local restaurants and shops!
7. Travel Back in Time on the North Pole Flyer
If you've ever dreamed of taking the magical Polar Express to visit Santa, look no further. A ride on Austin's North Pole Flyer will prove to be an enchanting experience for kids and adults alike.
The vintage train takes passengers along on a two-hour journey through the Texas countryside, with views of family farms and Christmas lights. But the real entertainment happens on board!
Santa will stop by each car for photos with the little ones, and one of his elves will tell the story of the North Pole Flyer. You can also catch festive carolers and Mrs. Claus with fresh-baked cookies for all.
Passengers seated in Lounge Cars or Private Compartments score free flow hot chocolate throughout the journey, so be sure to show up ready to sip. Everyone else can hit the concession car for lots of other yummy drinks and snacks.
Tickets are $45 for Coach and $50 for Lounge seats, while Private Compartments go for $60.
The North Pole Flyer will run every Saturday and Sunday between November 28 and December 6, departing from the station four times each day. Seating closes 10 minutes before the train heads out, so make sure to be a bit early!
8. Watch the Gardens Glow at the Wildflower Center
The Lady Bird Johnson Wildflower Center at The University of Texas at Austin is the Lone Star State's official botanical garden and arboretum.
The more than 900 species of native Texas plants that call the Wildflower Center home make the grounds beautiful in any season.
But for your special Christmas in Austin, the gardens light up in a whole new way. Thousands of lanterns line the paths, and trees come aglow with winter magic.
You can take a lovely stroll through the Arboretum and indulge in several activities, like live music, art installations, light displays, and more.
Then, roast your own marshmallows at their s'mores bar, or grab one of the many other cozy Texas treats on offer. (We hear the hot chocolate is unmissable).
Whether you're planning to enjoy outdoor time with family or a romantic date night stroll, Luminations is a gorgeous spot to hit during the holidays. (And one of the most romantic things to do in Austin!)
The event will run from November 27, 2020, until January 3, 2021, except for Christmas Eve, Christmas Day, New Year's Eve, and New Year's Day.
Tickets are $18 for adults and $10 for children ages 5-17. The whole experience takes about an hour, and you can pick a time slot between 6 PM-9 PM for your visit.
9. Break Down Borders at the German-Texan Christmas Market
If you really wanted to travel to Europe for Christmas but ended up in Austin instead, never fear…the German-Texan Christmas Market is here!
Bringing together the best of both cultures, the market dishes up everything from Gluhwein to authentic handcrafted German ornaments and nutcrackers, all in a larger-than-life Texas atmosphere.
You can also experience a German-Texan Christmas in Fredericksburg, which is a famous German town in Texas.
It's a great place to grab unique gifts for your loved ones and honor the carefully preserved pockets of German heritage in Central Texas.
The market near the Texas Capitol Building is open for one day only on December 5, 2020, from 10 AM-5:30 PM, but there are more than enough activities to keep you occupied for the whole time. Best of all, entry is free!
10. Go Rooftop Ice Skating at Whole Foods Market
There are many things to do in Austin for Christmas, but some are more mindblowing than others.
Of all the places to ice skate in the world, we bet you didn't think you'd be doing it on top of a Whole Foods. But one of Austin's favorite health food stores gets into the holiday spirit just like the rest of the city.
Since Central Texas doesn't see much in the way of snow, Whole Foods runs this annual ice skating event that fills its rooftop with real ice and welcomes friends and family to twirl around atop the store.
From late November to mid-January, you can grab tickets for $15 at the door or $12 with a reservation in advance, and skate rental is included in the cost.
11. Build a Gingerbread House at Thinkery Children's Museum
If you have little ones along on your trip to Austin, a stop at Thinkery Children's Museum should definitely be on the itinerary.
Their annual gingerbread workshops are a favorite family tradition among Austinites and tons of fun for even the older ones in the bunch.
Thinkery even customizes the gingerbread tool kit your group gets based on the youngest builders' age and skill level. Work together or split up into teams and see whose house comes out on top!
Whichever option you choose, you'll get delicious fresh gingerbread courtesy of La Mexicana Bakery, as well as a variety of candies and lots and lots of icing to bring everything together.
While your architectural achievements dry, take some time to explore the rest of the museum, which features interactive, hands-on arts and science exhibits.
Tickets are $5 for children and adults plus the current cost of admission ($14), which is a total steal considering the price includes access to the museum as well as the hour-long gingerbread workshop.
Christmas in Austin
Every year, despite its southern weather, Austin becomes a real winter wonderland with an ice skating rink, gingerbread houses, and holiday fun for the entire family.
If you're looking for a delightful place in Texas to spend your holidays, know that Christmas in Austin is hands down one of the best in the state!
The dazzling lights, holiday songs, and activities are just a few of the things that make Christmas the most wonderful time of the year. Have you begun planning your trip to Austin yet?
Happy holidays!
Did you like this article about Christmas in Austin? Then share it with a friend who might like it too!