Wimberley is the epitome of small-town Texas, with its sprawling ranches, historic downtown, and slow pace of life. But don't be fooled! Even with a population of only 3,500 people, there are so many one-of-a-kind things to do in Wimberley, TX.
In this list, we're covering 16 of the best and brightest, from lovely local buildings with tons of history to some of Texas' most incredible nature, plus all the hotspots for drinking, dining, and shopping!
In addition to all the sights in and around town, Wimberley is also the perfect jumping-off point for a wider tour of the state, from big cities like Austin and San Antonio to natural wonders like caverns, lakes, and more.
Looking for accommodation in Wimberley? Then you might want to check out these lovely cabins in Wimberley, Texas!
16 Fun Things to Do in Wimberley, TX
Let's dive deeper into true Texas culture with all our top picks for things to do in Wimberley, TX!
1. Score an Adrenaline Rush at Wimberley Zipline Adventures
Kicking things off with a bang, Wimberley Zipline Adventures will have you soaring through the skies above Central Texas, with panoramic views of the hills, meadows, canyons, and creeks below.
You get to zoom across ten different lines, stretching between 150-900 feet long and as many as 100 feet high.
There is a short hike to kick things off, so be prepared for a bit of exercise, but this is still an excellent activity for all ages (as long as you're ready to tackle any height-related fears)!
The whole experience runs about 1.5-2 hours, with a particularly thrilling finale.
2. Get Some Fresh Air at Cypress Creek Nature Preserve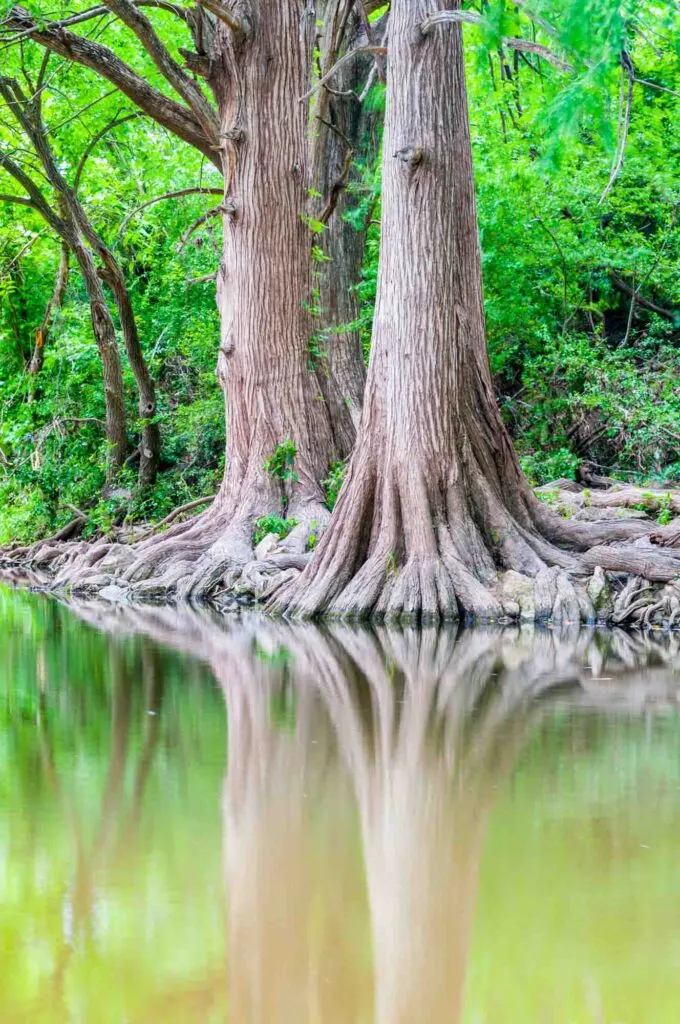 While Wimberley itself is already pretty tame, you can take the tranquility to another level at the secluded, stunning Cypress Creek Nature Preserve.
Although it's located in the heart of the town, this quiet park features plenty of nature to get lost in.
Head out on one of the walking trails to admire the area's giant cypress trees and babbling brooks, pack a picnic lunch, or bring the little ones to the playground for an afternoon.
A couple of hours here will have you refreshed and ready to take on even more sightseeing!
Read next: 33 Best Things to Do in Texas
3. Learn About Local History at the Wimberley Valley Museum
Texas small towns are often the ones with the most history! To dig deeper into Wimberley's past, stop by the Wimberley Valley Museum.
It's located inside the historic Winters-Wimberley House and tells the story of the town's beginnings–its early settlers, development, and how it came to be a "little piece of heaven" in Central Texas.
No boring displays and tiny text here! This is a picture and story museum with engaging, easy-to-read storyboards that bring the town's history to life.
The museum is open to the public on the first Friday and Saturday of every month from 10 AM-4 PM or by appointment. Admission is free, but donations are greatly appreciated.
4. Eat Local at the Leaning Pear
This one is for all you foodies wondering what to do in Wimberley.
While such a small town may not have the wide range of options available in a bigger city, it can definitely hold its own on the culinary scene!
Retreat to a rustic, eco-friendly Hill Country escape to sample top-notch dishes inspired by the landscape around them.
The Leaning Pear offers a seasonal American menu made entirely from locally sourced ingredients.
Their crab cakes, soups, and salads come highly recommended, and there are plenty of options for those with dietary restrictions.
The restaurant is open Wednesday through Saturday from 9 AM-11 PM and for Sunday brunch from 11 AM-3 PM.
5. Browse the Masterpieces at Art on 12
In another example of Wimberley's tiny-but-mighty appeal, the small town was designated a Texas Cultural District.
This achievement is perhaps nowhere better on display than at the popular downtown gallery, Art on 12.
Here, you'll find works from various local, regional, and nationally-known artists, with both permanent exhibits and regularly scheduled special events.
Art on 12 is open daily from 11 AM-5:30 PM. On the second Saturday of every month, the gallery hosts an evening opening with wine and light bites from 4-7 PM.
6. Shop 'Til You Drop at Wimberley Market Days
A staggering 490 booths, 20 acres, and more than 200 volunteers make Wimberley Market Days the Texas Hill Country's largest outdoor market and the second-largest flea market in the whole state.
You can find everything from vintage furniture to homemade jams to silly little trinkets to bring home to your loved ones.
Plus, all the money you spend here goes back into community initiatives, so you're shopping for a good cause!
The event also features live music and tons of concession stands and food trucks where you can grab a hearty Southern meal and then get back to browsing.
Market Days takes place on the first Saturday of every month from March to December, running from 7 AM-3 PM, rain or shine.
7. See Wimberley From a Birds-Eye-View at Old Baldy
Wimberley is full of charm up-close, but for those that want to see it from a different perspective, Old Baldy is the way to go.
The mountain's twin summits boast sweeping, 360-degree views of the small town below, plus plenty of the dense forests, rolling hills, and big blue skies characteristic of Central Texas.
Although it does involve some climbing, the hike is rated as easy to moderate and is doable for all ages.
There are handrails along the way for extra support, as well as several encouraging messages that have been painted on the rocks near the trail.
Sunrise is particularly gorgeous here if you can wake up early enough!
8. Rest and Relax at Rough Creek Lavender Fields
Essential oils, bath salts, and soaps…oh my!
If lavender is your go-to for a relaxing evening, you'll be in heaven at the oldest and largest lavender farm in the Wimberley Valley. (Although Rough Creek also functions as a working horse ranch).
Wander through the fields, browse their shop full of lavender-based products, and even pick a small bouquet to take home.
The fields tend to be in full bloom around June, although it varies depending on the year's weather, so check their website before you visit.
Read next: 11 Magical Sunflower Fields in Texas
9. Sample Fun Fro-Yo Flavors at the Wooden Spoon
If you're visiting Wimberley, Texas, in the summer (or really, any time of year), frosty desserts are a must!
And it just so happens that The Wooden Spoon boasts some of the best sweet treats in the area.
As Wimberley's first DIY fro-yo shop, they have a range of unique flavors to sample (like apple pie, carrot cake, eggnog, root beer float, and toasted marshmallow–just to name a few).
Of course, like any good sweets shop, they also have tons of toppings to pile on top of your self-serve bowl.
That's not to mention the shop's adorable interiors, which look as though you've just stepped into your grandma's house.
Whether it's hot or not during your visit, this is a charming resting place in between tourist destinations.
10. Find Your New Favorite Red at Wimberley Valley Winery
Did you know Wimberley is right in the middle of Texas wine country? And lucky for those that love their reds or whites, this small town is home to some lovely vineyards.
Opened in 1983 and producing fine varietals ever since, the Wimberley Valley Winery comes highly recommended.
Sip away inside the property's cozy stone buildings, under the shade of their oak grove, or while strolling the grounds. On weekends, they even serve drinks from a vintage double-decker bus!
Wine tastings are by reservation only, so make sure to book in advance.
11. Catch a Movie Under the Stars at Corral Theatre
Note: This attraction is permanently closed.
You may be familiar with drive-ins, but have you ever heard of a walk-in? In Wimberly, you can "See the stars under the stars" at their cute, quirky, and oh-so-fun outdoor theater.
Small towns are all about coming together, and that's exactly the appeal of Corral Theatre. Rather than sit alone in your car, pull up a chair next to other movie-goers, locals and tourists alike.
By heading here for your evening entertainment, you'll be taking part in beloved local history. Corral has been around for more than 60 years, entertaining guests the whole time!
Showings start shortly after dark on Fridays, Saturdays, and Sundays, although you should show up about an hour in advance to claim your spot. Tickets are $6, and concessions are just $1 each.
12. Watch Art Come to Life at Wimberley Glassworks
This is not your average art gallery. Rather than feature paintings or photography exhibits, Wimberley Glassworks is all about, well, glass. And it just so happens to be one of the coolest things to see in Wimberley!
Visitors can browse their gorgeous collection of vases, sculptures, platters, glassware, gifts, and lighting, as well as both indoor and outdoor art installations.
But the biggest draw is their live glass blowing demonstrations, during which you'll get to watch Wimberley's skilled artisans' craft masterpieces right before your eyes, using refined age-old techniques.
Demos take place Thursdays through Sundays from 10:30 AM-3 PM.
You can even order a piece from their collection and watch it being made, although this experience needs to be scheduled at least three weeks in advance.
13. Cool off at Blue Hole Regional Park
Ask anyone for a list of things to do in Wimberley, TX, and it's almost guaranteed that the beloved Blue Hole will get a mention.
This spot has long served as a splashy refuge on hot summer days, and with so much natural beauty to offer, it's no surprise that it remains popular today.
With lush forests overhead and spring-fed, turquoise waters that remain a cool 70 degrees Fahrenheit year-round, this is a paradise you wouldn't expect to find in Central Texas.
Plunge in from rope swings and jumping platforms or just float around in the shallow area.
During the high season, which runs May-September, you should make a reservation in advance to swim.
14. Walk Through the Wild West at Pioneer Town
For one of the most Texan-sounding things to do in Wimberly, TX, look no further than this replica 1880s Western town, set right in the middle of modern-day Wimberley.
It features adorable vintage storefronts perfect for photos and even a number of buildings that you can go inside, like a saloon, opera house, and chapel.
Don't miss the old-time ice cream parlor, which is still whipping up sweet homemade treats, and the iconic Jack Glover's Cowboy Museum.
For even quirkier entertainment, check out their vintage arcade or the Bottle House, a building made entirely out of (you guessed it) glass bottles.
15. Enjoy a Show at the Wimberley Playhouse
Wimberley may be a small town, but they sure know how to put on a show.
Talented actors, affordable tickets (and concessions!), and not a bad seat in the house guarantee that you'll have a fantastic time whatever you go to see.
The Wimberley Playhouse has proudly put on a wide variety of Broadway and off-Broadway plays and musicals, with five major productions featured each season.
Just check their website before you go to see what's currently showing.
Backed by a team of dedicated volunteers and a powerful mission to bring world-class entertainment to even the smallest of Texas towns, this is community theater at its finest!
16. Go Cliff-Diving at Jacob's Well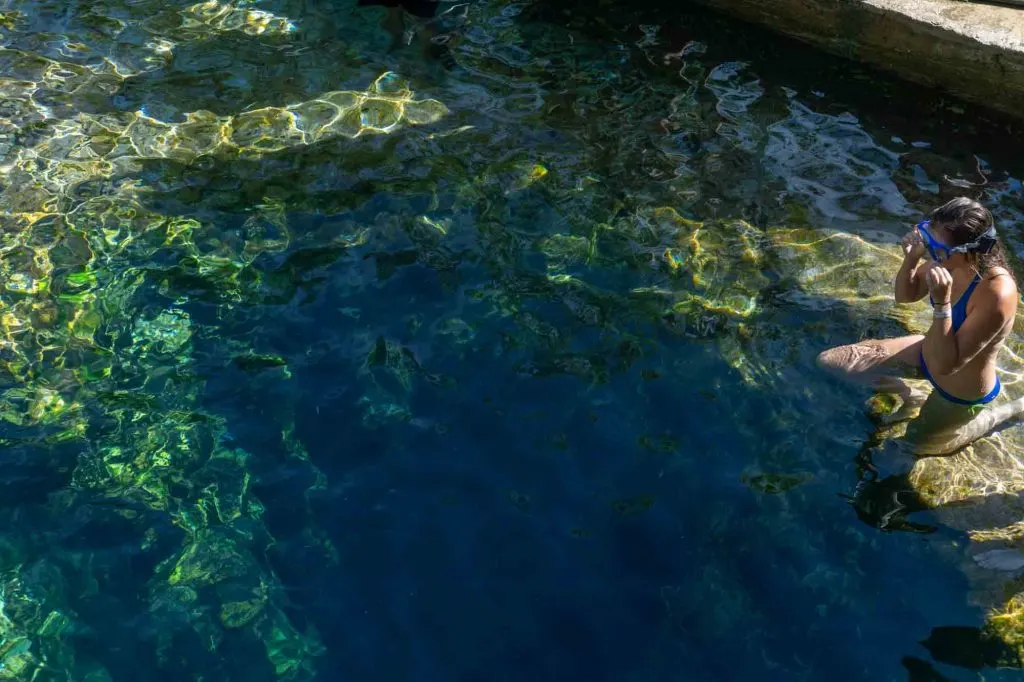 Of all the things to do in Wimberley, TX, this is arguably the most iconic. And it's easy to see why!
As the second-largest fully-submerged cave in Texas, Jacob's Well is an almost otherworldly natural wonder.
Thrill-seekers can plunge from the limestone bluffs into Jacob's Well below, while those looking for a more relaxing experience can sunbathe on a small, rocky stretch of "beach."
If you're certified, it's one of the most unique (but also dangerous) places to dive in the state.
The swimming hole is only open in May-September, and you must make an online reservation in advance to secure a two-hour time slot.
If you visit in the off-season, there are still surrounding hiking trails that remain free and open to the public year-round.
Things to Do Near Wimberley, Texas
The Texas Hill Country has no shortage of incredible cities, enchanting small towns, and mesmerizing outdoor areas.
If you're venturing on a Texas road trip, you might want to stop at these places:
Did you enjoy this article about Wimberley, Texas? Then share it with a friend who might enjoy it too!