Skip the hunt for the closest beaches to Orlando; we've got you covered!
With the Gulf coast on one side and the Atlantic coast on the other, Orlando has the optimal location, especially when considering its proximity to beaches. Nearby this city is some of the best beaches that you'll find in Florida.
Many people travel to Orlando to be nearby popular attractions like Disney World and Universal Studios. After traveling to these packed locations, you'll likely want to take a relaxing trip to a sandy beach.
These beaches are filled with amenities like bathrooms, beautiful views, and fun activity options to enjoy.
We've listed the 11 top beach options that sit nearby Orlando with their benefits noted so that you can add a few to your itinerary!
11 Closest Beaches to Orlando
Since Orlando is found inland and in central Florida, there are no beaches directly in this city. Still, Florida is known for having the top beaches in the country, so visiting at least one is a must.
These central Florida beaches provide the perfect location for sunbathing, swimming, and spending time with your family if you're visiting the city or Walt Disney World.
The below beaches range from popular spots to more remote, undeveloped options that only locals frequent. Whatever beach environment you prefer, this list will have an ideal option for you to visit.
Cocoa Beach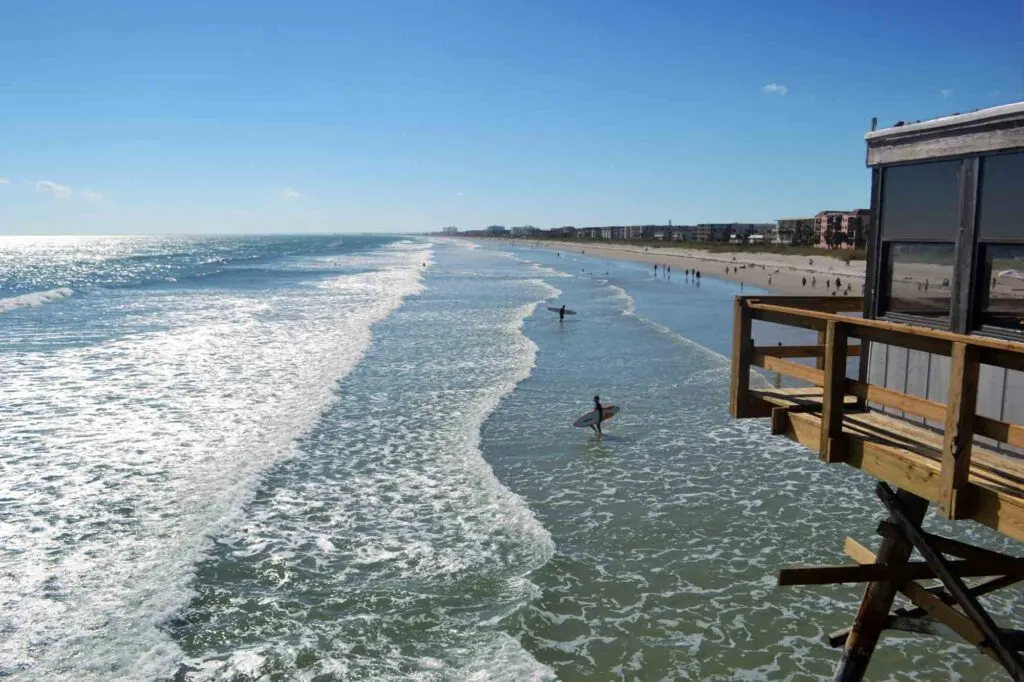 Cocoa Beach is an ideal family beach destination to visit. This quintessential beach town is nearby top attractions like the Kennedy Space Center and multiple museums, making it a great stop to dip your toes in the sand between other activities.
This beach is about 59 minutes from Orlando and provides visitors with an array of activities nearby and on the beach.
Eco-tours, water sports, and deep fishing are a few activities you can expect while spending time at Cocoa Beach. With four lifeguard areas, you'll feel safe swimming with your children in the water.
Don't forget to visit the famous Cocoa Beach Pier's restaurants, bars, and shops.
It's also nearby Port Canaveral, so there's a chance you and your family will see cruise ship launches and a rocket launch all in one day.
Plus, Port Canaveral has some of the best deep-sea fishing outings. This is truly one of the most family-friendly beaches near Orlando, Florida.
There is free parking at Lori Wilson Park (1400 N Atlantic Ave) and George McLeod Park Landmark (345 N Azure Ln).
Canaveral National Seashore
Canaveral National Seashore is also one of the closest beaches to Orlando. This option is nearby Cape Canaveral and sits north of Cocoa Beach.
It's about the same distance as Cocoa Beach, with only a 0.1-mile difference causing the drive to be about 60 minutes depending on traffic.
Canaveral National Seashore is not your typical beach – it features a barrier island, lagoons, flatwoods, and the longest section of pristine beach area on the eastern coastline of Florida.
This beach is also chock-full of wildlife, offering visitors the chance to see water birds and turtles hatching and waddling into the water throughout the year.
The national seashore is a great place to find oysters and go fishing. You'll also be able to hike, camp, kayak, and paddleboard here.
This seashore holds three separate beaches – Apollo Beach, Playalinda Beach, and Klondike Beach. As a famous nude beach, Playalinda is not suitable for children.
New Smyrna Beach
New Smyrna Beach is another option on the list of closest beaches to Orlando. This beach offers a taste of what Florida beaches are like – by allowing you to drive on certain areas of the sand.
You'll likely catch an exciting surfing tournament at New Smyrna Beach during an outing.
This beach, located about one hour drive from Orlando, offers beach guests the option to explore Ponce de Leon Inlet.
Here, surfing enthusiasts catch some of the best waves as they hang ten. It's also the location of many surfing competitions.
As one of the nearest beaches to Orlando, New Smyrna Beach has some of the best wildlife views. Various bird species and even gopher tortoises can be spotted around town.
Though, the best views of birds are at sunrise, offering both a gorgeous painted sky and birds dipping low over the sparkling water.
There's also a lifeguard on duty at New Smyrna Beach, making it an excellent spot for families.
Stroll along New Smyrna Beach or travel on a rented cruiser bike to the nearby Smyrna Dunes Park for an exquisite walking path that leads through the ocean, river, dunes, and marsh. You can even bring your furry friend to this section of the beach!
Vero Beach
Sitting at about 1.5 hours via car from Orlando, Vero Beach is still one of the closest beaches to Orlando.
This beautiful beach offers a long list of activities and nearby attractions, like Hutchinson Island. This island features additional beaches to explore after strolling the pristine sandy strip at Vero Beach.
The town of Vero Beach houses multiple beach options, most having restrooms onsite. As many of the popular beaches sit alongside resorts, a favorite pastime for many is strolling on the soft sand.
As most beaches open at sunrise and close at sunset, you will find some pretty epic views if you can arrive as the beaches are opening.
The main beach in town is South Beach, a top choice among locals and travelers. This lovely beach has paved parking, restaurants, and showers. Try jumping into a volleyball game for a fun way to meet new people.
Daytona Beach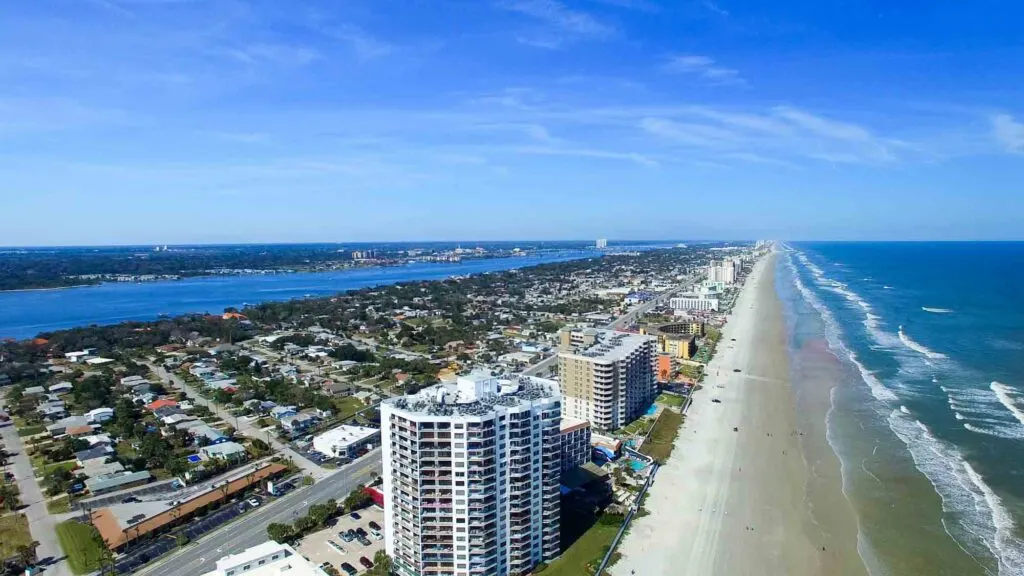 Daytona Beach is one of our favorite beaches near Orlando. This East Coast beach option has a lovely stretch of 21-miles of white sand and stunning waters, with about half of that vehicle-friendly.
You can drive your car directly on the sand or rent a golf cart for an exciting ride.
Besides, Daytona Beach is another location that's about one hour from Orlando. Along the beach, it's common to see food trucks parked or driving on the sand. It makes it easy to grab an ice cream cone on a hot day on the beach.
Daytona Beach is all available for swimming, sandcastle building, wakeboarding, and floating in the calm waves.
While swimming, you'll be under the watchful eye of the many lifeguards stationed on land. Head to any of the nearby boardwalks for additional food options.
If you have extra time, you'll want to stop by the Daytona International Speedway to view a race.
Anastasia State Park
Anastasia State Park sits at about a one hour and 40-minute drive from Orlando. It's located in the historic city of St. Augustine and offers visitors the opportunity to explore 1,600 acres of untouched land.
The addition of marshes and sand dunes provides a unique combination of scenery at Anastasia State Park. Here, you can do everything from hiking to shelling, camping, picnicking, boating, and even have a wedding.
There are campfire circles, an amphitheater, historic sites, and restrooms, among the many amenities offered at this state park.
Ormond Beach
Ormond Beach has a unique claim to fame – it's one of the initial locations of car racing and was noted by John D. Rockefeller as a top destination to live. Ormond Beach sits about one hour and seven minutes away from Orlando.
This park has bathrooms, ample off-beach parking, a playground, and even a concession area. There are quite a few activities available at the beach, including snorkeling, swimming, windsurfing, and kayaking.
You can ride around on a bike rental to explore the nearby town and available restaurants. Or, try riding a hot air balloon far above the sparkling water for a heart-pumping activity.
Flagler Beach
Even though Flagler Beach is about 1.5 hours away from Orlando, it still ranks as one of the closest beaches to Orlando. This lovely spot has a little bit of everything, making it an ideal beach destination for anyone.
At Flagler Beach, you can surf, kayak, and stroll along the sandy shoreline. Flagler Beach is worth the visit with multiple lifeguard stations and a fun boardwalk to explore. To get to this fun beach, you'll need to drive about 1.5 hours from Orlando.
As a tip, you'll likely want to skip this beach in May as turtles are hatching during this time. Because of the adorable sea turtles hatching, there are beach restrictions at this time. If your goal is watching wildlife, then it's a great place to visit.
Clearwater Beach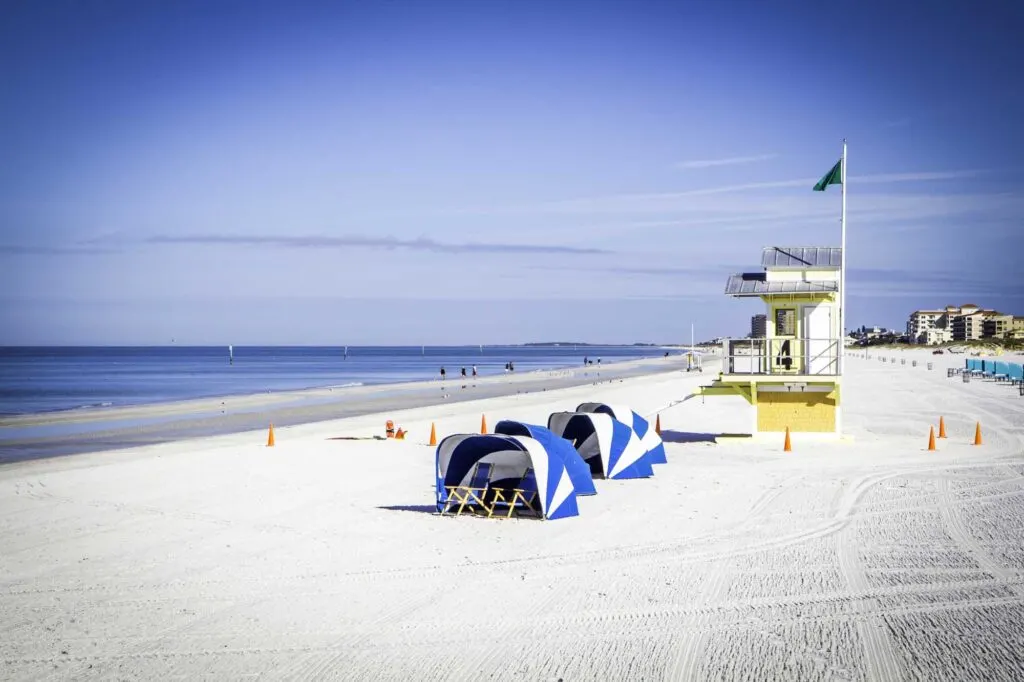 Head to Clearwater Beach to spend the day at an award-winning beach. This famous beach is found about one hour and 40-minutes from Orlando, so you'll want to find a hotel nearby this spot.
While the beach is stunning with beautiful clear waters and pristine sand, it does get crowded quickly after 10 am.
With a small parking area available, it's best to carpool with fellow travelers or head to this beach as early as possible to find parking.
Parking is charged by the hour, so bring plenty of quarters. Sunbathing at Clearwater Beach is the perfect pastime.
Otherwise, explore the area by walking on the sand. Oh, and Caladesi Island, one of the best state parks in Florida, is just a stone's throw away.
Madeira Beach
At one hour and forty-five minutes, Maderia Beach is one of the furthest options on this list. It offers a beautiful quiet beach that's tranquil and allows you to skip the crowds of other busier beaches.
Madeira Beach has great sunning spots, and visitors love to stroll along the water. You'll be able to find many pretty shells during your walk, which can be used while creating a sandcastle with children.
With a snack shack right on the beach, you'll have access to yummy eats all day long.
Melbourne Beach
Melbourne Beach is great for a day trip from Orlando. It is ideal for walking, jogging, snorkeling, and surfing.
This beach provides 33-miles of a pristine, sandy stretch that will leave you awestruck. It's nearby some of the best shopping in the Space Coast area.
Melbourne Beach has plenty of restaurants nearby, a cool art scene, and a live music performance likely happening at any time nearby. It's only about an hour and fifteen minutes from Orlando, making it a perfect spot to stop at.
If you happen to arrive while the Melbourne Art Festival occurs, we recommend spending some time at this well-known event in April. It's free and offers activities for children as well.
The beach access is along A1A from 1st Street to Surf Road.
What's the Closest Beach to Orlando?
Cocoa Beach is indeed the closest beach to Orlando. This lovely stretch of sand and water requires less than an hours' drive from Orlando and sits east of the city, right on the coastline.
Or, if you're visiting Cape Canaveral for the day, it's only about an 11-min (5-mile) drive.
If you're searching for the shortest travel time, Cocoa Beach is your winner for the top beach nearby Orlando. It's also only about an hour away from Walt Disney World, making it a convenient stop.
Closest Beaches to Orlando
Whether you choose Cocoa Beach or Melbourne Beach, you'll be offered an incredible experience with family-friendly activities. It's easy to get sucked into only visiting the theme parks.
Though, with the beauty of the above beaches, it's well worth driving to visit as many as possible. The relaxing vibes will help you destress after intense theme park rides!